There is more to Mexico than Cancun and Cabo San Lucas. Although they are among the best destinations. What if you want a more intimate setting with your loved one? If this is the case, then planning a trip to Tulum is a must. Found in Quintana Roo in the Yucatan Peninsula it offers a stunning view of the Caribbean Sea. Plus, it is only 45 minutes away from Playa del Carmen and 90 minutes from Cancun by car.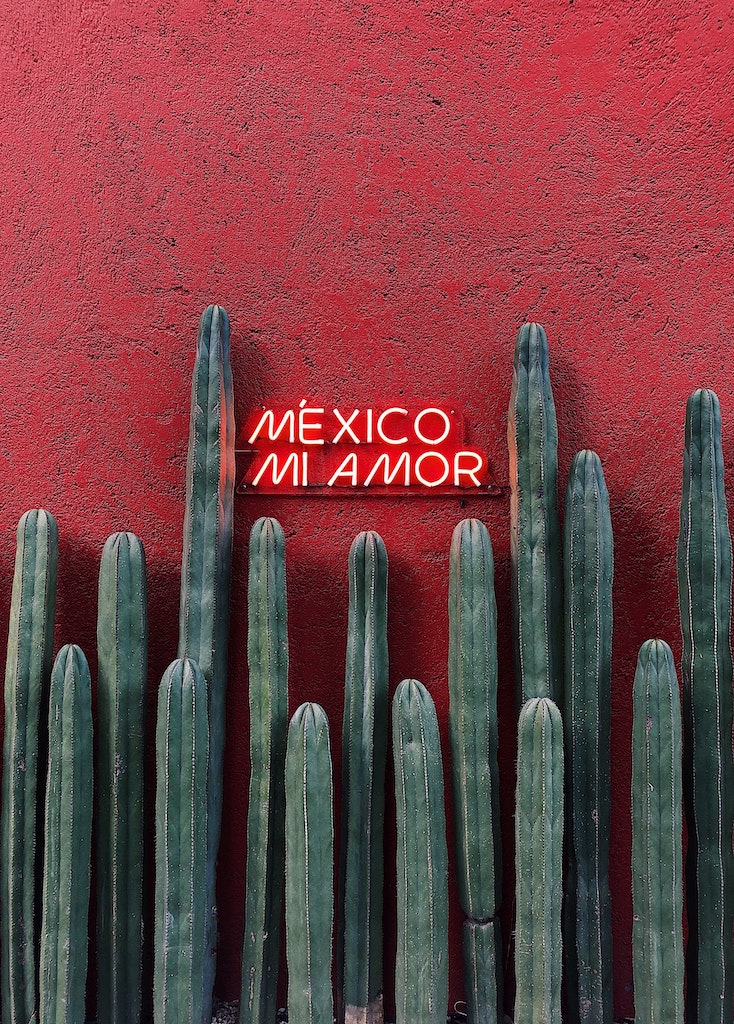 Tulum is the perfect place to immerse yourself in the rich history of Mexico. Aside from being close to several ancient ruins and archaeological sites, it has become a thriving tourist hotspot. You'll find several Tulum hotels standing tall all over the town. In addition, there are several white-sand beaches where you can sunbathe or do water sports. So you are sure to have a good time!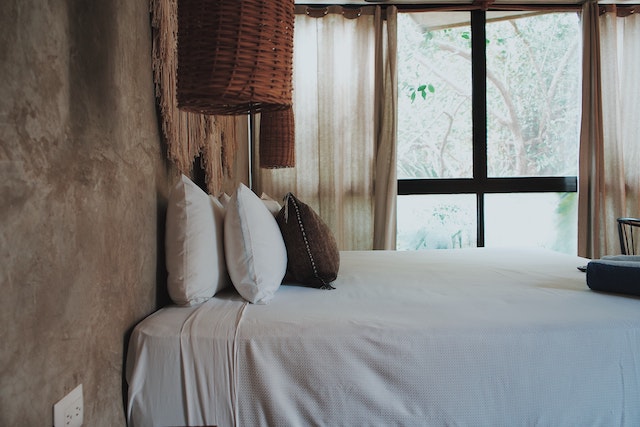 ---
What's in this post:
hide
10 Best Romantic Hotels in Tulum of 2022
---
---
It is not surprising that tourists make their way to Tulum because of its picture-perfect beaches and inclusive resorts. However, which one should you choose for your romantic getaway? With all the options available, it can be tough to decide.
Best Hotels in Tulum for Your Romantic Trip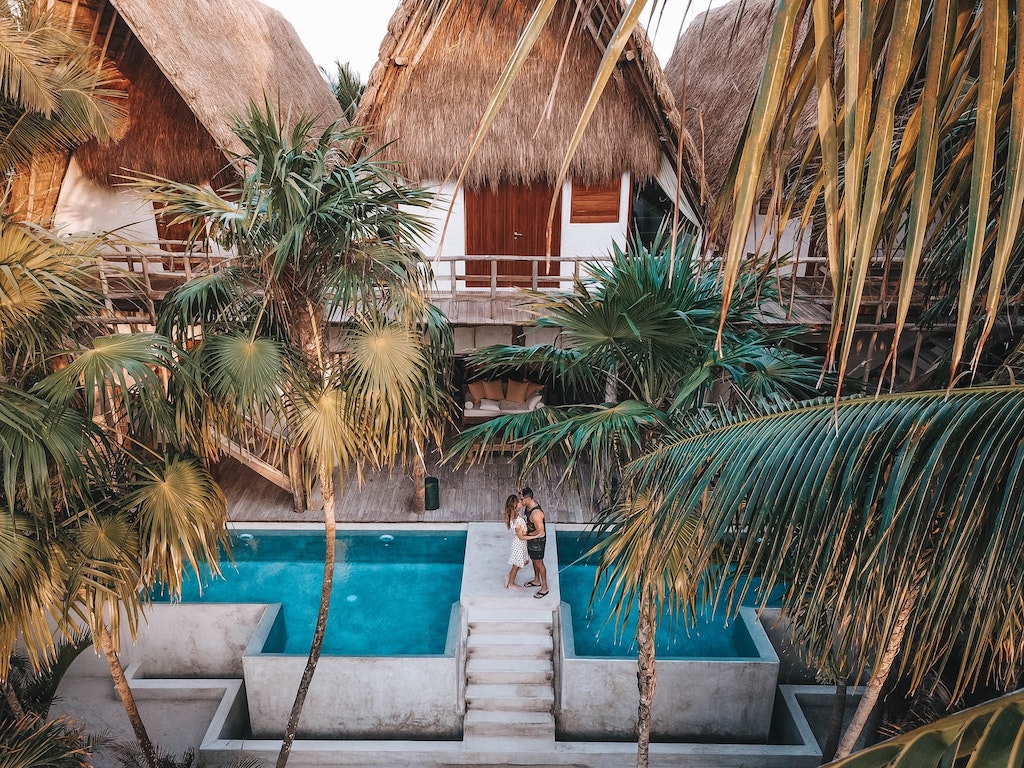 It doesn't matter if you are looking for an adventure or a more intimate trip to Tulum. Tulum town has much to offer its guests in terms of hotel accommodations. If this is your first time visiting with your significant other, you should take a look at these options.
#1 Hotel Bardo
Average Price: $613/ per night
Hotel Bardo is an adults-only type of luxurious hotel in Tulum. It is located 6km from the Tulum Archeological Site which is a popular attraction. Hotel guests will have access to free parking, a restaurant, a bar, and an outdoor swimming pool. It is a five-star hotel with air-conditioned rooms with free WiFi as well as a private bathroom.
Additionally, the hotel offers room service, a concierge, and they organize tours too! Each room has a fridge, coffee maker, oven, and hairdryer. They also have a terrace that gives you a great view of the natural surroundings. Also, each of these rooms has a seating area.
Among the activities that you can do here is fishing. You can also walk to the Tulum bus station if you want to explore the town on your own. Aside from that, you can also ride a bus to the Tulum Ruins if you want to see them up close.
In terms of gastronomy, the hotel has its signature restaurant, Milum. Here you can enjoy your meals throughout the day. They offer an extensive menu that you can enjoy inside the restaurant, by the pool, or in your suite. There is also the Kinky Room Bar if you want to relax and unwind with a few drinks. You'll enjoy the vibe at the bar while sampling their finest drinks.
#2 Kore Tulum Retreat and Spa Resort
Average Price: $498/per night
One of the best places for couples on their honeymoon or a romantic trip is Kore Tulum Retreat. This beach hotel boasts several amenities including a hot tub and an outdoor pool. Furthermore, it sits in a prime location between Tulum and the Hotel Zone. This means that you can satisfy your need for peace and quiet or be right in the middle of a tourist hotspot.
There are 94 spacious suites in this hotel which is ideal for couples or adults. Each room has air conditioning, a jacuzzi, a fridge, and more. Additionally, all rooms have their own terrace that gives you the best ocean views or the hotel grounds. There are two restaurants on-site that offer both a la carte dining and in-room dining services. You can also take advantage of their pool bar after taking a dip in their pool with a beachfront location.
Additionally, Kore Tulum has an infinity pool, spa center, as well as yoga classes. You'll not run out of activities to do here for sure. If you want to explore the nearby areas, head to the Tulum National Park. Take in the beauty of the flora and fauna here which you can't find anywhere else. Spending a few hours here will be worth it especially with the scenic views.
#3 Be Tulum Beach Spa and Resort
Average Price: $560/ per night
Be Tulum Beach Spa and Resort is one of the best luxury hotels that you can stay in. What you'll love about this resort is that it is in the Hotel District. You only need to look at one of their 20 impressive guest rooms to know why it is a popular place for travelers. Aside from that, this luxury hotel on the Riviera Maya offers two pools with oceanfront views. Also, you can find a beach club that comes with a music venue for live music events.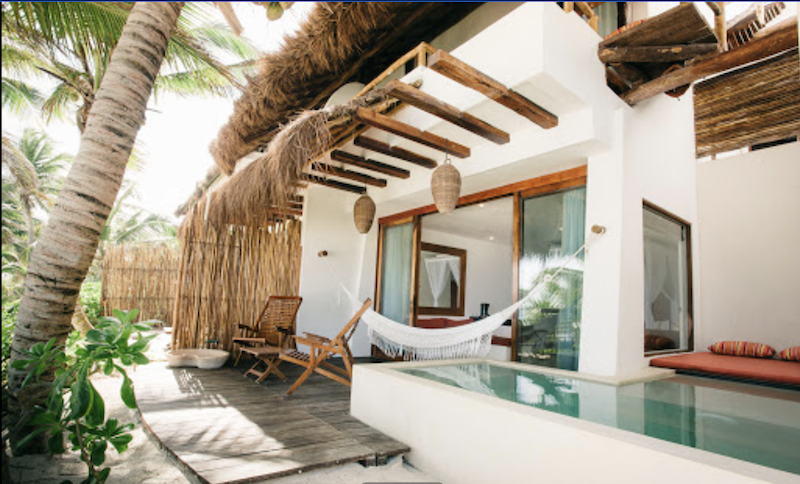 One of the best things that you will love about this spa resort is its unique design. It combines the natural beauty and charm of the area in its spacious suites. The rooms are surrounded by a garden lined with palm trees. These trees provide ample shade for a cool and comfortable surrounding. You'll have a more intimate setting to enjoy because the resort is set back from the beach.
There are two restaurants offering Mexican cuisine that will satisfy your hunger. You can also take advantage of the two bars on the property as you wind down for the day. For couples who want to indulge in relaxation, you should visit the Yaan Wellness Spa. There are private plunge pools here and different massage therapies that will relax and soothe your tired muscles.
#4 Casa Malca
Average Price: $460/ per night
Casa Malca is a hip and artistic luxury hotel ideal for a romantic trip in Mexico. This resort is at the edge of the Sian Ka Biosphere Reserve. It is a great place to enjoy some privacy while having your needs met round the clock. The original house boasts several contemporary artworks. You can also spot them in their Master Suites. You'll feel like you are in an art gallery with an impressive collection of artwork here.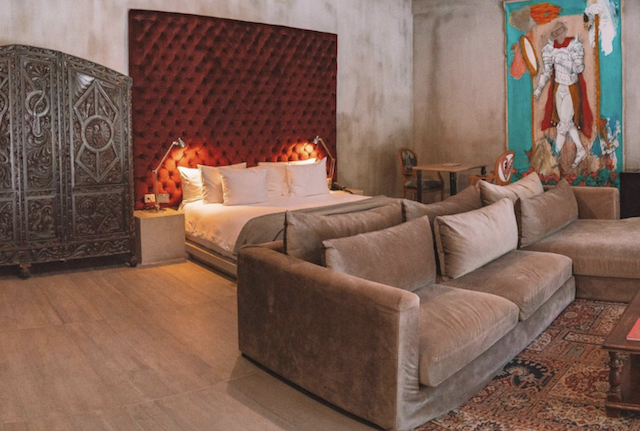 Each guest room and suite is decorated in white. You'll also enjoy stunning views of their tropical gardens or the sea. They have one on-site restaurant that serves traditional Mexican food mixed with European techniques. You will need to make reservations here if you want to sample their dishes. Choose to dine inside their store or by the pool if you prefer.
The nearest airport is the Cancun International Airport. From the hotel itself, you can visit the Mayan Ruins or the Tulum town which are nearby. After a day of exploring the surrounding area, take a break at Calma Spa. Customized spa treatments are available here too. Savor their massage therapies and spa treatments here. This is a great way to relax and unwind after a long day of touring Tulum.
#5 Mi Amor a Colibri Boutique Hotel
Average Price: $463/ per night
One of the best boutique hotels that you will find in Tulum is the Mi Amor a Colibri Boutique Hotel. Couples who want to disconnect from the hustle and bustle of city life can find refuge here. This beachfront hotel offers an exclusive experience for its guests who want to relax and unwind. The Mi Amor hotel features amenities like open spaces, outdoor showers, and beaches to enjoy. Also, all the rooms have air conditioning so you can stay cool and comfy.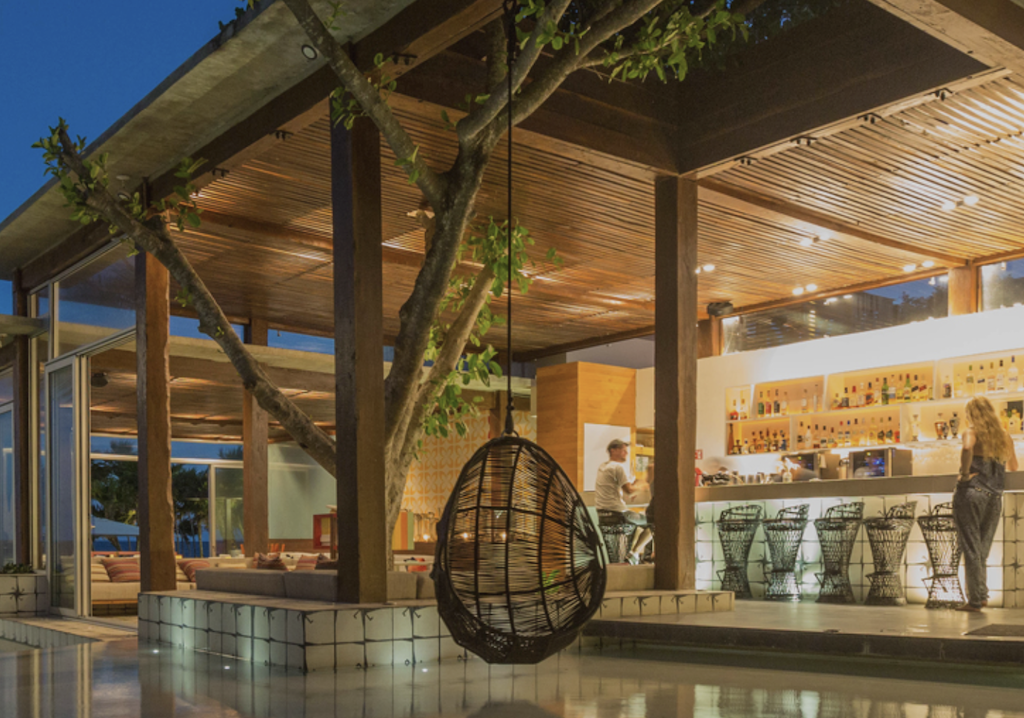 You'll enjoy great service here because your stay can be personalized according to your needs. You can go for private tours arranged by the hotel so you can explore the area with ease. Mi Amor combines sensuality with beauty making it the perfect spot to reconnect with your partner. Their beautiful rooms open up to different views of the surroundings and a private plunge pool.
Indulge your cravings with an intimate dinner for two on the rocks. Ask the concierge to set this up for you. Only the finest Mexican and Mediterranean cuisines here. Pair your meal with their extensive wine list too. If you want to seek the best restaurants, there are several within the area.
---
Things to read about Mexico:
What is the Voltage in Mexico?
---
---
#6 Beach Tulum Hotel
Average Price: $816/ per night
This hotel is aptly named as it sits on the south Tulum Beach itself. It is designed to blend with the lush jungle and from within, a rustic vibe will greet you. There are 28 rooms on the property that are divided into three. These are Deluxe, Junior Suites, and Jacuzzi Rooftop rooms.
This 5-star hotel provides its guests with direct access to the white sand beach at the front. All the rooms have air conditioning, a coffee maker, bath products, and more. Also, guests will receive a complimentary yoga class. A complimentary free Wi-Fi lets you stay connected even on your vacation.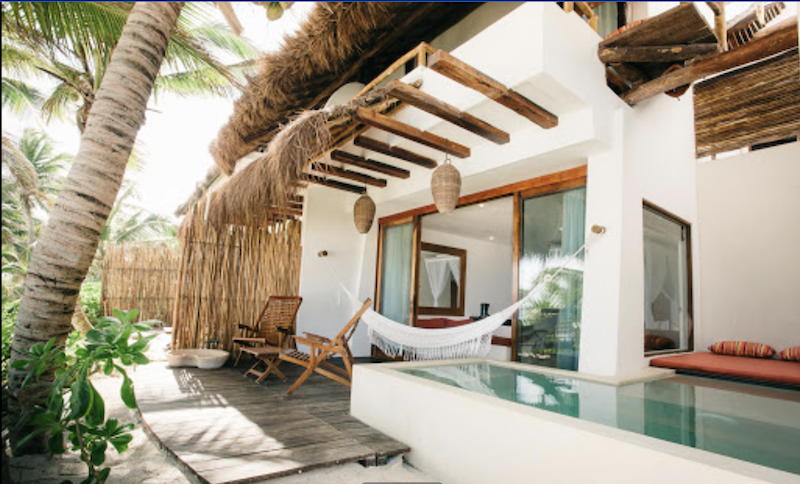 Explore the delicious international cuisine served at Ziggy's Restaurant and bar. The dishes are guaranteed to satisfy your cravings. For guests who prefer healthy options, Fresco's is where you should be. Everything is served fresh here including seafood. For sure, you'll be coming back for more once you taste their offerings.
Enjoy some peace and relaxation at the Naj Naay Spa. This wellness center offers numerous therapies that will ease your stress and worries away. Also, they have a turquoise-colored pool that resembles the Caribbean Sea. It is surrounded by plants with sandy paths guiding you to the pool. The cool water is inviting and will be difficult to leave once you swim in it. You can also take advantage of their beach club as well.
# 7 La Valise Tulum
Average Price: $556/ per night
Another hotel option in the beach zone ideal for couples is La Valise Tulum. This is the perfect beach and jungle hotel accommodation best suited for couples. What you'll love about this place is that the rooms blend well with the surroundings. Natural materials are used to decorate each spacious room for that rustic vibe.
The thatched-roof rooms open up to the splendor of the beach and the sea. Laze around the daybeds on the private beach or enjoy water sports with your partner. You'll feel like you are Robinson Crusoe on this fantasy beach. Room service is available throughout the day so you'll have your needs catered to.
Opt for the upper beachfront rooms when you can because they are spacious. Not only that, but you'll enjoy the view from high up. The private terraces open up to the beauty of the jungle and a clear view of the skies at night. However, if you are on the first floor, your room will be on top of the palm trees. Also, you'll get a clear view of the azure waters from the private beach area. How cool is that?
Treat yourself to a fancy breakfast buffet fit to honor Mayan gods in the morning. Aside from that, there are two restaurants that you can visit for lunch and dinner. One serves Mayan cuisine while the other will take your tastebuds on an international adventure. Your hunger will be satisfied with the wide range of dishes offered here.
#8 Papaya Playa Project
Average Price: $320/ per night
The Papaya Playa Project is a beautiful place to stay in Tulum and with good reason. Its unique design follows the traditional Mayan architecture to keep the rooms cool and comfy. Guests will be closer to nature while staying in this luxury hotel. After all, traditional materials are used in the decorations and furnishings.
The ultimate luxury that you will find here is the private lounge area and plunge pools. You'll find hammocks here that you can lounge on while swaying gently with the breeze.
You will be spoiled for choices when it comes to accommodations. There is the Casitas that comes with a private pool that you can dip in. Also, it gives you easy access to the beach and the Caribbean Sea. Families who want to enjoy barefoot luxury can book a stay in one of their villas. You'll be treated to fine dining for in-villa eating. Choose from a wide array of cuisines from Mexican to the Mediterranean and have them served in your room. Everything will be arranged for you.
Papaya Playa gives you the best wellness treatments to relax and rejuvenate your senses. Enjoy a full-body massage and spa treatment in the peace and quiet offered by this secluded oasis. Feel your worries drift away with every kneading on your sore muscles.
While you are here, take advantage of Temazcal. This is a traditional Mayan steam bath that helps open your lymphatic nerves. You're guaranteed to feel rejuvenated after your session.
This unique resort offers a luxurious experience in the heart of the forest. It is one of the places that you will not regret splurging in.
#9 Ahau Tulum
Average Price: $578/ per night
Another example of inclusive hotels in Tulum is Ahau Tulum. This luxury rustic resort welcomes you to unwind and relax on its pristine beach. There are plenty of good choices here in terms of accommodations. You can go for their Junior Suites, Bali Hut, or their Master Suite. Each of these rooms opens up to a spectacular view of the surroundings for an immersive experience.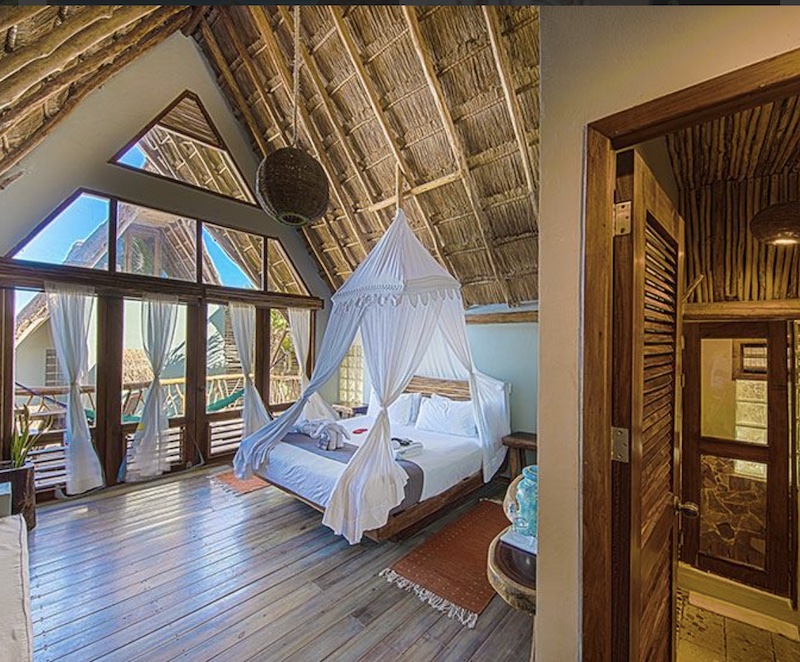 First, the Junior Suite is located beach-level so you only need to do a short walk to reach the crystal clear waters. It is equipped with a private bathroom, a private outdoor dining area, and a deck.
Second, the Bali Hut is ideal for couples who want additional privacy. Enjoy the private gardens while admiring the lush surroundings. Third, the Master Suite has extra amenities that you don't want to miss. Aside from its oversized day beds, there is a swing hammock and outdoor dining area too.
Satisfy your hunger in its on-site restaurant. Enjoy authentic Mexican-Mediterranean cuisine served using fresh ingredients. Head to the Raw Love Cafe for some drinks and good music. Ahau also offers exciting adventures that you can add to your itinerary. For example, you can explore the archeological sites that Tulum is known for. There are also ecological theme parks that you don't want to miss.
Additionally, there are on-site activities like yoga classes, bike rentals, and a fitness center too. This is also the perfect spot to recharge your body and mind if you are flying solo. Couples who plan to wed can do so here as well.
#10 Jashita Hotel
Average Price: $680/ per night
Luxury meets rustic charm at the Jashita Hotel. This secluded boutique hotel is found in Soliman Bay. What makes it stand out is that it only has 30 luxury suites and two hectares of beachfront land. You'll enjoy an exclusive experience here away from the crowd. It doesn't matter if you are on a romantic getaway or you have the family with you, you'll feel right at home here.
Right from the start, you'll be served carefully prepared meals using locally sourced ingredients. You'll be served a blend of Mexican and Italian dishes cooked to perfection. Afterward, you can spend some time in a relaxing spa treatment at the Caoba SPA. Loosen up those tight muscles with a yoga class at Yoga Studio.
Also, there is an adults-only swimming pool on the property if you want to swim idly. There is also a children's pool where your little ones can play in the pool safely.
The beach is within walking distance from the hotel so you can explore its white sand beach anytime. Swim in the gorgeous blue waters or enjoy some water sports too. Additionally, you can arrange for tours to local Mayan ruins if you like. This will take you up close to their magnificent structures so you can learn a bit of its history.
You can also head out to Dos Ojos cenote where you can swim in. The airport is just 90 minutes away from this resort making it a good option for first-time travelers.
Popular Activities to Enjoy
Mexico has much to offer its guests no matter what kind of activities you are looking for. From luxury hotels serving as your gateway to stunning beaches, you can also explore the beauty of the area too. Here are a few popular activities that you can try out.
#1 Visit Tulum Ruins
Mayan civilization has left behind several impressive ruins. Tourists are welcome to explore these sites as they offer insights into the country's past. The ruins in Tulum play an important role as a religious hub in Mexico. You can arrange a trip through the hotel where you are staying. Additionally, you can take advantage of the beach road that stretches from the ruins to the Biosphere Reserve.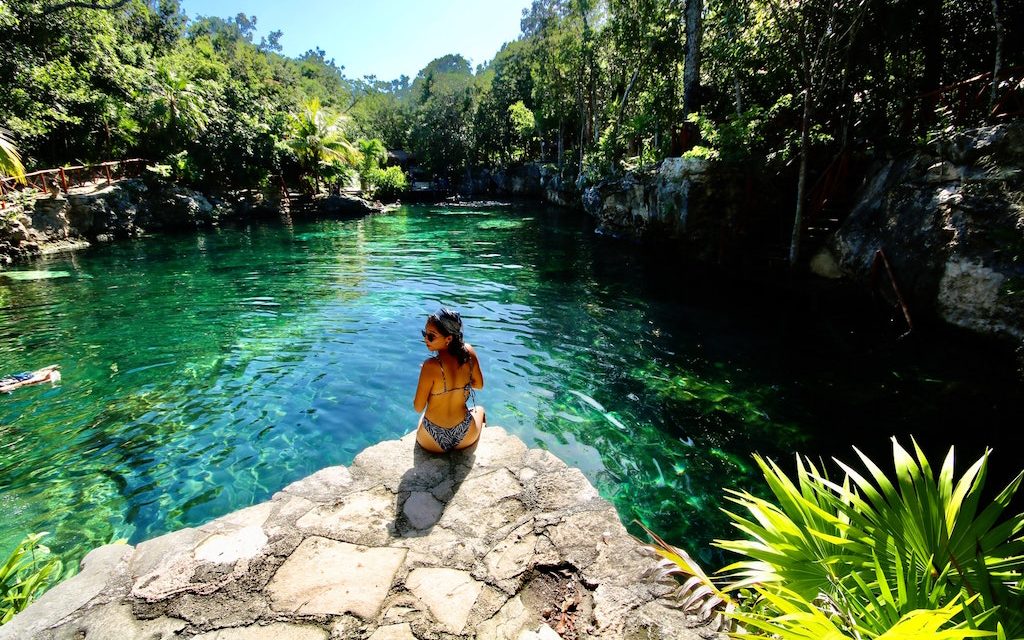 #2 Playa Paraiso
After visiting the Tulum Ruins, make your way to Playa Paraiso. Explore this spacious beach anytime you like. Day trippers frequent the area as the white sand beach complements the blue waters. Cooldown here after getting all hot and sweaty from the ruins.
#3 Swim in the Cenotes
Tulum is also home to some of the best cenotes that you can swim in. Among these are Carwash, Calavera, and Gran Cenote. Hike through the jungles and explore the caves before swimming in these secluded pools. Adventurous hikers might even find new cenotes here and there. Just keep your eyes peeled as you explore the land.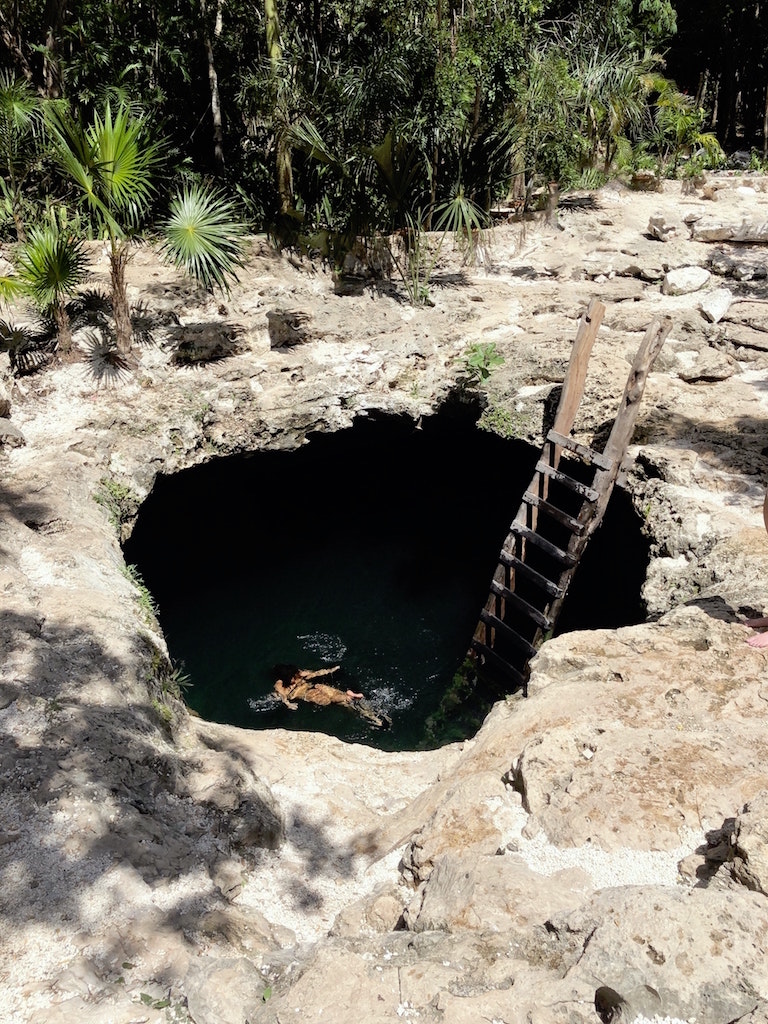 #4 Explore Coba
For those who love to visit archeological sites, do take the time to visit Coba. It is an under-appreciated ancient site that is 18 miles (30 km) away from Tulum. Even though you will not see the Caribbean Sea from here, seeing the ruins is worth the trip here. This will also give you a good start in learning more about Mayan architecture.
#5 Visit Punta Laguna Nature Reserve
If you have time to spare, add Punta Laguna Nature Reserve to your itinerary. This reserve is home to the spider monkeys which is always a big draw among the tourists. Also, the big animals here are worth seeing, especially the jaguars. The reserve is located 24 miles (40km) away from Tulum. Bring your children here or your significant other to be a part of nature.
#6 Explore Sian Ka'an Biosphere
Yucatan has plenty of reserves and eco-parks that are worth exploring. However, none of them can match the beauty and scope of the Sian Ka'an Biosphere. This reserve covers 1.3 hectares of land where you'll find cenotes, reefs, and wetlands just to name a few.
Why Visit Tulum?
Did you know that Tulum is one of the best tourist hotspots in Mexico and with good reason. It has much to offer tourists and locals alike. One look at this place and you'll be booking a flight here! What sets it apart from the rest of the crowd is that it blends the past with the present well. For starters, there are several historical sites that you can explore with a guide. These ancient structures give you a glimpse of Mexico as it was before.
Aside from that, there is plenty of wildlife to encounter as you drive around the area. These wild beasts blend well with the surroundings. However, you can get a good look from a safe distance when you visit their reserves and parks.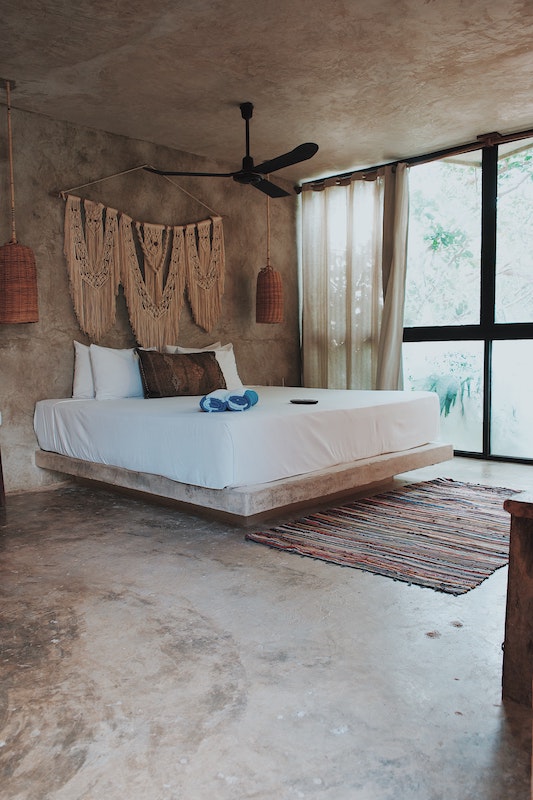 Of course, the gorgeous beaches are always a draw here. The pristine white sands and crystal waters are enough to attract tourists across the globe. Add to this the almost perfect weather and you know that it is a good spot to spend your vacation in.
You can even go off and explore the cenotes scattered throughout Tulum. The Mayans considered them as sacred places making them an important part of their culture. Some are found within caves while others are within the jungle. You can swim in some of these cenotes if you like. It is best to have a guide with you so you will know which ones are open to the public.
Also, you will be spoiled for choices when it comes to hotels and resorts. Among the amenities that you'll enjoy are a year-round outdoor pool, free private parking, and spacious suites. You can customize your stay in these inclusive resorts especially when you are on a romantic trip. The services in these hotels are impressive.
Other things to do in Mexico's Yucatan Peninsula:
Best Small All-Inclusive Resorts in Mexico
Foodie Heaven: Benazuzu, Cancun Mexico