Antigua is one of the best places to visit while in Guatemala. It used to be the capital city of Guatemala until a volcanic eruption caused massive destruction. After the city center was moved to a safe destination, the town was renamed La Antigua Guatemala. Tourists still flock to the old city even though the city center was moved.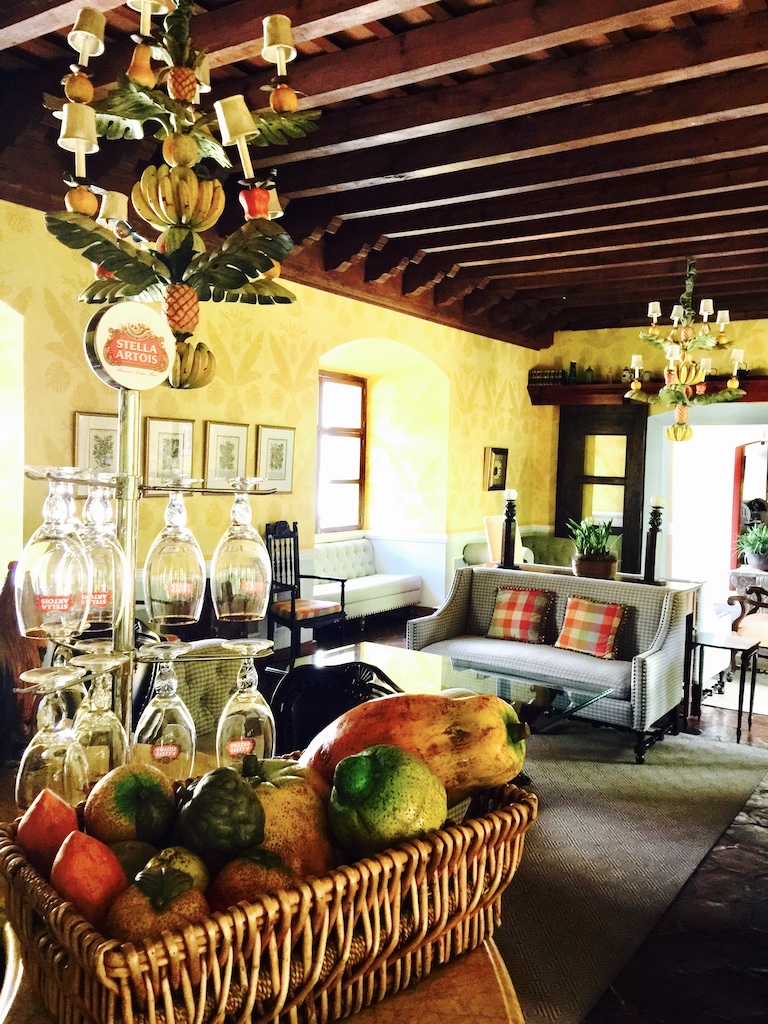 The culture and food make Antigua the perfect place to visit for backpackers and tourists. Additionally, this colonial city is packed with tourist attractions, not to mention amazing nightlife too. Thrill-seekers who want to see active volcanoes ready to erupt can find them here as well.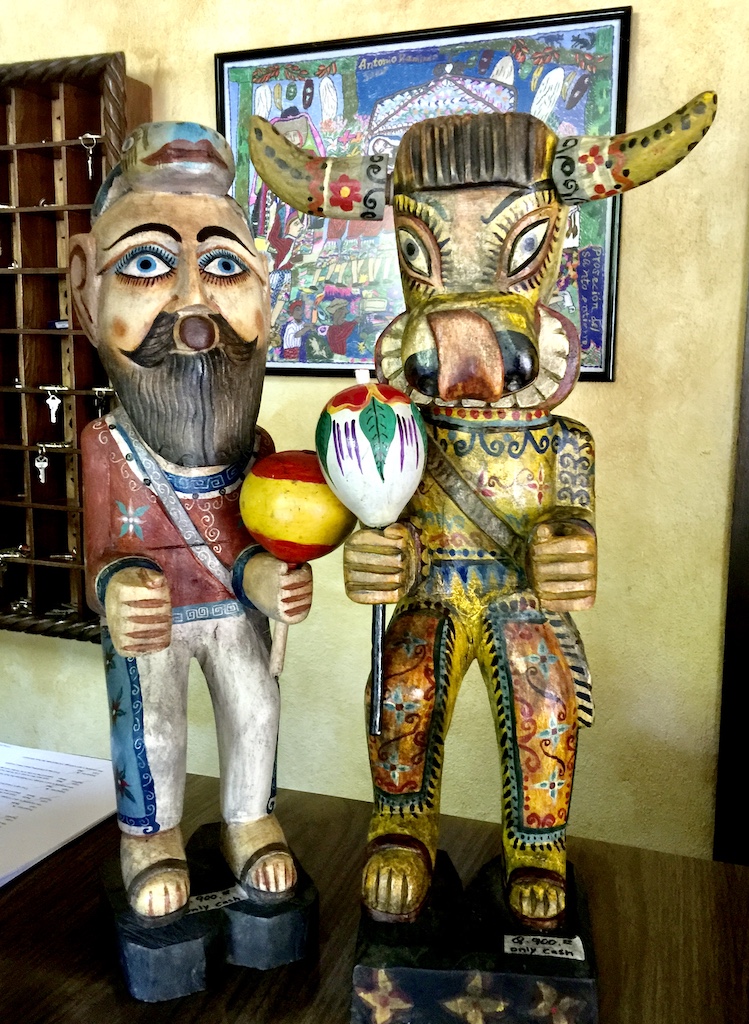 ---
What's in this post:
hide
The 15 Best Things to Do in Antigua
---
---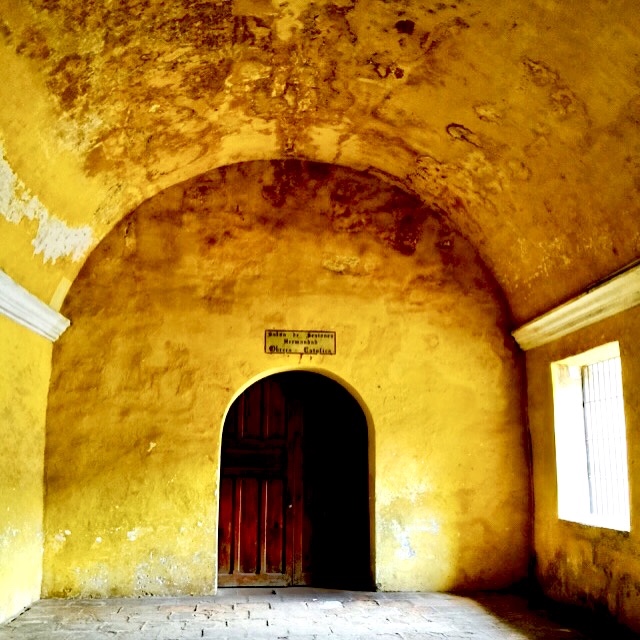 Aside from that, Antigua boasts of colonial architecture that adds to the unique charm of the city. It is not surprising that many foreigners chose to stay here as opposed to the more developed Guatemala City. After all, you have cobblestone streets, colorful houses, street vendors, and a wide array of restaurants to choose from.

Antigua has much to offer tourists and locals alike. If you are wondering what this great place has to offer, read on.
Top Things to Do in Antigua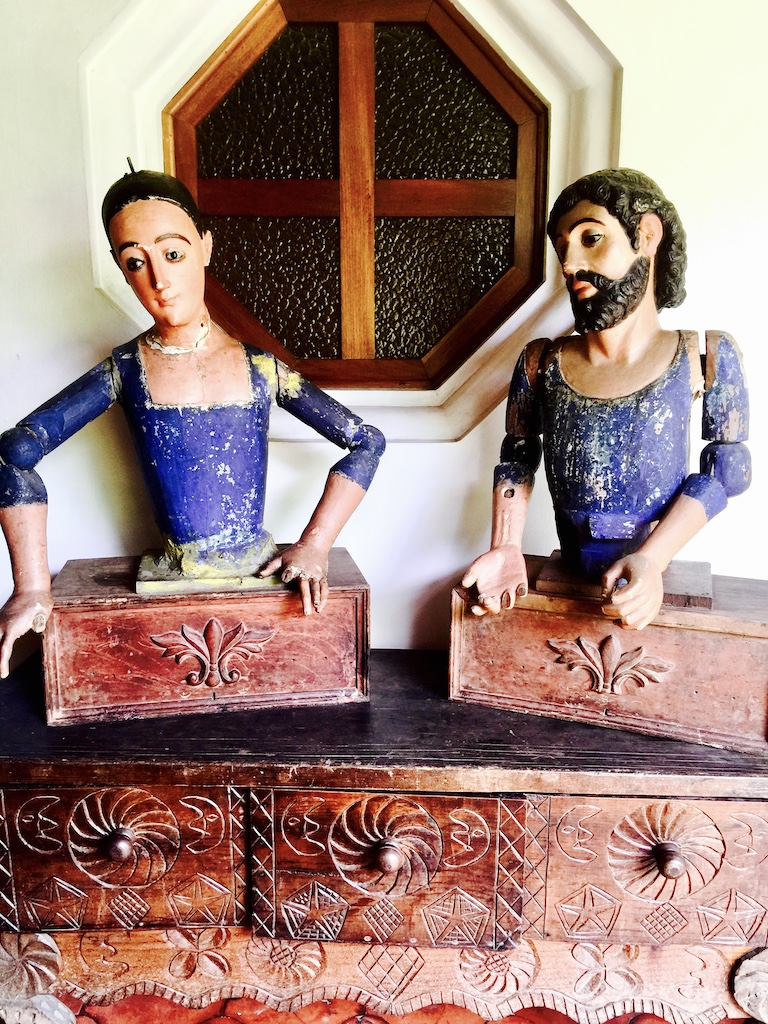 It's hard to choose the best things to do in this charming city. The good news is that there is something for everyone here. Regardless of whether you are looking for a unique experience, going on day tours, or exploring museums, they have it all here. Here are the top things that you can do in this beautiful city.
#1 Explore the Historical Center
Antigua's historical center is a UNESCO world heritage site because of its rich history and architecture. There are several colonial buildings, cobblestone streets, old courtyards, beautiful hotels, and old churches.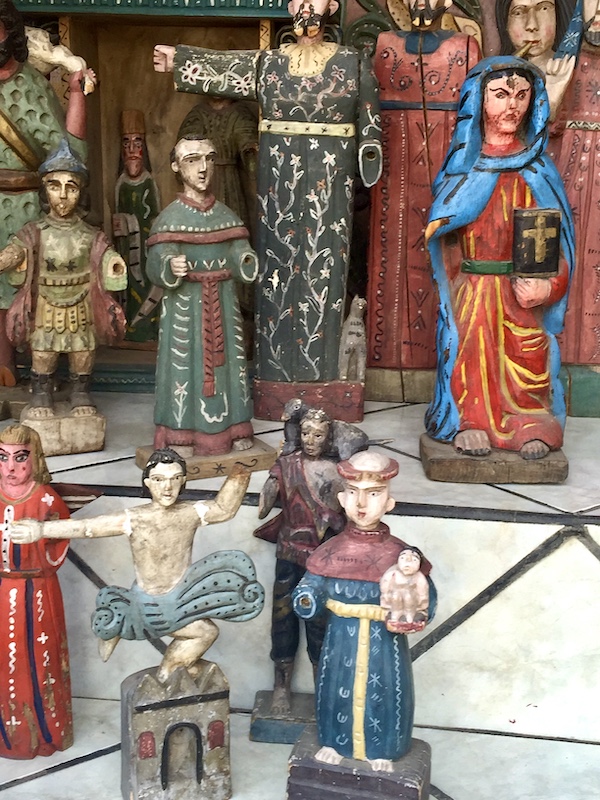 It is best to explore this place on foot to get up close to the stunning Baroque architecture. Ask the local people about the history of the place and any recommendations. While you are here, don't forget to visit the San Francisco Church and the Santa Catalina Arch.
Aside from that, make a plan to visit La Merced Church, Tanque La Union, and the Santa Clara Convent. These buildings will give you a glimpse of the rich history of Antigua. The city was the hub for exporting religious items during the Spanish colonization. It is not surprising that Catholicism still thrives here.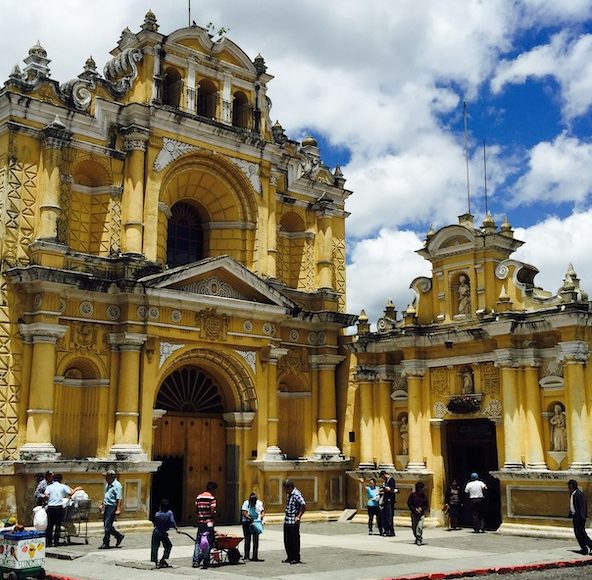 Another point of interest in Antigua is how the city is laid out. In fact, it is one of the best city plans in Latin America which is still followed today. You will notice how the old churches and government buildings are placed in strategic locations.
#2 Walking Tours of Antigua
Another way to enjoy Antigua is to go on an early morning walking tour. You should look for a local guide who gives walking tours to take you around the area. There are several guides who will not only show you around but explain the history of the old Guatemala too. You can even book a tour of nearby villages as well. Plus, if you are with your family, you can book a family walking tour.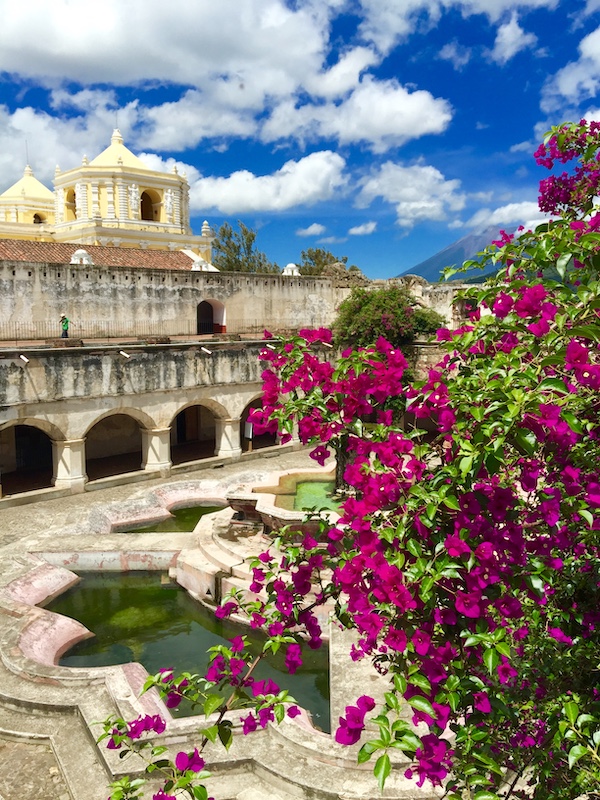 Aside from that, there are other tours to enjoy in Antigua such as a food tour. The local food in Guatemala deserves to be tried with its rich flavors and fresh ingredients. If you are looking for a great time in the city, complete your walking tour by sampling the delicious food served here.
These walking tours can run for more than two hours depending on the guide that you hired for the day. You can search for walking tours in Antigua online and choose what kind of tour you want to be part of. Aside from learning about Antigua's past and present, you can learn some trivia about each area that you visit. The best part is that your guides can speak in different languages. This makes walking tours more enjoyable. Plus, if you haven't been to Guatemala City, you can tour that place too!
#3 Volcano Fuego and Acatenango Volcano
The Volcano Fuego is an active volcano that still spews lava and ash. Although it is not safe to go hiking here, there is another option. The best way to get a good view of this volcano is to go up another.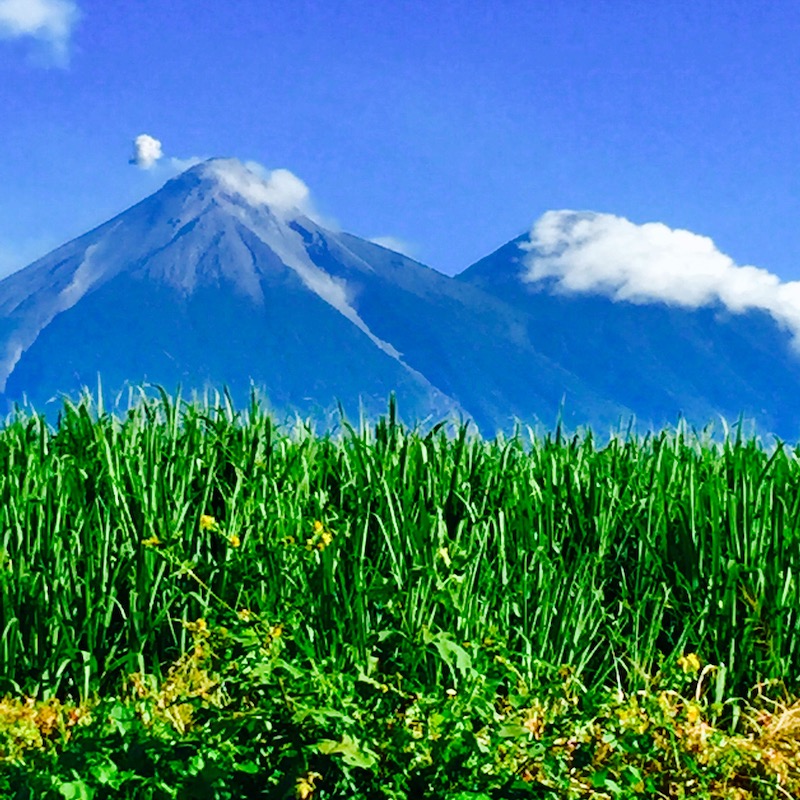 The Acatenango Volcano sits beside the volcano Fuego making it one of the most popular places in Antigua. However, the hike is challenging because of its steep incline. It takes two days to reach the top so you will need to do an overnight hike. Seeing the view of the active volcano Fuego at night is awe-inspiring. You can see the deep red hues of the lava flowing down from the volcano. You better prepare your cameras for this majestic view. Though the climb is tough even for seasoned hikers, it is going to be worth it.
It is best to go hiking on a clear day to see the beauty from high up the Acatenango Volcano. Most hikers visit it from February to April when the weather is nice.
#4 Visit the Parque Central
Antigua's beating heart lies in its Parque Central. The central park acts as the hub where local artisans, local vendors, and tour guides converge. You will find treasures in the surrounding area.
First, there is the Palacio de Capitanes Generales to the south. Second, there is the chocolate museum to the north. And third, the shops and cafes to the west. You should hang around the central plaza to get a feel of the local atmosphere. Have some ice cream while sitting down in one of their stone seats if you like or have some coffee.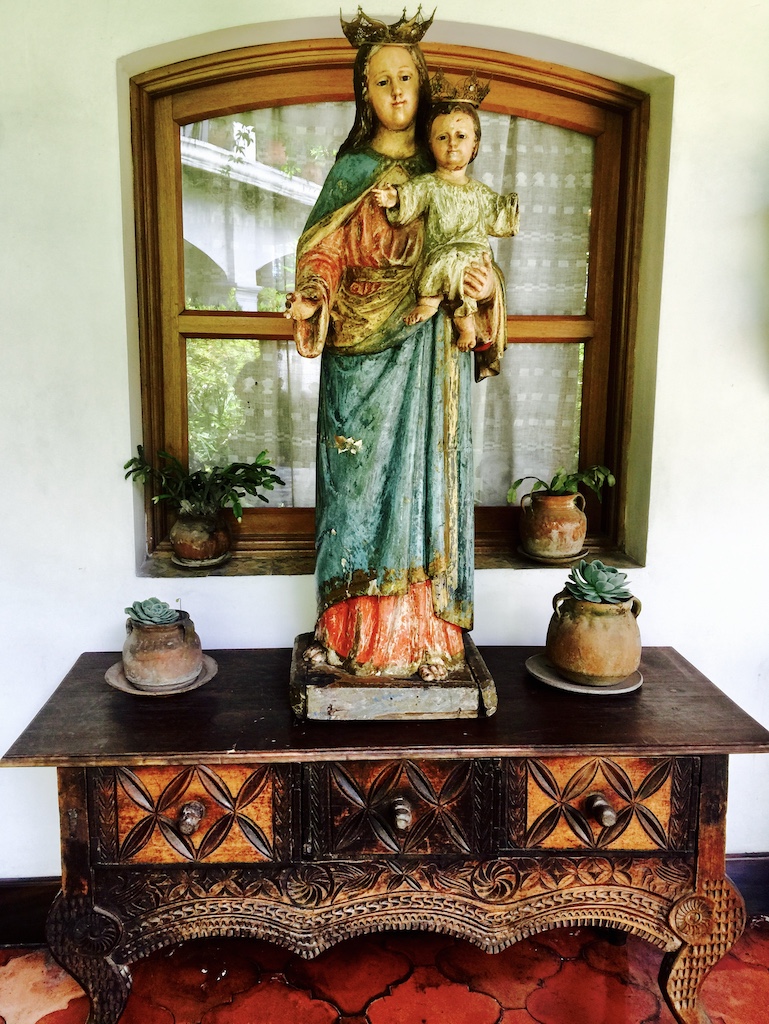 This has become the cultural center of the city as it is here where artisans and vendors converge. Additionally, the main square is the perfect place to hang out and enjoy people-watching. During the peak season, the central park is filled with tourists and locals alike. You can go with the flow of tourists, or take a breather and just sit for a bit. It comes alive at night too as the lights highlight the stunning colonial buildings around it
#5 Roasting Marshmallows at Volcano Pacaya
Since you are in Guatemala, it is a sin if you don't pay a visit to one of its majestic volcanoes. Pacaya Volcano is one example of the country's popular attractions and with good reason. It is an easy hike compared to Acatenango. The volcano did erupt back in the days but afterward, there are occasional eruptions that cause lava and ash to flow. This is why tourists often head up here to see lava up close. Additionally, you can roast marshmallows over the lava flow.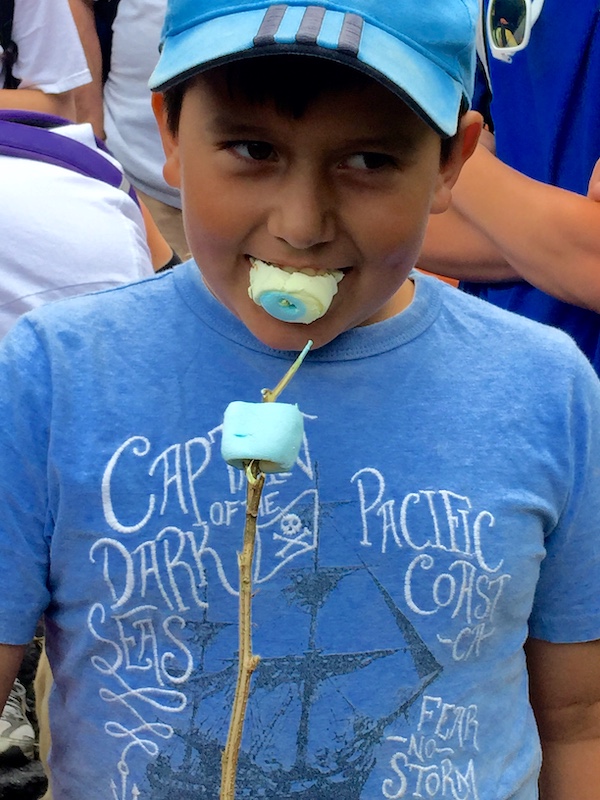 You will be sharing the trail with others too since this is one of the easiest hikes near Antigua. The good news is that there are stores along the way where you can buy some snacks. Make sure that you hire a guide for this trek so you will reach your destination safely. Although it is considered an easy hike, you still need to prepare for the change in altitude. There is nothing wrong with taking a break every now and then. The hike up can take at least two hours.
When is the best time to visit this volcano? You can visit starting from November to April. The trail will be filled with greenery and the weather will be more pleasant too. It is possible to do a self-tour here but it pays to have a guide show you the way. There are day hike tours that you can choose from or have your hotel concierge do the booking for you.
#6 Day Trip to Lake Atitlan
Lake Atitlan is referred to as the "eternal spring". This is because the temperature remains at 25 degrees Celsius. You should add it to your itinerary if you want to visit a place where you can relax and unwind. Aside from the spectacular views, you can also meet indigenous people living within the area. If you are pressed for time, go on a boat tour. There are lake towns nearby like Santa Cruz and San Pedro that you can visit on your tour during your day trip.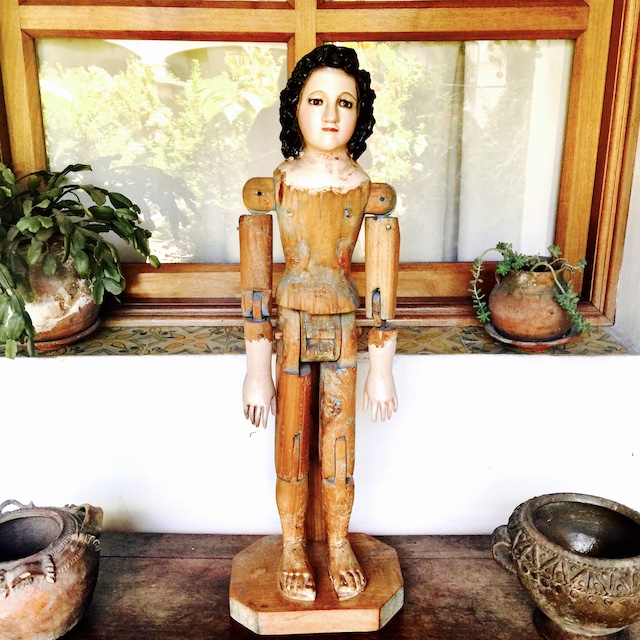 On the other hand, if you want to spend some time here then do so. There are accommodations in Lake Atitlan that you can stay in for a couple of days. This way, you can enjoy the various activities here. For example, you can hike up Volcano San Pedro. This is a three-hour hike that will give you a spectacular view of the area. The high vantage point also gives you a mesmerizing view of the sunset. Keep your camera ready to take shots of the gorgeous view from up here.
You can also go swimming in the lake itself or try paddleboarding. The calm waters make it safe for all ages. Aside from that, you can also take up Spanish lessons here or do some yoga. You can also just take the time to explore the area at your own pace. You'll be surprised to find treasures here.
#7 Cooking Class in San Pedro la Laguna
After exploring Lake Atitlan, why not take up a cooking class in San Pedro? Plenty of tourists say that one of their favorite things to do is to experience cooking the local cuisine. Local families living near Lake Atitlan often open their hearts and homes to those who are interested. Aside from getting ingredients from the local market, you'll learn the art of cooking local cuisine. The best part? You can all sit down and feast on the food you have prepared.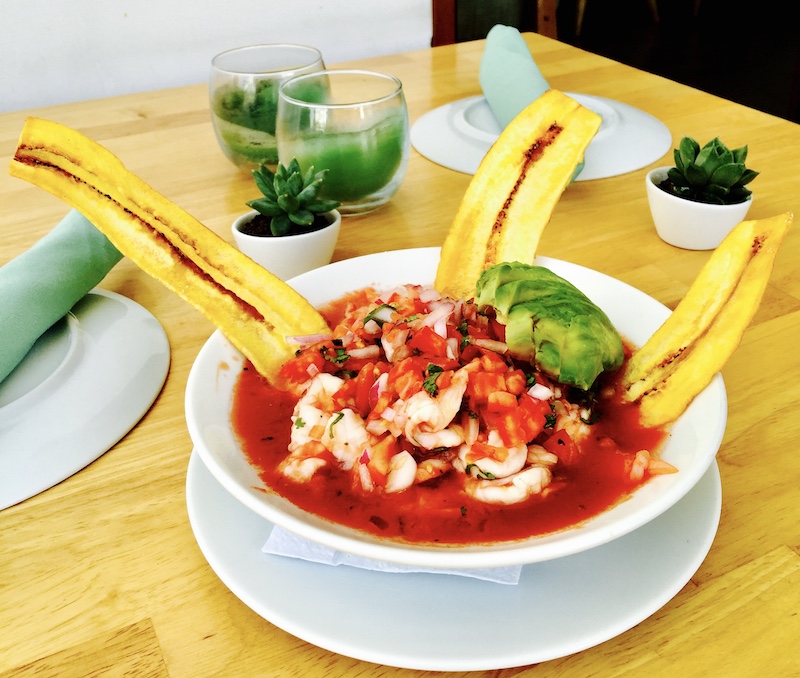 What better way to bring home a bit of Guatemala than learning how to make their local dishes? Not only will you learn a few recipes, but you'll also hear about their rich history through the eyes of the locals. This is one of the favorite activities that you can do here in Lake Atitlan. Make sure that you add it to your itinerary. You don't want to miss out on learning a thing or two about local food. This way, you will be able to surprise your family back home by cooking the Mayan way.
#8 Caoba Farms
You are going to get hungry with all the walking that you're doing in Antigua. What better way to satisfy your hunger than at Caoba Farms? The first thing that you will notice here is that the tables are surrounded by lush greenery.
Additionally, it is also beside a butterfly farm and a vegetable garden. What started out as an arugula farm grew into a vegetable farm that caters to the numerous restaurants in the city. Aside from that, the dishes served here are made from fresh produce raised from their own organic farm.
Their farm-to-table approach has attracted locals and tourists alike. Caoba Farms became the hub for those who want to learn how to raise crops, volunteer to work on the farm, or just sample good food. Everything in their two working farms is organic including the fertilizers that they use. It is not surprising then that their meals have that special taste to them as the ingredients are always fresh. Aside from their delicious meals, they also have live music during the weekend.
#9 Hike to Cerro De La Cruz
A hike to the "hill of the cross" is a must for any tourist. This 30-minute walk from the city center will give you great views of the volcanoes. There are people selling drinks and snacks here so you can have some refreshments while waiting for the sun to set. It's a short walk that you don't want to miss while you are in the area.
Cerro de La Cruz is an incredible site that gives you the best views of the town below. You don't even have to be physically fit to climb the 2,000+ steps. Hikers should pace themselves and drink water every now and then to avoid dehydration. It can take an hour to reach the top or longer depending on how fast you climb the stairs. On top of the hill is a huge concrete cross that became a tourist attraction.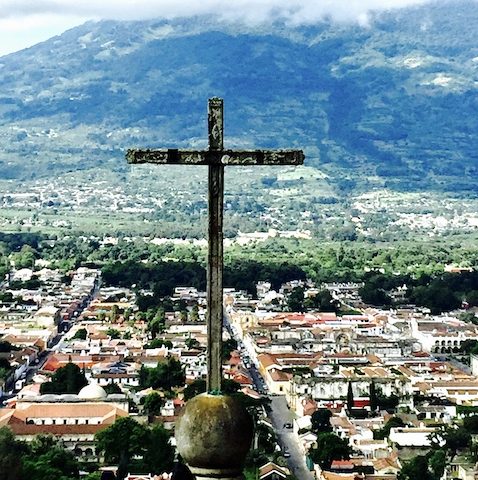 After seeing the view of the town from above, you can start your trek back down. For sure, you will see the town in a new light.
#10 Head to the Local Market
One of the fun things to do in Antigua is to visit their local market. It is a popular attraction for tourists. You will find it in the heart of this small city and it is where you will find a wide array of products to choose from. The fruit and vegetable section is the favorite part of locals and tourists alike. Fresh fruit and vegetables are artistically displayed on tables to attract buyers. Also, you can buy your souvenirs here as there are shops lining the street. Market days are Mondays, Thursdays, and Saturdays.
During their official market days, vendors crowd the street. They roll out their rugs and place their wares in a decorative fashion that is pleasing to the eyes. There are plenty of tourist goods at the front, but save them for later. You should explore the market at your own pace to see what bargains you can bring home.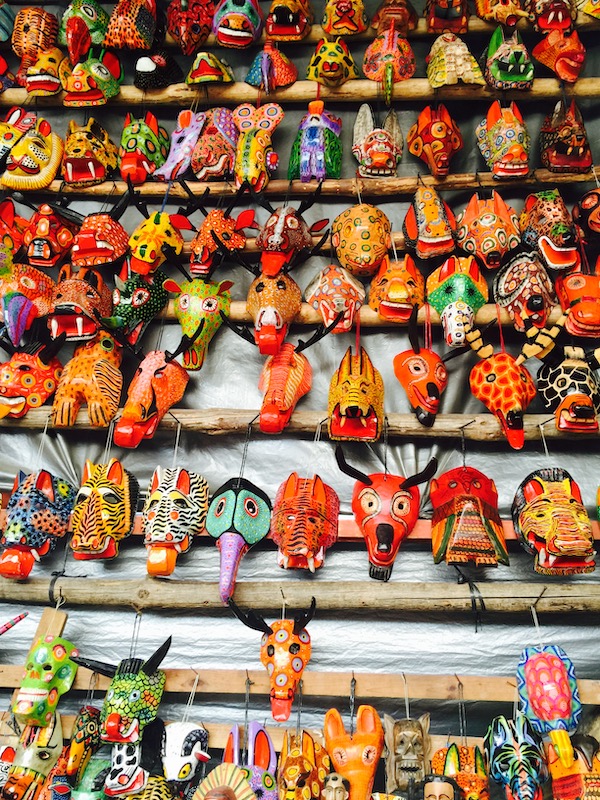 Although the market may seem chaotic, there is order in it. Fresh produce is in one section, while clothes and shoes are in another. You can find various items here that you can haggle for. All in all, this is an experience that you should make time for while you are in Antigua.
#11 Antigua During Holy Week
If your trip to Guatemala coincides with the Holy Week or Semana Santa, make sure that you head to Antigua. This is a popular celebration in the country and this city brings out its best displays. However, you will need to book a hotel room as early as you can since tourists and locals flock to the city during this time. It's a great way to immerse yourself in local culture as communities appear wearing their original costumes. There is no better place to be during this religious event than in Antigua.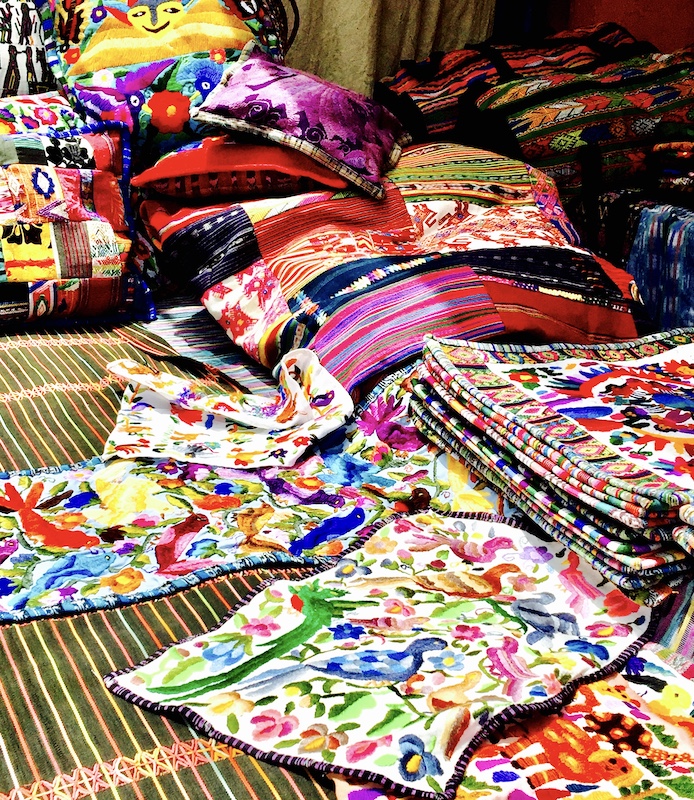 Walk around Antigua during Holy Week and you'll see processions left and right. You can even come across generations of families showing off their beautiful street carpets. Locals avoid stepping on these impressive carpets so that the priests who spearhead the procession will be the first ones to step on it.
The floats are one of the best attractions here as locals consider it a privilege to be carrying religious images. You can get goosebumps just watching the opulence of this celebration in Antigua. Devotees and tourists flock to the streets during this week-long event.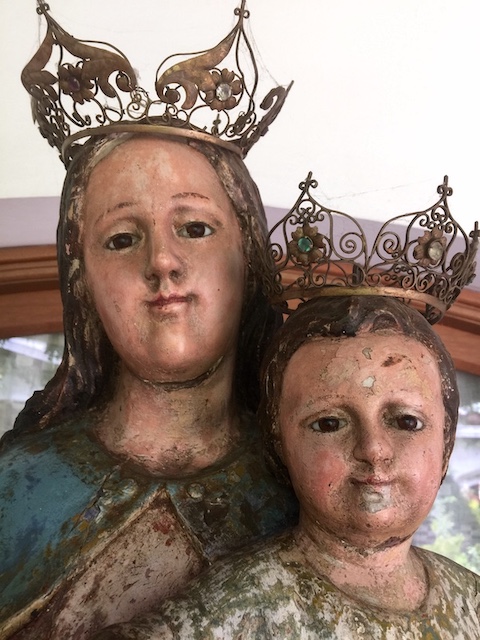 #12 Ride the Chicken Bus
For the more adventurous travelers, skip renting a car or riding a taxi while you are in the area. Instead, go for the chicken bus. Countries in Latin America have this form of transportation but not as many in Guatemala.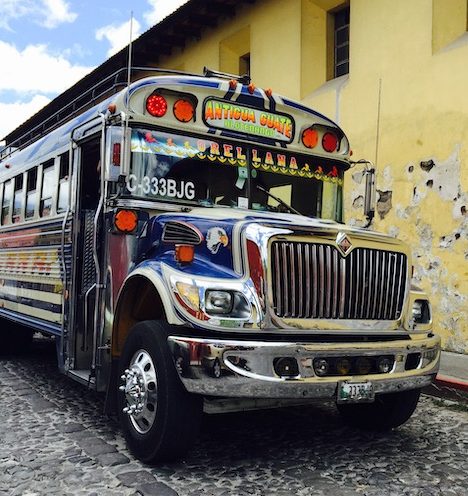 These are American school buses that have been converted for local transportation. Passengers usually cram these vehicles and will even share seats when possible. It doesn't use any prepaid credit card but instead, you pay for your fare in cash. After determining where the chicken bus passes you need to signal them as they arrive. If you have a heavy load, the conductor will help put it on the roof.
You will need to be quick though as you need to climb on board as fast as you can. Also, make sure that you secure your belongings with you at all times. If you want to extend your vacation, you can also take a bus to El Salvador.
#13 Visit a Coffee Farm
Coffee lovers should make it a point to visit coffee plantations in Antigua. What makes coffee one of their best products is the presence of volcanoes around the area. The soil is high in mineral content which is essential for growing coffee. The coffee beans are flavorful thanks to the soil that they were grown from. If you are looking for the best coffee, you will find it in Guatemala. Don't forget to bring some home.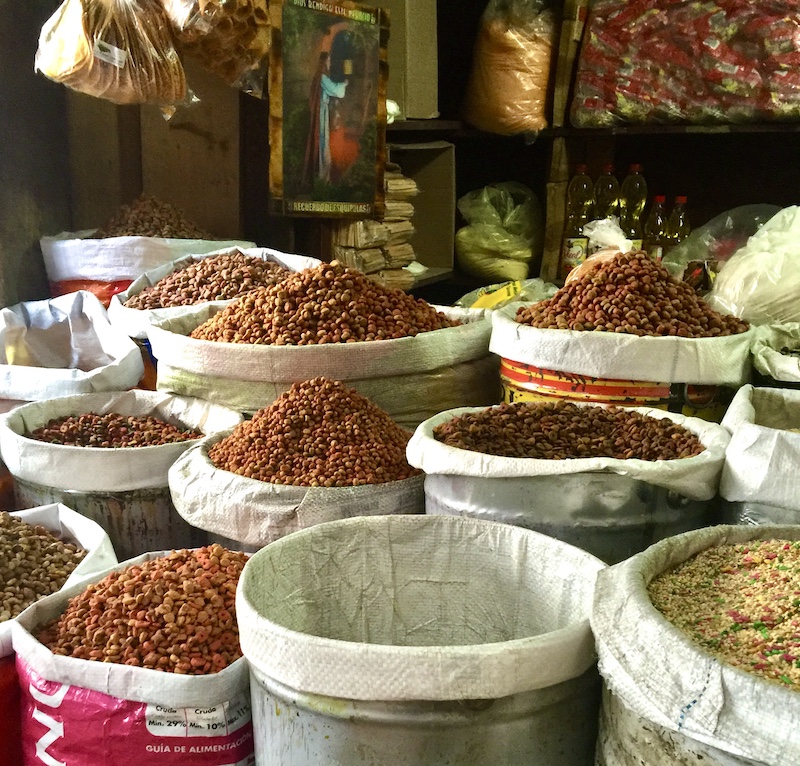 Join a tour or explore on your own by hiring an Uber and heading to Finca La Azotea. There is an entrance fee here that you will pay to tour the grounds. Also, you can dine here if you like or have some drink while admiring their beautiful garden.
#14 Visit Museo del Chocolate
Guatemala is home to the best chocolates in the world. In fact, they consider it as a "sacred drink". The Mayans were the first people to discover the culinary uses of cacao and even used the beans as part of their currency. This is just one of the things that you will learn when you visit the kid-friendly Museo del Chocolate.
The Choco Museum offers a free entrance to their museum which you can explore on your own. If you want to learn more about the history of cacao, the staff can share important details. Aside from that, you can touch cacao beans and pods in the museum. You can learn how the cacao beans are harvested and transformed into drinks. The museum staff is versed in English and Spanish for ease of communication.
You can also book their bean-to-bar classes or make your own mini chocolate. These two are paid classes but are worth the experience. Just imagine learning how to make your own chocolate using fresh cacao! If you are on a tight schedule or are on a budget, go for the mini chocolate activity. You can fill your chocolate with anything you like and bring it with you after.
#15 Volcán de Agua Hike
Aside from going up Acatenangot, there is another volcano that you can add to your list. Volcan de Agua towers over the city of Antigua. It will take you at least 4 to 5 hours before you can reach the top. If you will hike up Volcán de Agua make sure that you have a local guide with you. Aside from the challenging hike up Agua Volcano, it is dangerous too. Hikers are often get accosted near the cemetery which is why it is important to have a guide with you. Though this can be a turn-off for some, traveling in a large group can offer some protection, and remember, it is no short hike.

#16 Hotel Casa Santo Domingo
If you want to splurge while visiting Antigua, then booking a stay in their luxury hotel is worth it.
This five-star hotel is found in the Santo Domingo Monastery. It is one of the best convents in Central America. However, the convent suffered extensive damage during the Santa Marta earthquake. In 1989, a project to reconstruct the building took place and from this, the luxury hotel emerged.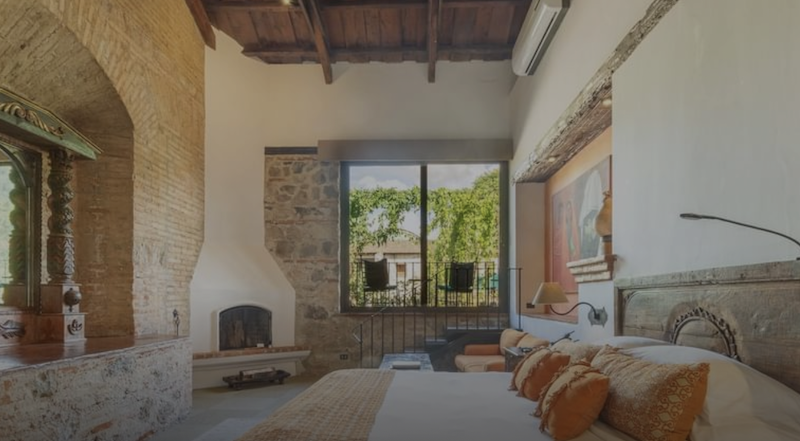 Once you step inside the hotel, you'll feel that you are in a different world. Think colonial structure meets modern amenities put together to create luxurious accommodations. This hotel has more than a hundred private rooms with several having spa-like amenities. You will need to call them up if you have any special requests for your room. It is worth the extra cost as you will be living in the lap of luxury here.
Additional Activities to Do in Antigua
The beautiful cities of Guatemala have much to offer their guests. In Antigua, the colonial times have left stunning structures, ancient ruins, and vibrant, charming life. Aside from the top things to do in the city, there are still more for you to experience.
#1 National Park
The National Park is one of the beautiful places that you can visit in Antigua. It stretches across the southern coastline of the island. You can head to Nelson's Dockyard which is a cultural heritage site. You can explore the historical park at a leisurely pace or join a tour. Either way, there are plenty of interesting sights to see here.
#2 Eat at Local Restaurants
There are several great restaurants that you can find in Antigua. For example, Por Que No Is an eclectic restaurant that serves a wide array of dishes. The restaurant has an artistic vibe to it that adds to its overall charm. You will be spoiled for choices when you go around Antigua's food court. Here they serve local and international dishes. Also, do check out their coffee shops where you will find the finest Guatemalan coffee.
#3 Old Churches and Convents
You should not miss visiting old churches and convents in the city. For example, the Santa Clara convent is a good place to start. It's a magnificent building with an impressive courtyard. An earthquake destroyed the convent. What you'll see are the remaining structures here.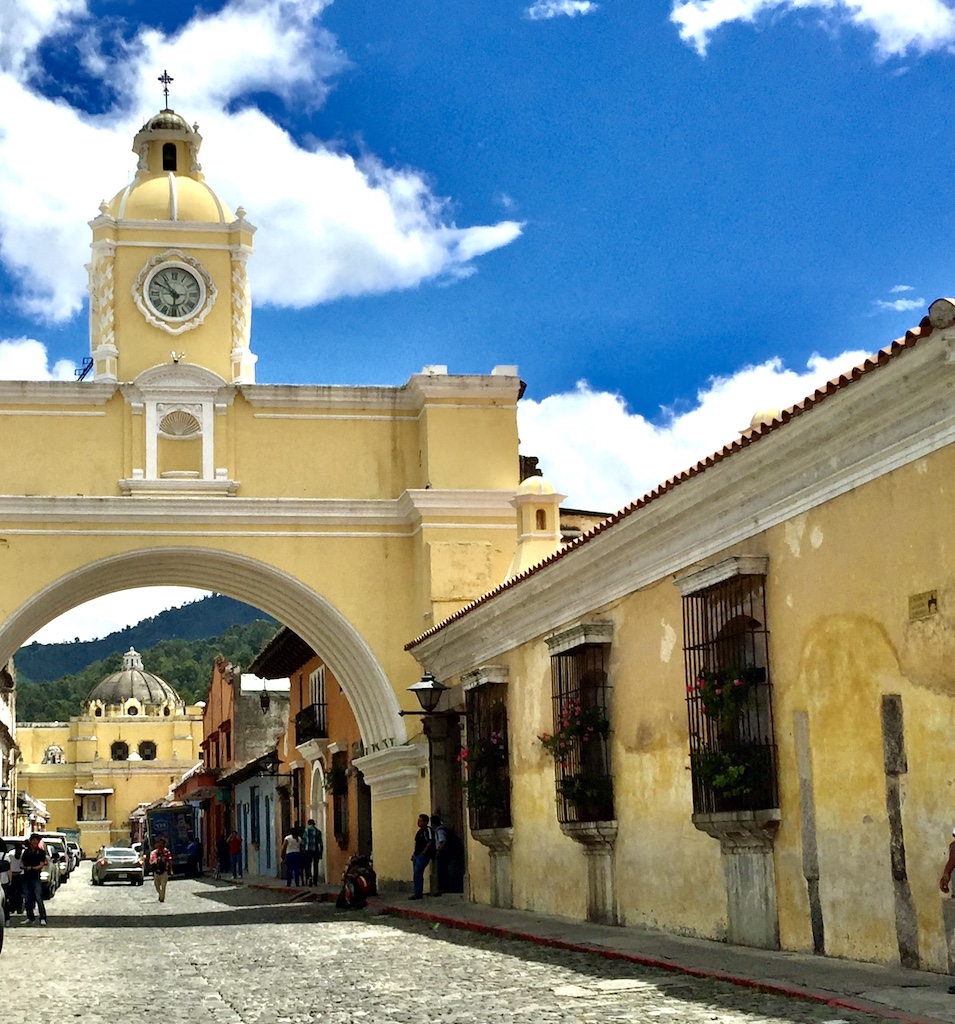 Not all churches are open but you can still admire their facade. Hire a tour guide to show you these magnificent-looking churches. You can even learn a thing or two about their historical importance to the city.
When is the Best Time to Visit Antigua?
If you are planning to visit Antigua, book your stay here between the months of May to November. These months are considered off-season. This means that the rates are usually cheaper. Although these months can coincide with hurricanes, they do not happen often. Just make sure that you pack your essentials as well as rain gear if you're traveling during these months.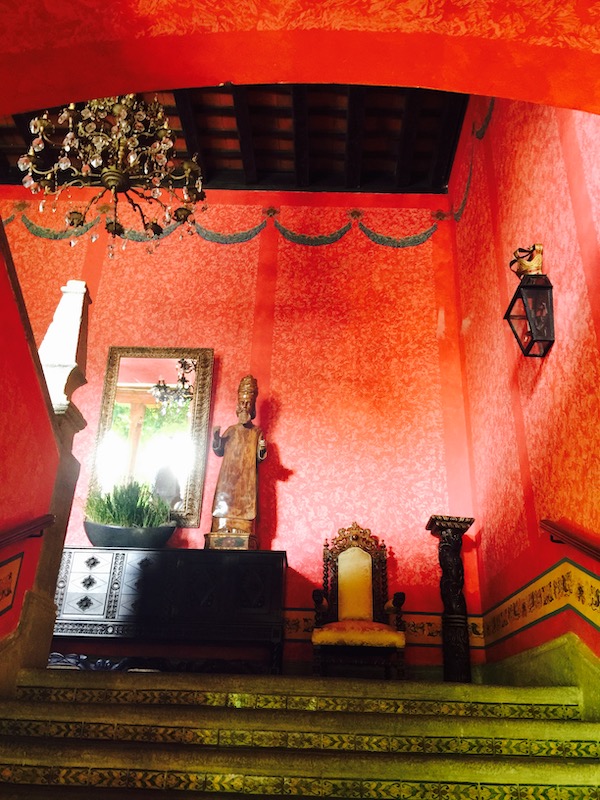 On the other hand, if you want to witness Antigua bursting with tourists, then visit from December to April. The weather here is perfect for some walking tours, a trip to the closest beaches, and go on a food tour too. Also, religious events like Holy Week are worth witnessing as well.
Hotel rates are higher during their peak season which means you have to be ready for it. It is possible to book cheaper rates if you do it in advance. You will see plenty of action here with the city coming alive to welcome their guests from all over the world.
Antigua – Your Next Destination
Guatemala is one of the best destinations in Central America that you can visit in the future. There are dozens of tourist attractions and hotspots here that you need to make a plan ahead of time. If you prefer a more laid-back adventure or immerse yourself in Guatemala's rich culture, Antigua is the place to be.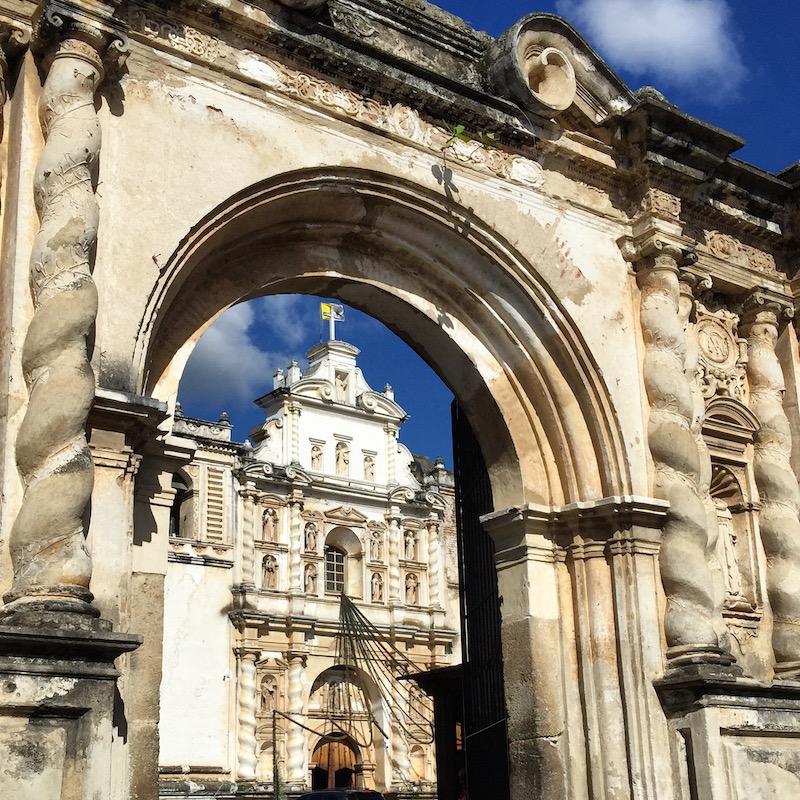 It is a world heritage site that has managed to retain its impressive colonial structures and catholicism over the years. Although we are living in modern times, the quaint city has made its history a point of attraction. Yes, there are luxuries available like Hotel Casa Domingo, but the old-world charm is still alive.
From walking tours to visiting coffee plantations, to hiking up volcanoes, Antigua has much to offer. It is entirely up to you how you are going to make your trip here a memorable one. Get as much information as you can before heading out here. Regardless of whether you will explore it on foot or by car, Antigua will be your favorite destination soon.