Hawaii island is a favorite destination for snowbirds. This is not surprising since it is a known beach destination. There are eight main Hawaiian Islands that you should know of. The main islands are Maui, Big Island, Kauai, Oahu, Molokai, Niihau, and Kahoolawe. What's interesting about them is that they are home to more than a hundred amazing beaches!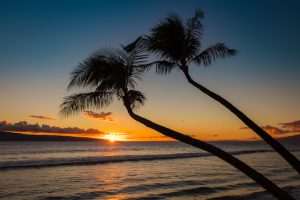 ---
18 Best Beaches in Hawaii
---
---
In fact, there are different types of beaches here. From black sand beach to white sand beach and everything in between. You'll be spoiled for choices here. There are beaches with plenty of shade while others require you to bring a beach umbrella. Some come with amenities like children's playgrounds and changing rooms to name a few.
However, some Hawaiian beaches are not suitable for swimming. This is because of the strong currents there that can sweep you into the deeper part of the ocean. On a good note, there are places where you can go boogie boarding or surfing. In addition, there are inlets with calm waters ideal for swimming and other water sports, such as diving. That said, if you are looking for the perfect place to spend your vacation, check the best beaches in Hawaii below.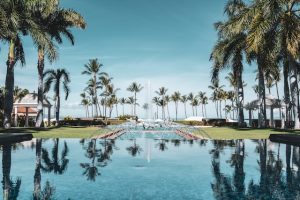 List of the Best Beaches That You Should Visit in Hawaii
There is no shortage of beautiful beaches in Hawaii. In fact, the only problem that you are going to face is deciding where to go. That said, here's a compilation of the best beaches that are family-friendly, and ideal for snorkeling, surfing, and more!
Kaanapali Beach, Maui
Right off the bat, Kaanapali Beach has five stunning hotels fronting the beach. Aside from that, it boasts three miles worth of white sand beach that you'll fall in love with. You can go swimming or snorkeling here if you like. Black Rock near the north end is ideal for snorkeling so take note of that. You can even go on long walks too while waiting for the sun to set. Keep your eyes peeled though for sea turtles or humpback whales breaching the waters.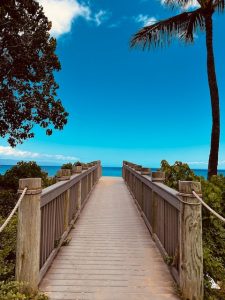 Meanwhile, there are two championship golf courses here that you can play on. With the turquoise waters serving as the backdrop in the golf course, you are playing with a view. Once you have your fill of the waters, make your way to the Whalers Village Mall. Aside from the whaling museum, there are restaurants as well as free entertainment here.
Hamoa Beach, Maui
Meanwhile, this crescent-shaped beach lies beneath cliffs composed of lava rocks. You will find it along the famous Hana Highway. Although this is a public beach, it is also the "house beach" for the resort nearby. This means that the lounge chairs that line the beach are for hotel guests only. Although the beach is just 1,000 miles long, surfers frequent this spot.
Snorkeling is possible here, but keep an eye out for swift currents here. You can soak up the sun on the beach here. Find a good spot under a Hala tree for some shade too. Parking is going to be a bit tight here because of parallel parking. In addition, the path to the beach is a bit steep so be careful.
Makena Beach, Maui
Makena Beach, or Big Beach, lies on South Maui. Although there are some rough waves here, you can still enjoy its amazing white sand. Sunbathing is a common activity here. But you can also swim, snorkel, fish, and bodyboard here too. Aside from that, Puu Olai, which is a dormant volcanic cinder cone, separates Makena State Park from Big Beach and Little Beach.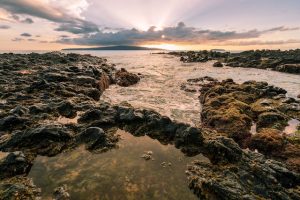 Little Beach tends to get crowded. In addition, this is where nude sunbathers head to. If you want to swim in the nude, then head here early to find a good spot. Meanwhile, the Big Beach has its own lifeguard on duty for your safety. There are picnic tables, food concessions, and bathrooms here as well.
Wailea Beach, Maui
Meanwhile, if you prefer hanging out on a beach with a resort vibe, then this is it. This is just one of the five beaches that is part of the Wailea Resort development. Fronting the well-known Grand Wailea Resort Hotel & Spa, you'll enjoy spending time on this pristine white sand beach. After all, it has amazing views of the Pacific Ocean.
Aside from that, when the water is calm, you can go snorkeling or body surfing against the small waves. In addition, the beach offers amenities like bathrooms and showers. Plus, there is free parking here as well.
Waianapanapa State Park, Maui
Black sand, anyone? This stunning beach near Hana gives you the most value for your money. Aside from the gorgeous black, sandy beach, there are other interesting spots to see here as well. Among these are the lava tube, black lava cliffs with hiking trails, and a vibrant green jungle too.
However, the water here is quite rough. Small children should not enter the water as they can get swept away.
Waikiki Beach, Oahu
Most visitors to Oahu often head to Waikiki Beach. It's because of the Diamond Head crater nearby as well as to pay respects to the statue of Duke Kahanamoku. Kahanamoku was not only an Olympic swimmer, but he was also the father of modern-day surfing. Travelers can take up canoe paddling or take surfing classes here if they like.
Head to the south shore of Waikiki and you'll see more beaches. Among these are Duke's Beach, Queen's Surf Beach, and Kuhio Beach. In addition, there are Magic Island Lagoon, Ala Moana Regional Park, and Sans Souci/ Kaimana Beach Park. These three are more family-friendly because of the shallow, calm waters. Most of these beaches have picnic areas, food concessions, and bathrooms and showers too.
Hanauma Bay Nature Preserve, Oahu
Meanwhile, this nature preserve lies in East Honolulu. It is a 25-minute drive from Westin Moana Surfrider. This is a great spot for snorkeling and has been attracting plenty of tourists year-round. And because of this, the local government developed a marine education program. Visitors will be required to watch a video about the marine life in the bay.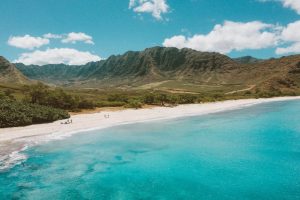 This includes lessons on how to be safe on the beach while having fun. Aside from that, there is a limit to the number of visitors on the beach. If you are planning to go snorkeling here, make sure that you come early in the day. There is also an entrance fee of $12 here. But children 12 years and below are free of charge. Go snorkeling in the shallow coral reefs to see a wide array of tropical fish.
Kailua Beach, Oahu
Imagine walking on powdery soft sand complemented by turquoise waters. This is exactly what you will find when you visit Kailua Beach Park. You will find this gorgeous beach park on the East Coast of Oahu. Just half an hour away from Waikiki Beach, this beach stretches to 2 ½ miles.
Aside from that, this beach is a great place for swimming, windsurfing, and boogie boarding. Not only that, but this is a good starting point for a kayaking adventure. Fortunately, there are kayaks for rent on the beach. You can also see the islands of Moku Nui and Moku Iki from the distance. Experienced kayakers can reach these islands between 45 minutes to 2 hours give or take.
Waimea Bay, Oahu
Head to Oahu's North Shore and you'll find Waimea Bay. This is a popular beach because this is where surfers congregate. In fact, adrenaline junkies often come here during the winter. This is to catch 30-foot-high big waves. On a good note, the water tends to calm down during the summer months. This makes it suitable for water sports like diving, swimming, and snorkeling. You can also go cliff jumping if you are not faint of heart.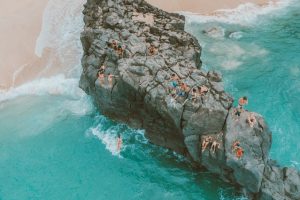 Meanwhile, you can make your way to Waimea Valley. This is a cultural center and botanical garden all rolled into one.
Lanikai Beach, Oahu
Considered to be one of the most famous beaches in Hawaii, Lanikai Beach is the perfect spot for beachgoers. With miles of fine white sand as well as calm waters, this is indeed a paradise for many. Among the many water activities that you can do here include swimming, stand-up paddleboarding, and kayaking.
Although this beach is not ideal for snorkeling, you can still take a dip here. This will let you get a feel for the waters here. There are corals and plenty of fish here too.
Ko Olina Beach Park, Oahu
This is one of the best spots for families visiting Oahu. It covers 642 acres of land including four jewel-like lagoons. You can take a stroll on the beach, or swim in the waters if you like. There is a parking area on each of the lagoons here but is on a first-come-first-serve basis.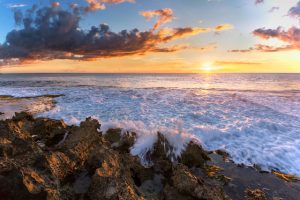 However, there are no lifeguards on the beach so make sure to keep an eye on your kids. Although Ko Olina is privately owned, there is public pedestrian access to and from the beaches here.
Sunset Beach Park, Oahu
This beach park is one of the biggest surf spots in Oahu. In fact, it is part of the Triple Crown surfing competition. This includes the Banzai Pipeline and Waimea Bay. During the summer, this beach transforms itself into a family-friendly beach. The blue waters are quite inviting to swim in. Not only that, but you can also go exploring the shallow waters where an offshore reef can be seen as well.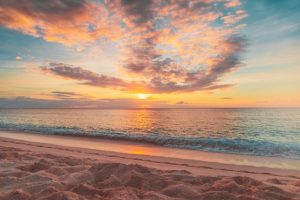 Hapuna Beach, Big Island
Meanwhile, snorkeling is perfect in Hapuna Beach but only when the waters are calm. If you are here during the winter months, make sure that you avoid the waters. This is because of the strong currents here. Once the high surf hits the shoreline, it's a good sign that you should avoid the waters. However, this is still a great spot to go surfing or bodyboarding.
The white sand beach spans half a mile long and with plenty of leafy vegetation too. Aside from that, there is a lifeguard on the beach which is a plus. However, it does get crowded here. If you are driving here, there is a parking fee of $10 at the Hapuna Beach State Recreation Area.
Mauna Kea Beach, Big Island
Kaunaoa Bay, more famously known as Mauna Kea Beach, is a popular spot for beginner snorkelers. After all, this sandy-bottomed bay is less than 10 feet deep. This beach lies on the Kohala Coast and is the best place for travelers to learn how to snorkel. Aside from that, you can see different types of marine life here as well. You can spot them from a rock ledge on the right side of the beach. Among the fish that you will see here are butterfly fish, peacock bass, and parrotfish. There are turtles too which is a plus.
Guests who are staying at the Mauna Kea Beach Hotel should head back to the beach at night. This is the perfect time to see manta rays enjoying the plankton. Take note that the hotel controls the parking lot here. This means that there will be few parking spaces here for non-guests.
Punaluu Beach, Big Island
As mentioned before, there are black sand beaches in Hawaii too. In fact, Punaluu Beach is one of them that you should visit. There are tons of things to do here aside from sunbathing. You can go snorkeling, hiking, or camping even. Most visitors come here to see the hawksbill turtles in the waters as well as Hawaiian green sea turtles sunning themselves on the beach.
Make sure that you wear shoes here because the black sand gets hot. Fortunately, there are coconut palms that line the beach. They provide much-needed shade for beachgoers. Take note that there are freshwater springs underwater here. This is why you'll notice that you will swim in both hot and cold waters.
Hanalei Bay, Kauai
You cannot visit Kauai without seeing Hanalei Bay which is on the north end of the beach. It's a crescent-shaped beach that covers 2 miles of land. This is the largest bay in Kauai making it a must-see. Head to the center of the beach where you will find the Pavillions. This is the best place to go bodyboarding, swimming, and surfing.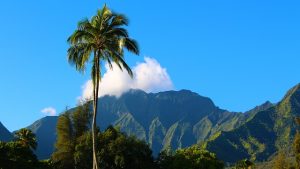 On a good note, there are plenty of lifeguards here to ensure the safety of the guests. You can still enjoy the beach even if you don't want to swim. In fact, you can go for a long walk here if you like.
Poipu Beach Park, Kauai
Locals and tourists alike love to hang out in this beach park. After all, this is the favorite spot of endangered Hawaiian monk seals. You will find them at Nukumoi Point which separates the beach into two. Young children can learn body surfing here, specifically on the western side. The gentle waves break against the shallow sandbar making it suitable for children.
Meanwhile, if you head to the left side, you will find a shallow swimming area. A volcanic rock shelters it from large waves. Surfboards and snorkel gear are available on the beach. In addition, there is a picnic area and a children's playground on site too.
Polihua Beach, Lanai
For tourists who are looking for secluded spots, then make your way to Polihua Beach. This off-the-beaten-path beach requires driving a 4-wheel-drive to get here. But the trip will be worth it. In fact, this is the longest golden sands beach that you will find in Lanai. You can have this beach all to yourself where you can sunbathe and stroll along the beach.
Take note that there are strong currents here. This means that doing water activities is risky. It is still a good spot to admire stunning scenic views.
Bonus Beaches to Add to Your List
Aside from the top beaches mentioned above, there are others worth considering too. Among these are:
Papohaku Beach, Molokai
Papohaku Beach is a fantastic spot to visit. Although this is on one of the small islands in Hawaii, it does pack a punch. In fact, Papohaku Beach is a long beach that stretches up to three miles at least.
Hulopoe Bay, Lanai
There is always a good reason why you should visit Hulopoe Bay. It is actually ideal for swimming, snorkeling, and surfing. The tide pools here are home to hermit crabs, sea stars, and small fish.
Conclusion
Hawaii's islands boast crystal clear waters and pristine sand beaches. This is why it is not surprising why many people travel here to enjoy them. Depending on which island you visit, you will either find a military base-owned beach or one lined with palm trees. But regardless of where you head to, expect that you will be making great memories here.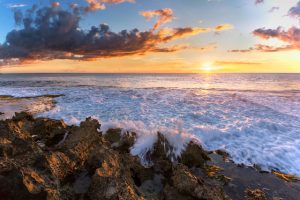 For tourists who will be driving a rental car, knowing the rules about street parking is a must. After all, you don't want to get a ticket during your vacation, right? You should research this prior to heading to the Hawaii island of your choosing. This way, your trip will be smooth sailing.
It is challenging to determine which beach to head to in Hawaii. But hopefully, this post will help you choose one for your upcoming trip.