I had always wanted to go to Russia.  And here was my chance.  My husband's MBA class had an opportunity and we jumped on it.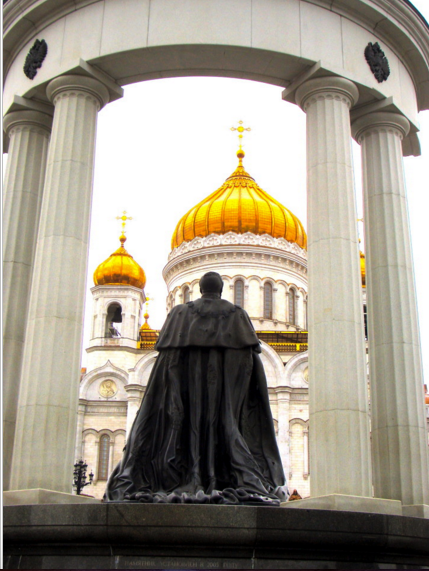 After ticketing, visas, and packing, we arrived late into the evening at the hotel.  He was scheduled to be at the classroom about 20 minutes away early the next morning, but I slept in and decided to meet him for lunch.  I went down to the hotel bar for breakfast. As I was sitting at the table, I glanced over and realized that there were other wives of the MBA'ers in the same predicament. Here alone and needed to get to the lunch location. One of the gals was a statuesque beauty from Utah and the other a street-smart Dentist from India. We quickly introduced ourselves and made a fast plan of action. After conferring with the hotel staff about our transportation options, the Indian gal thought we could just take the subway to a stop about 5 minutes from their classroom and then walk to the lunch place. We all agreed, although I had preferred to take a taxi since I didn't know how the public transportation system worked yet, I went along with them.  I was dressed in knee-length black boots, a skirt and a heavy, long black jacket with a scarf since it was still the dead of winter in Russia. I wanted to look posh when meeting many of my husband's new classmates. After pushing open the hotel door, with the cold wind breezing through our hair, we recognized it was much colder than we had anticipated, so we bundled up and started our trek toward this restaurant that was supposedly close by. Maps in gloved hands, we tried with all our might to follow the hotel staff's directions and then paused a few times to re-look at the tiny map they had given us, as the snow made it wet and started to smudge the page.
We continued and somehow figured out how to use the subway system since all the words were not only in a different language but also in a different alphabet! Somehow, we made our way down to the train. Upon exiting the subway system, it came out at a street market, where occasionally we would stop and ask about this restaurant, in which no one seemed to have ever heard of.  All this was done with pointing and gestures since we knew no Russian.
We dredged on and by now the snow started pouring and pouring down. By then, my hair was getting matted with slushy rain and snow and my makeup was beginning to smear. About every block or so, we would stop a person on the street, none of which spoke any English and we would just point towards our map, with our finger on the subway exit. Finally we came across a 30 something female that looked at us like we were crazy and she pointed to the fact that we had gotten off the subway about 2 stops too soon and that we had at least another mile and half to walk to make it to this unheard of restaurant that was on the campus of the University.
So you can imagine upon our arrival that we looked like three wet cats!  Here I had been dressed to impress, but I was now a soaking mess with mascara running down my face. We did end up making it, but in retrospect, at least for me, I think I will always think twice that first day in a foreign country with no local currency and make better decisions than the one I made that day, in Russia, in the pouring snow.