Earlier this year, I was the eager guest of Rocky Mountaineer, one of the World's greatest railway journeys. I was on board their route from Vancouver to Banff in the Canadian Rockies. There are many different train routes to choose from, but I am told this one was a fairly typical 'first train' itinerary experience.
A train ride across Canada, is it right for you? The answer for me: YES!
---
Great Railway Journeys
---
Are great railway journeys romantic?
In the travel world, train rides are romanticized. Here are a few examples:
"There's pretty much nothing more romantic than moon glow." – Travel+Leisure
and
"1 in 10 people say they have fallen in love on a train and 37% describe train travel as synonymous as falling in love." – According to a UK study by East Coast Trains, MSN Travel
Great Railway Journeys
Railway Journeys Across The World
Are you are thinking of taking one of the great railway journeys of the world. The Canadian Rockies are certainly one that is on many traveler's bucket lists. You may be wondering if a train ride across Canada is right for you. And is it really that romantic? When you strip away all hype, the decision to take a train ride for your vacation is a big one. This is especially true when you have limited time off from work and want to spend your hard-earned money appropriately. I believe that this decision can be made by taking out the emotions of the limelight (romance included) and make your choice based on what your personal vacation preferences are.
Here is my experience on the Rocky Mountaineer train ride across Canada; Great railway journeys don't get better than this. I hope this helps you decide if a train ride is right for you, your spouse, and/or your family.
Railway Journeys Food, Scenery, And Service
Getting to know what you want and like out of a vacation:
Savory food, outstanding service, and stunning scenery coupled with storytelling and comfort are much more important than partying in bars or a vacation filled with too much physical activity. Don't get me wrong, I love adventure, but sometimes it is just nice to sit and be catered to for a while. Not all my journeys are like this, but I certainly don't mind being catered to upon occasion. I think my preference of taking it easy aligns well with a Rocky Mountaineer train ride.
Some questions to ask yourself before you make your decision: What are your preferences for your vacation? What is your vacation style? What type of vacation is important to you and your family to experience?
What happens on great railway journeys?
Train Rides Move at a Slower Pace
The idea of a slower pace shouldn't make you think that train rides are boring – they are far from it – it is definitely a more relaxing way of seeing the Rocky Mountains than the way our ancestors viewed it. The train itself can go up to 60 MPH, but as you glide along the tracks, you will start to feel that time is standing still.
The scenery engulfs you and the pace starts to slow you down. It is in these moments that you can reflect on your life's journey. You can also choose to sit in your seat, sleep or talk to your traveling companion or other train riders.
Slow Can Feel Pretty Fast
If you choose, you can also get a boost of fresh air by going out on the outdoor vestibule, where it will seem nothing like a slow pace at all Before you know it the wind is whipping through your hair as the cold breeze touches your cheeks. This area, not surprisingly, can get a bit crowded when the train conductor slows down the train in certain areas to get an especially good glimpse at the stunning scenery.
This is also a great place to take photographs on the train since they are hard to get inside the dome. Once off the train, there are plenty of adventurous things to do out in the wild, if you need them.
Learning to Relax in this Hectic World
I enjoyed days of gazing out the window with my fine quality cocktails and sconce. I would be searching for wild animal sightings or seeing the next scenic vista on the horizon. Of course, there were moments where I was able to doze off, but that is the enjoyment of having time for your vacation (and a big, comfy seat). The slower means of train travel is relaxing and enable you to avoid the hassles of TSA security checks and airports. It actually allows you to relax on your vacation.
Train Trips Attract All-Age Demographics of People
On the train that I was on, we had a plethora of age ranges on the train. Now I know most people think that it attracts the older demographic, but I am here to tell you that I saw kids as young as age 10 on family vacations with their parents and grandparents, as well as honeymooners, mid-range and boomer couples. So don't think it is not right for every age category and it is especially great for multi-generational trips. Sometimes it is hard to find a vacation that can fit everyone in the family.
Learning the History of the Region
But don't forget, there is also compelling storytelling from the guides, the sightings, and the history of the area. All of it is the 'take it or leave it' type of conversation without any pressure for you to join in, listen, or doze-off. It is completely up to you what you do on your vacation. I think train travel is as much about the journey as it is about the destination.
Questions to ask yourself: What types of personalities do you and your family have when you are on vacation? Loud and boisterous or more subdued? Are you able to entertain yourself or do you get bored easily? Do you need a lot of activity or do you enjoy a balance that provides for quiet time?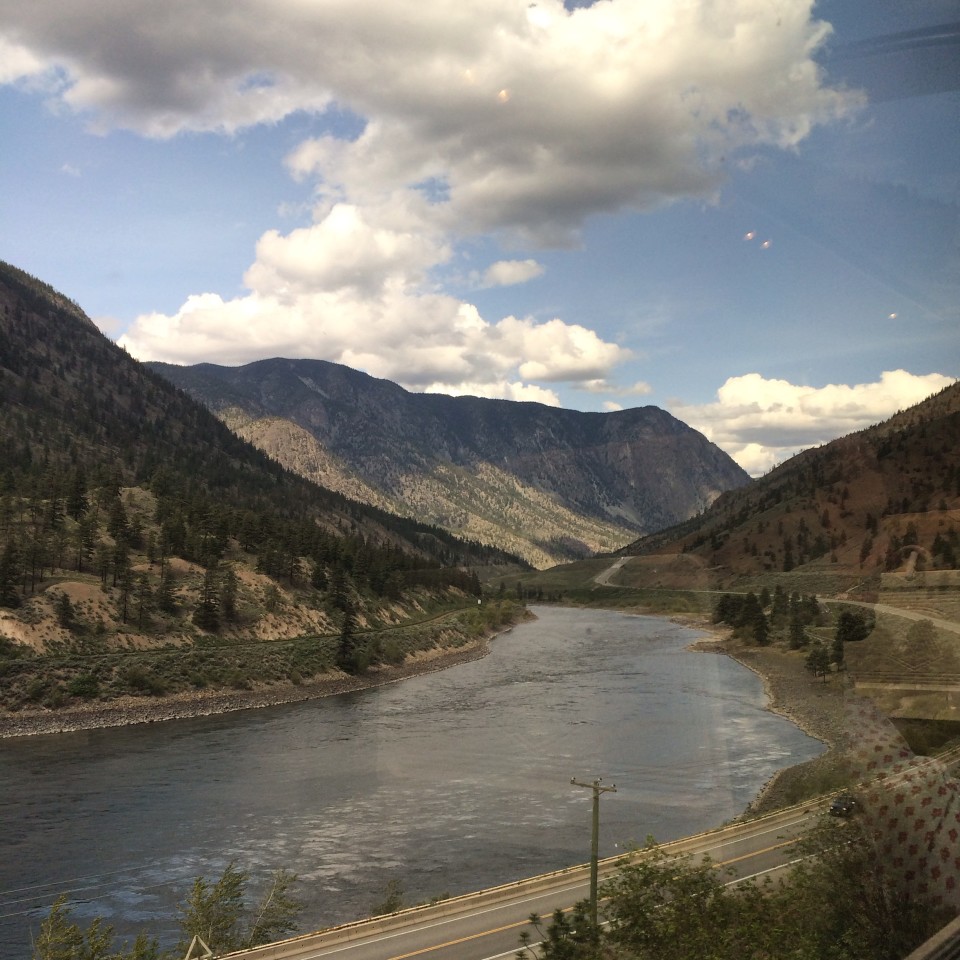 Railway Journeys is Casual Luxury
Train travel is Casual Luxury
There are no formal nights on this train, unlike many cruises, so nothing extra to pack for that. The dress code is simple, you may dress how you like and feel the most comfortable. Bring a sweater or jacket in case you get cold on the train, but other than that, it is easy to pack for this type of vacation. Don't think for a second that just because you are not all dressed up though that your service will be lacking. That could not be further from the truth.
Questions to ask yourself: Do you like dressing up on your vacations or do you prefer to keep it casual?
Socialization during your vacation
You will be on a train with a multitude of people that you don't know, plus your traveling partner or your family if you choose. There is usually a bit of camaraderie with a group that travels together over a period of time. You can participate as much or as little as you choose. As mentioned before, there are guides onboard that are there to enhance your experience by way of history storytelling and pointing out sightings along the way.
Questions to ask yourself: Do you like time spent with a group? Do you prefer time alone or not being with people that you don't know? Does the information provided by the storytellers enhance your experience or do you prefer to put on a headset and listen to music as you gaze out the windows? Do you prefer to travel alone or with a small group of family/or friends?
What is included in great railway journeys?
Rocky Mountaineer Train Rides are All-Inclusive
From the moment you arrive at your hotel, Rocky Mountaineer is there to take care of you. From hotel pick up to luggage that magically appears in your room at the next stop, the service is impeccable and is included in the price you pay. That is a blessing. Unlike some ocean cruise vacations; the price you pay at the beginning is not exactly the same as the price you pay when you are finished. Rocky Mountaineer is not like that. You know what you are getting for your money upfront. Depending on which service level you choose, Red or Gold Leaf, you will know exactly what is included if you read through the materials or go on their website.
What level of service do you need on a vacation?
Special Note about the Gold Leaf Service on Rocky Mountaineer
Gold Leaf Service is Rocky Mountaineer's premium service and they do not skimp. This goes without saying, but breakfast, brunch, lunch are all included in the price of your package along with complimentary wine, beer, and soft drinks. The Gold Leaf service also includes premium liquors. With Gold Leaf service, you will get what you pay for, quality and quantity.
The Gold Leaf service pricing represents a 'value luxury' experience, adding in a lot of the extras into the purchasing price. Of course, airfare from your home city to your city of departure is not included, as well as gratuities you may offer the staff.
Questions to ask yourself about how you spend your money while on vacation: Do you want a 'value luxury' vacation, with everything included, or do you prefer to pay as you go, making those decisions as the trip goes by? Are the extras offered on great railway journeys the type of things that you enjoy as part of your vacation experiences?
Canadian Railway Journeys Final Thoughts
Final Thoughts: Do great railway journeys interest you? Are you interested in going on a train trip across Canada? Does it fit your lifestyle and budget?
If the answer to this last set of questions is yes, then Rocky Mountaineer is right for you, just like it was right for me.
Pinners: Pin this one!
Here's another article I wrote about great railway journeys.
Disclosure: My trip on the Rocky Mountaineer was complimentary. But I believe in their customer service commitment and their 'value luxury' choices to make this one of the best vacations you will ever have.