Dr. Cacinda Maloney's exclusive guide to the Rocky Mountaineer Train features a wealth of insider tips for your trip on the famous Canadian Rockies train. It includes researching, planning, booking, and finally, embarking through Canada on the rail journey that dreams are made!
Since Dr. Maloney is a Rocky Mountaineer Ambassador, she has seen and been on multiple trips and has the Insider Knowledge You Need to make your trip on the Rocky Mountaineer perfect – from helping you do your research by providing resources, to planning and booking, to the final moment when you actually step on that Rocky Mountaineer train!
All Aboard the Rocky Mountaineer!
Let me take you back to where it all began! More than 30 years ago was the date that the FIRST Rocky Mountaineer Train left the station on its inaugural journey! Since then, the Rocky Mountaineer has changed in many ways and eventually became the "largest privately-owned" luxury train company in the world! Wow! Just think about that for a moment!
Through these years, Rocky Mountaineer has won hundreds of awards for its exceptional service and many wonderful travel experiences. In my humble opinion, I think there is no better way to experience the Canadian Rockies than from the inside of a domed railcar… at least to get there. Then once you are there, there are plenty of things to keep you busy!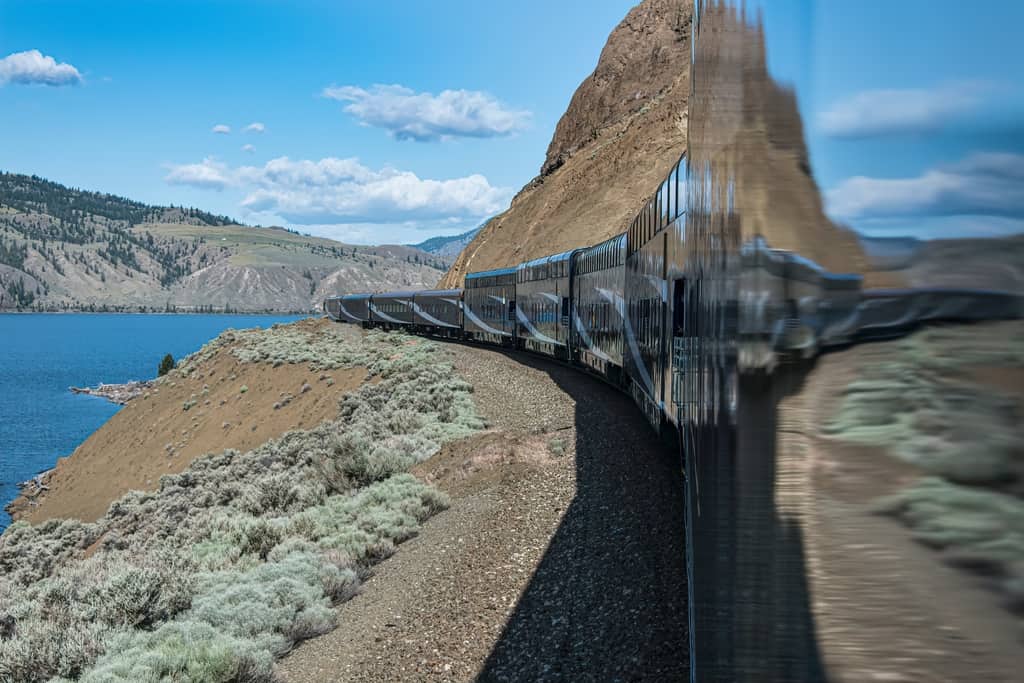 Rocky Mountaineer Route
It was over seven years ago that I first embarked on my very first Rocky Mountaineer route, way back in 2015. Today, there have been many changes and improvements since then (it is hard to improve on perfection!). On that first trip of mine, I was the Passage to the West from Vancouver to Banff. And what a memorable trip it was! That trip, along with all the other trips I have been on with Rocky Mountaineer, is what this insiders guide is based on. I want to give you all my insider tips on how to experience the best of Rocky Mountaineer from start to finish!
On each trip I took on the Rocky Mountaineer, I was taking notes, tasting foods, listening to the guides, peering through windows, and looking for a few insider tips that I could share with you. Some of them are just little bits of information I heard or read, while others are my suggestions.
But put together they make the perfect guide on how to plan, book, and take a magnificent Rocky Mountaineer trip! So be sure and bookmark this Insider's Guide on your computer, especially if you are in the planning stages, as I am sure it will be helpful for you.
Also, feel free to ask me any questions, if I don't know the answers, I am sure I know someone who does! And I am eager to help you and get you on this train!
Rocky Mountaineer Demographics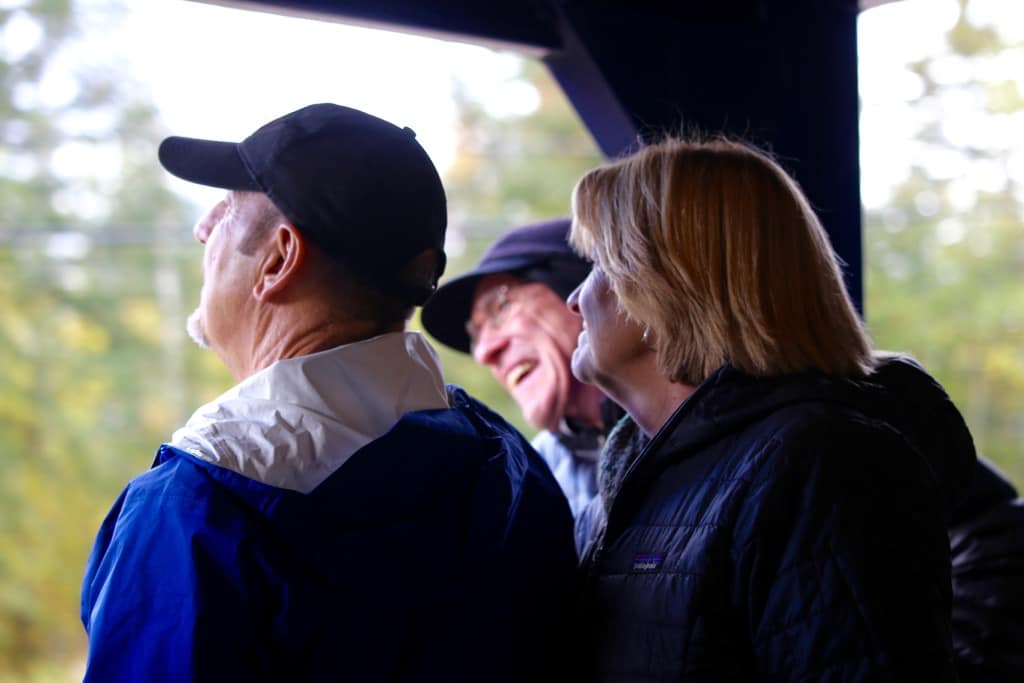 Demographic: 50s, married, retired
So let's get started by talking about who takes a Rocky Mountaineer train by discussing its demographics. Many people think that demographics do not apply to them, but I would say it would be a safe bet if you were in your 50's (or older), married, and retired from work! In fact, the perfect demographic is those who usually take an ocean or river cruise! The ones who are finally living their dreams!
Demographic: 30s, kids, working
But that is not the only people on this train! However, don't let that demographic fool you, as I have seen everything from multi-generational families to young adults in their 30s with kids. I have seen several solo guests as well. Honestly, it doesn't matter, as all people are welcome on the Rocky Mountaineer. Plus, you will get to meet a lot of interesting people while traveling on this train!
Demographic: Any age, single, working or retired
The good news about Rocky Mountaineer is that they do not charge a single supplement fee for solo travelers. There is no need for double occupancy since you are paying for your single seat!
Demographic: Children, tweens, and teens from 0-19
Children are allowed on the Rocky Mountaineer. Many children may get restless, but you know your children better than I do, so it is up to you to decide if bringing them is a good or a bad thing. However, they are welcome.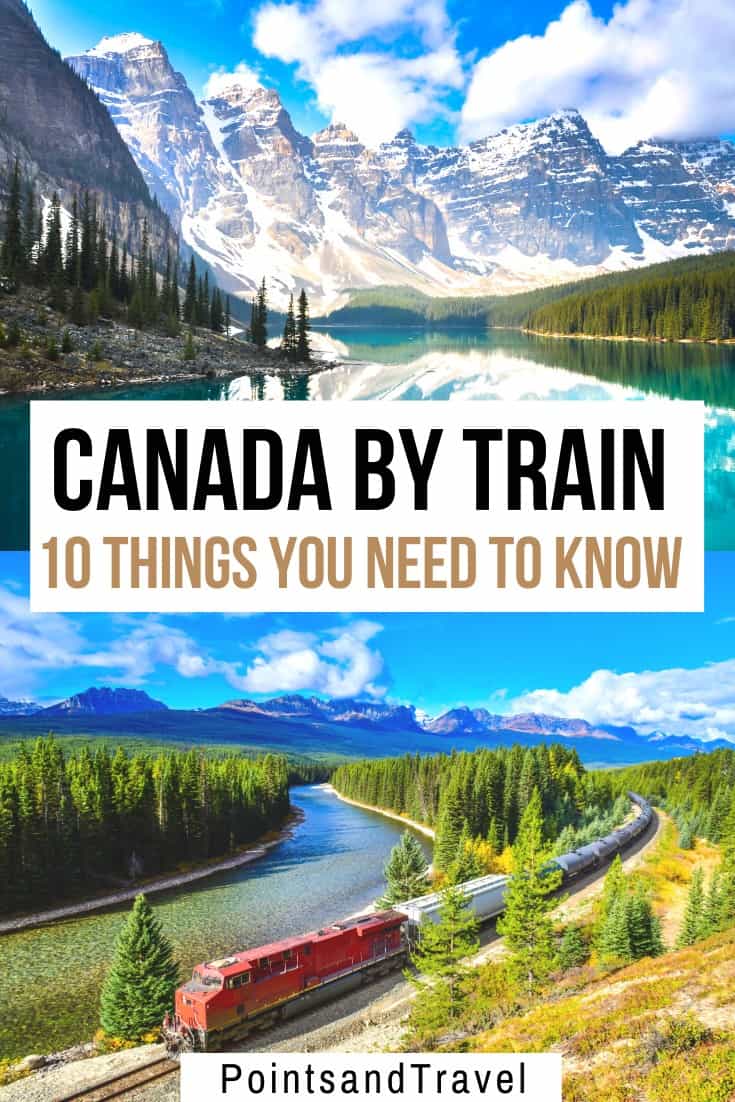 Pre Planning Stages – Rocky Mountaineer Train Ride
I don't know about you, but I have always enjoyed looking, researching, planning and then booking my own trips. Maybe I just like my trips to go smoothly, so this is something I have always done for myself, my couple trips, and for my family trips. So let's get started designing the Rocky Mountain train ride of your life!
There are many things to consider when planning a vacation, and Rocky Mountaineer is no exception. There are lots of things to decide while before you actually go on vacation – things like what your interests are, what is your budget, what will your schedule be like, where you will stay, and where you will eat when you are not on the train. So let's do some research to get things started.
Rocky Mountaineer Research Resources
To do Rocky Mountaineer research, you need to know where to look. Here in this section, I will give you resources on where to go to find what you are looking for.
The Rocky Mountaineer website is full of valuable information you will need to decide where you want to go and find out some important information about your trips. Be sure and go to the FAQ page on their website, as this may answer your commonly asked questions and also give you ideas about things you may not have thought of asking!
You will notice an area where you can sign up for Rocky Mountaineer emails. This is a great start to get you on your way, as any deals or specials they may have will end up in your inbox, so I do suggest you sign up for this way in advance and during your planning or pre-planning stages.
Also, go ahead and order the printed Rocky Mountaineer brochure. I don't know about you, but I always like to see things in black and white (ie printed) versus just seeing it on a computer screen. This full-color publication is full of stunning photography, schedules, and most importantly route descriptions. It is possible to download it if you prefer.
The Rocky Mountaineer blog features so many stories and photographs from travel professionals that talk about all aspects of the Canadian rail experience.
I would recommend finding Rocky Mountaineer on Facebook to read and enjoy any of the latest stories and updates they may have for you. #RockyMountaineer
And finally, you can contact a Rocky Mountaineer Vacation Consultant via an online chat if you are up for it! You can always call or email them, but this is a great way to find out information when you need it answered quickly.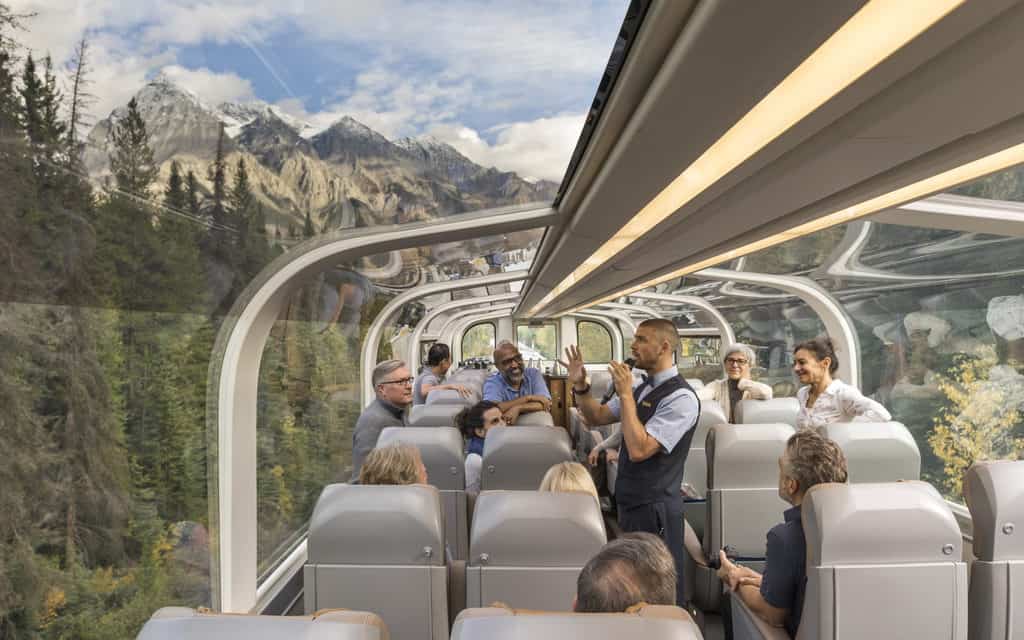 Pre-planning: Things to Know About Rocky Mountaineer
Here are four things people always ask me and some things you need to know BEFORE you start to plan your Rocky Mountaineer trip:
You DO NOT SLEEP on the Rocky Mountaineer train. But don't worry, they have all of that worked out perfectly for you!
You can ride the Rocky Mountaineer seasonally from mid-April to mid-October.
Rocky Mountaineer DOES NOT book your flights, you do.
Rocky Mountaineer DOES book car rentals.
One thing I love about Rocky Mountaineer is that they suggest a logical planning sequence of events to help you design the itinerary you want. Once you understand the route and rates, then you choose the hotel you will sleep in, the time of year you will go, and the flights you will take.
Rocky Mountaineer Train Seasons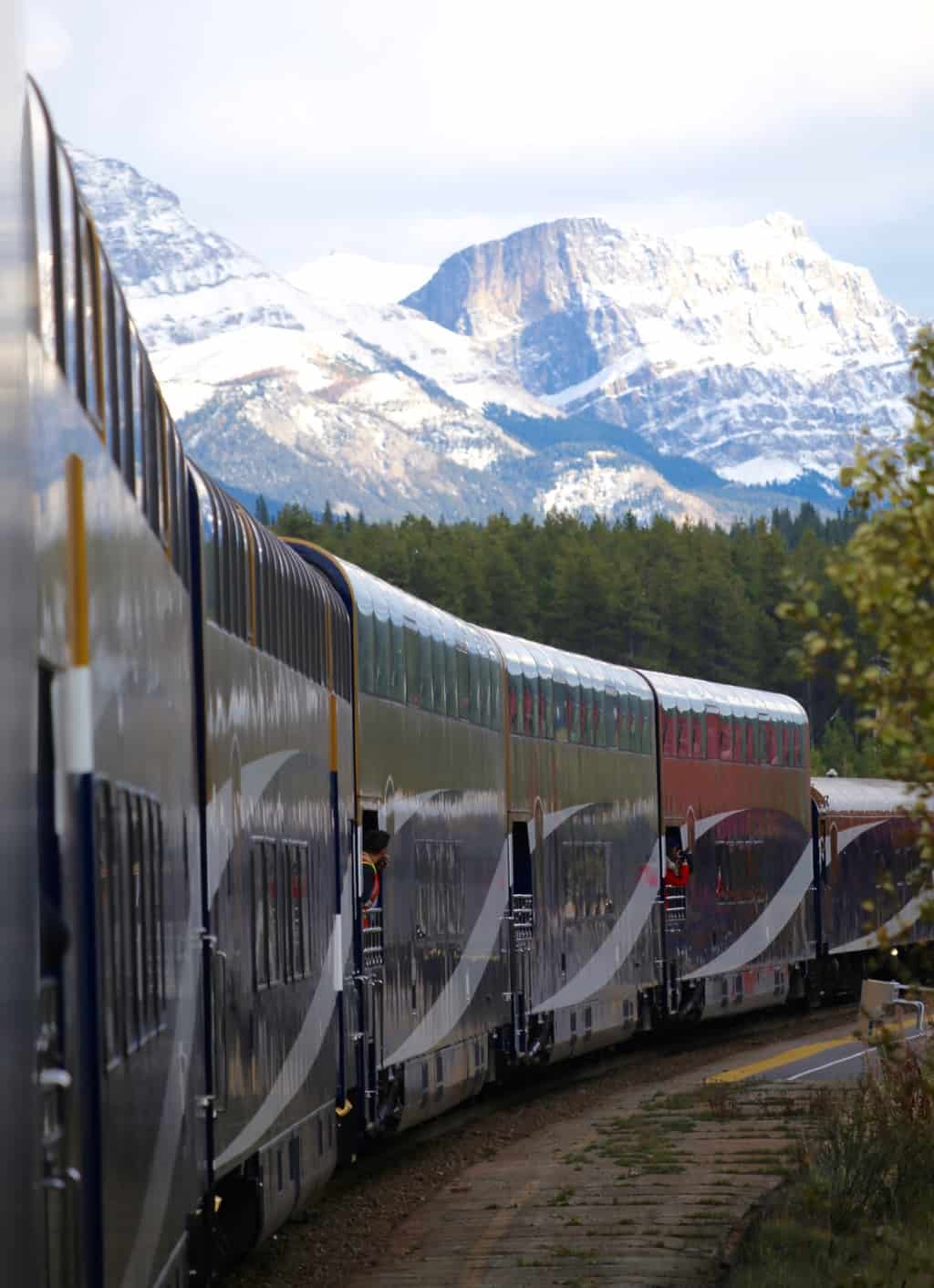 The cool thing about Rocky Mountaineer is that you get to choose the season you want to go!
This part is all up to you and your schedule. Do you prefer to travel in the warmer or colder weather?
I would base the choice of the route on these things:
When is the Best time to go? Again this is all up to you. It costs less certain times of the year
When is it least crowded? These tourist destinations are less crowded when it is NOT a holiday or when kids are in school! Great times are the shoulder season and the 2nd week of January!
What is your Schedule? Can you take off almost any time of the year, or do you have to ask for in advance to get a specific date? How many days off can you get or do you want to travel?
What will the cost be during the time frame you want? Shoulder seasons are cheaper. Silverleaf is more economical than Goldleaf.
What will you see from the train based on which season you choose? Remember you don't get to choose to see the wildlife you want; the wildlife shows up at its own discretion. However, depending on the season you will see different animals that I will discuss in the next question.
What temperatures do you prefer? Some people prefer it to be warmer and others cooler. I personally love to travel to Canada when it is cold, but not TOO cold! That way your winter jacket and the scenery look perfect together in the snow!
Temperatures of the 3 Seasons that the Rocky Mountaineer Runs
Spring: Once the snow has melted, you will start to see rivers flowing again along with quite a few waterfalls along the way. Some of the lakes will begin to thaw. It is during that time that the brown and black bears begin to emerge from their hibernation. You may be able to see birds nesting as well.
Summer: It is during the summer that the baby animals may be more active with the possibility to see momma and baby bears together. The winter snow has melted and the vegetation is lush and alive.
Fall: During this season, the colors begin to change, so you will see a lot more of the orange and gold colors you see during the Fall season. The animals are out and foraging for the winter, so there may be a possibility to see the brown bears.
Make a Rocky Mountaineer Plan:
Choose your route: Rocky Mountaineer Routes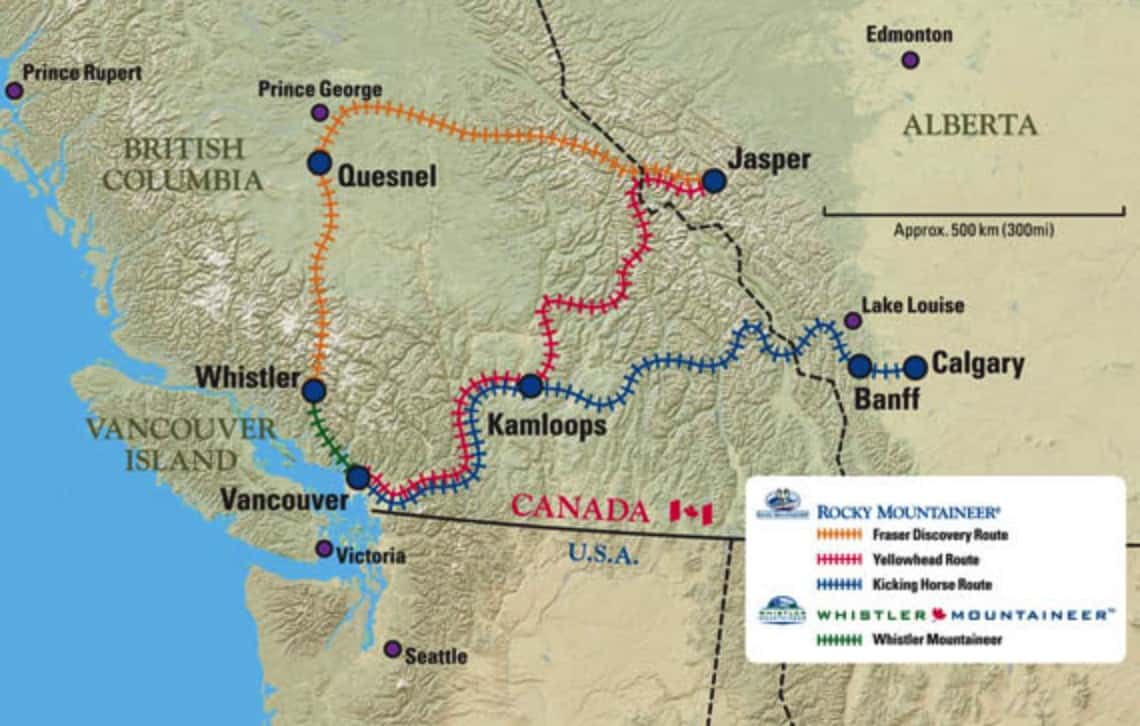 Rocky Mountaineer has basically four sets of routes that you should consider when choosing what trip you want to take. They are:
3 Day Routes, an example would be Rainforest to Gold Rush: Vancouver, Whistler, Quesnel, Jasper in one direction, so either eastbound or westbound.
2 Day Routes, an example would be First passage to the West: Vancouver, Kamloops, Lake Louise, Banff in one direction, so either eastbound or westbound.
These routes indicate the actual number of days you spend on the train, but your complete itinerary will be determined when you choose your package.
Rocky Mountaineer Service Level:
Choose your service level: Silver or Gold
With Rocky Mountaineer, you get to choose what service level you want. You will choose either Silverleaf or Goldleaf service. Both service levels provide a luxury experience. This is based on basically how much you want to spend on your dream trip across the Canadian Rockies.
Choose your package:
Choose Your Rocky Mountaineer Package
Truly the fun begins during your planning stages when you get to choose which package you want! It is here where you will start to explore all your options and decide which trip is best for you! You can choose things like:
Trip Length: How many days will your trip be?
Trip Activities: Will you plan group excursions or explore on your own?
Trip Add-ons: Will you book transfers to and from the hotel? Book a car rental? Do an Alaska cruise along with your Rocky Mountaineer trip? Book a dining experience?
Trip Price: It is your trip, your price. You decide.
Planning is over: Book your Rocky Mountaineer Train Trip
Ok, so you have figured out all the options and got all your questions answered. Now it is time to book your journey. Basically you have three ways you can book on Rocky Mountaineer:
Book by Phone: Many people feel more comfortable by calling and speaking to a professional booking agent, and I completely understand. That way you are sure to get what you want. Rocky Mountaineer has plenty of vacation consultants to walk you through the booking process.
Book through a Travel Agent: This is what I did when I booked my first Rocky Mountaineer train trip for my parents' 50th wedding anniversary! I thought it was perfect and they handled everything.
Book Online: This day and age, many people are beginning to book their own trips via the online website, which is how I would book today. Although there are many options and interactive filtering comparisons, so make sure you are ready and have time to jump down that rabbit hole!
Once your trip is booked, you will need to book your flight and the hotel you will stay in prior to your embarkation and figure out how to get to and from the train station (or purchase a transfer from Rocky Mountaineer). Your vacation document will be sent to you via mail and email before the time of your trip arrives.
Booking Your Flights for Rocky Mountaineer:
Remember this one thing*, you are beginning in one city and ending in a different city, so you DO NOT PURCHASE ROUND-TRIP FLIGHTS*! You will be purchasing one-way tickets on the airlines unless you are doing the Grand Rail Circle journey with Rocky Mountaineer.
If you plan to explore any of the cities on your own, you may want to research "things to do and places to stay on the night" when you are not with the Rocky Mountaineer. The Rocky Mountaineer Destination City Resources website provides informational links to the local tourism board of the three main cities that they visit to help you locate "things to do and see" in each destination.
Nearest International Airports to Rocky Mountaineer Train Stations:
Calgary International Airport (YYC): Closest to Banff and Lake Louise
Vancouver International Airport (YVR): Closest to Whistler
Edmonton International Airport (YEG): Closest to Jasper
Get Your Transfers:
Ok, now that you have everything set for your flights and bookings, let's talk about transfers, where to check-in, train stations and your boarding times. When you booked your trip with Rocky Mountaineer, you should have made arrangements for all of your transfers from the airport to the hotel, from the hotel to the train station, from the train station to the hotel and then the hotel to the airport. Review your documents with the vouchers you receive in the mail, print them, and verify the pick-up times.
Choose your Check-in Place
Check-in at the Hotel:
Rocky Mountaineer typically has partner hotels in each destination. These hotels would be the ones that most Rocky Mountaineer travelers are staying in. It is here that you can do an advance check-in with the Rocky Mountaineer desk that is set up either the evening before or the morning of the departure. That way you know what time to bring your luggage down for the transfer. As you will be given luggage tags with a time to have your luggage outside your door for the transfer.
Check-in at the Train Station:
You can also check-in approximately 45 minutes before the train leaves at the train station. The Rocky Mountaineer Preparing to Go website has a guide with the train station address, as well as check-in and boarding times. Upon arrival at the train station, you can see that the check-in desks are marked. Obviously, you bring your luggage to the train station when you check-in here, where you will receive your boarding pass as well. You will receive your overnight accommodation information during this check-in.
All Aboard: Time to Board the Rocky Mountaineer!
This may be the best and easiest part of your journey to the Canadian Rockies! When you hear that sounds of "all aboard"! The excitement begins as you look at your ticket and determine which train compartment you are in. Once you know that, you can board and find your seat number! But before that, feel free to board, take photographs with the staff, and enjoy the time right before the train takes off.
Take note of any empty seats, as you may want to use them later during your journey to take photographs or to give your seatmate a chance to have more space or be alone! As the train leaves the station, be sure and look out the window to all the Rocky Mountaineer employees as they wave goodbye in a long line that seems to go on forever!
Rocky Mountaineer Beverage and Dining Service Begins!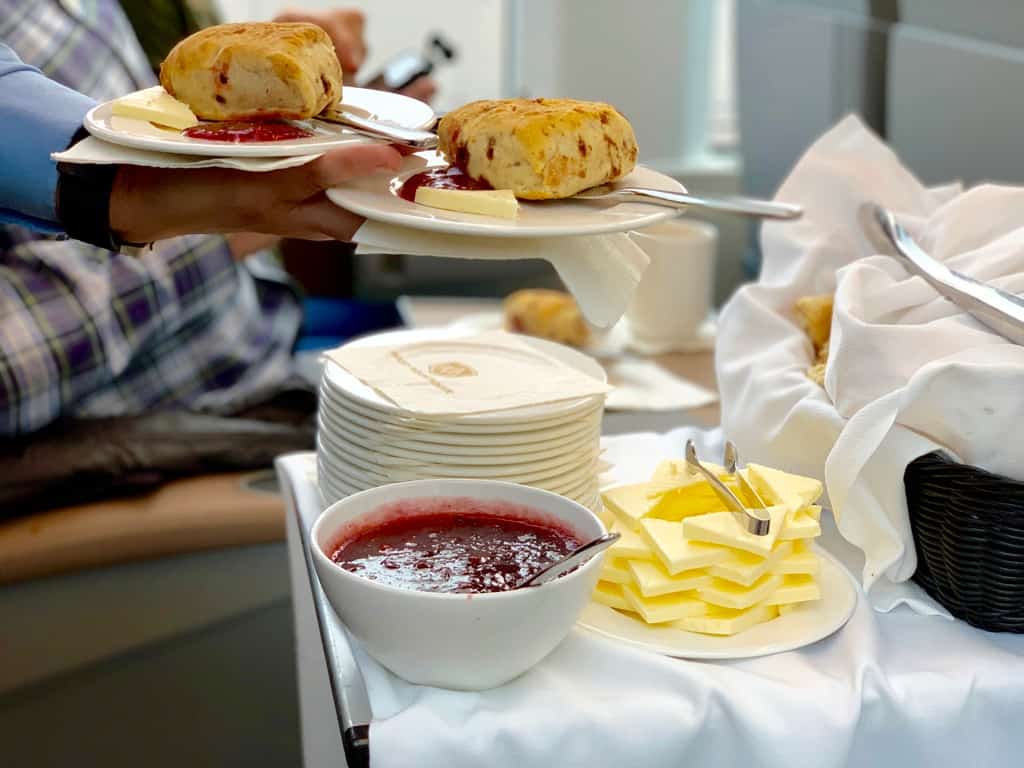 It won't take long before the beverage and dining service on the Rocky Mountaineer begins. You will be delighted at the offerings and the set up for sure. Each day you will have breakfast, lunch, and snacks. As well as all alcoholic and non-alcoholic beverages are served on a cart that comes by with the snacks. Believe me when I say that the meals are multi-coursed and you will never go hungry!
For the Silverleaf service, you will enjoy all your meals in your seat. Literally, as I said before, you will never be hungry on the Rocky Mountaineer.
For the Goldleaf service, the train compartment will be divided into two groups. The first group will be called downstairs for breakfast while the other group is served scones with jam and a drink: coffee, tea, soda, juice, or water. On day two, the services are reversed.
Rocky Mountaineer Train Trip Experience
So for the next few days, you will experience the Rocky Mountaineer Train Travel service and gorgeous views, so get ready for some magnificent times! Here are some insider tips and recommendations I would like to share with you, as this is YOUR vacation, so it is imperative that you enjoy it to the maximal amount possible.
Enjoy the amazing seat you are sitting in. Figure out its buttons. Realize how much room you have versus being on a typical airplane these days. Notice that you don't have seatbelts. Your seat has all sorts of adjustments that can be changed, so change it to fit you. Also notice that you have electrical and USB outlets for charging and powering your mobile devices.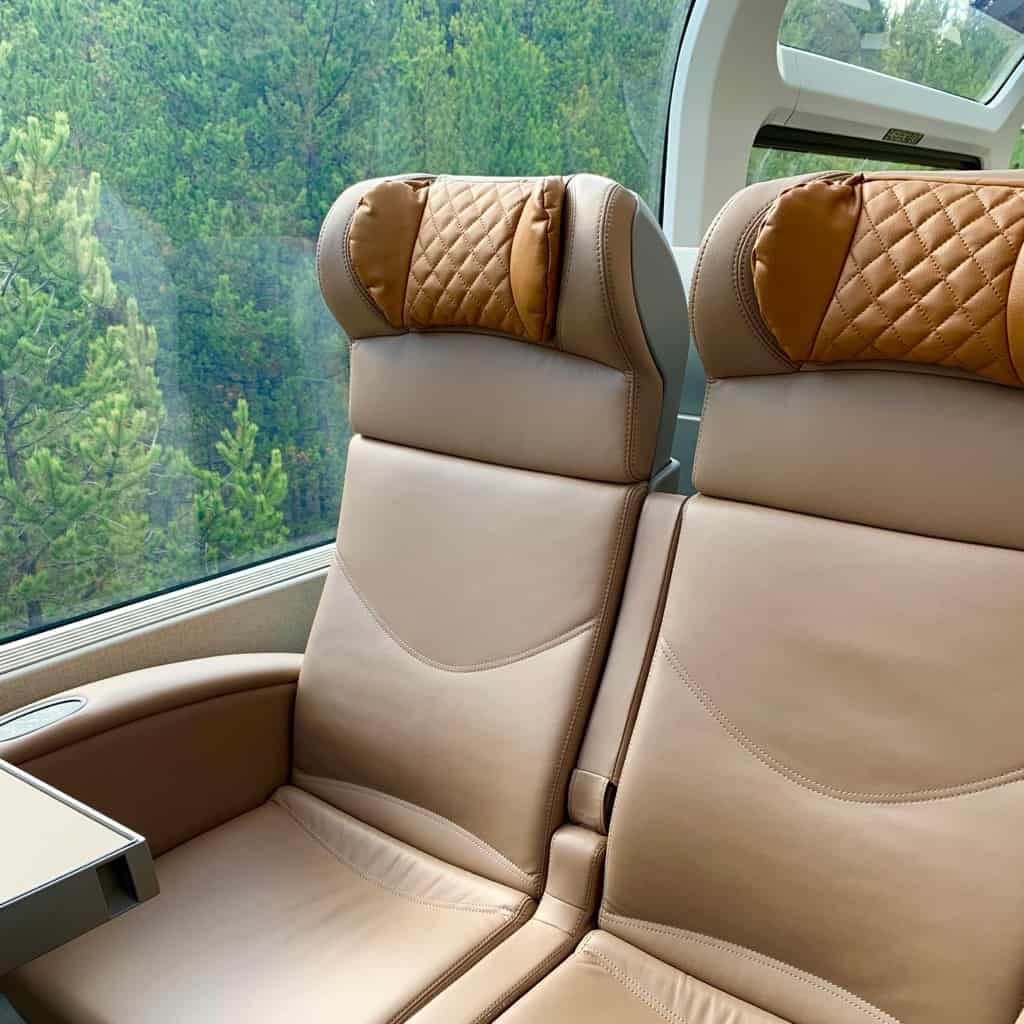 Read the material in the pockets! There is actually really good informational material in the seat pockets. These are printed materials such as brochures, fact sheets, animal sighting sheets, etc. They also have the Mile Post, the Rocky Mountaineer magazine, and the Rocky Mountaineer catalog.
The Mile Post is a great publication and is similar to the printed material you see in USA national parks. It is full of history, maps, stories, and guides. In fact, you can even request to have one sent to you so you can prepare for your upcoming journey. In the Rocky Mountaineer catalog, you can purchase branded RM travel gear, clothing, and souvenirs.
Give the host your attention. Rocky Mountaineer hires a host for each train compartment who will tell you stories and history about the areas as you pass them. They also spot wildlife and tell you when interesting things are coming up. They create onboard games and activities for you to play, so play along, as it is fun!
Gaze out the window. Notice how the landscape has already changed from an hour ago! Keep an eye out for gorgeous scenery, as it gets better and better. Also, notice if you start to spot some birds or wildlife out the windows. I have seen everything from black bears to mountain goats, to osprey, bald eagles, mule deer, elk, and lots and lots of birds that I don't know the name of! Be sure and look behind you around the bends at the things you can see from different angles.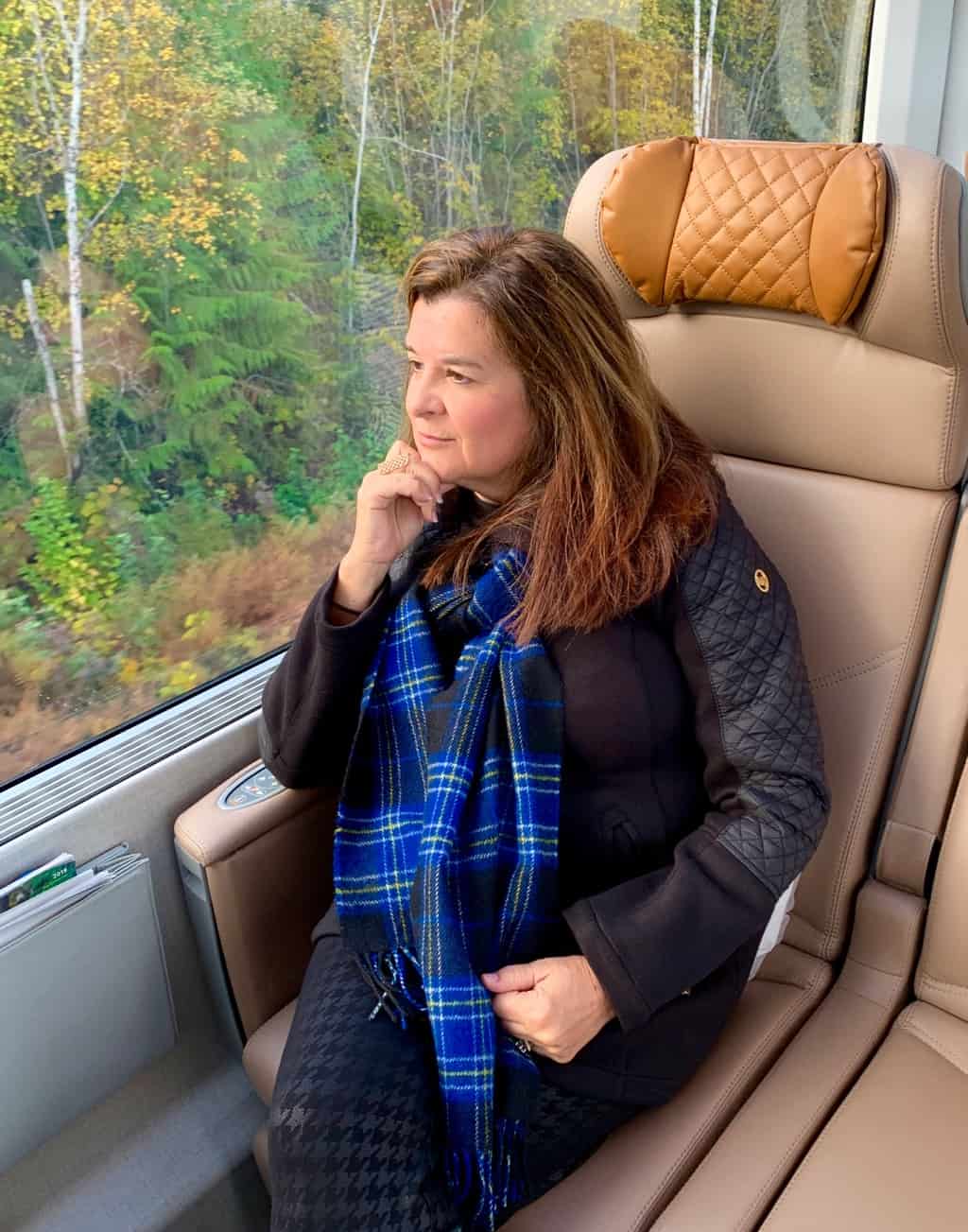 Get up and walk around. Explore the train compartment you are in. They have two large bathrooms and a large open-air vestibule that you can go out and take photographs from. Enjoy the fresh air out there as well. Of course, you are not allowed on the other compartments, but you are allowed to explore your own train car. Get to know your new friends on the same trip as you!
Enjoy the moments. Take a nap, as there is no WIFI. Switch off "roaming" on your phone and relax. Leave your worries behind you. This is a time to enjoy the Canadian Rockies and not worry about how things are going at home. Isn't that why people go on vacation in the first place?
Be aware of time changes during your journey. You will gain or lose an hour during your journey. Alberta destinations are in the Mountain Daylight Time (MDT) zone and British Columbia destinations are in the Pacific Daylight Time (PDT) zone. Be aware of this transition so you don't miss the train on day two or three!
Be aware of your surroundings while on the vestibule. Many times people lean out not expecting suddenly for there to be a sign or something that may come very close to you. Don't lean out too far when shooting video or getting a photograph. Upcoming tunnels pass within inches of the train. Be aware of finger placement out there as well. Remember that the train's average speed is 30 mph, even around the bend and corners.
Be courteous and let others have time on the Vestibule. It can get crowded out there, so take your shot and then let others do the same.
Be aware that there is no smoking onboard the Rocky Mountaineer.
Insider Tips for Your Packing List:
Here is my insider list of what to pack for the Rocky Mountaineer
Travel Documents & Passport – First and foremost, have all your travel documents and passport together and in order. That way you will have no problems with checking in at the airport, hotel, and on the train.
---
TIP:
I always keep an extra color copy of my passport and credit cards I have with me in case I lose them or they get stolen.
---
Wear Layers of Clothing – When, packing, remember to wear layers so that you can maintain the perfect temperature for you. The train is climate-controlled, so you should have no problem with maintaining a perfect temperature. But you may want your jacket to have breakfast on the Goldleaf service and you may want your heavier coat to go out on the outside vestibule (depending on the season.)
Here are some Average Daily Temperatures from the Rocky Mountaineer website to keep in mind. Also, the dress is more business casual than upscale, so dress comfortably for an all-day train ride.
Bring a Day Pack – This will be the day pack where you will store all the basic things that you want with you on the train ride itself. Things like your camera, phone, wallet, passport, documents, valuables, sunglasses, mints, medications, extra scarf or sweater. You will not have access to your luggage while on the train, so keep this in mind. This small pack will be placed around your feet area.
Avoid Motion Sickness – In case you are prone to motion sickness, be sure and bring along Dramamine or some other form of medication. Realize that you also need to get up and move around.
Bring Something to do – This is a personal preference, but if you get bored easily or like to play games, go ahead and put a deck of cards or a book in your day pack. Many people do this while on the Rocky Mountaineer train.
Bring Your Camera/Phone – This probably goes without saying, but it is a great idea to bring your camera for when you are on the vestibule and want to take some photographs. I also have a quick insider guide for you on how to take photographs on a train!
Insider Tips for Photography
If you enjoy taking photographs, then the Rocky Mountaineer will prove to be a challenge! Taking photos from here is a bit trickier than you imagined. Mostly because of the glare on the domed-ceiling or windows, although Rocky Mountaineer has made some major changes to make this feat easier.
Put the lens of your phone or camera directly up against the glass of the train's window. This helps cut out glare. You can move your camera up on down on the glass to get the shot. Many shots turn out great and others are horrible, so take your chances! Many times the angle is not perfect, but if you pass directly in front of something you want a picture of, it does work. You can tilt your camera ever so slightly before the glare or reflection appears.
Turn off your camera's flash, as it only causes glare from the window.
Have your camera on and ready.
Use a strap or lanyard to hold your phone, so you don't lose it.
The Rocky Mountaineer does slow down for the upcoming scenic spots, so be ready to capture them by being out on the vestibule.
Be ready for some of the major photography shots (found in the Mile Post publication), for example on the First Passage to the West you can see:
Hell's Gate in Frasure Canyon
Thompson River
Kamloops Lake
Craigellachie, where the last spike of the railway was driven
Rogers Pass
Kicking Horse Canyon
Spiral Tunnels
Bow Lake
Columbia Ice fields
Rainbow Canyon
Kicking Horse River
Lake Louise
Emerald Lake
Continental Divide Marketer
Rocky Mountaineer Overnight Stops
As mentioned before, Rocky Mountaineer guests do NOT SLEEP on the train. You will be staying at a hotel in Kamloops and/or Whistler and Quesnel. Once the train stops, you will gather up your things and make your way down to the transfer buses that will take you to the hotel. These transfers are complimentary and your luggage will "magically" appear in your room that you already have a key for, so no waiting around!
You will be given a time to put your luggage outside of your room for an early morning pick-up, so don't bring your luggage to the lobby, as Rocky Mountaineer has your luggage handled for you! You are free to spend your time the way you want once you are in the stopover town for the night!
Arrival and Off-Boarding Final Destination
Insider tips:
There may be some delays. Rocky Mountaineer shares the rails with freight trains in large cities
Final Transfers and Luggage – You will need to retrieve your luggage at your final destination. It is possible that there may be long lines for taxi's so if Uber or Lyft works in that city, be sure to have the app downloaded if you want to use their services.
Gratuities – Although not required, you can tip at your discretion.
Survey – A survey to evaluate your experience onboard the Rocky Mountaineer will be emailed to you after you complete your trip. Fill it out, they really want to know how they did! And they read every one of the comments!
Share your travel experience and photos with Rocky Mountaineer – RM would love to know how they did, so tag your photos on social media with #RockyMountaineer so they can find your content.
I enjoy any reader comments, especially when you share experiences with me or about train travel. Have you taken a journey on the Rocky Mountain train?
My Travel Experience
When searching for the most over-the-top, fantastic experience in luxury train travel, I knew that the Rocky Mountaineer train was the place to start. Especially since it is the largest privately owned, luxury tourist train in the world. I was ready to see what they had to offer on a full-on, luxury vacation. When I am talking about luxury travel, I am talking about fully customizable vacations that cater to each family's (or couple or solo) who needs services that are considered to be the world's best.
The Rocky Mountaineer train has no problem handling the elite travelers of the world. In fact, they offer over 50 different travel packages and four different scenic routes on their world-renowned luxury trains. Working hard over the years, they have defined their personal goal "to provide the most spectacular and unforgettable travel experience in the world" according to its website. I like it when a travel company makes that their mission!
Often times I talk about 'value luxury', which for the most part, is how I have traveled for the past 25+ years. I enjoy adventure, culture, history and the great outdoors, but by the time I get ready to settle in for the night, I am looking for luxury that has value. I have to admit there are times, though, when I splurge and get the entire experience that I cannot find when using my 'value luxury' model. It is during these times, that I make sure to use my airline points for flights so that I am maximizing my dollars spent per vacation.
---
I believe that Rocky Mountaineer has the experience to make your luxury train trip a reality.
---
The Luxury Rocky Mountaineer Train
Rocky Mountaineer Train offers two levels of service, SILVER and GOLD, but here I will be talking only about the GOLD level service since that is the one I took.
In 1885, pioneers rode the great eastern railway seeking their fortune in gold and started the historical BC Gold Rush! With this in mind, the Rocky Mountaineer Train is now seeking a different kind of gold rush by marketing their additional deluxe amenities that are offered:
Gold Leaf Service:
Two-level coaches with the top level being a panoramic glass-dome.
An exclusive dining room to eat hot, gourmet meals cooked by chefs. They use locally sourced food, served on china plates at a table, instead of a tray. They have two meal sittings to choose your three-course meal.
Comfortable, wide and reclining seating with drop-down tables.
Downstairs has a spiral staircase and two bathrooms.
Unparalleled services with complimentary alcohol flowing and continuous snacks.
The vestibule or outdoor viewing platform for fresh air and reflection-free photography.
Plush accommodations in popular hotels upon arrival with transfers and luggage delivered to your room.
Comfortable designed Train
Even today, Rocky Mountaineer Train coach trains are considered world-class. Their focus is on rider comfort technologies, such as state of the art electrical seats with lumbar and calf supports, electric outlets, and USB ports for personal electronic devices. They also have gorgeous interior design, lighting, plumbing, electrical work, heating, ventilation, and air conditioning. They have put the largest capital investment in their almost 30-year history to revitalize their GoldLeaf cars.
Over-The-Top Luxury Excursions
Alaska – Combining an Alaskan cruise with the Rocky Mountaineer is a brilliant idea! The Alaskan cruise is another "trip of a lifetime" to add to the Rocky Mountaineer Train ride through the Rockies on Holland America. You will see Glacier Bay on an inside passage cruise.
Banff – The Banff Sightseeing Gondola is located just 5 minutes from the Town of Banff. You will be sitting in a 4 passenger, glass-enclosed gondola over the unsurpassed view of Banff at almost 7500 feet. You can also go out on the observation deck. Banff Skywalk (a 1km self-guided walkway) to the Sanson's Peak Meteorological Station.
As part of the sightseeing day between Banff and Calgary, a stop is made between these two locations in Kananaskis with a 12-minute Summit Helicopter tour, just 7,546 feet above sea level!
Lake Louise – Travel by coach along one of North America's most scenic highways, the Icefields Parkway. En route to Lake Louise, join an Ice Explorer excursion on Athabasca glacier and walk on the Glacier Skywalk.
Vancouver – Take the Sky ride Gondola up to Grouse Mountain. Not to be missed is the Capilano Suspension Bridge while in Vancouver. You can also do Zodiac rafting, tearing into the waters of Vancouver at 55 mph with the wind blowing through your hair!
Whistler – Take the Peak 2 Peak Alpine Experience – A 20-minute gondola ride to the top of Whistler Mountain. It is an engineering marvel that connects the Whistler and Blackcomb Mountains via 4.4 kilometers, 436 meters high gondola ride. Venice would be jealous.
Luxury Hotel Partners with Rocky Mountianeer
Fairmont Hotels are great to stay in when taking a Rocky Mountaineer Train, as they are scattered around at many of the destinations that Rocky Mountaineer travels. They have a Fairmont President's Club which provides benefits like complimentary internet, preferred check-in, and programs like Fairmont Fit at most of their hotels. And the best part – There is no charge to join and you can do it online here. (Value Luxury!)
Vancouver, Canada
Fairmont has three hotels in Vancouver: The Fairmont Hotel Vancouver, Fairmont Waterfront, and Fairmont Pacific Rim and like most sisters, they are very different from each other. But, in each, they have complimentary BMW bicycles available for guests. I stayed at the Fairmont Vancouver and can vouch for its excellent location, old-world elegance and its "castle in the city"reputation. I had a chance to go for a spa treatment at the Pacific Rim and can tell you it is a "do not miss spa" experience at the Willow Stream Spa and the views from the outdoor 5th-floor lounge and jacuzzi are fantastic!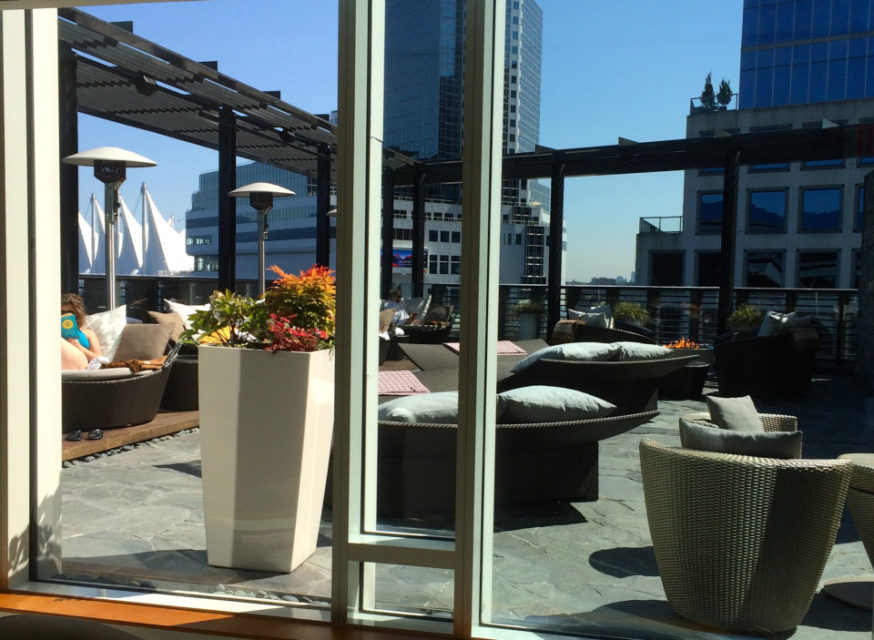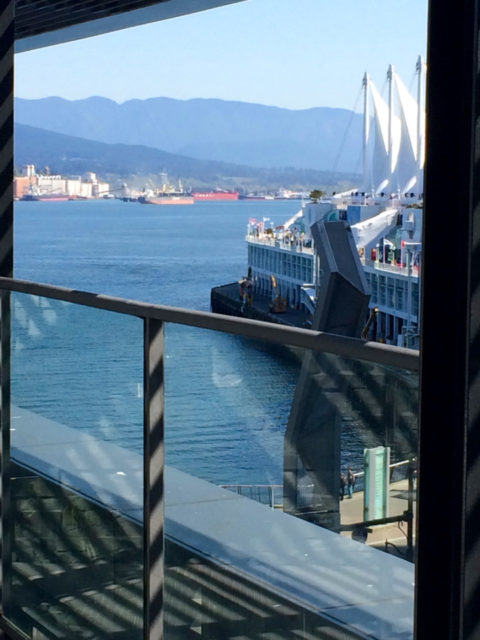 Victoria, BC , Canada
The Fairmont Empress on Vancouver Island is also famous for its afternoon tea. They can offer a harbor-to-harbor helicopter service with Helijet. It is a beautiful scenic flight over the Gulf Islands that takes approximately 25 minutes.
Banff, Canada
The Fairmont Banff Springs, is an iconic, castle-like hotel and is nestled in the mountains of Banff, yet is walking distance to the cozy town. They also have an amazing spa with access to mineral pools/steam room/lounge. It is pure Heaven!
Lake Louise:
The Fairmont Chateau Lake Louise is situated right on the edge of the lake and offers a serene stay. It is that photo of a hotel that you have dreamed about all your life!
So there you have it, a list of luxury excursions and hotels when you choose to vacation in the lap of luxury with the Rocky Mountaineer Train ride across Canada. Put this one the bucket list!
Recommended Reading:
10 Things to Know Before Taking a Train Ride Across Parts of Canada
7 Things You Will Not See on the Rocky Mountaineer
Disclosure: As is common in the travel industry, Dr. Maloney was provided with accommodations, meals, and other compensation for the purposes of review in partnership with Rocky Mountaineer. While it has not influenced her review, PointsandTravel.com believes in full disclosure of all potential conflicts of interest. All Photos are by the author, given authority over, or are licensed under creative commons. There may be affiliate links in this article.