The Rocky Mountaineer is a luxurious way to visit Canada with all of its impeccable beauty. So
forget about jam-packing your SUV for a long Canadian road trip and let the Rocky Mountaineer
train take the wheel, literally. The Rocky Mountaineer gives travelers the opportunity to travel
to "forbidden" places that are inaccessible by car.
Although the below-freezing temperatures of the winter season can diminish traffic along the Canadian Rockies, the summertime, in my opinion, is the best time to take a Rocky Mountaineer train ride. And the most optimal time is between April and July. These months offer the best weather and you can catch a glimpse of wildlife roaming the mountainside.
---
What's in this post:
hide
Journeys Canada
---
The Canadian Rockies By Train: Destinations Offered
Rocky Mountaineer offers many destination routes throughout Canada. Some of the
destinations include Vancouver to Banff on First Passage to the West, Vancouver to Jasper on
the Journey through the Clouds, Vancouver to Jasper on the Rainforest to Gold Rush and
Seattle to Canadian Rockies on the Coastal Passage. Guests can choose from journeys such as 1-
4-nights, 4-7-nights, 7-14 nights, and 14+ nights. At the end of each day, this luxurious train will
drop you at your designated hotel for the night and resume its duties in the morning.
---
In fact, while in Jasper National Park, you should put Tonquin Valley Trail on your hiking wish list!
---
---
TIP: To get the BEST airfare deals to Canada, use Travelocity's calendar to see if alternating your travel dates will save you cash.
---
Rocky Mountaineer Train Packing List
Here are some tips and a list of what to bring while going on a fun Rocky Mountaineer train
ride:
Checked bags and/or carry-on: Traveling on this luxurious train via the GoldLeaf Service offers
cart luggage on and off the train, so you won't have to lift a finger. But be sure to place
everything you may need on the train in your hand luggage because you won't have access to
your checked bag.
Take Medications: Whatever you suffer from, take your medication on board with you.
Pack essential items: Things like your phone, camera, jacket, an extra pair of clothes and shoes,
travel documents, and portable chargers.
Clothing: Pack plenty of smart casual clothes. If you love heels, pack them for a different trip
because you won't need them on the Rocky Mountaineer train. Flat and comfortable shoes are
the ones to pack.
Rocky Mountaineer Train: What is GoldLeaf Service?
When traveling to the Canadian Rockies, one of the best ways to take in all its beauty is on the Rocky Mountaineer via the GoldLeaf Service. There are so many perks when traveling on the Rocky Mountaineer train. The best part of this train ride is riding in style with the GoldLeaf Service. You can enjoy more legroom in your comfortable seat while gazing out at the beautiful scenery.
The stunning views from glass-domed windows are impeccable! This alone should make you want to take another trip on the Rocky Mountaineer. Traveling in GoldLeaf Service on Rocky Mountaineer shows you a glimpse of how royalty must travel! Also, if you originally booked a SilverLeaf Service, you can easily switch to GoldLeaf Service
Canadian Rockies Train: What You Will See
Visiting the Canadian Rockies by train is an amazing way to visit the best of Canada! There are four routes to choose from, each with incredible views. On the Journey through the Clouds route, travelers can view the stunning Mount Robson, the Albreda Glacier, and the famous Hell's Gate.
In Banff, guests of Rocky Mountaineer must take the time to shop along Banff Avenue. You will see a stunning view of the Canadian Rockies, quaint restaurants, and shops including the famous "Fudgery". If you begin or end your journey in Seattle, Washington on the Coastal Passage route, then a trip to the Space Needle is a must! Even if Seattle has great views, Vancouver dazzles the Canadian Rockies will its sparkling oceans and Coastal Mountains.
Rocky Mountaineer Train Ride: Restaurant and Food
Service
The GoldLeaf Service offers guests to enter and exit the Rocky Mountaineer with a full stomach. There are top chefs aboard the Rocky Mountaineer that can whip up the most delicious meals on wheels! Guests will be given a luxurious breakfast and lunch every day, which includes drinks.
Guests will also enjoy snacks and beverages throughout the journey. For anyone who has dietary restrictions, it is always best to let a staff member know as soon as possible. Chefs can whip up dairy-free, gluten-free and soy-free meals, all you must do is ask in advance. And just in case you want some Oatmeal Raisin Cookies with honey, you can find the recipe here.
Rocky Mountaineer Train: Fun Facts and Things to Know
I think that one of the best parts about planning a Canadian rail vacation via Rocky Mountaineer is the anticipation of the trip ahead of me!
Group travel on the Rocky Mountaineer train is a great way to experience the wonderful scenery with lots of friends, family, co-workers, and schoolmates. The Rocky Mountaineer train ride has group offers for 16 or more guests, but you must call them to get more information to book your group trip.
A great tip to know is to wear layers when traveling aboard Rocky Mountaineer. Depending on your arrival and destination, the weather can change drastically, and you should be prepared!
Guests who have restricted mobility are 100% welcome onboard the Rocky Mountaineer. Special accommodations can be made for passengers with limited mobility, just let the staff know in advance.
Except for qualified service animals, all other pets and animals are not allowed on this train.
The only kink that the Rocky Mountaineer train cannot fix is the no Wi-Fi internet access. This is because the train travels through the remote parts of Canada, which do not have access to the internet. But that is why we go on vacation anyway, to get away from being plugged in all the time in the first place!
Canadian rail vacations are a great way to relax from your busy daily life and enjoy the beautiful
scenery. A trip on the Rocky Mountaineer is one of the best ways to take in the breathtaking
views of the Canadian Rockies and its surrounding cities. Don't miss the opportunity to be
wined and dined aboard this train GoldLeaf style.
For more good reads about the Rocky Mountaineer Train:
7 Things You Will Not See on the Rocky Mountaineer
Rocky Mountaineer – The World's Greatest Trip
In the Lap of Luxury – The Rocky Mountaineer Train
Rocky Mountaineer Train: Enjoy The Ride!
A Trip of a Lifetime – Riding the Rocky Mountaineer
Disclosure: As is common in the travel industry, PointsandTravel was provided with
accommodations, meals, and other compensation for the purposes of review by Rocky
Mountaineer. While it has not influenced this review, PointsandTravel believes in full disclosure
of all potential conflicts of interest.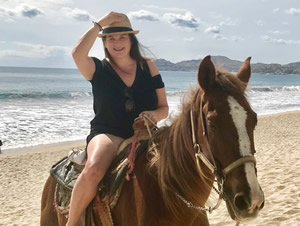 About Dr. Cacinda Maloney
A value-luxury adventure traveler at heart, Dr. Cacinda Maloney shares her experiences as someone who has traveled every six weeks of her life for the last 20 plus years. Being a travel writer, blogger and social media influencer, she now travels more than that! She is Phoenix, Arizona based, but maintains an apartment in Santiago, Chile. She is a member of the Professional Travel Bloggers Association (PTBA), Media Kitty and the International Food, Wine and Travelers Association (IFWTWA). Read more...