It was very late into the wee hours of a rainy morning when my plane landed at the Jiangbei Airport near Chongqing, China. After gathering my luggage, I handed the non-English speaking taxi driver the address to Tongjing Hot Springs Resort. He shrugged his shoulders as if to say he had no idea where to go, then plugged the address into his GPS. Here is the Chongquig Maps to show you where we were going.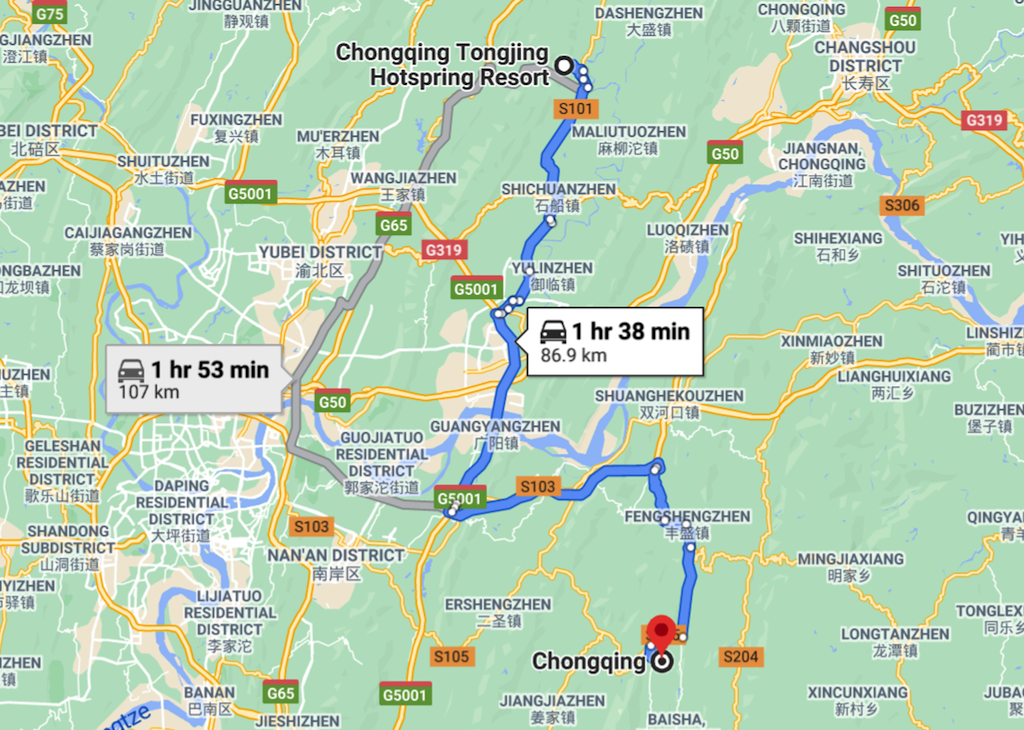 Some 45 minutes later, in an eerie fog mixed with drizzle, we pulled into the complex of Tongjing Hot Springs, and I found my way to the front desk of the hotel. At first glance, there appeared to be no one around, but then I noticed two young ladies fast asleep on a tiny cot behind the counter. I felt terrible having to wake them to get into my room, but they were very accommodating albeit sleepy. I was anxious for the light of day to see where the heck I was!
---
What's in this post:
hide
A Visit to Chongqing, China
---
When you think of China as a tourist destination, you probably think about the biggies, such as the Great Wall, Tiananmen Square, and the vibrant cities of Hong Kong and Beijing. I doubt anyone is thinking of Chongqing and probably has no idea where it is.
I had no clue either until I was invited to join a small group of explorers, so I did some research to familiarize myself with this destination. The city of Chongqing (eight million people) is the capital of the Chongqing Municipality. It is made up of several districts beyond the city, adding up to a total population of 33 million people. Hugging the confluence of the Yangtze and Jialing Rivers, this metropolis serves as a gateway for cruises down the Yangtze River, the third-longest river in the world.
Global Capital of Hot Springs
Because of its unique and abundant geothermal resources, Chongqing was awarded the Global Capital of Hot Springs in 2012 by the World Federation of Hydrotherapy and Climatotherapy. The municipality has wasted no time in developing hot springs resorts and wellness centers. Not only for the benefit of the locals to focus on their well-being, but also to attract visitors for these same reasons. While there are several hot springs to choose from, I was fortunate to spend time at Tongjing Hot Springs Resort.
Tongjing Hot Springs Resort is a 50-minute drive from central Chongqing. The setting is one of densely forested mountains, waterfalls, ancient caves, and the Wentang River. The resort complex has both a hotel, as well as elegant suites. Each suite opens onto a small deck with a private Jacuzzi filled with hot springs water. For me, this was nirvana, having a chance to soak in privacy amid peaceful surroundings.
Chongqing Wellness Center
A reception /wellness center offers a variety of beauty and massage services, along with a café and tea house. Behind the reception are sizable changing rooms that lead out to 48 hot springs pools. It's fascinating to wander among the various pool. All of which are integrated into a beautifully landscaped
setting of shrubs, trees, and flowers, providing plenty of privacy for those soaking. You can choose from four categories of pools – health, cultural, mediation and amusement. The amusement pool attracts families, with a sizable wave pool and water slide components. There is signage at each pool (in English) detailing the benefits and nature of the water, so you can choose what fits your mood.
In my travels, I always treat myself to a massage if possible. After breakfast and a quick overview of the complex, I made a beeline for the reception counter to inquire about a massage. I was given a menu of services, which was both amusing and confusing. Options included "push the salt," "push the red wine," and "scraping the floor". Other treatments included "eyewash," "aromatic ear candy" and "intestines and stomach Shu." I didn't want anyone messing around with my eyes, ears, or intestines, so I quickly nixed those choices.
Get a Massage!
An attendant who spoke some English helped me settle on the basic Swedish type of massage. I was ushered into a treatment room and given the cutest pink silk jammies to wear. About halfway through the massage, someone came into the room and whispered in my ear –"Do you want the hot stone massage?" "Sure…why not" I replied. I would give the entire treatment high marks. My only regret was not being able to purchase a pair of those adorable jammies!
Chongqing Pools and a Soak
From there, a dip in one of the pools was in order. I opted for the large indoor pool which had chaise lounges in the water for one's enjoyment. The soak was a fitting conclusion to my day at the spa. Tongjing is expanding beyond wellness to offer up various forms of recreation, including bungee jumping, rentals of kayaks, and standup paddleboards for use on the adjacent Wentang River.
There are plenty of options for hiking and cave exploring in the area. The resort also offers a pleasant cruise on the river, which docks at a rhesus monkey complex. It's fascinating to watch as hundreds of monkeys skirmish over food, groom themselves, scramble up the cliffside, and take a dip in the Wen-tang. Caretakers are there to assure the safety of guests and care for these creatures. A stay at Tongjing Hot Springs Resort is just the ticket to unwind and rejuvenate after a long flight and before tackling all the must-see attractions in Chongqing.
The Resort has a website, although it is in Chinese. I recommend using the Shanghai Spring International Travel Service USA to make arrangements for any travel to China.
This article was written by Donnie Sexton and you can follow her on Instagram @donniesexton1
Donnie had been with the Montana Office of Tourism for 26 years, splitting her time as staff, photographer and working closely with the media. She is a self-taught photographer and has been fortunate to take a few workshops along the way with some inspiring instructors. She has an insatiable appetite for travel that has been documented primarily through her photos. She always tells a story behind her images that define a destination or an experience.
---
Want to read a few other articles by Travel Writer Donnie Sexton?
Africa: Seduced by the Serengeti
Bluetiful Chefchaouen – A Photographer's Delight
The Serene Side of India – Kerala
---
Disclosure: As is common in the travel industry, the author was provided with accommodations, meals, and other compensation for the purposes of review by Chongqing Tourism. While it has not influenced their review, PointsandTravel.com believes in full disclosure of all potential conflicts of interest. All Photos were taken by the author/or were given permission from the photographer. Affiliate links may be located in this article.