Panama City Beach, Florida, is one of the most sought-after tourist destinations for a large number of Americans, especially those from the Southern and Midwestern states. Known for its sugary-white sand and turquoise water, Panama City Beach is a tourist hotspot for vacationers of all ages.
What's in this post:
hide
Best Places to Eat in Panama City Beach
This beach town caters to many different types of tourists, ranging from your typical retirees and couples to the younger crowd and families. Regardless of who you are or why you're here, Panama City Beach has a ton of great places to eat all over town. A true foodie's paradise, Panama City Beach restaurants are delicious and have options for any time of the day and night. Here I have gathered a list of what I think are the top places to eat in Panama City Beach:
Top Places to Eat in Panama City Beach: Breakfast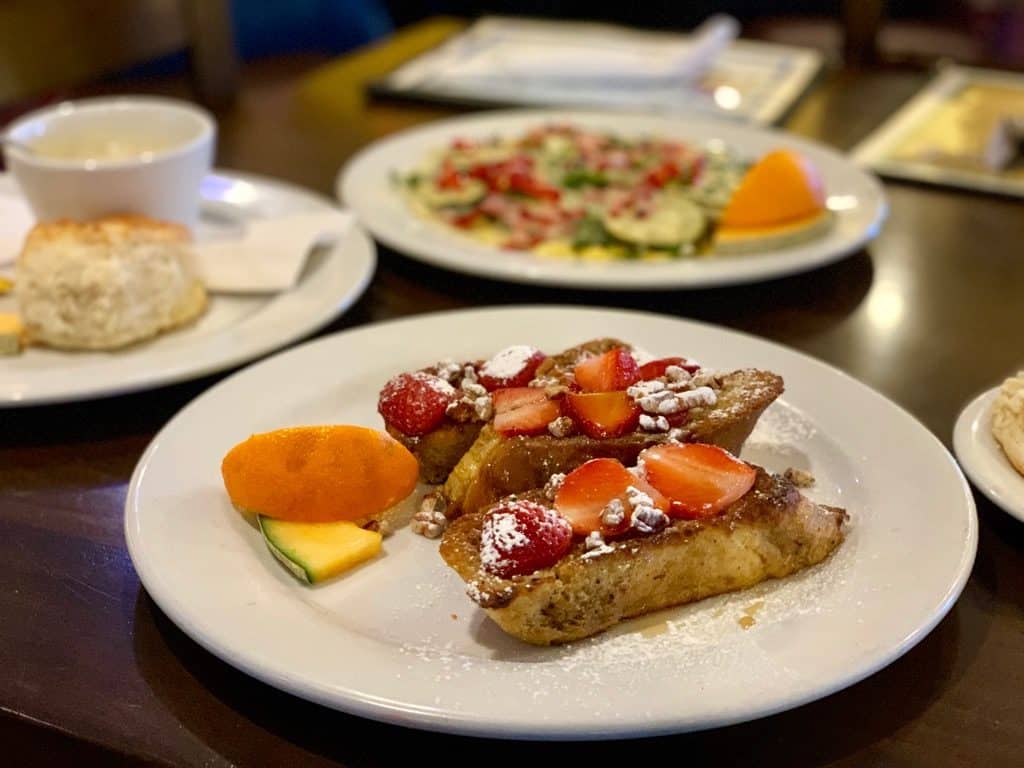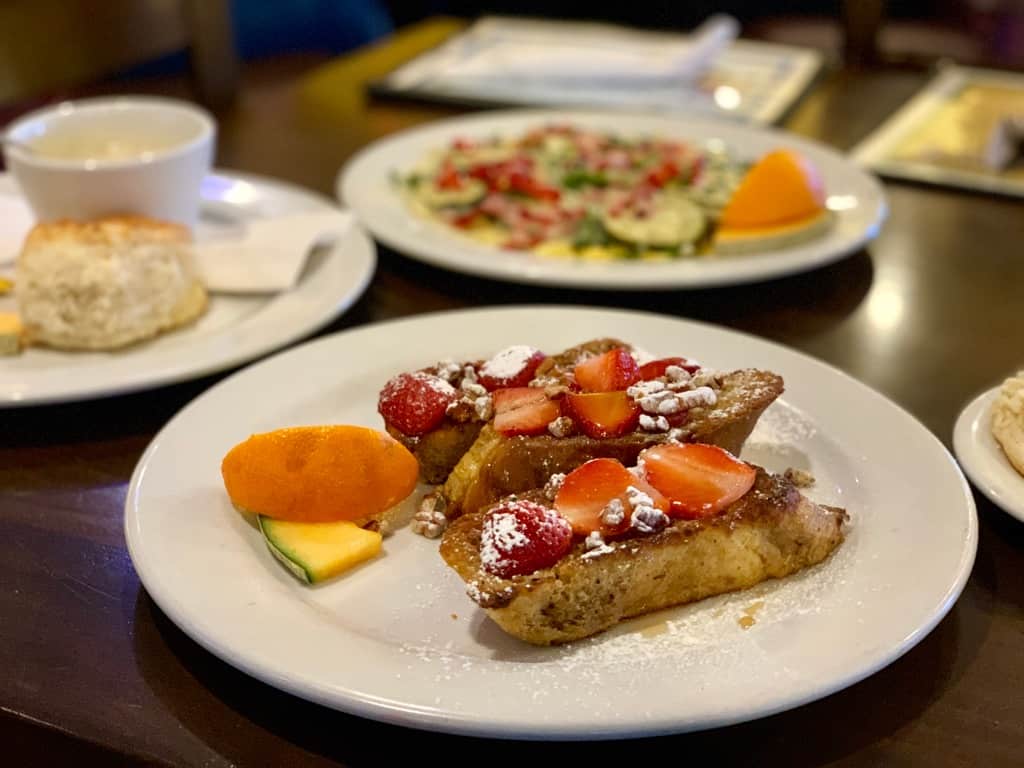 The first stop on this PCB restaurant tour is Andy's Flower Power. This awesome breakfast and lunch place served some of the best French toast with strawberries and maple syrup I think I have ever eaten. Their egg and cheese frittata with veggies was fantastic as well as the classic Southern dish of biscuits and gravy! With a live band playing some easy morning music, you can't beat this morning experience! They even have a takeaway section with cakes, muffins, and coffee.
Another great restaurant in Panama City Beach and breakfast option is Liza's Kitchen. This small gourmet sandwich spot uses the freshest ingredients and makes everything they use in-house from scratch. The Hippie Chick sandwich is amazing, and I would definitely recommend it to anyone that visits this quaint little foodie spot.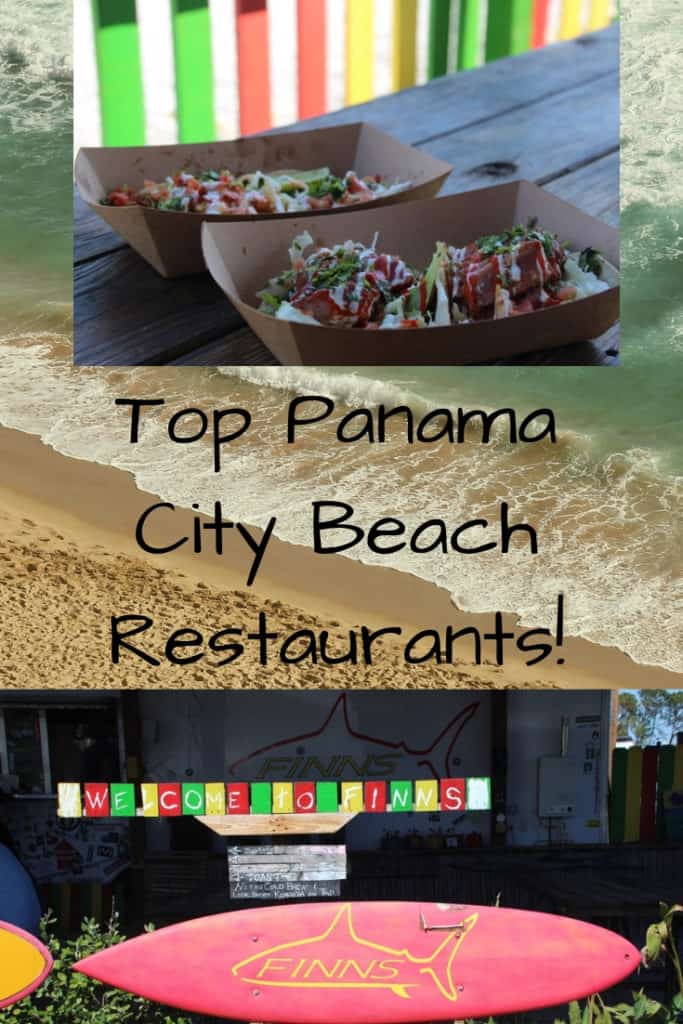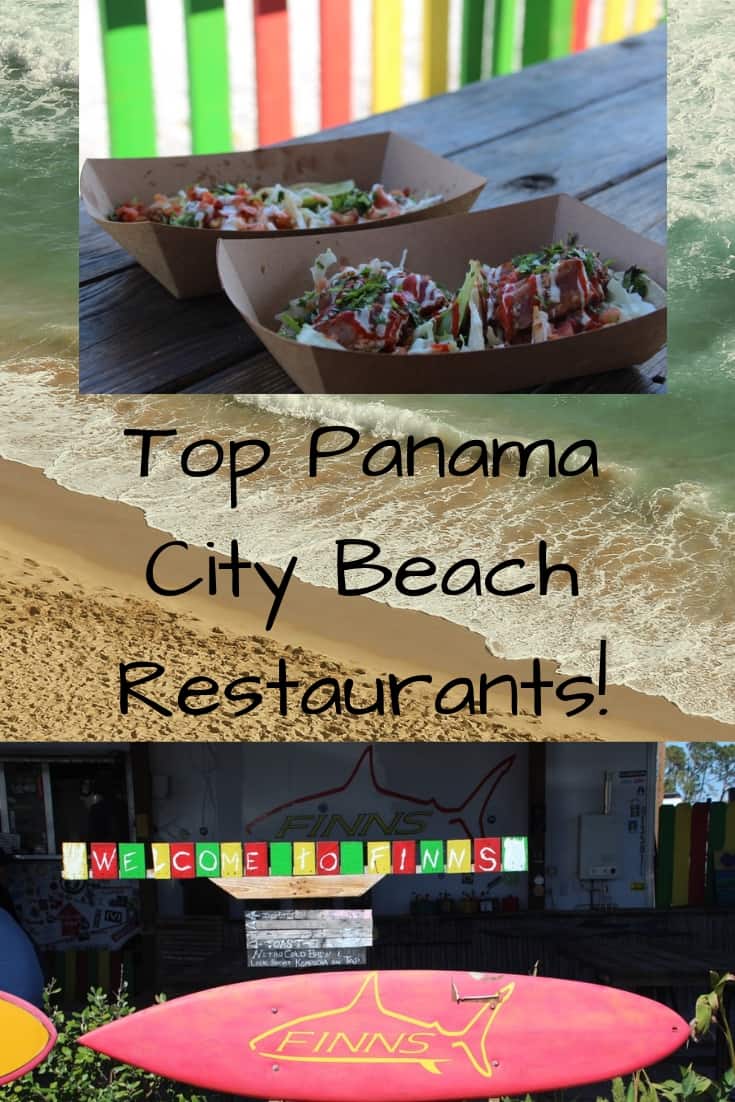 When writing about breakfast, I can't help but mention Another Broken Egg. They have been serving breakfast, (plus brunch and lunch) in Panama City Beach for more than 15 years! They do everything from breakfast classics to brunch dishes, as well as the all-American lunch. And the best thing to order? Biscuits or beignets or my very favorite: lobster and shrimp roll sliders!
Top Places to Eat in Panama City Beach: Lunch
Thinking you may just want an oyster while visiting PCB? Well, if you do, the Shuckums Oyster Bar and Seafood Grill is the place for you! It is over on Front Beach Road. Bought way back in 1967 by Mac Carter for $16,500… he turned this place into a gold mine. Going from 35 seats to over 300 seats for people to eat, this place is awesome! Shuckums has seen its share of changes, but some things have stayed the same. Families are in the original building and the cocktail recipe that Mack came up with is still the same! In fact, you can buy it in the gift shop! From family fun to karaoke, music, and dancing, plus people stick dollar bills up on the walls! Come on out and meet Pokey for the freshest oysters in Panama City Beach. They have it all and a whole lot more!
Don't miss Surfside Shrimp Company if you are looking for a casual table inside or out on their patio. They serve directly from their fresh-catch seafood market. They even have an on-site oyster and seafood bar. It may be no-frills, but it sure is good when you eat and peel your own shrimp, Also order the bacon-baked oysters, as they are superb!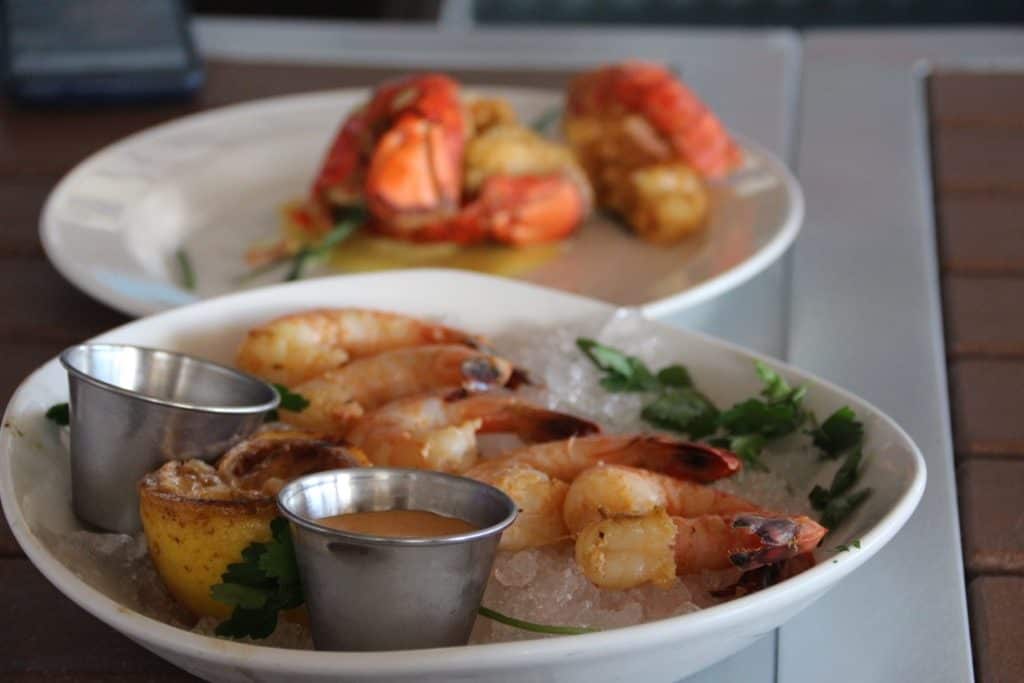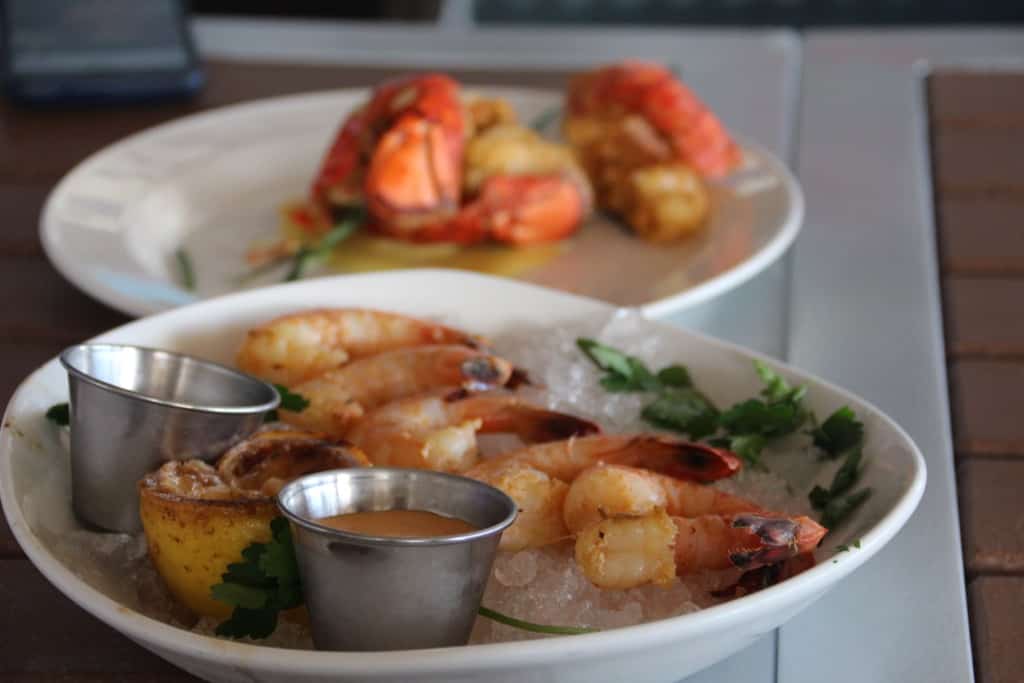 Grand Marlin Restaurant and Oyster Bar is a great lunch restaurant in Panama City beach worth visiting. This restaurant and oyster bar overlooks Grand Lagoon to match a beautiful view with your delicious meal. The North Drop Bar located inside has signature drinks like the Blue Marlin Martini and the Ginger Rum Cooler, as well as an 80 bottle wine list that will pair perfectly with any meal.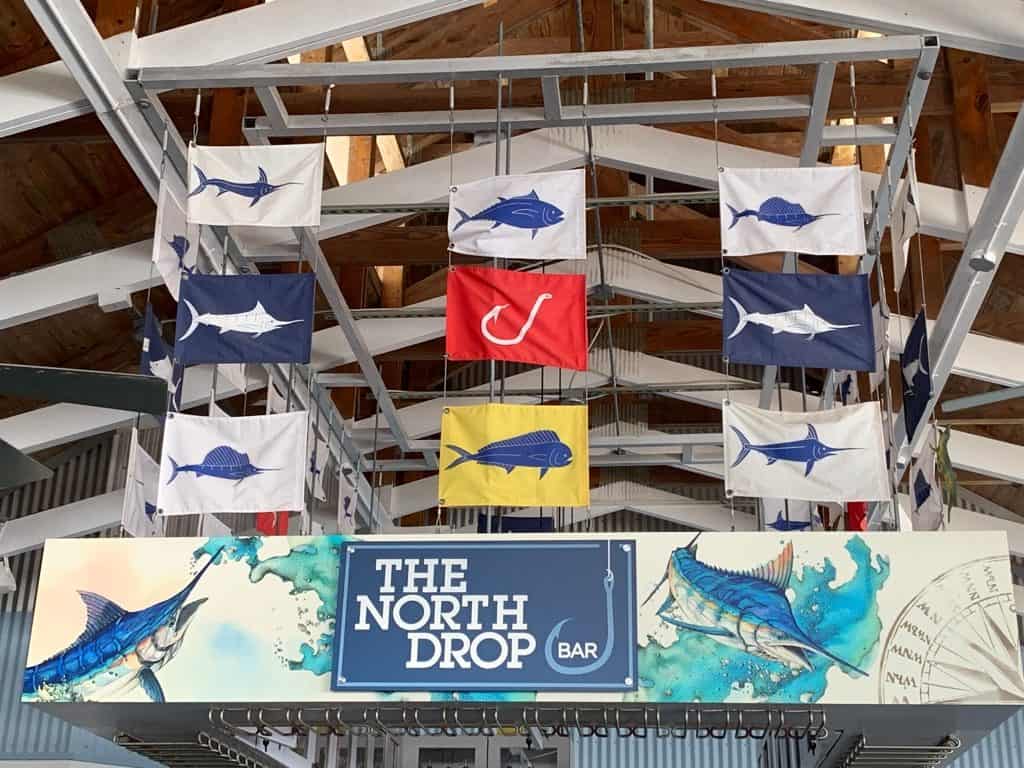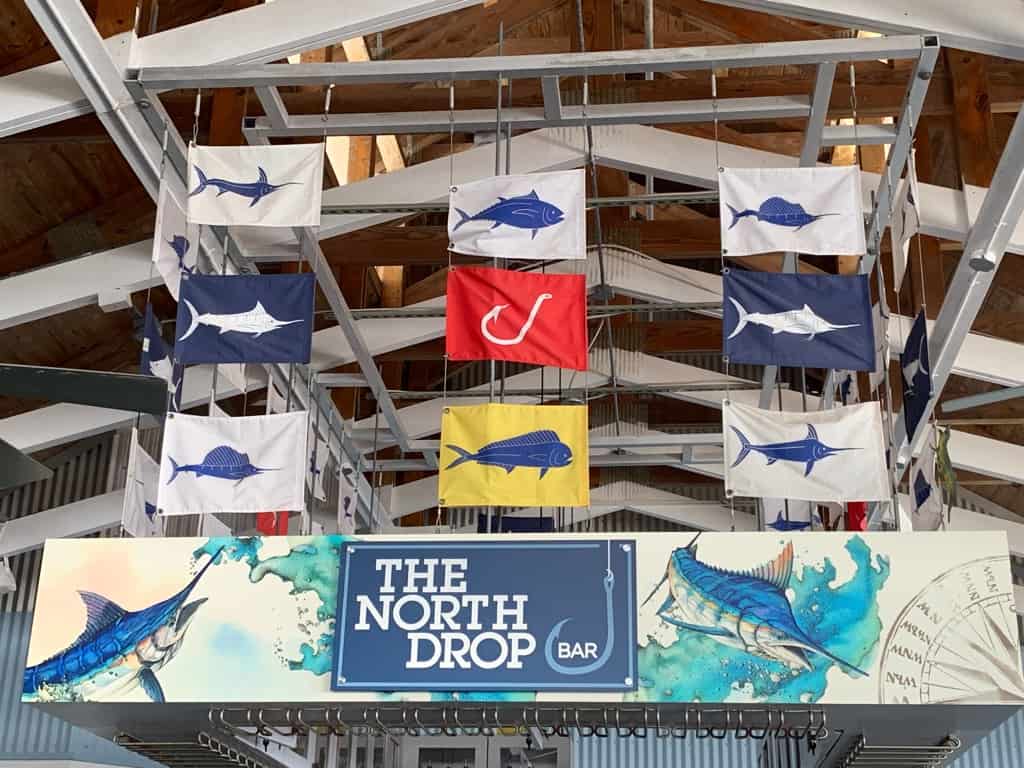 Hook'd Pier Bar and Grill is another great place for your seafood fix! With a mixture of southern and seafood dishes, this place has it all from grits to gumbo. The Sauce Sampler is a great option for a big group and to top it all off, they have a dog-friendly outdoor patio. Another of the great places to eat in Panama City Beach is not a restaurant in the traditional sense.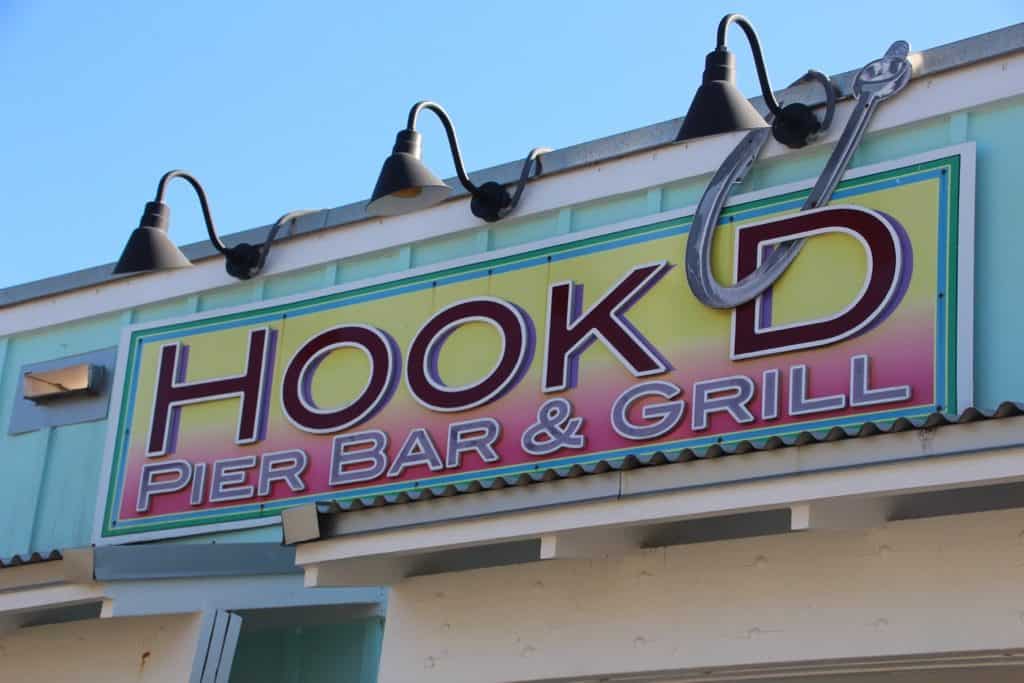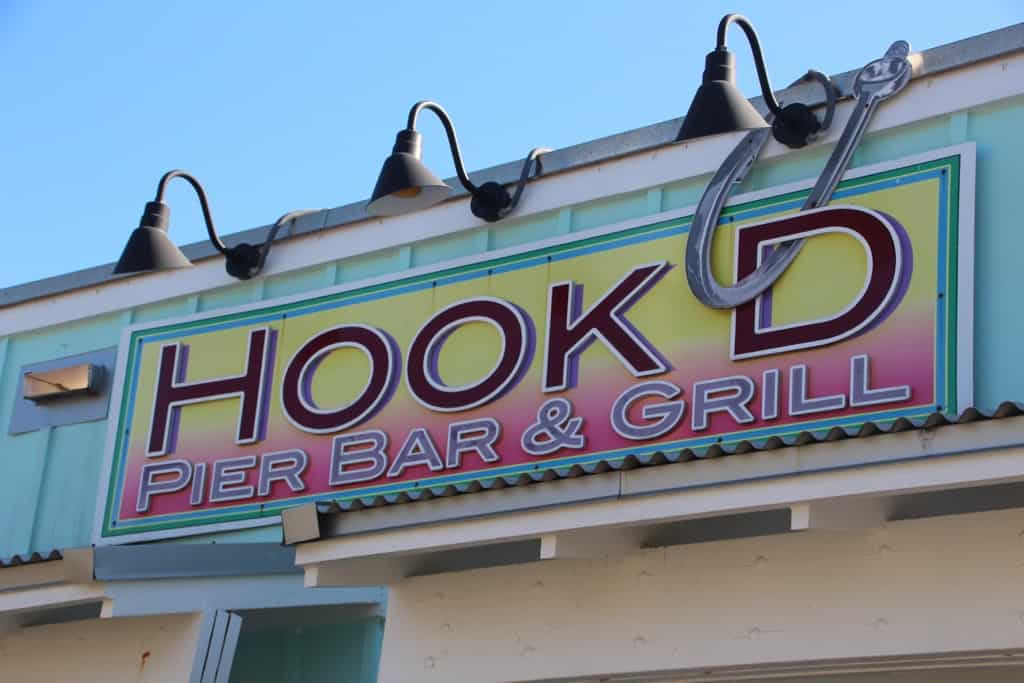 Finn's Island Style Grub is a popular food truck restaurant that specializes in fish tacos. In fact, they are rumored to have the best fish tacos in all of Panama City Beach! With multiple locations around PCB, this cheap and simple option is perfect if you want something quick, yet delicious. They have a cute outdoor covered patio area for sitting that is built around the food truck itself. It is bright and colorful with a kid's play area. So where did it get its name? From the owners' first-born son!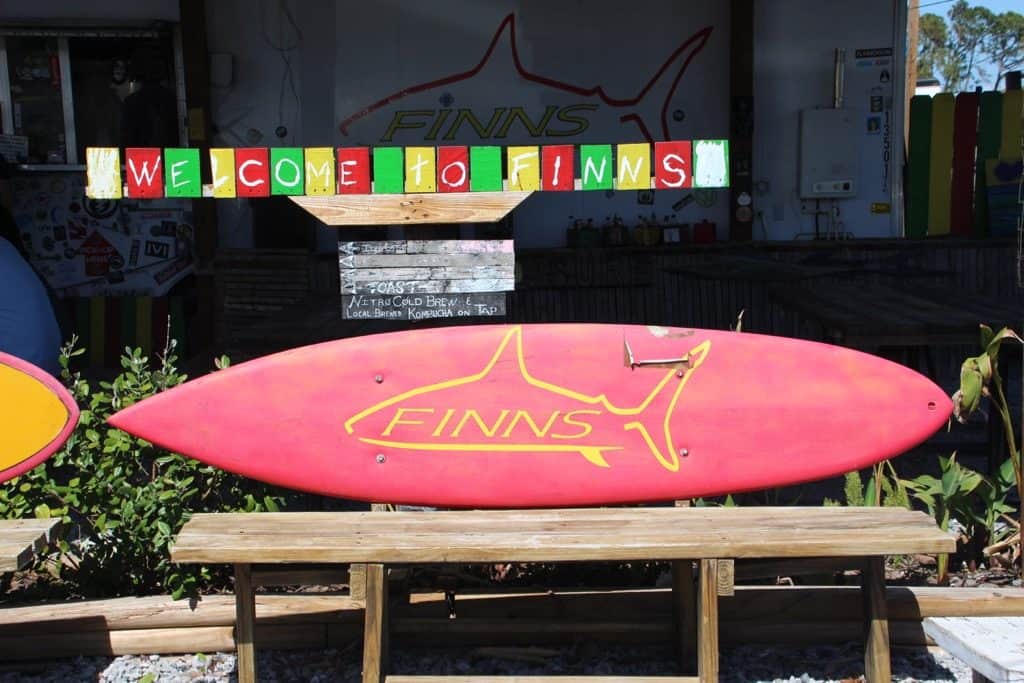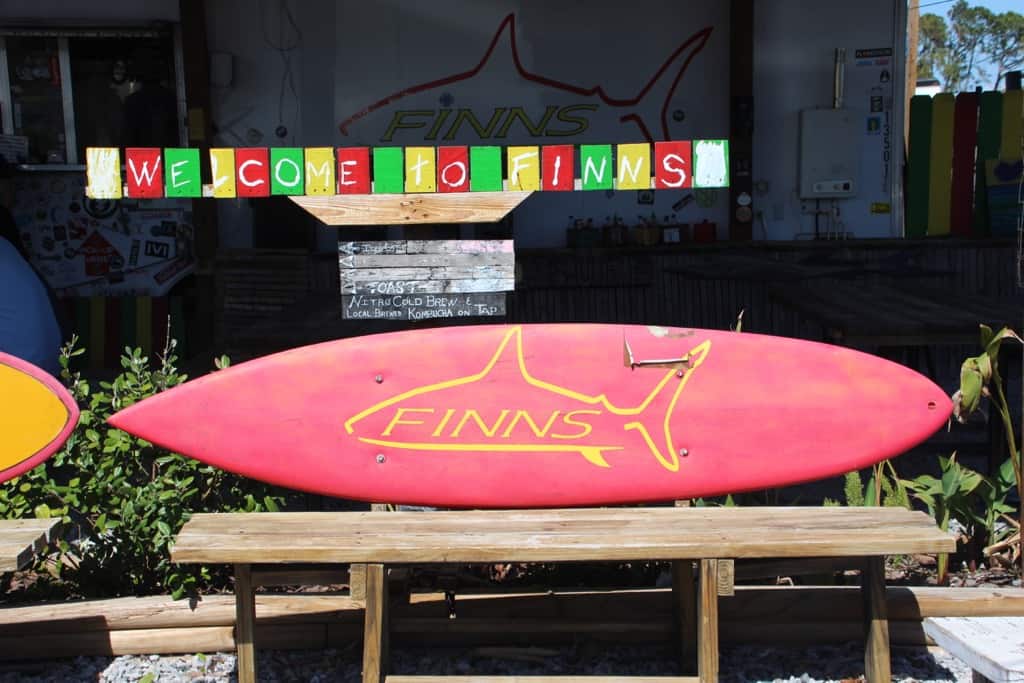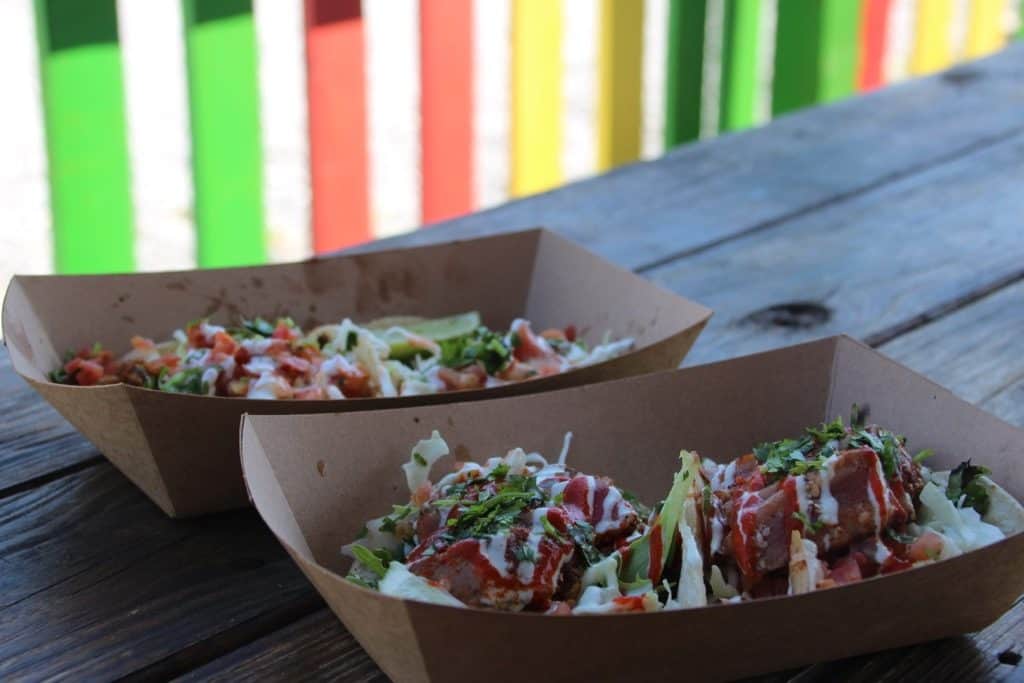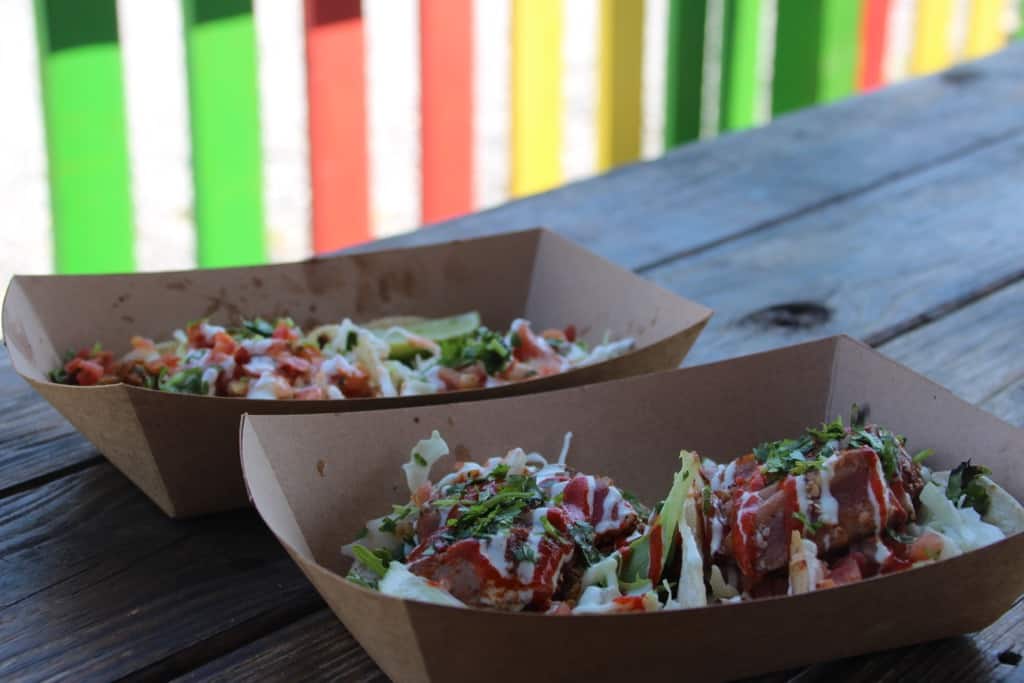 It's attached to an awesome coffee house where they say the best thing to order is the salted mocha coffee. And attached to the coffee shop is a surf shop and souvenir place with plenty of things to look at.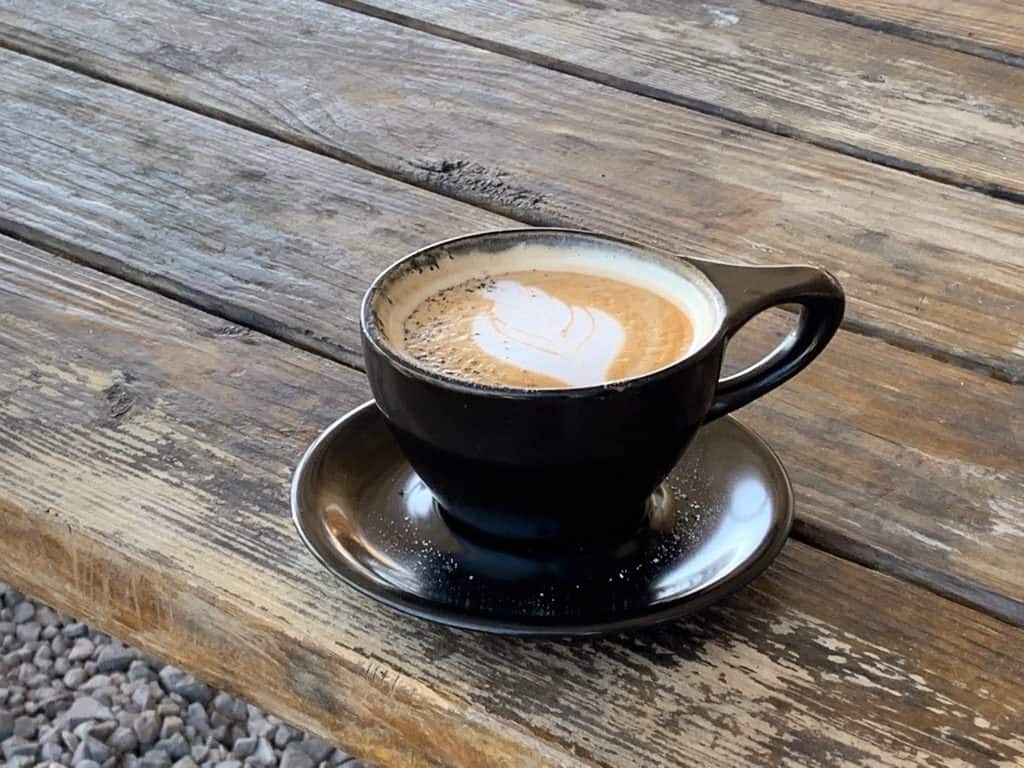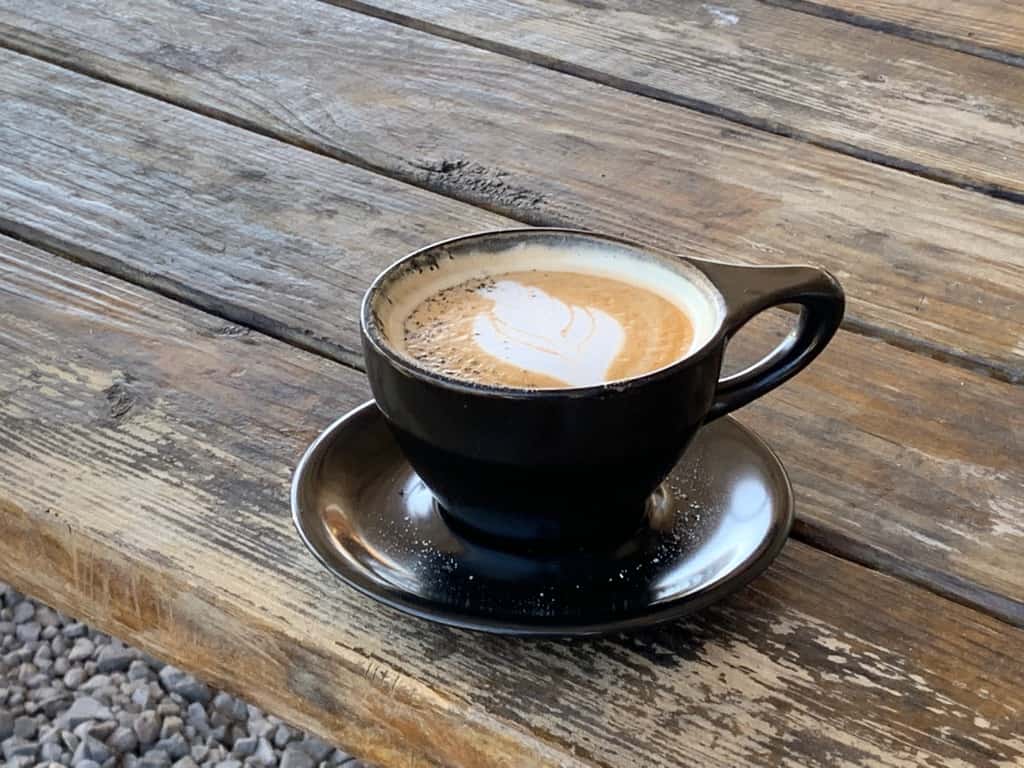 Another of the great restaurants in Panama City Beach worth sinking your teeth into for lunch is Runaway Island. Here we have another awesome bar and grill with a ton of seafood dishes. The Islamorada platter was delicious, and it came with signature fried and breaded catch-of-the-day (Mahi-mahi for me), bay scallops, and shrimp.
If you are looking for a place to zen out, I can recommend Panama City Beach restaurant Lotus Cafe at Zen where they say you can "let your food be your medicine". Lots of times I overeat, so I try to go here to see how the other half lives. They have a health-conscious meal selection that uses all-natural and organic ingredients. Their menu also includes fruit juices and smoothies. Plus for lunch, they have things like seafood, chicken, vegetarian and vegan options, salads, and wraps. But the best part – enjoying your meal in a beautiful garden setting.
With live music. awesome food. wonderful atmosphere, Dat Cajun Place is one amazing place to eat! One of my favorite things to eat is the chargrilled oysters! I absolutely love them! But you can also get them raw or baked! But they also have a delicious andouille sausage gumbo and wonderful po'boys! Dat Cajun Place is located over off of 2705 Thomas Drive.
Top Places to Eat in Panama City Beach: Snacks
There are also a few awesome snack options in Panama City Beach worth checking out as well! The first and my personal favorite is The Yard Milkshake Bar, an ice cream lover's paradise. This place has everything you can imagine from milkshakes to floats to doughnuts and everything in between. Their massive and complex creations are as tasty as they are pretty. I got the Sea Turtle (pecan ice cream base) and I would definitely go back for another! Please note that the line can get very long during peak hours as people seek a safe haven from the Florida sun.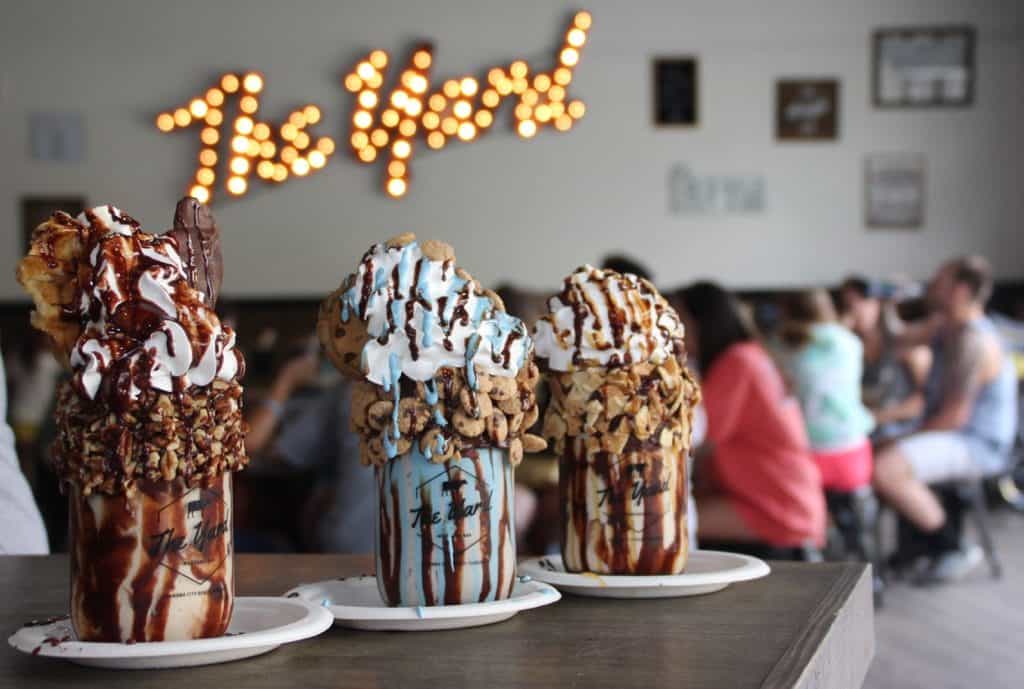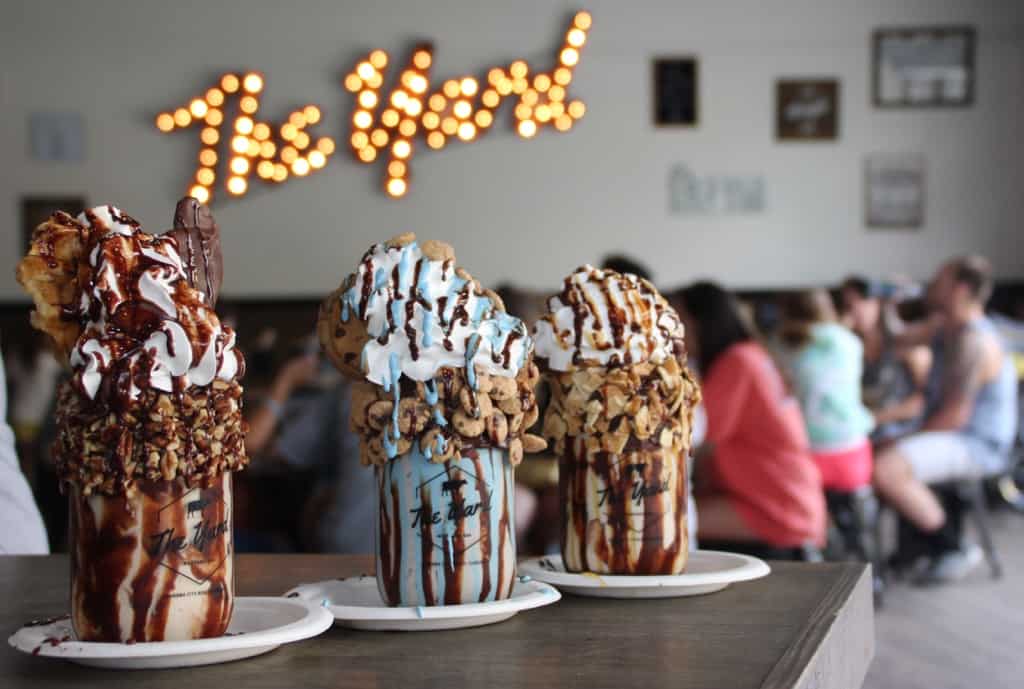 You can also try out Thomas Donut & Snack Shop for some more sweets. But be sure and get there early, as the line begins to grow on the weekend by 10 a.m., and it can get quite long! These fried donuts are freshly made, many with unique flavors, and will make your taste buds melt.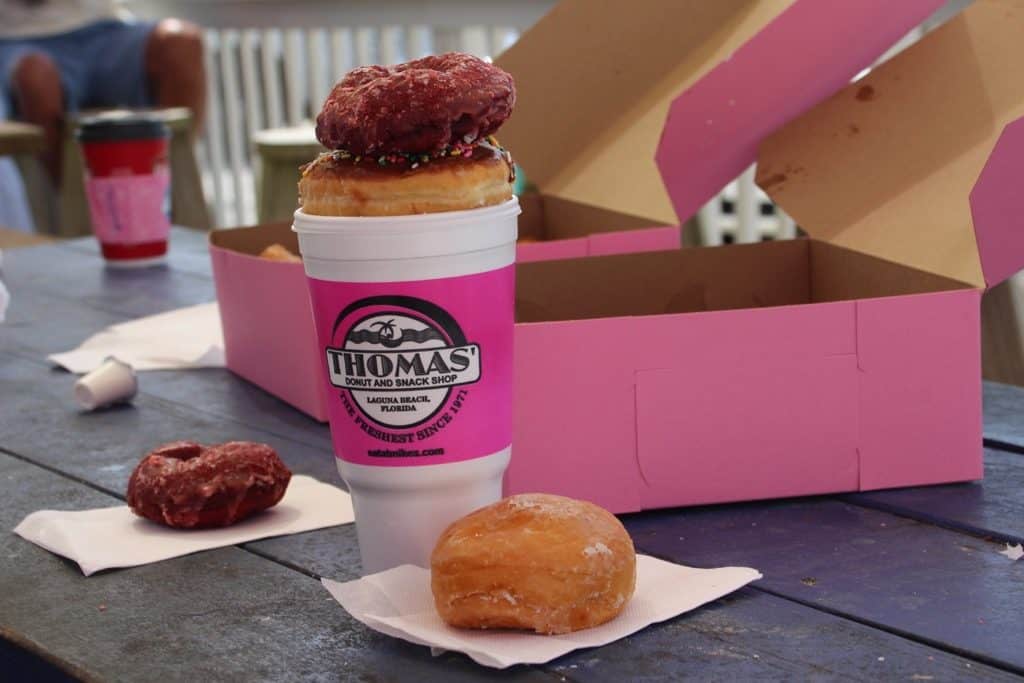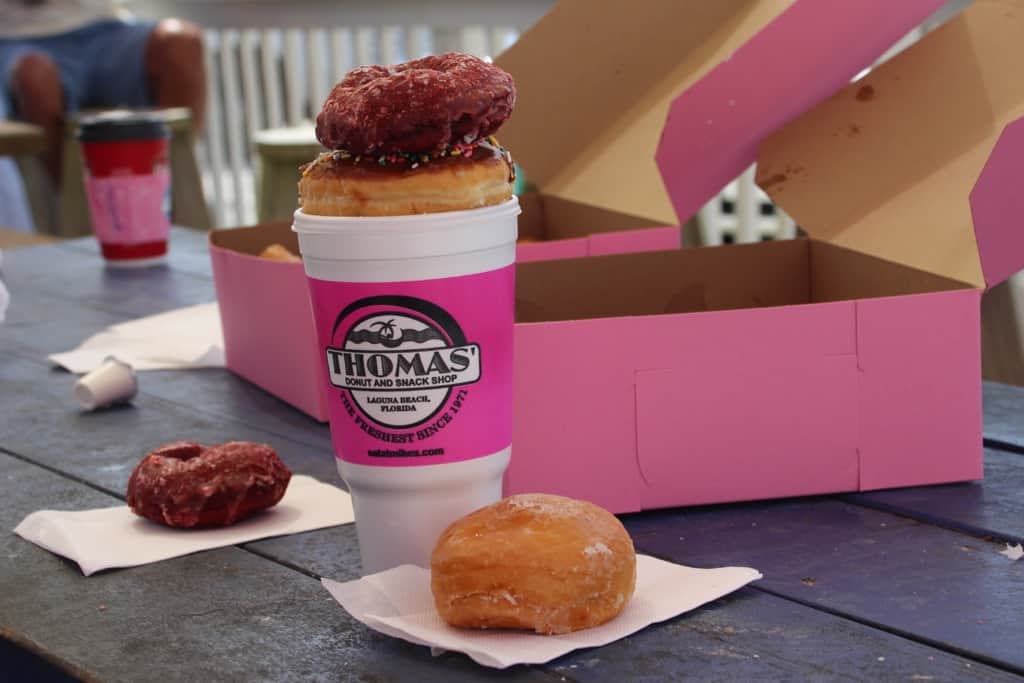 My final stop on this foodie tour of Panama City Beach, Florida is Coco Loco's, a local drink and tiki spot that is right on the water. Coco Loco's serves frozen, tropical drinks in fresh coconuts and pineapples. An insanely refreshing drink awaits you here at Coco Loco's, a place that reminds us of the simplicity of local fruit drinks and how delicious they can be!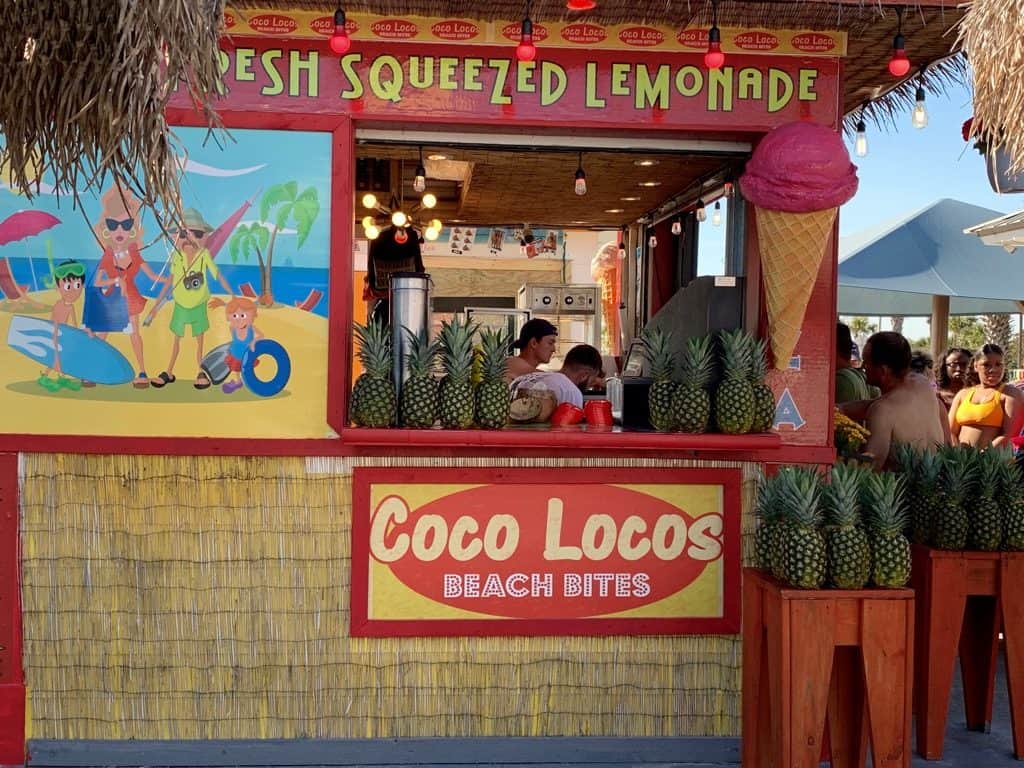 Plus, if you haven't eaten here, you must try David's Sno-balls. Located on Back Beach Road, David brings a piece of New Orleans to Panama City Beach. Literally on the menu is the roast beef Po-boy, a muffuletta, and a stuffed key-lime pie snow-ball. This is the perfect thing to order at David's. And if you have room, be sure and order the homemade beignets! I love them!
Top Places to Eat in Panama City Beach, Florida: Dinner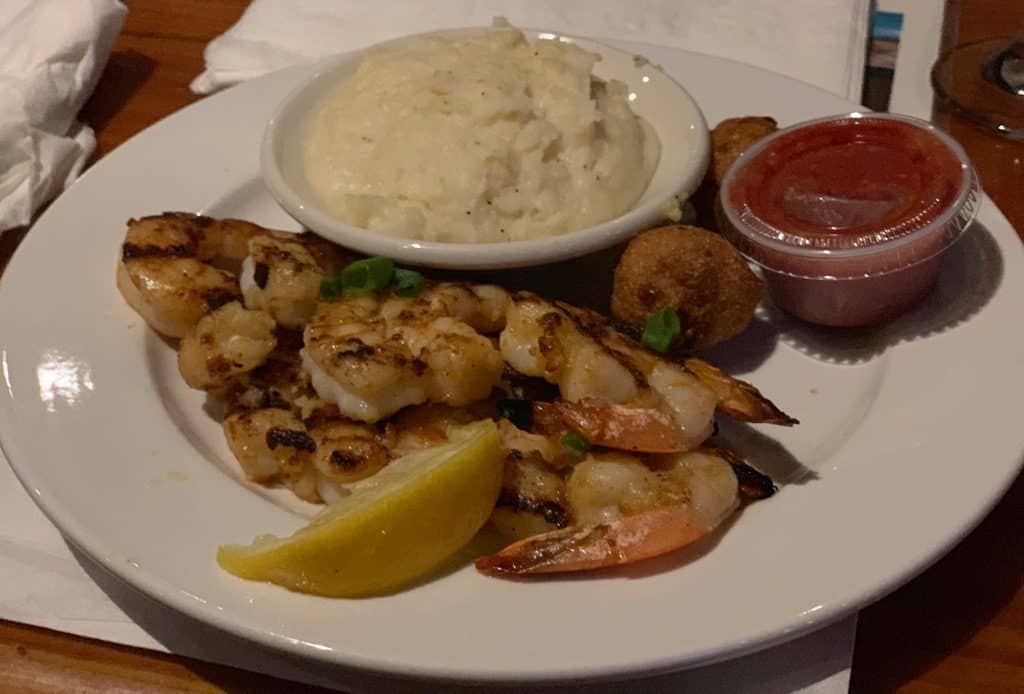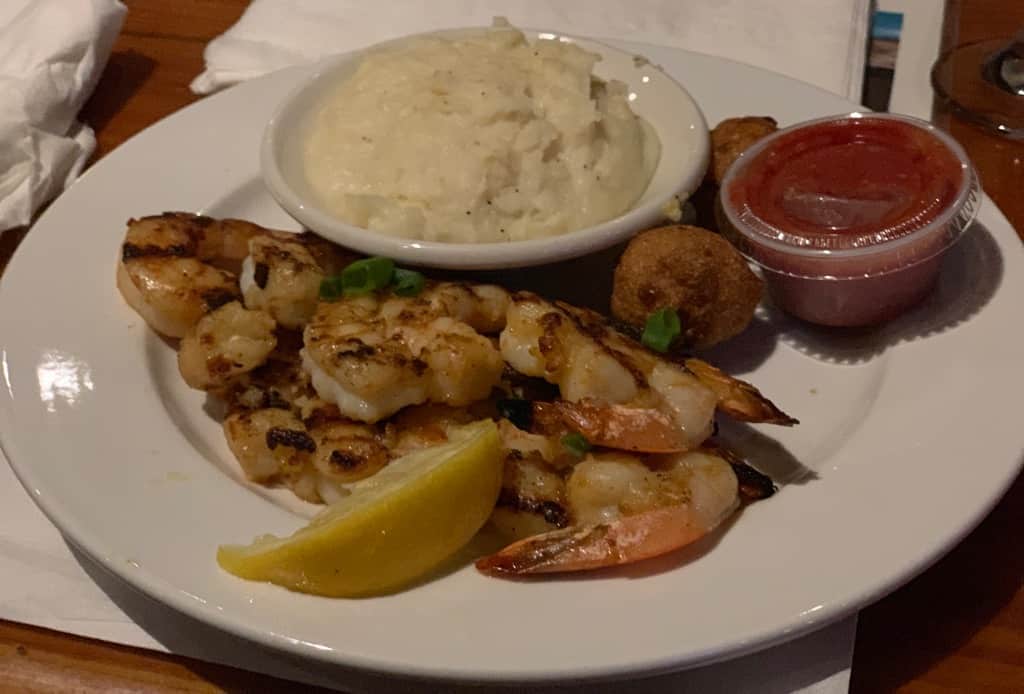 As for PCB restaurants with the best dining options, I think Schooner's should be on your foodie bucket list. Known as "the last local beach club" in Panama City Beach, this beachfront restaurant has a whole host of fresh seafood and non-seafood dishes. They also have a wide array of signature and local cocktails alongside a long list of craft beer. Combine this with the live bands that play here and the cannon the owner sets off every sunset to celebrate another great day at the beach, Schooners is a local spot you won't want to miss. It is also next door to where I stayed at Wyndham's Seychelles.
Another of the top restaurant in Panama City Beach is Saltwater Grill. This seafood joint has everything from tuna to scallops to fried calamari. They also serve a number of "turf" dishes, including various chicken, pork, and steak entrees. With a full bar and a 25,000-gallon panoramic saltwater aquarium meeting you when you walk in, this place is another reason to visit the beautiful Panama City Beach, Florida. They even have live entertainment from their piano bar! What did I order? The redfish étouffée! And it was delicious!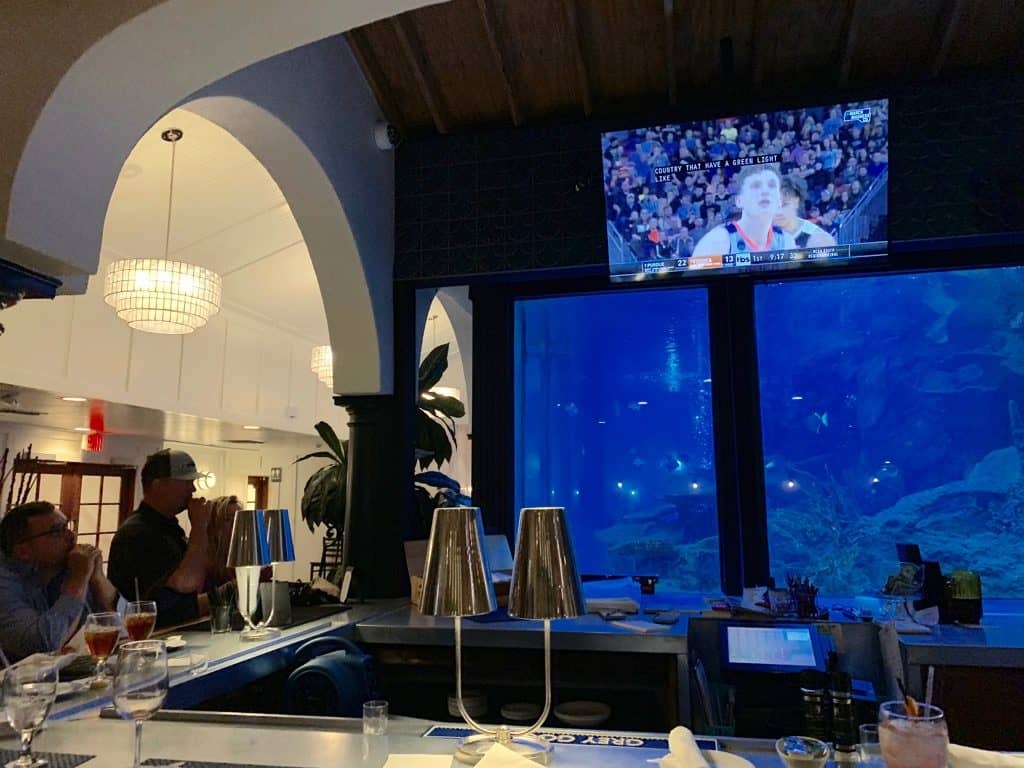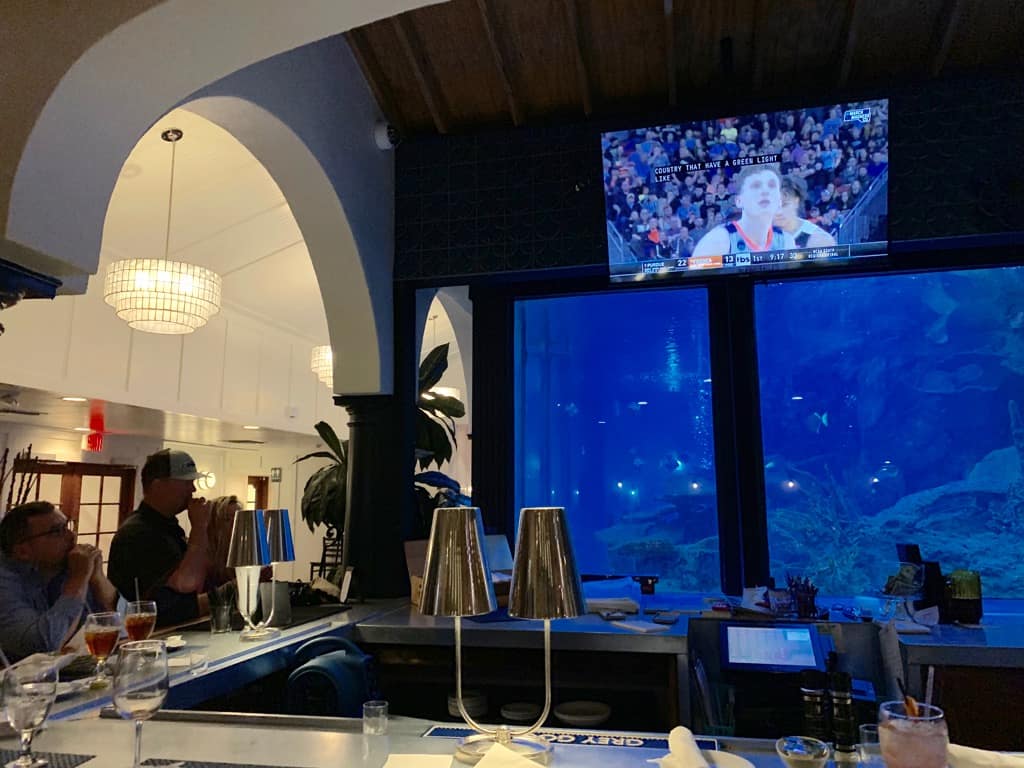 Dee's Hang Out
And if you haven't been to Dee's Hang Out, then you have to go there! They have some of the best daily baskets and specials! Dee's Hang out includes local cuisine, American, bar, seafood (Cajun & Creole), and vegetarian-friendly food. Dee's Hang Out serves Southern Coastal Cajun menus that will keep you coming back on every vacation! You can try one of their seafood platters, She-Crab soup, or Po'Boys. In fact, the Po-Boys are served on Liedenhimer Brother's French bread, the inventors of the Po'Boy sandwich! You can even try their famous smoked Tuna dip!
Dee's Hang Out is open for lunch and dinner and located just a few doors down from the Rock'It Lanes. Plus Dee's has an awesome happy hour – so you cannot go wrong!
Looking for a Vegan option?
Then you will need to find Jesse's Place. It is a family-owned restaurant right on Thomas Drive in Panama City Beach that is quaint and serves about thirty-five people at any one time. They serve both breakfast and lunch and offer you the vegan and vegetarian meals that you are looking for. Bring along your non-vegan friends too, as they also serve a traditional breakfast and lunch menu. This is a great restaurant in Panama City Beach, so stop on by.
Panama City Beach has Mexican Food too
I would be remiss if I didn't mention one of my favorite Panama City Beach Restaurants that also has the same name as my son: Diego. It is called Diego's Burrito Factory. I don't know about you, but I am a Mexican food lover. So when I heard about this unique place, I said, "Let's go there!" with enthusiasm. For me, there is just something about a fresh tortilla and cheese that turns me into mush! The restaurant is located over on Front Beach Road across from the Hampton Inn. They have a Margarita Bar with a walk-up window, so be sure and order one from there. Everything on the menu is good!
There is another Diego's Burrito Factory in Panama City Beach located on Sunset Drive, just FYI.
The Panama City Beach restaurant scene is a lively one with a lot of great options to choose from in the small beach town. The best places to eat in Panama City Beach range in their types of services and the flair they add to the experience. Each of these local restaurants of Panama City Beach, Florida, are worth a visit or two! So sit back, relax and enjoy the amazing food on the sun-kissed beaches of PCB.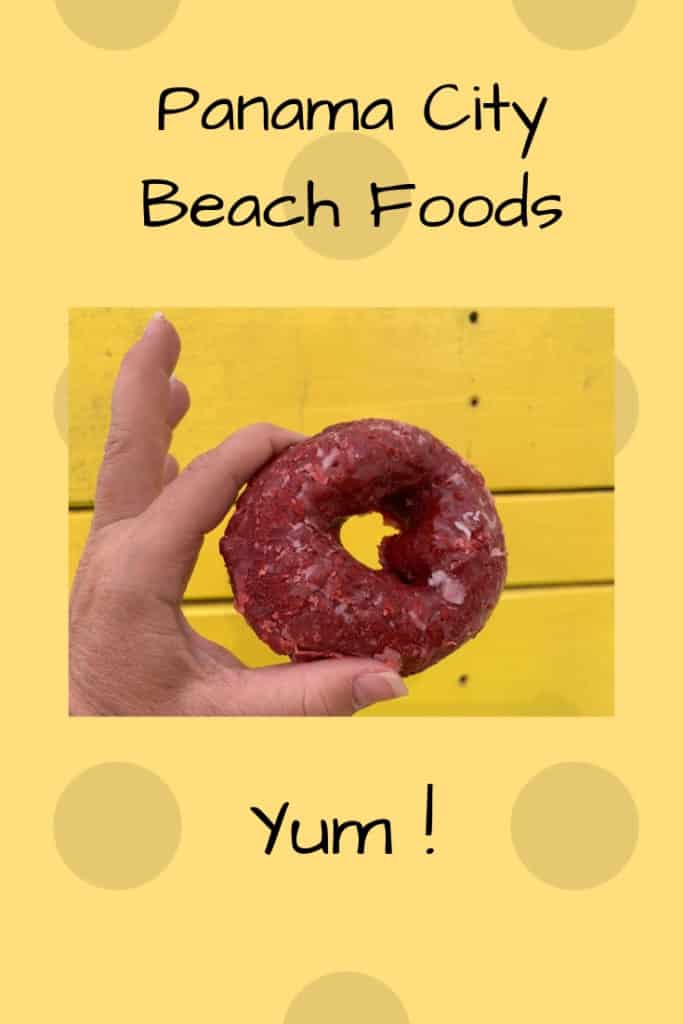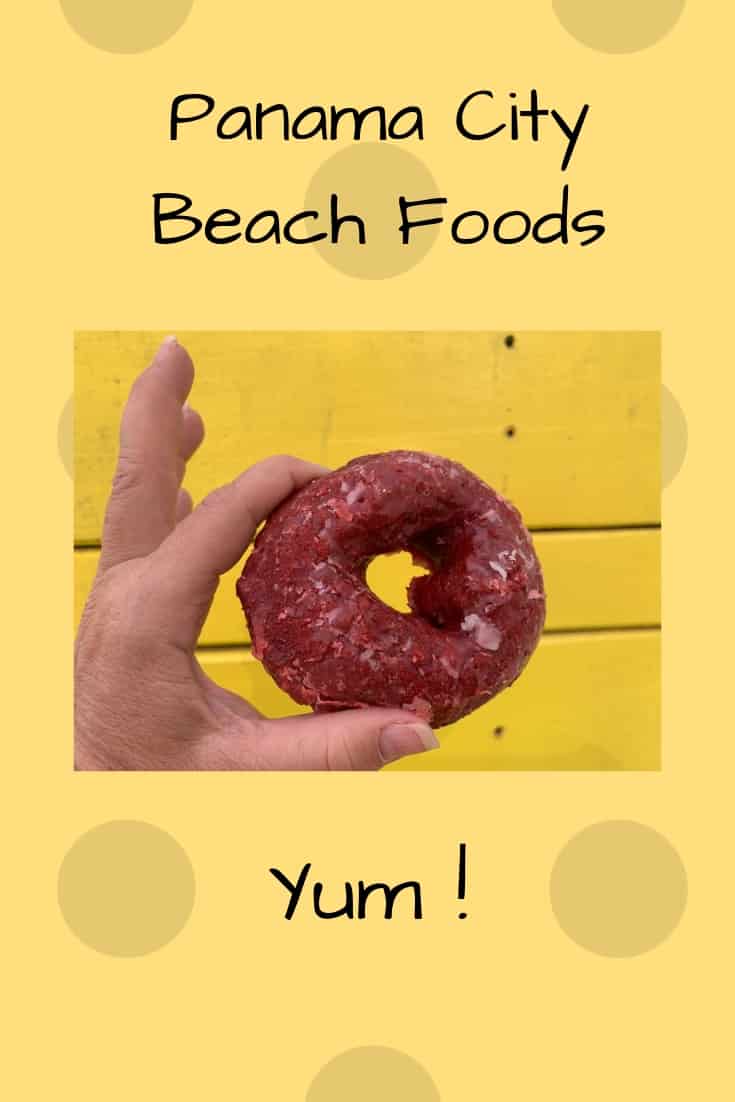 Disclosure: As is common in the travel industry, I was provided with accommodations, meals, and other compensation for the purposes of review by Visit Panama City Beach and Travel Mindset. While it has not influenced my review, PointsandTravel.com believes in full disclosure of all potential conflicts of interest. All Photos were taken by the author/or were given permission from the photographer. Affiliate links may be located in this article.