Antelope Canyon is a spectacularly beautiful slot canyon in the American Southwest. For many people, seeing Antelope Canyon on their bucket list is an unforgettable experience. But organizing a trip to Antelope Canyon can be stressful. I couldn't stop daydreaming about the endless possibilities for photography after seeing these crimson, water-carved curves hundreds of times.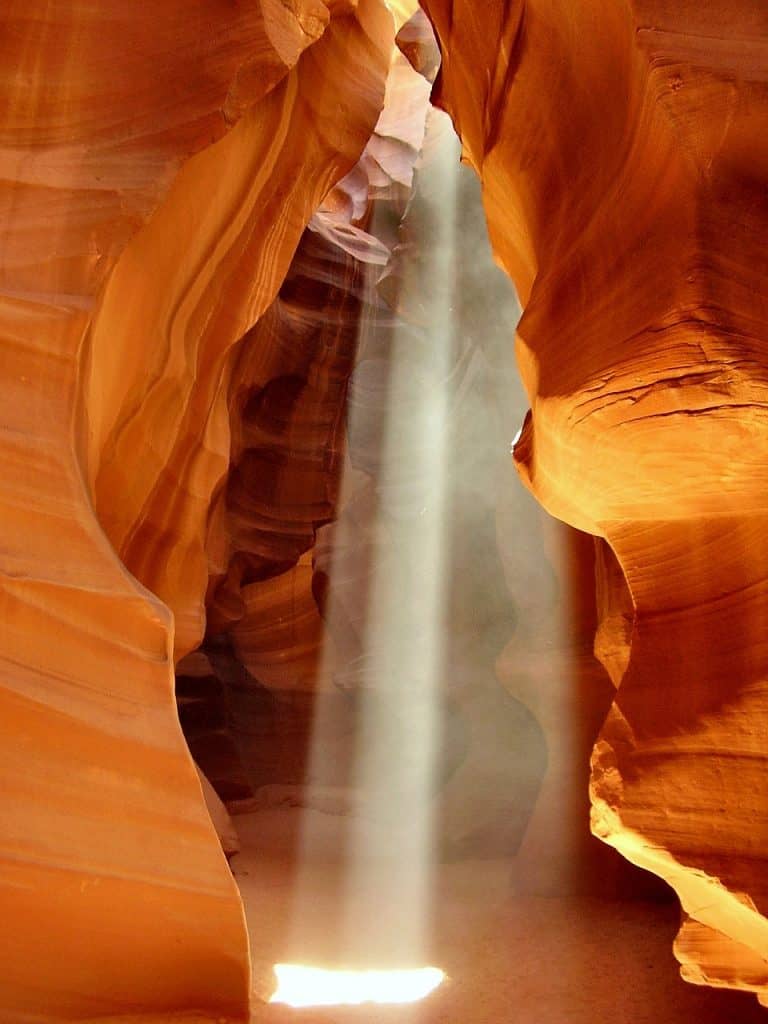 ---
What's in this post:
hide
Best Time to Visit Antelope Canyon:
A Complete Travel Guide
---
I know you've been looking forward to seeing Antelope Canyon for a long time. To make your Antelope Canyon trip as effortless and stress-free as possible. So let me share the most important things you should know about this unique destination before traveling there.
About Antelope Canyon
Antelope Canyon is a sandstone slot canyon on Navajo land in Page, Northern Arizona. This popular natural wonder in the region, Antelope Canyon, is managed by the Navajo Nation, and their tour operators can take you to visit.
Upper Antelope Canyon
The Upper Antelope Canyon (Navajo name – Tse'bighanilini, "where water runs through the rocks.") is a narrow channel between the towering canyon walls and where the water moves through the rocks forming a tiny gap between the 120-foot tall canyon walls. These formations are one of the reasons people come to Antelope Canyon – they are truly stunning, especially when illuminated by beams of direct sunlight. The Upper Canyon is also the most famous in the park. The entrance and many attractions are ground-level, giving visitors an exciting adventure surrounded by magnificent rock formations.
Lower Antelope Canyon
A variety of spiral rock arches are there in the Lower Antelope Canyon. The region is V-shaped and shallow. Because there isn't much direct sunlight here, you may expect some stunning crimson and orange hues. Because there is no ground-level entrance, you'll have to climb down from the ladders to enter the Lower Antelope Canyon. While going down might be more challenging than going up, it's worth it!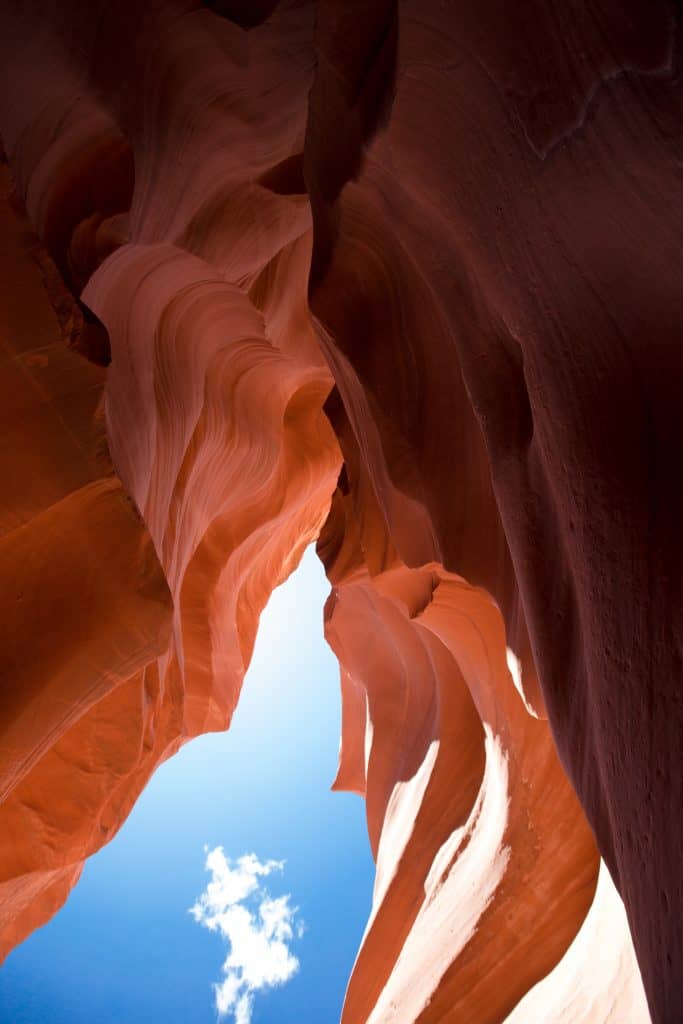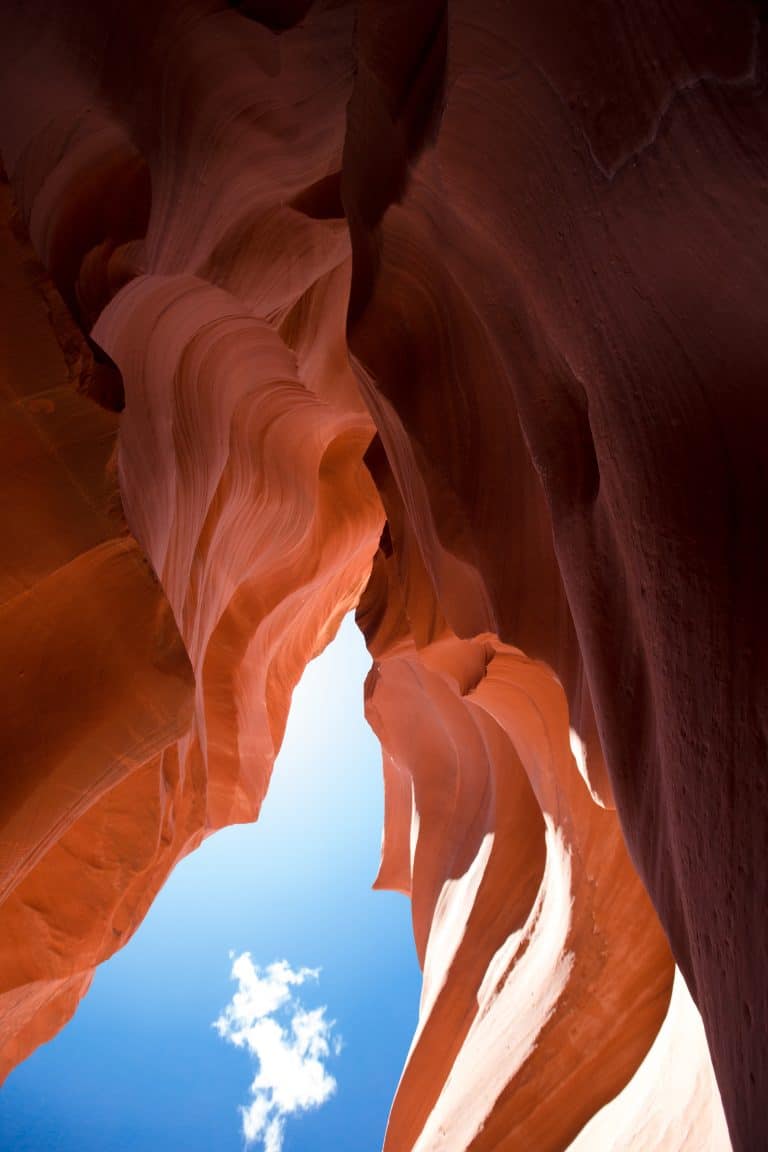 This is one of the most popular excursions in Antelope Canyon. Every time you visit, it's a fantastic time because of the quietness of the canyon. Because of the narrow canyon pathways, the Lower Antelope Canyon feels less claustrophobic and frequently more fun to walk.
The part well-known for its ladders in Lower Antelope Canyon is the "Ladder Falls Area." If you want to see LADDERS, don't miss this area! Keep reading if you're going on an Antelope Canyon excursion but do not wish to go on a guided tour. Keep in mind that this portion is less likely to sell out, but you should still book ahead of time.
How to Visit Antelope Canyon
Whether you're visiting Antelope Canyon's Upper Canyon, Lower Canyon, or both of them, it's a good idea to go during the day when the light streams over the rock formations. There is no ideal time to visit Antelope Canyon; you may appreciate the beauty in all seasons, but if you want to take full advantage of the vivid colors that the rocks possess, we recommend going when it's a warm and sunny day as there are fewer people around. Visiting Antelope Canyon is an unforgettable experience!
Getting into Antelope Canyon
Getting to the Antelope Canyon in the United States is one of the first things you need to consider.
#1 By Bus
If you're traveling from Las Vegas (5 hours) or Grand Canyon National Park, some buses will take you to the canyon for a fee. You may also add a road trip to Horseshoe Bend, another outstanding photo opportunity, to add to your itinerary.
#2 By Car
The Antelope Canyon is about 20 minutes from Page, Arizona. Take AZ-98 East to Indian Route 222 in Page after arriving there by car. When you arrive, there are many tour companies to choose from. I took this route because we left our rental vehicle at the Page airport before heading on a Grand Canyon rafting trip.
Bag and Gear Restrictions
Because the canyon is small and winding, it makes sense that there are limitations on what you can take. You are permitted a clear bag (similar to what you'd carry to a stadium), a water bottle, hand-held camera (including DSLR camera), and cell phone on Ken's Tour guide. Handbags, Go-Pros, selfie sticks, backpacks, and other similar items are not allowed.
When to Visit
The Canyon is a spot that will leave you speechless, and it's well worth your time to see it. We've put together some information on the best way to visit Antelope Canyon from Las Vegas, Phoenix, or any other location.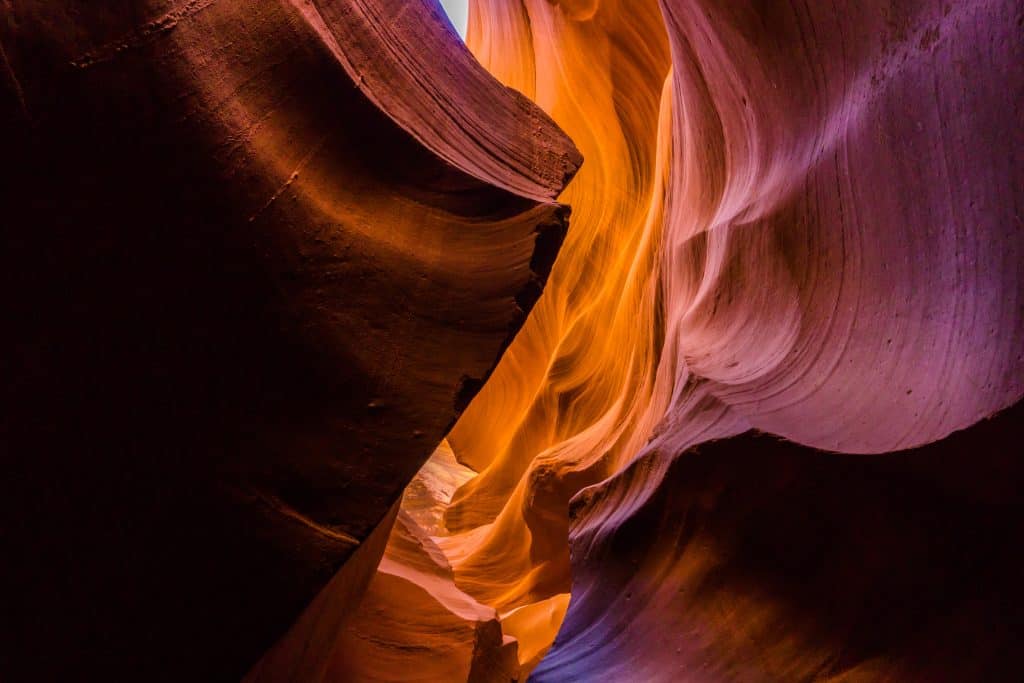 Best Time to Visit
The best months to go to Antelope Canyon are starting at the end of March to early October. You may witness light beams getting into the Upper Antelope Canyon during this period, creating a one-of-a-kind phenomenon, and understandably this is the popular time for the visitors.
However, if you want to avoid the crowd, the low season is the ideal time. From November through late March, it's much quieter with fewer crowds than during the high season because of the cold weather.
You can take a nighttime excursion at any time of year, including the winter months, but the skies will be clear in the summer months.
Best Hours to Visit
Come between 11:30 AM and 2:00 PM to experience the light beams in Upper Antelope Canyon when the beams of light are just above the canyon's head. So, I suggest you select any of the midday tours to cover the best time of day. The best bet to enjoy the Lower Antelope Canyon is first thing in the early morning, though. Then, the number of visitors is reduced, and the temperature is more manageable.
You can't go to the Canyon without the help of a guide, and the reviews aren't great, but it's their territory, and you must adapt to local customs. In my view, our guides (Ken's tours) were courteous at all different times and tried their level best to assist us in obtaining the most incredible photos of Antelope Canyon.
Check the following companies' antelope slot canyon tours:
From Las Vegas:
From Sedona or Flagstaff:
From Scottsdale:
Upper Antelope Canyon from Page:
Tsosie's Slot Canyon Tours

Ekis' Antelope Canyon Tours
Lower Antelope Canyon from Page:
STANDARD TOURS (UPPER ANTELOPE CANYON)
During these upper antelope canyon tours, the stay in the canyon will be shorter, and the guide has to work harder to keep up so that other people can enter. Of course, they will assist you in taking excellent photographs with your phone, guiding you to the best locations for pictures, or even capturing them for you.
PHOTOGRAPHY TOURS (UPPER ANTELOPE CANYON)
You'll have more time in Upper Antelope Canyon if you book a photo tour. If the weather is good, you'll have the luck to capture the magical light beams as you spend extra time in the canyon. The guide will keep other visitors out for a maximum of 2-3 minutes, allowing for cleaner compositions for photos with no one in the frame and additional time to photograph each major location within the canyon.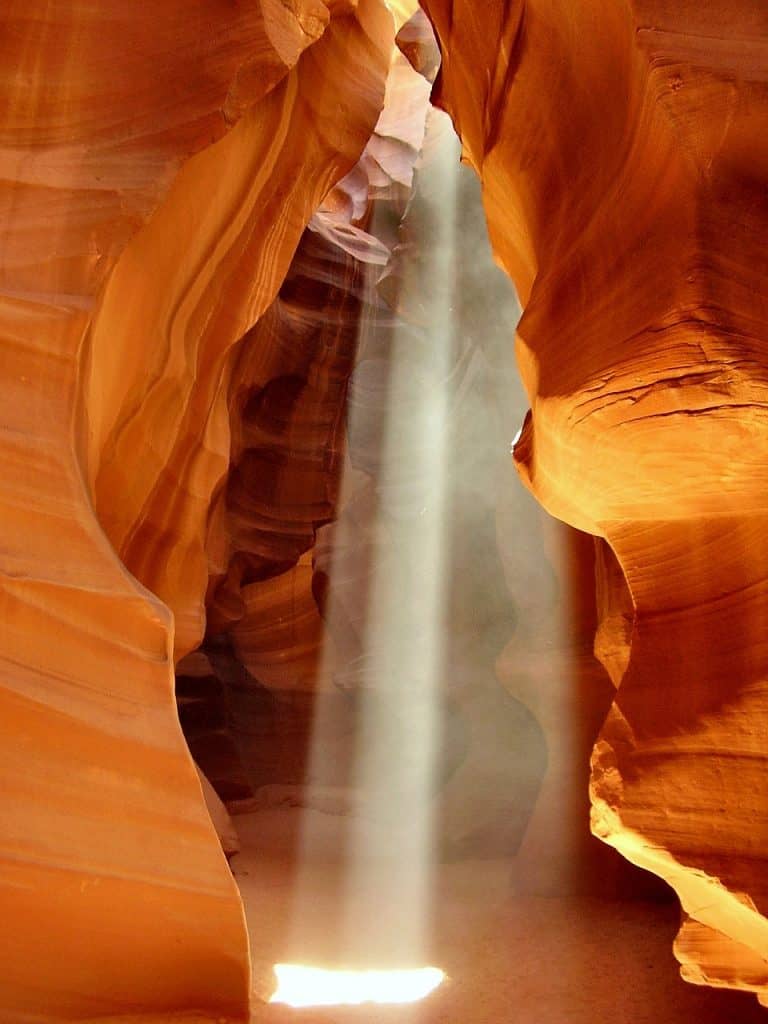 LOWER ANTELOPE CANYON
The Lower Antelope Canyon has become increasingly popular in recent times, with its very low price in comparison to the Upper Antelope Canyon. Furthermore, the Lower Antelope Canyon excursion is typically preferred over the Upper Antelope Canyon tour for individuals who dislike crowds.
UPPER VS LOWER ANTELOPE CANYON TOUR?
I'd say go to both! If you're in the area, seeing Lower Antelope Canyon is a must. It's less crowded and offers more time inside the canyon, even if it lacks light beams. Plus, you can't visit one without going to the other; they're part of the same tour after all! So why not see both?
One big concern is, the difference in price is significant, and you may still tick off the experience in your bucket list. So, if you are on a budget, Lower Canyon Tour is recommended.
How to Get TICKETS
Please remember it's extremely tough to visit the Canyon if you do not have a prior reservation, especially during the peak season.
The Tours Cost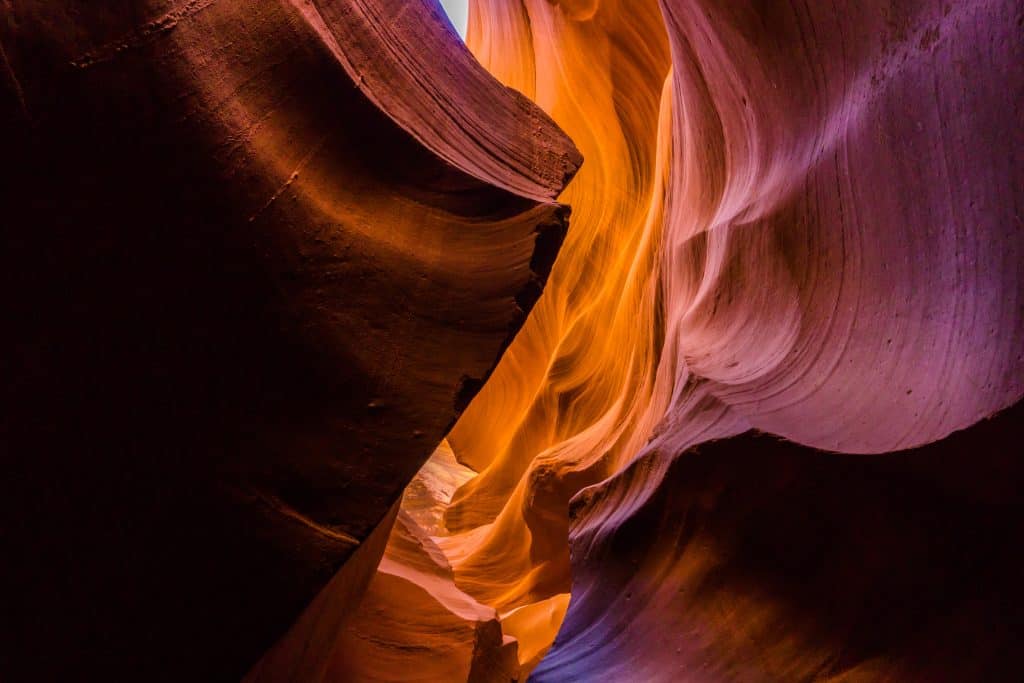 There is an Antelope Canyon entrance fee of $8 set by the Navajo Nation (to be paid at the Navajo Parks). The other fees depend on the guide and your choice of tour. For example, my cost of the tour was:
Standard tour: $89+

Standard light beam tour: $75+

Photo tour: $15+

Lower Antelope Canyon tour: $40+
SCHEDULE FOR THE ANTELOPE CANYON TOUR
The best time to take a Navajo tour of Antelope Canyon is around noon. Indeed, the bus driver will pick you up at your hotel and take you to an intersection where all buses meet and drive you out into the Reservation.
If you didn't book ahead, I recommend checking Lower Antelope Canyon for a last-minute spot for an available time slot since the best chance is higher than Upper tours.
TOP ATTRACTIONS AROUND ANTELOPE CANYON
There are various attractions around Antelope Canyon, and you'll find plenty of options for day trips.
You can also book a tour with your hotel or look for a tour group at the Navajo Nation, but prices may be higher than visiting directly at Upper Antelope Canyon after you factor in transport.
#1 Lake Powell
Lake Powell is a reservoir along the Colorado River, stretching from Arizona to Utah. It's 1/3 of the Glen Canyon National Recreation Area and has been a popular tourist attraction since the 1960s.
From the Lake Powell visitor center, you can go on a boat tour. The visitor center of Antelope Point Marina is where these trips depart from. The Upper and Lower Antelope Canyons begin at this point, and the lake gets narrower just like the Canyon does.
I drove to the Launch Ramp of Antelope Point and turned right, proceeding until I came upon a parking lot for people who wished to go swimming on the tiny beach.
#2 Horseshoe Bend
Horseshoe Bend is a relatively flat area that you can reach via a 3-mile round trip hike. You'll find a good number of tourists here as well, considering it's a great photographed spot in the United States!
The Colorado River has been cutting through a horseshoe-shaped canyon for many years. It is one of Page's most popular attractions. In addition, you may visit Horseshoe Bend and Antelope Canyon on the very same day – go to Antelope Canyon for breakfast, then stop by Horseshoe Bend during sunset.
#3 Monument Valley
Monument Valley is a Navajo Tribal Park that has been given global exposure for its sandstone formations. You can easily spot it on the horizon while you drive along Route 163!
The best way to visit Monument Valley is by taking a tour with your hotel or through one of several independent companies in Kayenta. These tours will take you to Antelope Canyon and Horseshoe Bend before leaving you at the entrance of Monument Valley, where you'll get your car and explore this area on your own.
Sunrise and sunset are the best times of the day to visit Antelope Canyon; even though these hours are extremely busy, we recommend going then; I was lucky enough to witness the best lighting of the two sunrises during my tour.
#4 Grand Canyon South Rim
The Grand Canyon is an awe-inspiring natural phenomenon, and the South Rim offers the best view.
If you'd prefer to avoid an organized tour due to high prices or see more than just the Grand Canyon on your way there, we recommend departing from Las Vegas and driving through Arizona and Utah until Page and Lake Powell. This route takes you along Horseshoe Bend and Monument Valley as well.
#5 Glen Canyon Dam
The Glen Canyon Dam, also known as the Glen Canyon Flood Control and Power Plant, is large in the town of Page. It stretched 1,900 feet across the Colorado River and was completed in 1964.
There are organized tours that you can take from Las Vegas or other places to visit the dam. This dam created Lake Powell and Hoover Dam downstream, but it's one of three dams on the river – there's also the Davis Dam and the Parker Dam –while Hoover Dam is further downstream.
#6 Zion National Park
One of the very popular national parks in the United States is Zion National Park, which you'll find around an hour and a half away from Page. The park offers stunning views of red rock formations with lush greenery surrounding them.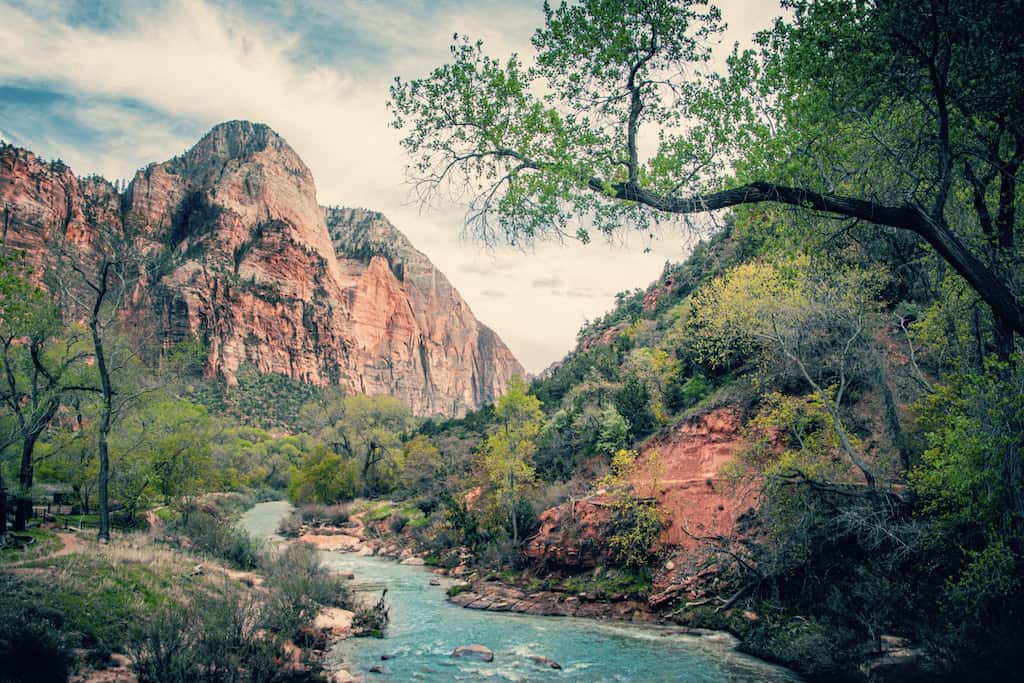 Since it's so close to Antelope Canyon, I recommend visiting Zion National Park after you tour Antelope Canyon if you have time or vice versa. You can see all three during one day trip with enough time for stops at each location.
#7 Kayaking
The Antelope Canyon is an excellent kayaking route. You'll have to hire a local person at the marina to pilot your trip, but it's much more fun than taking a boat tour of Lake Powell.
#8 Bryce Canyon Hiking Tour
A visit to the Antelope Canyon doesn't have to be a whole day trip. It can be a part of a bigger tour; for example, Bryce Canyon National Park has some most beautiful hikes you'll find anywhere in the world.
It's about an hour and a half drive from the Antelope Canyon or Lake Powell, so you can start your morning with one activity and finish it with another!
PLACES TO STAY NEAR THE CANYON
I recommend visiting the Navajo Reservation since you'll be amazed by this unique landscape. I was told that The Navajo tribe still owns Antelope Canyon, and their land belongs to them.
If you wish to spend the night in Antelope Canyon, I suggest Page Lake Powell Campground for tent and RV sites.
These are the finest hotels close to the Canyon if you want greater comfort:
#1 Red Rock Motel
If you've decided to spend your night in Page and if quality and comfort are vital for your stay, I recommend the Lake Powell Resort hotel (which also has stunning views of the sunset). You can find it on TripAdvisor or their website here. If you'd like to book at the resort, you can find a list of all discounts they have available here, so feel free to check their FB page for more info!
#2 Comfort Inn & Suites Page
If you'd prefer a hotel a bit away from a tourist center, I recommend the Comfort Inn & Suites, which has an indoor pool and is close to the park. This hotel is on TripAdvisor. Another option would be Best Western at Page.
#3 Country Inn & Suites by Radisson
The Country Inn & Suites is also a great choice and was recently renovated, so the condition of its rooms and common areas is flawless. It's on TripAdvisor.
#4 La Quinta Inn & Suites Page
Another hotel that has an indoor pool is the La Quinta, which you can find on TripAdvisor.
#5 Clarion Inn Lake
The Clarion is a good choice as well. Here you'll find an indoor pool and three restaurants on-site! Again, this hotel is on TripAdvisor.
#6 Hampton Inn & Suites Page
Last but not least, there's the Hampton Inn & Suites, which is close to Navajo land and has an indoor pool! You can find it on TripAdvisor.
WHERE TO EAT NEAR ANTELOPE CANYON
Since Page Arizona has several attractions, you'll find many restaurants both in town and near other attractions such as Antelope Canyon or Horseshoe Bend. I recommend trying out any of these places:
This great place has very good BBQ and is a pleasant restaurant to visit if you like ribs and other meats.
The most popular dishes are fried chicken, especially the Chicken Box, which comes in original, honey butter, and spicy options and guarantees your good time.
Once you are done with the visit, I recommend grabbing a quick bite at Slackers late afternoon. It's an American restaurant offering fantastic food at affordable prices.
How difficult is a visit to Antelope Canyon?
You are driven to the entrance point in a four-wheel-drive vehicle, where you walk in. It's not hard at all. People have even hiked this canyon in wheelchairs; however, unless your tour company expressly permits it, I would not recommend it. Children may be carried through the canyon, but strollers are not allowed.
The lower portion of Lower Antelope begins with a series of steep ladders that descend into the canyon. After that, there are a few more staircases to negotiate in the canyon. The entry ladders were probably the most challenging aspect of the trip, and though I have a fear of heights, I didn't think it was difficult.
WARNING: FLASH FLOODS
You must always be aware of the antelope canyon weather forecast in case of flash floods from heavy rain. Flash floods are most common during the monsoon season, which runs from mid-July to early September. With that said, it's best if you check current conditions before visiting Antelope Canyon.
The walls of Antelope Canyon are thin, and many visitors are often inside the Antelope Canyon when severe flooding occurs. If you come across a significant rain warning, your guides would usually cancel excursions; nevertheless, it's always a good idea to verify the weather conditions before going on the tour.
Antelope Canyon is Awe-Inspiring!
The Antelope Canyon is beautiful and awe-inspiring, but it isn't Page's only place to visit. You can find many things to do here, like hiking or boating on Lake Powell. Before visiting Antelope Canyon, you need to know that it's one of the most touristic places in Arizona, so expect lots of visitors at this site.
I think that a visit to Antelope Canyon is worth it if you have time because its beauty will leave an indelible memory in your mind. Make sure not to miss Lake Powell either since it's only 20 minutes away!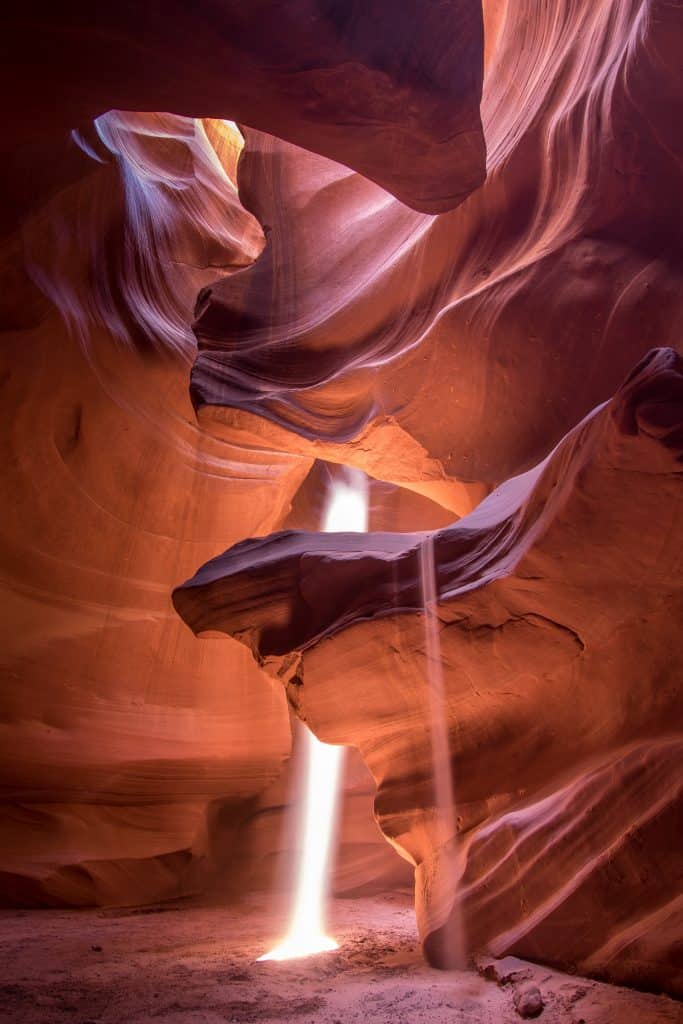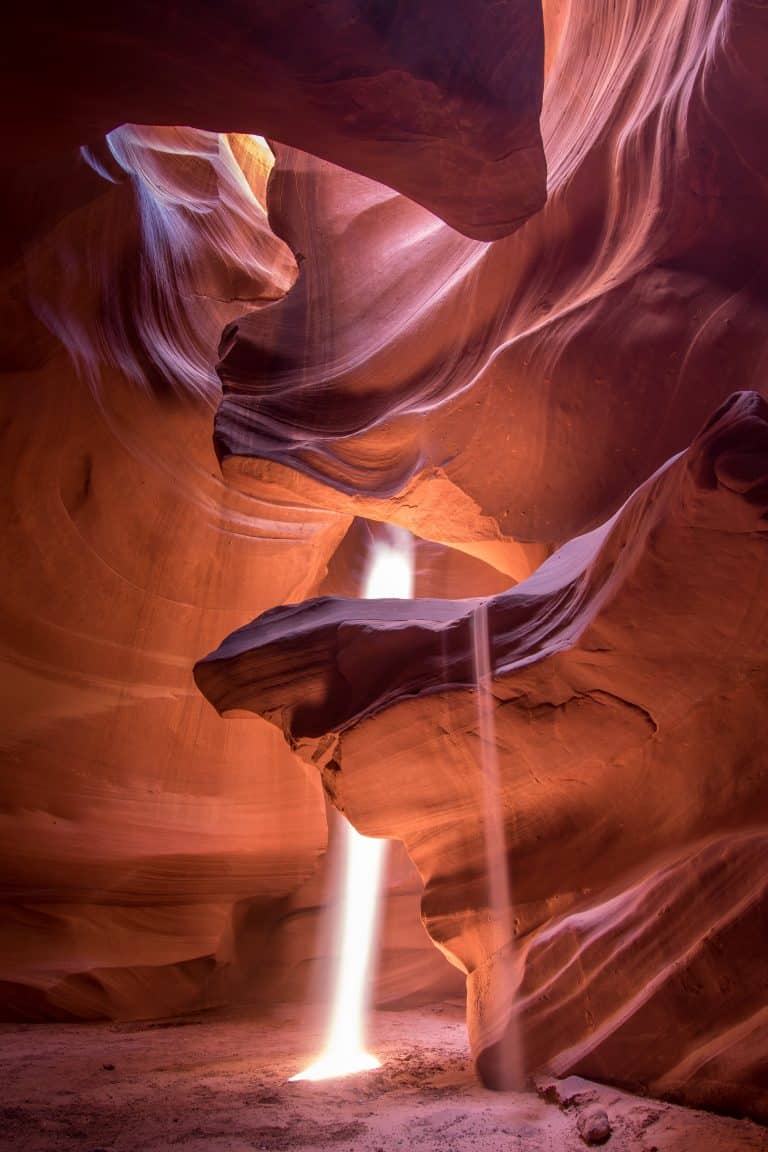 Please remember these final tips for your visit to Antelope Canyon:
All amenities on the Navajo Nation are subject to an $8 per day reservation fee used for maintenance. Please remember that you may be charged more than once if you do not indicate that you have previously paid the same at another place.I suggest you, please keep the voucher or confirmation of your payment and show it to your tour guide in case they ask you to present it again.
If the weather is terrible, your guides might cancel the excursion; however, you can always make a phone call to verify this information.
To avoid long lines and travel safely, I recommend that you hire a tour operator so they may know where to take you at the right time or book online in advance, which is usually cheaper than buying tickets directly from the office itself. This way, they will reserve your ticket on the same day's visit avoiding availability issues.
Please don't hesitate to comment below with any questions or concerns, and I'd be happy to help.