When it comes to National Parks in the USA, the United States sure has some iconic ones known around the world. From Yosemite to Yellowstone to Glacier and the Grand Canyon, the National Parks Service recognizes some of America's most stunning landscapes in its 62 national parks. But I have to confess, I think Utah's national parks are some of the best in the National Park System! In fact, Utah has many exceptional parks, including ones called "Utah's Mighty 5 Parks".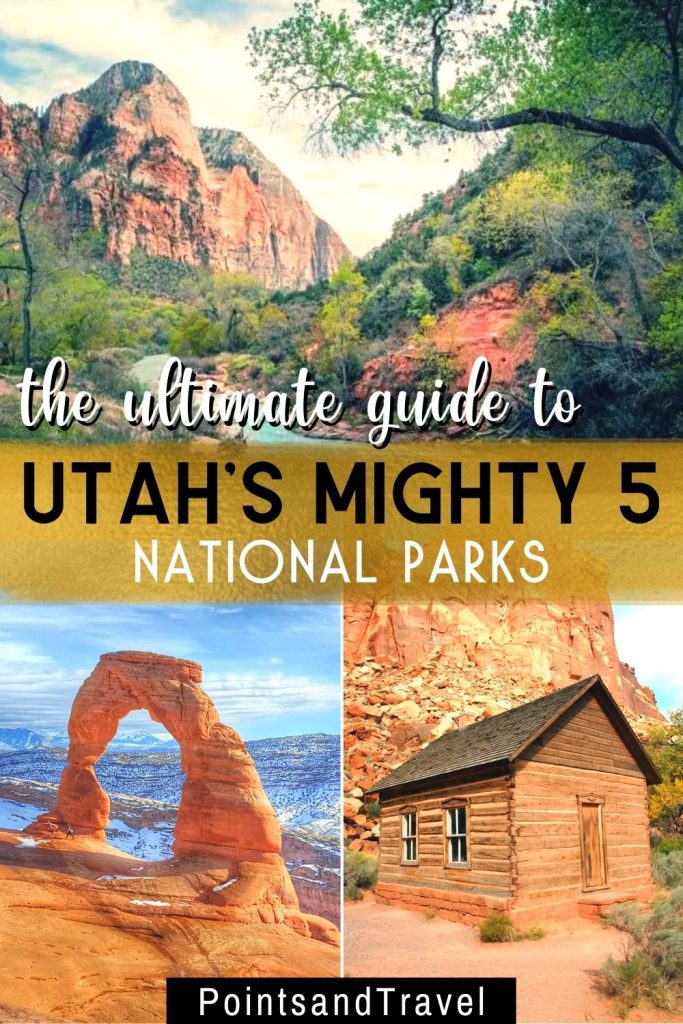 These National Parks – Arches, Bryce Canyon, Capitol Reef, Canyonlands, and Zion -are collectively known as "The Mighty 5." They host some of the most impressive views, geologic formations, and adventurous hiking trails out there. From the Delicate Arch of Arches National Park to the Needles of Canyonlands, to Angels Landing at Zion National Park, to Sunset Point at Bryce Canyon, to finally Hickman Bridge in Capitol Reef, there is something out there for every adventurer and hiker.
What's in this post:
hide
Utah Mighty 5 National Parks
#1 Zion National Park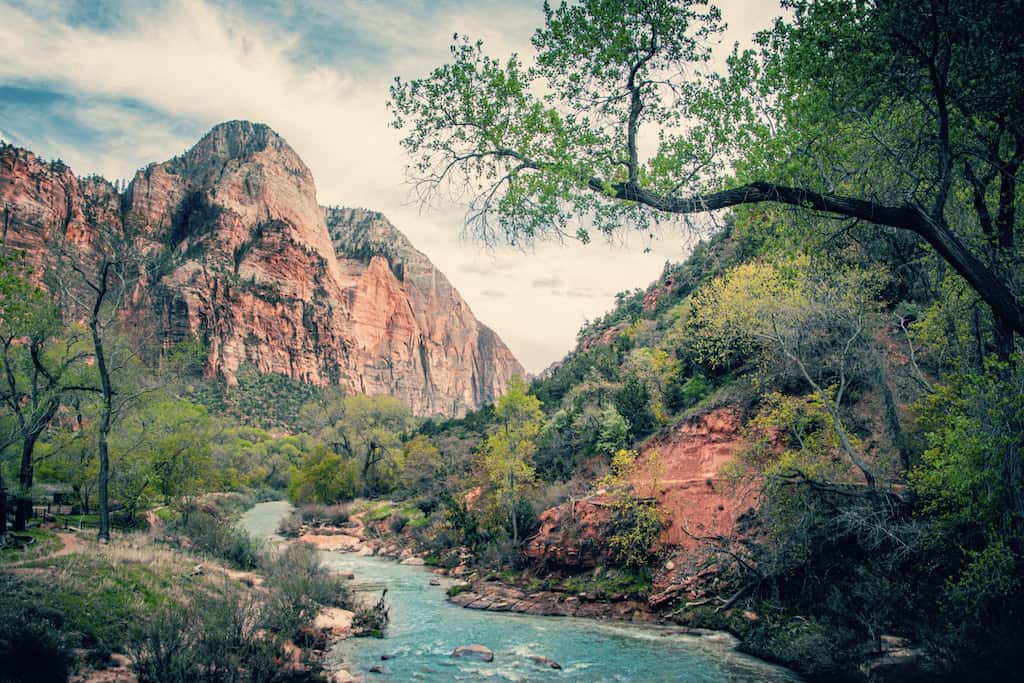 Zion National Park is one of the most amazing national parks in the United States and is world-renowned for its rock formations and hiking trails. The two best places to visit in this mighty five park are Angels Landing and Zion Narrows, which are very popular. But there are also shorter hikes all over this National Park, so keep that in mind if you want shorter hikes during the day.
For the backpackers out there, there are some amazing trails to choose from for multi-day trips that will blow you away. Some of the other amazing views and noteworthy spots to visit are Observation Point, Hidden Canyon, Riverside Trail, Emerald Pools, Weeping Rock, and the Canyon Overlook. Don't forget to check out the Kolob Canyons in the north end of the might five park, if you have the time! Overall, Zion is the number 1 park on this list of Utah's might five, and if you can only visit one, make sure it's this one.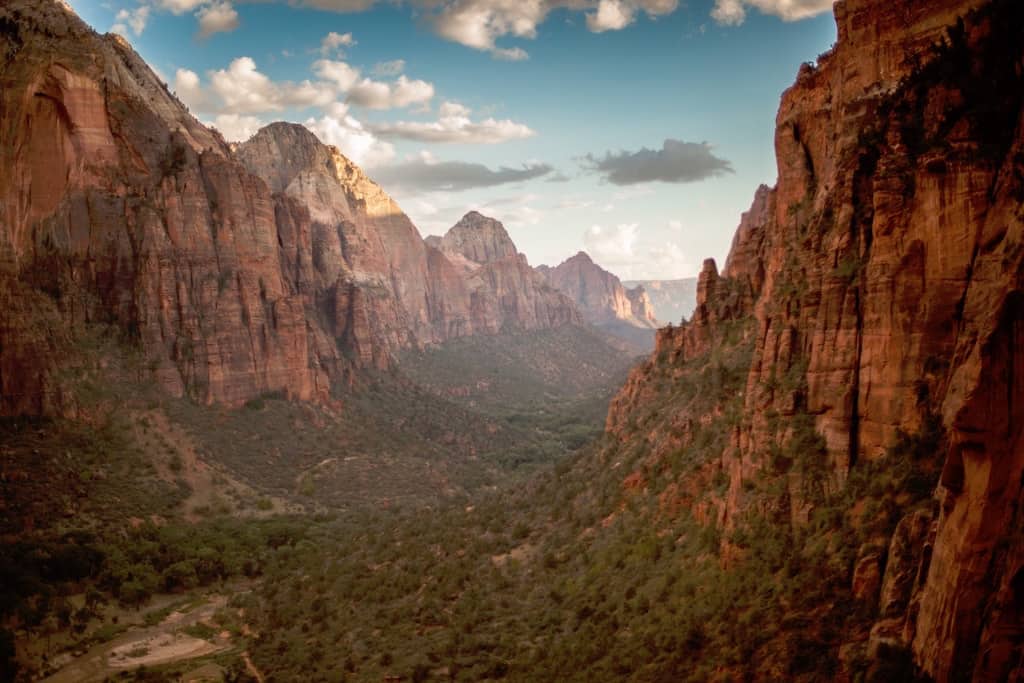 ---
Other USA Parks to read about:
Ebiking for Fun in Utah (Utah National Parks road trip on a bike!)
---
#2 Arches National Park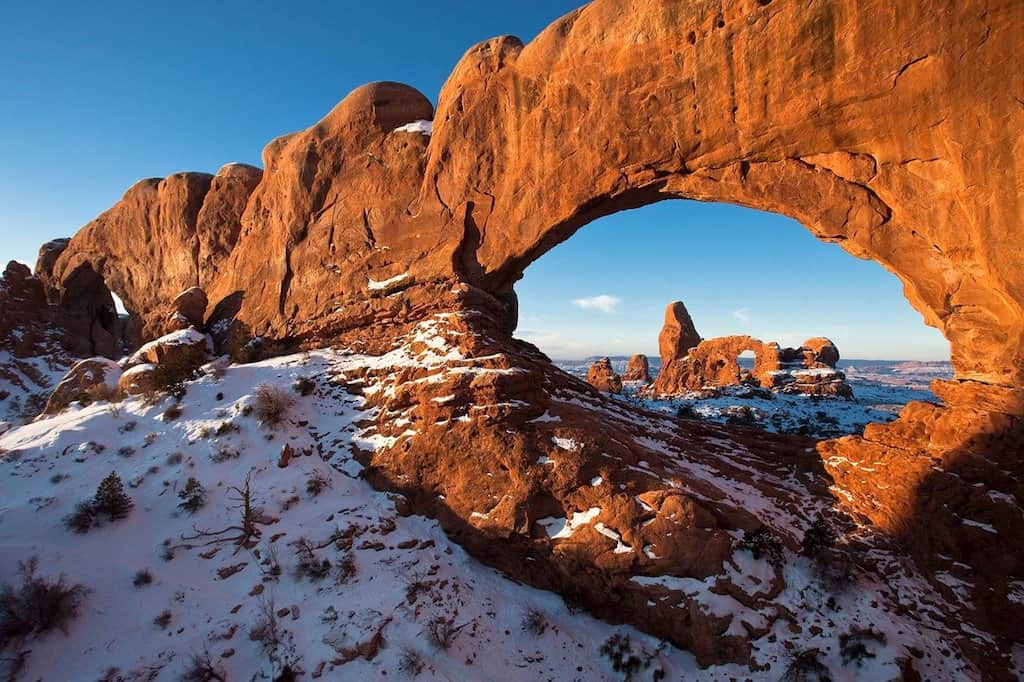 On this Utah might five list is Arches National Park, a world-famous location for sandstone arches. Most popular and largest among the place to visit is the Delicate Arch, standing at 52 feet tall. This arch is so popular, in fact, they put it on Utah license plates! The trail up to it is around a 3-mile round trip, and be prepared for some elevation changes. Other great places to visit are the Double Arch, Balanced Rock, and the Fiery Furnace.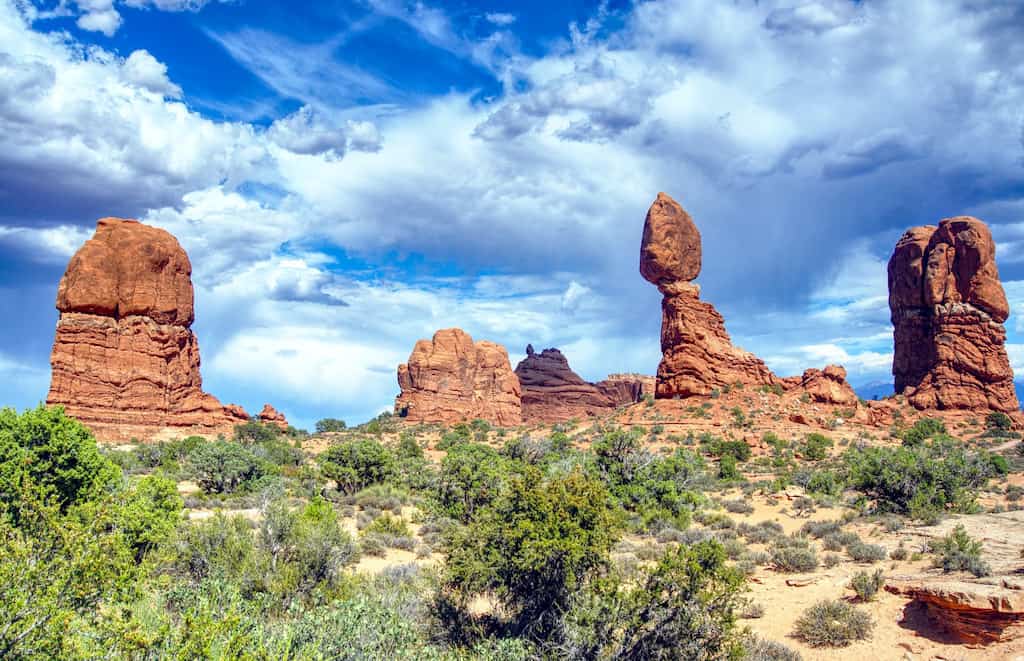 To see the second-largest naturally formed arch in the world, you must hike the Devils Garden Trail, which has a 1.6-mile loop up to the arch. Along the same trail, you will find a path to the Double O Arch and the Dark Angel, and you can return along the Primitive Trail. This is one of the most unique parks on Utah's Mighty Five list, which has so many incredible sandstone features, and over 2000 naturally formed arches.
#3 Canyonlands National Park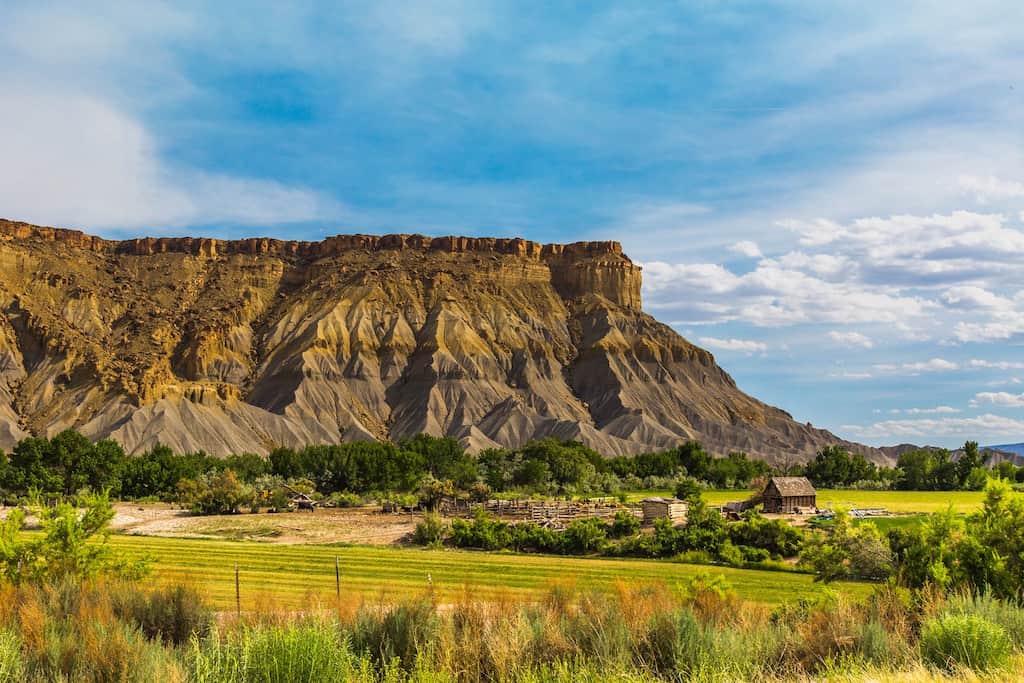 Created by the junction of the Colorado River and the Green River, Canyonlands National Park covers over 500 square miles with exceptional views throughout. Some of the most popular sights are the many canyons, buttes, mesas, arches, and dirt trails for access deeper into the park. The hike around Upheaval Dome is spectacular and is one of the top hikes in the park. Island in the Sky is the most popular district, where you can find Mesa Arch, Grand View Point, and many other hiking trails.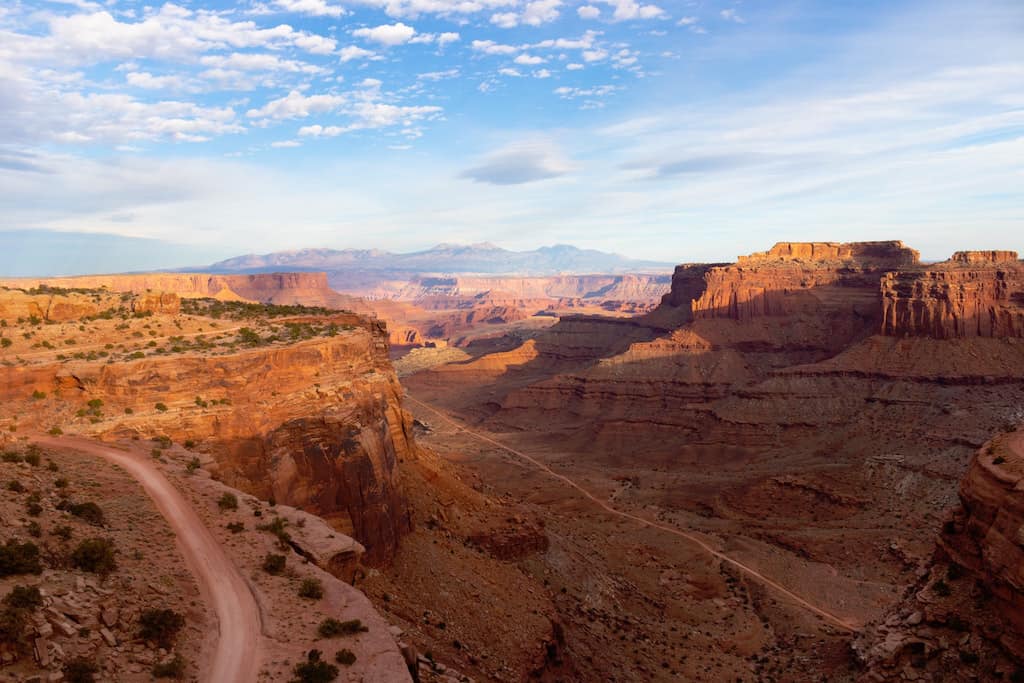 The Needles is another popular area of Arches National Park, with sandstone pillars as far as the eye can see. Here you can hike Druid Arch along the upper end of Elephant Canyon, which is a fairly long hike, but not too challenging. Last but not least, The Maze is an area only accessible by 4×4, for the more hardcore adventurers out there. You'll have access to White Rim Road, a 100-mile long dirt road that you can ride mountain bikes or drive on for a multi-day trip. Don't forget your camping gear for this Utah national parks road trip!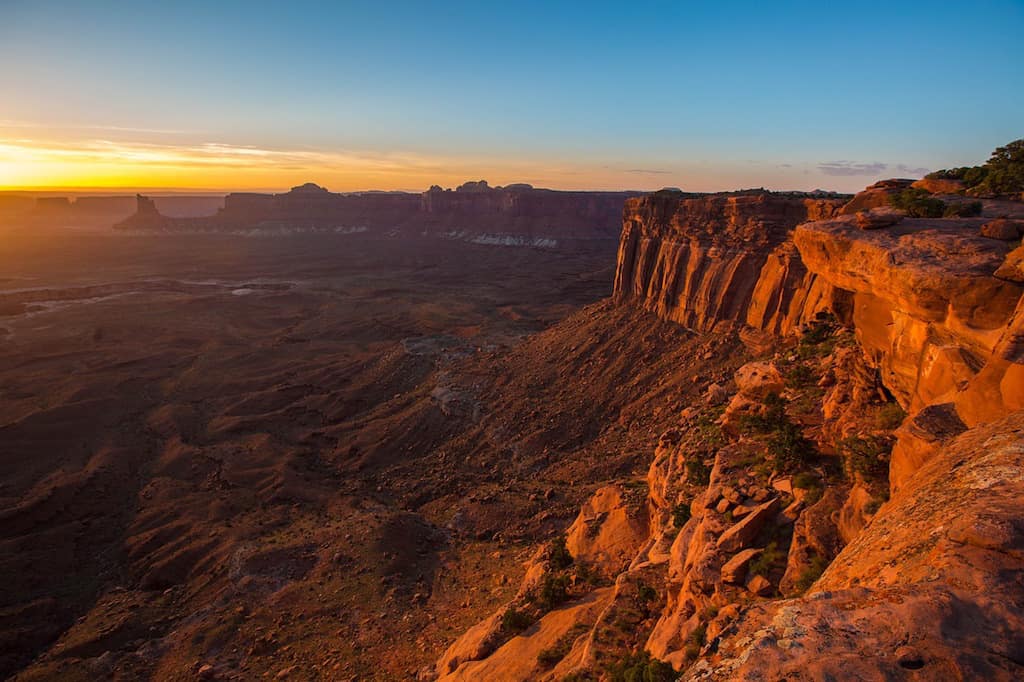 #4 Bryce Canyon National Park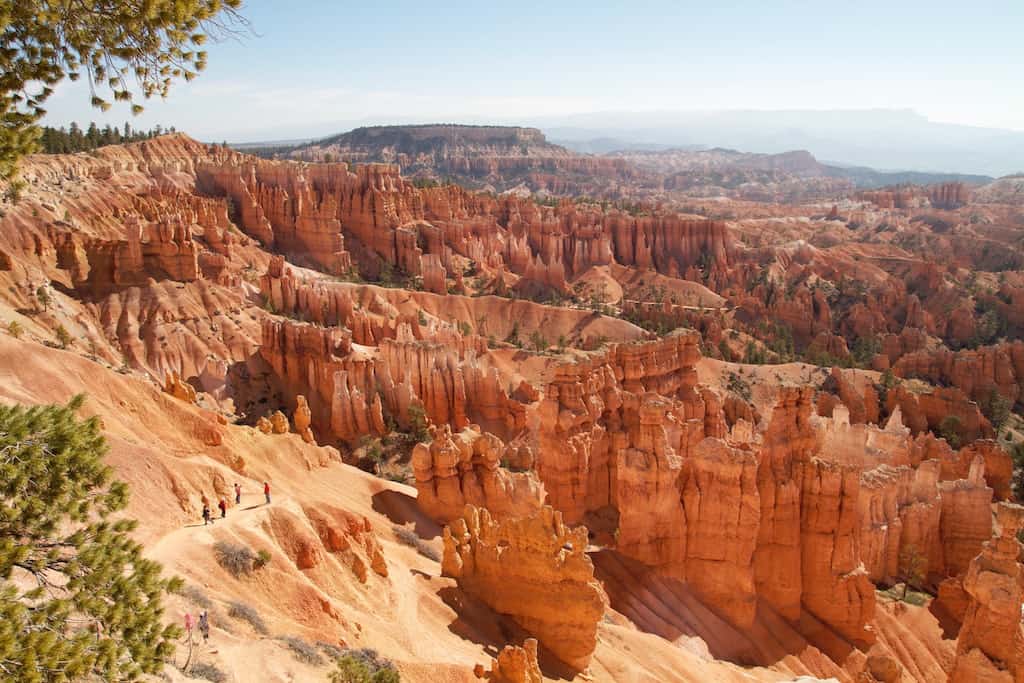 Famous for its hoodoos, sandstone pillars, and intricate rock formations, Bryce Canyon National Park is a sight to behold on any trip to see Utah's might five. Hoodoos are pillars of stone that are smaller on the bottom than they are on the top, which was created by sandstone eroding towards the middle. While harder rock protects the top of the pillar. Hoodoos can be found in other places in the world, but are uniquely common in this part of a might five park.
Hiking the Queen's Garden Trail or the Navajo Trail will lead you to amazing views, especially the latter, which starts at Sunset Point, the most famous location in the park. Known for its spectacular sunsets and views, this point is accessible by car, along with Sunrise Point, Inspiration Point (my personal favorite), and Bryce Point. Rainbow Point and Yovimpa Point are two other great views to check out.
For a longer hike that skips the crowd, head for Fairyland Loop Trail. Peekaboo Loop Trail is another great hike, although a bit shorter and with higher traffic. This park is known to be a bit colder than the others, so be sure to bring warm clothes and check the weather before heading to this Utah's mighty five.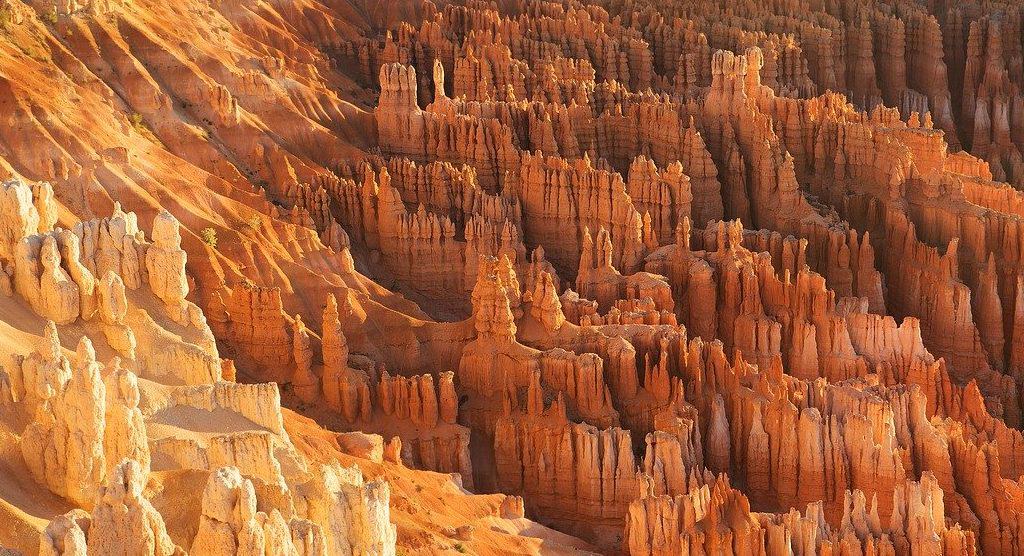 ---
Related Reading: A Guide for Bryce Canyon Hikes
---
#5 Capitol Reef National Park
Encompassing white domes, slot canyons, sandstone cliffs, and the Waterpocket Fold, a rare geologic feature of a 100-mile long fold in the Earth's crust. This National Park has easy access to many great views, so much so that you don't even have to get out of your car. I would recommend the Scenic Drive, a 16-mile loop with great views, or Capitol Gorge Road. Being the least visited park of Utah's Mighty 5, you can explore much of the wilderness here with little to no human interaction.
Hiking along the Waterpocket Fold, to Hickman Bridge, or to Sunset Point will lead to a breathtaking panorama unlike any other. Cassidy Arch is also a great spot for a hike in this park, and for a longer drive, head for Cathedral Valley, where you can visit the Temple of the Sun and the Temple of the Moon.
These Utah might five boasts some of the most breathtaking and gorgeous views, rock formations, and hikes available in the United States. With all of them being so close to each other, it is possible to visit all of them on one Utah National Parks road trip! This will make for a summer you won't soon forget. As I mentioned before, check the weather before heading to the big 5 Utah. Be sure to bring the appropriate clothes, as the summers are brutally hot and the winters are freezing cold. And don't forget your camera!
Other USA destinations to Read about:
Ultimate Road Trip to Yellowstone National Park
Fun Things to do in Bozeman MT
How to Plan the Perfect Lake Tahoe Winter Trip
5 Places You Must See on a Southwest USA Road Trip!
---
Top National Parks Outside the USA
I have also visited quite a few National Parks in other countries and they are quite spectacular as well. I have made a list of a few of them that I have written about below. From Africa and Sri Lanka, to Canada and Costa Rica.
Tanzania Safari: Seduced by the Serengeti
Elephant Safari Experiences in Sri Lanka
Rocky Mountaineer Train – Ultimate Insider Guide