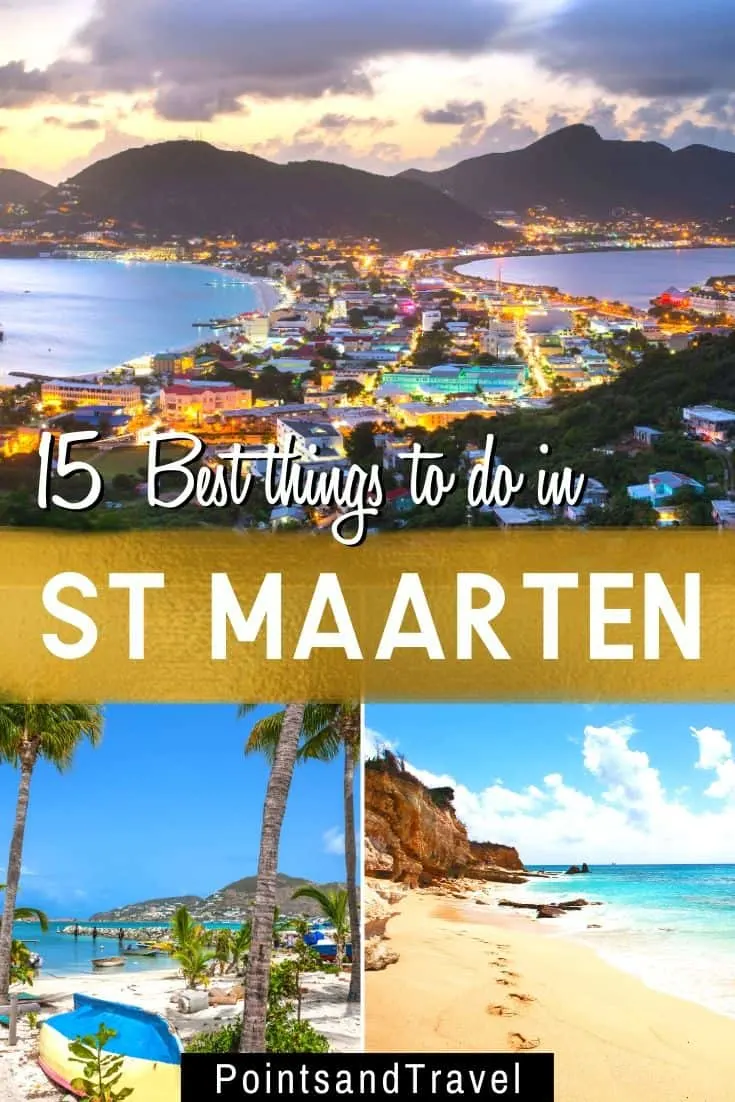 Sint Maarten's Dutch side, which is often misspelled as St Marteen is known for its casinos, jewelry-making, drinks made with guavaberry liquors (rum), and festive nightlife. The island's French side is known for its stunning views, shopping, nude beaches, French Caribbean cuisine, and Loterie Farm. Let's visit both sides of the island and I will tell you all about it!
---
Things to do in Sint Maarten!
---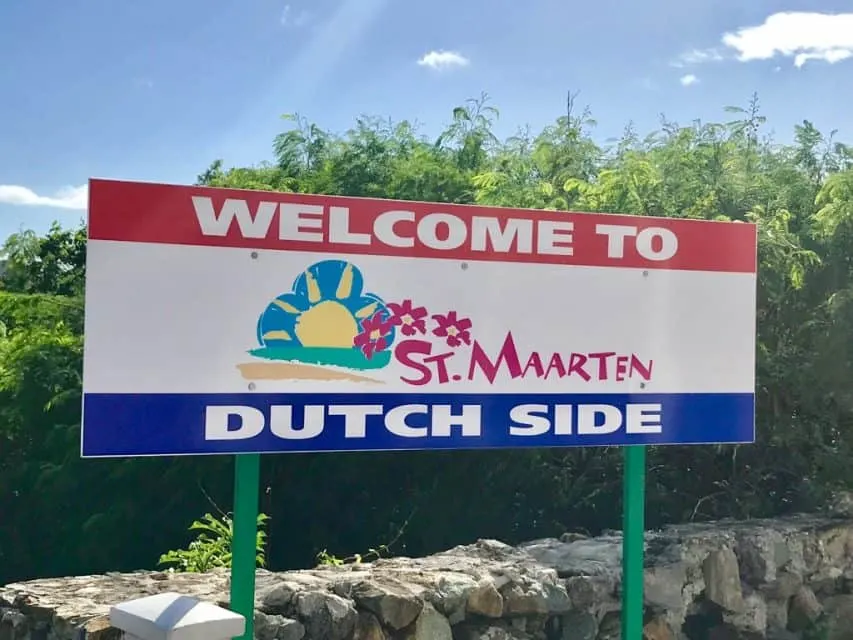 While the official name of the island is St.Maarten, there are plenty of nicknames for this dual-nation island with two sides. Some call it the 'The Resilient Island' since its' recovery from the wrath of Hurricane Irma in September 2017. Others call it the 'The International Island,' given that St.Maarten is owned by the Netherlands. But remember, France governs the Northside of the island that they call St .Martin. Yet others like to call it 'The Sun-Soaked Island'. So as you can see, there are plenty of names for this cute little golden and white sandy beach island that I fell in love with years ago.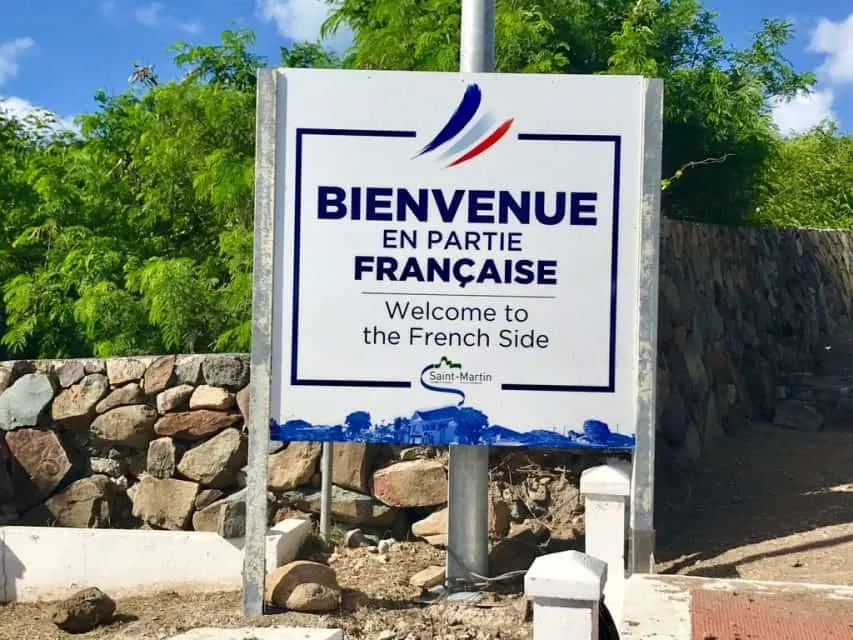 What is the Difference between St. Martin and St Maarten?
Both islands are the same island, despite the two different spellings. The difference really only refers to where it is located. Dutch is the official language of St. Maarten and French is the official language of St. Martin. However, English is widely spoken on both sides of the island.
Things to do in St Maarten – Dutch Side
While there are still some signs of the destruction that Hurricane Irma left behind, the island and its people decided to not only clean up after the hurricane but improve the island's infrastructure. So St Martin Caribbean is definitely open for business. Now is the perfect time to travel to St . Maarten and support the progress that they have made. With that in mind, I made a list of 15 things you cannot miss doing while in St Maartens and St. Martin island. So come along for the ride!
---
This St. Maarten / St. Martin guide includes my recommendations for what to do in St. Maarten, St. Maarten shore excursions, hotels in Sint Maarten, and where to eat in St. Maarten. You can choose the activities or restaurants you want to do.
---
✦ #1 Speed Down the World's Steepest Zipline in St Maarten
If you are looking for a little adventure in your life, the world's steepest zip line is here on St Maartens just for a thrill! It is a pure adrenaline rush at 56 miles per hour in a single drop! You can drop more than one thousand feet in elevation along 2,800 feet of cable!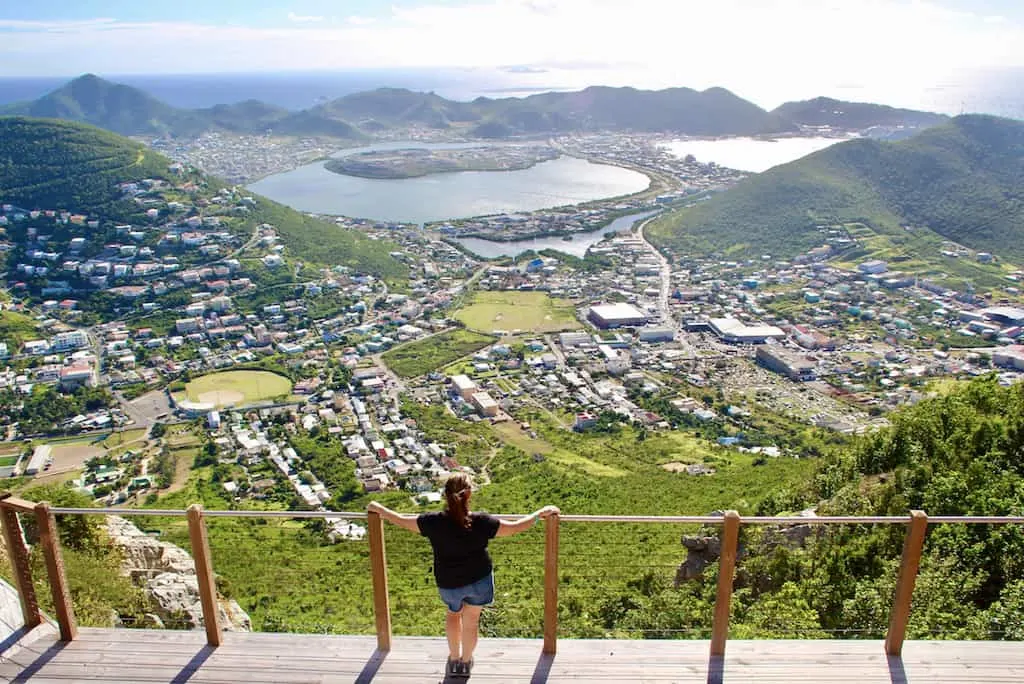 It is located at an eco-adventure park called Rockland Estate and the park is known as Rainforest Adventures. And honestly, it may be high up on the mountain, but it really was a fun ride down. Known as the Flying Dutchman, this zip-line is a thrill you won't forget. And not only do they have a zip line, but they also have a canopy tour, Schooner inner tube track, and a restaurant onsite.
---
So watch a ride down the world's steepest Zipline:
Considering how steep the zip line is, I can understand that (maybe) you may be having second thoughts, but since it goes very fast, it is actually not that scary and super fun. The thrill of the ride is over in about 45 seconds, giving you just enough time to soak in the sweeping and stunning views on your way down. For me, it was one of the fun-est things to do in St. Maarten on the Dutch side.
---
✦ #2 Swim with Airplanes in St Maarten at Maho Beach!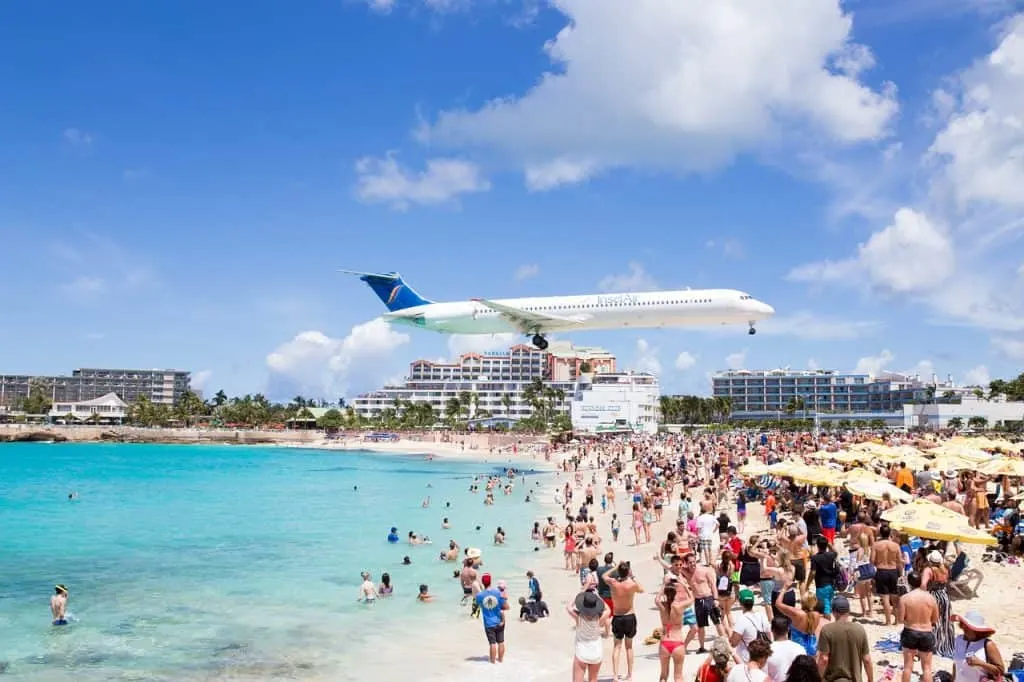 St Maartens claim to fame for my aviation friends is the Princess Juliana International Airport – (SXM). With its extremely short runway, located just steps away from Maho Beach, it is a thrill within itself. Especially when a passenger jet drops down low for a landing! This, my friends, is quite a show and a crazy place to be when this happens! Maho Beach on st .marten goes wild when the massive jet comes flying in over their heads. You can have a drink at the local bar that has been here since 1942 and post-flight arrival and departure times on a surfboard. Or you can try to get in the middle of the massive crowds… you choose!
---
Bonus Tip: The time to visit Maho Beach is when there aren't many cruise ships in port, otherwise it gets super crowded.
---
✦ #3 Enjoy an Afternoon with Butterflies!
I bet you didn't know there was a butterfly farm in Saint Martin! Tours of The Butterfly Farm last 15 to 20 minutes and the knowledgeable butterfly keepers tell you all about their evolutionary cycle from eggs to caterpillar to eventually becoming a butterfly. The stories are fascinating!
St Maarten Butterfly Farm (also known as La Ferme Des Papillons) is open daily from 9 am – 3:30 pm. Admission is $15 per person and includes a return visit during your stay on the island. Cruise ship passengers receive a small discount.
---
*Please note that sadly, the St Maarten Butterfly Farm has been closed since Hurricane Irma. Check their website before you go for information on when and if they will re-open.
---
✦ #4 Drink Rum (Rhum) in St Maarten
One place to visit while on the Dutch side of st martens is the Topper's Rhum Factory. A tour of this distillery is the only way you can see how the worlds' best rhum is made (according to them, and if I do say so myself, their flavored liquors were absolutely delicious!). The six-thousand-foot distillery makes about 50 different flavors, with crazy combos like Bacon and Maple Syrup, Banana Vanilla Cinnamon, and Jalapeno Lime which visitors are free to sample. But be careful, as they can't even spell rum right, so keep your head on straight!
If rum is one of your favorite liquors, then head on over to the Guavaberry Emporium on Front Street in Phillipsburg to taste the free samples of different flavors of rum. Then buy a few bottles to bring some rum back home with you, as well. Guavaberry liquor is made from the local rum, cane sugar, and guava berries that are found growing on the island.
✦ #5 Enjoy the Sun at Mullet Bay
Mullet Bay is ranked as one of the top St Maarten beaches and visit you should. Thanks to its long stretch of soft white sand and protected coves, this is the perfect place to spend a sunny afternoon. It is bordered by an 18-hole golf course and lined with groves of palm trees. Mullet Bay is a must, as the locals love it and you will do, especially for its popular swimming spot.
✦ #6 Shop (until you drop) in St Maarten
A shopping excursion in the capital's famous Front Street center is the perfect place for tourists to buy souvenirs and shop for jewelry, check out the local's designer clothes, t-shirt shops, as well as visit liquor stores for samples and top it off with some yogurt walking back to your hotel along the beach.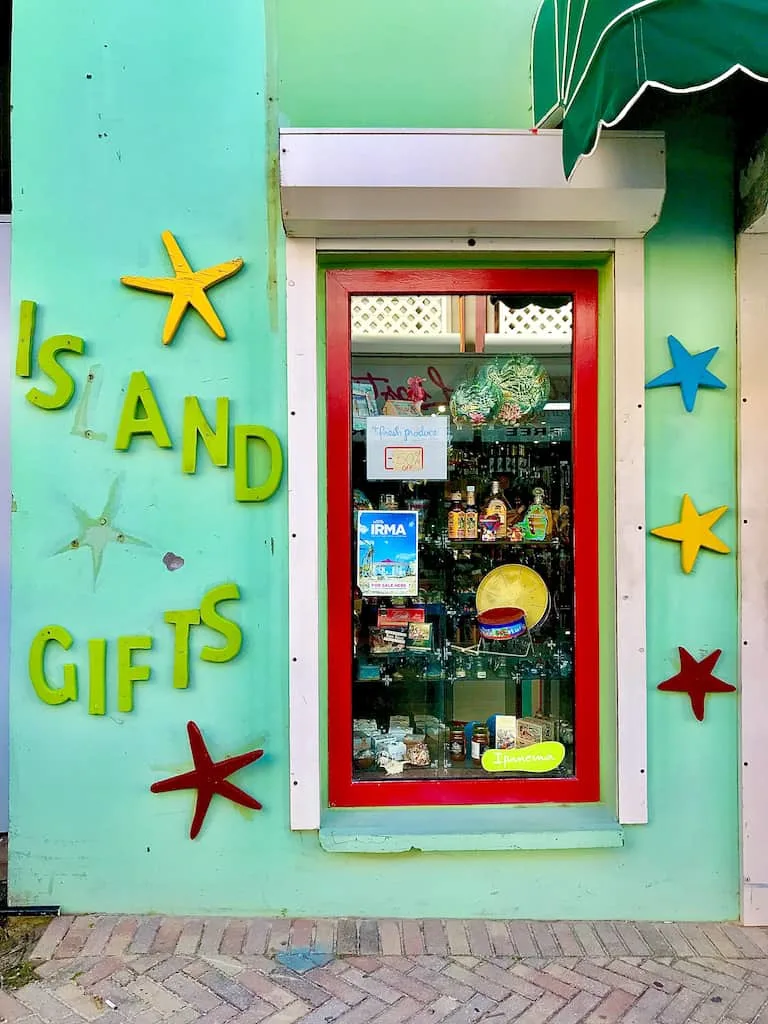 ✦ #7 Gamble in St Maarten
Only on the Dutch side of St. Maarten will you be able to find over 20 casinos to enjoy a game of blackjack or roulette. Casinos such as Casino Royale, Jump-Up Casino, and Tropicana offer an amazing adventure for tourists and residents alike who are into gambling.
✦ #8 Front Street & the Boardwalk – Phillipsburg
Philipsburg, the capital city of the Dutch side of St. Maarten, offers a gorgeous view of the turquoise blue water of the Great Bay. So come on down for a visit, as Philipsburg has only a few streets between the Salt Pond and the Great Bay. And if shopping is your thing, then you can find lots of shopping here during the day. Then once you have stirred up an appetite, be sure and go to the Boardwalk for lunch or an elegant dinner. If you have your bathing suit on, you can go for a swim in the Great Bay. Then lounge around at the beach or go back to the Boardwalk for a tropical cocktail.
✦ #9 Sail Around St Maarten
A trip to the island's Dutch capital of Philipsburg is also a great place to head out on a sunset sailing cruise with a partner. This is one of the best St. Maarten excursions to end a gorgeous day in the sun. With a cocktail in hand, it doesn't get much better than this with the one you love! There are plenty of departing boats from docks in Simpson Bay or Philipsburg. Enjoy happy hour while cruising along the coastline while dancing the night away along with the crazy onboard staff's dance parties.
In my opinion, the Dutch side of the island appears to be more of the party type of atmosphere with an adventure island, whereas the French side appears to be more laid back with a bit more culture.
Things to do in St Martin on the French side!
Just like the Dutch side, there are plenty of things for you to do on the French side of the island. If you are looking to add a little adventure and excitement to your stay at the French side of St. Martin then look no further.
✦ #1 Relax at Loterie Farm
One of the best things to do in St. Martin is to visit Loterie Farm. The name of this awesome place may be deceiving because it is NOT a FARM, but more like a unique BEACH-style club with a cascading swimming pool and private treehouses and huts for lounging and relaxing. It is more like a chic casual hangout place that serves drinks and provides a place for friends to relax.
Loterie Farm's name (pronounced 'lottery') on the French side of the island is in Pic Paradis and sits on over 100 acres of lush foliage. Here they have hiking trails and a zipline over the canopy of mahogany and mango trees.
This place is for those who prefer a day of rest and relaxation over an adrenaline rush. You guys are going to enjoy this swanky beach club with day beds and cabanas. They also have a sparkling plunge pool framed by trickling streams of water and plants in tropical blooms all around you. With treehouse-like lounges nestled in the towering palms, this place is a must. Oh, and don't forget to have a delectable concoction of a cocktail! This place is one of my absolute favorite places to visit on the island of St. Martin.
✦ #2 Adrenaline Junkies Need To Apply!
But what if you don't just want to laze around all day at
Loterie Farms
sipping cocktails? What if you happen to be a speed freakin', thrill-seeking' adrenaline junkie? Well then, maybe their
Fly Zone Extreme Canopy tour
was made for you! On this tour, you are on your own, traversing their forest canopy from tree to tree! You will actually be
IN
the trees! This tour has minimal impact on the biodiversity of the tropical forest that you are immersed in. And you will get the satisfaction of being among them in nature! Plus they have miles of
hiking trails
through their tropical forest! Pic Paradis rises from the center of St. Maarten and is the highest point on the entire island.
✦ #3 Eat the BEST Food in St Martin
Another cool place to visit on the French side is the town of Grand Case. This town was home to many restaurants (restaurant row) before the hurricane hit the island in November of 2017. Restaurants such as Le Soleil, Ocean 82, Piazza Pascal, and Auberge Gourmande. Slowly, more and more restaurants are returning back to Restaurant Row in Grand Case.
I had a chance to have cocktails and eat at this fabulous French-owned restaurant called Barranco. It was super-French chic with a little African thrown in via the interior design and the beachside setting was simply gorgeous. Of course, it is the perfect spot for a sunset dinner.
✦ #4 Shop in St Martin
There is even a little shop right across the street that l had my eye on for local retail, but unfortunately only had time to go into the store for a few moments. So there is always a reason to return.
✦ #5 Smell Scents in St Martin
Also, not too far away is Tijon Perfumerie where you can make your own personal fragrance, which I found intriguing. There is even a whole class given by the owner on a regular basis that teaches you everything you need to know about scents and how to choose your base scent and then build your personal perfume from there.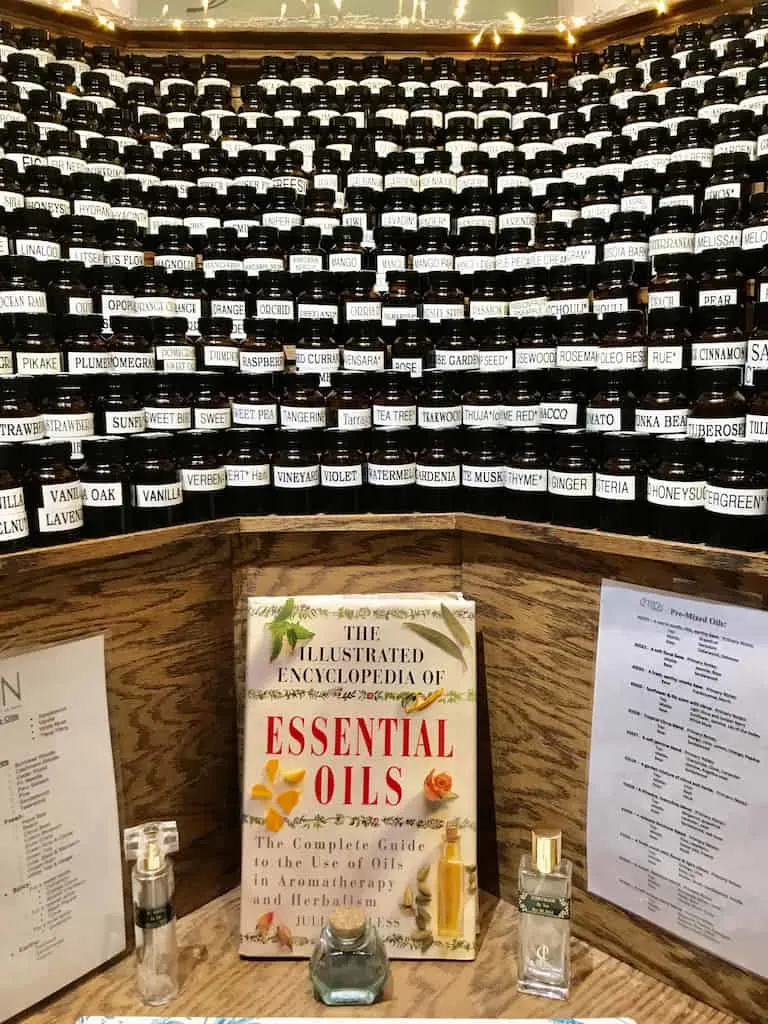 ✦ #6 Swim Naked or Not in St Martin!
While visiting the French side, don't forget to go for a swim at Orient Beach while wearing your "birthday suit" if you want! As this area of the beach is known for its nudity and it is not illegal to strip down to nothing! Ha! Of course, there are other non-naked beaches, such as Le Galion, Red Bay Beach, or Friar's Bay Beach,
✦ #7 Enjoy Water Sports in St Martin or Relax on the Beach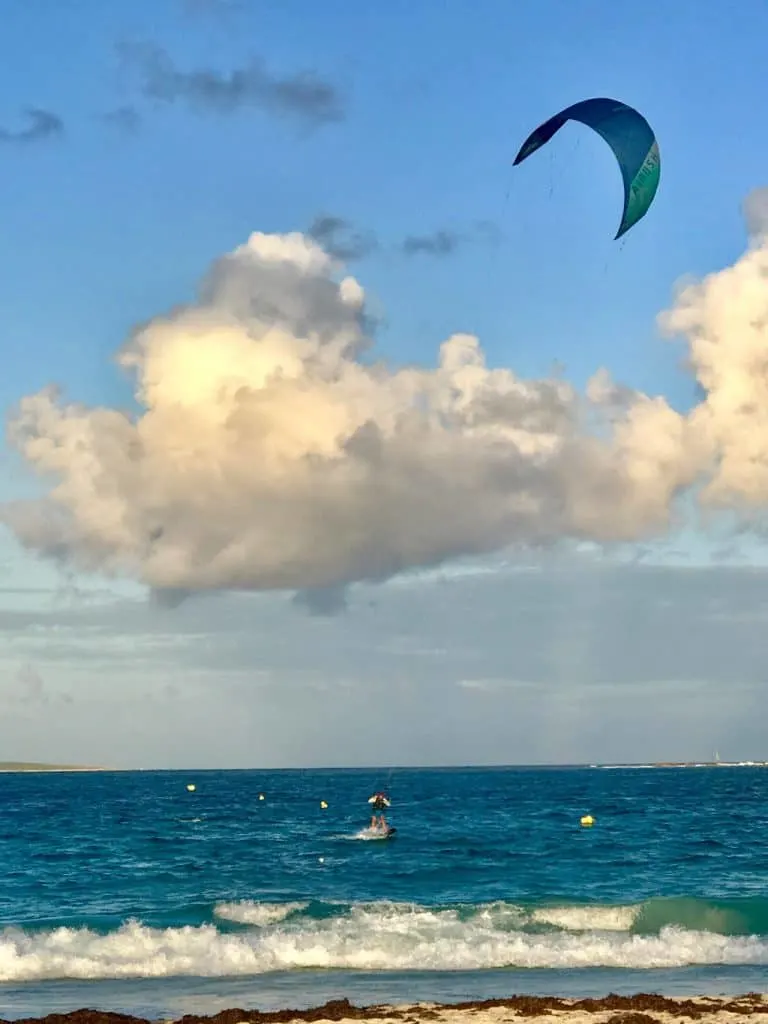 Surfing and snorkeling are great things to do in St. Martin as well, especially at beaches on the French side such as Le Galion and Lle Pinel (Pinel Island). You can take a ferry boat ride across the channel to Pinel Island to this tiny slice of paradise. Honestly, it will be one of the best things you can do because it is limited to the number of people on the island. Another plus is that it's secluded and you DO NOT have vendors pushing to sell you something. It is nice and relaxing!
✦ #8 Get an Amazing View from Fort St. Louis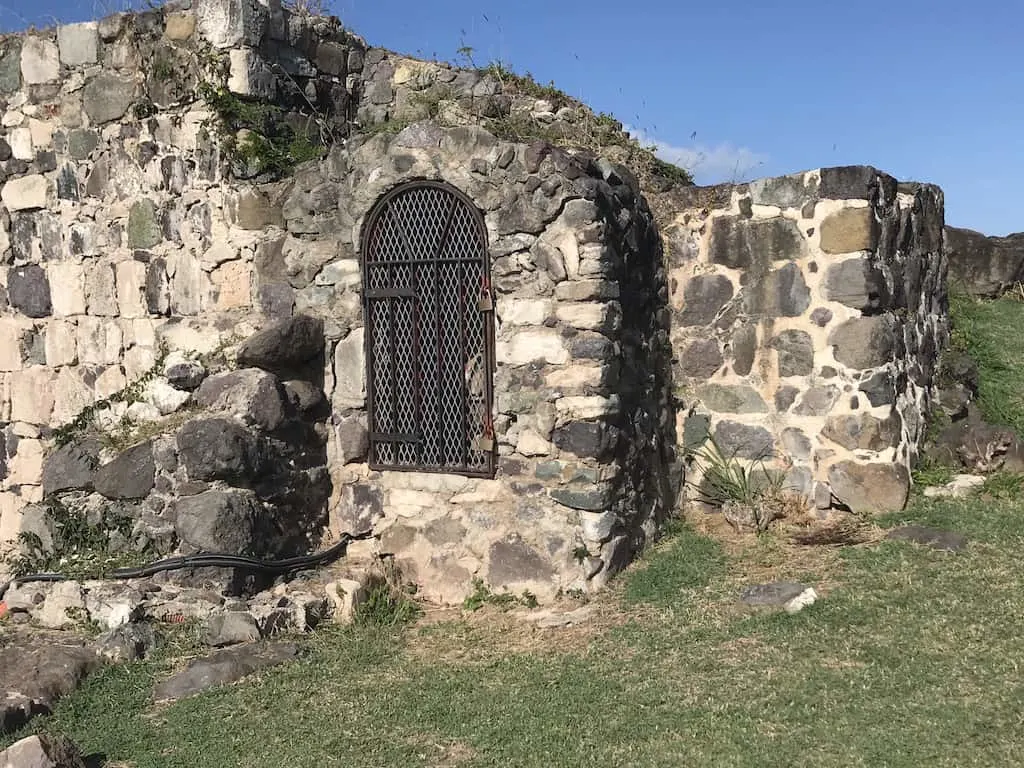 For anyone who is a history buff, a trip to Marigot Bay to overlook Fort St. Louis is a must-do activity on the French side as well. It is St. Martin's largest historical monument located high above the capital city of Marigot. It was built in 1767 to defend the Bay. You can climb to the top for amazing panoramic views of the island with the sight of the city capital below. You can get to Fort St Louis by parking at the sous préfecture" car park. Plus, on a clear day, you can see all the way to Anguilla.
✦ #9 Day Trip to Tintamarre Island!
You won't regret it. Tintamarre is a remote island off the coast of St. Martin. There aren't any hotels, restaurants, or shops on this island, but it is the ideal day trip! It is only two miles away from the St. Martin's coastline and visitors can snorkel, explore the red rock cliffs, and enjoy a day at the beach. So pack a daypack full of sunscreen, and food, as there is no place to buy that kind of stuff. But you will have the best serene environment there is!
✦ #10 Try Scuba Diving without the Tank – SNUBA
Why not give scuba diving a try, but without the tank or certification! You can try it out on Saint Martin! SNUBA lets want-a-be divers get a taste of St. Maarten scuba diving, but without the time and energy of certification. Now is your chance to see this vast underwater world!
Instead of wearing your tank on your back, you are tethered to a raft that holds your tank. So you will have 20-feet of an airline to swim around with. SNUBA gives you a chance to experience what it is like to be scuba certified, like me! Plus, you can dive a shipwreck up to a depth of 20 feet deep for around 2 hours with a group. This is great for cruise ship passengers and for vacationers staying on the island.
✦ St Maarten Beaches – Fun in the Sun!
It would not be a true vacation in the Caribbean without any fun in the sun at a splendid beach in St. Maarten. There are plenty of St. Maarten beaches for everyone to enjoy, regardless of which side you are visiting. Here is a list of the must-see St. Maarten beaches.
Maho Beach– Situated on the Dutch side of the island, Maho Beach is famously known for being within feet of the Princess Juliana International Airport. Maho Beach has gotten a reputation for being known as the beach where the airplanes fly extremely low.
Mullet Bay Beach – Next to Maho Beach, it is a better place to be than when the airplanes come flying in, as it is not as crowded, but nearby Maho with powder-soft sand and calm waters.
Great Bay Beach– Smack dab in the middle of the island's Dutch capital, Philipsburg, lies an amazing beach that is lined with fun activities and amazing places to visit.
Red Bay Beach– Baie Rouge is on the French side of the island. The name of this beach derives from the sparkling light red color of the sand found on the island. Guests can enjoy dining at small restaurants while overlooking the turquoise waves splashing against the colored sand.
Nettle Bay– If you are looking for a beach that is jam-packed with hotels, resorts, and stunning trees, then you have found the perfect spot at Nettle Bay.
Friar's Bay Beach– Fun under the island sun also means that families traveling with children need a safe place to enjoy together. This beach is on the French side and is a lovely place to spend a day with family.
Le Galion– This beach is also located on the French side and is known as Galion Beach. Tourists can engage in water activities such as windsurfing, kayaking, and snorkeling.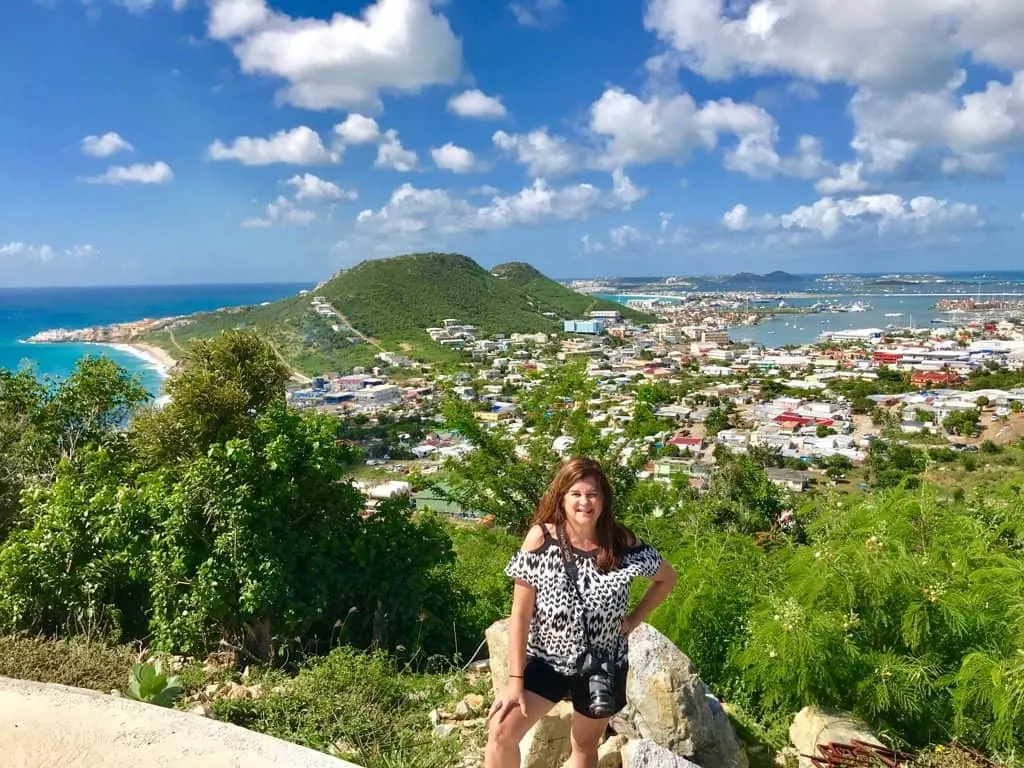 Now, that you have finished reading how many amazing things there are to do on both sides of St. Maarten or St Martin, which side would you start exploring? Hop on over to St. Maarten or St. Martin and explore new cultures, exciting adventures, and spectacular beaches. There are endless things to do in both St. Martin and St. Maarten, so pick up your suitcase and start packing to see what both sides of the island have to offer.
---
Your Next Caribbean Vacation
Hop on over to the petite island of St. Maarten or St. Martin, depending on which side you are on. It is also known as "The Friendly Island". The famous explorer, Christopher Columbus, who sailed the ocean blue in 1492 made the discovery of St. Maarten in 1493 during his second voyage to the Americas. This island is named St. Maarten (also known as San Martin, Sint Maarten, and Saint Martin) because the original date of his arrival to the island was on the feast day of Saint Martin of Tours, November 11.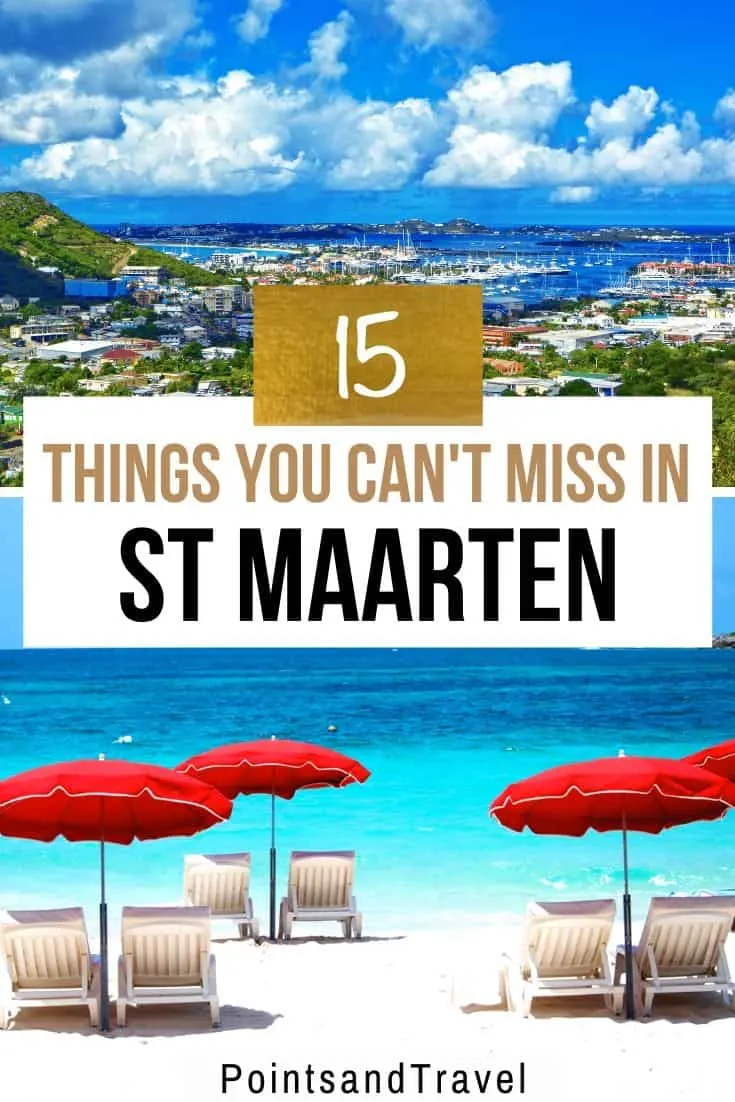 Most of the settlers on the island during Columbus' arrival were Carib Amerindians, who unfortunately slowly perished throughout the years due to the constant warfare between nations. The French and Dutch people were always caught in intense battles with one another over the land until 1648 when the Treaty of Concordia was signed. This allowed both nations to divide the island into two parts. So, whether you like Dutch cuisine, French art or both, head on over to St. Maarten (St. Martin) and enjoy the extraordinary things to do on the island. And just for clarification, St. Martin is on the French side and St. Maarten is on the Dutch side.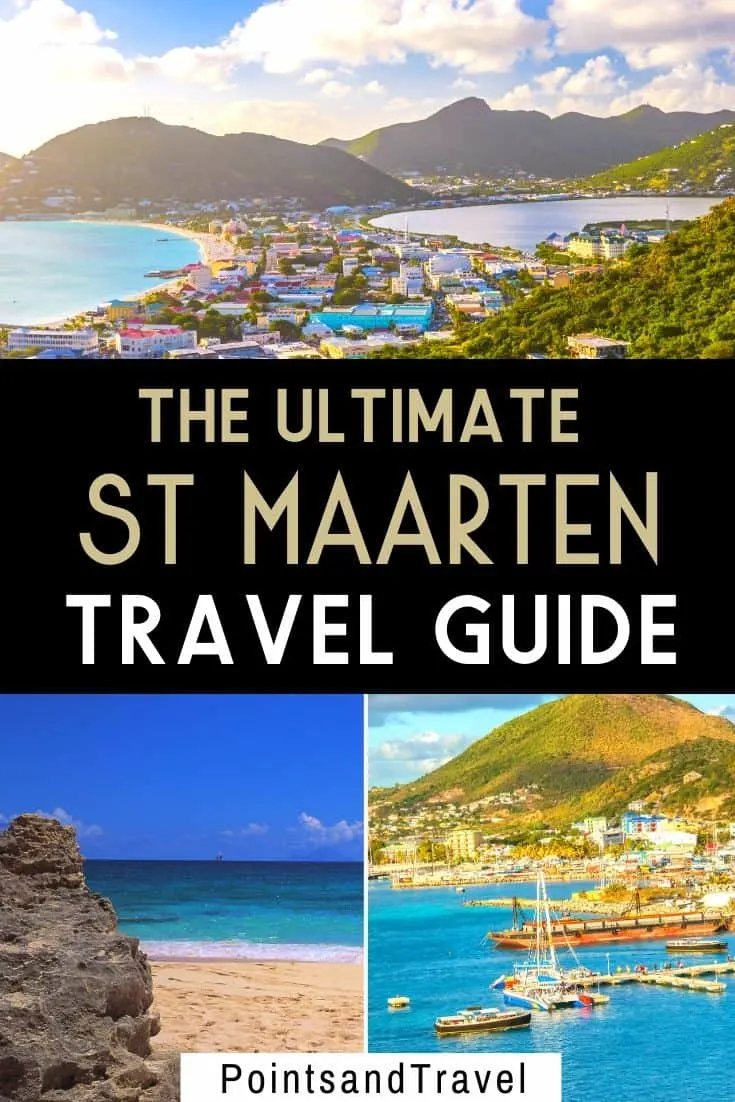 Where is St Maarten and how big is the island?
The island of St. Maarten (St. Martin) is located in the Caribbean Sea, not too far from Puerto Rico. This dazzling island lies in the northeast section of the Caribbean. Since this island is owned by two distinct countries in Europe, France and the Kingdom of the Netherlands.
You might be asking yourself, how is this even possible? The answer is simple! The entire island is close to 34 square miles, and France owns 20 square miles of the land while the Netherlands owns the other 14 square miles. While it may seem unfair to have divided up the islands in uneven proportions, the population size for each island nation is similar.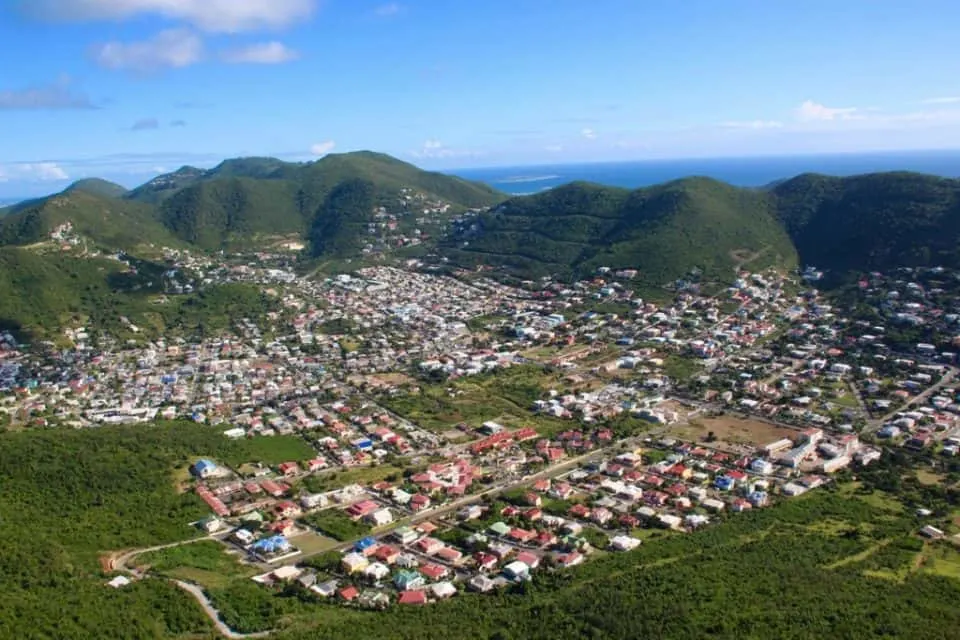 What's the weather like and when should I go?
The climate of St. Maarten (St. Martin) is best described as a "tropical monsoon". The wet season begins in August and ends in December. January to April has a drier season with temperatures ranging in the low 80s Fahrenheit. The best season to visit this island is between May and June and November to December. During this time, the island is less crowded, the weather is perfect, and the hotel's rates are compellingly low.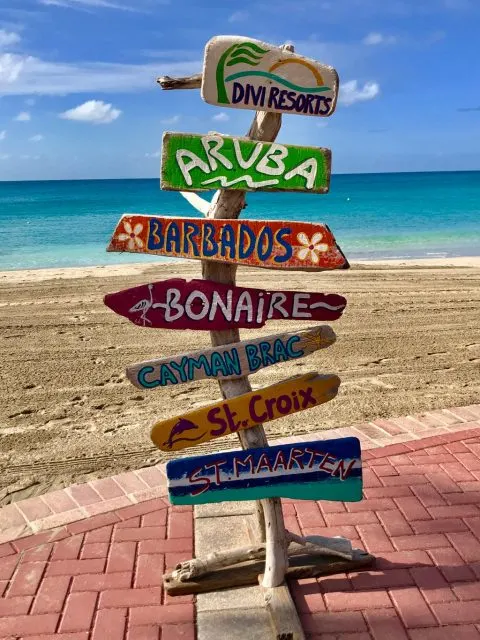 Wondering where to stay in St. Maarten?
Although the half-island of St. Maarten may be small, there are numerous hotels and resorts to stay at. One of the recently upgraded resorts after the hurricane on the Dutch side of St. Maarten is the Divi Little Bay Beach Resort. This resort was destroyed by Hurricane Irma in 2017 and has recently been refurbished and reopened. I recently had a chance to stay in one of their new and improved upgraded studio apartments with a full kitchen, living area, and bedroom that was beachfront. It was pretty fabulous and I loved walking out of my apartment right onto the beach!
Stay at Divi Little Bay Beach Resort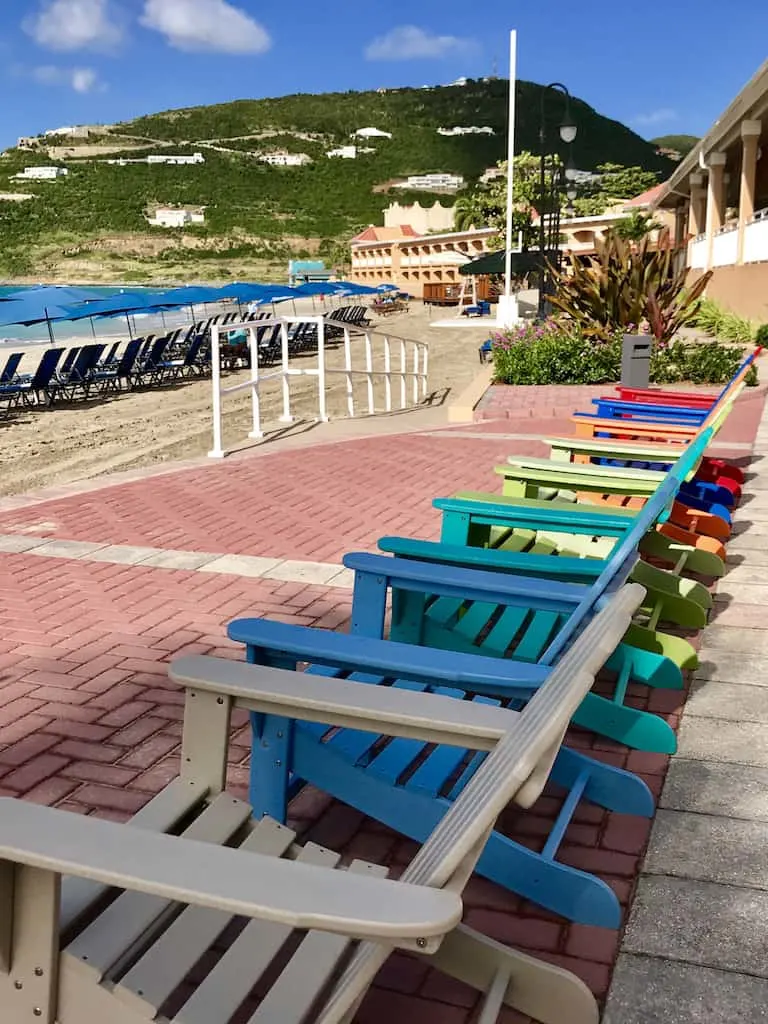 Honestly, for the money, it was spectacular for the location along a swimmable beach and my ability to get around. The hotel also has motorized watersports, a spa, the Seabreeze pool with a restaurant, and a few scattered restaurants and bars around the property. The grand opening of their latest massive swimming pool just happened and is spectacular. They can even give you as a guest the chance to learn to cook with the executive chef Octavio Verhelst at Gizmo's Bar & Grill!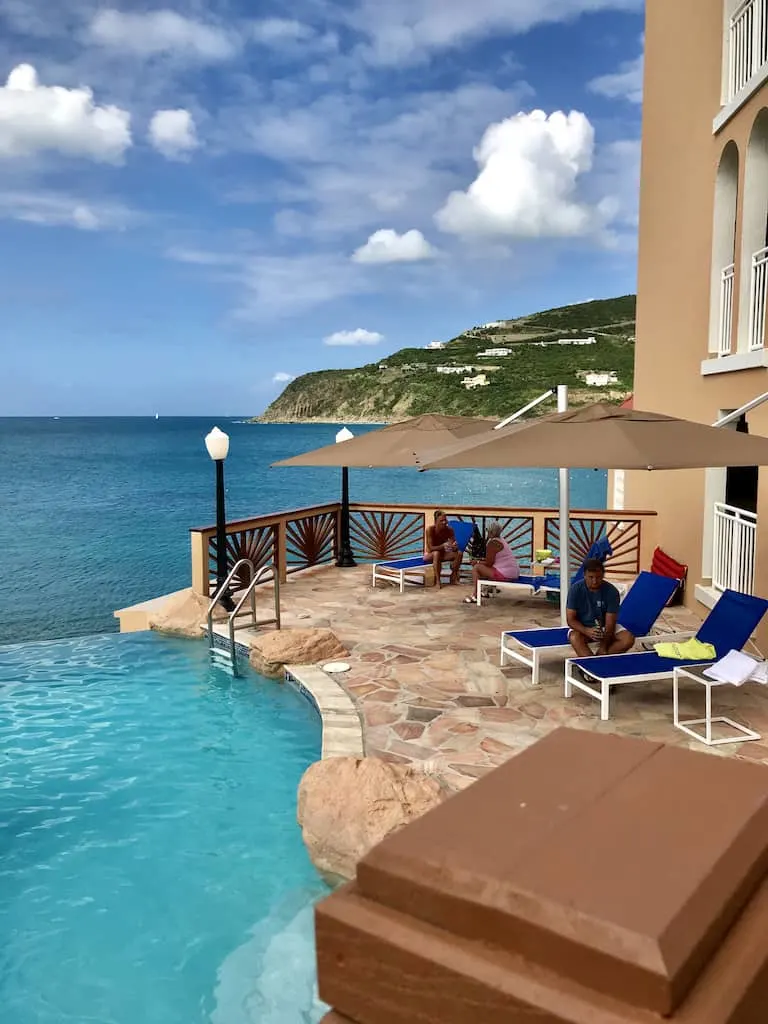 There you have it, my complete list of things to do in St. Maarteen and St. Martin.
---
Disclosure: As is common in the travel industry, I was provided with accommodations, meals, and other compensation for the purposes of review by Divi Little Bay Beach Resort and its PR agency. While it has not influenced my review, PointsandTravel.com believes in full disclosure of all potential conflicts of interest. All Photos were taken by the author/or were given permission from the photographer. Affiliate links may be located in this article.