If the prospect of running down narrow cobbled streets, being pushed and shoved by thousands of other participants, all whilst trying to avoid being trampled on by six crazed and angry bulls sound all too terrifying, then I have great news! You don't have to travel all the way to the world-renowned Running of the Bulls in Pamplona, in the Basque region of Spain, and you certainly don't have to risk your life to embrace the traditional Saint Fermin festivities.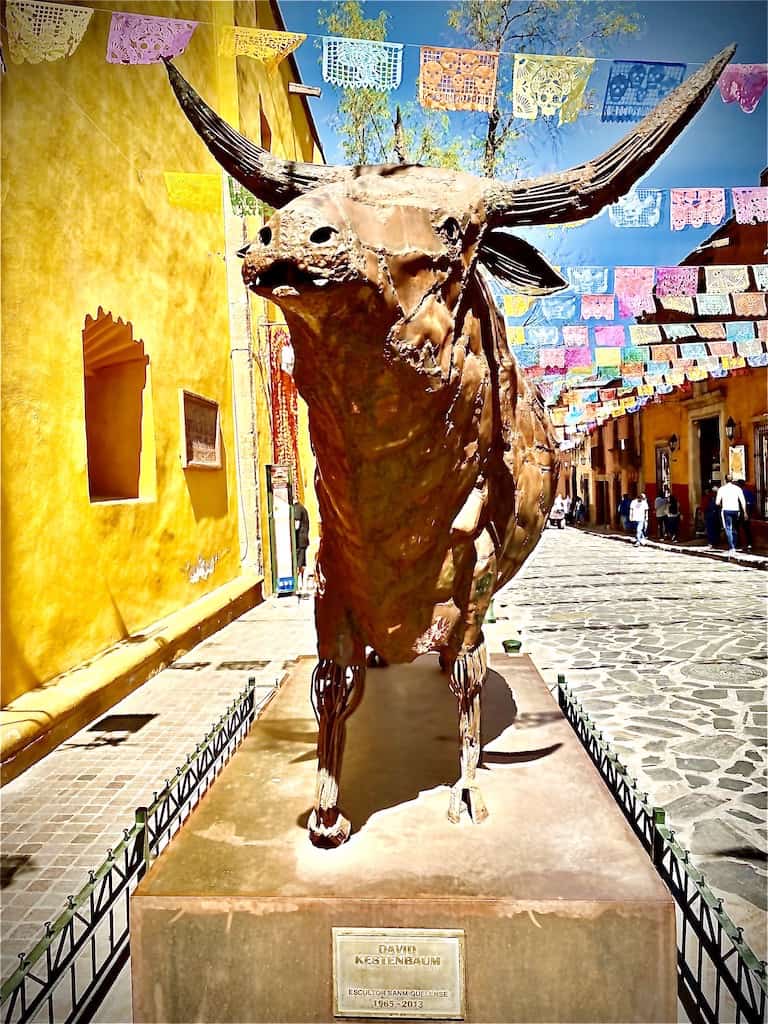 ---
Running of the Bulls New Orleans!
---
That's because the 'Big Easy', New Orleans, plays host to its very own and rather quirky take on the spectacle that is the Running of the Bulls. An entire weekend filled with different events and activities suited for the entire family, with the Encierro (the bull run) at its center stage. Of course, New Orleans has to have its very own, distinct take on this age-old tradition. Here, instead of real-life bulls going on the attack, you'll have to escape the Big Easy Rollergirls derby team, aka the RollerBulls.
Dressed in red, complete with horned helmets and armed with plastic bats, the RollerBulls of New Orleans chase participants through the streets of the Crescent City, adding a uniquely eccentric and amusing twist to the bull run festivities and will keep you, as well as thousands of other eager participants, on your toes. All in the name of charity. It's this harmless, family-friendly approach that has seen the San Fermin in New Orleans gaining in popularity, year after year.
Here is my comprehensive guide on attending this exuberant festival!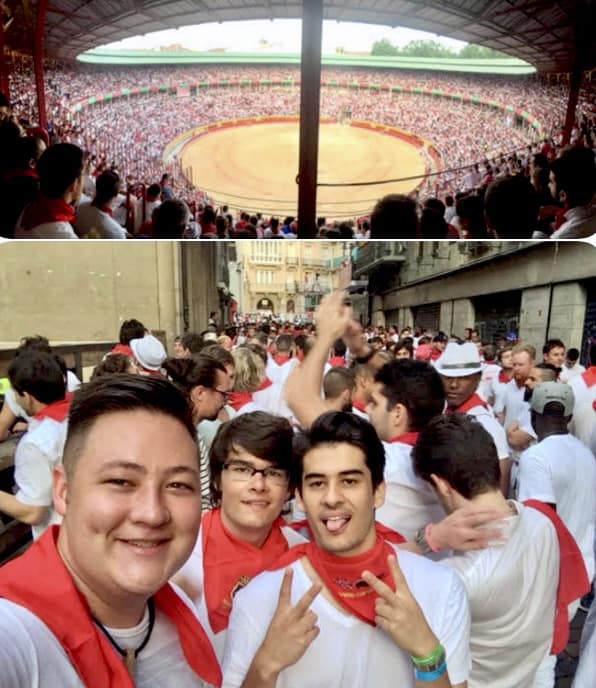 San Fermín Festival in Pamplona, Spain
For 9 full days at the beginning of July, the small city of Pamplona, the capital of the Navarre province set in northern Spain, erupts into a frenzied party mood where fiestas, parties, and of course the famed bull run of Pamplona all take place. Paying homage to the city's patron Saint, Saint Fermin, the festival dates back hundreds of years but remained fairly unknown. That is, until Ernest Hemingway published his book, The Sun Also Rises and as a result, popularizing Pamplona's festivity to the rest of the world.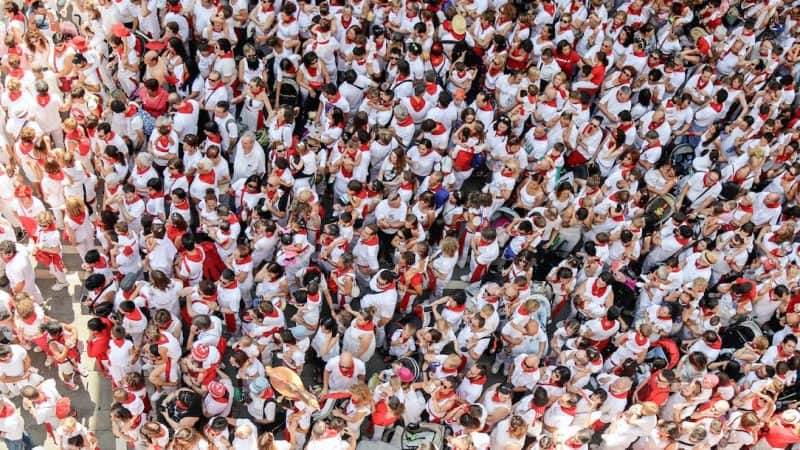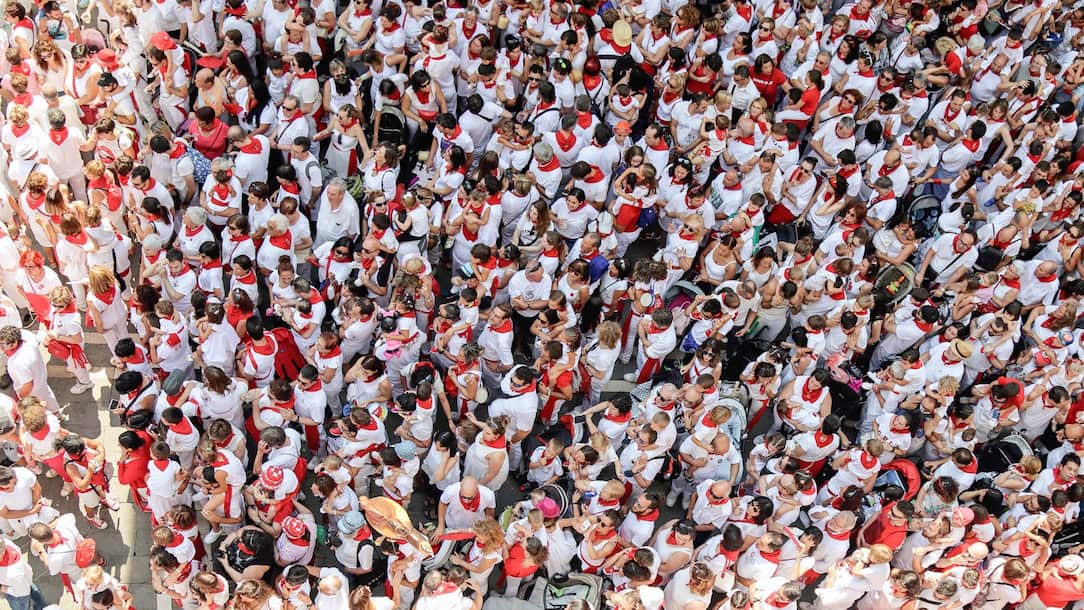 Today, thousands flock to Pamplona to not only party up a storm, but also take part in the popular and thrilling Encierro – the actual running of the Bulls. Rockets are fired off, announcing the start of the run, where 6 bulls, prestigiously chosen from across Spain, are released from their pens and set loose onto the cobbled streets of the city. Making their way through the half-mile stretch, with runners at the helm, the bulls eventually end at the Plaza de Toros bullring, for the official ending of the run.
It's safe to say though that the Pamplona run is not for the faint-hearted and it isn't uncommon to hear of runners injured or mauled by the angered bulls.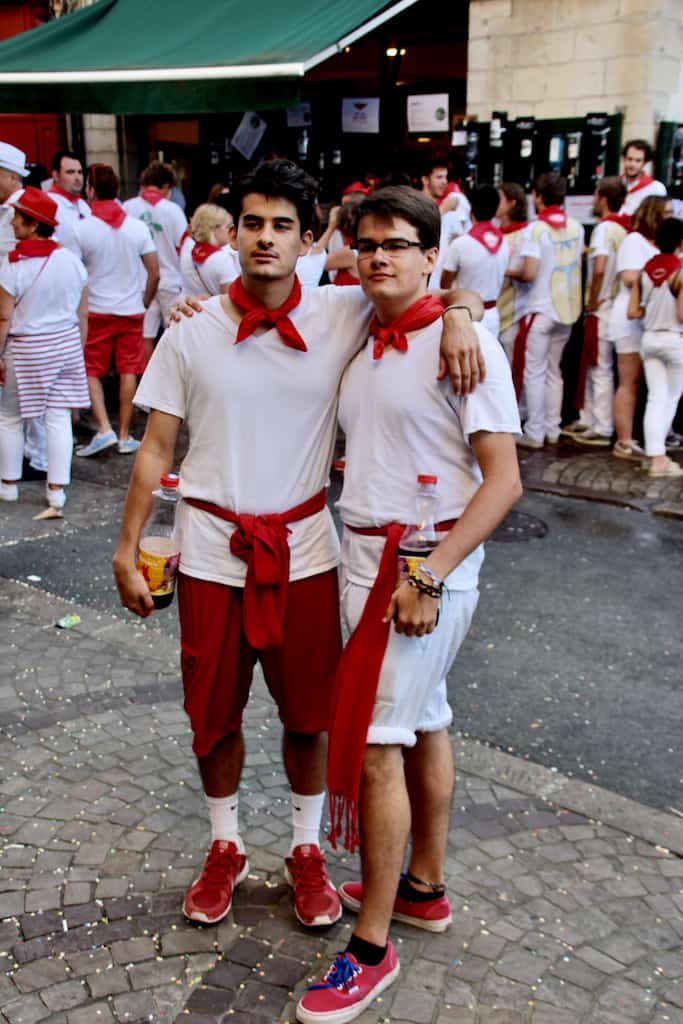 San Fermín in Nueva Orleans – Festival Program
Thankfully, you don't have to put your life on the line to enjoy a good party, and the bull run of New Orleans is the perfect light-hearted alternative to the real deal. Now in its 14th year, since its inception in 2007, the San Fermin in Nueva Orleans takes place over the second weekend of July to coincide with the festival in Spain. In New Orleans, the event includes 3 days of fun-filled festivities starting on a Friday and lasting throughout the weekend up until the conclusion on Sunday, and attracts thousands of visitors and participants alike.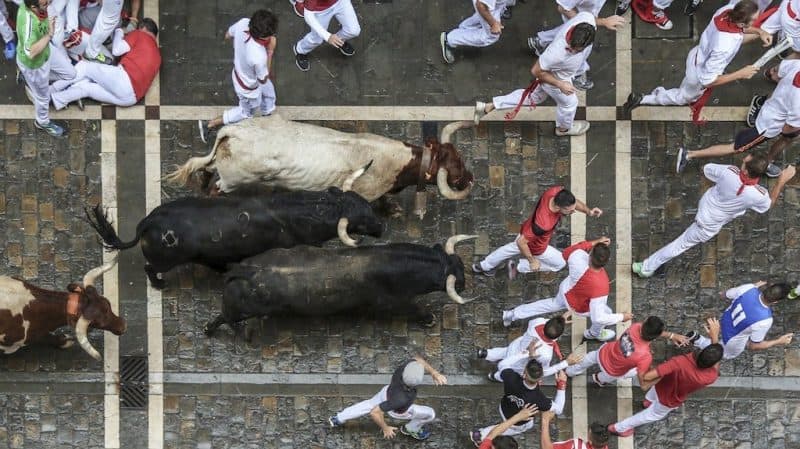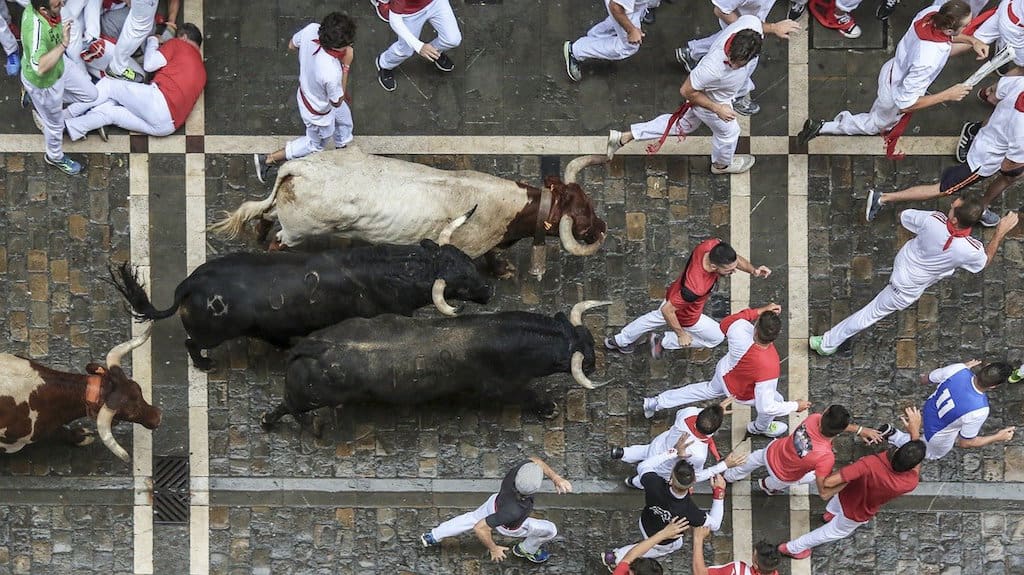 Where to stay New Orleans
But first, let me tell you where to stay in New Orleans. Quintessentially, New Orleans, the French Quarter is undoubtedly the perfect base from which to enjoy all of San Fermin's debauchery and festivities. At around a 30-minute walk from the Sugar Mill, it's perfect to get around on foot too.
You may want to read up on my review of these fantastic New Orleans boutique hotels and consider booking one of them for the duration of your stay.
Do bear in mind that popular events such as San Fermin's Running of the Bulls New Orleans may require you to book well in advance in order to secure the best possible hotel and rates. Do take note that no offsite food and drink is allowed into the events (taking place at the Sugar Mill). Cooler boxes and chairs are also not allowed in either.
New Orleans Running of the Bulls
Here's what you can come to expect from Sane Fermin in New Orleans.
Friday – El Txupinazo
Kicking things off is the official event opening – the El Txupinazo hosted on Friday evening. This live music event is in honor of selected charities, such as Beth's Friends and the Big Easy Animal Rescue, that all benefit from the San Fermin festival.
Apart from the music concert, you can also expect charity auctions, an open bar, and from any of the five restaurants onsite.
Saturday – Encierro and La Fiesta de Pantalones
The main drawcard, the Encierro (bull run), takes place Saturday morning between 08:00 am to 11:30 am, drawing in thousands of eager runners. Participants start gathering at the Sugar Mill, the race starting point from around 06:30 am with the official run kicking off at 08:00 am. The Roller Bulls, consisting of the Big Easy Rollergirls as well as other Roller Derby teams from across the country, usher participants along, taunting and teasing as they go.
Thereafter, festival-goers can either attend the official after-party, La Fiesta Pantalones (meaning the pants party), or stay behind and indulge in bar-crawling through the Warehouse District.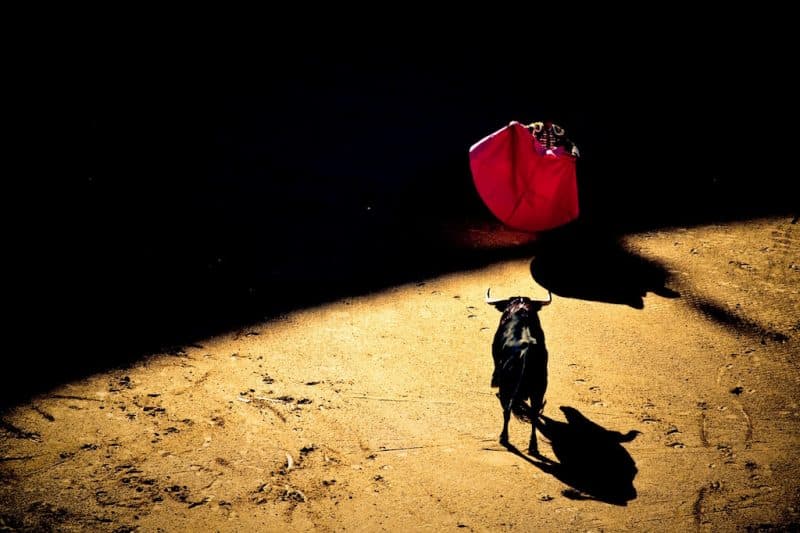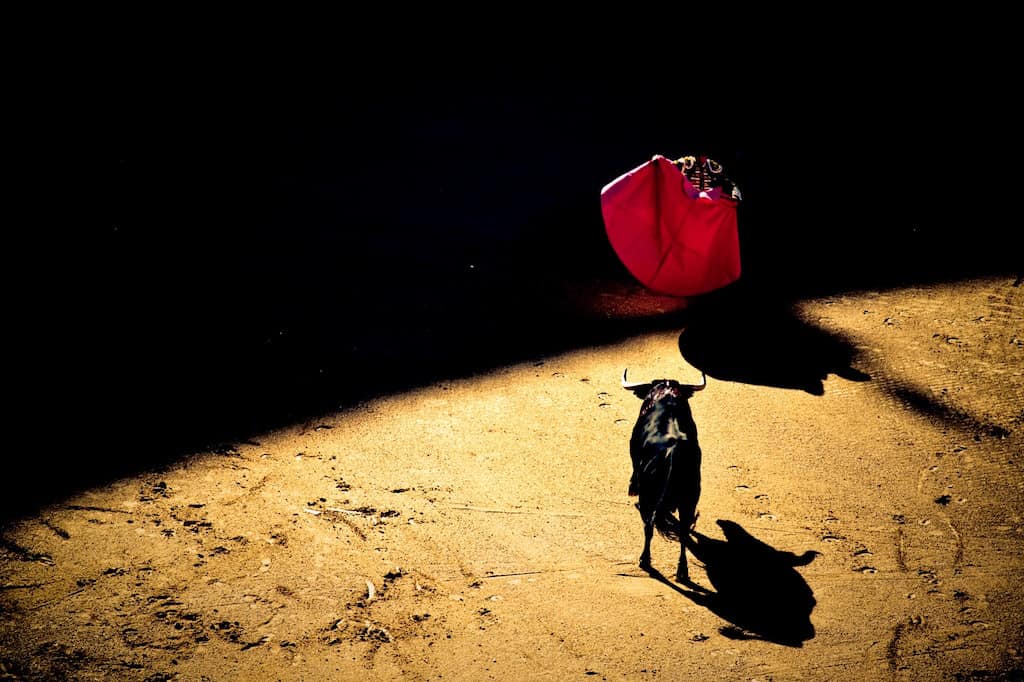 Sunday – El Pobre de Mi
On Sunday, the festival draws to a close, ushered in by the final closing event, the El Pobre de Mi (translated as Poor Me) themed event taking place between 10:00 am to 14:00 pm. Every bit a recovery brunch, especially after the copious amounts of alcohol consumed during the festival, this event includes a variety and Burlesque show.
You'll also get to enjoy the annual Ernest Hemingway Celebrations and Talent Contest that include both a reading of Hemingway's works as well as an entertaining Hemingway lookalike contest too!
This particular event does not require a ticket and is free to attend. You only pay as required.
Tips & Information for attending San Fermín
Tickets & Costs
Events taking place on Friday and Saturday have all ticketed events with ticket sale proceeds going to charities. For Friday's El Txupinazo kick-off party at the Sugar Mill, expect to pay around $50 entry fee, whilst taking part in the Encierro run and the La Fiesta de Pantalones will set you back roughly $40, which includes a selection of drinks for the festival.
Do check the official Nola Bulls website ahead of time as special discounted rates for online bookings may apply. VIP packages are also on offer for around $95. Do note that due to the Covid19 Pandemic and the uncertainty of legal gatherings of more than 10 people, the organizers and brain trust of San Fermin in Nueva Orleans have opted for an online fiesta for 2020. Be sure and go in 2021!
If you fancy a bit of volunteering, you can sign up and gain free access to the opening party.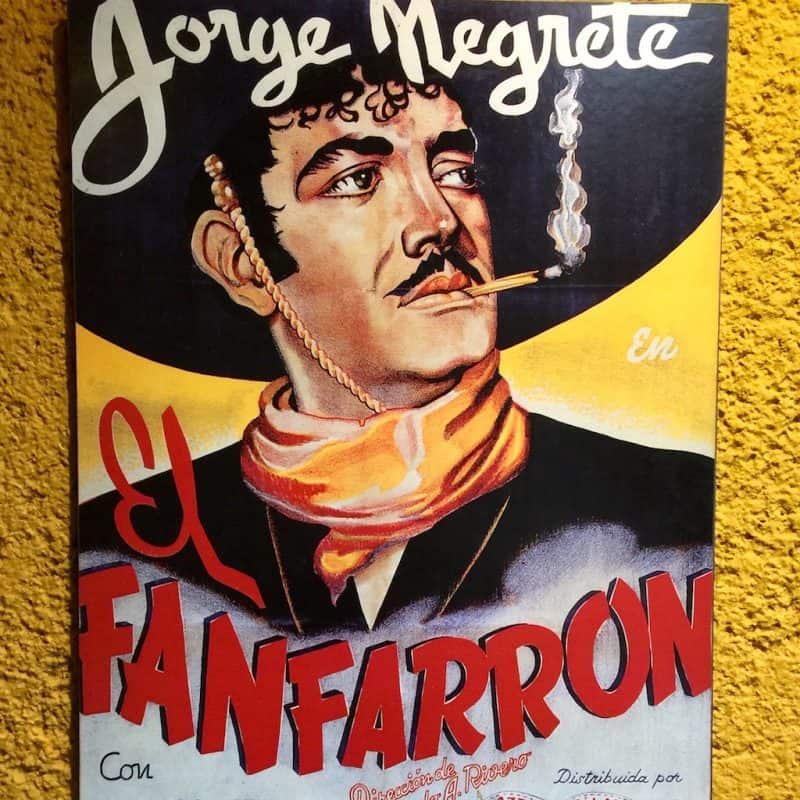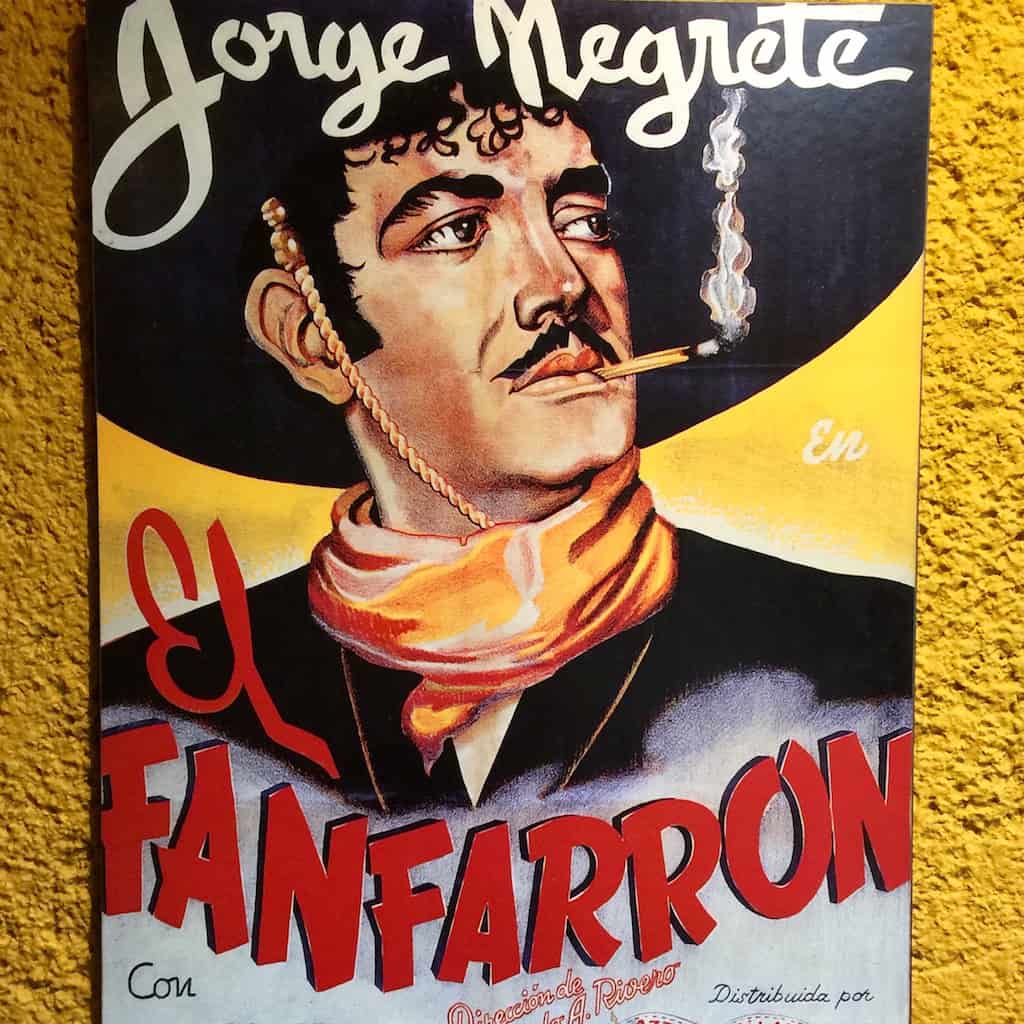 Dress code
Although there is no official dress code for the Running of the Bulls New Orleans, participants are encouraged to dress according to the traditional colors and style of the Pamplona Bull Run. This involves dressing in white pants and a white top, coupled with a red scarf around your neck or waist. In New Orleans, you are also encouraged to get somewhat more creative with your dress sense and it's not uncommon to see participants spice up their outfits with their own unique Big Easy twist.
Getting to New Orleans
2019 saw the opening of the new Louis Armstrong New Orleans International Airport (MSY). With 16 Airlines, both domestic and international, offering flights to and from 7 International as well as 55 direct destinations within the US, making travel by air one of the most convenient ways to get to New Orleans.
Located around 16-miles from the French Quarter, the journey by car should last around 30-minutes in total. You can choose between an Airport Shuttle, renting a car, the RTA Bus, or alternatively by booking cab-hailing services such as Uber or Lyft to get to downtown New Orleans from the airport.
Location & Parking
Paid parking spots are available nearby the Sugar Mill but considering that this is a very popular event, attracting thousands of visitors annually, these will most definitely be limited. Be sure to get there early. For those staying in the French Quarter, the 1.4-mile walk on foot should take around 30 minutes total to reach the Sugar Mill, making this your best bet for getting around hassle-free!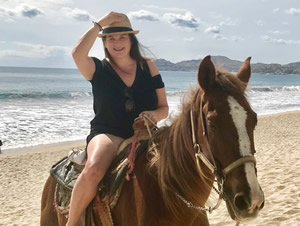 About Dr. Cacinda Maloney
A value-luxury adventure traveler at heart, Dr. Cacinda Maloney shares her experiences as someone who has traveled every six weeks of her life for the last 20 plus years. Being a travel writer, blogger and social media influencer, she now travels more than that! She is Phoenix, Arizona based, but maintains an apartment in Santiago, Chile. She is a member of the Professional Travel Bloggers Association (PTBA), Media Kitty and the International Food, Wine and Travelers Association (IFWTWA). Read more...