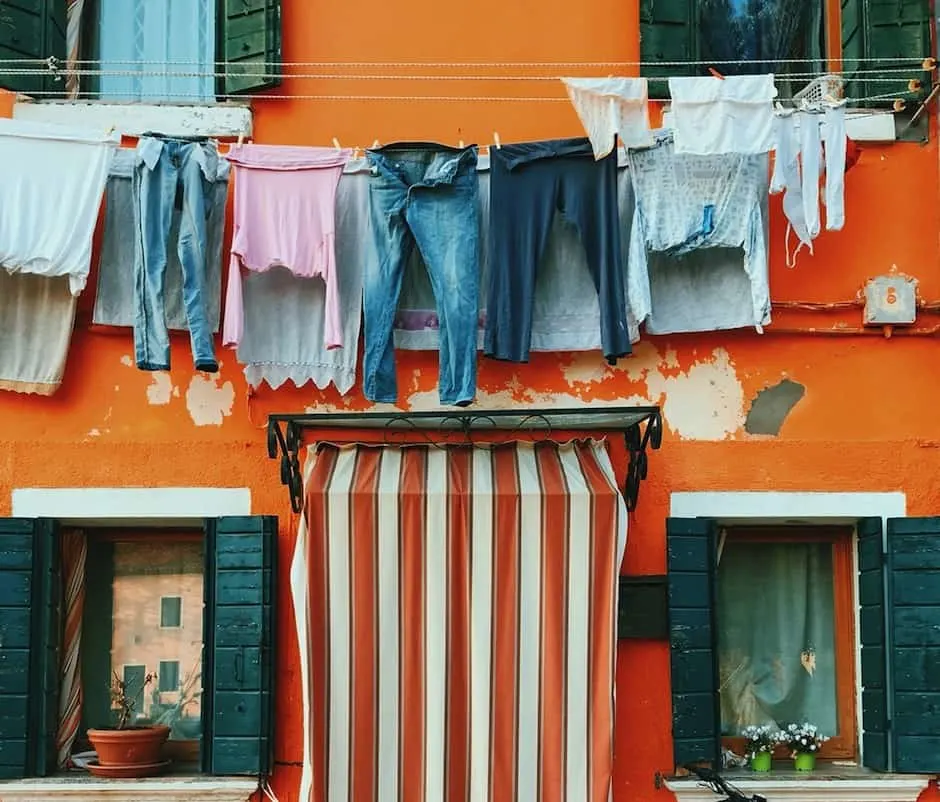 One of the best-kept secrets in Venice used to be the island of Burano, maybe it is not so secret anymore. But it is definitely worth a visit, even if you just have 2 days in Venice it's well worth visiting this colorful island! This island is best known for its rainbow-painted houses.
Don't worry, once you get there, there is plenty to do on a day trip from Venice and it is small enough that you can do it all on foot! But before you embark on an amazing journey to the Burano island, you need to figure how to get there from Venice. This guide will give you all the details you need to know about how to get to Burano from Venice. So keep reading.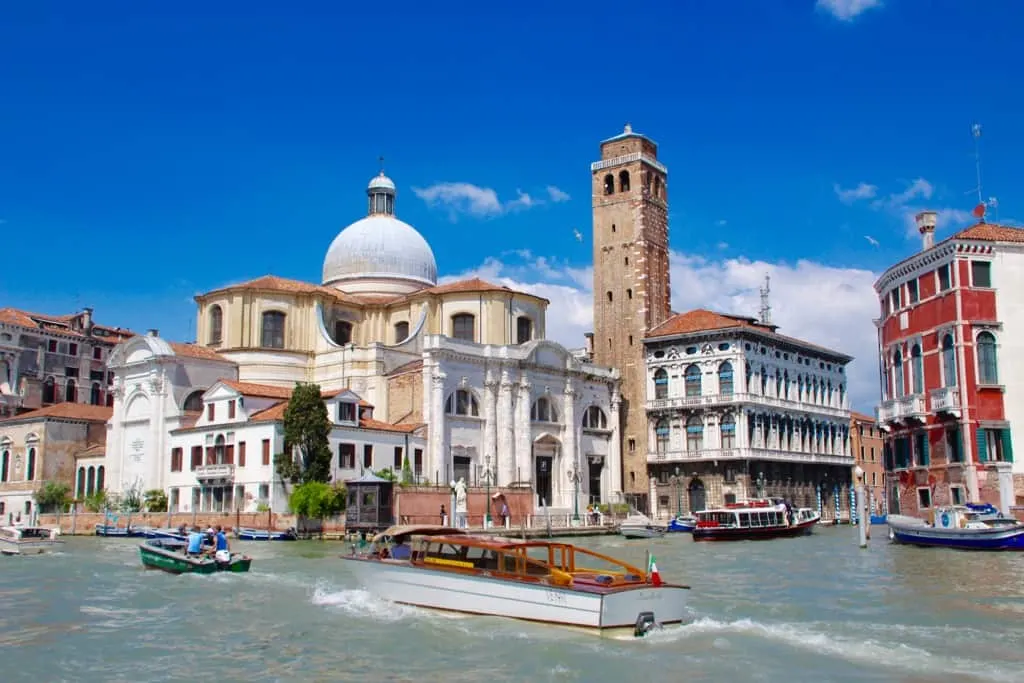 What's in this post:
hide
How to Travel from Venice to Burano
Depending on where you are traveling from, you can use the following modes of transportation to get to Venice: railway, airport or car. Once you have arrived in Venice, then you can get to Burano on the Vaporetto, which is Venice's local water bus. To make things a little easier to understand, I have put together this informative guide that will make your escapade to Burano from Venice much easier! Plus, I know you are going to love this cute little island as much as I do!
---
Recommended reading BEFORE going to Venice:
Best Things to do in Venice, Plus Where to Stay!
---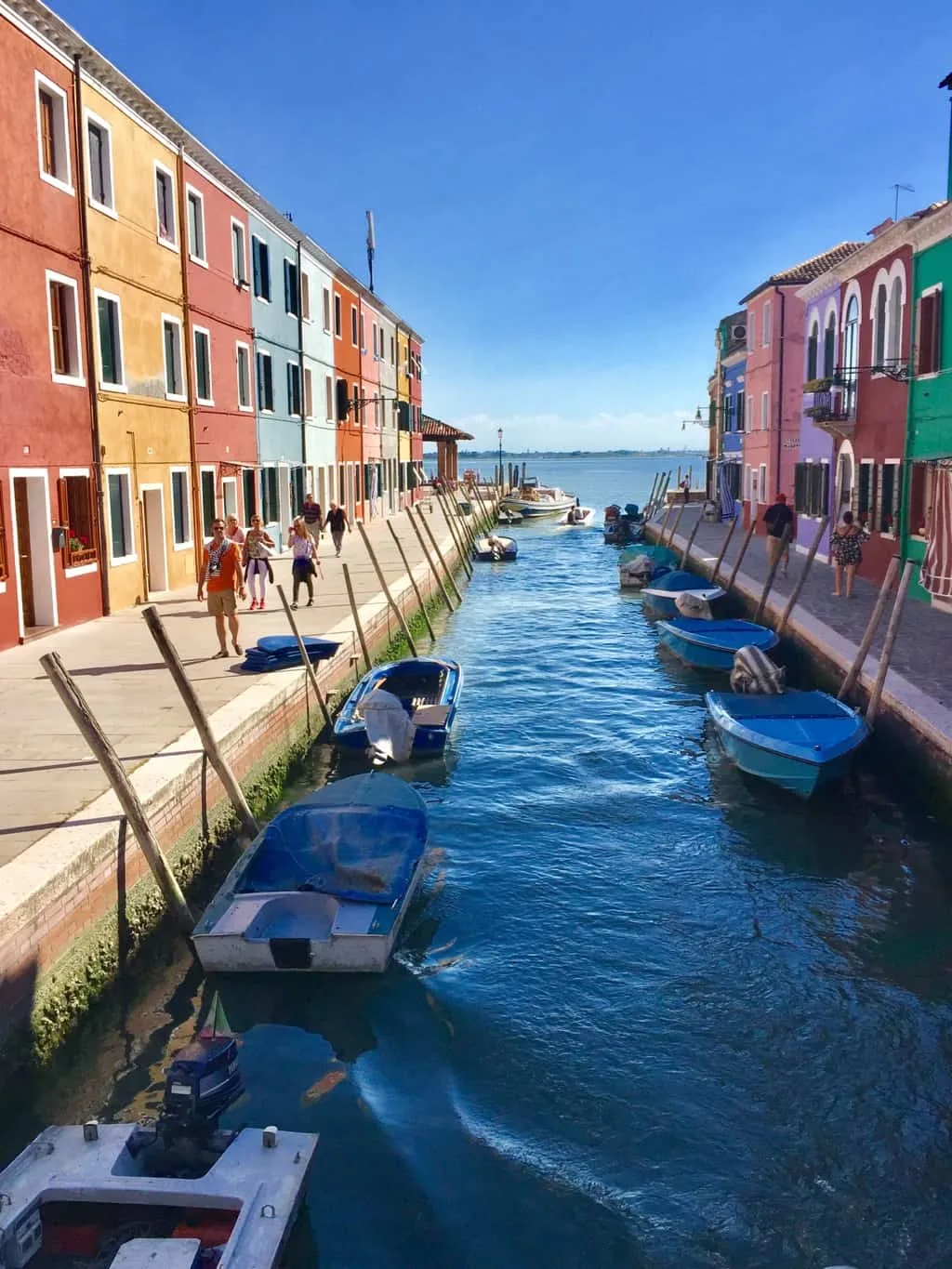 Option 1 – The Best Route from Venice City Center to Burano
Take the Vaporetto (water bus)
Vaporetto literally translates into "little steamer" and is the water bus to get around the islands in this area of Italy. This water bus service is the easiest way to travel to and from Burano. The water bus works similar to a normal bus because it has various stops and routes. However, the only route that travels to Burano, Italy from Venice is route 12. You can catch the route 12 Vaporetto from Fondamente Nove stop, which is roughly about 15-20 minutes from the famous St. Mark's Square. This route is on a schedule and runs every 30 minutes. The journey from Venice Fondamente Nove stop to Burano "B" stop is usually 42 minutes (one-way). Total travel time to get there and back is about an hour and a half.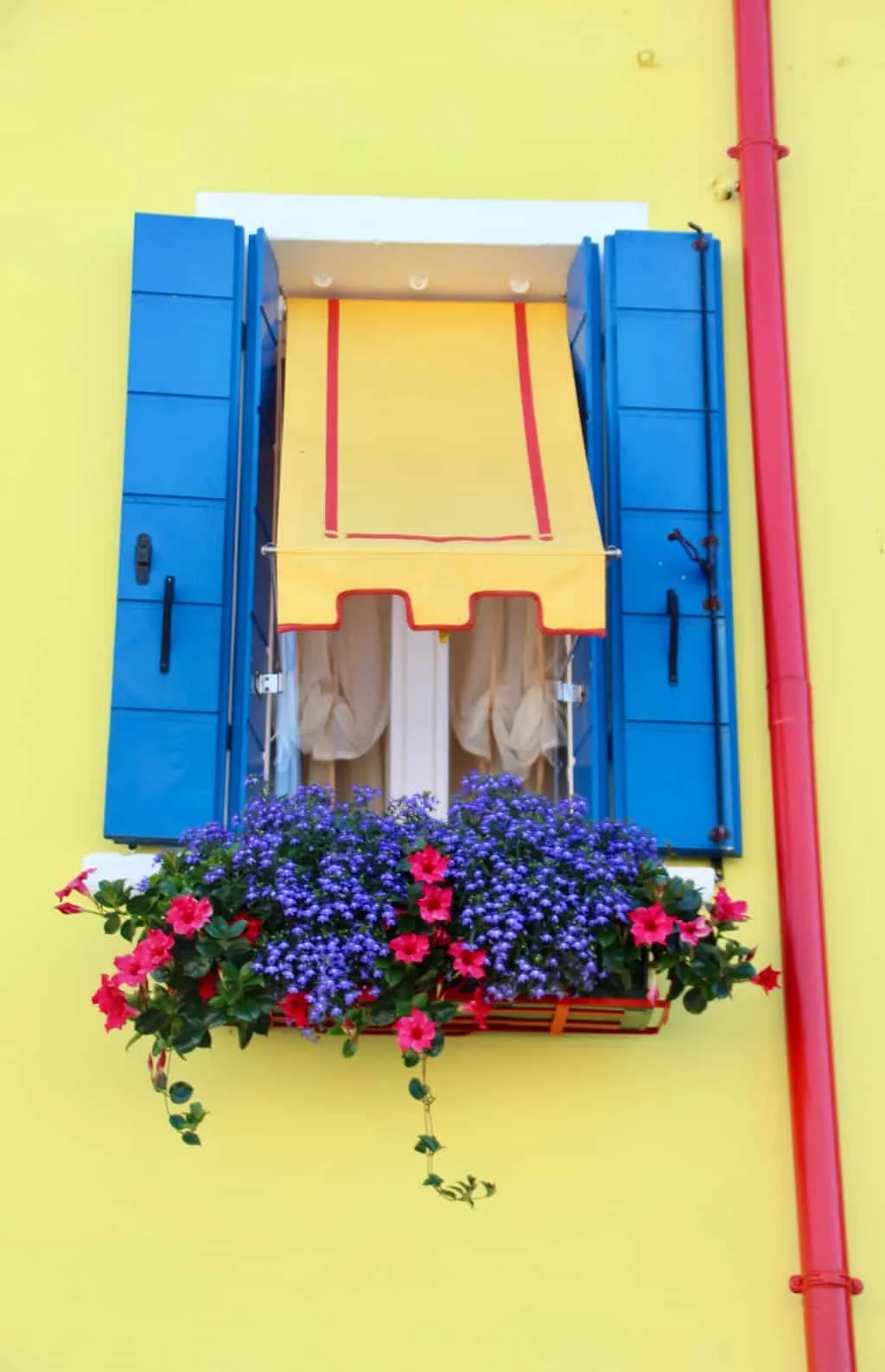 For a day trip to Burano, I would recommend leaving Venice around 8 AM and returning shortly after sunset. You can purchase tickets for a vaporetto ride from AVM automatic ticketing machines at the waterbus stops, online at www.veneziaunica.it, or onboard the bus itself. According to the Venezia Unica website, the price for a valid one-day ticket for the Vaporetto of Venice is 20 Euros. If you only want to go to Burano Island, one way it costs 7.50 euros, roundtrip is 15 euros.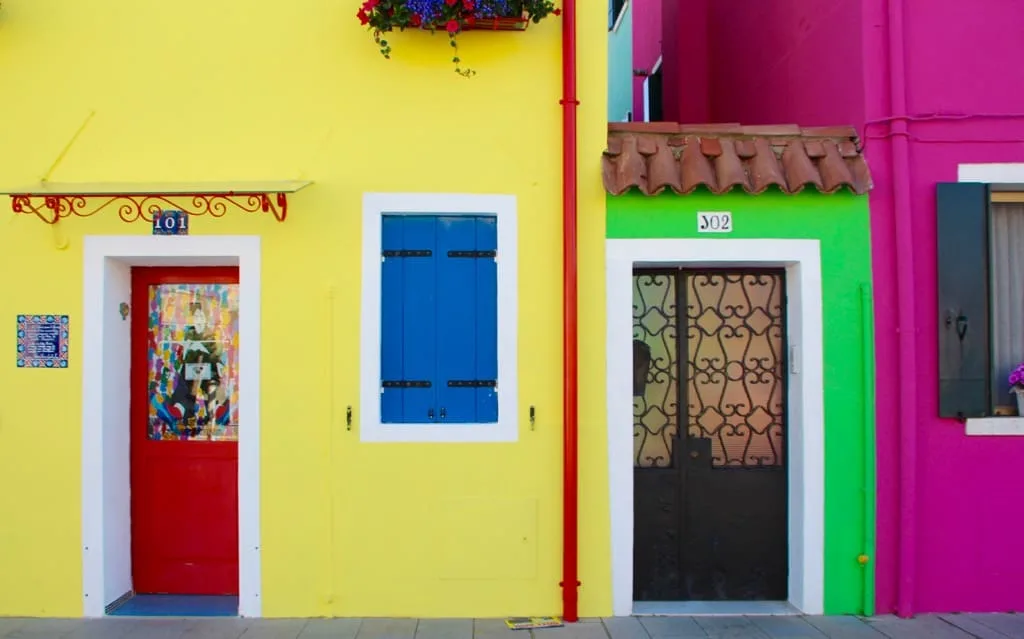 ---
Things to remember when taking the Vaporetto from Venice to Burano:
Route 12 from Fondamente Nove stop (F.te. Nove) to "B" Stop Burano
Runs: Every 30 minutes
Venice to Burano: Takes 42 minutes
Total Travel time: Takes about one hour and a half
Cost: One way (7.50 Euros), Roundtrip (15 Euros) Day Pass (20 Euros)
---
Route 12:

---
Timetable to get to Murano Island from Venice:
For more information, timetables and prices, please click here once you are ready to purchase your ticket or when you are in Venice and ready to plan your day trip to Burano to see the most current timetables.
Venice City Center to Burano timetable:

Return from Burano to Venice City Center timetable:

Alternately, if you are not staying near Fondamente Nove (F.te.Nove), then it may be easier to catch a Vaporetto to Murano first. The best way to do this is to get on Vaporetto line 3 from either Piazzale Roma or Ferrovia to Faro stop on Murano. Vaporetto line 12 stops at Faro, so you will board route 12 there before your journey to Burano.
Option #2 – Route from the Venice Train Station Santa Lucia to Burano
Venice Train Station to Burano
If you are at the Venice train station when you arrive and you want to go to Burano directly from there, you will need to take two Vaporetto lines separately. First, take Vaporetto line 3 from Venice Santa Lucia Train Station to Murano Faro (as mentioned above), and then at Murano Faro change lines and take Vaporetto line 12 to Burano.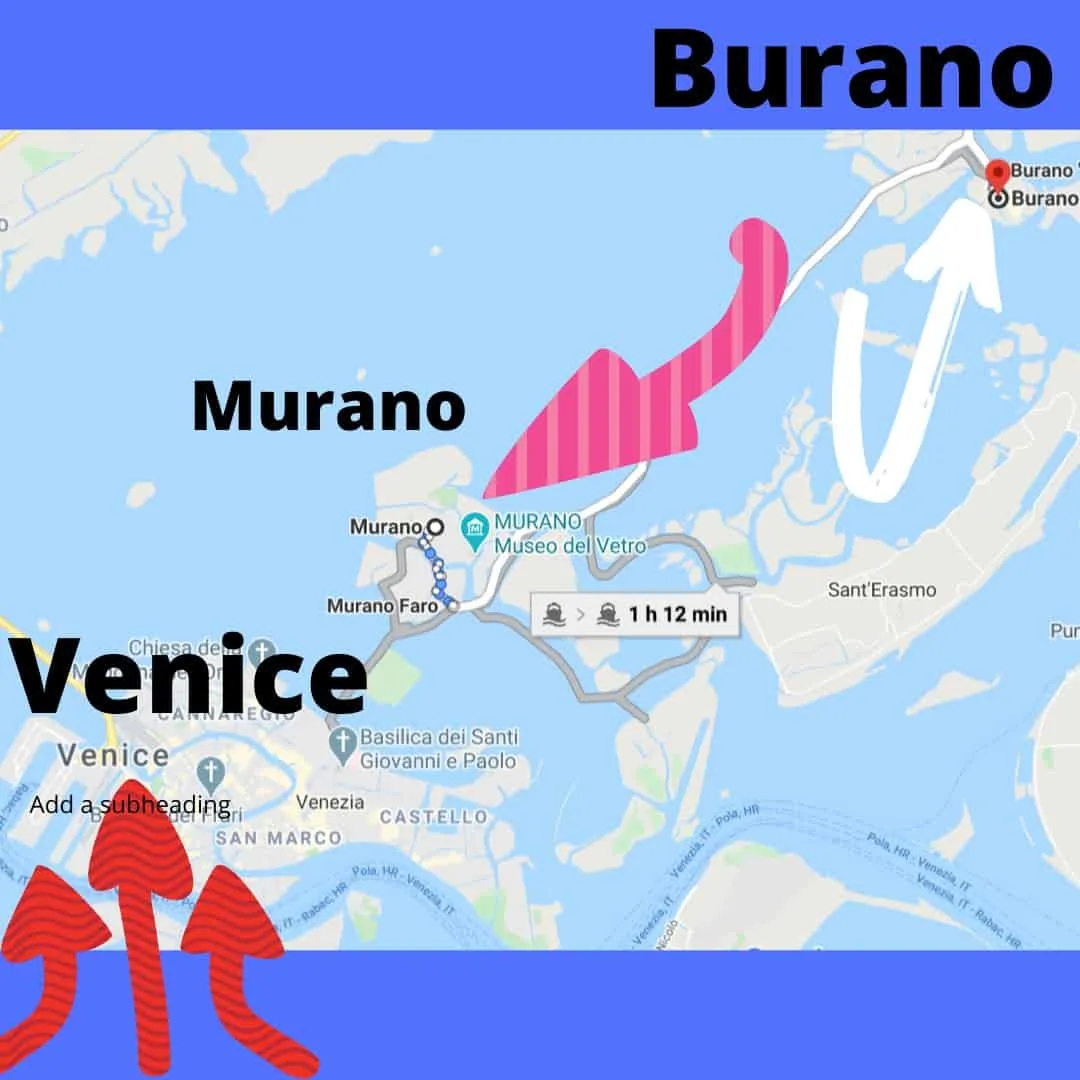 Option #3 – Getting to Burano by car/ferry from Venice
Drive your car and use the ferry
You can take your rental car or vehicle to Burano from Venice, simply by driving the distance between Venice to Burano, which is 39 miles. It takes approximately 1 hour and 5 minutes to drive from Venice to Burano. You can also put your car on the ferry. AVM/ACTV operates a ferry service to transport vehicles and passengers from Venice to Burano every 30 minutes and the journey takes 42 min. Here are the routes:
Route 17 from Tronchetto to Lido and vice versa or from Lido to Punta Sabbioni and vice versa
Route 11 from Alberoni (Lido) to Santa Maria del Mare (Pellestrina) and vice versa
Option #3 – Take a guided tour from Venice to Burano
Take a Guided Tour
There are many guided tours of Burano to choose from online but most all couple Burano with the island of Murano. One of the reasonably priced tours is the Gems of Lagoon: The Venice Islands of Murano and Burano tour. This tour is hosted by Venice Tours and costs $22 per adult.
There are no booking fees, it is offered in multiple languages, and offers an e-voucher once you purchase a ticket. This tour lasts 4 hours and 30 minutes and covers both Murano and Burano Islands. You can check out the colorful houses in Burano, visit the "Museo del Merletto", see the Main Square, San Martino's Church, and taste the best Bussola and Esse biscuits of Burano according to the website.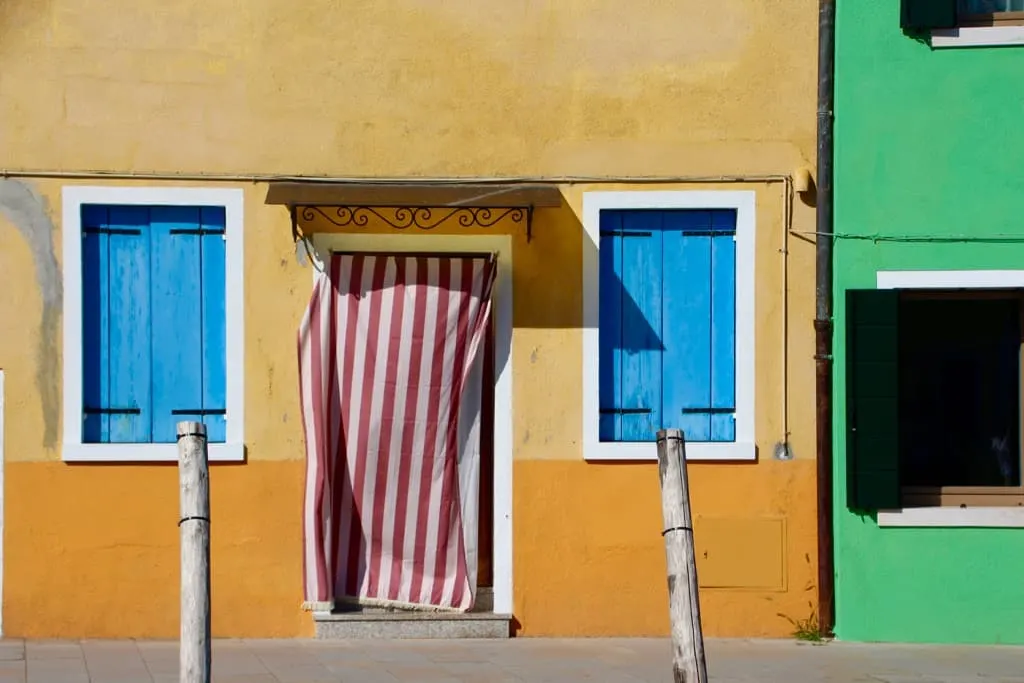 Best time to Visit Burano
For the ideal time and weather, I recommend visiting Burano between mid-April to early June. The island is less crowded during these months and the average temperature and humidity is perfect for a day trip to Burano from Venice. I would avoid visiting Burano on the weekend or late in the day. The weekends are more crowded and it is best to visit Burano when the sun is still out, which is why a late trip to this island would not be ideal.
If you want to avoid the crowds, don't go during the summer months if at all possible (unless you get up super early to see the island first! It can be very hot and very crowded. Burano can get very busy during the summer, so I would recommend avoiding this time of year if possible.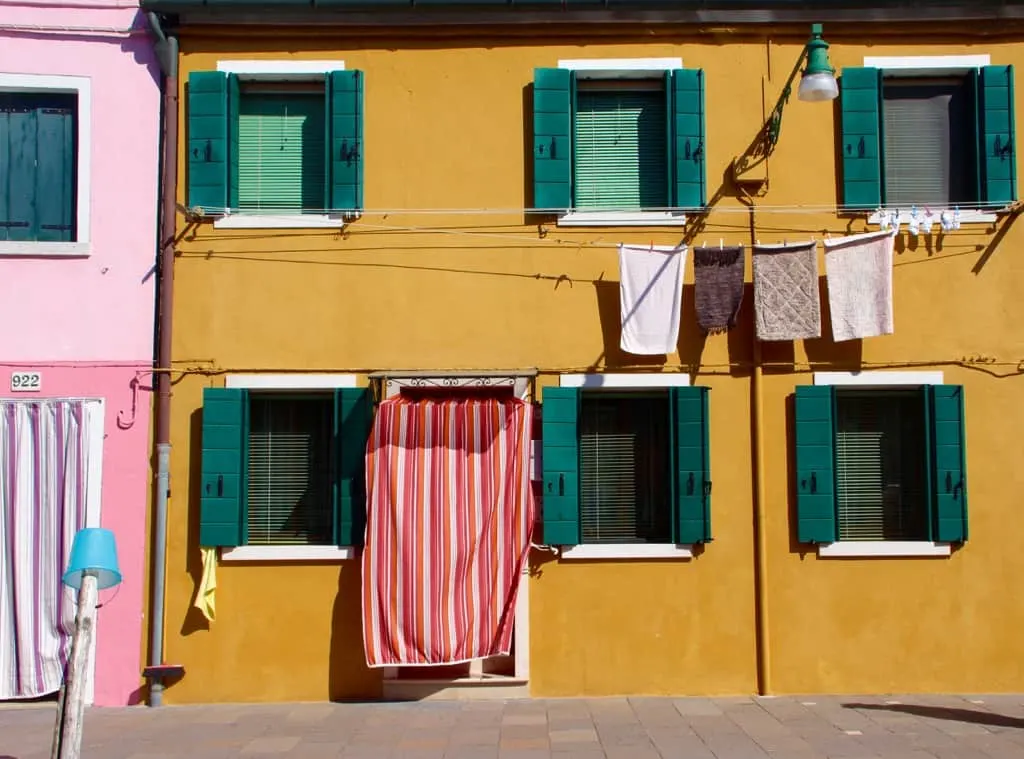 ---
Tip: Burano Carnival
If you happen to be in Venice during Carnival, then make sure to visit Burano as they have a lot of festivities, parades, and live music. Burano puts on all kinds of fun! Typically, the Burano Carnival takes place on Feb 20th.
---
History and Fun Facts About Burano
Burano used to be one of the prominent fishing villages in Northern Italy. Back in Roman times, fishing used to be the main source of income for the entire island. During its' time as a fishing village, the fishermen wanted an easy way to help them navigate their way back home from dense fog and bad weather, which is why they painted their homes in bright colors. Today, it is impossible to change the color of a house without asking for permission from the government.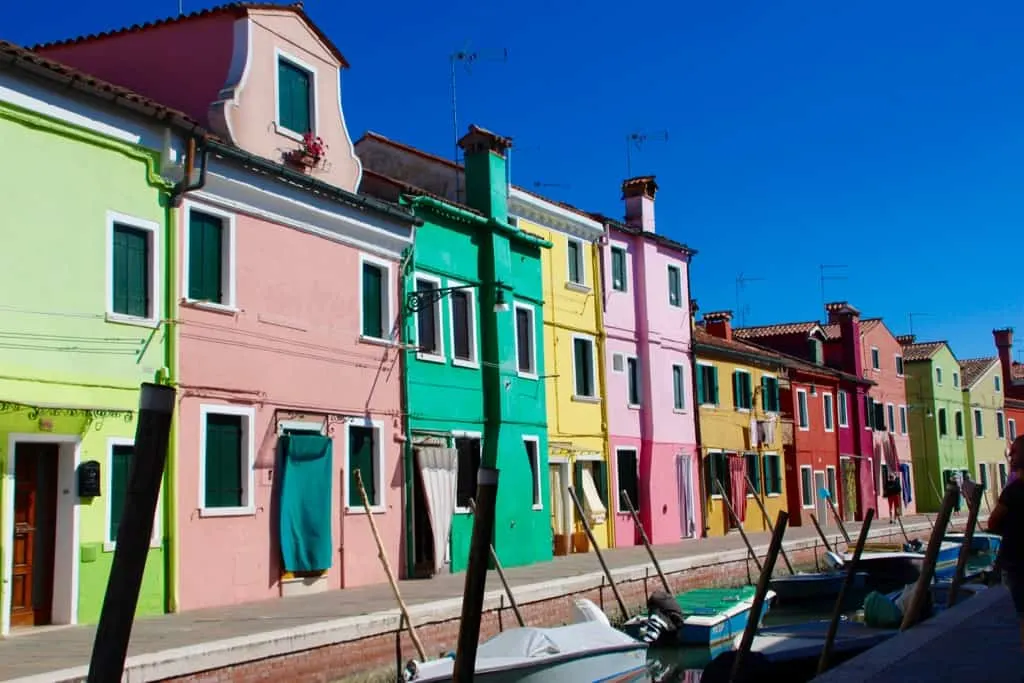 Aside from fishing, Burano is known for its stunning lacework. A famous legend of this village states that a beautiful mermaid gave a fisherman a glamourous bridal veil to bring back to his future wife. Once the fisherman returned home with this beautiful veil, everyone wanted to copy it but failed to replicate the exact veil. However, in failing to replicate the veil, the Burano women created the impressive Burano lacework. This lacework was worn by famous and noble people such as Marie de Medici, Princess Margherita of Savoy, and Caterina de Medici.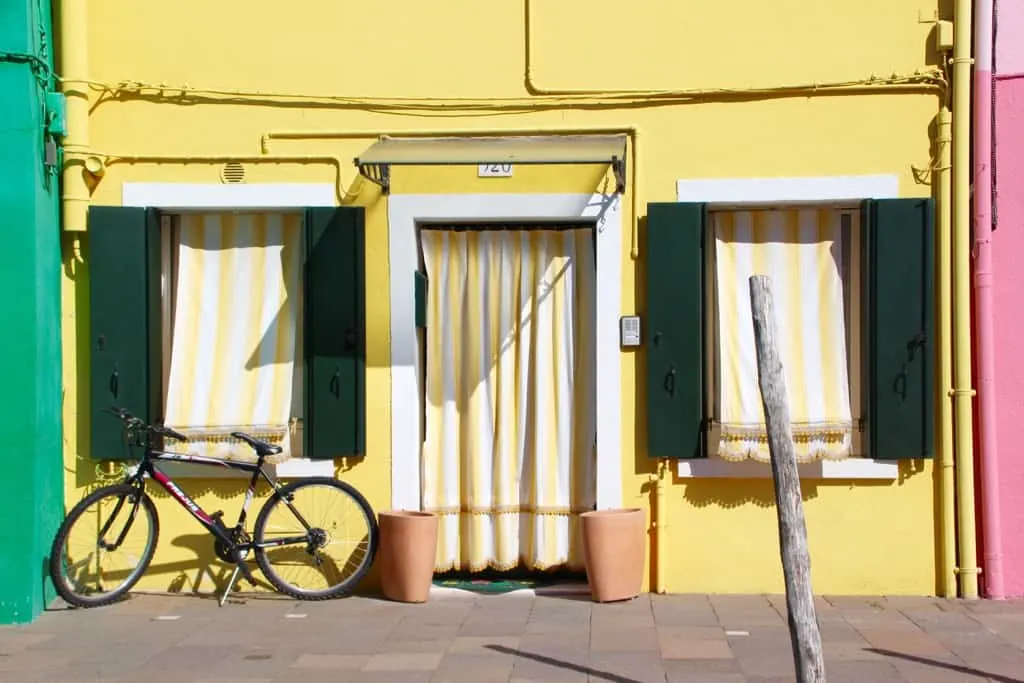 Things to do in Burano
Once you get to Burano, I recommend visiting and doing the things on the list below. This once-fishing village is small enough to engage in many activities throughout the day. Now, let's dive into what to do in Burano:
#1 Go shopping!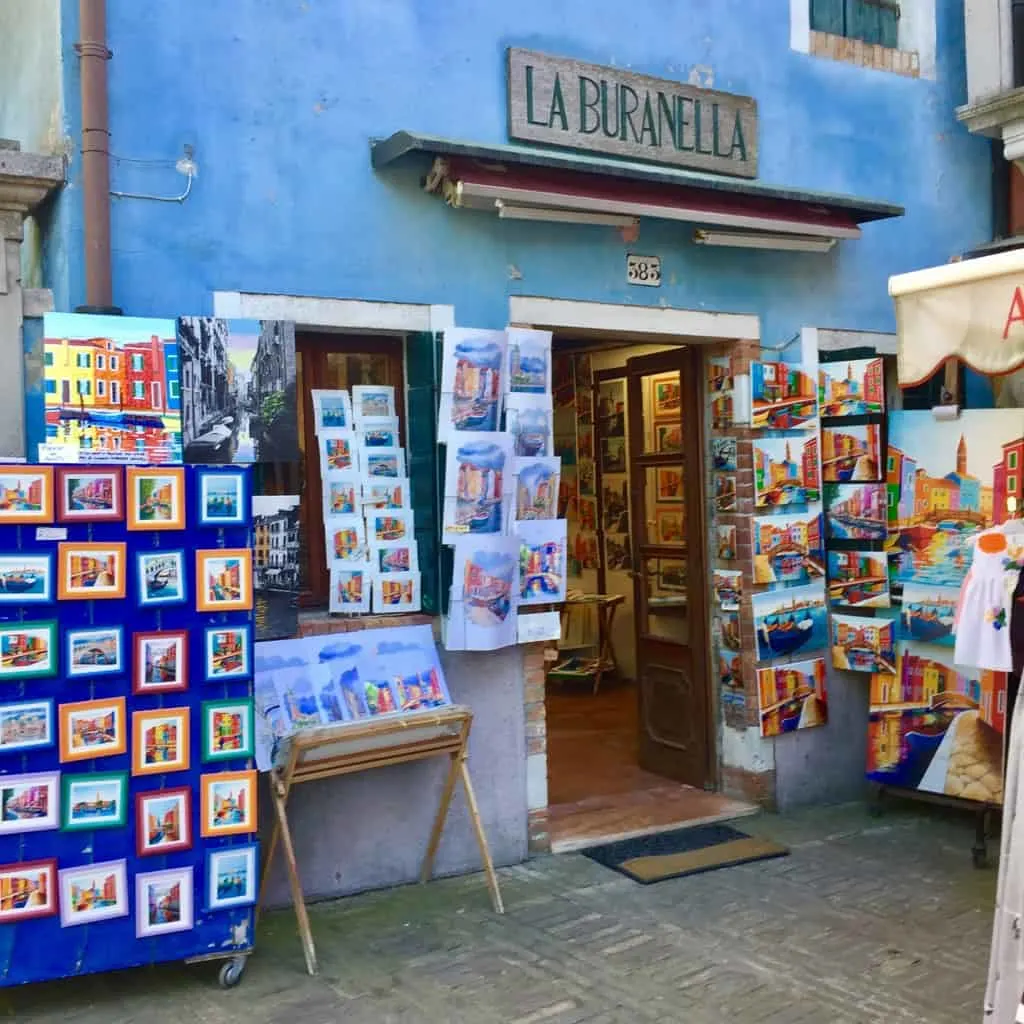 If you have always dreamed of owning a hand-made Murano glass object, then you must visit these stops: New Arte Fuga, Alessandro Tagliapietra, and Idea di Vetro di Vagnati Valentina.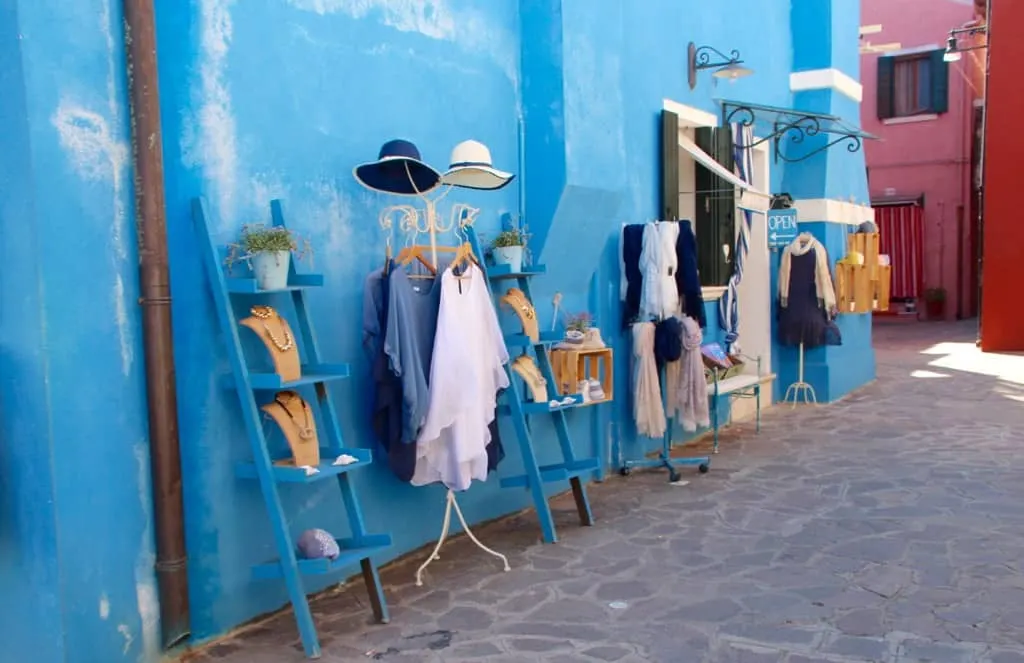 If you choose the guided tour mentioned earlier in this article, then you must know that the tour will include a stop at a local pastry shop to taste the most famous desserts: the "Bussolà" and the "Esse". One of the best bakeries in Burano is the Panificio Pasticceria Garbo.
#3 Buy locally-made lace products:
In Piazzetta, there is a quaint little shop that sells Venetian masks, papier-mache masks, needle creations, lace clothing, and Burano lace. Although today, much of the lace you see for sale for the tourist is done by a machine or done by a machine and then finished off by hand by the local seamstresses. As you can imagine, the previously traditional handy work took hours and even months to finish off a piece that was created by hand. They were very expensive, delicate, and the work was very intricate.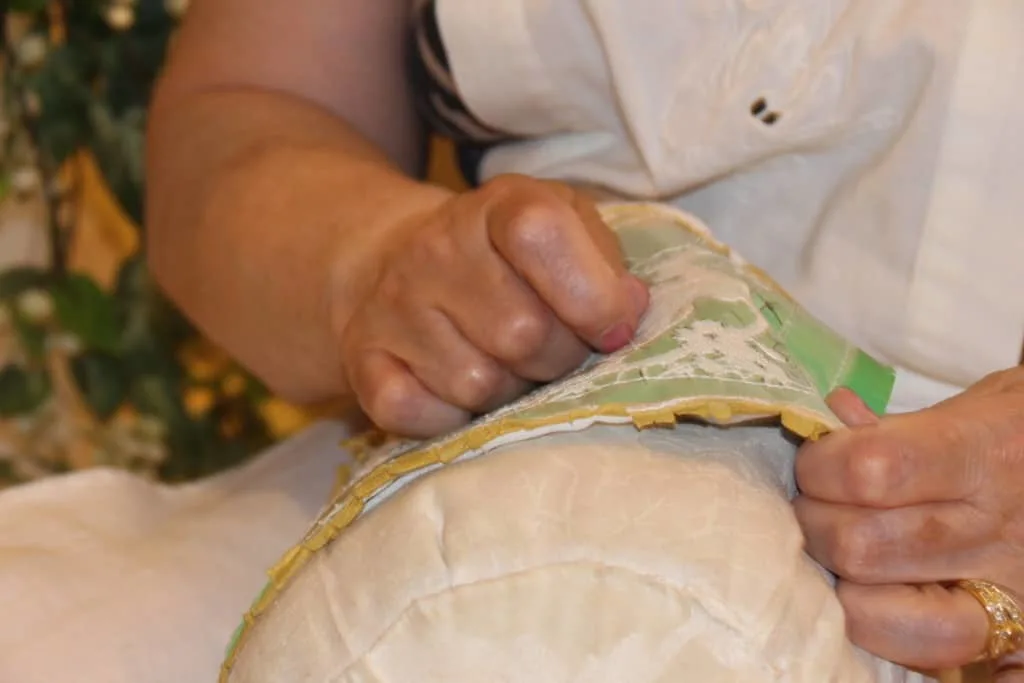 #4 Visit the Museo del Merletto:
The lace museum, Museo del Merletto, is a wonderful staple in this village because it exhibits the secrets of lace techniques, short videos on lace, and the history and collections from the Burano Lace School. You will even learn that some seamstresses from Burano actually made an altarpiece for the Duomo in Milan, which was purchased by Leonardo da Vinci himself!
#5 Go see Bepi's house
Although Bepi is no longer with us, the House of Bepi Suà is the most colorful house on the entire island of Burano. His house is decorated with geometric forms of all shapes and sizes. It has circles, squares, triangles, and rectangles in bright colors of blue, green, orange, red, and yellow. Bepi's house appears in many postcards of Burano. It is without a doubt the most famous home of Burano. Since his death, the house has been restored and the outside of the building has remained unchanged. The house of Bepi continues to be the most colorful house in Burano.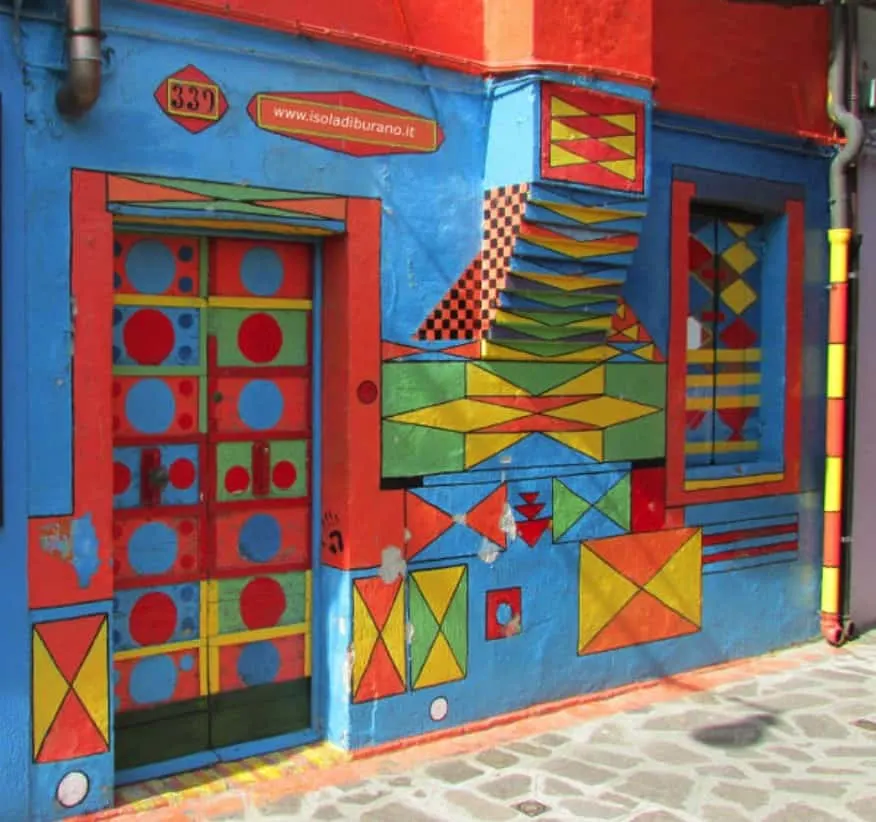 #6 Eat delicious seafood:
You cannot skip out on the chance to eat the freshest seafood in Burano. Here are a few of the best restaurants in Burano: Trattoria da Romano, Trattoria da Primo e Paolo, Osteria Al Museo Burano, and Trattoria Cafe Vecio. These restaurants serve dishes like calamari fritti (fried calamari), sea bass, clams, and mussels. Because Burano is a working fisherman's island, you can get fresh seafood that is caught daily—at a great price. It is quite a bit cheaper than it would be in Venice.
#7 Photograph the gorgeous colored houses: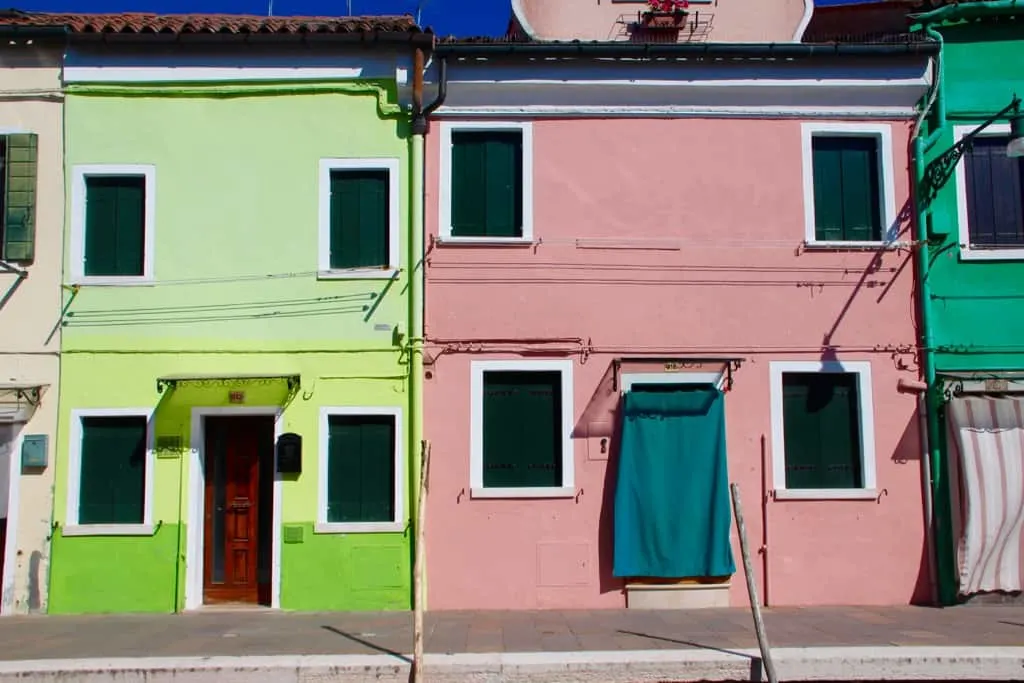 Honestly, this was the reason I even heard about this cute little island. I had seen photographs of all the colors and couldn't wait to do a day trip to the island while I was in Venice. One of the things that Burano is famous for is its colored houses. You must not miss the opportunity to photograph the marvelous colored houses of this Italian island.
#8 Check out the Leaning Tower of Burano:
Pisa is not the only place in Italy to have a leaning belltower! The Burano Belltower, that is located right behind the 15th century Church of St. Martin Bishop or San Martino Church was not always leaning! When it was constructed during the 17th century, it was straight!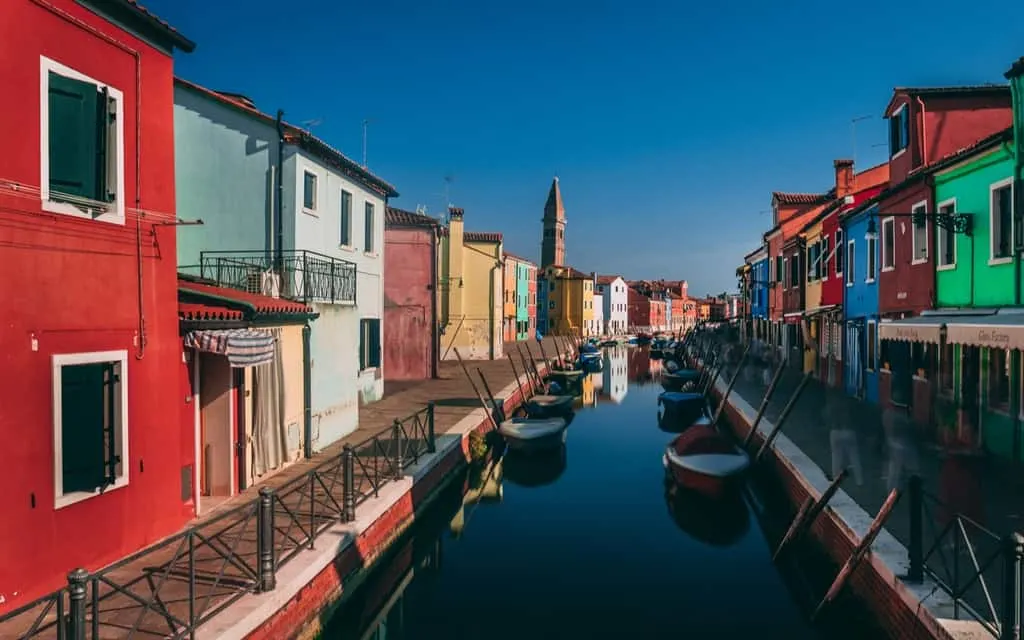 Today it stands approximately 174 feet high and has an incline of almost 6 feet, but it wasn't always that tall. Back in 1774, it was raised 32 feet to satisfy the architects of the time, but maybe they didn't correctly calculate the pressure that the new weight of the tower would put on the old foundation it was sitting on!
Remember the foundation it was sitting on was mud and old tree trunks! At first, is was leaning only slightly over time, then suddenly one day, it moved a lot and caused the bell tower to ring! The locals were somewhat alarmed, but they intervened and today it continues to be at that 6-foot incline. So be sure and check it out, as this is a great place for a photograph!
#9 Stroll across the Tre Ponti: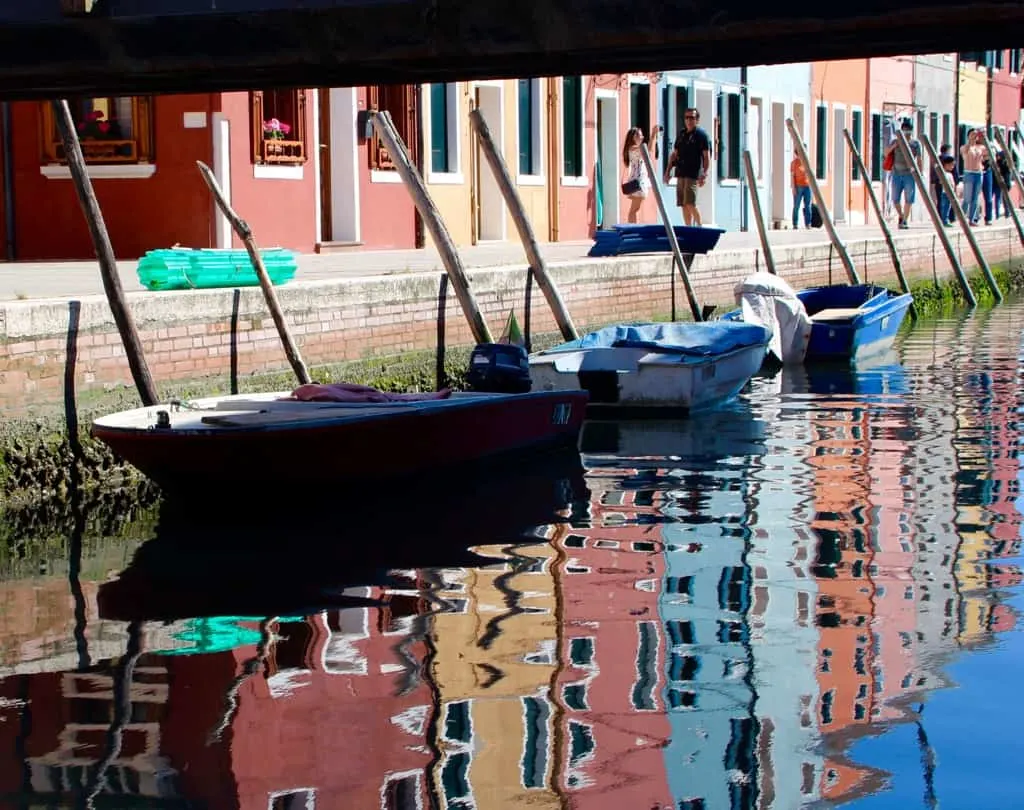 There is no doubt that this bridge is the best place to take wonderful photos and admire an amazing panorama.
#10 Visit the old fish market: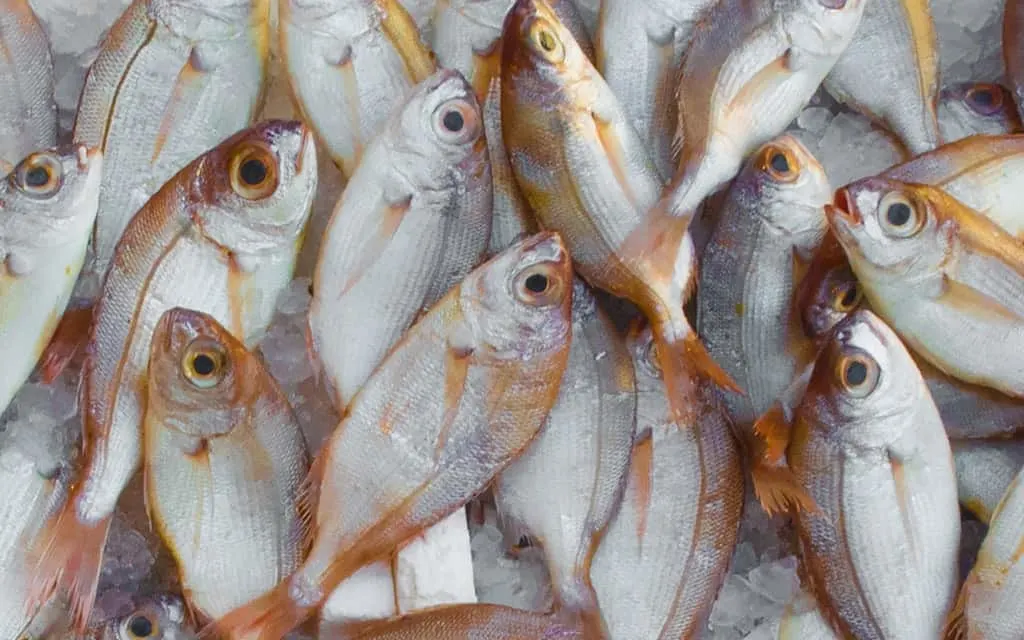 As the sun begins to set on your day trip to Burano, you cannot miss out on the breathtaking view of the sunset over the Venetian lagoon at the Pescaria Vecia.
#11 Visit Via Galuppi:
This is the main street in Burano and it's lined with restaurants, bars, souvenir shops, and pastry shops. You can never go wrong when visiting this marvelous main street for eating, drinking, or shopping. Oh, and of course, for photography! If you wander away from Via Galuppi, you will see fewer tourists and can enjoy the peacefulness of the canals that have attracted painters to the island for years.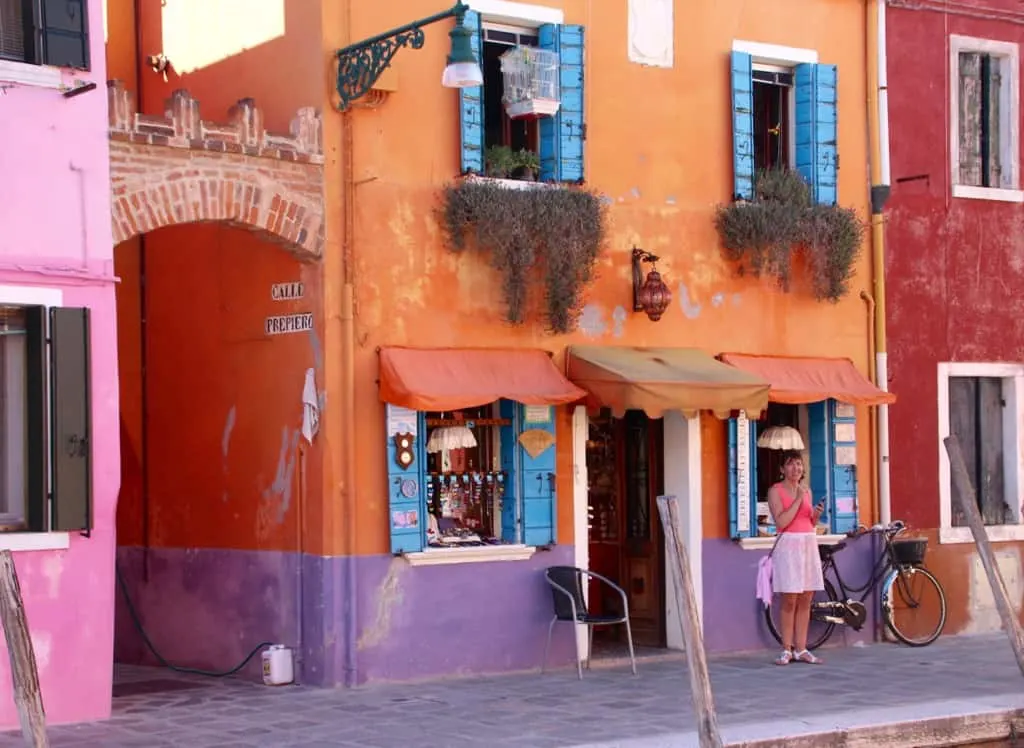 Your amazing Burano adventure will begin the moment you step foot off the Vaporetto. You will travel through the waters of Venice to visit this quaint and colorful village. Explore all the things on this list and enjoy a guided tour through the mesmerizing island of Burano, Italy. Personally, I loved it – sans the tourists that Instagram brings here!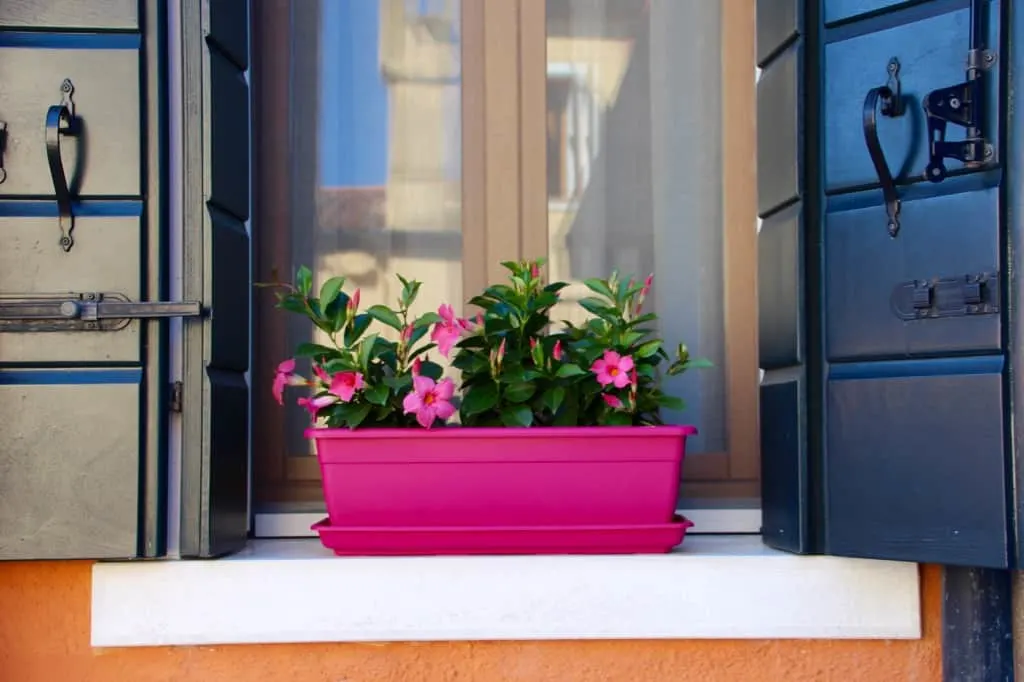 #12 Walk to Isola Mazzorbo
There is an island that is connected by a bridge that you can walk to called Mazzorbo. It is mainly an agricultural island where they grow food and grapes for wine for their Michelin-starred restaurant. It is owned by the Bisol family. The estate is called Venissa Estate. It is possible to stay here and eat at their restaurant. It is a place where time flows more slowly, between the scents and flavors of the Venice lagoon. The tavern serves traditional dishes that have been reinterpreted by their Michelin-starred chef. They are the same owners of the only hotel in Burano, listed below.
Where to Stay in Burano?
I am sure you will think this is wild, but can you believe there is only one hotel in Burano? That's right, there are plenty of Airbnb options, but as a hotel, there is only one and it is called the Casa Burano! It offers modern rooms that are spread out over five colorful houses! Spending the night in Burano is definitely a magical experience.
As after it gets dark, the tourists all go to their hotels in Venice… and then you will really enjoy having Burano all to yourself! When the sun goes down, the locals come out to greet each other and play cards, and the fishermen return to their homes. It is during this time that Burano is more authentic than it is any other time of the year! The next morning, get up early to photograph and watch the fishermen go out for their catches of the day. It truly is a unique time to be on the island.
---
If you happen to come in from Rome, I do have a great article about a few gems in Rome you cannot miss:
Hidden Gems in Rome – Discover the Secrets of an Ancient City
12 + Things To Do In Positano Italy

Disclosure: All photos are by the author, given authority over, or are licensed under creative commons. There may be affiliate links in this article.