By Cacinda Maloney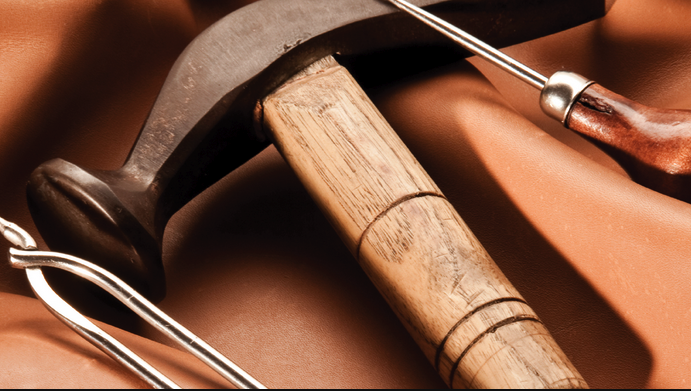 a piece of craftsmanship → un pezzo di artigianato
With its fine Italian leather, this British company known as Maxwell Scott has designed some of the most spectacular bags in the world out of fine grain leather from Italy. I was thrilled when I was asked to review the perfect shoulder strap computer bag for today's woman, the Rivara Large Workbag.  This is not just any computer bag, but one with a double opening that can hold not only my Macbook Pro, but also, can dually function as a purse.
The double long shoulder strap of the Rivara Large Workbag fit perfectly for me, as I tend to be a bit shorter than the average American woman and so I was pleased that it was not too long.
The magnetic snaps held the purse section closed and also the other zipped pouch was a perfect way to keep things within the second pouch sealed.  I was able to keep my wallet, sunglasses, iphone and miscellaneous toiletries without having to compromise and leave them at home.  I even added in my RIFD passport sleeve by Allett, which is slim by design and barely took up any room at all.
This is the type of bag that I can take on a weekend away to get some work done with my Macbook Pro, as it easily fits in the pocket or I can actually use it on a daily basis as a mid to large size leather purse, which is all the fashion these days.  It comes in Classic Tan, Dark Chocolate and Night Black.
Images of Maxwell Scott remind me of Italy in the 1950's and 60's, with the red Vespa's, Fiat or the convertible Alfa Romero's (ie, classic Italy).
Sometimes I dream that Mr. Scott is my Italian lover and that he knows the perfect way to a woman's heart.  He sweeps me off my feet and takes me to all the romantic places in Italy and then we take off for exotic places unknown to wander.
 Wishful thinking, as I know 'Romance is dead'.
Maxwell Scott is a small brand company that specialized in luggage, handbags and accessories.  Their bags are designed in England, yet handmade from vegetable-tanned Italian leather at their factory in Italy.  They fit the perfect definition of value luxury.  Luxury at its finest, with value built in.

When I wrote this review, I was in Italy and saw quite a few different qualities and grains of leathers and I have to say that this one looks quite exquisite and also that the coloring of the tan leather is a perfect shade of tannery brown.  There are many styles to choose from and they come with an amazing lifetime manufacturer's guarantee for the natural life of the product. Due to their fantastic quality and leather durability, these products are designed to last substantially longer than most equivalents.
What:  Maxwell Scott
Where: USA office
Maxwell Scott
280 Madison Avenue
#912 – 9th Floor
New York, USA, 10016
Website: USA MaxwellScottBags.com
Costs:  224 Euro equals approximately $307
Value Luxury:  What makes this computer bag value-luxury is the quality of the leather and the workmanship.  This bag is going to last a long time, which helps describes what value is.  I would much rather have an expensive nice piece of luggage/bag over the long haul with a lifetime guarantee of the product than to go through multiple cheap bags that fall apart after about a year of usage.  Leather ages nicely and so gets more beautiful with age, IMHO.
Disclosure: I was provided The Rivara Workbag by Maxwell Scott. I was in no way swayed to write a favorable review but found the product functional, beautiful and that it fit the concept of my blog which is 'value-luxury'.  As always, opinions are my own.
Please follow and like us: