One of Mexico's most well-known tourist spots is Puerto Vallarta. Home to ancient Mayan temples and beautiful beaches, there is a lot to explore. The Beaches, nightlife, and breathtaking views will wake you up in the morning with a smile on your face. There's no other place like Puerta Vallarta's nightlife.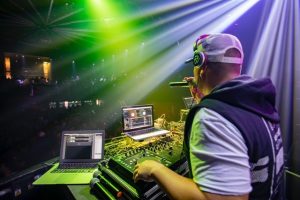 ---
What's in this post:
hide
Puerto Vallarta Nightlife
The Best Bars and Nightclubs
---
---
The best bars in Puerto Vallarta are waiting for you! Neglect the standard tourist traps and experience a slice of Puerto Vallarta's nightlife while you're visiting.
If you are looking for nice bars and clubs, it's a good idea to check out this list of our best picks from the most recommended bar & clubs list by locals.
Mr. Flamingo
Mr. Flamingo is one of the best gay bars along with Los Amigos gay bar. This LGBTQ bar plays pop music from the rooftop. And couples and friends dance their way into the wee hours of the morning.
You'll find something here that suits every taste—even if you are looking to relax and enjoy a more laid-back atmosphere!
The atmosphere is welcoming and fun, with plenty of space for couples to dance together on the main floor. If you're looking for a more intimate experience, head to the second floor, where there are quieter spaces and more sofas to relax on.
While it's still loud enough to dance along with the music, it feels a more relaxed atmosphere than downstairs. Come down to Mr. Flamingo and enjoy yourself with new friends as you sing along to your favorite songs while dancing with neon tropical décor.
Roxy Rock House
Are you ready for the biggest New Year's party of your life? Then look no further than the Roxy Rock House, where the celebration starts at midnight and goes on until the sun comes up. You will never notice that it's closing time already.
This exciting dive pub boasts the most raucous and drunk patrons on our list. The Roxy Rock House is a popular destination for locals and tourists alike. With a laid-back vibe, fantastic live music, delicious food, and drinks, there's no way you can go wrong.
The Roxy Rock House is the best place to see a show in New Orleans. They have a great sound system, and they have a friendly staff that is always helpful and known for their excellent service.
The drinks are strong and cheap, which makes this place even better! The bands that play here are always amazing and talented.
Convince your friends to come with you to this venue. This is the most entertaining destination ever with no dress code. So you can wear anything you want. It will be a great night for the ages, so don't let anyone miss out on it by staying home.
La Vaquita
This legendary party spot is famous for its cow print décor, wall-to-wall people, and seriously giant drinks. You can hold your birthday party here. Or any other special events. This is a great spot for people who like to enjoy the night.
This club is famous for its massive selection of alcohol, and its drinks are served in huge quantities. La Vaquita is an excellent place for those looking for an authentic Mexican drinking experience in Puerto Vallarta.
The theme might be kitschy, but everything else about this boisterous bar is genuine. It's an excellent venue for locals and visitors to share their love of tequila and Mexican culture.
After you order your first shots, the bartender will instruct you to climb onto the bar and grab a rope hanging from the ceiling.
You'll swing across the room with a shot glass in hand as your friends snap a picture. Everyone will be jealous of your vacation pictures after this night! It's one of the best places in town to play around with.
La Santa
When the sun goes down, La Santa Vallarta nightclub is where the party is. Located in beautiful Puerto Vallarta on Mexico's Pacific coast, La Santa is a place where locals and tourists alike can come to dance the night away.
It has all the ingredients for an unforgettable night: glamour, glitz, luxury, and fun, all rolled into one. With its sophisticated décor, it is considered the most fashionable nightclub in Puerto Vallarta and is often compared to luxury hotels.
Every night, the DJ spins incredible sets to bring saints and sinners together in this dance club till the night is done.
If you're looking for a great place to celebrate with friends or your significant other, this is the best option for you. La Santa Vallarta will make sure you have a good time from start to finish.
La Bodeguita del Medio
If you're looking for a perfect place to grab a drink in Old Havana, look no further than La Bodeguita del Medio. With its laid-back atmosphere and live Cuban music, this open bar is one of the most popular sports in the city—and it's easy to see why.
There's something about the weathered walls, the warm rays of sunlight coming through the windows. The breeze from the ocean makes you feel like you're in a completely different world.
It feels like a hidden gem that will make you want to keep coming back again and again. When you go to La Bodeguita del Medio, it's not just the haute cuisine and good options of drinks you're going for—it's the experience.
La Bodeguita del Medio is one of the popular spots you can visit to have a drink. You will see exciting club scenes that will make you forget about the dark events in your life.
El Solar
El Solar lies at the end of Calle Basilio Badillo, one of Puerto Vallarta's most popular streets. When you walk through the entryway adorned with a mural of Frida Kahlo, you'll find yourself amid a tropical oasis.
The bar is set within a lush courtyard that features a retractable roof and fountains. Although the bar has a small space, it still has the perfect location for that perfect spot to drink. No matter what the weather is like outside.
El Solar was built around an existing tree that rises to meet the retractable roof, opening and closing to allow light and air into the bar.
They also have an open-air terrace to enjoy your drinks while listening to the DJ. Also, you can watch live entertainment by local musicians, dancers, and circus performers.
The bar offers innovative cocktails crafted with local tequilas, mezcals, and raicillas.
Bar Morelos Mezcaleria
Bar Morelos is a sleek and modern bar that serves many mezcal drinks. Bar Morelos, has loyal regulars who enjoy its friendly atmosphere and wide selection of tequila's smoky hipster cousin.
Although mezcal itself is well known, Bar Morelos has gained international attention for its mezcal-based cocktails.
The bartenders are happy to make recommendations. They guide you through the process of choosing the perfect drink for your tastes.
Try one of their signature cocktails if you aren't sure what to choose. The Mezcal Mule is refreshing and crisp, while the Smoky Orange Paloma is a tropical twist on a classic.
You can also ask for a special cocktail that contains their secret ingredient, which enhances the flavor and will leave you wondering what it is.
Los Muertos Brewing
If you are a die-hard beer lover, it's hard to beat the atmosphere of a microbrewery. With the explosion in the popularity of craft beers, many places worldwide now feature their local brews.
The City of Puerto Vallarta is no exception, and Los Muertos Brewing is one of the best examples in Mexico. Located in Old Town, Los Muertos features many beers and a lively, calm atmosphere.
The menu at Los Muertos is almost overwhelming—there are so many choices you may not know where to start! If you're unsure what to order and would like some help, start with a beer flight. A flight is several small glasses with different samples of beer on them. It's the perfect tool for figuring out what flavor combination you prefer.
If you'd instead go with something more traditional for your palette, try the Stout), which has a smooth taste that's easy to enjoy. The options are endless.
Señor Frog's
Senor Frogs is one of the best clubs in Puerto Vallarta. And this is coming from someone who's been to a lot of them.
When you walk into Senor Frogs, you will be greeted by enthusiastic staff members with excellent bottle service. They will ensure that your fiesta gets off to a great start.
The party starts early in the evening with a mariachi band playing traditional Mexican music and goes on until late. Throughout the night, live bands perform all sorts of music. This includes country, rock-n-roll, and even some contemporary hits.
The atmosphere at Senor Frogs can be described as anything but dull. There are hundreds of people singing along to their favorite songs and dancing the night away. You'll feel like you're part of something bigger than just another night out on the town.
You'll have no trouble finding drinks there either. There's a full bar on-site that serves everything from top-shelf liquor to beer by the pitcher or bucket if that's what you prefer.
Reinas Bar
Reinas Bar is located at 361, Zona Romántica, Lázaro Cárdenas, Puerto Vallarta. It is not like any other nightclubs out there. The place has three distinct sections. It has an outdoor patio area that is surprisingly tranquil for being right in the center of Puerto Vallarta's hustle and bustle.
There is also the main room with a bar. Lastly, there's a back area with pool tables and a dance floor. This is where you'll find some of the most legendary drag shows and drag queens in town.
This place is like a scene straight out of a fairytale. The walls are painted a deep blue, with flecks of glitter and gold forming constellations across the room. The bar itself is shaped like a crown and is flanked by imposing wooden thrones (not to mention the regular barstools).
If you want something more substantial than just beer, some small snacks are available. Including potato chips and peanuts. But the real draw to Reinas isn't the food or drinks–it's the atmosphere and good music.
Strana
Strana is a Puerto Vallarta nightclub that evokes a massive gothic cathedral. It is located at Francisco Medina Ascencio.
The theme of this club is "Old World meets New World". It combines elements of both with its décor. Which includes red velvet curtains, chandeliers, and stained glass windows.
At Strana, you'll find some of the best DJs in Mexico and live music shows on the weekends. There are also dance floors for salsa. And tango nights where you can have a great time of your life. Surely you will never forget this kind of place.
This nightclub also offers a wide variety of drinks, both alcoholic and non-alcoholic. They have reasonable prices, especially considering the quality of what you get for your money.
When you're not dancing to your favorite music in this piano bar, you can enjoy their best cocktails or beers at Strana's bar.
They serve drinks like margaritas and mojitos and domestic and imported beers such as Corona Extra, Heineken, and Modelo Especial (a Mexican beer). Take your tour here and experience Strana during your spring break or any other holidays.
Twisted Palms Rooftop Lounge
It's no surprise that this beautiful spot has such an exceptional reputation. The views alone are enough to draw you in. With a stunning location and a well-crafted drinks selection, this trendy venue has achieved legendary status as a Puerto Vallarta bar.
The Twisted Palms is recognized for its fantastic martinis created by a crew of friendly and competent mixologists. Their rooftop bar offers beautiful views of the surrounding mountains and ocean. But it's not just the cocktails that make this a special place.
When you step into this bar, you'll be greeted by a warm ambiance and a pleasant scent in the air. Putzulu is best known for its signature candlelit tables. And has various other seating options to accommodate everyone from large groups to intimate couples.
And while they don't serve food at this location, there's no shortage of excellent dining options nearby. Putzulu offers an ideal place to meet new friends. Or get away from it all with someone you love while enjoying one of the area's best drink menus.
Mi Querencia
What could be better than enjoying a beautiful morning on your vacation in Puerto Vallarta? There is no better way to start a day at the beach with flip-flops on than with a hearty, delicious breakfast.
Some of the best breakfast spots in town are right on the beach. So that you can enjoy a tasty meal with an ocean view. Mi Querencia is an excellent restaurant for breakfast, lunch, and a delicious dinner.
It is located in Malecon of Puerto Vallarta. The views from this restaurant are spectacular. Inside, Mi Querencia has a rustic charm with its exposed brick walls and red color scheme. It also has an airy feel thanks to its high ceilings.
The food is excellent and features local specialties such as tacos, enchiladas, and guacamole. Mi Querencia also has a great breakfast menu. The Mexican coffee is strong enough to jumpstart your day!
On weekends, they feature Mariachis, an eight-piece group with three violins that play traditional Mexican music for diners' enjoyment.
Bar Frida y Restaurante
Bar Frida is a long-running, well-known fixture in the gay-friendly Zona Romántica. This gay lounge bar has been popular in recent years. It's not just because of the affordable drink prices and laid-back atmosphere but also because it's friendly and welcoming.
This makes Bar Frida an ideal place to hang out if you're looking for a laid-back atmosphere without much pretension. It's like your local spot back home, but with a tropical twist.
With its wide range of daily drink specials, the atmosphere at Bar Frida is always lively and upbeat. They offer micheladas and spicy Bloody Marys made with beer instead of vodka on Friday and Saturday nights.
Each day of the week has its specialty. For example, Sunday through Thursday, they serve two-dollar margaritas. On Fridays and Saturdays, they have 20-peso beers. The best part? Those deals never expire! You can get a cheap margarita any time of day or night and get a low cover charge.
Almacén Cocktail
Located in Old Town, Almacen is one of the most popular places for locals and visitors alike to enjoy the nightlife in Puerto Vallarta. It has also opened its first location on the Marina. Which feels like a hotel zone.
The cocktails at Almacen are expertly crafted using the freshest ingredients, and the bartenders are friendly and knowledgeable.
The bar offers a wide variety of top-shelf liquors, fresh juices, and aromatic spices. The bartenders have perfected their craft so that each cocktail is an experience.
Almacen is an excellent place for those seeking nightlife in Puerto Vallarta. Especially those who prefer to avoid overcrowded nightclubs or loud music. It also makes a romantic zone for couples on dates. The same with Olas Altas Street. Once you experience this place, you would wish to live next door to have more of it.
Bar La Playa
The La Playa cocktail bar is a classy, trend-setting favorite in Puerto Vallarta that all the locals love. A mix of locals and tourists frequent this hotspot. Which serves up a variety of classic cocktails and a few specialty drinks, and house favorites.
However, what sets this place apart from other bars is the presentation. Instead of serving their drinks in the usual glass tumblers or martini glasses, La Playa has opted for the latest craze of cocktails in mason jars.
The mason jar is a classic symbol of Americana. When paired with an authentic mason jar lid and straw, it adds to the excellent atmosphere of old-world charm that makes this place so charming.
In addition to excellent food and drinks, La Playa offers live music on weekend evenings. It is often performed by well-known local musicians. Who have come to be favorites among Vallarta's great music scene.
If you're looking for a happy hour and an excellent meal in an atmosphere unlike anywhere else in town, La Playa is the place to go!
Coppa
Coppa is a bar with a low ceiling and an attractive mezzanine floor filled with scattered sofas. It's a comfortable and good spot to have a drink.
Despite its attractiveness, the décor is not the primary draw here. Coppa also offers a delectable selection of exotic beer-based cocktails that are a must-try for every visitor to Vallarta.
The menu offers plenty of choices, ranging from a simple margarita served with lime and salt to complex concoctions like the Golden Tiki, including pineapple juice, coconut cream, and Goldschlager.
The unique offering is the Michelada, in three different flavors: mango, tamarindo, and pina. Each flavor is delicious in its way.
The mango balances the beer with just the right touch of fruitiness. The pina brings out more of the beer's characteristic bitterness.
You may want to sample them all before you decide on your favorite! Each drink is served in its unique glass, and you can even purchase the glasses as souvenirs if you want to bring home something special from your trip.
If you want to travel to different bars in Puerto Vallarta, you can have a travel agency to assist you. There are many links on the internet that you can subscribe to, but if you don't like travel agencies then you can easily unsubscribe links on the internet.