London is filled with some super fun things to see and do, but if it's your first visit to London then there are a few things you need to tick off your list. And one of them is to take a spin on the London Eye! So if you want to see London from a different perspective, then you have to take a ride on the London Eye.
What is the London Eye?
It is a giant Ferris wheel on the South Bank of the River Thames that towers over London at over 443 feet in the air! This is the highest Ferris wheel in all of Europe and the most popular paid attraction in the UK. The London Eye has 32 capsules that you can ride on and they represent the 32 boroughs of the city of London.
Romance on the Eye of London
And if you are looking for the best time to ride the London Eye, then the best time is around the sunset in this gorgeous city. This "magic hour" is always the perfect time for photography. During this time, the "magic" happens and you can see London come to life for the evening, as the lights begin to twinkle.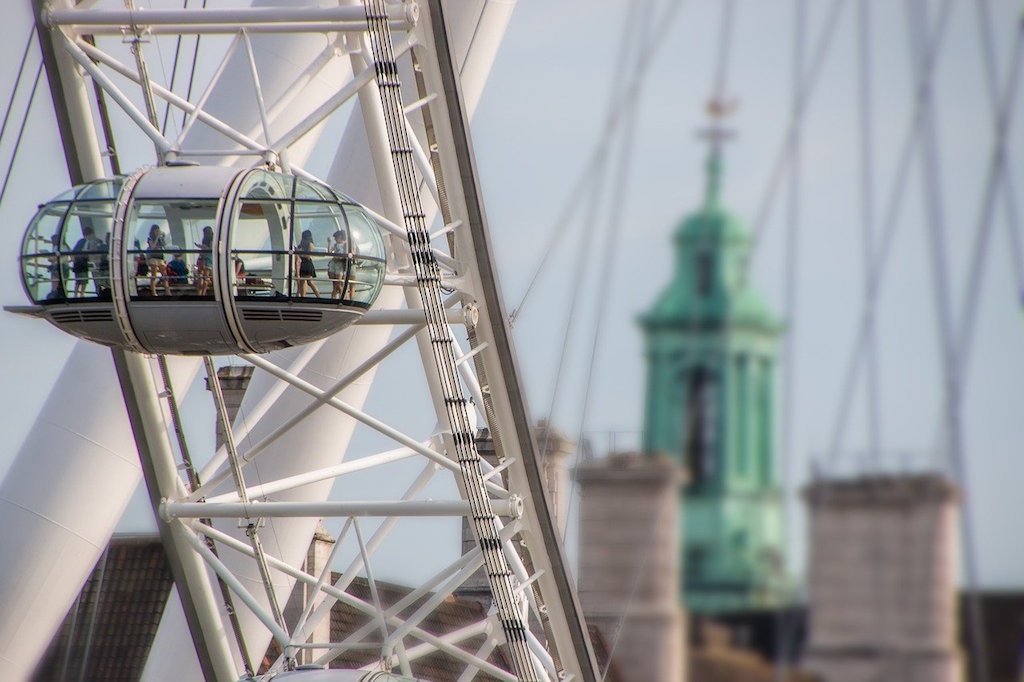 Make a Reservation for the London Eye
Before we arrived at the eye of London, we made a reservation online well in advance. We got the Fast Track tickets, so we could scoot to a separate line from the general public. Literally, we passed hundreds of people waiting for their turn. So be sure and get the Fast Track tickets, they may cost a little more, but they save you more than an hour of waiting!
Before you take a Spin on the Eye of London!
Before entering the London Eye Ferris wheel capsule, make sure to try to determine which interior location has the best view. That is where you will want to go when those doors finally open. Since the capsules fit up to 25 people, we were lucky that there were only 12 people in our capsule. But because it wasn't a very busy day, they were loading fewer people on each capsule. It was nice to have such a great view that we didn't have to scheme to get it.
Once inside, you can head on over to the interactive screen that helps you identify the buildings in a 360-degree view. This helps you take note of any buildings you may want to see close up.

What will I see from my Spin on the London Eye?
You literally can see many buildings from the London Eye. Places like Alexandra Palace, Big Ben, Buckingham Palace, Hampton Court, Hyde Park, London County Hall, and Tower Bridge. They even say that on a clear day you can see almost 25 miles across the city. They say you can even see Windsor Castle!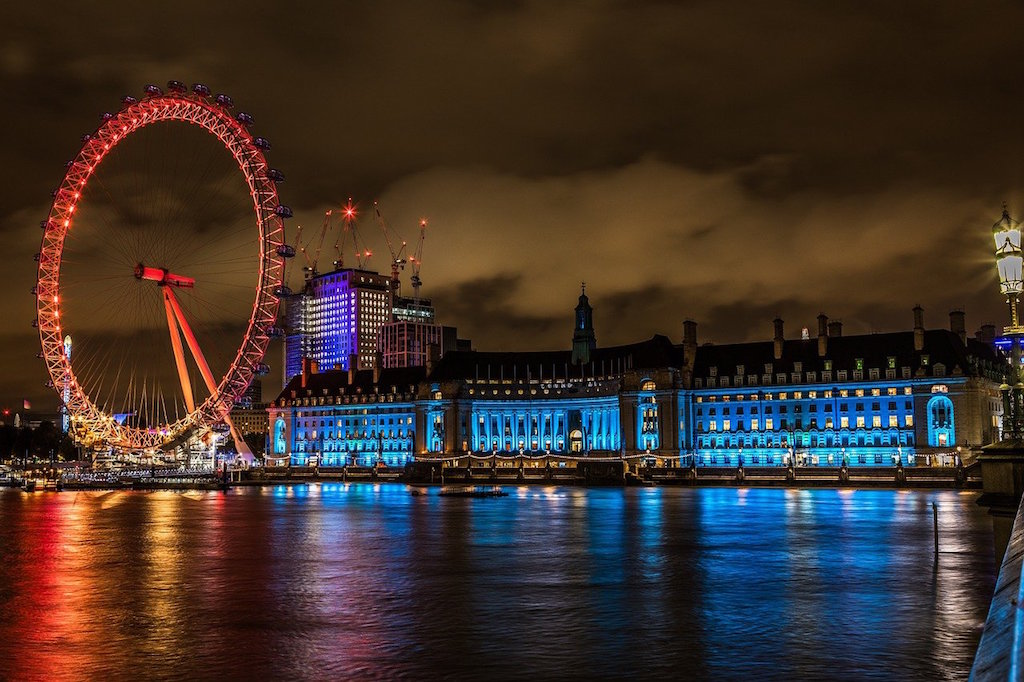 How Long does it take to Spin One Rotation?
Believe it or not, the entire London Eye capsule rotation takes half an hour (33 minutes). So it goes slow enough to avoid boredom and that queasy-feeling some people get in their stomachs! The capsules travel at a leisurely pace of 26 cm per second.
What is it like to ride the London Eye?
There are several Ferris wheels like this one all over the world, but if there was just one that I was going to ride, it would be to take a spin on the London Eye! Here they have a pavilion with a movie theater and other activities that you can do while you are there if you want. But for me, the 33-minute spin was awesome, as I truly enjoyed the ride around and the gorgeous view of London.
And just so you know, the temperature outside was about 60 degrees, which is quite chilly. We dressed accordingly…but by the time the ride was almost over, it started to get warm inside. I would suggest that you wear layers to be prepared for temperature differences.
How much for the London Eye?
Prices? Just so you know, the price is probably more expensive than you may want to pay, especially considering the USD to the GBP exchange rate, BUT I think it is totally worth it. We sprung for the FAST TRACK tickets, but if you don't want to, you don't have to. So a standard ticket costs $35.20 (£24.50) and a FAST track ticket costs $48.16 (£34.50). Fast track London Eye tickets for an adult bought in advance via online booking (which I recommend) cost £37.00 ($44.73) and for a child cost £32.00 ($38.68). A child on the day price is £34.00 ($41.10) for a child.
Are you looking for an Extra Special Experience?
If you are looking for an extra special experience you can pay for a ticket that will give you your own capsule, or a guided tour, or even the champagne experience. With the Champagne experience ticket, you will not only have a glass of bubbles, but you can skip the long lines and start your journey much faster.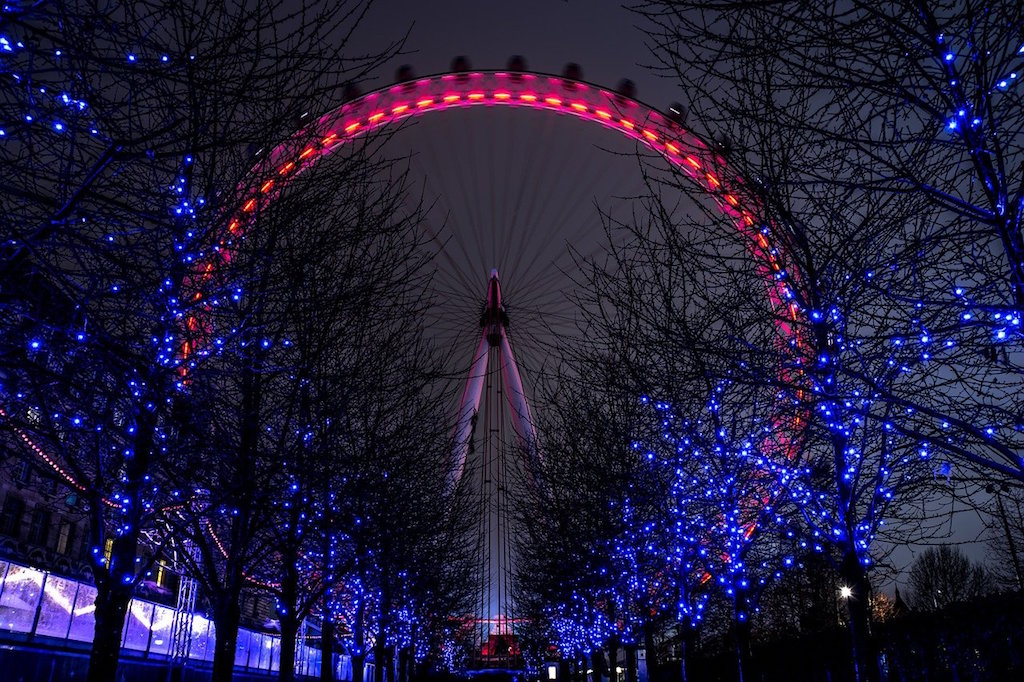 But the best experience you might be dining at 135, which just so happens to be the London Eye's most exclusive experience. This dining experience allows you to enjoy a luxury three-course meal created by Rhubarb Food Design in a private capsule. You will be going for a spin at 442 feet above London's most famous sites. Arrive at the London Eye Bar for Champagne before boarding. They can host 8 guests per capsule with a maximum of 2 capsules during one dining evening.
Plus, if you really want to do a big proposal for marriage – you can do it in a private capsule, although it will cost you $559 (£360) —but at least champagne is included.
---
BONUS TIP – the London Eye offers a day and night experience with two 30 minute rides so you can see the views at two different times. That way you can see it during the day and during the night when it is all lit up. Plus, this type of ticket is only $4 more than the original ticket, so to me, it was worth it!
---
Is the London Eye Scary?
If a high height scares you, then the Ferris Wheel London Eye may scare you, as its height is over 442 feet (135 m. The London Eye is really scary if you have a real fear of heights because of things like glass elevators, glass floors, and observation towers.
---
Have you ever taken a spin on the London Eye? I hope you enjoyed your spin on the London Eye.
---
Here are a few Fun Facts about the London Eye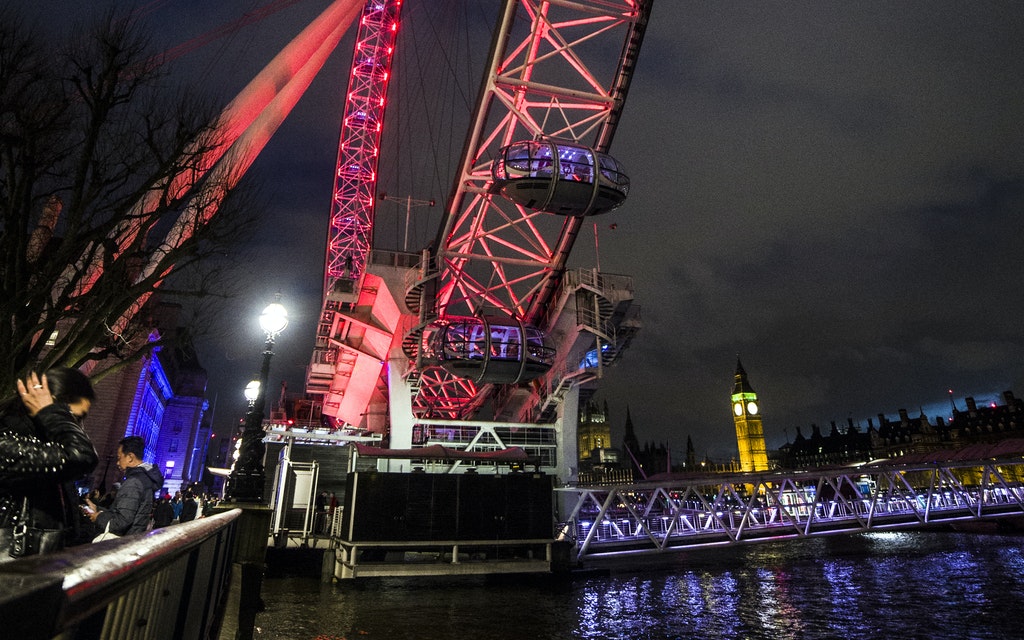 #1. At 443 feet high, the London Ferris Wheel is the fourth-largest Ferris wheel in the world, but it doesn't even crack the top 20 tallest structures in London itself. Plus, the circumference of the wheel is 1,392 feet
#2. A ride on the London Eye takes 30 minutes, and it travels at a speed of about 0.6 miles per hour.
#3. The Ferris Wheel London has 32 capsules (for the city's 32 boroughs), but they're numbered from one to 33. Why? Because there is no No. 13 capsule! Like other buildings in the world, that number is skipped from 12 to 14. So hopefully you are not superstitious about that!
#4 Selfie sticks are still allowed at the Eye of London.
#5. With more than 3.5 million people checking out the Eye every year, it's now the most popular paid tourist attraction in the UK. And yes of course you can bring kids on the London Eye!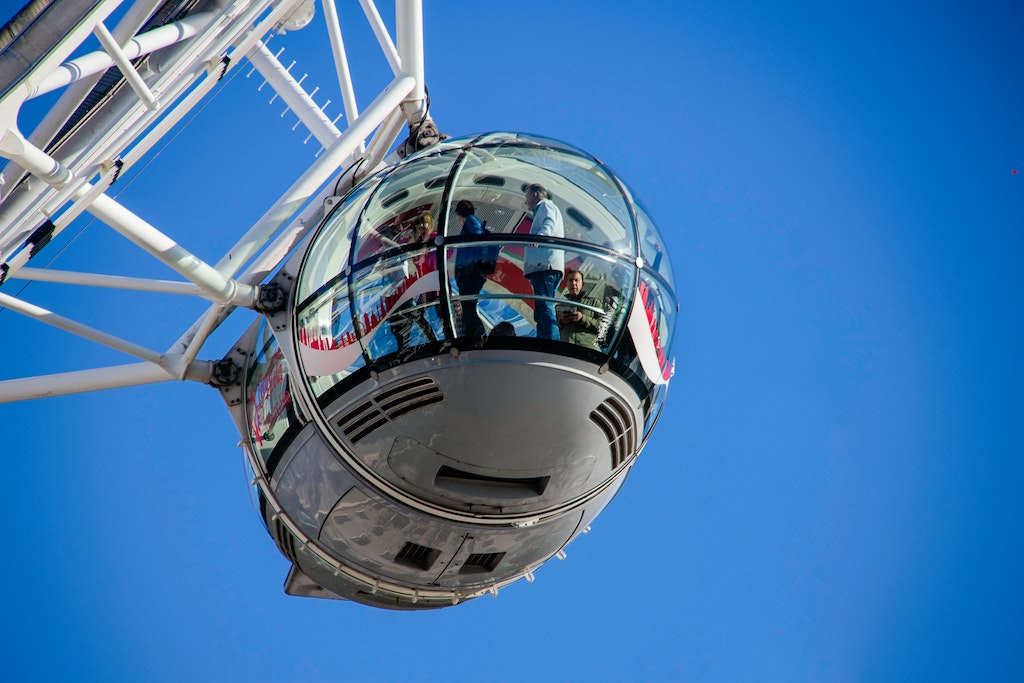 #6. Jessica Alba has gone on the London Ferris wheel 31 times and Kate Moss has been on 25 spins of the Eye. The operators of the Ferris wheel in London keep track of the celebrities who have taken the most rides on the attraction!
#7. The London Eye has 32 capsules (for the city's 32 boroughs), but they're numbered from one to 33. Why? Because there is no No. 13 capsule! Like other buildings in the world, that number is skipped from 12 to 14. So hopefully you are not superstitious about that!
#8. The entire wheel weighs well over 1 million pounds (or more than 1,000 tons). The London Eye can carry 800 people each rotation, which, if you compare it to the London red double-decker busses would, you would need 11 of them!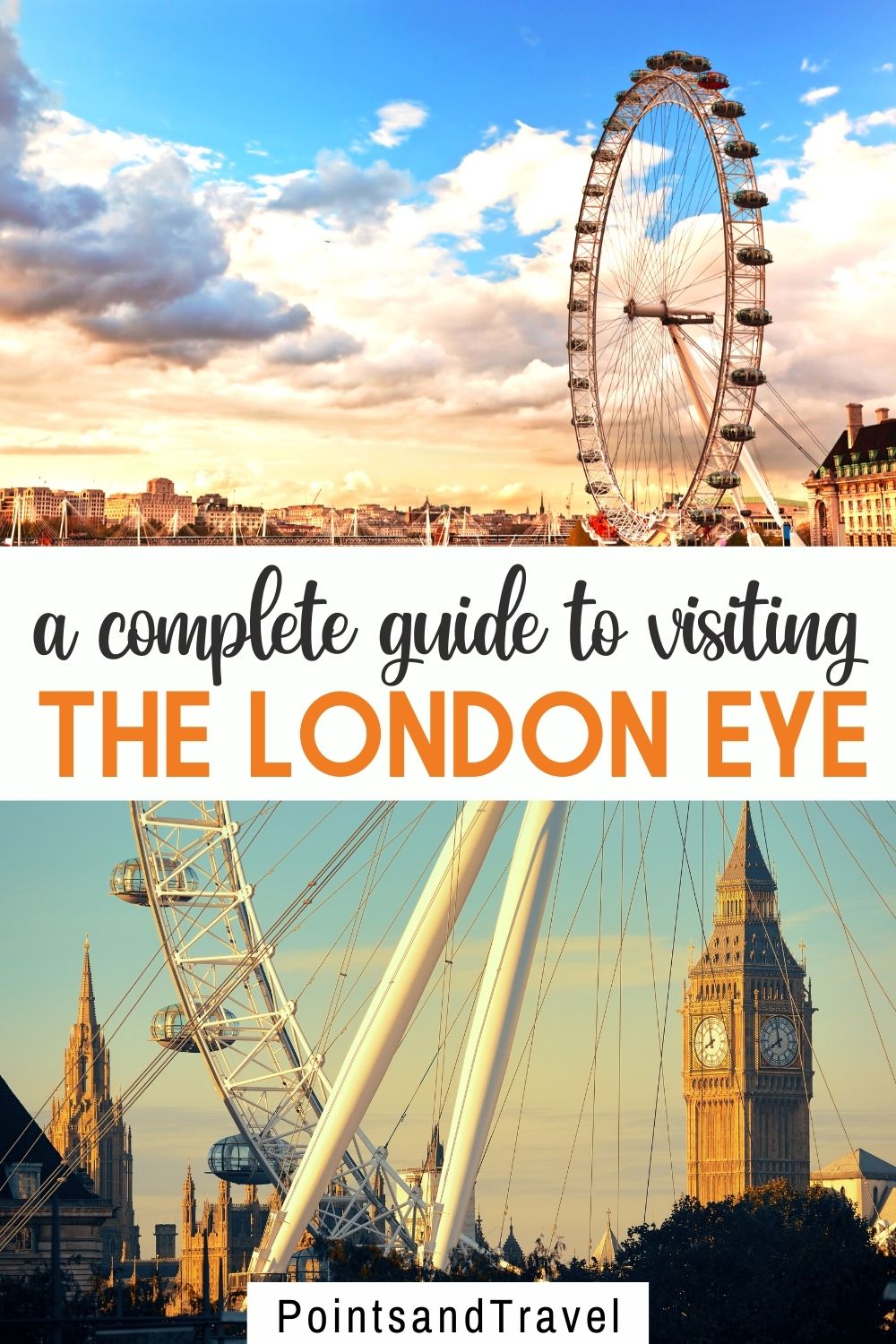 #9. The London Eye is supported on only one side (cantilevered). In fact, the London Eye is not actually a Ferris wheel. It's the world's tallest cantilevered observation wheel.
#10. More than 5,000 people have gotten engaged on the Eye since it opened, with everything from general proposals to amazing flash mobs, the Eye of London has seen it all. And just over 500 weddings have happened here as well! In December 2005 the London Eye was lit pink in celebration of the first Civil Partnership performed on one spin of the wheel!
#11. In 2013, the Red Bull Academy turned the Eye into a rotating nightclub. It turned 30 capsules into different parties to celebrate the UK's club culture.
#12. Legoland Windsor has a scale model of the London Eye as part of its Miniland exhibit. An exact replica of the wheel can be found at Legoland Winder – about 30 miles outside of London—in miniature form.
#13 Before the London Eye presented itself for a spin, there was a wheel here before – The Great Wheel – which was working from 1895 – 1906!