You cannot say that you have been to Key West without tasting a slice of key lime pie. In fact, it is the best dessert that you will find in the area! Just imagine digging into the delicious combination of sweet and tart in one pie. Even if you are leaning towards chocolate, this is one dessert that you should make room for while you are in the Sunshine State.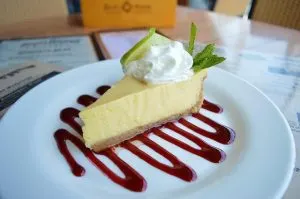 ---
The Best Dessert in Key West
---
---
The name of this iconic pie came from the small citrus fruit that was brought to the state in 1830. Today, it is one of the delicacies that locals and tourists go gaga over. Aside from that, this dessert is made from real key lime juice, egg yolks, and sweetened condensed milk. It may not be the healthiest dessert out there, but there is nothing wrong with indulging every once in a while. That said if you are wondering where to get a piece of key lime pie, read on.
Where to Find the Best Key Lime Pie in Key West
The Florida Keys is a popular destination for beach-goers. After all, it has some of the best beaches in the state. Aside from that, the warm weather and cool water make it a great spot to go on a vacation. It is also here where you will enjoy one of the best desserts in the area which is the key lime pie.
Here are the best restaurants where you can grab a slice of traditional key lime pie. From Key West to Key Largo, time to check where to order this delicious dessert.
El Meson de Pepe
Cuban culture and food are part and parcel of the restaurant scene in Key West. In fact, this Cuban restaurant is the best place where you can get delicious desserts such as key lime pie! Located in Mallory Square, El Meson is home to Mexican desserts too.
In fact, dulces are these moist cakes rich in flavor. Also, try their guava bread pudding and their caramel and coconut flan. You can order online if you like if you don't want to travel from your hotel. Check their affiliate links for other options too.
Key Lime Pie Bakery
Meanwhile, this bakery is the first choice if you want a variety of key lime pies. Just one block off Duval Street, you will find this quaint, photogenic bakery. In fact, it's hard to miss with its lime-colored benches outside. Aside from that, one of the best things here is their key lime pie products. In fact, you can get it whole, sliced, on a stick, or even dipped in chocolate. In addition, you can also buy a Key Lime concentrate here in case you want to make your own pie.
Kermit's Key West Key Lime Shoppe
Kermit's Key Lime Shop is where you will find the finest key lime pie on Elizabeth Street. In fact, they serve traditional key lime pie complete with a graham cracker crust topped with whipped cream. You can buy the whole pie or just grab a slice. In addition, you can opt for a key lime pie on a stick. This is quite popular in Key West. Also, you can also have one dipped in chocolate if you want to satisfy your sweet tooth.
Blue Heaven
Blue Heaven is one of the best places to grab your key lime pie. In fact, its picture-perfect pie slice boasts the most meringue you've ever seen. It is not surprising why this has become the go-to destination in Key West. Aside from that, Blue Heaven offers the "breakfast with roosters" which is a local favorite.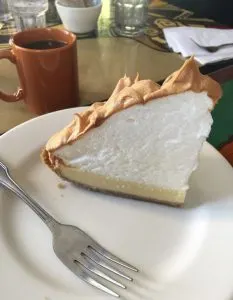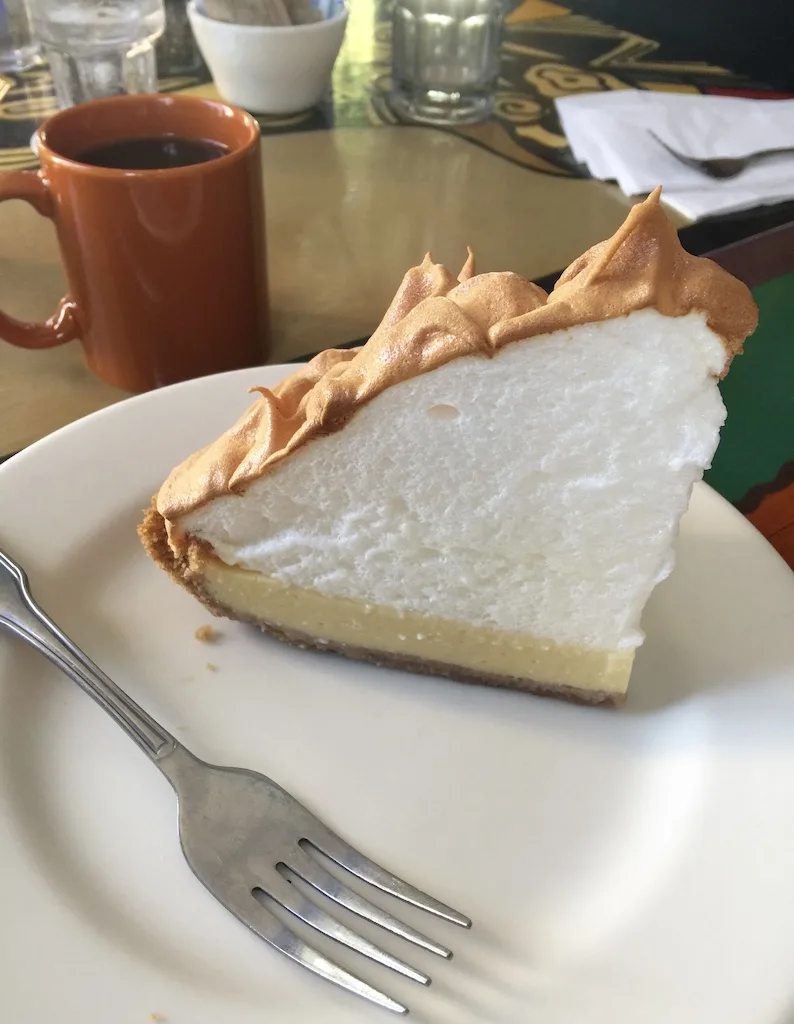 This means having your breakfast on their outdoor patio. Aside from that, tables are set up underneath the trees, with roosters roaming around. If you time your trip here, you can enjoy live music too. This shop is near Ernest Hemingway.
Better than Sex
Meanwhile, this dessert-only restaurant is another popular spot to add to your itinerary. With its low lighting and intimate atmosphere, this is an ideal location for a romantic date night. Expect decadent desserts and wine selection with suggestive names. Think peanut butter perversion which is similar to peanut butter mousse pie with a twist. Try their dark chocolate cake made from dark sweet cherries and pumpernickel bread pudding. If your taste buds are craving something sweet, this is a good choice, especially during late night.
Old Town Bakery
This family-run bakery offers mouthwatering Key Lime Pie to its guests. Aside from that, the popular items in their shop include artisan bread, yummy pastries, artisanal cheeses, and sandwiches. You can grab a sandwich and their famous Key Lime Pie to go. Also, their sticky buns are popular among the locals. Afterward, spend the rest of the day at Fort Zachary Taylor or Mallory Square. Make sure that you drop by early since it is only open from 7 am to 3 pm.
Mrs. Mac's Kitchen
If you are looking for delectable key lime pies, Mrs. Mac's is the perfect place. Located in Key Largo, this shop has been operating for the past 4 decades. Fans of the local delicacy make their way here to grab a slice of the pie. Don't forget to try their key lime freeze which is a secret recipe and milkshake drink ideal for the heat.
Stoned Crab
This full-service restaurant is the right place to have your meal. In fact, expect that they will be serving iconic desserts here like key lime pie. Aside from using natural ingredients, they prefer to use whipped cream over meringue as a topping for the pie. After all, whipped cream is in the original recipe for this pie. In addition, they do liven up their food with chocolate and lime glaze.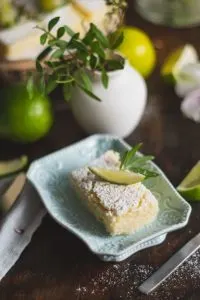 Cuban Coffee Queen
Meanwhile, Cuban Coffee Queen is the right place to grab your coffee. What's even better is that they also offer delicious Key Lime Pie too. In fact, this is a perfect combination to start your day. The good news is that this coffee shop has three locations in Key West, so take your pick.
Conch Republic Seafood Company
If you are in the historic seaport in Key West, then make your way to the Conch Republic. This is where you can enjoy fresh seafood from port to table. Aside from that, their staff members in the main dining room are helpful and ready to assist guests. In addition, they have the best pie here too which is the key lime pie. Of course, don't forget to stay here for their Happy Hour for discounts on their drinks. You'll find this restaurant on Greene Street.
Bonus Dining Options in Key West
There is no shortage of Key West restaurants to choose from. In fact, you should check their fabulous desserts too!
A&B Lobster House
This fine-dining restaurant is a great place to go for a special occasion. Aside from their wide array of delicious food, they have an extensive wine list too. Among these is white, rose, and red wine. The extra cost is worth it for those special moments with your loved ones.
Flamingo Crossing Ice Cream
If you are craving homemade ice cream, this is the right place to be. Their frozen treats are perfect for any hot day. Try their ice cream, non-dairy sorbet, and frozen yogurt. In fact, this is one of the fun places that you can head out to for some cooling treat.
Matthiessen's
Ice cream shops like Matthiessen's are quite popular in Key West for good reason. Aside from their ice cream and giant cookies, they also serve Key Lime Pie. Their sweet treats include white chocolate and unique chocolate made from Belgian chocolate.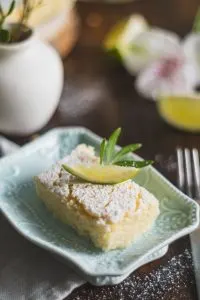 Best Dessert in Key West
Key West in South Florida has everything you need on your vacation. There are grocery stores for your essentials and of course, great restaurants too. In fact, it is hard to choose your favorite place since they are all amazing! Of course, one of the best things about these stores is that they offer your soon-to-be favorite desserts.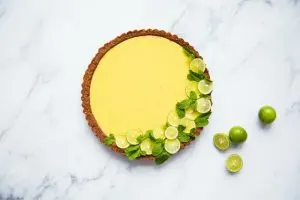 There are lots of great places to head to in Key West that offer fun things to do. Aside from the beaches full of palm trees, the dining scene here is amazing. In fact, you should check the restaurants above on your next visit. The only thing left to do is come and visit Key West.