Hiking is a great pastime and I know many people who enjoy a day out in a state or national park. In fact, the state of Colorado has over forty state parks and thirteen National Forests in case you want to enjoy their fresh air by finding a great hiking trail. Recently I was in Denver, Colorado, and figured out that it is a great spot to depart from if you want to find a waterfall hike near Denver!
---
What's in this post:
hide
Waterfall Hikes Near Denver!
---
Apart from being the home of the first cheeseburger, it is also known as the "Mile High City" because it is exactly one mile above sea level. But the best thing about it Denver is that I can get to a hiking trail in less than four hours! Actually one of the best ways to enjoy a waterfall hike near Denver is to keep reading this article. You will be captivated at the wonderful opportunities for hiking near Denver that has trails with waterfalls!
Distance: 0.2 to 1.5 Mile Round Trip
Difficulty: Easy
Drive Time from Denver: 3 Hours 30 Minutes
The Rifle Falls State Park has a 70-foot triple waterfall. You read that right! TRIPLE! This park is open year-round and is an easy hiking trip that will take you 30 minutes to complete. A great aspect of the trail at Rifle Falls is it is ADA accessible, which makes everyone welcome.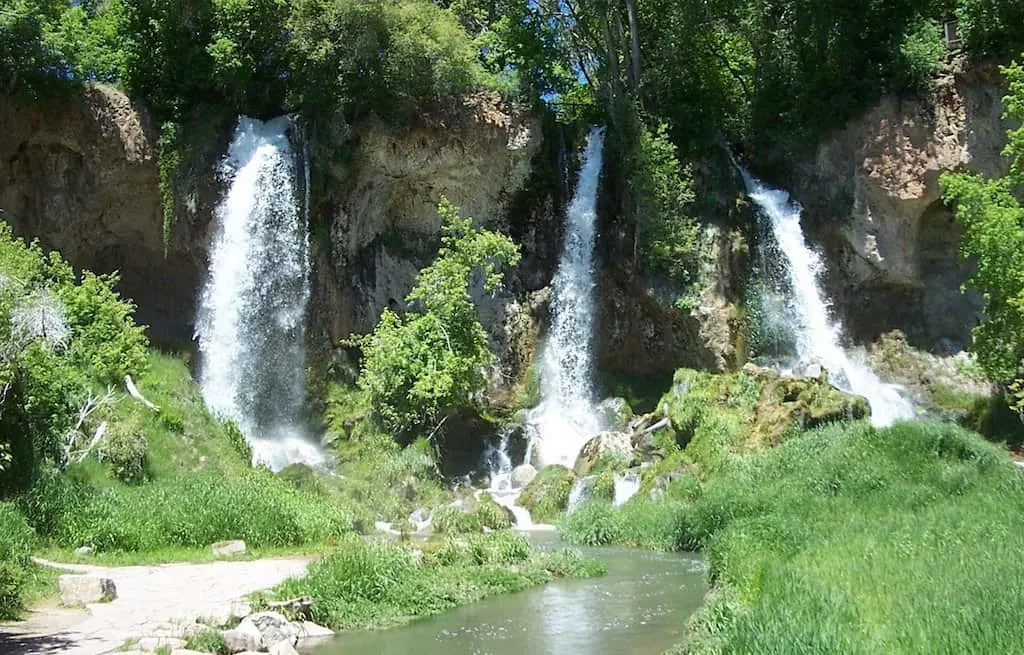 Caves and waterfalls are easily spotted along the Coyote Trail. Parking is accessible and picnicking is the perfect activity after a relaxing hike. Other activities that people enjoy at this park include hiking, fishing, picnicking, and photography. Between May to October, this park offers 20 camping spots. If you want to explore the caves, I recommend packing a flashlight so you can find your way around. I wouldn't recommend bringing a swimsuit because they are no swimming areas or water activities to engage in. Dogs are allowed at this park but only if they are on a leash.
There are various ways to get to Rifle Falls from Denver. Traveling by car is the quickest and easiest way to get there. People have also found that taking a bus or train to Rifle Falls is a great alternative to driving even if it takes a little more than four hours. If you choose a bus, CDOT West Line is the service to use and a one-way ticket costs roughly $25 and takes 4 hours and 25 minutes.
Distance: 0.6 Mile Round Trip
Difficulty: Easy
Drive Time from Denver: 2 Hours 15 Minutes
Similar to the previous location, the Adams Falls hiking trail is a quick and easy hike for everyone. Bordering the Rocky Mountain National Park, the trail at Adams Falls has stunning views and is a lovely waterfall hike.
I would recommend packing light and comfy clothes, a hat and obviously hiking boots. People here love to hiking, go picnicking, and take photos of the waterfall at this park. The trail at Adams Falls is only open from May to September, so keep that in mind. The most spectacular and safest views can be seen from this hiking trail. The most memorizing site of this park is along the East Inlet Creek. Be sure to check out Colorado Road Conditions before you travel so you'll know what to expect on your hike.
A trip to Adams Falls near Grand Lake will take you less than 4 hours and it is inexpensive to get there. If want to take the easier option, then driving is the way to go. A one-way bus ride from Denver costs between $80-$100 and takes 2 hours and 36 minutes. The other option to get to Adams Falls is by train, which costs roughly the same as a bus but takes 3 hours to arrive.
Distance: 0.5 Miles Round Trip
Difficulty: Easy
Drive Time from Denver: 3 Hours
Your eyes will be amazed at this stunning 284-foot waterfall at Fish Creek Falls. The actual hike to the waterfall takes about a 30-minutes roundtrip. I recommend going early in the morning because the park is only open between 6 am-10 am (year-round). The beauty of this park lies in the waterfalls and creek.
Activities to engage in include hiking, picnicking, and ice climbing. The park itself offers 3 different hiking trails: Fish Creek Falls Overlook Hike, which is a ½ mile roundtrip hike that overlooks the entire area. The Fish Creek Falls Hike takes you to the far east end and has you traveling on dirt and gravel. The last hiking option includes a 1-mile loop that combines the first two trails, but then brings you to a picnic area. I recommend bringing hiking boots, snowshoes (for the winter), and lots of water.
You can travel to Fish Creek Falls from Denver is less than 4 hours by driving or flying!. The cost of fuel should run approximately $20-$30 but you might not want to add on 160 miles onto your car's speedometer. The other option is flying into Fish Creek Fall. With less than $300 and a total ride of 3 hours and 28 minutes, you can fly out from the Denver Airport. Flights that depart from Denver arrive at Yampa Valley and then a 40-minute taxi ride will take you to Fish Creek Falls.
Distance: 0.8 Mile Round Trip
Difficulty: Easy
Drive Time from Denver: 4 Hours
If you are in the mood to go on an adventurous and fun camping adventure, then Zapata Falls is where to go. Pleasant activities such as hiking, picnicking, camping, photography, and bird watching can be done here. I recommend going early in the morning to the trails at Zapata Falls to avoid the hot mid-day sun and crowds for your 45-minute hike. As you hike up the mountainside, you will be blown away by the views of the creek, rock formation, and stunning waterfall. Be sure to bring your water shoes to avoid slipping on the wet rocks near the waterfall.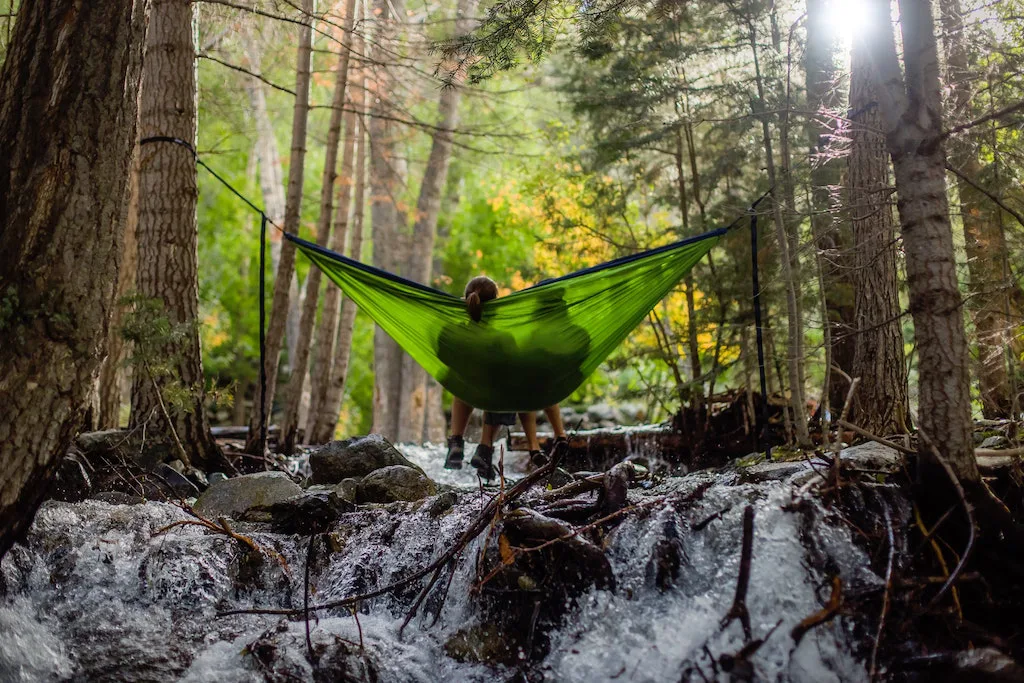 Driving to Zapata Falls from Denver will take you 4 hours. Another option is to fly to Alamosa from Denver. The first leg of the trip lasts one hour by plane from Denver and arrives at Alamosa. The next stop if traveling by taxi to Zapata Falls, would bring your total cost to under $200.
Distance: 1/10th of a Mile Round Trip
Difficulty: Easy to Moderate
Drive Time from Denver: 1 Hour 45 Minutes
Colorado Springs hosts a 35-foot waterfall at Helen Hunt Falls. This waterfall is located within walking distance from the parking area. The hike to the waterfall lasts 10 minutes. Aside from hiking, visitors can enjoy activities such as mountain biking, picnicking, and photography. Most people only make it to the first waterfall but if you are daring enough, then I recommend hiking to the nearby Silver Cascade Falls.
Out of all the waterfall hikes near Denver, Colorado, this one is the closest. If you choose to drive from the center of Denver, then you are sure to arrive in Helen Hunt Falls within a couple of hours. Other alternatives to driving are taking a bus and flying. A bus ride from Colorado will cost roughly $60 and takes 1 hour and 16 minutes, with a track from Greeley to El Paso to Colorado Springs station and then a 15-minute taxi ride to Helen Hunt Falls.
Regardless of which Waterfall hike you choose to go on; they are all spectacular in their own way. Each waterfall comes with a different view and stunning scenery. I recommend checking the weather before you go on your waterfall hike. By checking the weather, you can determine what to bring and what to wear. In my opinion, a backpack is an essential item to bring and it should be stuffed with water, food, tissues, comfy clothing (bathing suit, depending on the weather), sunscreen, hand sanitizer, flashlight, and a first aid kit. Most of these waterfall hikes are open year-round, so pick your favorite spot and take a journey on foot to a new elevation. Happy hiking!
Find Waterfall hikes near me!