Even though there are a lot of campgrounds with electrical hookups, many individuals choose to camp without them because they appreciate the challenge of being completely self-sufficient. Some people go camping with the intention of reconnecting with nature but still want their creature comforts or to be able to work remotely.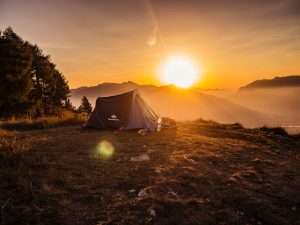 What are the benefits of using a solar generator when camping?
If you are still on the fence about acquiring a solar generator to find out why they are the ideal power source for camping.
Quiet
Solar generators do not make any noise and do not emit any emissions, so you may enjoy the quiet of your surroundings without being bothered by any offensive odors while you are still able to power your camp.
Eco-friendly
The fact that a solar generator can produce clean energy is undoubtedly one of the most compelling arguments in favor of using one. It is an ideal choice for camping in natural settings, where the use of fossil fuels for heating food or powering lighting can be harmful to both the global and the immediate environment.
Safe
Because portable power stations do not run on fossil fuel, using one of these while you are camping in the woods is an alternative that does not pose any health risks. The use of these generators to power lights and appliances inside of a tent or caravan is completely risk-free, in contrast to the usage of gasoline-powered generators.
Solar-powered generators can have a lifespan somewhere between 25 and 35 years, depending on the quality and brand of the generator. Even though they could appear to be pricey at first, in the long run, having them can be regarded as a worthwhile investment.
Ease-of-Use
A portable solar generator comes with everything you need to power and charge your electronics and home appliances. When you are ready to power up your gadgets, all you need to do is plug in your solar panels, connect the unit to an electric vehicle charging station or the grid, and then plug in your solar panels again.
Portability
The most reliable portable power stations have all of the important parts needed to make electricity from the sun. So, unlike the kits that are used to wire a house or a caravan, it is easy to move to any location. Combine solar panels that are suitable for travel and can be folded up when not in use.
Versatility
Even if you want to buy a portable solar generator to use while camping, you should know that these generators can also be used for other things. Because they are so simple to operate, you can just pick them up and take them with you wherever you go. It is portable enough to take in the car, to the office, to the shed, or to any other location where you might require more power.
What to Look for in a Solar-Powered Generator for Camping
Power outlets available
Because camping has evolved so significantly over the years, you can now bring your technology with you everywhere you go; however, it is important to consider how many outlets you will use in order to charge all of your equipment.
If you only intend to charge a mobile phone, a laptop, and a drone, then you might be able to get away with a smaller number of charging ports. If you are going to be powering the gear of an entire family in addition to high-wattage appliances, you are going to need something larger.
Portability
When going camping, some of the most important considerations to make are related to weight and size. There is only a certain amount of space available for storage in your car or caravan, and once you have loaded all of your necessary camping gear, there will not be much room left for additional items. Also, you need to think about the size and weight of a portable power station in a realistic way.
Various modes of charging
The presence of a variety of charging options is an excellent indicator that the solar-powered generator you are looking at is of good quality. It is always a good idea to have different charging options available, even though solar energy is not only cost-free but also environmentally friendly and renewable. This is because there are times when there is little to no sunlight and you really need to power your generator. Solar generators can be charged in a variety of ways, the most prevalent of which are now wind turbines and standard electrical outlets.
Who can benefit from camping with a solar generator?
Solar generators have a vast variety of applications for campers, and they are beneficial for anyone who wants to travel or camp away from a grid supply of electricity. The following are the most prevalent uses:
Truckers: Solar generators offer a simple plug-and-play dual battery system for truck campers, making camping in the back of a pickup easier than ever before.
Setups in a Car or Ten:t Whether you are camping in the comfort of your SUV or out of a tent while taking a road trip, a solar generator provides a safe source of off-grid power for your devices while not taxing your vehicle's battery or electrical system. This allows you to get the most out of your camping experience no matter what type of setup you choose.
Camper Vans: It is simple to install a solar generator in the place of a "house battery" in a do-it-yourself camper van, which will provide your creation with a more versatile power source.
Do-It-Yourselfers and Electrical Beginners: When compared to more complex solar systems or twin battery setups, which require each individual component to be properly matched, scaled, and wired, the use of solar generators for camping electricity requires a significantly lower level of wiring and electrical understanding.
A few parting thoughts
The vast majority of campers now believe that having a solar generator is absolutely necessary for their trip. These solar power stations are preferred by many people who are looking for an exciting new experience over the more traditional fuel-powered generators because of their user-friendliness and large battery capacities.