The winter months are finally here! You might be thinking of staying indoors and just waiting for the summer months to roll in, but why should you? There are plenty of outdoor activities that you can do, even in the chilly weather. The best time to explore the outdoors in Oregon is during winter. There are fewer people to bump into. Winter hikers will be spoiled for choices in Oregon since it has the best hikes to offer.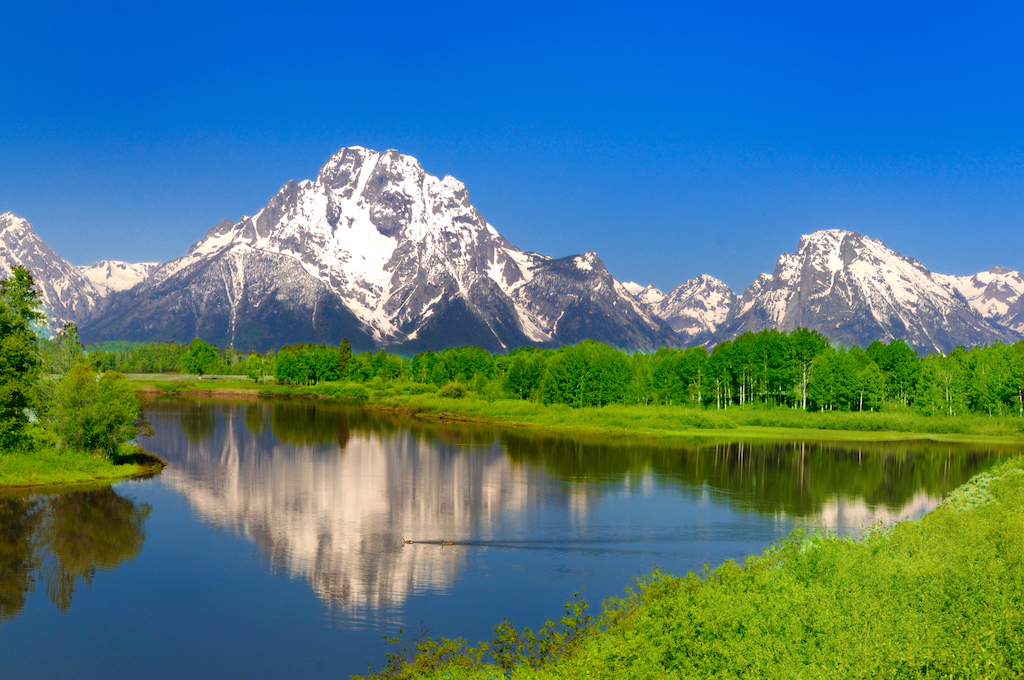 ---
What's in this post:
hide
Great Places to go Winter Backpacking
in Oregon
---
The winter season in Oregon is simply breathtaking. You can take advantage of all the snowmobile trails here. Cross-country skiers will be spoiled for choices, as well. There are miles of trails for you to pick for your winter adventure such as:
#1 Mount Hood/Columbia River Gorge
Are you missing the summer season lately? A trip to the Deschutes River trail is a must. The Colombia gorge has an area that is sunny most of the time. The Columbia gorge has an out-and-back trail that you can explore on your own or with the whole family. The three-mile trip is a good start for your day trip with fantastic views to keep you company. You can also do a scenic flight over the Columbia Gorge waterfalls! Or you can even take a private Columbian Gorge Air Tour!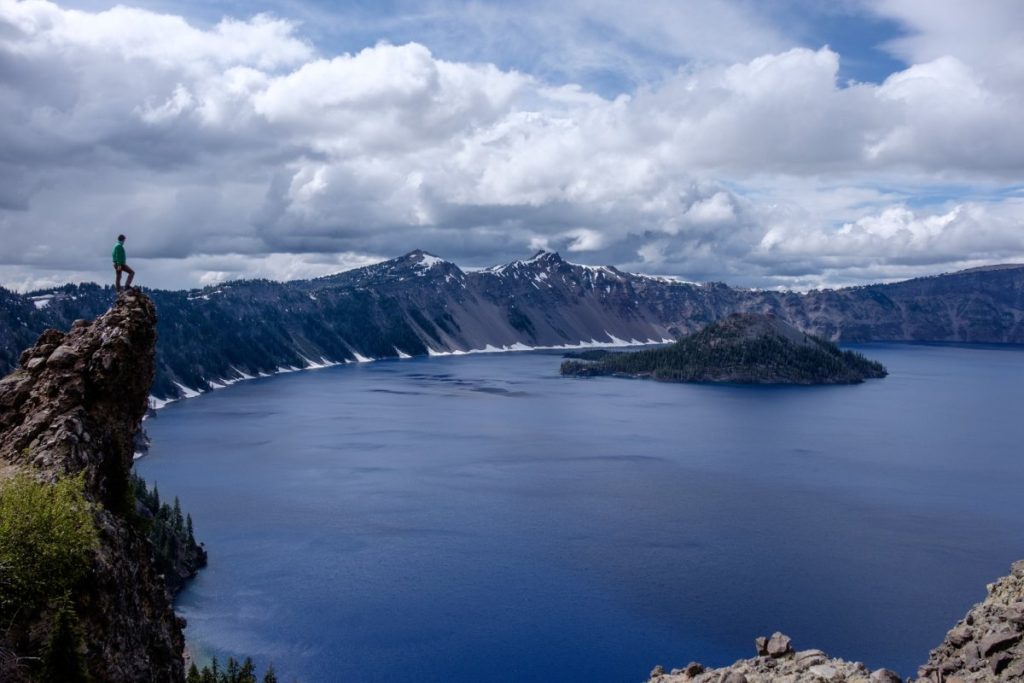 Eagle Creek is also a good starting point. It has just recently opened after a forest fire devastated the area. The main trail is still intact, but the surrounding trees have been thinned out. You can also visit Trillium Lake even if the forest service road is closed during winter. This area becomes the site for recreational activities this season.
#2 Crater Lake National Park
Crater Lake is the winter wonderland of North America. It has 43 feet of snow that blanket it each year. There are 183,224 acres of backcountry waiting to be explored. One of them will give you the best view of the deepest lake. You can explore the backcountry on your own as long as you have experience. The more adventurous people do cross-country skis around the rim of the crater.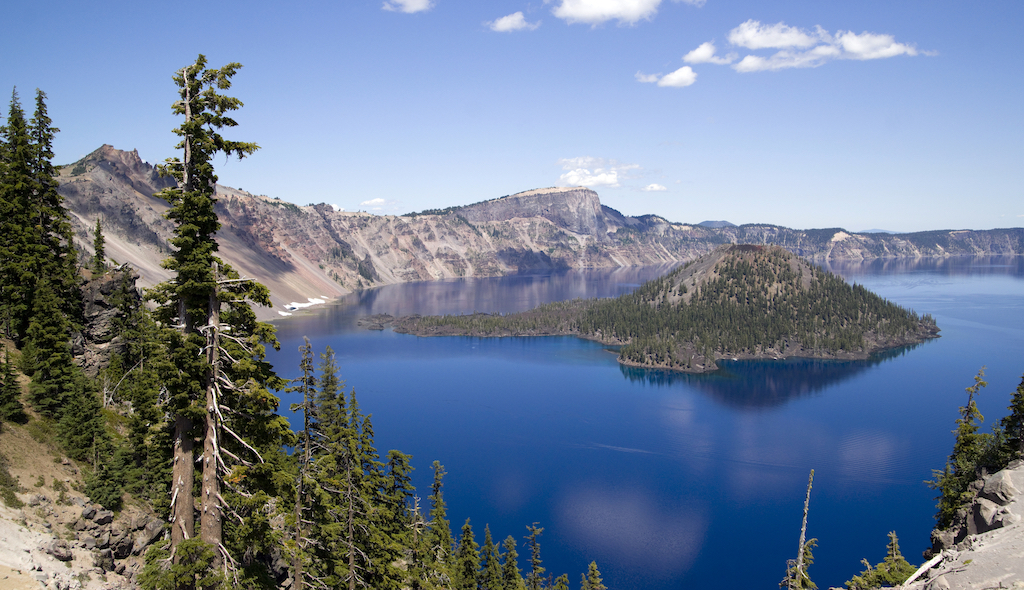 You can also try their snowshoe hike if you want a tamer adventure with the whole family. Crater Lake offers a 1 to 2-mile hike ideal for all ages. You can rent your snowshoes here for free. The Rim Village is the perfect spot to see the crater. You should try the Rim drive to see the sights up close.
#3 Lower Klamath National Wildlife Refuge
The winter weather should not stop you from visiting Lower Klamath. This is the perfect time to see migrating birds in the area. Visiting here is free from charge. Cruise around the sanctuary while viewing birds of prey in their natural habitat.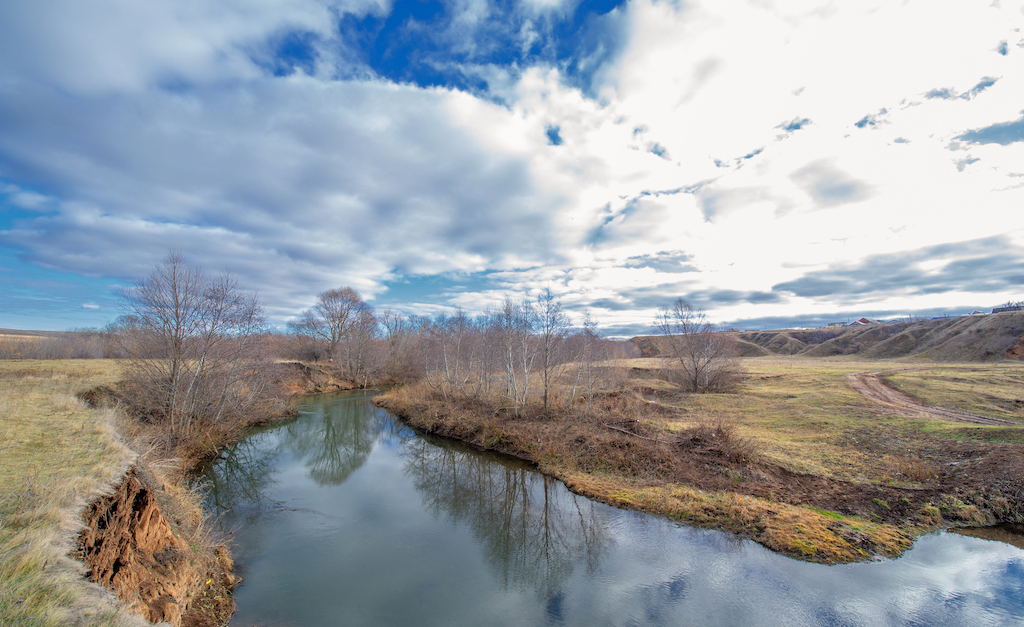 Mountain bikers frequent the area because the terrain is mostly flat. Its main attraction is its stunning winter landscape. Don't forget to bring your camera too to snap up photos of the wildlife here. The Ladd Marsh Wildlife Area in Eastern Oregon is also an option to consider.
Winter Time Hikes in Central Oregon
#1 Deschutes River Trail
Do not confuse this one with the one in Columbia River Gorge. This trail is accessible from the heart of the Bend which is favorable to the locals. There are different winter trails to choose from. You can start with the flat terrain if you are just new to the area. Experienced hikers can test their mettle on the steep and rocky trails. You will find the ideal hiking trail here regardless of skill level.
You will need a pass for the parking area, you can get online. Watch out for runners and bikers too. The best way to enjoy the place is during weekdays or early in the day while there are fewer people around.
#2 Brice Creek Falls
Heading out to Brice Creek Falls this time of year is a good idea. You will need to take a detour in South Willamette Valley to reach it. The Falls is located in Willamette National Forest. The 5.7-mile trail will take you to Crystal Clear Lake. There are plenty of old trees surrounding it. There are different trailheads here that will take you to two waterfalls. You can use them even if you don't want to complete the hike.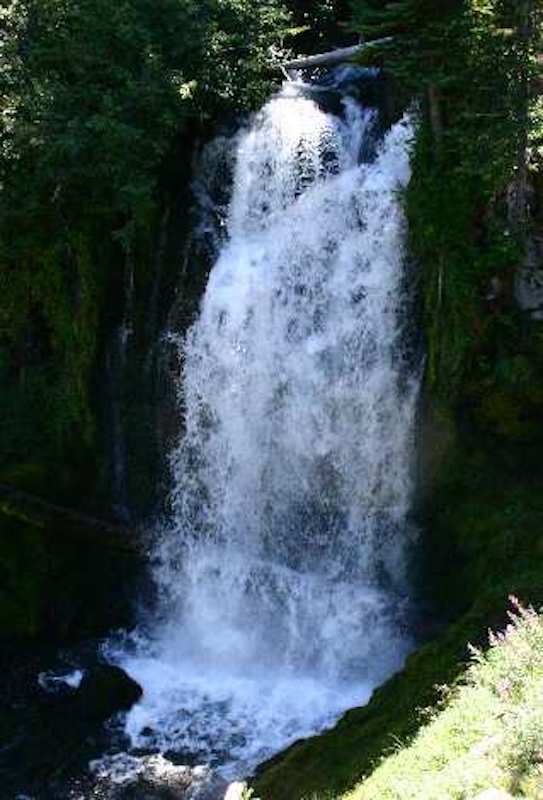 The Meadow Camp offers easy access to the different trails in the area. You can go on a short walk from here or choose access points to areas you prefer. There are plenty of lava rocks and ponderosas around the area.
#3 Tamolitch Blue Pool
The Tamolitch Blue Pool is the perfect place to head out in Central Oregon on a clear day. This is one of the favorite places of the locals. Bring extra food on your hike so you can eat at the top. You will have a great view of the Blue Pool from there.
You can opt for longer hikes here too starting from the Trailbridge Reservoir or Carmen Reservoir. Visit the Pilot Butte State Park during winter too. The best part about the extinct volcano is that you'll see gorgeous sunsets and sunrises.
Best Places to Hike in Northern Oregon
#1 Tualatin Valley
On this trip, you will drive through to the Pacific Coast Scenic Byway led by an interpretive guide. This day trip is from Portland goes to the Tualatin Valley. It is a customized tour along a rugged section of Oregon's northern coast and is one of the richest valleys in the world, known for its hazelnuts, berries, Christmas trees, and Pinot Noir.
You'll have the option of making history-related stops near the town of Tillamook or spending time in Cannon Beach to check out art galleries, boutique shops, cafes, Haystack Rock, and many bars & restaurants.
#2 Tamanawas Falls
The Falls is a great place to visit near Mount Hood River. There is a limit to the parking lot here. There is only a gradual incline throughout the trek with plenty of Douglas fir, cedar, and mountain hemlock around. Cross the bridge through Cold Spring Creek to see picture-perfect scenery.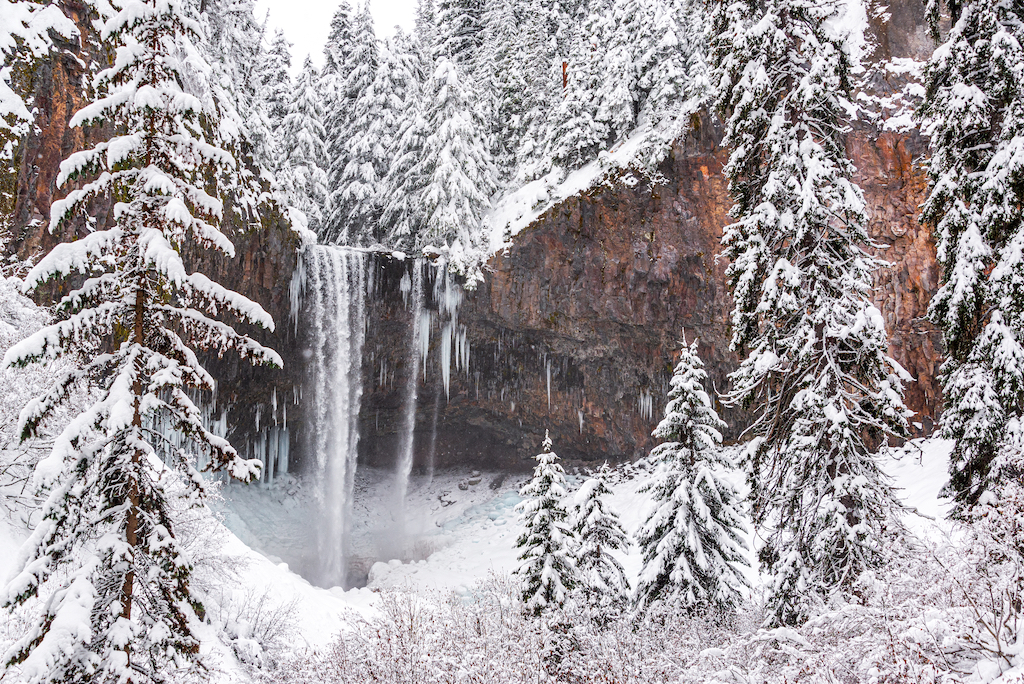 You should exercise common sense when visiting the falls, especially during winter. Make sure that you wear the right gear since the mist from the waterfall can leave you chilled. Icy conditions can also damage your camera, so best be prepared.
#3 Abiqua Falls
The Abiqua Falls will be one of your favorite hikes during winter. This is because the falls freeze during winter. However, make sure that you exercise caution when visiting. The trail can be slippery at times. Call ahead if your choice of trails is open prior to arriving.
The frozen falls is a great spot to see on your trip here. Don't forget to travel with an experienced hiker or tell someone your whereabouts. This is to ensure that someone can pick you up during any type of emergencies.
Winter Waterfalls in Oregon
Oregon becomes a winter wonderland when the snow level goes up. This also means that it is time to explore winter waterfalls in the area.
#1 Silver Falls State Park
The Silver Falls State Park is often abandoned during the winter. This is the best time to explore the park on your own. You can wear snowshoes when there is fresh snow for an easier hike. There are several falls here that you can visit. The South Falls is visible after a half-mile trek.
#2 Salt Creek Falls
The Salt Creek Falls is open year-round so it is worth adding to your list of waterfalls to visit during winter. This is not the tallest fall in Oregon. That honor goes to Multnomah Falls.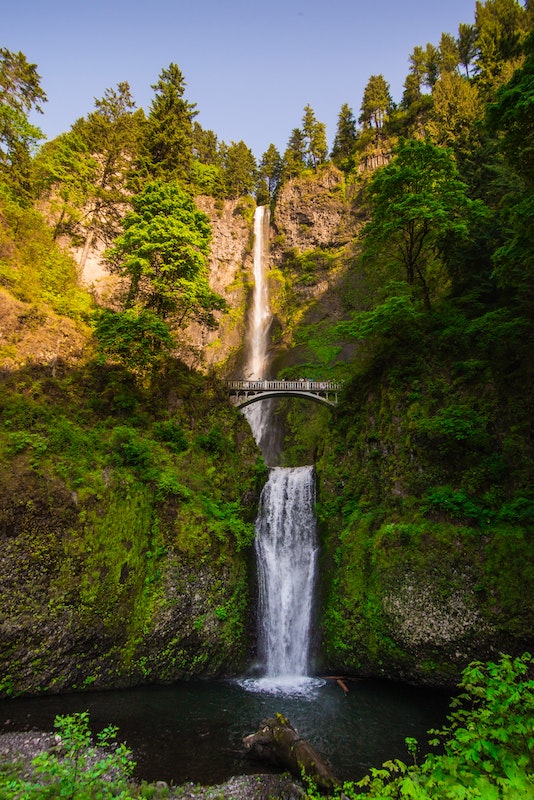 You are guaranteed to have a great time here. The road to the parking lot is often closed during this time of the year. The winter road conditions make it harder to reach it by car. You can still hike a short distance to see the best view of the falls. Take advantage of the hot springs to beat back the cold.
#3 Proxy Falls
The Proxy Falls loop trail will take you to a winter wonderland. The outer loop will take you close to the waterfall but make sure that you bring the right gear. The icy mist from the waterfall can chill your body. Route-finding will be common here but worth it once you see the ice-covered falls.
#4 Munson Creek Falls
The close proximity of Munson Creek Falls to the Oregon Coast prevents it from freezing during winter. It is still a treat to visit especially since it is a short drive. Don't expect to see any picnic tables here during winter. The surrounding area is a good place to have a quick bite before continuing your hike.
Additional Hiking Trails in Oregon During Winter
One of the best things about Oregon is that there are numerous hiking trails to enjoy no matter the season.
#1 Misery Ridge Trail
The trail is found in the Smith Rock State Park. The state park is a staple for many rock climbers. This doesn't mean that you won't enjoy a good hike here. Take advantage of the Misery Ridge for a little elevation gain to see stunning landscapes.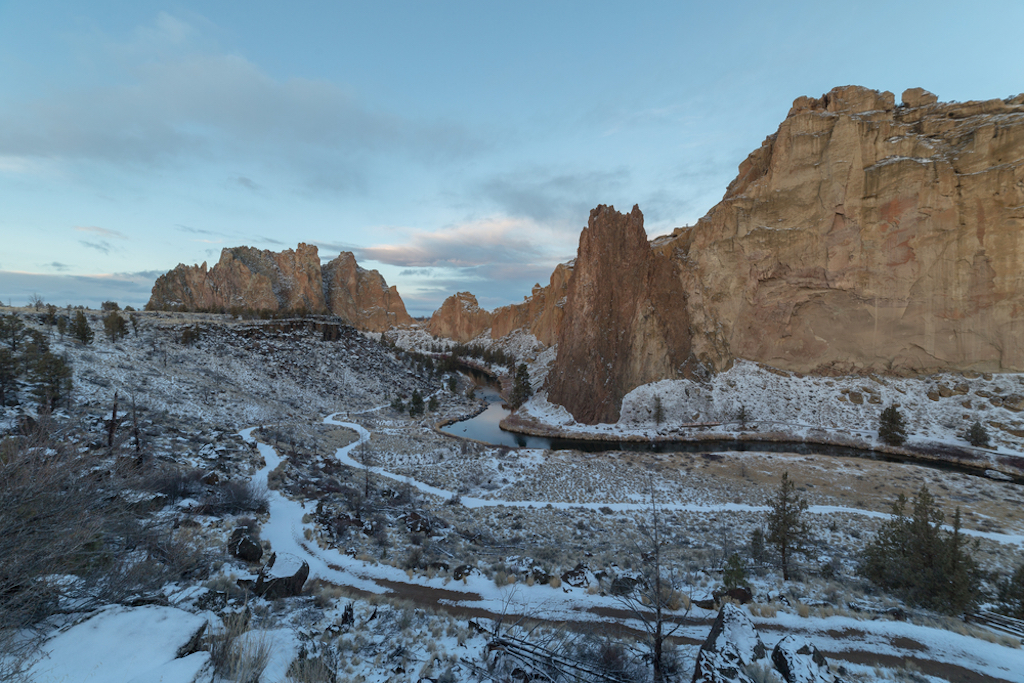 There are several rock formations that you will find here like Monkey Face. You should consider camping here to go back hike the next day.
#2 Tam-a-Lau Trail
You can find this trail inside the Cove Palisades State Park. It involves a mile-long hike up to the lava plateau and a four-mile loop hike. This will give you a jaw-dropping view of the rim and its surroundings. The best time to visit here is during winter. Just make sure that you time your travel when there is no heavy snow. The steep ascent can be tricky to climb when it is slippery because of the ice.
Winter Recreational Activities in Oregon
There are tons of activities to do from the Pacific Northwest to central Oregon during winter. You can do more than go on a snowshoe hike or ride your snowmobile here. It is also a good idea to try out these winter recreational activities too.
#1 Fat Biking
There are several areas that offer fat biking in Oregon. Mostly you can find these trails in Central Oregon as well as in Bend. You can rent a bike in the area to use on your trip. It is always a good idea to ask for advice on the best trail to take while you are there. You can start with the Dutchman Sno-Park or the Wanoga Sno-Park.
#2 Whale Watching
Hiking and whale watching? You can do this at Cape Lookout. The Oregon Coast becomes packed with migrating whales. They are best viewed from a vantage point. You can reach this by hiking to Cape Lookout. The view is amazing at the top and well worth the effort that you go through. This is one winter experience that you will not forget anytime soon.
#3 Winter Kayaking
Tourists often visit Oregon during the summer. Fortunately, you can enjoy some quiet time here during winter. There are some locals who enjoy winter kayaking. You can try it out too but make sure that you check the information from the parks. Start with the Willamette Kayak and Canoe Club.
#4 Snow-Tubing
Snow-tubing is a fun winter recreational activity to do with the whole family. One of the best places to do this is at Salt Creek Falls. You can start with a trek to the Falls then go back to the snow-park for some snow-tubing fun. You will need to drive to the snow-tube hill but it will be worth it once you see your kids enjoy the snow.
#5 Go to the Hot Springs
Traveling during winter in Oregon is an exciting prospect. But the frigid temperatures can get to you at times. It is always a good idea to check the visitor center to know what hot springs are available nearby. The good news is that these are open all year round.
You can try the Terwilliger Hot Springs on the McKenzie River for starters. There are thermal springs that you can hike to like the Umpqua Hot Springs. Don't forget to check the conditions before you visit.
Tips for Winter Hiking in Oregon
Oregon has much to offer winter travelers from across the country. There are a few tips and tricks that are worth considering if this is your first time visiting. You don't want to spoil your adventure with mishaps, right?
#1 Check the Conditions
The weather in Oregon can be tricky. A clear blue sky can easily transform into a storm in the afternoon. Make sure that you check the weather before you head out. Review your intended destination and check it against the National Oceanic Atmospheric Administration (NOAA). This will give you a good idea of the weather forecast for the day.
#2 Carry Essentials
Hiking during winter will be challenging. This is why you need to bring your essentials with you at all times. You need to bring your flashlight and extra batteries in case you need additional lighting. Bring extra food too for long trials as well as water to avoid dehydration. Make sure that you have a lighter or waterproof match with you just in case you need to build a fire.
#3 Layer System
It is a good idea to practice a layering system when it comes to your clothes. Start with a base layer made from wool or synthetic to wick away moisture. Add an insulating layer and a waterproof layer after. Don't forget to do the same for your trousers. You should prepare yourself in case of the temperature drops unexpectedly.
Summer hiking is easier compared to hiking during winter. The change in temperature can happen fast out in the woods. You don't want to be stuck out there when this happens. The best approach here is to stick to trails that you are familiar with. This prevents you from getting lost out in the cold.
Enjoy Your Winter Adventures in Oregon
Finding the best winter hiking trails in Oregon is a good idea before heading out. This way, you will be able to plan your itinerary well. You can always have a fun winter adventure here if you prepare for it. If this is your first time trying winter hiking, make sure that you do your research. This way, you will not be caught off guard when you are outdoors.
Oregon's winter trails are ready and waiting for you. You can pack your snowshoes and ski, or just rent a snowmobile once you reach your destination. Either way, you will have plenty of winter adventures to choose from. Make sure that you are dressed correctly and have the right gears with you on your trip.
You can always start with the hiking trails mentioned here if you want to get a headstart in your winter vacation. There are always visitor centers that you can approach if you need further assistance in your travels in and around Oregon.
When is the last time you went winter backpacking in Oregon?