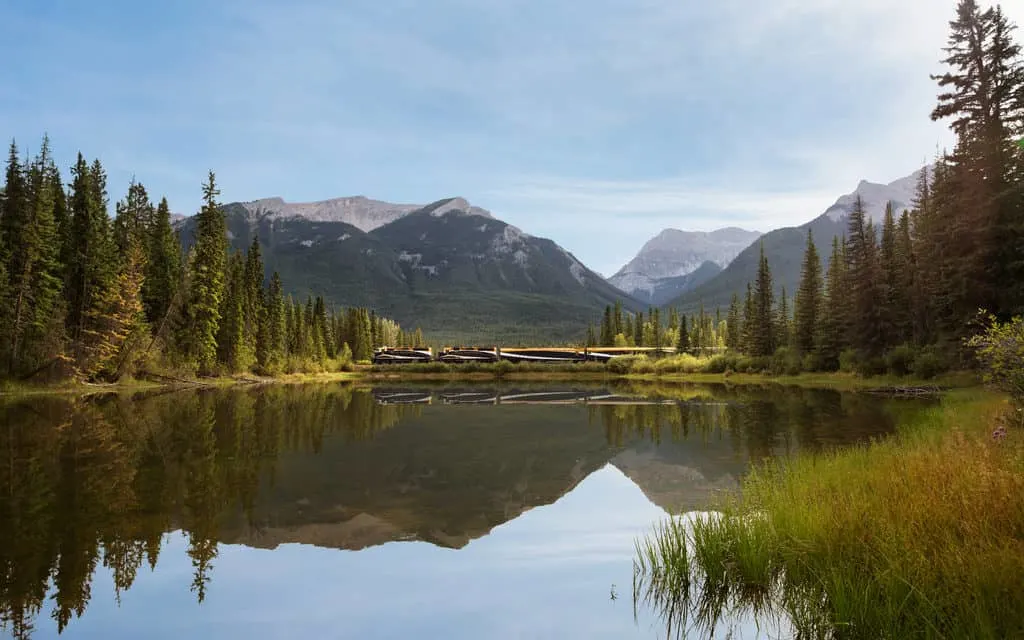 Choo-Choo! All aboard the luxury Rocky Mountaineer train! For almost 30 years, the Rocky Mountaineer has been providing extraordinary services to those who want to take train travel to the next level. Those who travel on this train are a wide range in demographics; from singles, couples, retired, and families. Between the seasonally months from mid-April to mid-October, this luxury Canadian train will take you all over the Rockies, the Canadian Rockies that is. More than 2 million guests have traveled with the Rocky Mountaineer since its first inaugural ride in 1990. And soon it will celebrate its 3oth anniversary year in 2020! If you are curious to learn more about the Rocky Mountaineer, keep reading to find answers to the most frequently asked questions.
Do I Sleep on the train?
The Rocky Mountaineer does not have sleep cars, so no, you do not sleep on the train. Almost all train routes depart during the daylight so that you can get the full service of viewing the great outdoors in the Canadian Rockies. In between your stops, you sleep in a hotel that has been booked through your journey with the Rocky Mountaineer.
Which Rocky Mountaineer Journey Should I Take?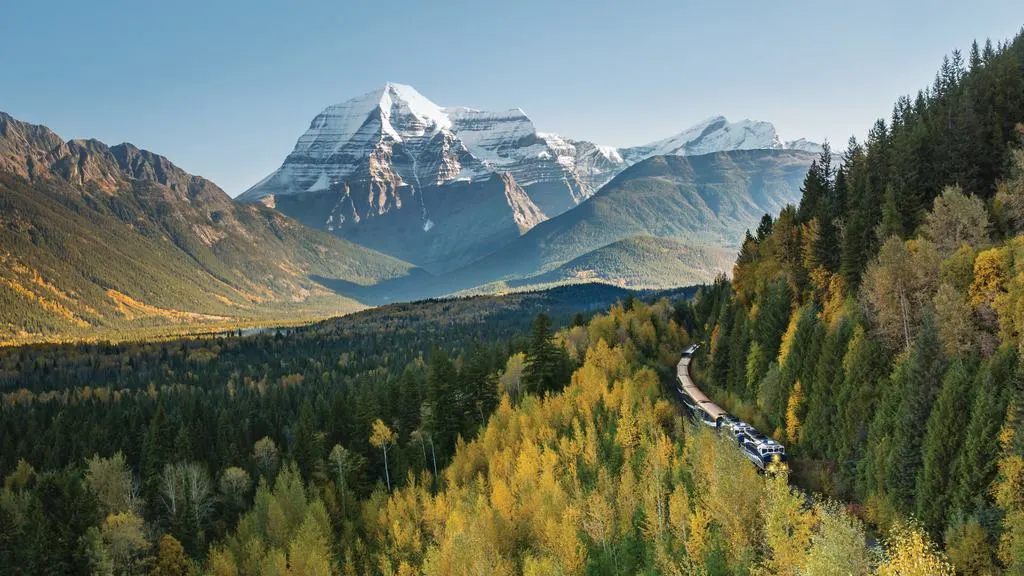 You choose whichever Rocky Mountaineer journey suits your best interests. Let's take a quick look at a few of the journeys that are offered by the Rocky Mountaineer:
First Passage to the West: This journey starts in Vancouver and takes you the canyons, past the Continental Divide and/or to Banff. You can choose how many days you want to travel. There are journeys that last 2 days and others that last over a week. You choose!
Journey Through the Clouds: You can start your Canadian adventure in Vancouver with this route and admire the wonderful wildlife as you make your way towards the Jasper National Park.
Rainforest to Gold Rush: History buffs and nature lovers are sure to revel in all the wonderful sights you will see on this journey. Your trip begins in Vancouver and from there you pass amazing sights such as Horseshoe Bay, Fraser River Valley, and Northern British Colombia.
How do I Get to the Train Station?
It is always best that you arrive at least 45 minutes before your train is expected to depart. There are eight different train stations that the Rocky Mountaineer departs from (depending on your journey). You can find a complete list of the train station locations here. Of course, complimentary transfers are available from guests of the Rocky Mountain and you can click here for more information.
What Happens to my Luggage?
This is a question I hear all the time! Your luggage gets a journey all their own! You never have to touch your luggage, as Rocky Mountaineer takes care of it and puts it in your hotel room BEFORE you arrive! Then when it becomes time for you to leave the hotel, you leave it outside of your room the next morning. The Rocky Mountaineer staff are very good at keeping your luggage organized! Just remember to take all your medications and valuables with you in your personal pack on the train.
Do I Eat on the Train? What do I eat?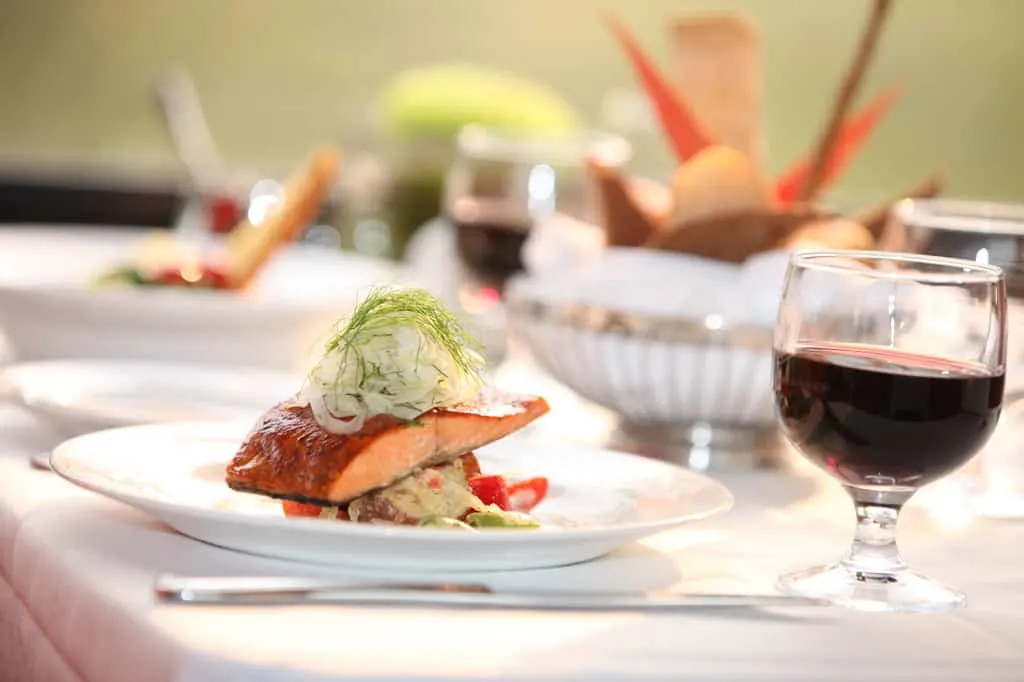 Your itinerary will determine whether your Rocky Mountaineer journey offers breakfast/lunch and/or dinner. Those who travel on with the Silverleaf package will have an option of breakfast and lunch served at your seat. Goldleaf members have a chance to eat at the lower-level dining room from the gourmet a la carte menu. Sweets and snacks are also available on board. A sample menu for the Silverleaf package holders may include a three-cheese omelet for breakfast and grilled salmon and a sliced tomato salad for lunch. An example of a Goldleaf menu might include smoked salmon and scramble eggs for breakfast and Albert striploin steak or Chipotle chili for lunch.
Should I Come Early to the Arrival City and Explore?
I am in favor of arriving early to the arrival city and exploring as much as you can. The most common arrival city is Vancouver, but depending on your chosen route, the arrival city might be different. If you are departing from Vancouver, I recommend visiting Brockton Point House, Grandville Island, Lions Gate Marina, Stanely Park, and Rock Garden.
How Do I Dress?
Regardless of the season, you are traveling in; it is always best to dress comfortably. The temperatures can range from the low 50s to 100 degrees Fahrenheit. It is always recommended that you check the weather conditions before you depart for your luxury train ride. The days are long, so you want to dress in layers, so that you can add or take away your clothing based on how hot or cold you are.
What Should I Pack?
The best advice that I can give you is to pack lots of layers of clothing. Due to the constant changes in temperature as you make your way on the route, it is best to bring a jacket (or coat) with you just in case you want to head out onto the outdoor vestibule. I recommend bringing a day backpack with all the essential things you might need, like medications, camera, phone, chargers, documents, a change of clothes, wallet, passport, scarf, and a jacket. Since you do not have access to your luggage you will want to make sure you have everything with you for easy access. I also recommend bringing something to do or read. A deck of cards, small board games, and books are always a great option to bring on board to keep you entertained, as there is no WI-FI onboard this Canadian Rocky train.
Where do I Take Photos?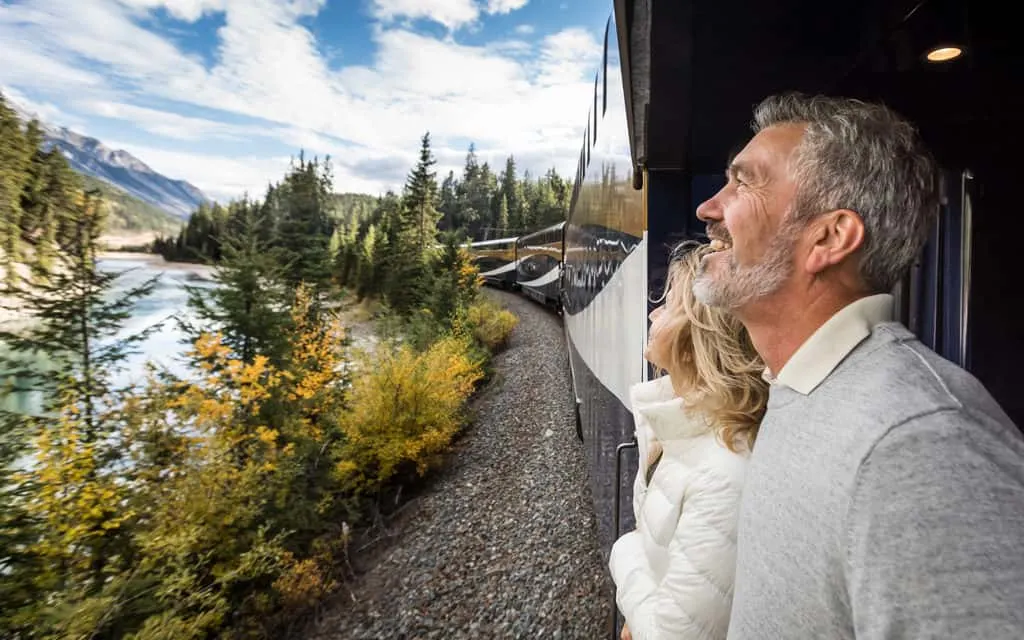 Although you get to see some of the most beautiful sights on the Rocky Mountaineer, the train does not stop to accommodate photographers. There are times the conductor will slow down in particularly beautiful areas though. They will announce this in advance for you to be ready. You are allowed to take as many photographs as you want on the outdoor vestibule. Each journey on the Rocky Mountaineer has different sights that make for the best photographs such as photographing Hell's Gate, right before entering the Spiral Tunnels, Bow Lake, the gorgeous Lake Louise, and Emerald Lake. I wrote an extensive guide to take photographs on the train in this ultimate guide to what you need to know before getting on the Rocky Mountaineer.
What Will I See from the Train?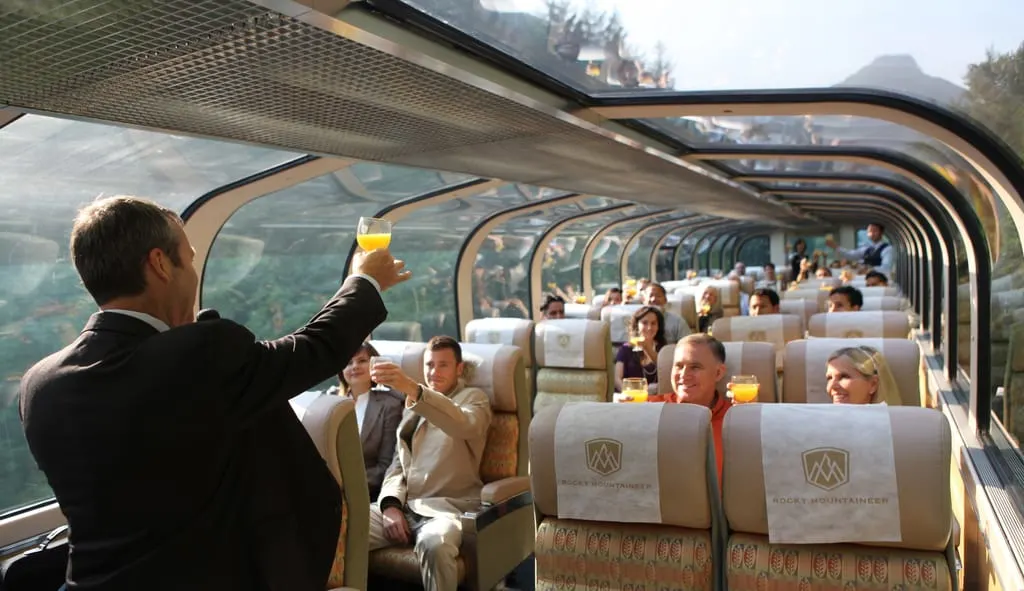 Most of the wildlife you might see on the train will depend on the season that you travel in. If you are lucky, you may see a bear, elk, deer, moose, or even bald eagles. As you travel along the different routes of the Rocky Mountaineer, you will instantly notice that the stunning scenery frequently changes, so not only wildlife will you see, but you will see many different types of landscapes.
What is the Train Travel Experience Like?
Traveling onboard the Rocky Mountaineer is a luxury train experience that you will not get anywhere else. The Rocky Mountaineer train was designed to be a luxury tourist train and it caters to all its guests. Those who travel with the GoldLeaf service will experience panoramic views in a glass dome, gourmet three-course meals, complimentary alcohol, and beverages, plus a gorgeous outdoor viewing area known as the vestibule. The experience onboard the Rocky Mountaineer is unlike any other train in the world and allows you to relax and meets your comfort levels in luxury. The design of the train was built with passengers just like you in mind.
Are the Seats on the Train Comfortable?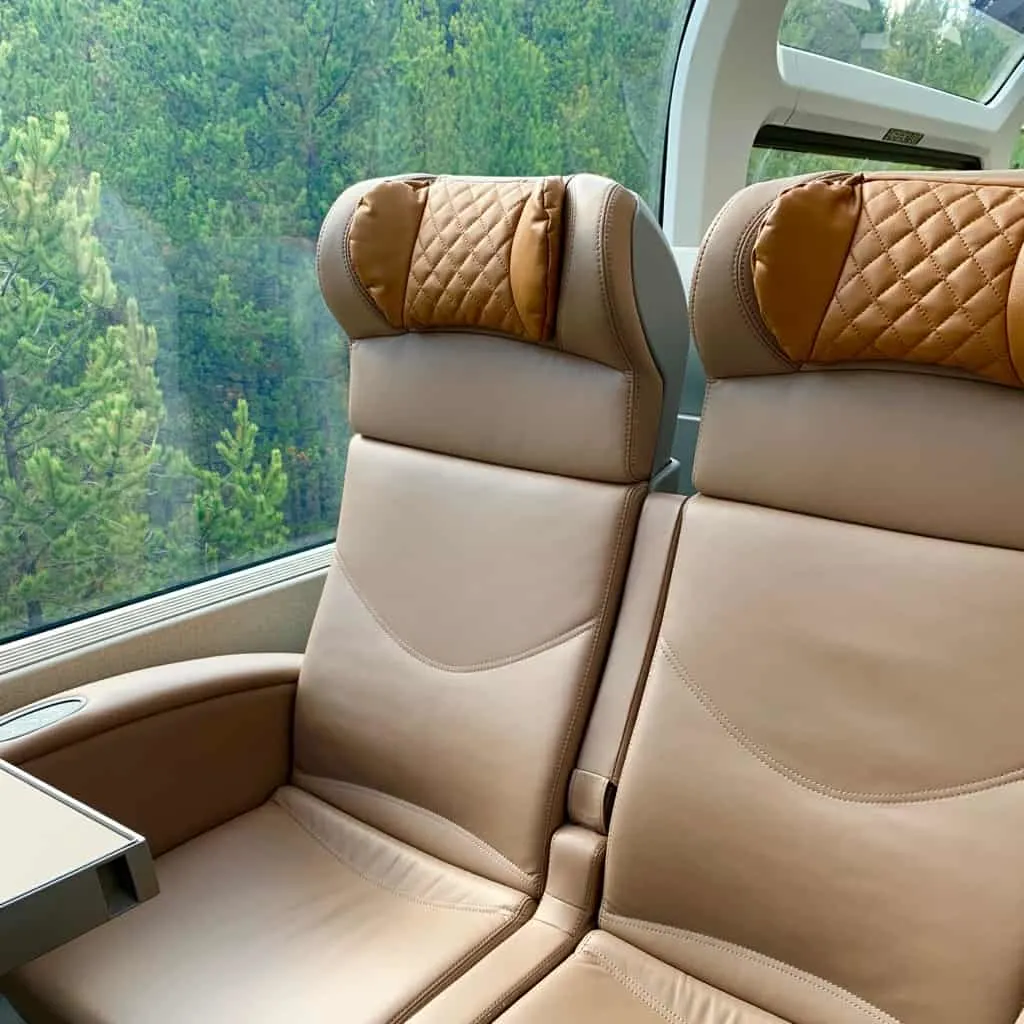 The seats onboard the Rocky Mountaineer are very comfortable. Your seat does not have a seatbelt and the bucket-style seat can be adjusted to fit your needs. It even has lumbar support built into the seat, so you decide what positions are best for you. One of the best parts is that your seating area has a USB and electrical outlets for all your charging needs, so don't forget those batteries and chargers.
I hope that this article has helped you get a better understanding of the Rocky Mountaineer and the services it offers. If you want to learn more about this wonderful luxury train service then click here for more information.
Disclosure: As is common in the travel industry, Dr. Maloney was provided with accommodations, meals, and other compensation for the purposes of review in partnership with Rocky Mountaineer. While it has not influenced her review, PointsandTravel.com believes in full disclosure of all potential conflicts of interest. All Photos are by the author, given authority over, or are licensed under creative commons. There may be affiliate links in this article.