Beach lovers are sure to be making plans for the summer already. The call of the clear blue waters and white sandy beaches is hard to resist. The good news is that there is no shortage of beaches in the United States to head out to. But if you want your family trip to be memorable, a trip to the best Gulf Coast beaches is highly recommended.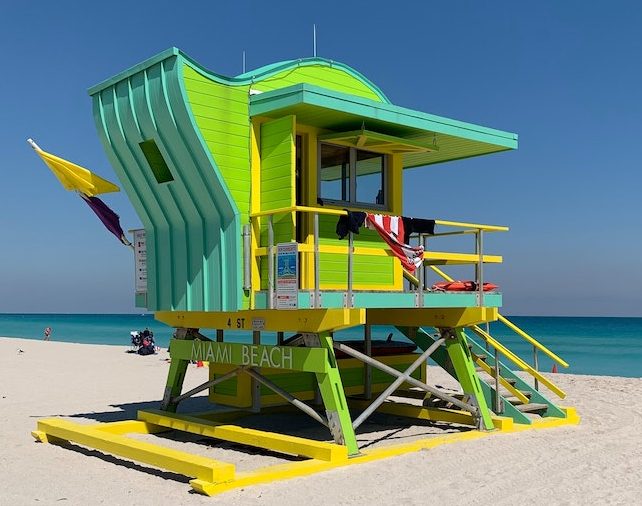 ---
The Best Beaches on the Gulf of Mexico
---
It's hard to choose which one of the beaches in the Gulf of Mexico to head out to though. After all, each one has its own unique feature that you don't want to miss. The best thing to do is to check which of these amazing beaches you should start with.
Gulf Coast's Best Beaches:
Do you want to be in the heart of a crowded beach or prefer a less-visited resort for some rest and relaxation? The gulf shores offer a variety of beaches that cater to different needs. Regardless of whether you are a local or a tourist, these beautiful beaches are worth checking out.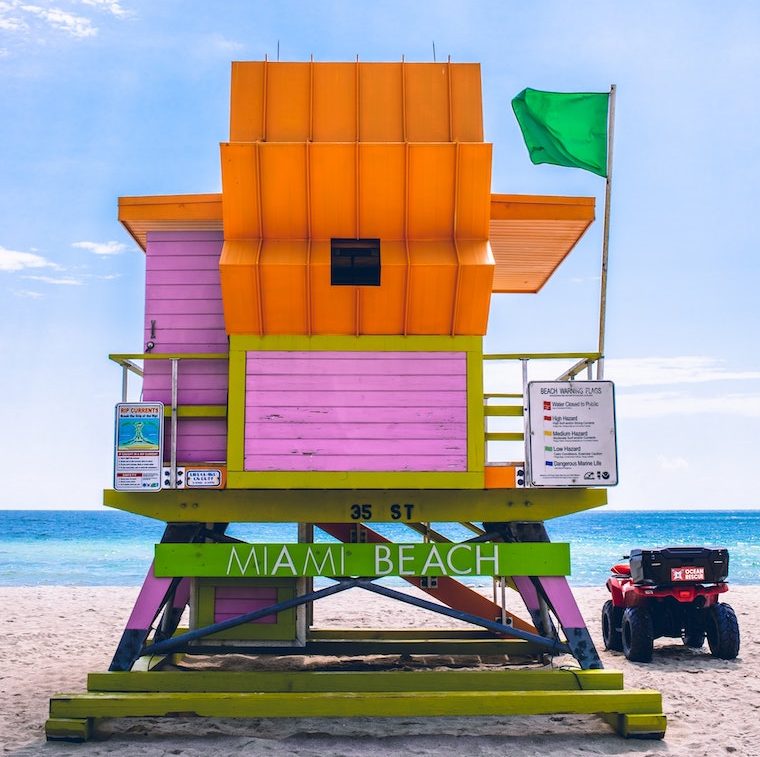 #1 Malaquite Beach – Corpus Christi, Texas
This beach is situated in the Padre Island National Seashore and is ideal for day-trippers. There is a campsite here that gives you a spectacular view of the Gulf of Mexico. Keep an eye out on sea turtles' hatchlings especially when traveling here from June to August.
#2 East Beach – Galveston Island, Texas
Aside from Crystal Sands Beach, you should also make your way to Galveston Island. This island boasts 32 miles of beaches but if you are looking for the best one then head to East Beach. It has become a hot spot during the summer months because of the festivals and live concerts held here. Check out Galveston Island State Park which is the perfect spot for nature lovers.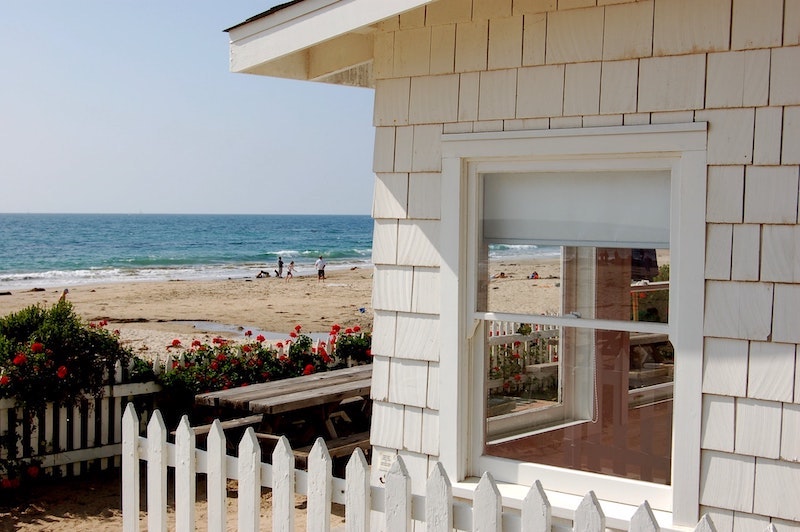 #3 Galveston Beach – Galveston, Texas
Amusement parks on the beach? This is what Galveston Beach is all about! This Texas coast beach is known for its boat tours, fishing trips, and more. Aside from its impressive beach, don't forget to visit the Strand. This is where you will find gorgeous homes that made it popular in the area.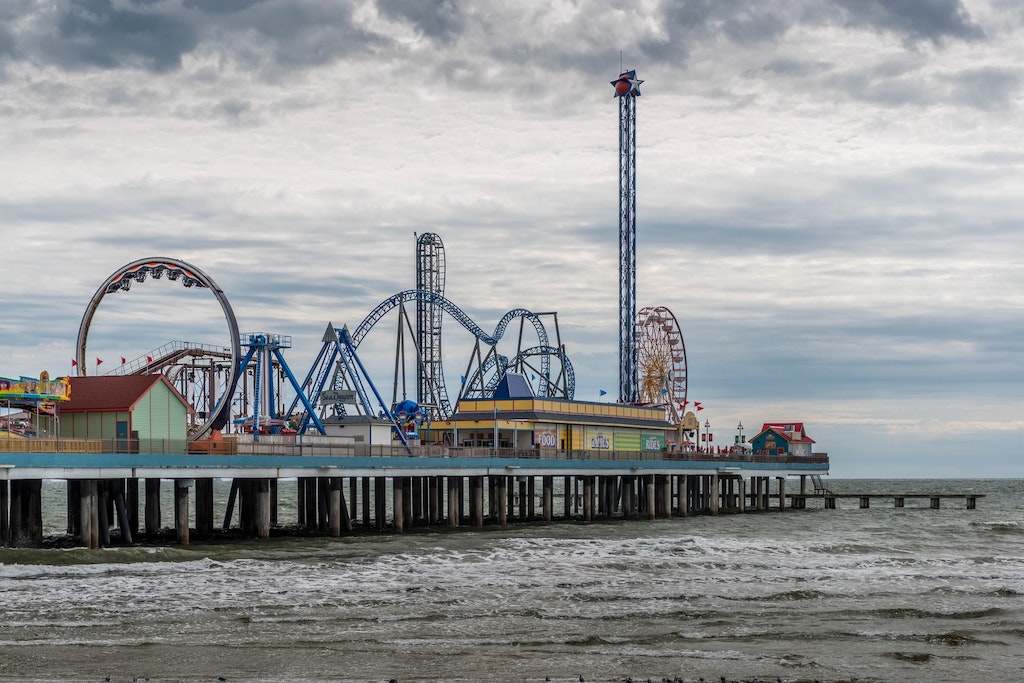 #4 South Padre Island – South Padre Island, Texas
Aside from Galveston Beach, a trip to South Padre is a great idea if you prefer calm waters and scenic views. The marine life is impressive here, not to mention the chance to do some dolphin watching. It can get crowded here during spring break so time your trip here between the months of September to February.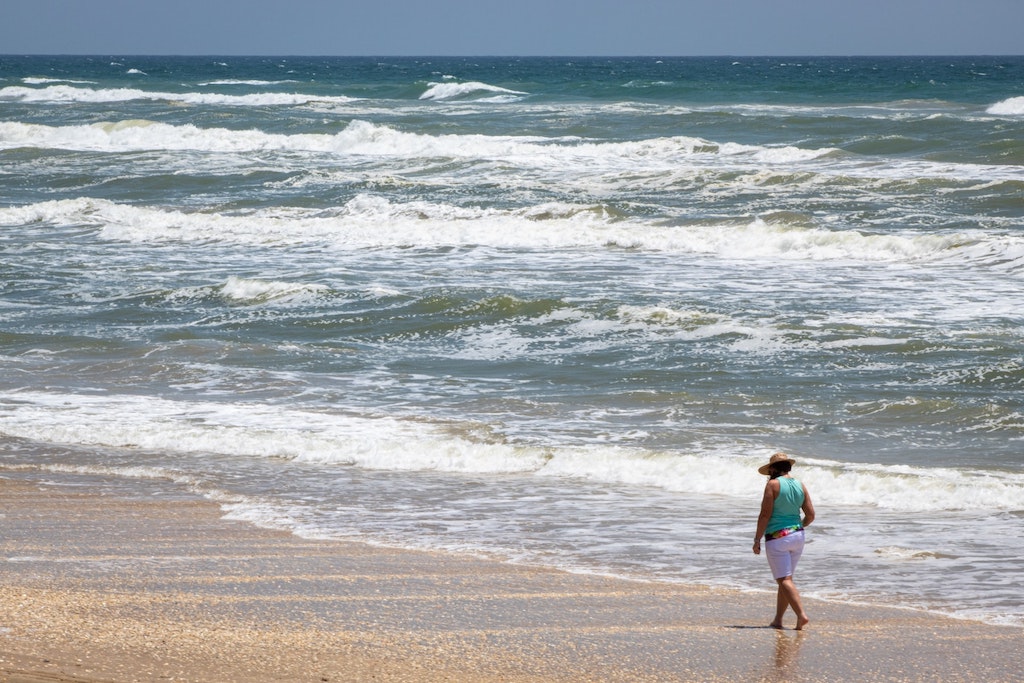 #5 Biloxi Beach – Biloxi, Mississippi
Sit back and relax at Biloxi Beach which is located in the coastal Mississippi. There are plenty of water activities to do here like renting jet skis and paddle boats. Additionally, there is a boat trip to add to your itinerary where you will be taken to Ship Island.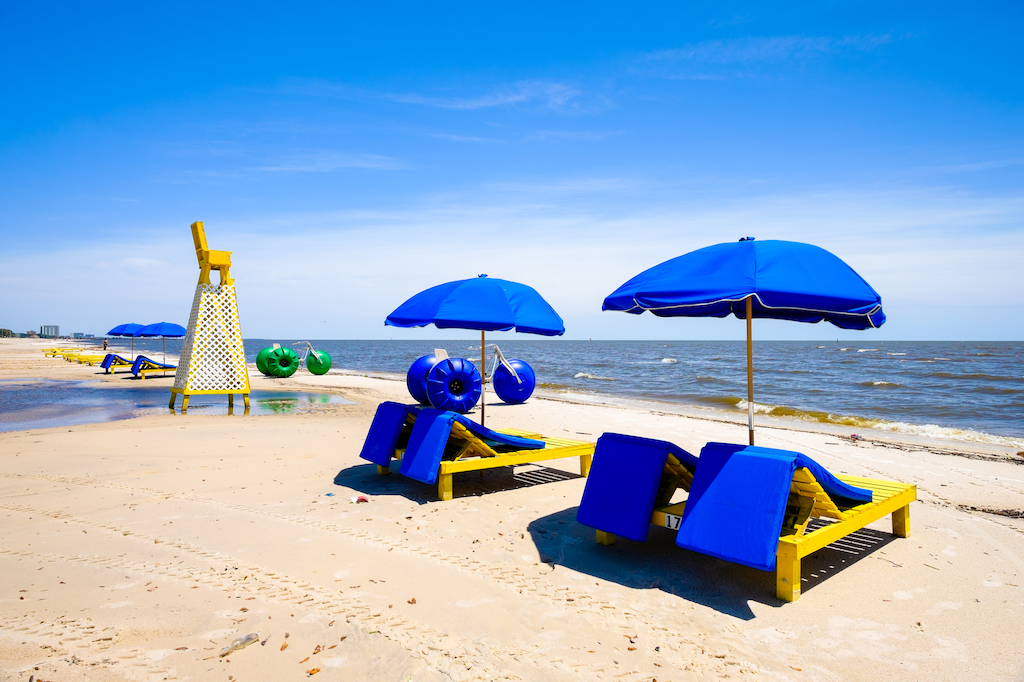 # 6 Gulf Islands National Seashore – Ocean Springs, Mississippi
The Gulf Islands National Seashore preserves both the beauty of the land and its pristine waters. The sparkling waters and smooth sandy beach drive millions of tourists to it during peak season. Their sand dunes are worth exploring too as they house a myriad of plants and wildlife.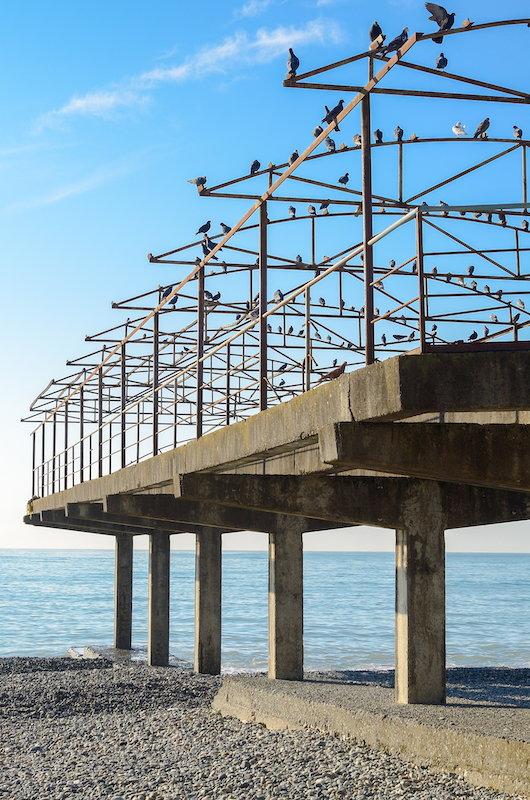 #7 Grand Isle State Park – Grand Isle, Louisiana
Another great place for you to head out to in New Orleans is the Grand Isle State Park. Serving as a breakwater between the inland channels and the Gulf, this beach offers warm waters throughout the year. Louisiana's mild temperatures make it a great place for snowbirds seeking a warm spot in the state.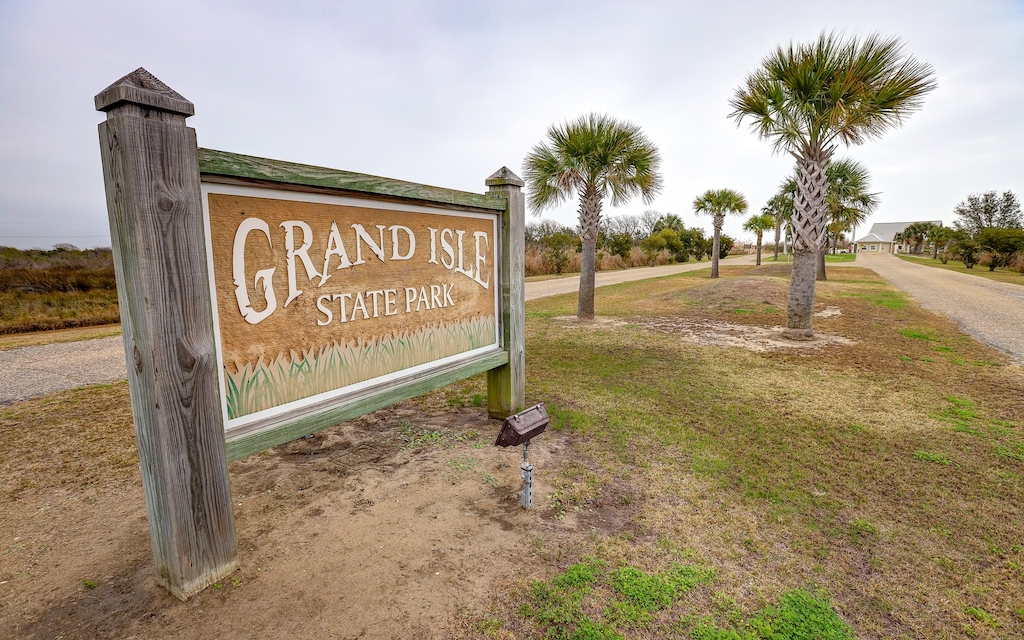 #8 Dauphin Island Beach – Dauphin Island, Alabama
Dauphin Island will spoil you right from the start. Aside from its beachfront parks, there are fun things to do here like various water sports. The pristine white sand and crystal-clear waters are quite inviting even from a distance.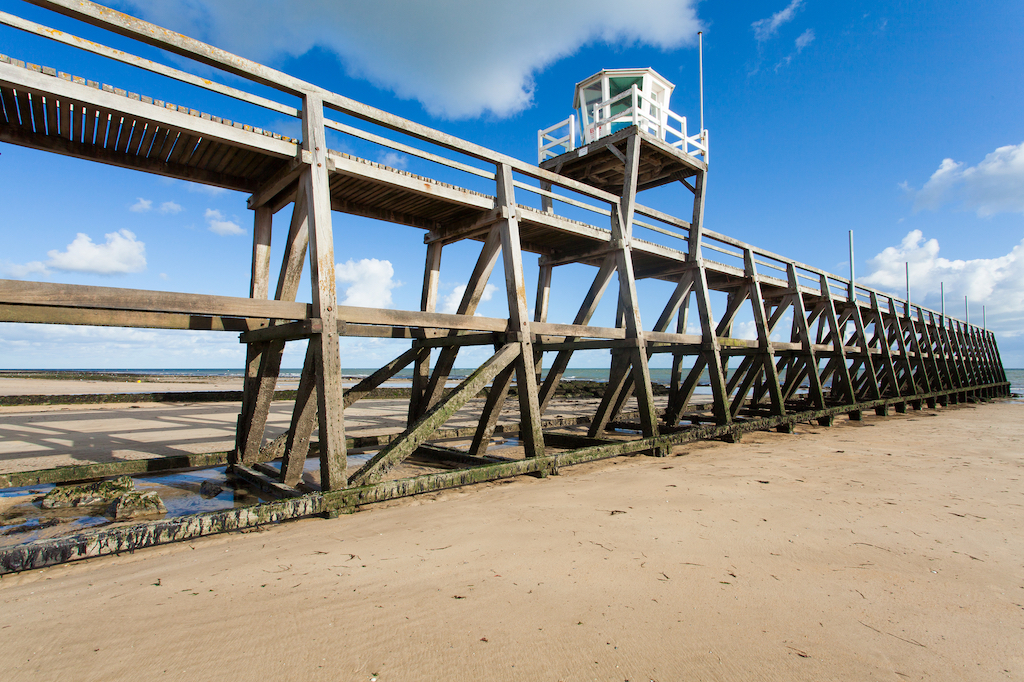 #9 Gulf Shores – Gulf Shores, Alabama
This is one of the best vacation spots in the country and with good reason. There are tons of activities to do on your own, with your best buds, or with the whole family. Take advantage of their dolphin cruises to see them up close or bring your fishing gear with you to the pier for some fishing experience. You can enjoy a quiet weekend here with its numerous accommodations. This is a great place to explore if you want to rest, relax, and unwind.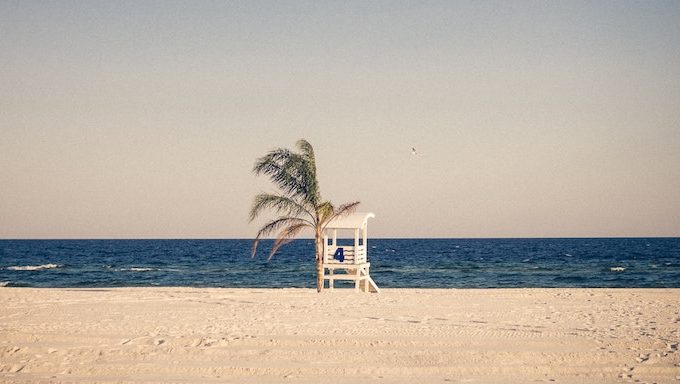 #10 Orange Beach – Gulf Shores, Alabama
This beach is close to Fort Morgan Beach and boasts of its sugar-white sand that gleams under the sun. The fine sandy beach is made up of quartz grains that came down from the Appalachian Mountains. The area is livelier too making it a great spot to visit during spring break. While you are here, you can go and visit the Gulf State Park where hookup campsites are available. This is perfect if you are bringing a motorhome with you on the road. Additionally, there are golf courses that you can head out to if you want to play a round of golf.
#11 Crystal Sands Beach – Destin, Florida
The emerald waters of Crystal Sands Beach are one of its main draws. Nestled northwest of Florida's gulf coast, you will love the white sand beaches here. You can settle in one of their colorful beach houses in beautiful pastel shades.
#12 Fort Myers Beach – Estero Island, Florida
Another example of the best beaches on the Florida gulf coast is Fort Myers and with good reason. Aside from being next to Sanibel Island and its palm trees, this barrier island has crystal clear waters that are good for swimming. The shallow waters are suitable for families with small children.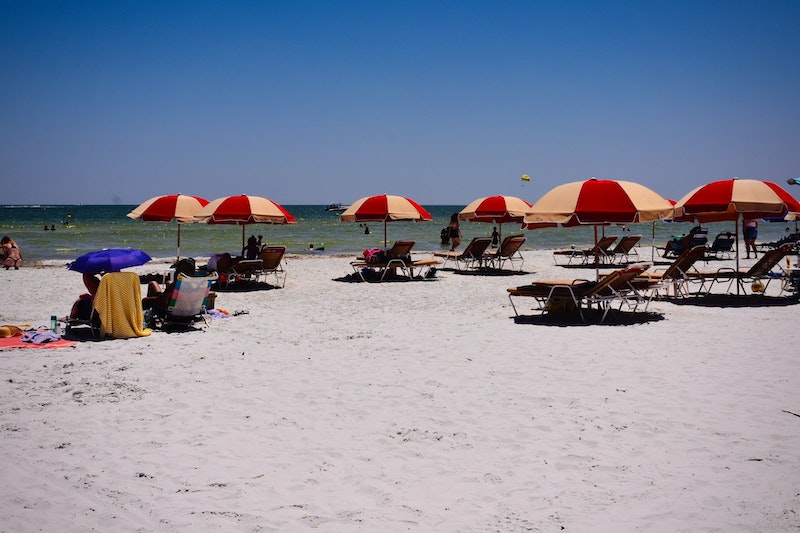 #13 Bonita Springs – Bonita Springs, Florida
Located in Southwest Florida, Bonita Springs offers some of the best Gulf Coast beaches in the country. This is one of the popular beaches for water lovers as there are plenty of water activities to do here. Go parasailing, kayaking, or paddle boarding here.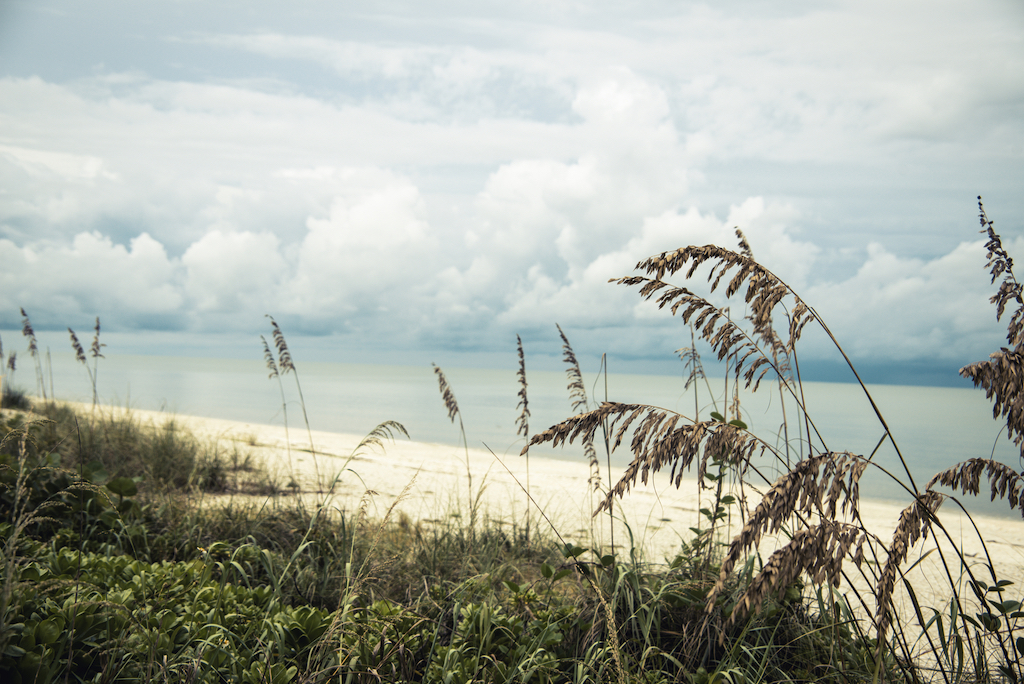 #14 Clearwater Beach – Clearwater, Florida
Aside from Bonita Springs, Clearwater Beach is the best place to be if you are looking for a beach town in Florida. It has 2.5 miles of sandy beaches to sunbathe and on top of that, there is an aquarium that you can bring your children to. There are picnic areas with snack bars and live events at night here. It can be crowded at times but it is still a good spot for families and adventurers.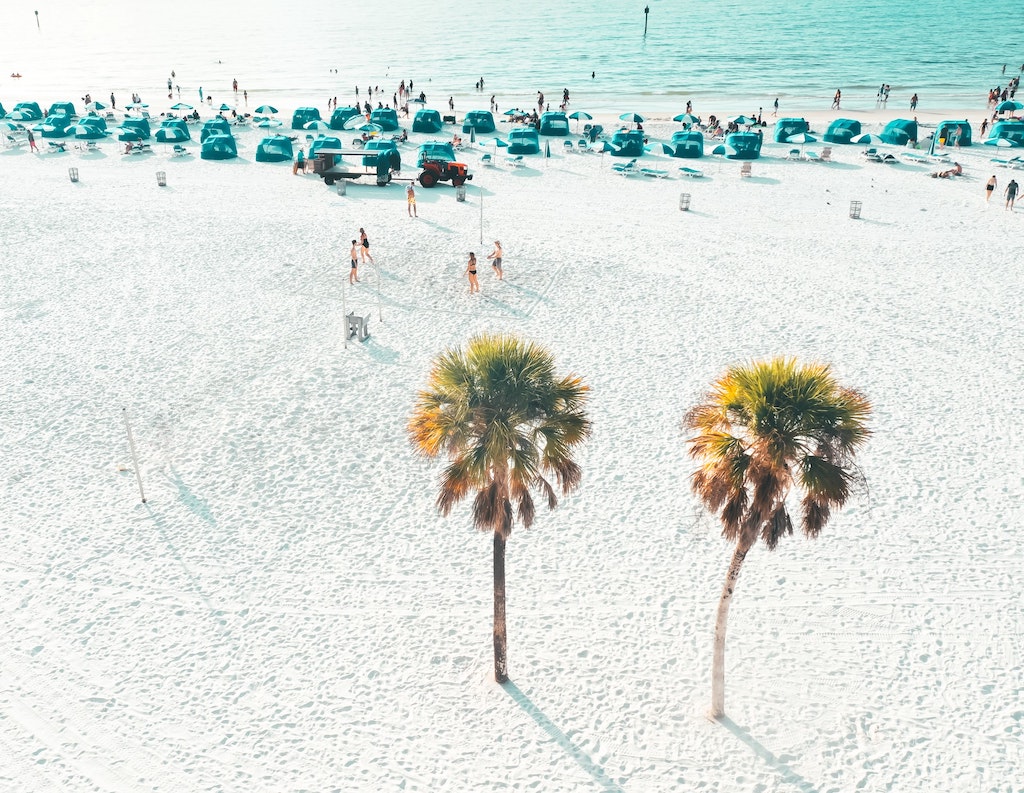 #15 Bradenton Beach – Anna Maria Island, Florida
Another popular destination that you can check is Bradenton Beach. It takes pride in its small-town feel through its artisan shops. There are no drive-thrus and restaurants within the area but you can spot them in their historic town center. The City Pier is one of its main attractions because it has a cafe and a bait store. This is the perfect place for those who want to get away from crowded beaches in Florida.

#16 Madeira Beach – Madeira Beach, Florida
Meanwhile, Madeira Beach is best known for a legend that has been handed down from one generation to the next. Legends stated that the first settler in this small town was a pirate named John LeVeque. Fortunately, there are fewer pirates around but plenty of tourists. One of the best things about this place is the fresh seafood, especially grouper. If you are a fan of seafood dishes then you'll need to sample the restaurants in the area.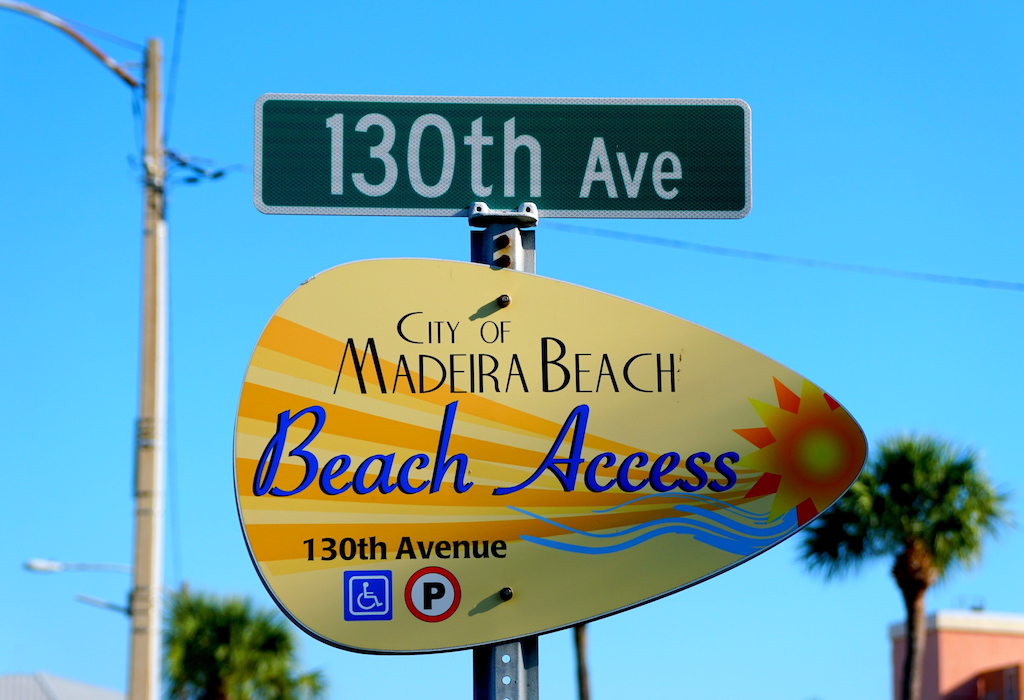 #17 Panama City Beach – Bay County, Florida
Panama City Beach is one of the famous beaches in the Florida Panhandle. Spring breakers flock here because of its vibrant crowd and nightlife but it is also ideal for family goers. Scuba divers can visit the artificial reefs while the state parks are perfect for nature lovers. This is where they can hike through a nature trail to see their scenic beauty. This busy beach caters to all ages making it a good option for your beach vacation.
#18 Marco Island – Ten Thousand Islands, Florida
Additionally, a trip to Marco Island is worth the time if you are looking for a beach that has that calm and cozy vibe to it. The natural beauty and wildlife here are worth checking out. Here you will find the Sand Dollar Spit which is a small lagoon that you can bathe in. Bird watchers visit this island because of the impressive bird species in the area.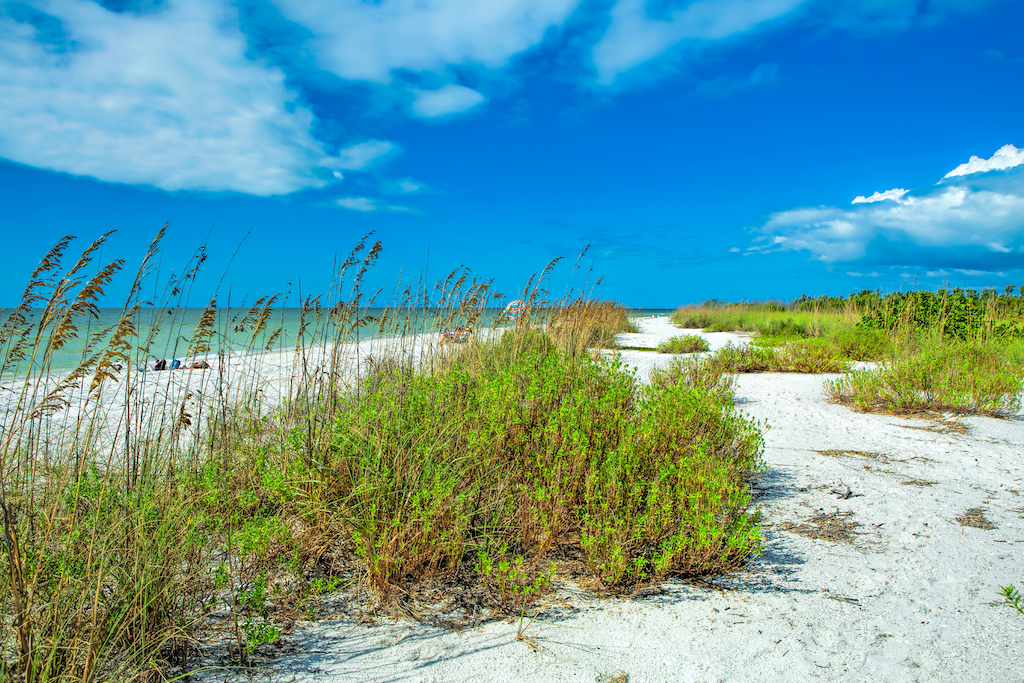 #19 Siesta Key Beach – Siesta Key, Florida
If you are looking for the best time in Florida, a trip to Siesta Beach is highly recommended. Aside from its soft sand and sparkling waters, it is also accessible by car and has numerous amenities to enjoy. Enjoy the cool waters or explore the beach and its surrounding areas if you want to take in the beauty of the place. Take a trip to the Siesta Key village nearby where bars and restaurants are available.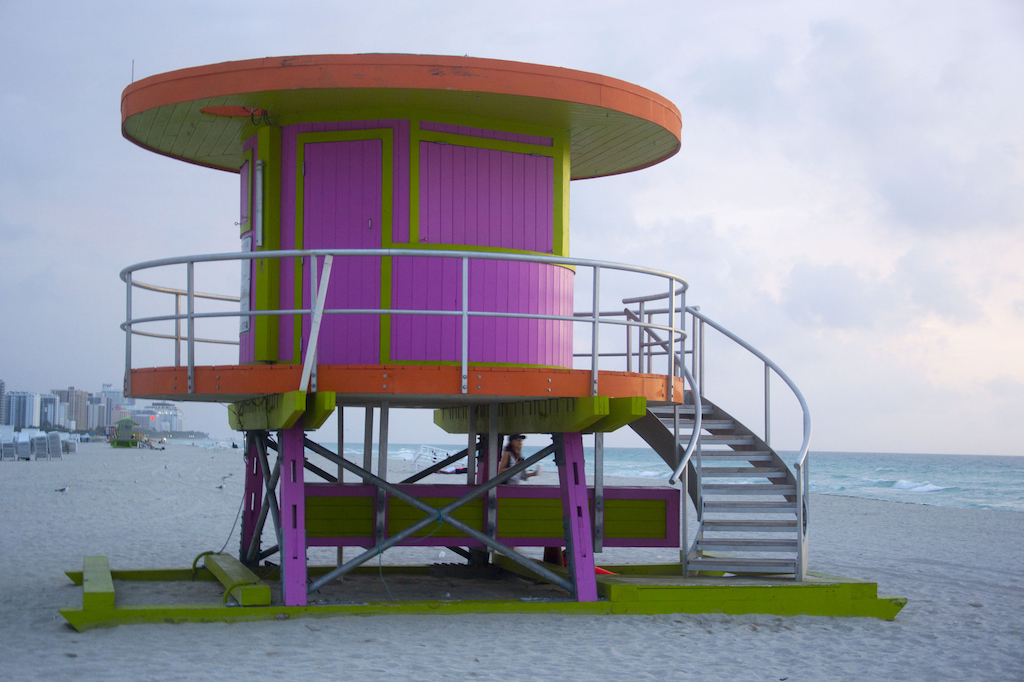 #20 St. Pete Beach – St. Pete Beach, Florida
Another beach that you will find in the Gulf stream is St. Pete Beach. The immaculate beach west of St. Petersburg is quite inviting to locals and tourists alike. Among the popular activities to do here are swimming, surfing, kayaking, and others. You can also check the art scene here where you will find the biggest collection of Salvador Dali outside of Spain.

#22 Miramar Beach – Miramar Beach, Florida
Another example of beaches in the Panhandle is Miramar Beach. The turquoise waters complemented with white sand beaches will make you fall in love with it. It doesn't matter if you just want to soak up the sun or go on-water adventures, this place has it all. Take a dip in its cool waters, or lie on the beach to get a tan, it is entirely up to you. The best time to head here is from May to September when the waters are warm and plenty of sunshine to enjoy.
#23 Pensacola Beach – Pensacola, Florida
The emerald coast of Pensacola Beach is another highlight of the Gulf Coast. The waters are quite stunning and the soft white sand beaches are perfect for sunbathing or making sandcastles with your little ones. There are hiking trails to stretch your legs and shopping areas to bring a bit of Pensacola with you when you go home. If you want to visit this beach on the Atlantic coast during the off-season your best bet is to arrive between May to September.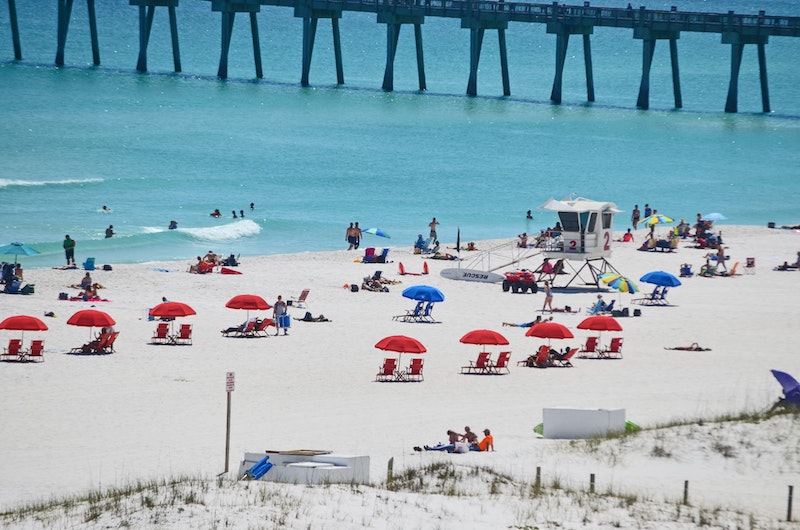 #24 Indian Rocks Beach – Indian Rocks, Florida
If you are looking for a beach that still retains its Old Florida charm, then a visit to Indian Rocks Beach is a must. This is a great option for travelers who want a quieter beach stay. It doesn't mean that you won't find anything to do here. In fact, you can go hiking, swimming, biking, and more here. This is a year-round destination which is one of the reasons why it is a big draw for travelers who want a bit of peace and quiet while still enjoying the gorgeous beaches on the Gulf Coast.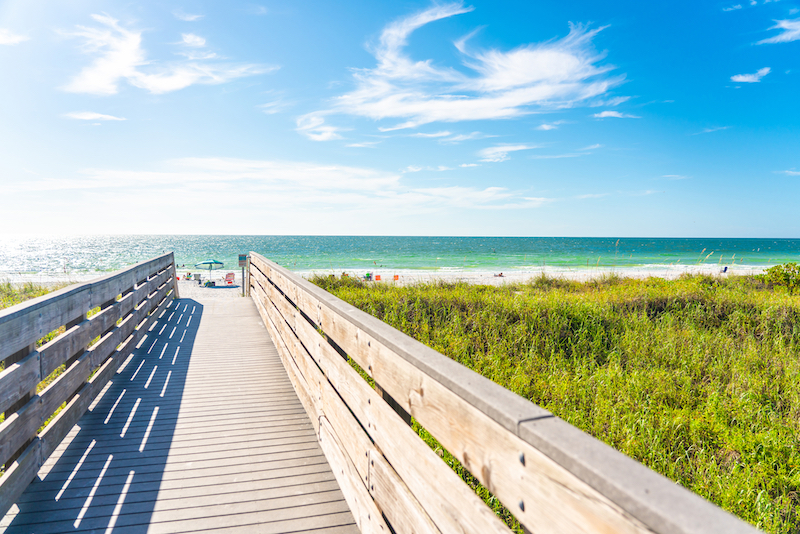 #25 Beaches in Naples – Naples, Florida
The beaches in this area are among the top spots on the Gulf Coast for beach-goers. Think gentle surf, powdery white sand, and clear waters all year round. You can start with the Naples Municipal Beach which is close to several amenities including restaurants and beach rentals. If you want a secluded beach, the Delnor-Wiggins Pass State Park is a good spot to head out to. Head to Barefoot Beach if you are after spectacular sunsets by the beach. With several activities to enjoy on its beaches, booking a trip here is going to be amazing.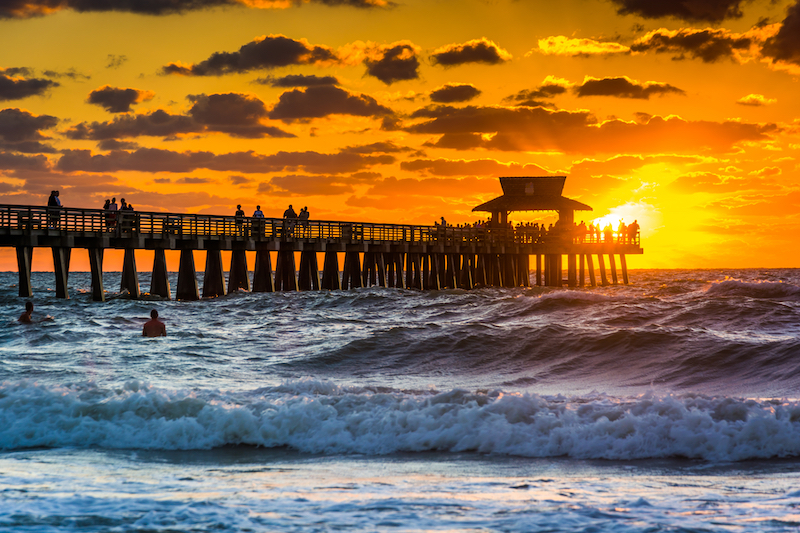 #26 Smathers Beach – Key West, Florida
Smathers Beach is 3,000 miles long and has plenty to offer travelers around the globe. There are 11 beaches in total here which means more spots to head out to. Though the sands are a bit rough in this area, you can save your feet by wearing a pair of sturdy shoes or flip-flops. What makes this beach a popular destination is the numerous water activities that you can do here. You can rent a jet ski, go parasailing, or kayaking even.
When is the Best Time to Head Out to the Gulf Coast?
Now that you have an idea of the best beaches on the Gulf Coast, you're probably thinking about when to book a trip here. Summer is usually a smart idea but since this is the peak season, you will need to book as early as possible. Hotel accommodations can get filled up real quick so be smart with your planning.
Of course, if you want to avoid the crowds, the best time to visit is during the months of March to May and September to November. The waters are still enjoyable during these times. Additionally, these beaches offer plenty of fun activities and entertainment off-peak. It is possible to secure accommodation at a cheaper price. You just need to keep an eye out for deals from travel sites.
Booking a trip on the beaches of the Gulf of Mexico is one of the best summer adventures that you are going to have. Not only will you be spoiled for choices for beach resorts, but you can also do other activities like hiking, visiting museums and aquariums, or going shopping for souvenirs. The next time you are thinking of where to head out to in the summer, make sure that you include the beaches in the Gulf Coast on your list. For sure, you will not regret your choice once you see them up close.