Pastelillos de Carne, or Puerto Rico meat turnovers, are often confused with empanadas. This is not surprising since they look the same at first glance. However, they are quite different from one another. In Puerto Rico, empanadas are thick fried chicken bread. On the other hand, a pastelillo uses a thin dough, just like a pastry dough, with crimped edges that are then fried.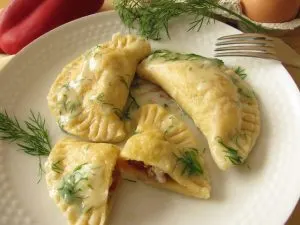 It is possible to make your own pastelillo if you are into doing things yourself. Fortunately, this homemade pastelillo dough recipe is easy to make. Aside from that, you can also opt for Goya discos if you are in a pinch. You'll find them in your grocery store in the frozen food section. That said, let's take a look at how you can make your own pastelillo dough.
How to Make Pastelillo Dough from Scratch
One of the advantages of making your own dough is that you get to use your preferred ingredients. In this recipe, you will need:
Ingredients:
3 ½ cups of flour
2 ½ teaspoon salt
1 egg, slightly beaten
2 tsp of baking powder
¼ cup of vegetable shortening
¾ cup of water
4 cups Puerto Rican picadillo
Vegetable oil for frying
Steps:
Get a large bowl where you can sift flour, salt, and baking soda. Afterward, add the flour and shortening to a large bowl. Use a cookie or biscuit cutter or even a fork to cut the shortening into the flour. Add the egg into the bowl and use your fork to mix. If you want to speed up the process, you can use your food processor.
You should add water little by a little while mixing with a fork. Your dough should either be brittle or in pieces.
Aside from that, you will need to dust your work surface with flour. Place the dough on it. Press the dough together to create a rough ball. Aside from that, you should knead the dough using your palms. Keep kneading until the dough becomes soft and smooth. Form it into a ball and cover it with plastic wrap. Allow it to rise for 30 minutes.
Line your baking sheet pan with parchment paper. You will need to roll out the dough and then cut disks with ¾ inch thickness. Dust the rolling pin and your workspace then roll out the dough into thin dough discs.
You can also use a pasta roller to roll out the dough rounds. Lay them on the sheet pan on a single layer.
Assembly
Place 1 spoonful of picadillo using a wooden spoon into the center of the round dough. Use the tips of your fingers to wet the edges of the dough. Aside from that, fold the dough over to create a half-moon. After, pinch the dough together with your fingers and use your fork to press the side of the dough together. Do the same with the rest of the dough rounds.
Line your plate with paper towels while heating up 1 ½ inch of oil up to 350 degrees in a large skillet. Place your turnovers on it to cook. You will see that they will puff up immediately and float to the surface. In fact, you should just cook them for 2 minutes on each side or until golden brown. Place them on the plate to allow excess oil to drain.

Air Fryer Cheesy Beef Pastelillo Recipe
If you are looking for an easy beef empanadas recipe, this is a good option to consider. You can use this in place of cheese empanadas or cheesy beef empanadas. In fact, these are the ingredients you'll need.
Ingredients:
1 to tbsp olive oil
½ onion, chopped
2 cloves of garlic, minced
½ tbsp of Adobo seasoning
1 packet of sazon seasoning
¼ cup shredded cheese
15 slices of yellow cheese
2 pounds of lean ground beef
15 dough discs
2 tsp of dried oregano
2 tbsp of cilantro, chopped
Steps:
Place a large pan over medium-high heat to warm oil. Once done, add beef, Adobo seasoning, and onions into the pan.
Brown beef for about 6 to 7 minutes. Drain your ground beef after.
Aside from that, you should add the rest of the ingredients. These are the rest of the seasonings as well as the cilantro. Cook the ground beef for another minute. In addition, if you want to give your filling that extra cheesy factor, you can add cheese too. Cook until the cheese melts.
Place a slice of cheese on the center of each dough disc that you have. Aside from that, you should add 3 to 4 tablespoons of your meat mixture over the slice of cheese.
In addition, you should fold over the dough to cover the mixture and then use your fork to crimp the edges. Set them aside.
Also, you should preheat your air fryer to 370 degrees for just 3 minutes.
Aside from that, you should spray the air fryer basket with cooking spray. You can now place 3 to 4 pieces of pastilillo into the basket. Also, close the basket and cook for 7 minutes. Check afterward. You can cook it for another 3 minutes or until your personal preference. Repeat until you cook all cheesy beef pastilillos.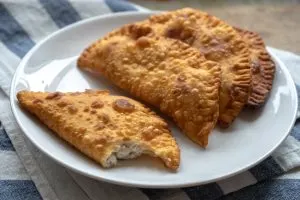 What You Need to Know About Puerto Rican Empanadas
If you take a look at a Puerto Rican empanada recipe, you will find that it is similar to Cuban and Mexican empanadas. These hand pies are perfect for breakfast, lunch, and dinner. Even if you check their homemade beef empanadas, you will find that they have similarities with Mexican recipes.
In fact, if you take a look at a beef empanada recipe, it is pretty straightforward. Among the ingredients that you will use are ground beef, tomato sauce, and salt. Also, you will need to add water, diced potatoes, and of course, shredded cheese like Monterey Jack. The potatoes can be popped into a slow cooker for cooking. In addition, you will need sazón con azafran and sofrito. Sazon is the Spanish word for seasoning.
Ingredients for Empanada Dough
Did you know that you can make your own empanada dough? The good news is that there are easy recipes on how you can make homemade empanada dough. Although it is possible for you to get premade dough, there is nothing so enjoyable as making your own Puerto Rican empanada dough.
The good news is that the ingredients are similar to making pie dough. Think of it as a flaky pie crust once you finish it. In fact, the ingredients you will need are all-purpose flour, egg, butter, water, and salt. The steps are similar to making pastilillo dough.
Also, for the empanada filling, you can use green olives, turkey meat, and chili powder. In fact, if you are on a low-calorie diet, you can use ground turkey in place of a beef mixture.
Wrap Up Pastilillo
If you are looking forward to a delicious meal, you should try making the pastelillo. Of course, you have to search for an authentic recipe to capture the great flavor of this Puerto Rican dish. These beef turnovers are filling and can be cooked using a deep fryer or a dutch oven. Aside from that, the cooking time will vary depending on your preferences.
The best way to fully appreciate this dish from Latin America is to make one yourself. In fact, you can choose cheese fillings if you want to play with different types of cheese. A good example is cream cheese. On the other hand, you can stick with the traditional beef filling. But you add your own twist to it. For example, you can add garlic powder, and bell pepper, and use either peanut oil or vegetable oil when cooking. Use medium heat to cook your empanadas well.
On the other hand, if you are going to bake them, make sure that you brush egg wash on your puff pastry sheet. This will prevent the dough from sticking to the cookie sheet. Also, you need to heat the oven prior to baking your empanadas. The bake time will change. Check your recipe to determine this.
In fact, the best part is that you can have prepared empanadas beforehand. You can put them in an airtight container or freezer bag. If you are conscious of the daily values of calorie intake, you can always check the estimate on the recipe that you are using. Take note that some of these sites have affiliate links if you purchase from them.