For many who visit Mexico, the Riviera Maya is one of the most desirable destinations. While there are many destinations in this region to explore, one of the favorites is no other than Cancun.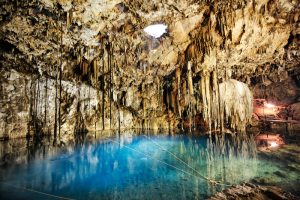 Cancun is famous for its beautiful beaches and warm, crystal-clear water. The Cancun beaches are well worth exploring. And there's a more natural side to the area that often gets overlooked — the underground rivers and cenotes.
What are Cenotes?
Cenotes are wonderful natural pools of freshwater that form when the roof of a cave collapses. This results in different types of cenotes (open cenotes, semi-open cenotes, and underground cenotes). The cenotes connect with underground water flow and rainwater, which is the water source that flows through all the cenotes.
The water is crystal clear and often emerald green. So you can tell yourself you're swimming in an underwater spring. All of this sounds incredibly exotic. And out of National Geographic that you see on TV right? So why not check out the best cenotes in Mexico for yourself?
To help you on your quest for these aquatic treasures, we've compiled a list of 15 cenotes that you won't miss on your own way of Cancun adventures!
Cenotes Dos Ojos
The Dos Ojos Cenote is one of the top cave diving destinations globally. It has two cenotes (open waterholes) that are constantly filled with fresh water from an underground river.
Dos Ojos is not only a beautiful place to visit and dive, but it's also important as far as its historical value. The Mayan people lived in the area. And often made offerings to the gods by throwing value items into the cenotes.
There are pots, baskets, and other artifacts that have been found in Dos Ojos. The water inside Dos Ojos is clear, with visibility reaching 300 feet in some places. It has a bright white floor made of calcium carbonate.
The cavern walls feature intricate rock formations known as flowstone, stalagmites, and stalactites. If you're looking for someplace to cool off and explore what lies beneath the earth's surface, Cenote Dos Ojos is for you!
Cenote Azul
Cenote Azul is perfect for a full-day or half-day trip. Especially if you're looking for a cenote near Cancun and Tulum. The blue cenote, or Cenote Azul, is an enormous open-air cenote with brilliant azure waters.
The main cenote includes two swimming areas. One with a cliff jump and the other with a shallow water level. This makes Azul a favorite cenote for families.
The entrance to Cenote Azul is right off the primary route from Playa Del Carmen. About one hour south of Cancun. You don't need to drive a 6-hour tour. Because its convenient location makes it an easy stop to or from Akumal or Tulum.
If you're on trip transportation down the coast between Playa Del Carmen and Tulum, then make sure to add this cenote to your list of places to see. Cenote Azul is part of the Gran Cenotes complex. Which includes five cenotes that you can visit on one ticket. Each cenote offers something unique, so seeing them all is worth it!
Cenote Ik Kil (Chichén Itzá)
Chichén Itzá's Mayan ruins are a popular day trip from Cancun. Also, it features one of the Yucatan Peninsula's most beautiful cenotes. The neighboring Cenote Ik Kil is a short drive away. Making it an easy stop on your Chichén Itzá cenote tour.
The Cenote Ik Kil is located in a limestone sinkhole. Typical of many cenotes found throughout the Yucatan Peninsula. As you descend into the cenote, you'll see that this is a natural wonder worth exploring.
The Yucatan Peninsula features several hundred cenotes. Some are underground caves with massive caverns. While others are open-air pools like Ik Kil.
Over the last few thousand years, the land around them formed from porous limestone. It was once part of a vast ocean reef upon which lush vegetation grew and died.
Over time, the plants decayed. It created an acidic material that dissolved the limestone underneath it to form cavities and tunnels through the ground. In many cases, these underground pools of water formed when rain seeped through small openings in the ground above.
Cenote Cristalino
Cenote Cristalino is located just 2kms from Cenote Azul. Near the town of Tulum in Mexico. It's well worth a visit to see the stunning crystal clear azure waters and open-air setting. The cenote is located on private property. Home to a family who has lived there for decades.
Over the years, tourists have been swimming in the cenote and enjoying the water. But it was only recently that the family decided to open up their pool for everyone to enjoy. After all, it's not every day you get to have your private swimming hole in Mexico.
This makes it perfect for families. As there are no age restrictions on who can go in the water. Even young kids will enjoy themselves without age restrictions at other cenotes like Cenote Azul.
If you're looking for a unique experience different from what you might expect in Mexico, we recommend visiting this cenote!
Cenote Zacil-Ha
Cenote Zacil-Ha, a neighbor of Gran Cenote, is an open-air swimming pool-style cenote. It has crystal blue waters, hammocks, and a zip line. Cenote Zacil-Ha has excellent amenities. It includes a modest restaurant. Where you can order some soft drinks. Also, it has a regular bathing pool. Where visitors can relax.
Because the cenote is privately run and does not allow visitors to stay for more than three hours at a time. It's perfect for those who want to avoid crowds. Also, the zip line has an additional cost. But is well worth the amazing experience.
Zacil-Ha means "cold water" in Mayan. And is named after one of the two underground rivers that converge there. This freshwater cenote also has two caverns to swim through. One of them is with stalactites and stalagmites. And another with ancient fossils.
The temperature of the water varies with each cavern. The cavern with fossils has warmer waters. While the one with stalactites has colder waters. There are snorkel activity masks available to rent at Cenote Zacil-Ha. Now you can fully experience the underwater world of this breathtaking cenote!
6. Cenote Jardin Del Eden
Cenote Jardin Del Eden is a popular cenote located in Playa Del Carmen on the Yucatan Peninsula. This cenote is perfect for visitors of all ages. Especially who want to enjoy Mexico's cenotes' beauty and excitement.
The name "Jardin Del Eden" is Spanish for "Garden of Eden". This describes the lush surroundings of this gorgeous natural pool. This cenote has an open-air swimming pool where you can swim, snorkel and jump off cliffs into the water below.
Scuba divers often visit Cenote Jardin Del Eden to explore its extensive cavern systems. Some people prefer one cenote over another. Maily because they are more or less crowded.
Casa Cenote
Life at Casa Cenote is a fusion of marine and freshwater ecosystems. The cenote opens up to the ocean via an underwater tunnel system. This means that the fish and other creatures living there are saltwater species adapted to living in freshwater.
They include some of the most beautiful fish you could imagine. Ones like angelfish, butterflyfish, and parrotfish. There's also a school of tarpon (a type of fish famous for its shiny scales) that lives there year-round. It's the only place where you can get so close to a tarpon without being in saltwater.
Casa Cenote is also home to a lush mangrove forest. Whose roots provide a habitat for many different kinds of fish and other marine animals. You'll see starfish clinging to the underside of mangrove leaves.
There are also small crabs darting through the roots. Even tiny octopuses hiding inside shells are found on the bottom of the cenote floor. The best way to experience Casa Cenote is with an experienced guide. One who can take you through the tunnels and show you all its nooks and crannies.
La Ruta de los Cenotes
Near Cancun, the best cenotes are found along La Ruta de Los Cenotes, which translates to "Road of Cenotes."
They're all on the same dirt road, which runs west from the seaside town of Puerto Morelos. And right off the main highway (Carretera Cancun-Tulum, Highway 307).
The amazing cenotes on the Ruta de Los Cenotes are some of the most beautiful in Mexico. It has crystalline waters and lush tropical surroundings.
These bodies of water are filled with fresh spring water from underground river systems. They're very clean and safe to swim in. As there is no contamination from saltwater or pollution.
Some are used as swimming holes, and others are used as natural wells for the local communities. Many of these cenotes offer swimming or snorkeling tour opportunities in their clear waters. You can also hike or bike through amazing caves and forests.
Most have changing rooms and food vendors on-site. While there's no entrance fee for any of these cenotes, you will have to pay a parking lot fee. Some have an admission fee that may be less if you arrive by bike or foot.
Cenote Yal Ku
If you're dreaming of a warm, tropical location to visit on your next vacation, Akumal is the perfect place to go. The small coastal town is tucked away on the Mexican Caribbean coast, just south of Tulum. And is known for its beautiful beaches and cenotes (natural swimming holes).
On the southern end of Akumal Bay Beach is Yal Ku Lagoon. This inlet is separated from the ocean by a coral reef and boasts pristine white sand beaches, crystal-clear turquoise waters, and sea turtles who are perpetually on hand for an encounter.
If you prefer not to swim with the turtles, you can rent kayak or snorkel equipment from one of the offshore vendors.
The vast open-air cenote that leads directly to the Caribbean Sea offers shallow waters and a profusion of marine life. Yal Ku Cenote has the best snorkeling activities for families. Especially for those who want to go swim together and have some quality time.
While the water in the lagoon tends to be choppy, but, it's calm and peaceful—ideal for kids who are new to snorkeling. Even if this is your first time traveling without kids, this spot will still make for a great time outing.
Cenote Suytun
The cave is lit up by brilliant natural light beams that stream down through the cenote's roof onto the circular platform below when the sun is right above it.
While you can only see this spectacular sight at certain times of day, there are still plenty of other things to enjoy here. Things such as using its underwater caves for snorkeling and swimming with life jackets in the deep water. This is a popular activity for tourists and locals.
Visitors can also enjoy some traditional Mexican cuisine on-premises. If they have an appetite during their visit. You can put your personal belongings and relax in your Cancun hotel zone.
To provide an excellent spot for a photo op and snorkeling and swimming, Cenote Suytun also offers visitors a chance to learn about Mayan culture and history. With the help of an expert guide. A guide that will not only give you a dive tour but a great tour throughout Cancun as well.
Cenote Tajma Ha
Divers are drawn to Cenote Tajma Ha because of its unique beauty. The cenote is found near Playa del Carmen. And is a part of the National Park of Xcaret.
It is located south of Tulum and west of Puerto Aventuras, both popular destinations in the Riviera Maya or Mayan Riviera. Cenote Tajma Ha is in the Yucatan Peninsula, just off the Caribbean Sea. The ancient Maya once inhabited the area. And the cenotes were sacred to them.
Cave divers are fascinated by this natural wonder, initially called the Cenote Tajma Ha. As it does resemble an underwater palace. Divers flock to it because it is one of the best scuba diving cenotes near Cancun.
Various organizations offer dive tours into the cenote. The freshwater dives are suited to advanced divers or professional guides. And for those who have a diving certification.
Coba Cenotes
When you are visiting the Maya ruins of Coba, one of the best things to do is visit a cenote. The three cenotes in Coba are all cave or young cenotes. Giving them some of Riviera Maya's best cenotes. Multum-Ha, Tankach-Ha, and Choo-Ha are great options to choose from.
In the Maya language, the word 'ha' signifies 'water.' Within the gorgeous Mayan jungle of the region they have grown up in, they reflect luscious green surroundings and feel like a piece of paradise.
They also have a history of mysterious Mayan rituals. And sacrifices were made to Chaak and Ixchel. Getting to Coba requires renting a car or taking a tour bus, which isn't cheap.
But if you're willing to pay for it, this is the best option. Because it gives you more time and flexibility than an organized private tour guide with small groups.
Cenote Sac Actun
The name "Sac Actun" means "white cave" in Yucatec Maya. The name is chosen because the caves are made up primarily of limestone. Which looks white when submerged.
The Sac Actun system is well known for its cave diving. Divers worldwide come to explore the crystal clear waters with their diving equipment.
But to see this cenote, you don't need to be a diver or even know how to swim. This cenote and its sister, Cenote Dos Ojos, are one of the most popular attractions in Tulum ruins. And are often visited by people who are not physically active.
The water is calm and inviting. And it gives you the feeling of being in a rainforest with the water droplets falling into the water. Tourists can walk over wooden boards that lead into Cenote Sac Actun. Or pay a small fee to get closer to where they can see some of the stalactites that hang from the roof like icicles.
Cenote Xcanche (Ek Balam)
If you're looking to get away from the beach and explore some of Mexico's rich cultural history, then a local guided tour to Ek Balam is perfect for you.
Many visitors to Cancun are surprised to find many Mayan ruins nearby. Ek Balam is the closest ruin to Cancun. Making it one of the most popular full-day tours among tourists who want to see a lesser-known Mayan ruin.
In Mayan, Ek Balam translates to "Black Jaguar." In addition to being a great place to learn about ancient civilizations, Ek Balam is also home to a magnificent cenote.
The cenote is situated on the Ek Balam archaeological site's grounds. And is open for swimming. The entrance fee for non-Mexican visitors includes access to the cenote, so you can take a break from exploring and relax in the refreshing waters of this cave system.
Cenote Calavera
Cenote Calavera or Skull Cenote is a one-of-a-kind cenote in Tulum. The 'Skull' Cenote comes from the three natural sinkholes above the cenote openings. Like two eyes and a mouth. There is a 4-meter plunge into the sea; Use the cenote's edge ladder or hurl yourself down the side and leap right in.
The water is clear, calm, and refreshing. You can have a quick swim through and under the rocks. You can also float gently on your back with your head resting on an air-filled inner tube, gazing at the sky through the eyes of the skull.
Cenote Calavera is located at Tulum, Quintana Roo. And is a fantastic place to come for peace away from the crowds. This place is entirely secluded and surrounded by trees, creating a mystical atmosphere.
This unique sinkhole is open only to people over 18 years old, but you will be rewarded with a truly different experience.