You might have noticed fried bread or even fried dough in many pastry shops. In fact, you might have eaten this at some point in your life. This is not surprising since it has been around for decades. The most popular that you will find in the United States is the Indian frybread or the Native American fry bread. Aside from that, they call it the Navajo fry bread. Which is often the base for Navajo tacos.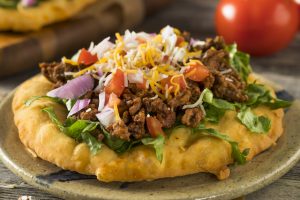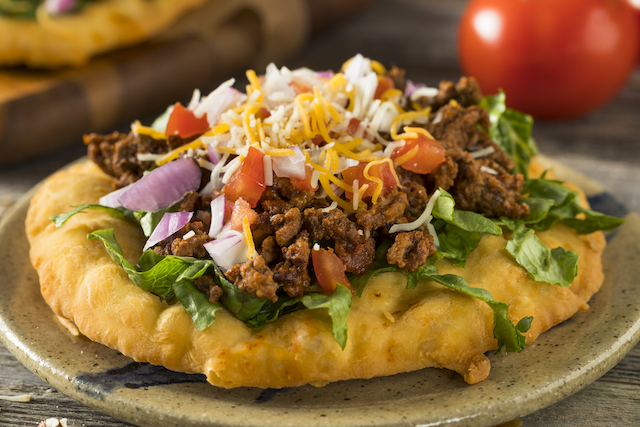 ---
What's in this post:
hide
Best Indian Fry Bread Recipe
---
---
In fact, if you love following easy recipes or want to try your hand at making fried dough, this is it. This recipe is quite simple. And will only require a handful of ingredients. Among these are warm water, warm milk, baking powder, flour, and salt. In addition, you can use this to make your breakfast extra special. Or, make your own Navajo tacos.
Where Did It Come From?
The Native Americans created the traditional fry bread. In fact, this recipe dates back to 1860 by the Navajo Nation. It was the US Government that gave them food for their Long Walk. Which began from Arizona to New Mexico. Among the products, they received were flour, baking powder, salt, and lard. Since they were not able to grow crops in New Mexico, they used the basic ingredients that they had to make their Native American bread.
Fast forward to today, and Indian fry bread is the official fry bread in South Dakota. This is not surprising since there are plenty of Navajo people here. In fact, whenever they have a gathering or festivities, expect their Navajo tacos. Or Indian tacos to be their centerpiece.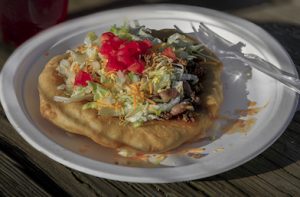 Indian Fry Bread Recipe
There are different versions of fry bread recipes online. This one, however, calls for simple ingredients. Let's get started.
Ingredients:
2 cups all-purpose flour
1 tbsp baking powder
¾ to 1 cup of hot water
½ teaspoon salt
2 tbsp of shortening or lard
Oil (olive oil, vegetable oil, or canola oil for frying)
Equipment:
Bowls
Wooden spoon or pastry blender
Deep pot
Plate with a paper towel
Whisk
Cloth
Tongs
Dough cutter or knife
Instructions
Get a large bowl and whisk together flour, baking powder, and salt.
You can add a bit of fat from the lard to the dry ingredients if you like. Just use a fork or pastry blender to incorporate it.
Add ¾ cup of water into the bowl and mix it.
Again, you can use a wooden spoon or a pastry blender for this step. Also, you can add a bit more water until you have sticky dough on your hands.
Dust your workspace with some flour.
Place a dough ball on your workspace. Afterward, knead the dough for about 3 to 4 minutes or until the dough forms a smooth surface. Aside from that, you can add a bit more flour to the dough to prevent it from sticking to your hands. Do this a little at a time. You don't want your dough to be smothered with excess flour.
Cover the dough with a clean kitchen towel.
Let the dough rest for half an hour to two hours at room temperature. In fact, this is an important step to allow the gluten that is present in the flour to relax. You can use plastic wrap to cover the dough too.
Heat the oil.
Aside from that, you should place a large pot on your stove and fill it with one inch of oil. You should use medium-high heat to warm the oil. In fact, the optimal frying temperature is 350 F or 176 C.
Cut the dough.
Cut it into 6 to 8 pieces of dough. You can use your dough cutter to cut the dough into the size of a golf ball or in small portions. Afterward, shape the dough into a ball. Use your rolling pin to roll the dough balls out until they resemble a tortilla. Repeat with the rest of the dough.
Frybread dough.
Gently drop one of the flat dough bread into the hot oil in the pot. Make sure that you drop it in a way that oil is away from you. Fry it on each side until the surface becomes golden brown. Grab it with tongs and let the excess oil drain. Place the fried dough on a plate with paper towels. Fry the rest of the dough. Serve them after.
NOTE: You can also use an air fryer to cook your fry bread. In fact, you just need to brush some oil over the soft dough before you place it in the air fryer basket.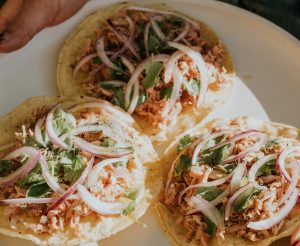 It is quite easy to make your own Navajo tacos. In fact, you can use your favorite taco ingredients for it. On the other hand, the ingredients for a 7-layer dip will work just fine too. In fact, beans are fairly common as part of the toppings. You can use whole beans or refried beans if you like. They are the ones that will go on top of the tacos.
Aside from that, you will also need to add other taco toppings like lettuce, ground beef, black olives, and tomatoes. You can even add sour cream on top too. In fact, you can find this treat when you visit a state fair in Arizona.
As was mentioned before, there are different variations to making this Indian bread. In fact, it can also be served as a sweet treat! Among the sweet toppings that you can use are honey and powdered sugar. Just drizzle a little honey on top then dust with powdered sugar or cinnamon sugar. The latter is for the elephant ears version. Also, you can use it as a topping for your pancake during breakfast. It doesn't matter if you prefer savory toppings or sweet, you'll never go wrong with this.
Making Meat Mixture
If you want to make Indian fry bread tacos, you will need to think of your meat mixture. Here's what you need.
Ingredients:
1 tsp minced garlic
1 pound lean ground beef
15 oz canned black beans
1 ½ cup canned or fresh diced tomatoes
1 to 2 sliced green onions
½ cup diced onions
1 ½ tbsp taco seasoning
4 oz diced green chiles
¾ cup water or broth
Optional toppings: shredded cheddar cheese, sour cream, avocado
Instructions:
Saute garlic in a large cast-iron skillet. Aside from that, add ground beef. Break into pieces and cook until brown.
Also, add the taco seasonings, black beans, green chiles, as well as tomatoes. Cook for about 4 to 5 minutes.
Add the broth then bring to a simmer. Also, lower the heat to low-medium until most of the broth is gone. Turn off the heat and set it aside.
After you have cooked fry bread in a frying pan, you can add the taco meat mixture on top. For good results, make sure that you serve them while they are hot. In fact, you will see the main difference between fresh frybread and a reheated one.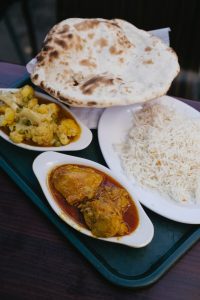 How Long Will It Last?
The frybread that you made can last for a few days. That is if you store it in an airtight container or a Ziploc bag at room temperature. Avoid putting it in a warm place as it can reduce its shelf life.
You can reheat it the next day then just add your favorite toppings on top. Aside from that, you can also wrap it in aluminum foil and pop it in the oven for reheating. Of course, it is always better if you make it fresh. Aside from that, it is possible to freeze your delicious fry bread to last for months.
Wrapping Up Authentic Indian Fry Bread
The First Nations people knew what they were doing when they created their bread. The different tribes made their own version of fry bread which many are now using at home. In fact, the whole family will enjoy this simple treat in place of a taco shell. The best way to enjoy this bread is by serving it fresh along with your favorite toppings. My favorite way is to serve it as a sweet treat! The popular way is usually with taco toppings.
Take note that any Facebook page or blog with affiliate links will get paid for your clicks. This is especially true if they are an Amazon associate. The Amazon services LLC associates program lets sellers earn with every click on their link. In fact, their Affiliate advertising program is useful if you want to make a business out of this.