Cancun has some of the best all-inclusive resorts in Mexico. In fact, if you want to stay in a 5-star resort, you will find one in a jiffy. On the other hand, if you are looking for boutique hotels, your best bet will be Tulum and Isla Mujeres.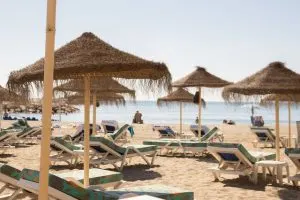 ---
Best Pools in Cancun!
---
---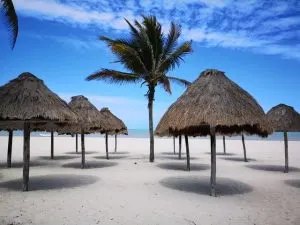 That said, regardless of where you want to stay, one thing is for sure, and that is they all have pools that guests can swim in. This is one amenity that most Cancun hotels have. The question, however, is which one to book for your family vacation in Mexico?
Best Resorts with Pools in Cancun
Booking a room in an inclusive resort in Cancun means that you don't have to do anything except rest and relax your entire stay. Fortunately, there is no shortage of choices in Cancun but you will need some help narrowing down your choices. Let's take a look at the best pool hotels to stay in.
Nizuc Resort and Spa
This inclusive hotel is one of the most stylish in the Hotel Zone. It boasts five pools, a Maya-inspired hydrotherapy spa, and incredible dining options too. Aside from that, their rooms and villas are spacious and have private balconies. Others have their own private plunge pool, outdoor shower, or soaking tub.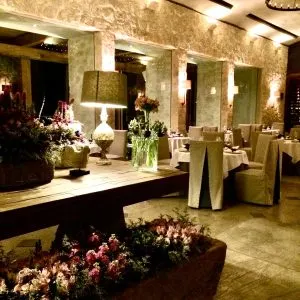 This hotel lies on the tail end of the Hotel Zone so expect it to be quiet. Its calm water, pristine beach, and reef filled with marine life are ideal for first-time snorkelers and divers. In addition, their dining and drinking options are top of the line which completes the five-star service.
Estudio Playa Mujeres
This five-star family-friendly hotel is the perfect place for families who want to indulge in Playa Delfines. In fact, the little guests will be spoiled here thanks to the sun-and-fun experience waiting here.
There is a Doodle Camp where they can let their creativity loose. Aside from that, guests can spend their time in the hotel's spacious water park. Also, there is a beachside relaxation with a swim-up bar for the adults to indulge in. There are six restaurants and three bars on the hotel grounds. You can indulge in whatever you crave here.
Hyatt Zilara
Another adults-only, all-inclusive resort in Cancun is Hyatt Zilara. What sets it apart from nearby hotels is that it offers panoramic views of the Caribbean Sea. Aside from that, it offers plenty of activities and amenities to its guests.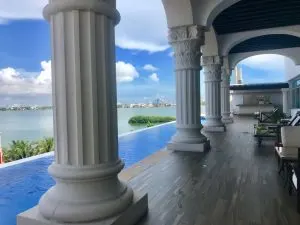 Among these are outdoor pools, a private beach area, a fitness center, and plenty of dining options. Daily activities range from craft-making to scuba diving, and wine tasting. In addition, there are six restaurants onsite that offer international cuisines. With live entertainment, cultural shows, and themed parties, there is always something happening in this resort.
Atelier Playa Mujeres
Meanwhile, this all-inclusive resort offers spacious guest rooms in Playa Mujeres. Aside from that, they have free WiFi, a private beach area, and 24-hour desk service. Also, guests can access their fitness center and hot tub. Atelier Playa Mujeres has an outdoor pool too. In addition, heated pools are available in the resort.
As for their rooms, they come with a flat-screen TV, air conditioning, and a private bathroom. In fact, this resort is accessible from Cancun International Airport which is about 30 km away. One of the attractions nearby is the Cancun Government Palace which is 13 km from the resort.
Turquoize at Hyatt Ziva Cancun
This luxury resort is an adults-only getaway that you can book for your trip to Cancun. Its suites come with private balconies with hot tubs, and overlooking stunning seascapes. Aside from that, guests have inclusive access to the hotel's rooftop infinity pools with the best ocean view.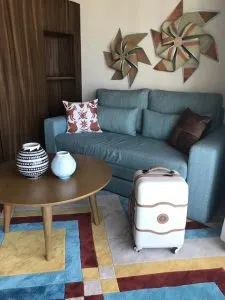 The beachfront suites cover 700 square feet of space with upgraded amenities and VIP services. Expect personalized butler and concierge services too. Aside from that, guests can take a private elevator for direct access to Zen Spa.
Live Aqua Beach Resort Cancun
If you are looking for a lavish, all-inclusive experience, then book a room here. Its main attraction revolves around water. In fact, there are seven shimmering pools, a tranquil beach, and hydro-reflexology at its spa.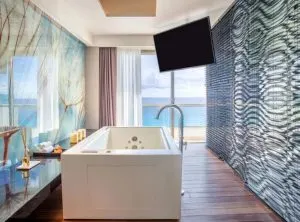 Aside from that, Live Aqua will spoil you with its indulgent dining options. Guests will get a free hand massage upon arrival with a foot massage included in their pool cabana rates. In addition, there is always live music done poolside and throughout the resort for entertainment.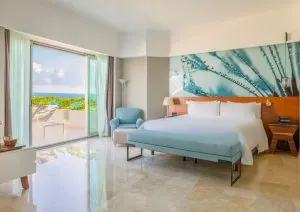 Le Blanc Spa Resort
This is an adults-only, all-inclusive resort in the Middle Hotel Zone. It offers three pools, impressive suites, and an exceptional dining experience. Aside from that, there are double whirlpool tubs, pillow menus, aromatherapy, and butler service too.
On-site restaurants offer fine and casual dining to their guests. Resort credits allow guests to customize their stay in Le Blanc. For example, they can opt to add romantic beach dinners, excursions, spa services, and others. The best part is that it is only a ten-minute walk from the nightclubs that line the Hotel Zone.
Hard Rock Hotel Cancun
One of the best Cancun hotels that can accommodate the whole family is the Hard Rock Hotel. As the name suggests, this is a rock-themed resort that welcomes guests of all ages. Among its features are huge cascading infinity pools, a comprehensive spa, and three whirlpools.
Aside from that, all the rooms here have their own private balcony and a jacuzzi tub. Couples may want to upgrade their stay to Rock Royalty. This will give you access to the adults-only pool on the third floor. In addition, the beach is quite gorgeous with blue waters to swim in.
The Westin Lagunamar Ocean Resort Villas & Spa Cancun
This resort and spa lie in the heart of the Hotel Zone in Cancun. In fact, guests will enjoy impressive views of the Caribbean Sea and easy access to Cancun's nightlife. Unlike other resorts that have only one outdoor swimming pool, this resort has two for its guests to enjoy.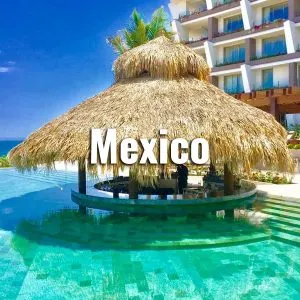 Aside from that, there is a private beach that you can access from the hotel. Moreover, you can take advantage of all the water sports here if you like. On the other hand, you can opt to go on excursions or on guided tours. Cap your day off with a full-service spa. You have earned it!
Excellence Playa Mujeres
Meanwhile, guests who want to avoid the hustle and bustle of the Hotel Zone can stay here. This stunning property sits on white-sand beaches overlooking Isla Mujeres. In fact, there are seven pools here, with four heated pools ideal for cooler months.
What makes this a great destination is that it has a wide array of spa treatments for its guests. In addition, the spacious guest rooms here have their own private plunge pools. Others have swim-up access to them which is a plus.
Hotel Riu Palace Peninsula
Meanwhile, Hotel Riu offers a rocky, rugged beach softened by white sand and clear waters. But what makes it an ideal choice for travelers is its pools. In fact, you can choose between family-friendly ones or adults-only pools, take your pick.
This all-inclusive property has several bars and restaurants onsite. Also, there are two live entertainment stages on the resort too. Of course, the rooms here are as impressive as their amenities. In fact, you will have your own balcony overlooking the sea, booze dispensers, and a spacious living room too.
Moon Palace the Grand
If you are looking for a family-friendly resort, then this is a good option to consider. Aside from that, it has its own water park plus kids' and teens' clubs too. Aside from that, all suites here have a two-person jetted tub, hammock, and private balcony.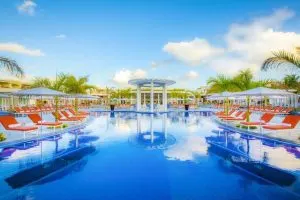 Moon Palace Cancun has two pools, a FlowRider, a lazy river, and a bowling alley. The Kids' Club has its own splash pad and video games to keep them company. In addition, parents can take advantage of the adults-only amenities. They include bars, clubs, and their own pool as well.
Club Med Cancun
Club Med has made a name for itself by providing guests with easy access to gorgeous beaches. Aside from that, there are several pools at the resort that you can swim in at your leisure. Also, Club Med is the largest sports academy in the world.
That said, why not take advantage of your stay here to learn something new? There are more than 60 sports options to choose from. For sure, your stay here will be one of excitement and relaxation. With its crystal clear waters that you can swim to its wellness options, you will be spoiled here for sure.
Nomads Hotel & Rooftop Pool Cancun
This budget-friendly hostel has a rooftop pool that you can enjoy with other guests. It is a party hostel that sits in the heart of downtown Cancun. Aside from that, it is just walking distance from the Cancun bus station so traveling will be easy.
In fact, you can head out to the best beaches of Cancun from here. Since this is a budget hostel expect that the rooms are not as lavish as the all-inclusive ones. On a good note, they are spacious and comfy and good for your money. Also, the nearest airport is the Cancun International Airport.
Beloved Playa Mujeres
If you are looking for the best Cancun resort, you should add Beloved Playa Mujeres to your list. Aside from having all the amenities of an all-inclusive resort, it has the intimate vibe of a boutique hotel. In fact, there are only 109 rooms here with a private terrace and a whirlpool tub or their own plunge pool.
Aside from that, there are three outdoor pools plus an opulent spa to relax in. The best part is that this resort is not as crowded compared to others in the Hotel Zone.
Ritz-Carlton
Meanwhile, this family-friendly beach resort boasts some of the best restaurants in Cancun. It also has two oceanfront pools and a spa for you to rest and relax in. The rooms and family suites here have soaking tubs, balconies, as well as floor-to-ceiling windows.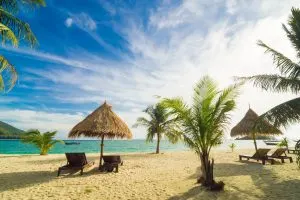 There are some that add private pools, club-level perks, or outdoor Jacuzzis to name a few. What you'll love about Ritz-Carlton is that it sits on a long stretch of white sand beach that complements the crystal clear waters. You can swim in the warm waters or take a dip in the outdoor pool of the resort. Take your pick!
Secrets of the Vine Cancun
One of the best resorts where you can go on a romantic getaway is Secrets The Vine. Aside from having easy access to the beach, this resort is far away from the busy Hotel Zone. This is the best place for couples who want to rest and relax.
Among the amenities available here are four outdoor pools, an amazing spa center with sauna and steam facilities, and several restaurants too. Although it is not the biggest resort in the area, expect beautiful pools and spacious rooms for you to enjoy.
The Royal Sands Resort & Spa
What sets this resort apart is that it is close to the Kukulcan Plaza Shopping Center. Aside from that, there are outdoor pools, tennis courts, a gym, and a spa on site. All available rooms come with a private balcony and stunning sea views too.
Expect free WiFi throughout the resort. If you are looking for authentic Mexican cuisine, the onsite restaurants are sure to help. Of course, you can sample the eateries outside the resort too. This way, you can check what the locals are having too.
Grand Fiesta Americana Coral Beach Cancun
This is a five-star beach resort that you should consider staying in while you are in Cancun. Aside from having the best pools in the area, the treatment rooms guarantee rest and relaxation.
After all, they offer full-body treatments that will send you to dreamland soon enough. The suites offer either full ocean views are partial views. They also have their own seating area and a private balcony.
The Royal Cancun All Suites Resort
The Royal Cancun All Suites Resort lies on the north shore of the Hotel Zone. It is on a secluded beach which makes it a great getaway for travelers. There are two free-form pools, a mini-market, a gym, and a spa service on the property.
If you are looking for a great restaurant to dine in, you will be happy to know that there are six options to choose from here.
Iberostar Cancun Star Prestige
Iberostar is an adults-only all-inclusive resort that lies south of the Hotel Zone. The rooms are large and spacious and come with whirlpool hot tubs.
In addition, the private balconies open to gorgeous views of the ocean too. Although most of the facilities are on the other side of the resort, the adults-only section has its own beachside infinity pool with a beach bar.
JW Marriott Resort & Spa
This family-friendly resort offers three interconnected pools to its guests. Aside from that, there is also a scuba pool with a built-in reef. This is where you can learn how to dive through the scuba lessons offered at the resort.
Spacious rooms with private balconies can accommodate different guests. Step outside to the beach where lounge chairs await you under towering palm trees.
Azul Beach Resort
Azul is a high-end family beach resort that you don't want to miss while in Cancun. It boasts six pools, including a kid's pool, and several amenities for all ages. The suites here include junior to two bedrooms as well as family suites.
There is a Nickelodeon-themed club here for the younger guests. Teens can also indulge in video games and their own lounge area too. Adults, on the other hand, can wine and dine at the clubs and bars onsite.
Beach Palace
Another option to consider if you are traveling with the family is Beach Palace. This beachfront all-inclusive hotel has three luxurious pools, three hot tubs, and waterslides.
All the rooms and suites come with a two-person jetted tub, dual vanities, and a private balcony. You can opt for room service if you want to enjoy some quiet moments with the family.
Fiesta Americana Condesa Cancun
Fiesta American lies next to one of the beautiful beaches in Cancun. This hotel offers a wide range of amenities and services suitable for all ages. Lounge by their main pool or make your way to the white sand beach out front.
Aside from that, there are different restaurants here that offer international flavors. Take advantage of their spa and gym facilities while you are here.
25 Best Pool Hotels in Cancun
Cancun is one of the busiest spots in Mexico with good reason. With its gorgeous beaches and active nightlife, tourists flock here to get in on the action. Room prices vary depending on the type of hotel that you are looking for. Hostels are budget-friendly while all-inclusive hotels are ideal for those who want to splurge.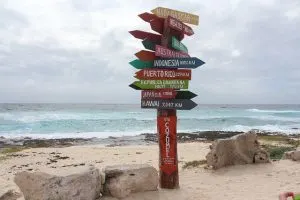 Regardless of whether you are looking for accommodations with a private pool, a water park, or spa treatments, you will not run out of choices here. All that you have to do is to check the options above to see which ones best suit your needs. For sure, you will have a grand vacation in Cancun soon.