Split is the second-largest city in Croatia that offers a good mix of ancient history and a modern way of life. In fact, you can get a glimpse of its past through its ancient ruins.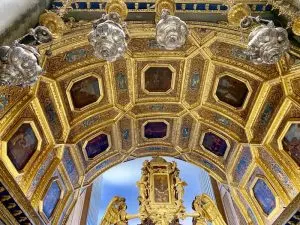 ---
What's in this post:
hide
Split to Dubrovnik from Split!
---
---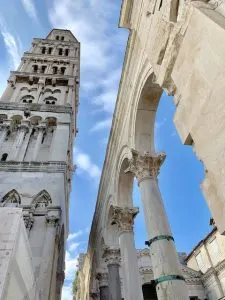 Aside from that, its bustling waterfront is where you will find fresh seafood. These ingredients make their way into restaurant tables for you to dine on. That said, there is more to see and do in and around Split.
Split Tourist Attractions
There are several tourist attractions that you should not miss out on while you are in the city of Split. In fact, you should add these hotspots to your itinerary.
Diocletian's Palace
This massive retirement palace was built in 305 AD by Roman Emperor Diocletian during the Roman times. It lies in the historic Old Town of Split.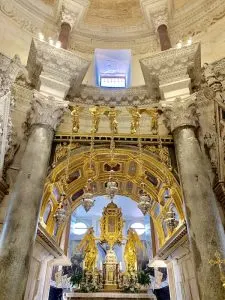 Aside from that, you should check the Palace's important sites which include Peristyle, or the center of the palace, Cardo, and the cellar. If you have watched the TV series, Game of Thrones, you will notice that the cellar was where Daenerys stored her dragons.
Klis Fortress
Meanwhile, this ancient fortress stands witness to different wars with the Knights Templar, the Ottomans, and the Mongols. Today, the ruins stand on the hillside overlooking the town of Split below.
Walking around the fortress at your own pace is a great way to enjoy the scenic views. The best time to visit here is during the summer months to appreciate the fortress. Also, the panoramic views are worth seeing here too.
Plitvice Lakes
If you have some free time while in Split, why not make your way to Plitvice Lakes? It is a 2.5-hour drive from Split. In fact, this is a World Heritage Site that deserves a day trip from tourists.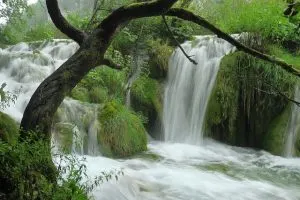 After all, it has 16 lakes connected through several waterfalls. It is easy to explore the National Park on your own. However, you can book a guided tour if you like to take you around the best spots on the lakes. You will go on a scenic drive from the medieval town of Split to the lakes.
Krka National Park
Meanwhile, if you want to go on a scenic journey then go on a trip to Krka National Park. What makes a trip to this amazing place a must is that it protects most of the Krka river. In addition, it also protects the natural beauty along its banks. Tourists often make their way to the Skradinski Buk waterfalls.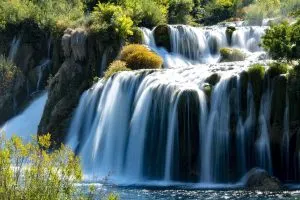 This is a series of waterfalls that plunge down from a great height. In fact, this is the perfect place to cool down if you are traveling during the summer. The best part is that it will take you only one and half hours to drive to reach it.
Omis
The distinctive old town of Omis lies just south of Split. Nestled along with spectacular scenery, there are plenty of beaches and cliffs that you can explore here. However, this town is best known for its adrenaline-packed activities here. For example, you can go on a zipline above the canopy of trees. Aside from that, you can also go white water rafting on the Cetina River. Take your pick.
Best Things to Do on Your Dubrovnik Day Trips
The city of Dubrovnik is one of the popular destinations in Croatia with good reason. It is a UNESCO World Heritage Site that lies in the Adriatic Sea, surrounded by imposing ancient walls. With its ideal location in the southern Dalmatia Region, it is the perfect jump-off point across the border. With other coastal villages nearby, and out into the open seas.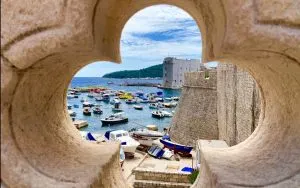 Traveling to the Pearl of the Adriatic from Split is easy since there are different options for you to choose from. The quickest way to get to Dubrovnik is by a 40-minute plane ride. You can also take public transport from Split to Dubrovnik or even drive a car rental, whichever you prefer. A bus ride will take a few hours but at the end of the day, what you see will amaze you. What's important is that you consider what kind of day trip you want to experience in this town.
That said, let's take a look at the best day trips that you can do in Dubrovnik from Split. It is always a good idea to spend a day or two here, instead of just a one-day trip. After all, there are several main attractions here that you should enjoy at leisure.
City Walls
The first stop of your day trip to Dubrovnik should be to see the massive city walls. One of the reasons why Dubrovnik has been listed as a World Heritage Site is the old town walls that surround it. Although these limestone defenses have been around since the 600s, their current form dates back to the 15th century.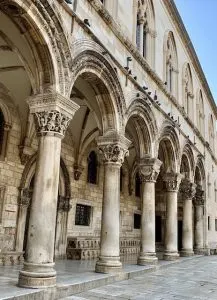 Exploring the entire city walls will take you a full hour or so, depending on how many stops you do along the way. Booking a tour guide will give you insights into its history. Also, the city walls have been featured in Game of Thrones which is why it has gained popularity in recent years.
Ride the Cable Car
The best way to see the old city is to ride the cable car up Mount Srd. It was built in 1969 and operated until midnight during the peak summer months. Ride the cable car during the day and you will be mesmerized by the baked clay roof tiles and the evergreen offshore island complementing the stunning Adriatic Coast.
On the other hand, if you climb up at sunset, you will see a different perspective of the city while the sun is setting on the horizon.
Old Town
Going on a walking tour in Dubrovnik's Old Town feels like you are on a movie set. In fact, you can work up an appetite here unless you have a local guide to show you the sights. The good news is that finding a local restaurant is easy. You just need to think of what to eat.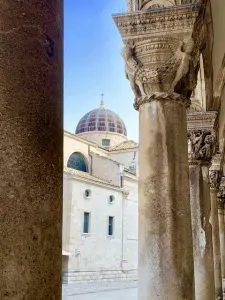 The best way to get your bearings is to make your way to Placa. This is old Dubrovnik's main street. It is a straight and broad limestone channel that you will find under the grand old houses of Dubrovnik. If you are here on February 3, you will see a procession on the Placa in honor of St. Blaise.
Aside from that, you can head to Orlando's Column which lies at the eastern end of Placa. This particular column and flagpole date back to the 1400s. It serves as the meeting point in the historic center. The statue depicted here is believed to be the medieval knight Orlando. It was said that he helped defend the city against the Saracens.
Franciscan Monastery
A tour of Dubrovnik should include a trip to the Franciscan Monastery built in the 1300s. However, the 17th-century earthquake caused the church to topple down. Later on, it was rebuilt in the baroque style. The rest of the monastery is Romanesque and Gothic. While you are here, make sure that you check the pharmacy.
In fact, it is the oldest running pharmacy in the world. Aside from that, its library is a must-see too. After all, it houses 200,000 books and 1,200 ancient manuscripts.
Sponza Palace
Meanwhile, the Sponza Palace was built in the early 1500s and served as a secular public building ever since. In fact, its atrium served as the place of business for merchants and traders all the way up to the 20th century.
This is one of the few renaissance structures that survived the earthquake. Today, it serves as the city archive where it houses more than 100,000 documents that date back to the 10th century.
St. Blaise Church
This ornate Baroque church replaced a Renaissance structure that fell during the great earthquake. It was the Venetian architect, Marino Gropelli, who built the church back in the 1700s.
Aside from that, St. Blaise Church became famous for its association with the city's patron saint, St. Blaise. It was said that the saint appeared in the dream of the priest telling him of the impending invasion by the Venetians. The dream was said to deter the surprise attack that saved the city. Afterward, you can make your way to the Rector's Palace.
Kotor, Montenegro
Are you planning on staying longer in Dubrovnik? If you are then a day trip to Kotor in Montenegro is a must. Montenegro lies south of Croatia that boasts beautiful beaches too. In fact, one of the highlights here is the town of Kotor. It lies in one corner of Boka Bay.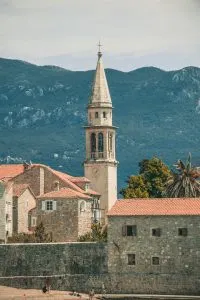 Meanwhile, Perast is on the Bay of Kotor and is famous for its surrounding islands. Traveling to Montenegro will take three hours at least because of the border crossings. Once here, you can book a full-day tour that will take you to the three towns here. On the other hand, going on a boat tour from Kotor Bay to Kotor and Perast is another option to consider.
Lokrum Islan
Lokrum Island offers a quick escape from the flock of tourists that visit Dubrovnik. It is just a 10-minute ferry ride that will take you to the opposite island. What you'll love about this island is the lush forest that you can explore through its walking trails. These trails will take you to the coast where you will find coves that are ideal for swimming.
Aside from that, you can come across families of peacocks on the island too.
Mostar, Bosnia Herzegovina
Another great place to consider for your Dubrovnik tour is Mostar. This day trip will take you to see Bosnia and Herzegovina easily through the coastal road of Croatia. In fact, this multicultural city has a complicated history that you will want to unravel.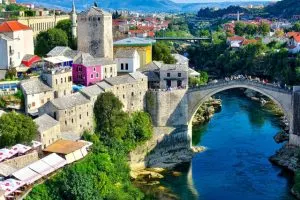 Aside from that, there are bazaars to enjoy here. Also, the Old Bridge is one of the iconic landmarks here that you don't want to miss. You can also include a side trip to the Kravice Waterfalls which is another highlight near Mostar.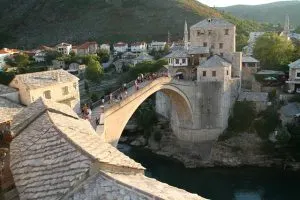 In addition, the Neretva River is a popular tourist attraction in Bosnia and Herzegovina. After all, it is the largest river on the eastern side of the Adriatic Basin.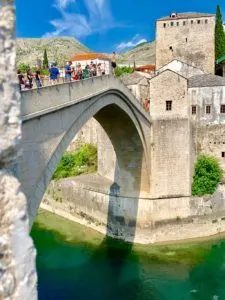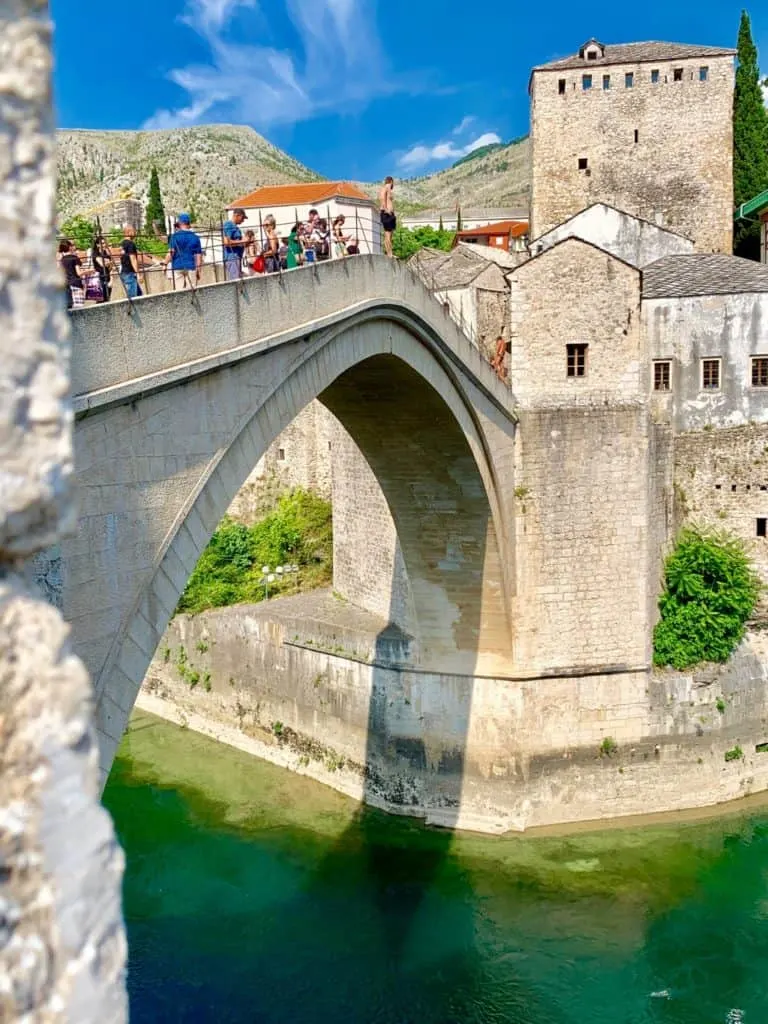 Dubrovnik Island Tours
Aside from the attractions mentioned above, day trips to the beautiful islands near Dubrovnik are a must. Fortunately, booking boat tours to any of these islands is not that hard to do. However, if you will be traveling during the summer season, you will need to book earlier, especially if you prefer to go on cruise ships. What are these islands near the Croatian coastline of Dubrovnik? Let's take a look.
Korcula
A Korcula day trip is a great way to enjoy your trip to Dubrovnik. This island lies on the Peljesac Peninsula. Aside from that, it is one of the more prominent wine regions on the scenic Dalmatian Coast. This island has plenty of vineyards that you can visit plus, you should visit the old town of Ston. Ston is best known for its old city walls like Dubrovnik.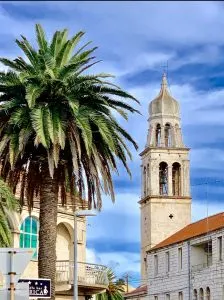 In addition, it is also famous for its salt flats and oysters. If you don't want to miss anything on Korcula Island then you will need to go on an organized tour here.
Hvar Island
The beautiful island of Hvar is the most famous island in Croatia. In fact, visitors flock here to enjoy its sunny coastline. From its gorgeous beaches to hiking trails, there is much to see and do here. Aside from that, the nightlife in Hvar is something to witness too. The clubs and bars come alive during the high season so prepare for the crowd.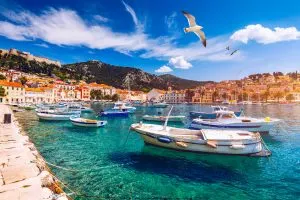 A trip here will take about 3.5 hours by ferry which means that you will have ample time to explore the island before heading back. If you still have time on your hands, make sure that you visit Stari Grad. This is the most popular Hvar town on the island. You can also make plans to visit the Blue Cave on Bisevo Island from here.
Elafiti Islands
The Elafiti Islands lie north of the small island of Dubrovnik. Three of its famous islands are Kolocep, Lopud, and Sipan. You can reach these islands by ferry, but the best way to go island hopping is by tour boat. These are a few examples of beautiful places that you can head out to from Dubrovnik.
Mljet Islands
Mljet is another option that you can add to your private tour across Croatia. This enchanting island offers plenty of lakes and hiking trails for you to explore.
In fact, most of the island is under the protection of Mljet National Park. If you head to Veliko Jezero or Big Lake, you will find a 12th-century monastery. The only way you can reach it is by a small boat.
Things to Do in Dubrovnik
Dubrovnik may be a small town, but it doesn't mean that there isn't much to do here. In fact, aside from the walking tours, food tours, and boat tours, you can also enjoy the cool waters here. Among the activities that you can do in Dubrovnik are:
Swimming
The sandy beaches of Dubrovnik are ideal for swimming and kayaking. Tourists come here not because of the sand, but the blue waters of the ocean. Aside from that, these beaches have an amazing backdrop of lush forests and ancient fortresses.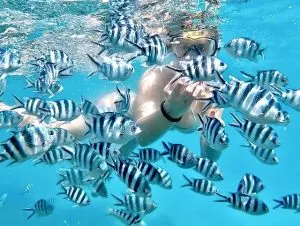 One particular beach that you should head out to is Lapad Beach. This is a tourist and family-friendly beach that will give you a great time in the waters.
Sailing and Sea Kayaking
Lokrum Island is just one of the islands in Croatia where you can go sailing and kayaking. In fact, there are several islands near Dubrovnik that you will want to explore. Fortunately, they are just a boat ride away.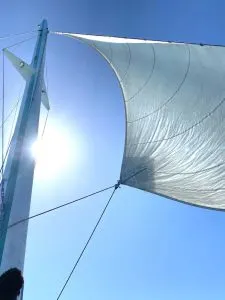 All that you need to do is to secure your ferry tickets to these islands so you can enjoy their waters. Aside from that, there are charter companies that can take you around these islands throughout the day.
On the other hand, you can go sea kayaking with a group to see the walls and towers of Dubrovnik from the waters. This is a unique experience worth trying.
Croatia is Amazing!
Croatia has been part of the European Union since 2013. It has gone to great lengths to become part of it. Today, it is enjoying the perks of being part of the EU which includes tourism.
Croatia is fast becoming a tourist destination in Europe with good reason. Its rich history can be seen in the ancient fortresses, churches, and towns around it. In fact, it has grown in popularity thanks to the Game of Thrones TV series. The show highlighted several fortresses and buildings that piqued the curiosity of travelers.
Aside from that, the islands that dot the country are also playing a role in its tourism. For example, Dubrovnik. This small town has been around since the Middle Ages with fortresses and walls that show its history. You can walk around the battlements and towers overlooking the Adriatic Sea. The best way to appreciate these ancient structures is to go on a tour. This way, you will learn what the city walls were for.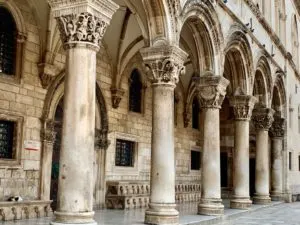 There is much to see and do in Dubrovnik that heading here from Split is a must. Although it is possible to go here on a day trip, it is best that you spend a few days here instead. After all, there are other places that you can go on a day trip near here. Just make sure that you bring your credit card with you. That way you can book a ferry or boat ride quickly.
Also, hotels and restaurants in the town do accept credit cards as payment if you run out of cash. For sure, once you reach Dubrovnik, you will be extending your stay here. After all, you will want to immerse yourself in its history and culture.