No trip to Mexico will be complete without sampling the local cuisine. Finding the best restaurants to dine in is all well and good. But don't limit yourself to these establishments. In fact, you should broaden your horizons by trying Mexican street food as well. After all, CDMX (Ciudad de México), better known as Mexico City, is home to a wide array of street vendors to choose from.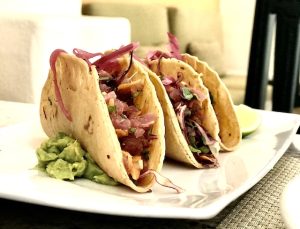 ---
What's in this post:
hide
Best Street Food
Mexico City
---
---
The real challenge, however, is knowing where to begin and deciding what to eat. With all the Mexican food waiting for you to discover, why not start with this guide? Not only will you learn what to try but also the best places to grab them. Once you are done exploring the city, time to satisfy your hunger.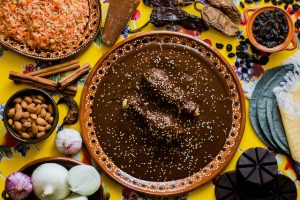 Best Street Food to Try in Mexico City
The streets of Mexico City are full of delicious treasures waiting to be discovered. For first-time visitors, let me tell you about popular street foods to try here. Let's get started!
Tacos al Pastor
This is the king of all Mexico City street food with good reason. This is a spit-roasted type of pork brought to the country by Lebanese immigrants back in the 19th century. Today, it is one of the go-to food for late-night snacking or if you need something on the go. In fact, you will find the best tacos al pastor in Mexico City.
You will notice that the recipes for Al Pastor will vary. However, if you are going for the traditional one, the meat is directly sliced from the spit. The meat will then be placed on fresh corn tacos. Afterward, they will top it with onion, pineapple, and cilantro. The finishing touch will be a dollop of salsa verde (green salsa) or salsa Roja (red salsa) for a nice kick.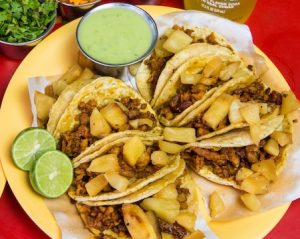 A great place to get tacos al pastor is at El Huequito. This little hole-in wall has been operating since the '50s. You know that they have achieved perfection with their tacos since they've been around this long.
Aside from tacos al pastor, there are tacos to try as well. One of these is tacos carne asada. They use freshly grilled beef made from loin cuts or flap steak. Another is tacos carnitas which makes use of any part of the pig.
Tostadas
You can find tostadas in different parts of the country. However, you can't miss this street food while you are in Coyoacan. Coyoacan is well-known as the former home of the renowned artist, Frida Kahlo. In fact, if you are going to visit her old home called the Blue House, you should have some tostadas. You will find this at the bustling market of Coyoacan.
Tostadas are famous street food in Mexico City. These snacks are crispy fried tortillas with all kinds of ingredients on top. The locals believe that tostadas were invented 2,000 years ago in Oaxaca. Today, you can enjoy this scrumptious food perched on a stool at one of the best spots which are Tostadas Coyoacan. You should also try their shrimp and avocado tostadas. Aside from that, they also serve rich chicken mole tostadas. Take your pick!
Tlacoyos
Another Mexican cuisine that is perfect for breakfast is tlacoyos. In fact, you'll find one on the street corners of Mexico's capital city. Yes, they use corn masa or corn dough for it, just like tacos, but this one has a twist to it. For starters, it has an oblong shape. Second, they stuff it with various ingredients. Think frijoles, queso, fava beans, and papa or potato. In addition, they top them with salad, nopales, and salsa. Of course, tlacoyos with more cheese is a favorite of Lesley Téllez. She is the author of Eat Mexico.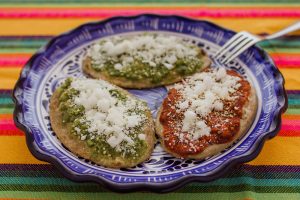 It's true that you'll find tlacoyos in various parts of Mexico. However, if you want to sample the best one, go to Tlacoyos Dona Bety. This shop lies in Mercado San Gregorio Atlapulco which is a local market. You should definitely drop by after exploring Xochimilco. This tourist hotspot is best known for its floating island gardens and networks of canals.
Machete Quesadilla
Are you looking for a small snack? Well, this one is not it. This popular food in Mexico City uses enormous corn tortillas which are about half a meter in length. It is then folded over before being stuffed with your choice of ingredients. For those who want to sample the richness of this snack, choose huitlacoche as the filling. This is a mushroom-like fungus that typically grows on corns. Although locals call it "smut", it is almost the same as truffles minus the high price.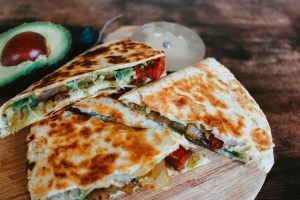 You cannot find this street snack anywhere else except in Mexico City. In fact, this is one of those foods that you'll only find in this place. Where you should get one? Head to Guerrero which lies northeast of Centro Histórico or the Historic Center. In fact, you should grab one at Los Machetes de la Guerrero. This street-food-style eatery serves delicious machetes at reasonable prices.
Tamales
No trip to central Mexico will be complete without ordering tamales. In fact, this marvelous street food has been around for centuries! Would you believe that this was an important ritual food back in the day? The Aztecs offered them to the gods during their time. This is why you shouldn't be surprised to hear that tamales are one of the best things that Mexico is known for.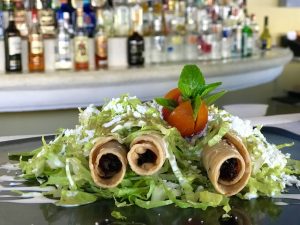 To create this delicious food, street food vendors steam their corn masa and then placed it inside a corn husk for serving. Aside from that, the center of the tamales can contain cheese, meat, and salsa. In some recipes, they use sticky guava paste in place of the salsa.
In addition, there are two types of tamales that you can try. The first one is the fresh husk topped with cheese and sour cream. Second is the dried husk which is the most popular version in the city. After all, the fillings used here deliver a burst of flavors to your taste buds.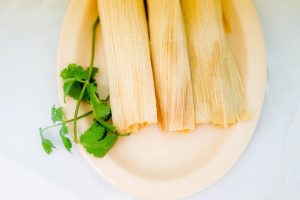 Cochinita Pibil
No street food guide will be complete without mentioning cochinita pibil. This slow-roasted pork dish originated in the Yucatan Peninsula. Cochinita Pibil is a marinated meat dish wrapped in banana leaves before being cooked. This gives this dish that earthy and sweet scent.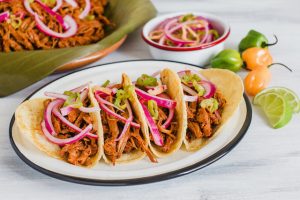 Cochinita is often served in corn tortillas. In fact, you can order tacos de cochinita pibil while you are in Mexico. It also comes with vinegar-marinated onions and beans. For the brave ones, add some chili habanero sauce to your cochinita pibil. Among the best places to get this dish are El Cardenal and El Turix.
Tortas
Another local favorite that you should give a try is the tortas. This is Mexico's own version of a sandwich. Basically, they are using bolillo roll or a telera bread to make this sandwich. You can have it hot or cold even. And just like with tacos, you choose what ingredients to go with it. Among the popular options are melted cheese, roast pork leg, and refried beans to name a few.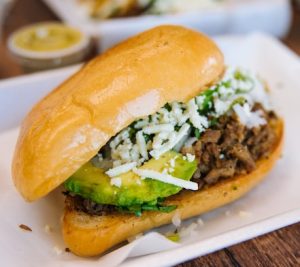 If you want to try one then make your way to Tortas Been. This is a great place to indulge in this Mexican sandwich. You will find the store in an indoor passage along with other shops. Here you can order tortas de pierna, pavo ahumado, and pollo. All of these are mouthwatering options. And you know what makes them extra delicious? Sour cream! They apply it on the roll giving your tortas that extra bit of flavor.
Flautas
As the name suggests, this snack comes in a shape of a flute. This long, rolled corn tortillas do appear like flutes when cooked. To make this good food, your choice of ingredients will be used to fill the tortillas. After they have been rolled, they will be deep fried. This is to help make them stay tight and crunchy too. Aside from that, they add sour cream, lettuce, and cheese on top.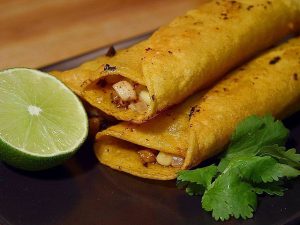 If you are looking for the best place to have one, look for El Rey. Yes, this is not the only restaurant that serves this traditional dish. However, this store is among the best out there.
Pozole
Another street food that you should try is Pozole. This is the ultimate comfort food for Mexicans. It's a hearty meat stew packed with hominy and plenty of chili. They serve this alongside tostadas, radishes, lime wedges, and avocado.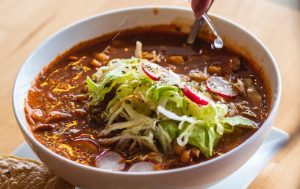 If ever you want to try this dish, Dona Yoli is the place to be. After all, this store has been operational for decades. Their hearty stew comes with maize, pork, and other trimmings. This is actually a good spot to grab some spicy food during the late afternoon.
Gorditas
Gorditas is yet another street food option made from a thick tortilla that you don't want to miss. This is a golden stuffed masa antojito filled with all sorts of ingredients. Among these are chicharrones, shredded meats, and cheese to name a few.
Aside from that, the ingredients usually vary depending on where you will buy one. Also, your gorditas can either be fried or grilled. In some cases, they mix the chicharon with the masa before being cooked.
Chicharrones
Meanwhile, chicharrones is yet another example of the best food in Mexico. Made from pork rind deep fried in lard and then dried, this street food is a must-try! What's interesting about this snack is that it comes in all sizes. In fact, you can find chicharrones about one meter long and one meter wide!
The locals love to munch on them like potato chips. Not only that, but they even put hot sauce on these crunchy goods. Take note, however, that not all street food stands for you to sell chicharrones. Sell the real ones. Some sell fried flour versions instead. It would be better if you ask what kind they are selling so you will not be ripped off.
Elotes and Esquites
Have you ever noticed that most of the traditional dishes and street foods in Mexico have one thing in common? That's right! Corn is an essential ingredient in most of them. In fact, this is further evident with the popular elotes and esquites.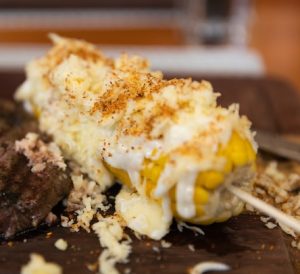 Elotes refers to maize cooked whole. Eating this snack is a bit messy. Vendors slather the cob with lime juice, crumbly cheese, chili peppers, and mayonnaise. Fortunately, there is an easier way to enjoy this snack. You should order the elotes y esquites. In this version, corn kernels are put in a takeaway bowl. Afterward, the vendor puts all the yummy ingredients on top of it. From chili powder to cheese, and others. The flavors are a combination of spicy, zingy, and saucy. You won't be able to get enough of it for sure!
Camotes
Mexico City food stalls are quite diverse and you're to find some sweet treats too. The best example of this is camotes. Camotes is sweet potatoes with condensed milk and strawberry jam. This is one of the oldest street foods here and a must-try for first-timers. Vendors use a charcoal oven to pressure cook the sweet potatoes. In fact, if you are looking for a camote vendor, just listen for the whistling of the pressure cooker.
Tourists enjoy this sweet snack as they spend more time in Mexico City. And since there are plenty of vendors selling camotes, you can grab one anytime you crave it.
Churros
Another great choice for a sweet treat in Mexico City is churros. This can be your last stop after a night of exploring the city. Churros are often dusted with cinnamon sugar. However, most churro stalls will give you other options for toppings too. Among these are chocolate, strawberry, and vanilla. You can also opt for dulce de leche sauces if you like.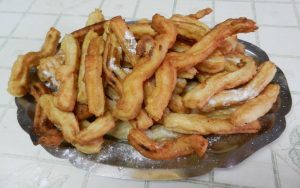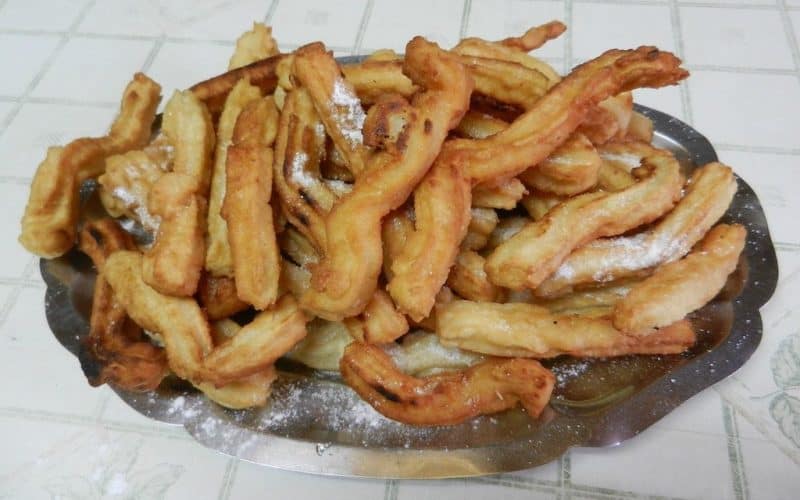 Wondering where to find a churros stand? Check out the public markets in the city. For sure, you will find one among the street food stalls there. You should check the Colonia Roma district for churros vendors. Here you will find churros standing together with traditional Mexican meals.
But if you are looking for the best spot to have churros, check out El Moro. This budget-friendly cafe is where locals grab their churros. You should too!
Agua Fresca
With all the food that you have been eating, you need to have a drink to wash them down. Having an agua fresca is a good idea as this is a non-alcoholic drink made from fresh fruits. There are several variations to this drink. In fact, some of the more common ingredients used are seeds, hibiscus, and cereal. Another variation of this drink is the licuados. In this instance, they add condensed milk to the drink.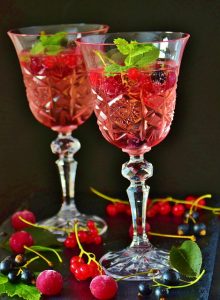 You can easily spot stalls selling this drink in and around Mexico City. The good news is that they mix up the flavors each day. This keeps this drink interesting.
Best Markets for Mexico Street Food


Now that you have an idea about the food scene in Mexico City, let's talk about where to find them. Fortunately, there are several food markets that you can visit for these dishes. Among these are:
Mercado Medellin
This former Colombian market has transformed itself into one of the most popular markets in the city. Here you can buy groceries, souvenirs, and flowers. Aside from that, you can also find affordable Mexican cuisine here as well. In fact, you can go and try exotic street snacks here like the chapulines. These are fried grasshoppers that are crunchy and flavorful. In addition, you will find any type of taco, quesadillas, and mole to name a few.
Mercado de Coyoacan
Aside from the popular tostadas, this local market is known for its flowers and street food. You can sample as many local dishes here. From their chilaquiles to meaty tacos, you'll be full in no time. I would suggest that you visit La Cocina de mi Mama Coyoacan. This is one of the best cafes here to grab a bite to eat.
Mercado de Roma
Meanwhile, Mercado de Roma lies in the heart of CDMX. And just like the stylish atmosphere of the city, this market has a hipster vibe to it. Aside from the local cafes serving a wide range of food, there are fast food stalls here as well. Indulge in tacos, chilaquiles, and other Mexican cuisines. Take note, however, that the prices here are a bit higher compared to other parts of Mexico.
Mercado de San Juan
This is one of the biggest and busiest markets in Mexico City. You will find it in Centro Historico. Many refer to it as a chef's market because of the wide range of ingredients you'll find here. Since this is a busy spot, dress comfortably and wear closed shoes. Also, skip wearing white and jewelry here. Dress down so you can blend with the locals while sampling street foods here.
Mercado la Merced
Meanwhile, Mercado de Merced is the largest traditional market that you'll find in the city. In fact, there is a wide array of street food vendors here too. You can order tacos, chicharrones, and tlacoyos here and more.
Since this market is pretty big it is easy to get lost in the maze. The best way to explore the market is with the aid of a local guide. Not only will they be able to point out the best dining spots, but you'll also learn a thing about Mexican cultures.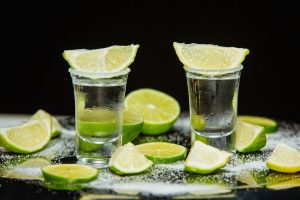 Mexico City Food Tours
There is no doubt that Mexico is one of the most popular spots in Latin America. With its rich culture and history, tourists from the United States and across the globe often visit when they can. Of course, there is more to Mexico than its historical buildings and ancient ruins. Mexican cuisine is also one of the highlights of this place.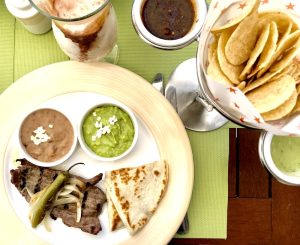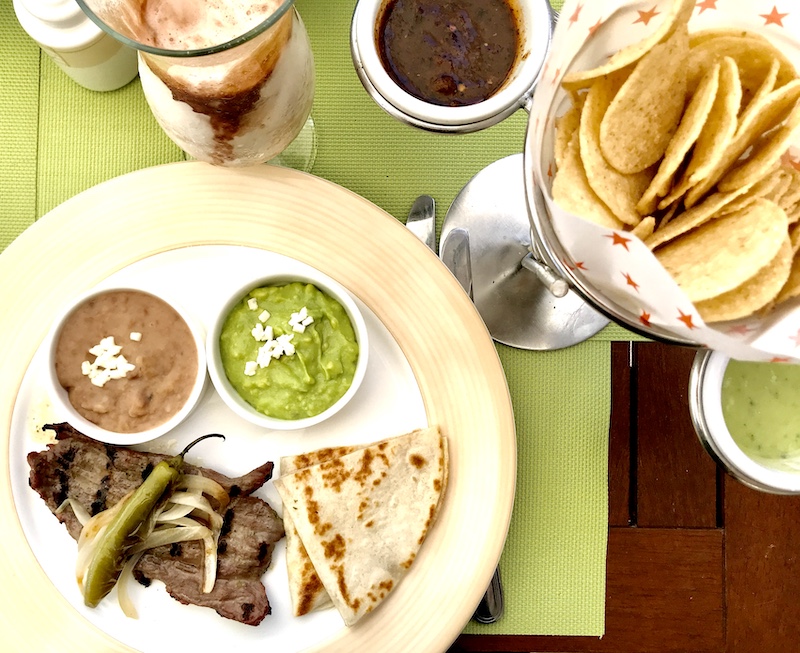 Aside from trying out new restaurants, I would suggest that you go on a food tour here. One particular tour that you can sign up for is with the cookbook author of Eat Mexico, Lesley Tellez. A short walk with her will already bring you to the best restaurants and food stands to try.
Of course, there are other food tours that you can join. In fact, ask the hotel you are staying at if they can recommend any food tour. You should add this to your itinerary, especially if this is your first time visiting Mexico.
Mexican Cuisine is About as Good as it Gets!
Mexican Spanish influence can be seen not just with the historical buildings, but in the local cuisine too. You can find a wide array of dishes here that you will want to try out. Aside from what the restaurants are serving, the best way to enjoy Mexico's cuisine is through its street foods.
Although tacos are the most popular street food in the city, there are more options to consider. You can try their tostadas, tlacoyos, cochinita pibil, and others. Even their sweet snacks are worth sampling too. Fortunately, getting around the city is easy thanks to public transportation. However, I would suggest that you join a food tour here. Not only will you be taken to the best spots, but you'll also avoid food poisoning too.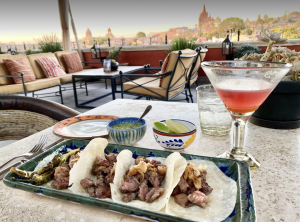 Get to widen your palate as you explore the public markets of Mexico City. Indulge in tacos al pastor and wash it down with fresh juices. You can also try their pozole to know why locals consider this dish their comfort food. And if you are craving something sweet, churros and camotes are perfect for your needs.
Walking around Mexico City is always a pleasure. Not only are there plenty of interesting sights here, but there is food everywhere. It's not surprising why tourists fall in love with this place. The food alone is good enough reason to plan your next trip here.