The picture-perfect Santorini is one of the Greek Islands that lies on the South Aegean Sea. Tourists flock here to see its famous white-washed and blue-topped buildings facing the open sea. For many, Santorini is on their bucket list. But the real question here is when is the best time to visit it?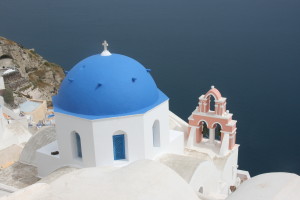 ---
Best Time to Visit Greece
Santorini!
---
---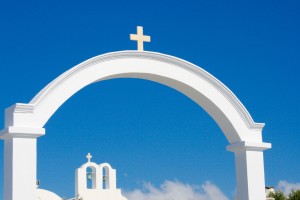 The answer here depends on what you are looking for in your Santorini vacation. For example, do you want to travel here during the low season to save money? Or do you want to experience the best weather here? Do you wish to explore the island minus the crowd? The best option for you is to consider which months are suitable for traveling. This way, you will be able to get the most out of your trip here.
Choosing the Perfect Time to Visit Santorini
The small island of Santorini attracts more than a million visitors each year. Most of them travel from July to August. Which are the summer months or peak seasons. However, just because people head here during these months, it doesn't mean that you should. In fact, you should time your travel carefully to get the most out of your trip.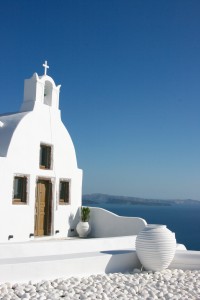 That said, there are different travel seasons to consider and these are:
The high season begins from late June to early September. People flock here because of the hot, sunny days. However, you will not feel overwhelmed by the crowd. Which is a plus. Aside from that, expect higher prices. Because this is the peak season. There will be a huge demand for accommodations and food during this time.
In addition, the water temperatures tend to be the warmest. Making them ideal for swimming. Also, it is during these months when ferries and flights are busy. This is also the best time to visit the island for its nightlife.
This runs from the months of May and June. As well as September and October. Expect to have great weather during your trip here. But take note that the waters may not be that warm yet. There is a crowd on the island. But not so much. In addition, all ferries and other modes of transportation are open to everyone.
Meanwhile, the low season begins from November all the way to April. On a good note, there are tourists who want to experience the winter months on the island. Going sightseeing is not a bad idea since the crowd has thinned already. However, be careful of the changing weather. The skies can be overcast with occasional rainshower. Also, some restaurants and hotels are not operating during the low season. If you are visiting during these months, head to the towns of Fira. Especially since most of the establishments here are open.
A Preview of Santorini for Each Month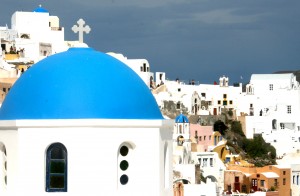 The best way to determine what time of year to visit Santorini, you should weigh the pros and cons of each month. Let's take a look.
January
January is off-peak for Santorini which is ideal for backpackers who want to visit the island. Yes, you can expect sunshine here. But bring a jacket with you to keep yourself warm. There are days when there is little rain.
Aside from that, a majority of hotels and restaurants do not operate during this month. However, things are starting to change. As Santorini is trying to become a year-round tourist destination. This is also the ideal time for backpackers to visit. Especially if they are not concerned with the minimal services available. However, it is hard to enjoy the waters. Mainly because they are still cold.
February
This month is just like January when the weather is a bit cold and a sea breeze is constantly blowing from the sea. Expect that there are fewer tourists during this month. Aside from that, this is also a good month to travel here. Mainly because the prices are relatively cheap.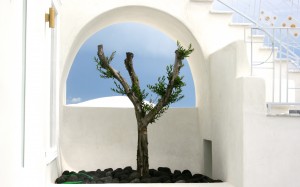 Also, there are establishments open in the main tourist areas of the island. Don't expect that you will be able to swim here during this month. After all, this is the coldest month here with an average low of 49 degrees Fahrenheit.
March
The average temperature is getting warmer during this month. Although it is still a bit chilly for some. Those from cooler climates will notice the difference. In fact, this is the best season to visit if your personal preference includes avoiding the crowd. There are days when the temperature hits 20 degrees Celsius but the waters are still not ideal for swimming. On a good note, you can get great deals for hotels during this month. Which you should consider.
March still falls in the off-season. But expect the shoulder season to arrive. When this happens, expect cruise ships to arrive by the end of the month. If you are visiting during this month, look for a hotel that has a heated pool. So you can go swimming anytime you like.
April
Meanwhile, April is still in the low season. But things can get busy during Easter Week. After all, Greeks will be coming home to celebrate Good Friday all the way to Orthodox Easter. However, you will still not be able to enjoy the gorgeous blue waters of Santorini. Because of the sea temperatures. On a good note, you can head out to the beach to enjoy the sound of the waves.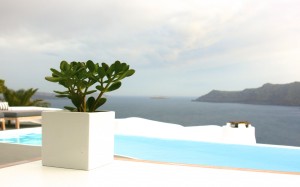 Visiting Santorini in April is not a bad idea. After all, the prices are still cheap. Also, there is the Greek Easter celebration which is one of the cultural festivals worth seeing. Easter Sunday is when the town explodes into parties and family get-togethers.
However, do not expect sunny weather throughout your stay here. Think mild weather. Which is a great time to appreciate the breathtaking views. Take note that there are more business establishments opening up in late April. This is in preparation for the high season.
May
Expect great weather from the month of May to November. However, there will be occasional warm and sunny days outside of it. Aside from that, this is a great time to make your trip to Santorini. Because the island is finally opening up. In fact, the crowd is slowly trickling in. This means that you will be able to enjoy the island's old-world charm.
Visiting in early May means that there will be cool overcast days. However, come here in late May or late spring, and you will be welcomed with warm and sunny days. In fact, May is the month when beach towns are starting to dust off the cobwebs and getting ready for the influx of tourists.
June
This is the start of the high season and warmer months in Santorini which will run until September. Aside from that, traveling here in early summer is an excellent time. Especially since there are not a lot of people yet. If you prefer to avoid the crowd but want to feel the warm sun on your skin. This is a good time to travel.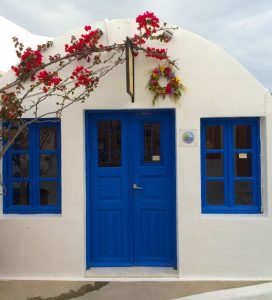 In fact, you will not see a lot of people during the first few weeks of June. Additionally, you can head out to Santorini's beach towns like Red Beach. Since they have warm waters now. However, expect to see a flock of tourists arriving in late June.
July
This is the best time of the year to travel to Santorini as it is the high season. In fact, July is the busiest month here, and with good reason. Expect high temperatures that reach up to 95 degrees Fahrenheit (35 degrees Celsius). Aside from that, you will see hordes of tourists arriving in Santorini this month. It seems that everyone has the same idea of visiting the popular islands of Greece during its warmest time.
That said, expect that the hotel rates will go up because of the high demand. You will need to plan your travel here ahead of time. In fact, if you are planning to visit here in July, you should book at least three months in advance. Also, there will be more people in Santorini's hotspots because of the hot weather. In addition, expect more outdoor events happening during the high season. After all, the Greeks are known for their nightlife.
August
August is one of the hottest months in Santorini. Which is one of the reasons why tourists flock here. Since this island is one of the most popular destinations in Greece, you need to prepare yourself for the crowd. There are the occasional strong winds, of course, but mostly the weather is warm. Aside from that, the waters are perfect for swimming, snorkeling, and other water sports.
For many, this is the best time of year to visit the island because of the weather. Also, this is the beach season and Santorini has one of the most gorgeous beaches in the area. You can check their ferry schedules if you want to go on a day trip to nearby islands.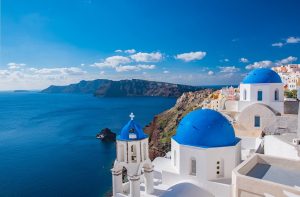 September
The good news is that by September, Santorini is reverting to its old-world charm once more. Yes, you can still enjoy the warm weather here. But the good news is that tourists are leaving. In fact, it is a good idea to book a trip here this month! After all, there will be smaller crowds in the island's tourist hotspots. Which makes it easier for you to enjoy the views.
Aside from that, expect good weather during the first few weeks. You should go on boat tours that will take you to Mount Olympus, or wine tasting here. If you check any travel guides, you will find that many recommend that you head here in late September. This way, the bulk of the crowd of tourists will be leaving.
October
You are now entering the low season once more. Which means fewer people. Thank goodness! Aside from that, you will find good deals in terms of hotel accommodations during early October. This is because the hotels want to entice latecomers to enjoy the beauty of Santorini. Guests should expect warm weather during the first few weeks. However, be prepared for the cooler evenings as the night sets.
Aside from that, you can enjoy the sea view from the beach better. Because there are not a lot of people. However, businesses will be closing up shop in late October in preparation for the low season. But don't you worry. There are still some that are open to catering to travelers. Especially for those who want to see Santorini after the summer rush. You can still find several still operating even by the end of October.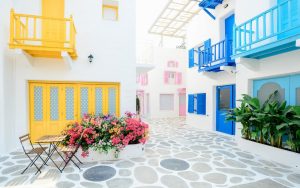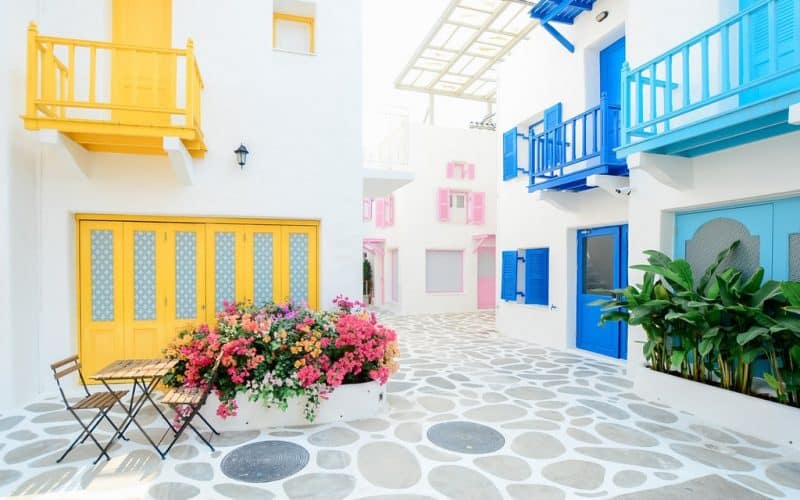 November
The pleasant weather of Santorini gives way to cool temperatures in early November. This signifies that the winter season is here. Aside from that, there are still warm days happening during the early weeks. However, as the month progresses, daytime temperatures will start to drop. This means that swimming may not be ideal at this time because of the cold.
In addition, most of the luxury hotels on the island are closing. Fira and Oia are moderately open. But are just waiting for the last cruise ships to arrive before closing up until the next season. Oia is ideal for its cave house wherein accommodations are built into the rocks.
December
Although Santorini is quiet during the winter months, tourists are starting to enjoy their visits here in recent years. This is not surprising since the crowd has already gone and the island is back to its normal self. It is possible to find a hotel room at a much cheaper price. Which you don't want to miss. After all, the cooler weather is not ideal for the beach but it is good for sightseeing around the island.
However, expect that the weather can be cool, cloudy, and rainy from time to time. There is the occasional sunshine and all, but mostly the skies are overcast. Most travelers stay in Fira or the main town since it is open during these low months. If you are wondering which are the best months to visit, come here from October to December.

Wrap Up the Best Time to Visit Santorini
One of the best things about Santorini is that there is always something to do each month. If this is your first time visiting, heading here in early autumn or early fall is not a bad idea. After all, the crowd will not be as thick as during the summer.
There is no doubt that Santorini is the best place to spend your vacation in Greece. After all, it has something for everyone. Regardless of whether you are looking for cheap hotel prices, or want to visit during the high season, Santorini is a great vacation spot to be in. With its clear blue waters and stunning view, you will find more reasons to stay here.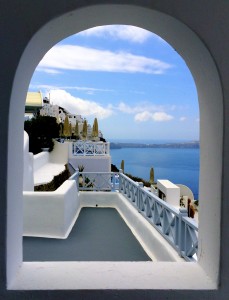 Santorini is slowly changing from a summer vacation spot to a year-round tourist hotspot. This means that regardless of the month that you come here, you will get to enjoy the island. Of course, if you want to visit when hotels are offering lower prices, then choose the months of November to April. However, expect that the rates will go up by the time the summer months roll in. After all, tourists will be arriving en masse so book ahead of time.