Tourists often pour into Cancun during Spring Break but there is another destination that is slowly gaining traction recently. Tulum Mexico is a beach town that is starting to gain attention across the globe. With its beautiful beaches and tourist attractions, this is one of the best spots to visit in Mexico's Riviera Maya.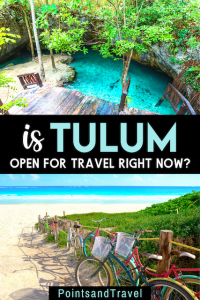 You are probably thinking when the best time to visit Tulum is. The good news is that this is a year-round tourist destination. However, there are some months that are better than others.
A Great Time to Visit Tulum at a Glance
Here's a quick glance at when the best time to visit Tulum is:
The best months to visit Tulum are November and December. They fall after the hurricane season. You'll find that the weather is not too hot not to mention that there are fewer crowds too.
December to April is Tulum's peak season. This means that hotels and resorts will be fully booked. Not only that but attractions will be packed with people and there are tourists everywhere you go.
If you prefer traveling when there are fewer tourists, then time your trip here between May to September. There are great deals for hotels and resorts around these months. However, be prepared for some rain.
Meanwhile, Mexico's rainy season falls in October. If you can, avoid traveling here during this month.
A Breakdown of Tulum's Travel Seasons
One of the best things about Tulum is that it has good warm weather the entire year. This means that you can travel here any time you want. Most of the time the weather here is generally sunny with an average daily high temperature of 70 to 80 degrees.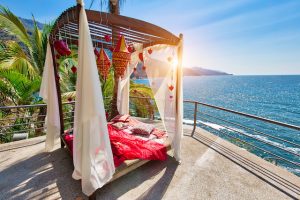 That said, Tulum has its own travel seasons that you can choose from. The best time to visit will depend mostly on your preference. Just to give you an idea, here are the top travel seasons in this beach town.
High Season
Tulum's high season starts in late December and all the way to April. In fact, you will see large crowds from December to February. After all, this is the time that snowbirds from the United States, Canada, and other European countries travel here to enjoy the sunny weather. In addition, Spring Break, Holy Week, and Easter Sunday tend to be busy in this town.
If you don't mind the lively atmosphere and rubbing shoulders with large crowds, this is a good time to visit Tulum. In fact, expect good weather during these months. You'll have clear skies overhead plus warm waters to swim in. Take note that you will need to book your hotel accommodation ahead of time. It's because hotel prices go up during the high season. The same goes true with Tulum tours. Better book them ahead of time.
Low Season
Meanwhile, the low season in Tulum happens between May to October. This is actually a good time to travel to Tulum because there are fewer people visiting. Aside from that, it will be easier to find hotel accommodations. Of course, there are a few things that you need to consider when traveling here during the low season.
First, May is the hottest month of the year in Mexico. You should expect hot temperatures during the day. In addition, October is hurricane season. This is also the time when sargasso or seaweed covers the beaches. Expect rainy days in Tulum between June and October but not so much that they will ruin your trip.
Shoulder Season
Tulum's shoulder seasons are from April to May and November to early December. Yes, these months can be busy but not as crazy as the high season. You should still book your hotel ahead of time. Although hotel rates from high and shoulder seasons don't change that much, it is easier to find accommodations during shoulder season.
Aside from that, you should be ready for great weather, especially from November to December. As mentioned before, expect hot temperatures during May. It can get uncomfortable the more you travel inland. On a good note, the temperatures at the beaches are bearable.
Visiting Tulum by Month
The city of Tulum has much to offer its guests. In fact, if you are building your Tulum itinerary, you can use this month-by-month guide to help you plan your trip here.
January
Are you thinking of celebrating New Year's Day in a different place? Well, why not do it in Tulum? Aside from New Year's Eve being a big deal here, the locals also celebrate King's Day or El Día de Los Reyes on the 6th. Of course, this is also the month when tourists flock here so expect a crowd. The beach town is teeming with tourists and activities. Even the beaches here will be teeming with people!
Tulum weather at this time is balmy with an average temperature of 70 degrees Fahrenheit. If you are planning on visiting Tulum in January, better book your hotel at least six months in advance. After all, January falls in the high season so hotels and resorts are often full. On a good note, Tulum's nightlife comes alive during this month. In fact, there are music festivals happening left and right. Check out beach clubs here and in neighboring towns, like Isla Mujeres and Cancun, for parties and more activities.
February
So, the high season still continues until February which means that you are still enjoying the best weather. Aside from hanging out by the beach, this is also a great time to visit an archeological site. Among these are Chichen Itza and the Tulum Ruins. These sites are home to ancient Mayan ruins that have survived centuries. Seeing them for the first time is an amazing experience.
The party vibe on this beach town is still happening. In addition, expect Carnaval to happen this month. Yes, you can head to different parts of the Riviera Maya to join in the celebration. However, it is in Tulum where the last leg of the Carnaval happens. Take part in the closing party with live music, flowing drinks, and endless dancing.
March
Meanwhile, March is when you should expect an influx of tourists. After all, it's Spring Break! Although the bulk of tourists is staying in Cancun's Hotel Zone, expect some spillover in Tulum. In fact, there is a festive air in this beach town which you might enjoy. Aside from that, it is also a good idea to bring out your swimwear and lather on sunscreen lotion. It's because the temperature is slowly heating up since it is the dry season.
If you are in Tulum during early spring, add the Alborada Maya festival to your itinerary. Also, expect Spring Equinox celebrations happening in Chichen Itza. These two events are too good to pass up! Meanwhile, food and wine lovers should check out the Food & Wine Festival during this month as well.
April
Ah, April! This is the time when tourists are heading back home which means that it's a great time to come here. Enjoy pleasant weather minus the crowd. In fact, you might hit a jackpot on great deals offered by hotels and resorts. Keep your eyes peeled because you might end up getting discounts when you book a stay here.
This is also an ideal time for families to visit this beach town. It's because there are fewer people here. Also, the atmosphere is more laid-back so you can enjoy the beaches better. You can even visit one archaeological site to the next without rushing. Aside from that, Tulum celebrates Children's Day on the 30th. Your kids can get discounts from shops and other attractions. How cool is that? Take note that April is the driest month of the year here so better keep yourself hydrated.
May
As May rolls in, you are entering Tulum's low season. This is the time when the weather starts to heat up with the days becoming wetter. In fact, you will notice that there aren't that many tourists around this time. On a good note, this means that you can take your pick of the best hotel to stay in Tulum!
Also, the water temperature is warm making it ideal for snorkeling and scuba diving. You might even experience swimming alongside giant sea turtles thanks to the perfect sea temperatures. If you are looking for a fun activity, there is the Festival de Cultura de Caribe. This is an eight-day festival where the town celebrates three different cultures namely Caribbean, Mayan, and Mexican. Cinco de Mayo is not a big deal here in Tulum, but there are bars that offer deals for their patrons on this day.
June
June is when Tulum's low season really begins. In fact, booking a trip to Tulum around this time is the best way to enjoy the beach town all to yourself. Not only will you find hotel prices considerably low, but you will have a more laid-back vacation as well. Take note, however, that this is one of the rainiest months in Mexico. On a good note, rain showers tend to be short so there is always a chance of sunny days during your trip here.
Aside from that, June is one of the best times to visit Tulum. After all, this is the time when whale sharks migrate here. In fact, there are whale shark tours that will take you close to where these gentle giants are. Keep in mind not to swim too close or touch these sharks. The government has put up restrictions with regard to these animals to keep them safe. If you are looking for something livelier, head to Playa del Carmen. The Fete de la Musique is happening this month.
July
July is the start of the summer months in Tulum. Aside from high temperatures, you should expect some rain as well. Expect high humidity levels too. Although the weather near the coast is bearable, it tends to get muggy inland. Again, this is still low season in Tulum so there won't be a lot of people.
This is the best time to hang out by the beach. Take advantage of various water activities like snorkeling, diving, kayaking, and others. Aside from that, there is a good chance that you will find baby turtles making their way back to the ocean. If you are wondering what to do in Tulum this month, is definitely one of those fun activities to do here.
August
Summer is definitely in full swing as it is one of the hot months in Mexico. It is a great time to strip down to your swimwear, wear big hats, and lather on sunscreen. Of course, keep yourself hydrated at all times! Keep in mind that this is the peak summer season. The scorching heat is only broken by short showers. Now is actually a good time to visit cenotes in Tulum! One reason behind this is that the waters in these underground caves are refreshingly cool.
Aside from that, August is also a good time to get up close to various marine life. After all, this is the height of the whale sharks and sea turtles' migration. Book tours before heading here so you won't miss these events. Once you have your fill of the waters, time to head inland and enjoy drinking and dancing. In fact, you should head to Playa ZoukMK. There is a music and dance festival happening here for ten days. This is a great way for you to meet other people and socialize.
September
Meanwhile, expect Tulum to be wet around this month. In fact, September is one of the wettest months in Mexico. There is a 50% chance of rain during this time, but there are sunny days too so don't worry too much about it. If you just arrived in Tulum around this month, make sure that you book a whale shark tour. This is the tail end of their migration so you don't want to miss it.
Another thing about this month is that this is also the time that Mexico celebrates its Independence Day. And you know what this means! That's right! There will be plenty of drinking, dancing, live music, and food too. In fact, head to El Grito at 11 pm and enjoy the night away by dancing to the tunes here. Oh, and before I forget, Chichen Itza is also hosting Autumn Equinox which is another celebration to add to your itinerary.
October
As mentioned before, October is hurricane season so this is a bad time to be here. Yes, hotel prices are down, but rain might derail most of your plans. In case you are here during this month, make sure that your plans are flexible. On a good note, once the rain stops, you can continue with your itinerary as planned. Just make sure that you pack an umbrella and rain gear, especially when you are outdoors.
Hurricane season in Tulum is not as bad as it sounds. In fact, some people find it an ideal time to visit because there are fewer tourists. This is even when there are tropical storms happening later in the month. For budget travelers, this is the best time of year to go on a trip to this beach town. It's because of the huge discounts that the best hotels are offering.
Aside from that, this is also your last chance to see turtle eggs hatching. The town even holds a three-day celebration for them which is quite nice. Also, Halloween is just around the corner so if you are going to stay until November, better pack a costume.
November
By November, things are starting to pick up in this town. Of course, it is still not as crazy and as crowded during the peak season. Warm days give way to cooler temperatures, plus there are more dry days compared to before. If you ask me, this is the best season to book a trip to Tulum. After all, the combination of sunshine and cool weather makes Tulum one of the best places to visit in Mexico. Not only that but it is also the cheapest time here so you better take advantage of that.
Regardless of whether you want to hit the beach, visit archaeological sites, or go on tours, the weather is just perfect for such activities. In addition, November is quite a busy month here because of local celebrations. There is the Dia de Los Muertos or Day of the Dead celebration. This is where the locals honor their departed loved ones. Although the celebrations here are not as grand as in Mexico City and neighboring towns, it is still worth experiencing.
There is also the Riviera Maya Festival where music, food, and wine create a festive vibe.
December
Now, we are entering the start of the peak season in Tulum. If you are not fond of crowds, you can still travel here in early December. Just keep in mind that tourists will start coming in during the latter part of the month. This is not surprising since this time of the year is one of the winter months in Tulum and is ideal for many. After all, the weather here is perfect, with clear skies, warm waters, and sunny days. You can spend your day by the beach to get your much-needed tan or go explore the ancient wonders nearby.
High prices are to be expected when it comes to hotel accommodations. This is why if you want to find a good place to stay, you better book your room ahead of time. Tulum exudes a festive vibe yet again because of the Christmas season. There is also the Dia de la Virgen de Guadalupe festival which is a big deal here. Make sure that you are downtown for the festivities. In addition, you can also add yoga retreats to your itinerary for Tulum.
A Few Tips to Consider
If this is your first time traveling to Tulum, there are a few tips that you might want to consider.
Always carry cash. It doesn't matter where in Quintana Roo or the Yucatan Peninsula you plan on exploring, bring Mexican pesos with you. Credit cards will be accepted in some hotels, but there is a chance that some shops and restaurants will not accept them. In addition, if you are going to pay in USD, you might be paying more.

You will need to haggle with taxi drivers before getting into their cab. Keep in mind that you should agree on an amount before traveling. They don't have any meters like in the United States. If you wish to avoid the hassle of haggling for your ride, book a rental car instead. In fact, I would suggest that you get one because it is easier to travel this way.
Use reef-safe sunscreen when hitting the waters. Not only that but you should apply it every few hours. Even if it is cloudy outside, you can easily get sunburned here.
Keep your jewelry in a safe at your hotel. Tulum is a safe space but it doesn't mean that crime doesn't happen here. It is better to be safe than sorry in my book.
Don't forget to explore the town itself aside from the beaches. There are plenty of historic buildings here too. Aside from that, you can also find the best restaurants here apart from the hotel where you are staying.
Make sure that you have travel insurance before heading out to Mexico.
Social Media say it all!
Thanks to social media, Tulum is slowly getting noticed abroad. This once-sleepy beach town has transformed itself into a tourist destination that you don't want to miss. In fact, Tulum is home to some of the best beaches in Mexico! White sandy beaches, clear waters, and great food, what more can you ask for?
The good news is that you can visit Tulum any time of the year. This will depend mostly on your preferences. Take note that there are different travel seasons in Tulum. The high season begins in late December and all the way to April. Meanwhile, the low season is from May to October. The shoulder seasons, on the other hand, are from April to May and November to early December. Consider the pros and cons of each of these travel seasons so you will be able to time your trip here perfectly.
Tulum is, without a doubt, a great place to hang out if you want to get away from crowded Cancun. This is the perfect spot if you are looking for some quiet time to relax and unwind. Of course, this doesn't mean that there is not much to do here.
In fact, you will be surprised to find that you can fill your hours with activities. From hanging out by the beach to swimming and snorkeling to exploring ancient Mayan ruins, you will not get bored here for sure. Not only that but the surrounding towns are perfect for day trips too. If you are looking for a new place to visit in Mexico, do add Tulum to your list of choices.