If you plan a trip to Ireland anytime soon, you're probably thinking of where to stay. Although there is no shortage of hotels and Airbnb, why not try something new? A castle stay is a unique experience in the Emerald Isle that every tourist should try. Just imagine staying in an ancient castle that exudes rich history sophistication, and amazing culture. It's like a dream come true for many!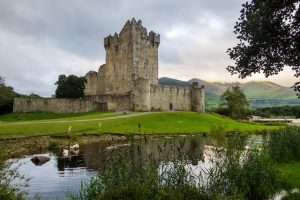 ---
What's in this post:
hide
Castle Hotels in Ireland
---
---

The Best Castles to Stay in Ireland!
Well-known for their architecture and history, visiting any of the Ireland castles is a must for everyone. In fact, booking an overnight stay is now possible. This is an opportunity you don't want to miss.
The Best Castles to Stay in Ireland
For those who want to experience the magic of staying in an Irish castle hotel, you are in luck. I have listed here the best castle hotels in Ireland that you should consider. The best part is that these castles are spread throughout the country. You can choose where to start your trip in Ireland based on these accommodations.
Ashford Castle
Considered to be one of Ireland's greatest castle hotels in County Mayo, Ashford Castle. Built by the de Burgo family, is well-known for its luxurious accommodations. On a good note, you don't have to spend a lot just to stay here. The prices are within reason, plus it comes with amazing services and amenities too. In fact, this is one of the best places for families to stay. Take advantage of their fine dining offer here. For sure, you will enjoy every dish they serve on your table.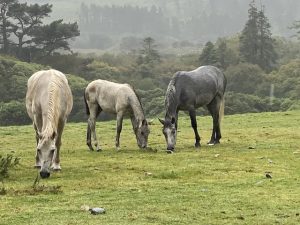 There are plenty of activities to do here such as fishing, hunting, and shooting. Guests are welcome to enjoy the cinema room or explore the gardens for a small fee. Aside from that, you can also experience Afternoon Tea inside the castle. You can also play a round of pool in the Billiards Room.
Ballynahinch Castle Hotel
Meanwhile, Ballynahinch Castle lies in Co Galway. It is a luxury hotel that ranks first among Conde Nast readers. With 700 acres of woodland, rivers, and even walking paths, you will not get bored when you stay here. Guests will wake up to amazing views of the mountains and the gardens below. Aside from that, you can have your breakfast at their on-site restaurant. Once you have your fill, you can go explore the historical sites in the area.
Staying in this hotel is suitable for those who are on a Wild Atlantic Road Trip. Of course, you should consider what outdoor activities to do here. For example, you can go biking, clay shooting, and touring on a boat. What I love most about this place are its country-style guest rooms. Complete with canopy beds and windows that open up to the lake, mountains, or river views. You will want to extend your stay here for sure.
Kilkea Castle
Meanwhile, Kilkea Castle, built by Hugh de Lacy, was once owned by the Fitzgerald family. This 12th-century castle in County Kildare lies on 180 acres of ancient woodlands and lush gardens. Just an hour away from Dublin, this medieval castle is perfect for those who want to be close to the city. Those who have visited recommend that you try their archery or boat tours.
Aside from that, make sure that you visit Moone High Cross. This is a 9th-century Irish pub that is a favorite among celebrities. If you want some peace and quiet, you can go on a stroll around the woods. You can even enjoy a glass of wine while drifting along the river here. As for golf lovers, you will be pleased to know that there is an 18-hole championship golf course on the property.
Lough Rynn Castle
Considered to be one of the finest luxury castle hotels in the country. Lough Rynn Castle is the perfect choice for couples and families. In fact, you'll fall in love with the natural beauty surrounding it, including Lough Rynn itself. Aside from that, you will find that the castle has maintained its old decorations. Think wood paneling, open fires, and antique furniture. The best part is that they were able to incorporate modern amenities.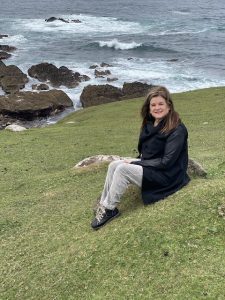 The castle boasts a rich history which is evident in its decorations. Guests can explore the gardens and even participate in activities like golf, fishing, rowing, and others. Aside from that, you can also go on a day trip to Mullaghmore.
Waterford Castle Hotel
The gothic castle of Waterford was once a fortified house on a private island on the River Suir. However, during the 19th-century construction, the tower house and the house were incorporated together. You will need to go on a private car ferry to reach this secluded castle. This luxury hotel in Waterford city is the perfect place for families or couples who want to stay in luxurious surroundings.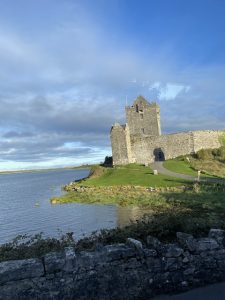 Aside from that, guests will not get bored here because you'll want to do some outdoor activities. Think clay target shooting, archery, and croquet. In addition, there are some walking paths that will take you around the property.
Lough Eske Castle Hotel
Located in Northern Ireland, the Lough Eske Castle sits on 43 acres of land in county Donegal. This castle boasts elegant rooms with views of the public gardens. A fire took the original castle, but the remaining original features were restored. It was later opened to the public in 2007. This 14th-century castle is a testament to Donegal's rich history.
Guests can relax and unwind at the castle's steam room or even the massage suites at the Spa. You can also have a drink or two at the Oak Bar while listening to Irish music. Those who are following the Wild Atlantic Way can opt to stay here.
Cabra Castle Hotel
Are you thinking of a destination wedding? Why not book Cabra Castle Hotel in Ireland? In fact, this luxurious hotel is one of the best places to hold your wedding. After all, the staff is willing to assist you on your big day. Just imagine having an intimate wedding surrounded by furniture and period decorations that exude an old-world charm.
Cabra Castle sits on a 100-acre estate of parklands. Aside from that, there are more than 100 rooms here, and cozy cottages too. If you are worried that you'll get bored, don't be. After all, there is a golf club just a few minutes from the hotel. You can also take advantage of the tennis court nearby. Most tourists love going out for walks around the castle.
Dromoland Castle Hotel
Meanwhile, Dromoland Castle Hotel in County Clare is just 15 minutes away from Shannon Airport. According to records, the construction of the castle began in the 15th century. However, it was only in 1835 that it was finally completed. Aside from that, this castle hotel is a favorite spot for many celebrities. Among them are Bill Clinton, George W. Bush, and Nelson Mandela.
Dromoland offers its guests a royal experience starting with a warm Irish welcome. Aside from that, they also have archery or even clay shooting to keep you busy. It doesn't matter if this is your first time trying, their experts will show you how it's done. If you want a more laid-back activity, go on a morning walk along the woods. Keep your eyes peeled for ducks, deer, and squirrels to name a few.
Barberstown Castle
Four-star hotels like Barberstown Castle should be on your list of places to stay. For starters, its Irish history dates back all the way to the 13th century. Just half an hour away from Dublin, this castle is one of the first ones to open its doors to the public in 1971. It was later bought by the renowned singer, Eric Clapton.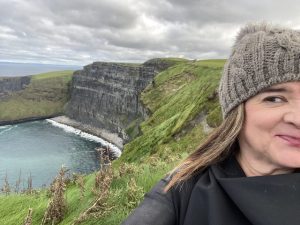 At first glance, you will see that its original Medieval structures are intact. However, there is a blend of Victorian and Elizabethan designs with extensions of the structure. What better way to immerse yourself in its past, than relaxing in its dining room or sitting beside the log fire with a good book? Aside from that, they have four-poster beds that are comfortable to sleep in each of their rooms.
Ballyseede Castle
This 15th-century castle was once owned by the Fitzgeralds. However, it was handed over to Robert Blannerherst by the Crown in the late 16th century. Nowadays, the only castle hotel in County Kerry sits on 30 acres of private woodlands and gardens that are ripe for exploring. Aside from that, you will feel like royalty once you step inside and see the elegant staircase.
I also recommend that you go on a tour of this 16th-century castle. Aside from learning about its history, you'll learn a thing or two about Hilda, the castle's friendly ghost. If you want to go exploring, you can head to Dingle Peninsula or the famous King of Kerry. In addition, you can also visit the World Heritage Site Skelling Islands or stroll around the lakes of Killarney.
Kinnitty Castle Hotel
This gothic revival castle actually burned down back in 1213. In fact, the one that you see today was built in 1928. This doesn't change the fact that Kinnity Castle is one of the best castles to stay in. Sitting on 650 acres of parkland, it is a stunning castle waiting to be explored. In fact, it boasts impressive dining options as well as a Library Bar where you can relax.
Aside from that, this castle has 37 stunning guest rooms, antique chandeliers, and soaring ceilings. You can also enjoy several activities here including golf, equestrian retreats, and tennis. They also offer clay pigeon shooting and stand-up paddleboarding. Don't forget to visit Birr Castle while you are here. This is another medieval castle that lies in the village of Birr.
Kilronan Castle
This 18th-century castle in County Roscommon is another great option to consider. Passing through its medieval gates, you will be welcomed to 40 acres of land. In an idyllic setting, to be honest, you will feel right at home on this property. What was once a residence for a royal family, is now one of the best places to hold a wedding.
Aside from that, you'll be impressed with the room decorations and spa services. They have, in fact, gone above and beyond with their desire to make this a great place for their guests. Also, there are plenty of activities to do here as well. Think kayaking, clay shooting, paddling, and others.
Lismore Castle
Before, Lismore Castle was once an Abbey. It was later turned into a gothic castle during the 1700s. It was first owned by the soon-to-be-king of England, Prince John. Upon ascending to the throne, he gave the castle to the Church to be used as the Bishop's Palace. Later on, it was bought by Sir Walter Raleigh.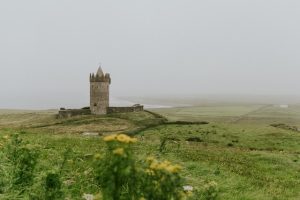 One thing you'll love about Lismore Castle is that it is quite modern. In fact, it can accommodate parties of 8 to 12 or up to 27 for bigger parties. You can have your family reunion here with Denis Nevin, the castle's butler, taking care of your every need. Guests are more than welcome to explore Lismore Village. For the more adventurous guests, you should visit the Mitchelstown Cave.
Abbeyglen Castle Hotel
Those who want to explore the Connemara region should book a stay at Abbeyglen Castle Hotel. This castle dates back to 1832 with the Twelve Bens mountains serving as a gorgeous backdrop. Aside from that, guests will find this castle full of character. With spacious rooms opening up to stunning views of the landscape and the castle grounds, it feels like you have stepped back in time.
In addition, there are tons of things to see and do here. Aside from enjoying the food and having some drinks at the bar, you can also use their tennis courts, wellness center, and other amenities. You can even go on a historical tour of the castle and the property. Also, it is possible to explore the attractions at Galway City. If you want to do a bit of shopping, then head to Clifden. This bustling town has several stores and boutiques to enjoy.
Adare Manor
Located in County Limerick, the 18th-century Adare Manor has been recently refurbished. This manor house sits on 840 acres of lush gardens that will leave you breathless. Aside from that, it boasts a 5 Michelin-star restaurant that serves incredible dishes. Get pampered at their spa or indulge in royal experiences like horseback riding and even have afternoon tea. In addition, there is a golf course nearby. This is where they will host the Ryder Cup in 2026.
While you are here, you should go and explore Adare village. Aside from the thatched-roof houses. There are restaurants here as well. Do check the Limerick Milk Castle while you are here. You can snack and browse here as much as you like.
Bunratty Castle
Meanwhile, Bunratty Castle is on the top list of places that tourists should see in Ireland. This 15th-century castle in County Clare was believed to be a Norse settlement. It was later destroyed by Brian Boru during the 900s. It's hard to miss this imposing castle since it can be seen from the road.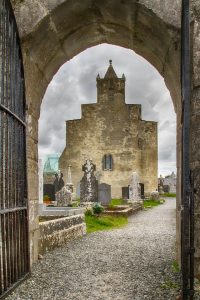 Tourists are willing to go the distance just to see Bunratty. Known for its medieval banquets, it also boasts an open-air museum. Here you will find artifacts and medieval furniture. You can book a stay here overnight or just go on a day trip if you prefer. I suggest that you spend a day here just to immerse yourself in its history. Also, they have an indoor pool that you can relax and unwind in after exploring the castle and its grounds.
Castle Leslie Estate
This historic Irish Castle has been in the family since the 1600s. In fact, they have played host to a couple of celebrities, royalties, and politicians even. The family itself can trace its roots all the way back to Atilla the Hun. Guests are more than welcome to use their Victorian treatment rooms. Cap your day with an afternoon tea after you go kayaking or horse riding to name a few.
Staying in this castle accommodation also means being close to paranormal activities. From ghostly apparitions to ringing bells, there are many stories such as these. In fact, they say that the Mauve Room is Lady Constance's favorite haunting ground. The good news is that the room rates here are affordable. Outside the estate, you can hike up the Mourne Mountains or go and see the Tollymore Forest. This is part of the Game of Thrones series.
Clontarf Castle Hotel
Meanwhile, for those who want to explore Dublin but would like to stay in a castle, then Clontarf is a great place to consider. This castle was the second one built in 1837. However, it was only opened to the public in 1997. Clontarf has become popular with tourists because it provides a nice blend of old-world charm and modern amenities.
Also, Clontarf Castle has the perfect location because it is just a short drive from Dublin Airport. Its rich history aside, you'll also be impressed with the award-winning restaurant on the property. There is also a knights' bar and lounge area here. As for the rooms, it is a nice blend of the past and the present. Their deluxe rooms come with flat-screen TVs and other modern conveniences.
Blarney Castle
While in County Cork, make sure that you visit or stay in Blarney Castle. This is one of the well-known landmarks in the country. Stories say that whoever kisses the Blarney Stone set within the castle will be given the gift of gab. If you feel like this is something that you need, it wouldn't hurt to try it.
Aside from that, the castle itself is an imposing figure. This medieval stronghold was built 600 years ago by Cormac MacCarthy. It boasts stunning gardens and walkways that you can explore during your stay.
Dublin Castle
The main castle sits on what was once a Viking fortress back in the 930s. It was in fact the primary military base of the Norsemen and a key trading post in Ireland. The current structure may be built in 1204 by King John of England, but there is evidence of a wooden and stone castle on the property.
Fortunately, the castle was able to withstand the 1916 rebellion and the Civil War that followed. Today, this is one of the iconic castles in Ireland that you should visit.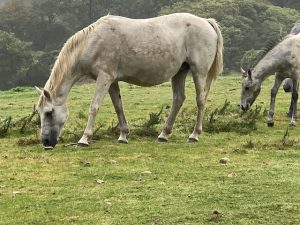 Ireland is an Amazing Place
Ireland is indeed an amazing place to visit. Just imagine all the castles waiting to be explored. I did not think that it would be possible for us to stay in one of them, but thanks to these castles now turning into hotels, it can be done. The best part is that everywhere you go in Ireland, there is bound to be a castle to explore or stay in.
If you are looking for a unique vacation, I highly recommend that you book a stay in one of these castle hotels. You don't even have to worry about the cost because there are some castles that are budget-friendly. Aside from the ones that I have included in this list, there are more waiting to be discovered. In fact, you should also look into manor houses too because they are as beautiful as the castles here.
Now is a good time to experience what it is like to be royalty in Ireland. With castle hotels waiting for you, it is possible that you enjoy a luxurious vacation during your stay. Bring the whole family if you like! There is plenty of castle accommodations to choose from.