If you're looking for some amazing places to go camping in Ontario, you've come to the right place! Ontario is home to some of the best camping in the country – with beautiful trails, endless paddling routes, and tons of quiet car camping spots.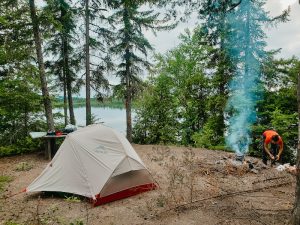 ---
What's in this post:
hide
10 Amazing Places to Go Camping in Ontario
---
---
I've lived in this province for most of my life and have spent every summer camping. I even spent a few summers guiding hiking and canoeing trips in Ontario. So in this blog post, I'll share 10 of my favorite spots for camping in Ontario. Whether you're looking for a scenic spot by the lake or a secluded setting in the woods, there is sure to be a perfect spot on this list for you. So, grab your gear and get ready for some adventure!
Here are the 10 most amazing places to Camp in Ontario:
1. Algonquin Provincial Park
Algonquin Provincial Park is one of the most popular camping destinations in Ontario. With 2,000 km of canoe routes, Algonquin is an incredible destination for all levels of canoe trippers. Due to its popularity, Algonquin is serviced by more than a dozen outfitters who can provide canoe rentals, gear rentals, and help with logistics. If you're looking for car camping, Algonquin has plenty of drive-in campgrounds as well. They range in popularity and size, with some (like Lake of Two Rivers) having
more than 100 campsites, while others (like Brent Campground) have fewer than
25 campsites.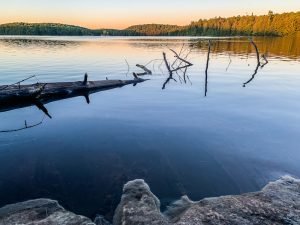 And if that's not enough for you, there are even three backpacking trails with hike-in campsites (my personal favorite is the Highland Backpacking Trail). Algonquin Provincial Park offers you the chance to immerse yourself in all the pristine wilderness of Ontario and is, therefore, a popular attraction for many
people. Thus, making early reservations is advisable.
2. Killarney Provincial Park
Killarney is one of my favorite places for camping in Ontario and hands down one of Ontario's most beautiful parks. The area features the La Cloche Mountains, whose white quartzite peaks sparkle in the sunshine. The small lakes have spectacular colors that range from dark green to Gatorade blue to turquoise.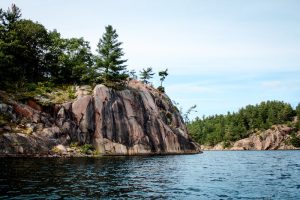 There are two primary outfitters serving the park, each of which can provide you with all the gear needed to take a canoe trip. For a little route inspiration, consider starting at George Lake and paddling to OSA Lake (one of my favorites). Killarney is also home to the La Cloche-Silhouette Backpacking Trail, one of the best backpacking trails in the province.
For something less physical, George Lake Campground also offers some of the best campsites for car campers. It also comes with a beautiful beach, a visitor's center, and canoe rentals for those wanting to enjoy the lake.
3. Bruce Peninsula National Park
The best part about Bruce Peninsula National Park is that it offers both car camping and backcountry camping on the beautiful Georgian Bay side of the Bruce Peninsula. The area features steep, rocky cliffs covered in colorful lichen and tropical-looking bright blue water. Be sure to check out "the grotto!"
Cyprus Campground is the most popular place for camping in the park. If you're considering this campground, secure a reservation early! Cyprus is situated on a small inland lake that has the best scenery for campers throughout the day. It's also a short walk to the Grotto, an iconic cave and the top thing to see in the park.
The best part about camping at the Bruce Peninsula National Park is that there are lots of things to do here. You're nearby Fathom Five National Underwater Park and can take a boat tour to Flowerpot Island. You can also take a hike down the BruceTrail for additional epic views of the coastline. There is two backcountry campground on the shores. Kayaking along the coast is another great activity.
4. Temagami
The Temagami Cluster spans seven provincial parks and crown land that are perfect for canoe tripping. There are hundreds of backcountry campsites scattered among thousands of lakes, all connected with portages. Due to the wilderness nature of the area, campsites and portages are typically more suited for intermediate and experienced canoe campers.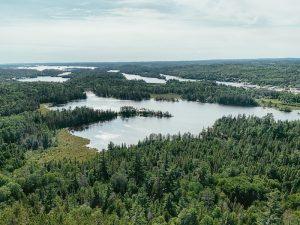 Wilderness lovers are guaranteed to fall in love with Temagami, due to its awesome camping activities, fishing expeditions, backcountry hiking, canoeing, and even snowmobiling and ice fishing in the winter.
For the more adventurous campers, you can climb to the top of Maple Mountain or Ishpatina Ridge, the latter being the highest point in Ontario. Both require a paddle to reach the trailhead. Temagami is less developed than the parks above, so you'll need to be more proficient with canoeing, navigation, and camping.
5. Quetico Provincial Park
Quetico has got a lot going for it. Here you will find the Dawson Trail Campground, a popular location accessible throughout the year. This campground has the sole drive-in camping sites in Quetico and comes with parking available at the famous Chippewa' and 'Ojibwa loops. You have the freedom to choose from the one hundred plus drive-in campsites or the 2,000 thrilling backcountry sites accessible by canoe.
What makes Quetico so special is that 1) it's a massive network of interconnected canoe routes that get very few visitors each year. 2) the campsites and portages are unmarked, making the area feel wilder.
Similar to Temagami, the less developed and wilder nature of Quetico means you need to have sufficient paddling and navigation skills to safely explore the interior of the park. Otherwise, opt for the campground. For winter campers, there is an amazing 40 kilometer-network of ski trails and an ice
fishing trip.
6. Pukaskwa National Park
Pukaskwa National Park is found on the shore of Lake Superior in Northern Ontario. The view here is amazing and consists of beautiful boreal forests, rugged coastline, and the expansive Lake Superior. There are tons of hiking trails in the area for day trips. Hattie Cove Campground is available for car campers and there are tons of backcountry campsites as well. Despite how the park is set in a very remote location, the campsites can be quite popular, especially those along the Coastal Trail. Reserve
campsites early for this popular thru-hike.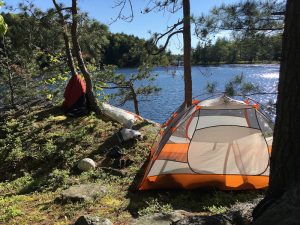 Some experienced canoeists and kayakers can paddle along the coastline and camp there. However, the large waves and wind make it unsuitable for novice paddlers.
7. Grundy Lake Provincial Park
Grundy Lake is situated just east of Georgian Bay and is easily accessible for those living in the GTA. Here, you can marvel at the glacially-shaped lakes and the amazing beaches, or explore the bike and hike trails. Campers can choose from the nine camping sites there. The White SpruceCampground is the best one, and it has a waterfront setting that has trails meandering the shore. The park is smaller so it can fill up quickly. In that case, there are a few private campgrounds in the surrounding area that offer a home base while you make day trips to Grundy Lake.
8. Muskoka
Muskoka is better known for its cottage country and resorts, however, there are plenty of camping opportunities as well. What makes Muskoka great is the balance between accessibility (it's close to Toronto) and beauty (the region is covered in dark green lakes and beautiful forests). The lakes are perfect for swimming or canoe trips. If you're car camping, there is usually a cute cottage town not too far away with great restaurants and souvenirs. There is some crown land nestled around the municipalities and along the coast of Georgian Bay. There are also plenty of private campgrounds as well.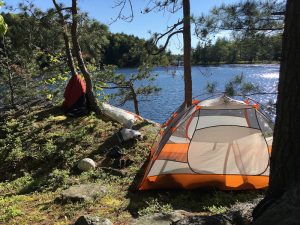 9. Bronte Creek Provincial Park
Bronte is an amazing spot for rookie campers and is situated within the GTA. While not remote, secluded, or wild at all, the convenience that it offers is amazing. There is a big grocery store a few minutes away in case you need to get a few items (so if you're trying to get reluctant family members into camping, this is a great place to start). There are no backcountry sites, but the sites can accommodate tents, trailers, and RVs. Every site has electricity. The park is unique in that it has a large outdoor swimming pool rather than a lake. There is even a children's petting farm with live animals.
For those who like taking walks, there are five hiking trails through the park and along the 12 Mile Creek.
10. Bon Echo Provincial Park
One very memorable thing about the Bon Echo Provincial Park is the magnificent granite rock wall spanning about 100 meters down into Mazinaw Lake. The park has two campgrounds available at Bon Echo: Mazinaw Campground has 395 campsites found on hilly ground. All the campsites have electricity except those found on the walk-in sites. If you wish to take a walk along the lake, you will have to enjoy the view of the magnificent historic buildings. The hilly terrain will be an important factor to consider
when packing your gear or equipment. In addition, you need to carefully select your campsite to avoid putting up your tent in a considerably rocky and uncomfortable area.
The other campground is the Hardwood Hill Campground, which is smaller than the Mazinaw campground and has 100 sites. It is located near Mazinaw Lake, giving just the perfect spot for those wanting to interact quietly with nature.
Tips for Camping in Ontario
1. Reserve Campgrounds Early
It is highly recommended that you make a reservation way ahead of time to ensure that you will get a campsite waiting for you at your destination.
2. Plan for Day Hiking & Paddling
You can spend the day chilling at your campground… or you can spend the day hiking or paddling! All of the camping listed above lies near day hiking and/or day paddling possibilities.
3. Carry The Appropriate Gear
This will depend on the weather and the nature or physical conditions of your campsite. For example, if you have established that it's very rugged, you will have to put on strong boots to weather the rough terrain.
Final Take Away
I hope you've found some inspiration and are thinking about your next Ontario camping trip. This list is, of course, not an exhaustive list – there are literally hundreds of camping destinations in Ontario. But each of these campgrounds offers something special for its visitors and makes for an excellent weekend getaway or backcountry trip.