If you love beautiful beaches, white sands, and turquoise water, Mexico is a great place. Mexico City has some of the world's most famous beaches. Like Acapulco, Cancun, and Puerto Vallarta. But what about the less recognized ones?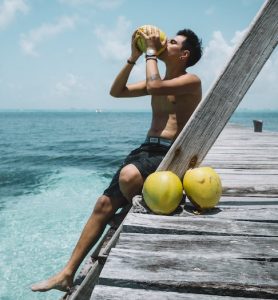 ---
What's in this post:
hide
---
---
In this article, I will expose 6 of the best-hidden beaches in Mexico that will tempt you to plan your next trip down south.
Islas Marietas, México
Playa del Amor, also known as the Secret Beach, is a feature of the Marieta Islands similar to Playa del Secreto. It is about 22 nautical miles west of Puerto Vallarta, Mexico, at the mouth of the Bay of Banderas.
Playa del Amor (the Love Beach) is a large, cute sandy beach surrounded by lush forest and turquoise waters that stretch for miles. The white sandy beach is large enough to accommodate several hundred people at once. Yet it remains secluded as the only way you can only reach it is by boat.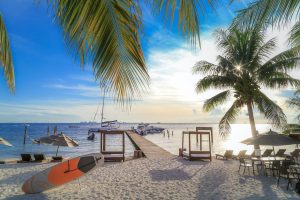 A vast, sandy cavern with the blue waters of the Pacific rushing in looks like something out of a fantasy novel. The Marieta Islands are uninhabited islands formed by underwater volcanic eruptions. They are natural wonders. The discovery of the burrowed beach is caused by volcanic activity.
The Hidden Beach has been in several movies and television shows. This includes Pirates of the Caribbean: Dead Man's Chest and Baywatch: Hawaiian Wedding. It was also featured on The Travel Channel's series Expedition Unknown.
It is on Isla Marieta del Norte (North Island), part of the Marietas Islands National Park Reserve. Park officials strictly prohibit access to this beach. This is due to its fragile ecosystem and sensitive marine life. However, it can be seen from boats leaving Puerto Vallarta, Los Cabo, or Cabo San Lucas through telescopes.
The Marieta Islands have always been entirely uninhabited. It makes them an ideal place for the Mexican government's extensive military testing. Also, it is ideal for target practice. The Mexican military's weapons and artillery were tested on the Marieta Islands beginning in the early 1900s.
A safe distance from Mexican authorities but not so safe for Marieta's topography. Many beautiful caves and rock formations on the island, including the Hidden Beach, have been linked to test bombs.
Scientist Jacques Cousteau led a protest against harmful human activity on the islands in the 1960s. He is also known as the explorer Jacques. The islands were finally designated a national park, Parque Nacional Islas Marietas, in 2005. Swimming, kayaking, sunbathing, and other recreational activities are permitted on the islands. Hunting and fishing are prohibited.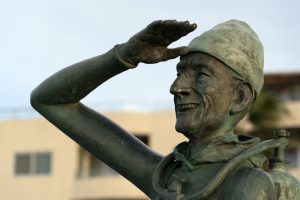 Isla Espíritu Santo, Baja California Sur
Isla Espiritu Santo is in the lower half of the Baja California Peninsula. Just a short boat ride from La Paz. This small paradise is what you imagine when you think of the ideal island getaway. It is uninhabited, so you cannot stay there, but you can visit during the day while in La Paz.
Isla Espiritu Santo is just one of several islands that make up Islas del Golfo de California (Gulf Islands). It is an archipelago located off Baja California's Pacific coast. Mountains and beaches line the Pacific Ocean and the Gulf of California known as the Sea of Cortez. The islands are a popular destination for fishers and scuba divers alike. As they offer some of the best diving in Mexico.
There is archaeological evidence found on the island. Espiritu Santo Island has been inhabited by humans since at least 5000 BC. Archaeologists have found pottery shards there dating back to this time. Along with evidence of human settlements even further.
Most recently, archaeologists have found artifacts from around 2000 BC. It shows that people were still living on this island until about 300 years ago. When they abandoned it for unknown main reasons.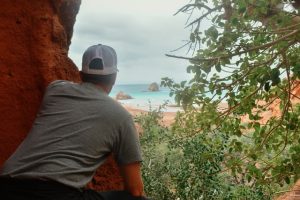 The island is only about 4 miles long and 1 mile wide. It has beautiful white sand beaches and clear blue water perfect for swimming or snorkeling. There are also mangrove forests that you can hike through. And explore or even spot some wildlife while on your trip.
Visitors come here to enjoy relaxing on the beach and taking a dip in the ocean. Perhaps kayaking around and exploring some of the smaller coves on this island paradise. You might even spot humpback whales migrating through these surrounding waters at the best times!
Islas Marietas, Nayarit
The Marietas Islands are located off the coast of Sayulita in the state of Nayarit. They are small and uninhabited, with sea caves, virgin beaches, and clear water.
Islas Marietas is a group of small islands off the coast of the Riviera Nayarit, Mexico. The main island comprises two small islands. Isla del Amor and Isla de la Plata are famous vacation spots. It was once used as a hideout by pirates. But now it's one of Mexico's most popular tourist attractions recommended by tour companies.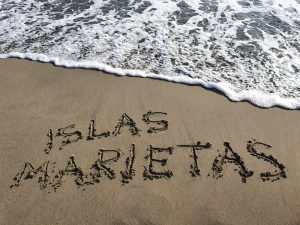 The name "Islas Marietas" means "Mary's Islands" in Spanish, named after Mary Magdalene at the beginning of the 20th century. The most notable feature of Islas Marietas is its crystal clear waters. Home to numerous fish species, including manta rays, sea turtles, and dolphins.
The water also has excellent transparency that allows divers to see up to 30 meters (98 feet) below their feet! You can snorkel or dive here without any experience. This is because the water is so calm that it's very easy to float around with no effort at all.
One particularly sinister explanation for the gaping hole at the famous Playa del Amor (a hidden paradise) that looks like a giant skylight above the beach is that Islas Marietas was once a bomb-testing site.
There are several theories as to how this massive hole came to be. Some say an ancient meteorite impact created it. Others believe it was due to an earthquake or volcanic, tectonic activity. The most popular theory is that it was when a nuclear bomb test went awry on one of the islands nearby.
The water is shallow and clear, and there are no waves or currents. The islands are uninhabited. But several hotels on the most significant island offer diving, snorkeling, and kayaking.
The reefs are home to hundreds of tropical fish, coral reefs, and other sea life species. Their natural beauty has led them to a protected area by the Mexican government.
Puerto Escondido, Oaxaca
Puerto Escondido is a surfer's paradise, with the best waves in all of Mexico. The small town itself is pretty extensive and has several beaches to choose from. Each has its personality, from the party atmosphere of Playa Manzanillo to the laid-back vibe of Playa Bacocho. Everyone can find a gorgeous beach in Puerto Escondido.
The main beach in town is Playa Principal. This is where most people spend their time when they're not surfing. It's also where you'll find the main nightlife scene, with plenty of local restaurants and bars lining the beachfront.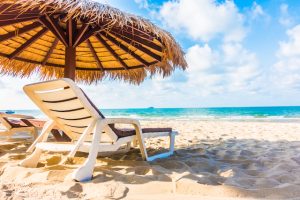 Playa Olas Altas (High Waves Beach) and Playa Huesos (Bones Beach) are the other two main beaches. These unusual beaches are just north of downtown Puerto Escondido. But tourists often overlook them.
This is because there aren't any hotels nearby or any main attractions near them. There are some great surf breaks at these beaches. So if you're looking for some sound waves, these beaches are worth checking out!
Puerto Escondido is also one of the best places for diving and snorkeling in Mexico. There are several dive shops along the main drag in town. Where you can rent equipment and take lessons.
The waters around Puerto Escondido offer some of the most spectacular diving and snorkeling in all of Mexico. It has visibility reaching up to 30 meters (100 feet). You'll see manta rays, whales, dolphins, and even sea turtles. If you're lucky!
If you're looking for more than just water activities in Puerto Escondido, there are plenty of other activities to keep you busy. One popular activity among locals is horseback riding through the mountains surrounding town. Or along the beachfront path leading towards Zipolite.
Balandra Beach, La Paz, Baja California Sur
Balandra Beach, located in La Paz, Baja California Sur, is one of the most beautiful beaches in Mexico. The beach is surrounded by cliffs and rock formations, making it a unique sight. This beach is a popular destination for surfers, divers, and snorkelers. It's also a great place to relax and enjoy a day at the beach with friends and family during low tide.
It is so beautiful in person that parts of it seem surreal. This beach was one of the simplest to include. Due to the shallow waters on the soft, white sand and the reddish, rocky mountains in the background. The water is so clear that you can see fish swimming right below your feet if you look closely enough!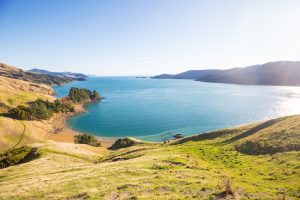 Balandra Beach is on the southern coast of Isla Mujeres, Mexico, a small island off the coast of Cancun. There are no large resorts or hotels nearby. This allows for an untouched experience with nature.
The location of this beach is perfect for those who want some peace. They take a dip in the ocean or sunbathe on their towels. This beach has no waves, so you won't have to worry about getting hit by them while swimming or playing in them!
If you're looking for a relaxing place to escape from everything and enjoy some time with your loved ones, then Balandra Beach is an excellent choice for you!
Boca del Cielo, Chiapas
If you find yourself in Chiapas, you're in for a once-in-a-lifetime adventure. Many visitors stick to Palenque and San Cristóbal de las Casas and miss out on the lesser-known beaches. Boca del Cielo is a little slice of heaven still relatively unknown to foreign tourists.
Boca del Cielo means "Mouth of Heaven" in Spanish, and this beach is near Puerto Chiapas in the state of Chiapas. It's about a 45 minute drive from San Cristóbal de las Casas but it's well worth it! There are no hotels or restaurants nearby, so make sure you pack enough food and water!
The beach itself is stunning, with white sand and turquoise water. There are no waves, so it's perfect for swimming or just hanging out in the sun. Some rocks jutting out into the water level and creating natural pools where you can swim or enjoy the view!
The beach at Boca del Cielo is unique in that it is on an isthmus. There's a huge saltwater lagoon on one side, with mountains in the background. The sea is on the other side. This means you can hang out on either the lagoon or beachside, only about 100 meters (330 feet) apart.
Kayaking, stand-up paddleboarding, and swimming are all popular activities in the lagoon. The waves on the beach are gentle enough to swim in, and there are sea turtles released into the ocean.
If you're looking for a quiet place where there won't be many people around, this beach is perfect!
Quintana Roo's Beautiful Hidden Beaches That You Can Explore
Isla Holbox, Quintana Roo
Isla Holbox is a long, skinny island off the Yucatán Peninsula's coast, with the ocean and a salty lagoon on the other. It's one of the most beautiful places in Mexico. And one of the best places to see whale sharks and bioluminescence.
Holbox has several cenotes. Also, it has fantastic nature preserves near the main stunning white-sand beaches. On the island, numerous boat tours can take you out on the water or to various locations for a complete guide. Such as Punta Cocos, to see the bioluminescent sea condition at night.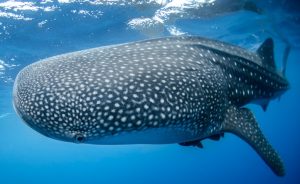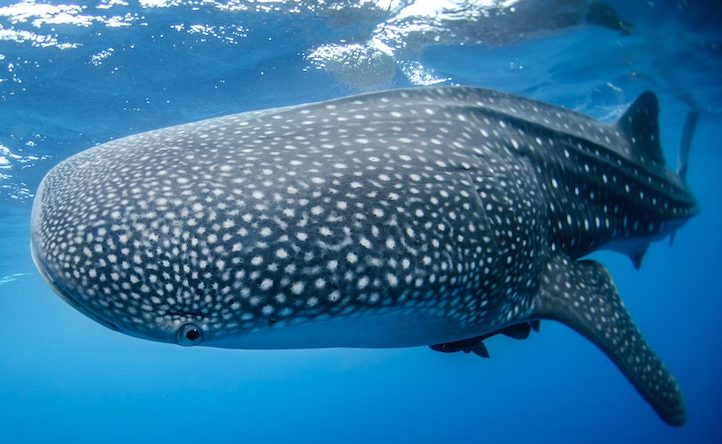 The whale sharks are by far my favorite thing about Holbox. The massive fish come into town each year around February, which means they're back again this month! You can hire a boat at any of the piers. Or head over to Playa Nizuc for your chance to swim with them.
The best way to explore Isla Holbox is by renting a bike or golf cart and simply exploring it yourself! You'll find plenty of great restaurants along this island paradise. Including a few hidden gems like Aladdin's Cave. Which serves up some delicious Mediterranean food.
Mahahual, Quintana Roo
Playa Mahahual is a small beach village that has largely avoided the region's mega-tourism. Have you noticed a pattern yet? The best beaches aren't always the ones with fancy restaurants and bars.
The town itself is pretty quiet, but it has some decent shops and restaurants, and there are also some great hotels if you want to spend more time here.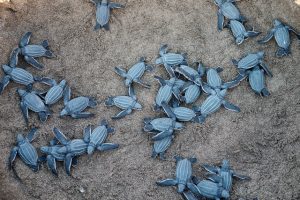 The beach is pretty narrow, but it's long enough for good walks along the shoreline. There are two main sections of the beach. Toward the north end, there's a rocky outcropping with waves crashing against it (locals call this spot "the jetty"). While toward the south end, there are some small coves where you can swim in calmer waters.
Mahahual is just north of Bacalar and is popular with divers due to the incredible reefs off the coast. Mahahual was a sleepy small fishing village before beach hotels began to spring up. The majority of the town has kept its original charm, and the touristy area is relatively small.
The best part about Playa Mahahual is that it's quieter than other areas' beaches. The hotels nearby are mostly small family-run places with few amenities on-site. So there aren't many tourists wandering around looking for things to do.
The village itself has some restaurants, bars, and shops. But nothing too fancy or touristy — it's a perfect place to hang out with locals. And feel like you're getting away from it all!
Xpu-ha, Quintana Roo
The Xpu-ha Beach is located in the Riviera Maya, near Cancun and Playa del Carmen similar to Puerto Morelos. On any day, in any season, you'll find locals relaxing on Xpu-ha Beach and taking in the scenery.
The atmosphere is relaxing and uncrowded, contrasting the crowded beaches found elsewhere. Xpu-Ha is a beach in Quintana Roo, Mexico. It is a small fishing village with a population of around 1,000 people.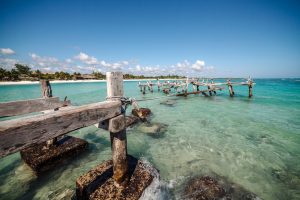 The name Xpu-Ha comes from the Mayan word "Xpu" which means "beach." The beach is popular with tourists because it's known for its white sand and clear blue water.
On weekends and holidays, you'll find vendors selling food and souvenirs along the beachfront road. There are also many small hotels in town that offer accommodations for tourists who want to stay near the ocean for a few days or longer.