Key West is one of the most popular destinations people think of when they decide to tour the Florida Keys. Being the southernmost city in the USA might also be one of the biggest reasons you find Key West being a top pick for tourists. So, if you want to visit Key West, you would want to know just how far it is from Miami before you can plan your trip. Well, the city is 160 miles southwest of Miami.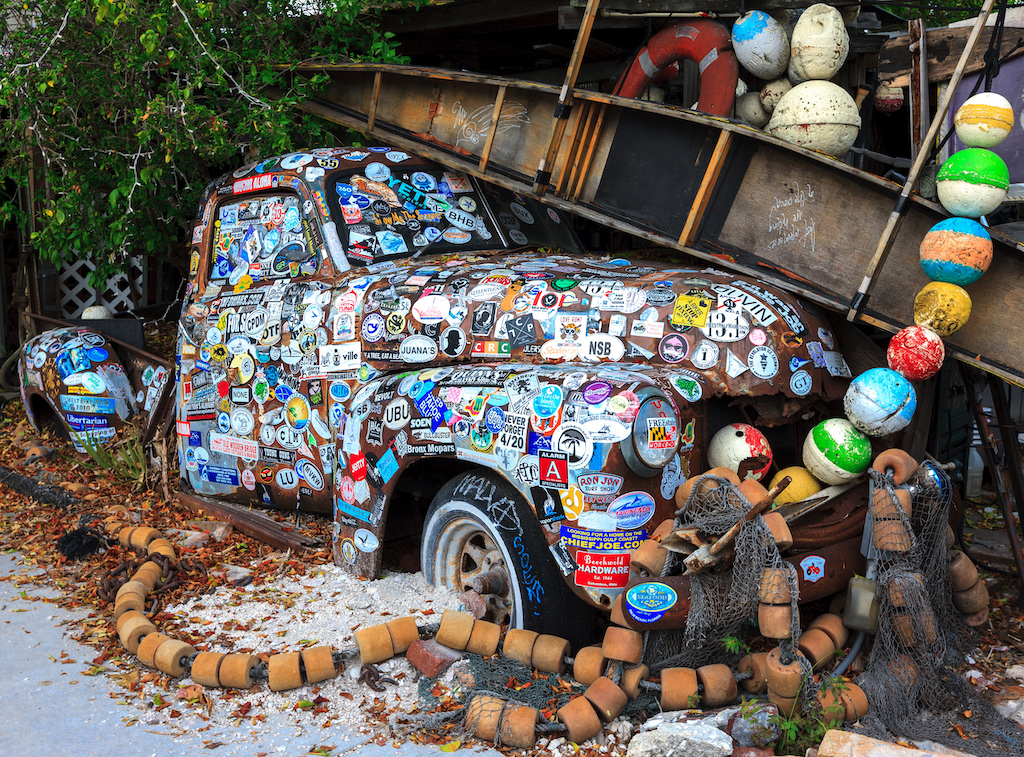 ---
What's in this post:
hide
How Far Is Key West From Miami?
22 Best Stops to Make Along the Way
---
---
The best part about visiting Key West is that there are several national parks and other best places to visit along the way. As such, it will not be a boring trip while you make it to the southernmost point on your Florida Keys road trip!
How Many Days Does It Take To Drive From Miami To Key West in the continental United States?
Some of the ways to get to Key West (depending on flight time) and getting direct flights to Miami International Airport in downtown Miami. Or you can fly into Key West International Airport. But who wants to do that?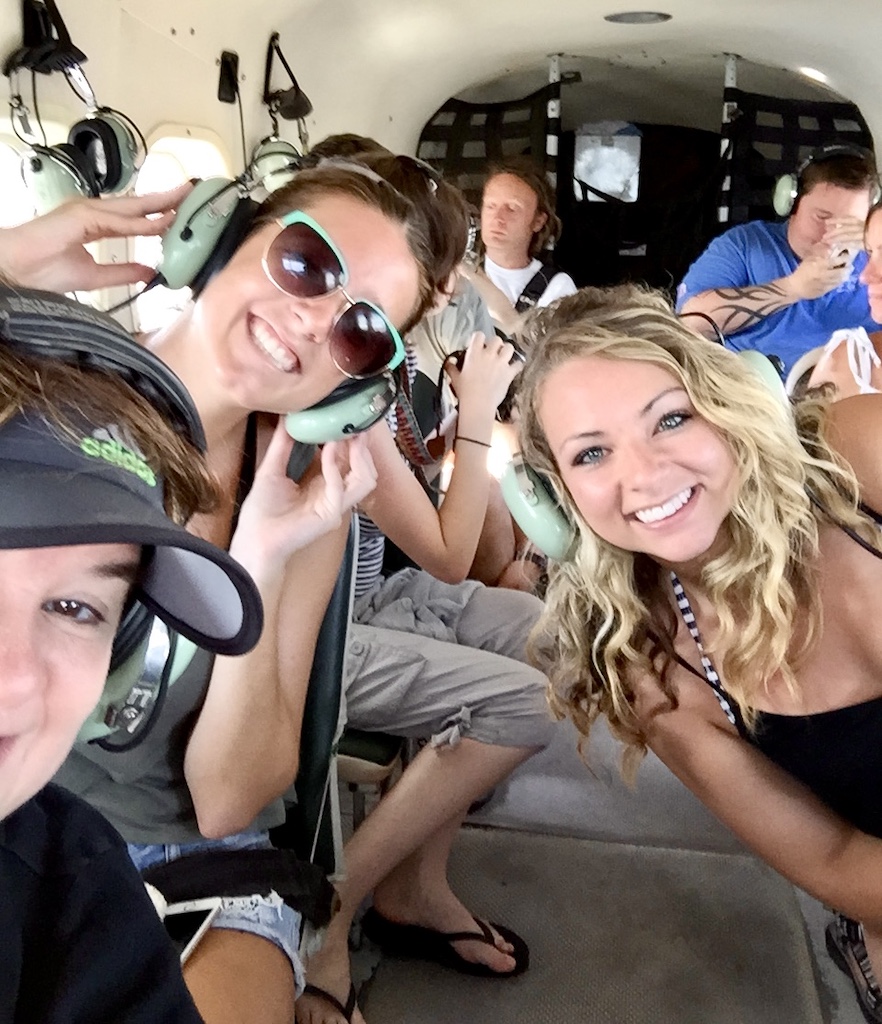 However, the best way to get to key west is to drive on a road trip there! Yes, the travel time might not be the fastest, but you get to see more than you think. Key West is not that far from Miami, so it takes around 4 to 5 hours to complete the entire trip. And I think this is the best way to see this region of the world. So we will skip the south beach, and get on down to Key West!
Sometimes it may be longer to get to Key West because of traffic jams on the weekends. Anyone who wants to explore the region better is advised to take at least 4 days. This is because of the stops you can make during the trip. Of course, the scenic drive should still be the motivation for most.
There are other Florida Keys towns you can come across along the route. They include key largo, Marathon, and Islamorada. Each one has plenty of attractions and wildlife that make them ideal as stop-overs. Of course, you could also enjoy the food and culture that comes with each of the stops. Some of the highlights include the Robert Is Here fruit stand and Key Largo Chocolates.
The Best Time To Drive To Key West From Miami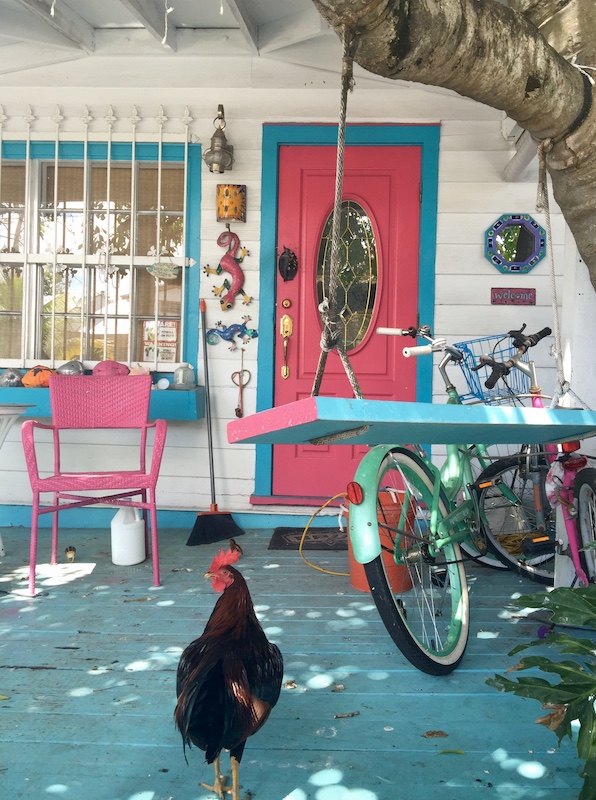 There have been hurricanes in Florida, including Hurricane Irma and Hurricane Matthew, that people are often scared of taking road trips. However, that should not scare you at all. All you need is to plan your trip better and avoid the hurricane season!
If you must make the trip during the hurricane season, ensure you get travel insurance. It's Florida, and the hurricane season is no joke. Ensure that you also go during the off-season period. The flights and hotels are available at affordable prices during this period.
Most great deals are available from June to October. However, you can still have a scenic Overseas Highway drive from November to May when it is the post-hurricane season. November to January tends to be the busiest as people are now at home and ready for festivities. As much as it might be great for the trip, at times, you just have to wait between March and May to avoid crowds, and the hotel rates are lower.
Should You Drive To Key West?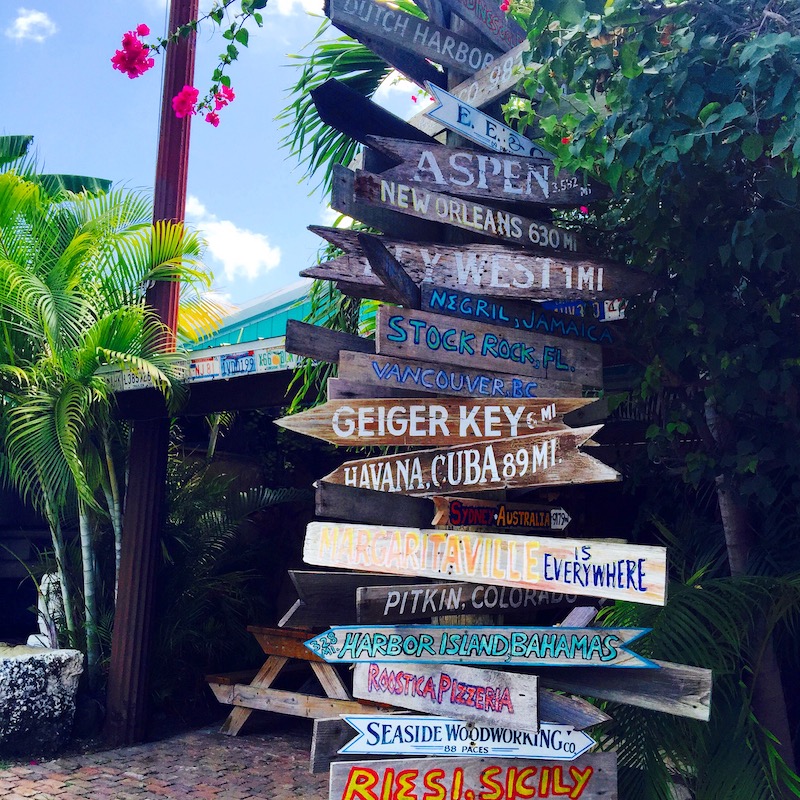 Anyone who has driven on the Overseas Highway would often describe it as sensational. Some of the things you like will be the white-sand beaches, turquoise water, a series of bridges, state parks, eateries, and a lot of fun stops. So, you can see why driving to Key West is highly recommended. There is so much you will be experiencing along the way.
Convertible cars are also a recommended pick. Rent one if you do not own a convertible. The top-down car helps you experience the drive even better and makes the trip memorable. The weather is forgiving most of the time. You would be cruising along without worrying about the rain or storms. Of course, it will be a nice trip with many opportunities to take photos for your Instagram posts.
Now that you might be intrigued to give it a try, here are the best stops and favorite places to make while on your trip.
Top 23 Stops To Make On Your To Key West
As mentioned earlier, it just takes 4 to 5 hours of driving from Miami to Key West. However, it does not have to be that fast. This is because there are a couple of good stops to go through during the trip. Here are some of them.
#1 Coral Castle
This first stop has a unique element to it. We found that Coral Castle is made from the coral reef and stones and hence the name. Even the furniture is built using heavy stones, so such a castle will be long-standing for more decades to come.
Another thing that captures your attention should be the open sky castle design. Not the most common type of castle you have visited before. Taking a guided tour might be necessary to help you understand more about why it was built in the first place. Plus you will see palm trees blowing in the wind!
#2 Homestead Miami Speedway
If you are a Nascar enthusiast, this would be a nice stop to consider on your key west road trip stops. The track has hosted many events and it is only right to pay homage to it while in town. You could check the speedway's online program to see if there are any races during your trip. This means you could plan and watch the race live.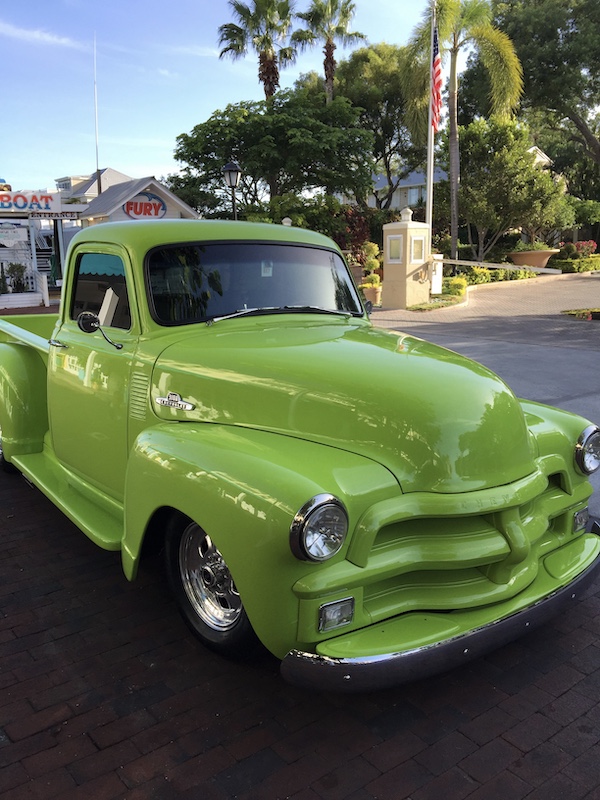 Racing is quite common during the weekends. So, if you have a track car, it is a nice space for you to drive it to its full potential and see how you perform against other drivers.
#3 Robert Is Here Fruit Stand
Robert's father started this fruit stand over 50 years ago and it has grown to be a great stop-over for anyone who loves milkshakes. Plus anyone going to the Everglades National Park, as it is close by.
If you enjoy a key lime milkshake, then consider this famous fruit stand. Other options include strawberry, key limes mango, and coconut. The stop also has exotic fruits and shakes. The idea is to give you as much variety as possible and to enjoy the fun places you make at each stop.
The animal farm beside it has emus, iguanas, and parrots that you can check out while enjoying some cold milkshakes.
#3 Alabama Jacks
This is another great place where you can find fresh food during your road trip. The eatery has been in this spot for over 50 years, so you can expect that many people who have used this route have a history with it. The joint is family-friendly and comes with excellent drinks and food. The menu is quite long, and you can be sure to get something you like. The eatery is mostly known for its conch fritters. They are quite yummy.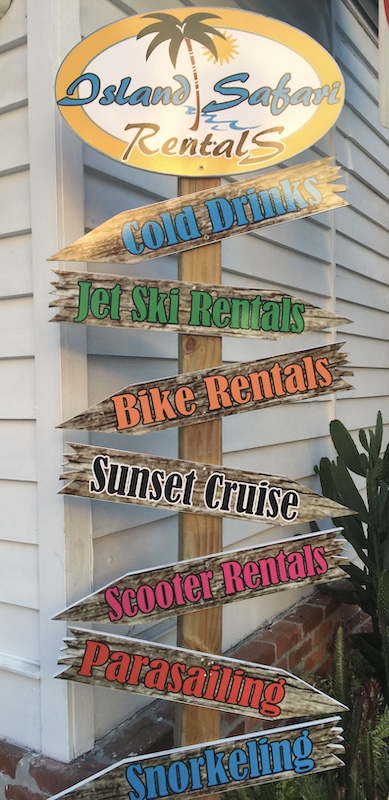 You will like the dolphin sandwich, sweet potato fries, and grouper sandwich. That is what we recommend you try out.
#4 John Pennekamp Coral Reef State Park
Now that you are in Key Largo, this is the perfect place to have a stop. This is for those who enjoy coral reefs. This park was set up to help protect the live coral reef in the area. The park extends up to 21 miles along the coast. Having clear water makes it easy for those who love snorkeling to have a better coral reef experience. Or you could even take a boat trip!
If snorkeling or scuba diving is not your thing, you can still use a glass-bottom boat tour and still enjoy the view.
#5 Key Largo Chocolates
Who doesn't love chocolates? Well, this is an actual place bearing that name. The spot has everything, including chocolate, pies, cakes, ice-creams, and truffles. It should be a great option for you to start the day with. We loved anything served on a stick and still dipped in chocolate.
Since you will still be on a road trip, why not pick a few more chocolate pieces for the road. The spot is inexpensive, so get enough for the whole trip. Snacks can be good to cure boredom while driving.
The key lime pie is also a good option. You will be back for more if you give it a try.
#6 Florida Keys Wild Bird Rehabilitation Center
This is definitely a top pick for those who love bird watching. You will also be taking a short hike while enjoying what you do best. There are several road signs so it will be hard to miss the exit. Get to it and have a good time watching the rescued birds.
This place would be quite nice for toddlers too. If you have been driving for a while, let the little one stretch his legs. It is still good for you to do the same. Some of the trails would take you through mangrove forests and onto the coastline. Not a bad trailhead at all.
#7 Rain Barrel Artisans Village
Always stop at Rain Barrel Artisans Village when you get to Islamorada. Here you can enjoy a wide collection of artisan shops and art galleries. You will undoubtedly find some gift ideas while going through the collection. Some of the things you can check out include paintings, glass pieces, sculptures, and other types of artwork. Just be prepared for some artisans to hike their prices. If there is demand from the tourists, the price goes up.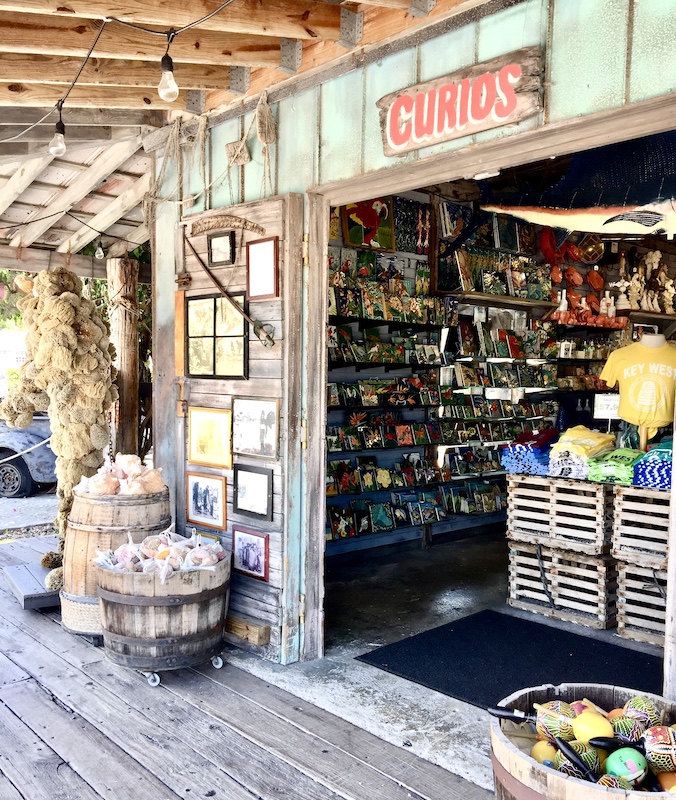 Check Betsy the Lobster too. This is a large carved lobster in the same area. It is a nice farewell as you go to the next stop.
#8 Morada Way Arts District
You are still yet to finish all the art galleries in Islamorada. You can check out this spot for more studios, stores, boutiques, and more art-related content. Thursday will often have live music from various artists. Who would not love to listen to some good jams after a long drive?
Do not forget to check out the Florid Keys Brewing Company while still in the same area. It has grown fast thanks to having excellent brews considering it was launched in 2015.
#9 Robbie's Marina
Now Robbie's is a popular spot! You may have heard tales of fishermen catching huge tarpons. Some claim they catch 100-pound tarpons, and some are as large as 8 feet long. As much as you will not be fishing them, you could as well as feed them at Robbie's Marina.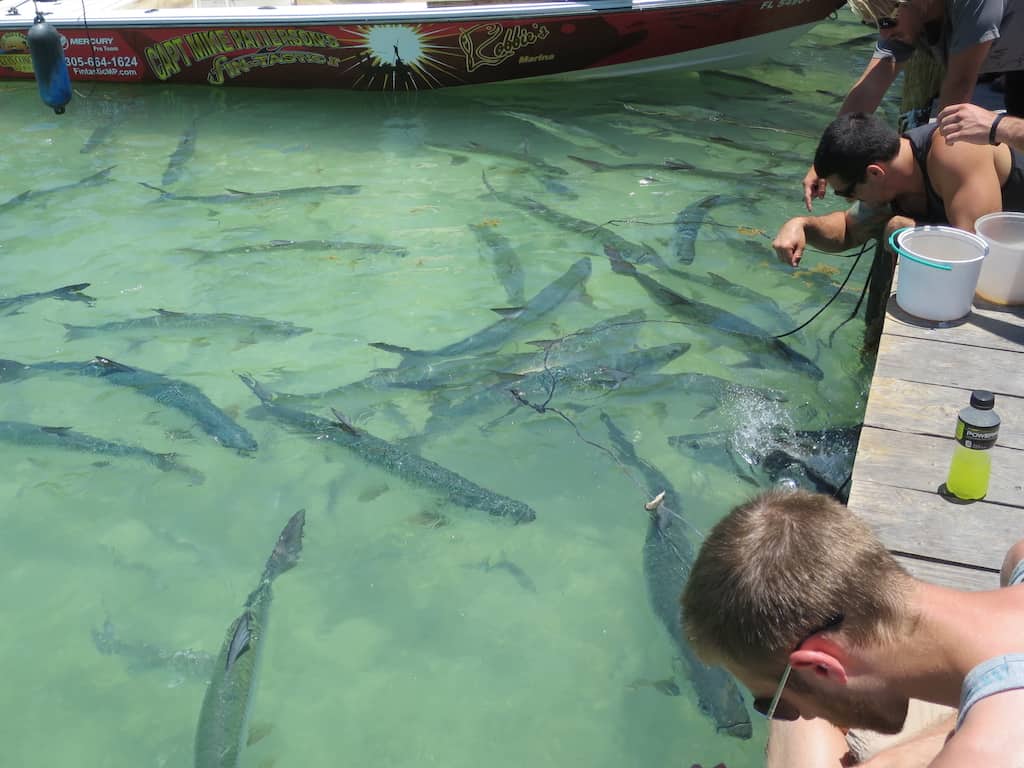 Robbie's Marina is the home to 100 tarpons that are easily accessible throughout the year. You are required to pay $5 to get onto the deck and another $5 to get a bucket full of fish food to feed the tarpons. Do not worry as it will not be too scary. Some people even hand-feed the fish by getting too close. It depends on how well you want to interact with them. Remember, they bite!
#10 Long Key State Park
Long Key State Park can be a nice destination for camping while on your trip. The park features several beautiful camping locations that still overlook the beach. It might just be a great camping experience for most people. The park also has some other activities you could do. Some include kayaking, snorkeling, water activities, and swimming. Expect to see many sea turtles while snorkeling in the clear water.
We cannot forget the hiking and biking trails in the park too. So, if you do not like getting wet, this is for you.
#11 Dolphin Research Center
This will be your next stop when you want to check out dolphins and sea lions. The tour guides in the facility are highly knowledgeable about marine life and will teach you a few tricks to use while interacting with the dolphins.
The facility still has many other interactive programs to consider other than just the introductory tour. One of my favorites is swimming with the dolphins. This is something even teens might like. You can always tell that the sea lions and dolphins are well treated and cared for.
It is still a nice place for the whole family while on a road trip.
#12 Curry Hammock State Park
If you plan on driving the stretch with kids or grandkids, this is another great stop-over to consider. Here, the kids can have enough space to stretch their legs before continuing with the journey. The park is also often full of kayakers, hikers, and campers. If you have always wanted a spot to camp, try it out.
The beach is also clean. That is what you want when you let your kids or grandkids run around freely. Do not forget the view also. It is a beautiful view from the park. Expect to see many birds too. So, bird-watchers are also taken care of.
#13 The Turtle Hospital
At this point, you are halfway point on your drive to Key West. You might as well as mark it by driving into the Turtle Hospital. This is a rehabilitation center for sea turtles. It mostly carries out the work of rescuing, rehabilitating, and then later releasing the sea turtles directly back into the Atlantic ocean.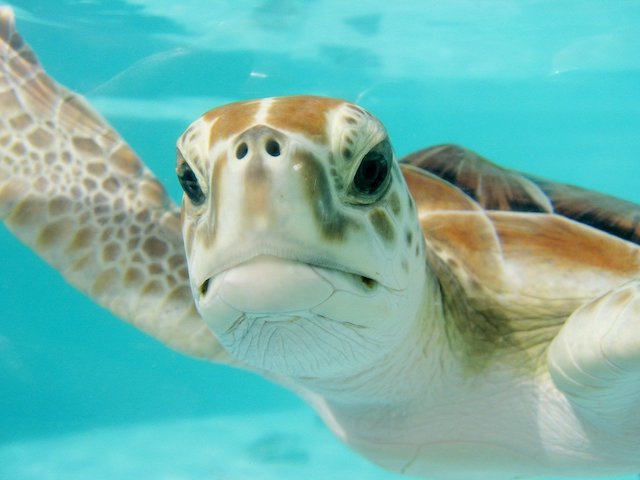 The turtles in the hospital looked well and happy. You are allowed a tour of the facility. However, you have to part with $25 per person. This turtle hospital relies on donations from the public to keep it running. Since it does a good job, the support is always there.
#14 Sunset Grille And Raw Bar
As you head towards the Seven Mile Bridge you should be in the middle keys. Take a stop at the Sunset Grille and Raw Bar. It is a nice place to enjoy good food and ambiance. Most people come here for the live music and unwind after a tough day. That is not all, as the spot also has a dock into the ocean too. Such an addition makes it possible to see a lot of marine life, such as manatees and fish. You should have enough time to enjoy the marine life for a bit.
As much as the sunset was not the main reason we were at the spot, we still enjoyed it. You could also experience the same if you want a better way of relaxing.
#15 Seven Mile Bridge
When you think of the driving distance, sometimes you may be discouraged. However, that changes when you come across the Seven Mile Bridge at mile marker 40-47. It is an important bridge that connects Knight's Keys to Little Duck Key. Most people enjoy the scenic drive across the bridge. You will mostly like the great views of the water, mangrove islands, or any other small island close by.
It is even better when you are driving across the bridge in a convertible car. If you have a great music playlist, the trip is even better.
#16 Bahia Honda State Park
After crossing the Seven Mile Bridge, you get to the Bahia Honda State Park. The park is full of the best beaches you would get in the country. One of the most popular beaches is the Calusa beach. It has beautiful white sand and clear water to enjoy.
You will definitely have a great time swimming and also playing in the water. If you still have those kids or grandkids with you, they will be splashing the water around.
Another notable beach is Sandspur Beach. The visitors would also have many things they can do while at this stop. With the many hiking trails, the options are endless.
#17 National Key Deer Refuge
You can easily get an idea of what this place is all about from the name. Well, it is mostly a place for protection and conservation of the Key Deer named National Key Deer Refuge. For those who do not know, this is an endangered species.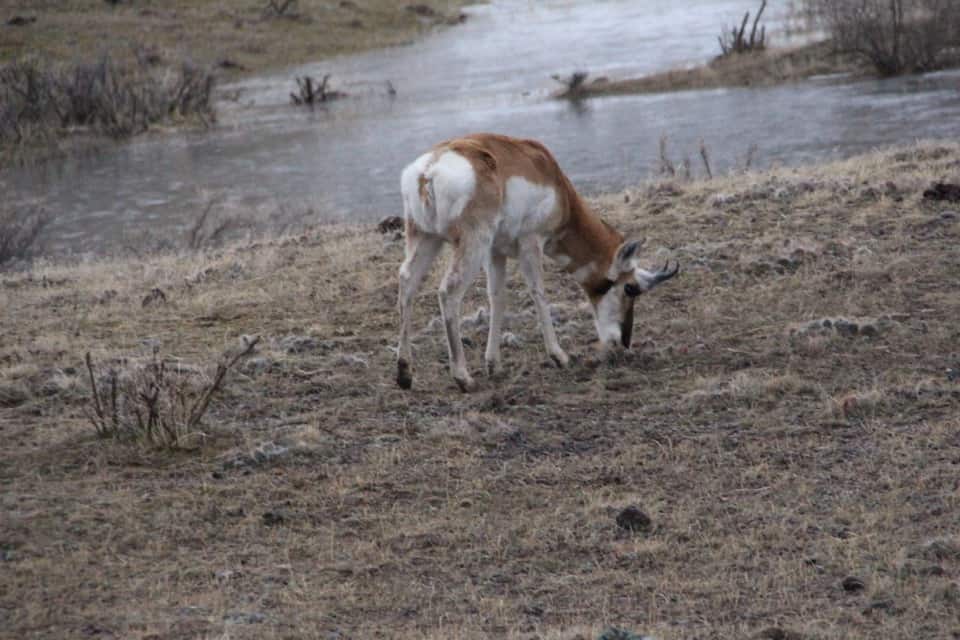 The white-tailed Key Deer has a great history, and there is more reason to put in efforts to ensure the deer is not extinct.
You will get a lot of important information about the deer species from the visitor center. You will also see turtles, fish, frigate birds, and fish from this refuge still.
#18 No Name Pub
Now that you have reached the No Name Key in Big Pine Key, you might even try out the No Name pub too if the travel time allows. This pub was established in 1936. This makes it one of the oldest pubs in the region.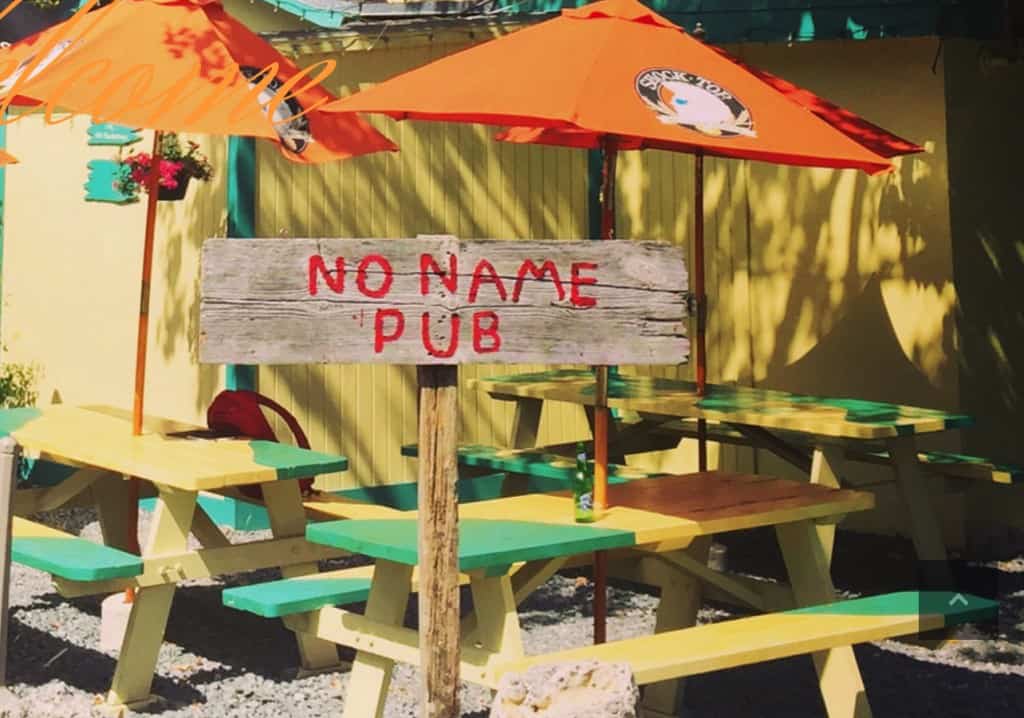 The interior is quite fascinating because it is covered with thousands of dollar bills that visitors have left behind during a visit. The dollar bills are covered in messages, with some having doodles. Well, if they were clean bills, many people would have already helped themselves here.
You can still get good food here too. The conch fritters here taste great, so give it a try also.
#19 Key West Mile Marker And Southernmost Point Bouy
You should now be in Key West at this point in south Florida, which is 109 nautical miles from Miami. To complete this Key West road trip, you need something unique at the very end. That is why you get the southernmost point buoy to visit.
The bouy is made of concrete and will have red, yellow, and black colors. It is hard to miss it. It is still the most instagrammable spot you will find in Key West.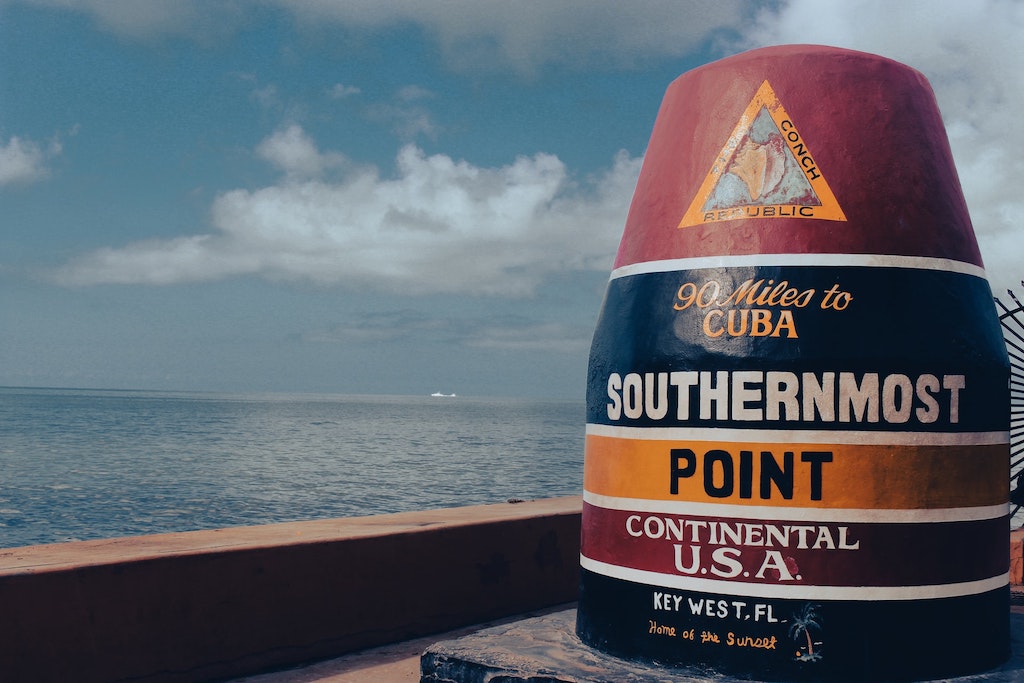 The road leading to the buoy is also beautiful, with some places having poems. You will also enjoy the sunset from this position. It is always a good time for a photo op. It is in the same area where you will get to see the Key West Mile Marker Zero sign.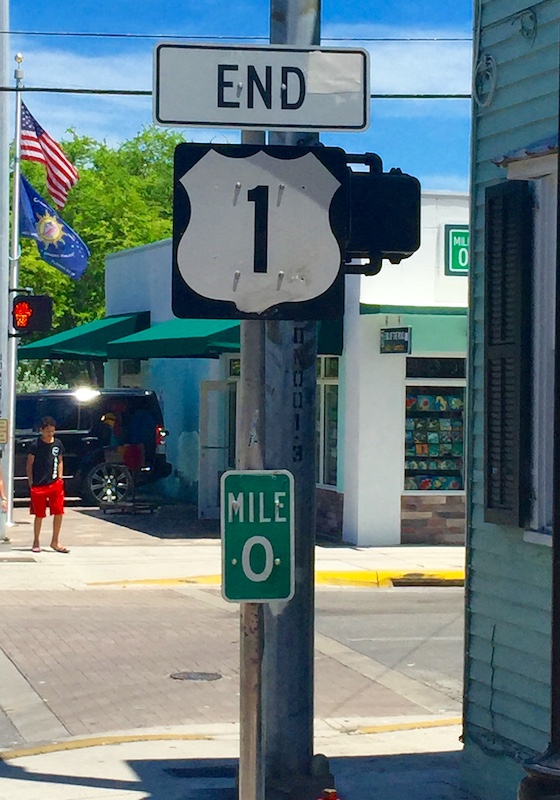 #20 Mallory Square
After a long day, all you need is a Mallory Square sunset. One thing is for sure that each sunset in Key West will always be something nice to see. The square is still home to many street performers. You should expect to see jugglers, acrobats, fire eaters, and even street musicians. There is no doubt you will like the kind of art you get here.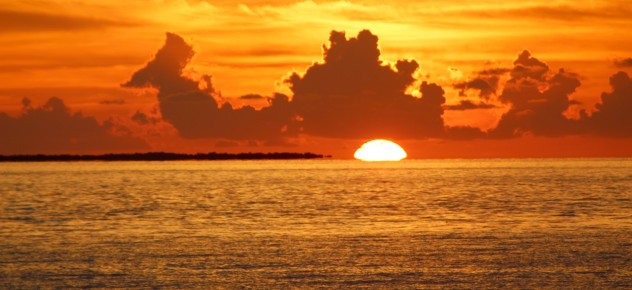 The area is also full of vendors selling decor, ice cream, hot dogs, and cotton candy. If you have kids with you, then they can enjoy the variety.
#21 Duval Street
You cannot miss having Duval Street on your trip. It is a street mostly full of restaurants, pubs, nightclubs, and boutique shops. Those who want to party while in Keywest now know where to start looking. The street still features unique architecture that can be an inspiration sometimes.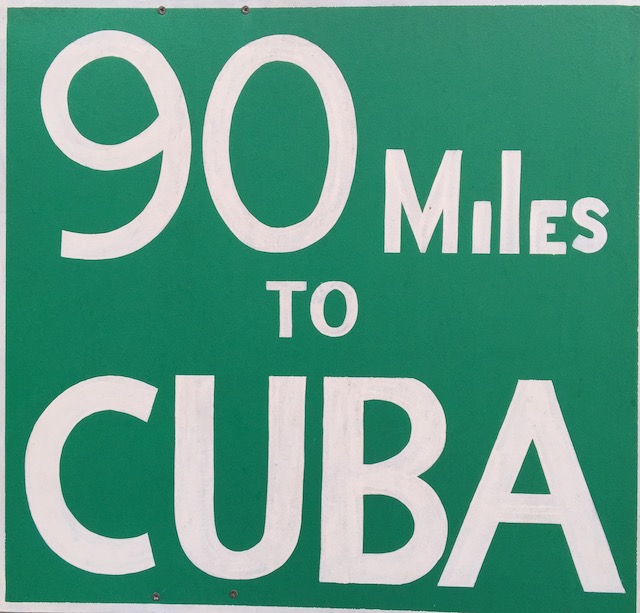 Duval Street does not have to be your final destination. If you have extra time, you can also visit the Key West Drive, Historic Seaport, and Dry Tortugas National Park as part of your trip.
#22 Visit Ernest Hemingway House
This time around, I toured Ernest Hemingway's Home. Who doesn't want to visit Ernest Hemingway's home? I certainly loved it! Plus, you know what he has in there? Papa's 5 toed cats!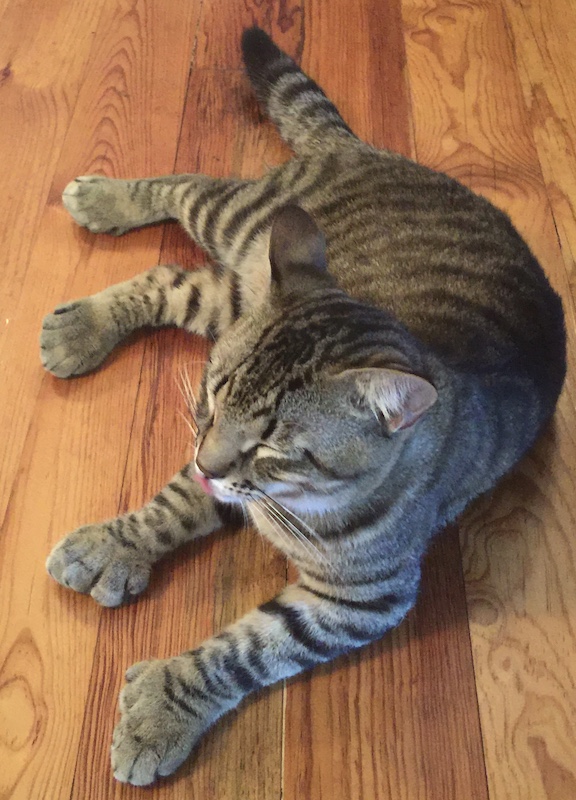 Spend some time at Ernest Hemmingway Home & Museum while you are in town. Why? Because his home gives great insight into the life of Hemmingway. In the back of the home, he showcases many original manuscripts he wrote when he lived here in 1928's.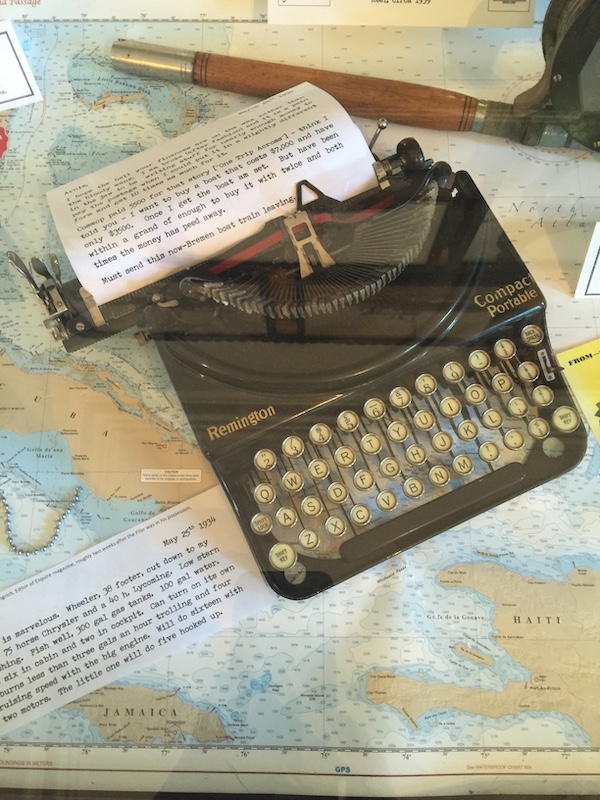 Hemingway was hooked on Key West and since Key West is located only 94 miles away from the Caribbean, it made perfect sense for him to buy a home within the Keys. It is quite interesting to walk around and to see where the writer did his thing. This is a must thing to do in Key West. It is one of my favorite places to visit.
#23 Blue Heaven
Ok, there is one place I guarantee you will like! It is called Blue Heaven with a tasting room and one spectacular sunset. Opened by a pair of free spirits in the lower keys, this place is awesome! Plus they serve breakfast, lunch, and dinner. In fact, the chickens and the cats are almost as famous as their dinner menu – which serves fresh seafood.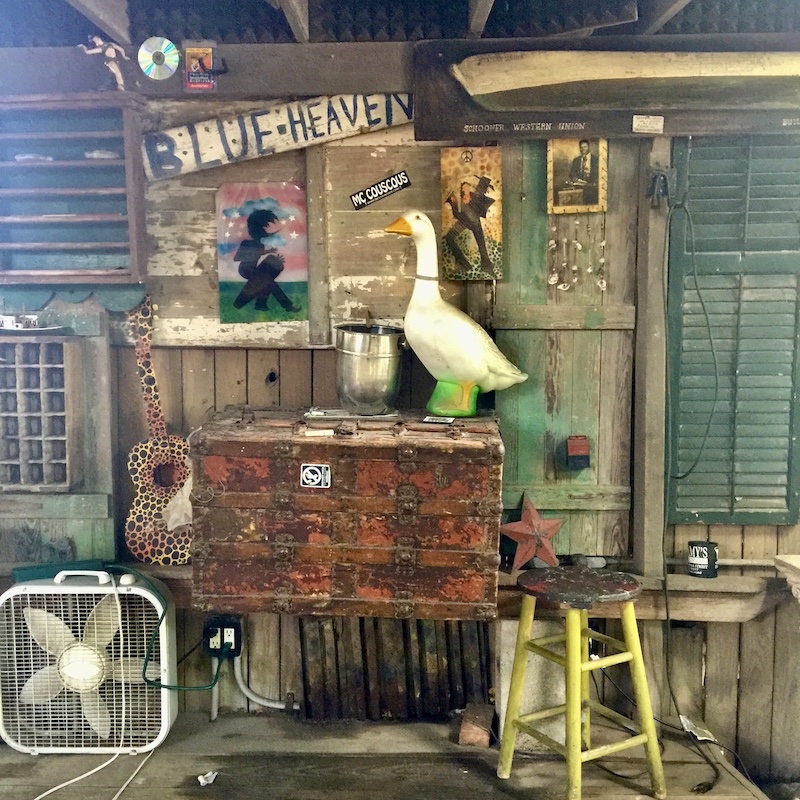 Blue Heaven is al fresco dining, They have a rooster graveyard, jolly-colored coconuts, and a sail strung between trees providing shade. But don't let their decor fool you! The food is very serious! For me, the best food is seasonal stone crab claws or the Jamaican jerk chicken!
Since Key West is the Southernmost Point, let's call it Famous!
Visiting Key West is one of the best things you can do for yourself. Key West is mostly known for being the southernmost point in the USA. However, it is still famous for its beaches, historic sites, nightlife, art galleries, and watersports. So, all of this can be enjoyed the next time you want to get outdoors and explore the Florida Keys. The guide above should help make your trip better and share the amazing experience with me too.