Puerto Vallarta fishing charters provide tourists the chance to go on sport or on a deep sea fishing trip while in Mexico. In fact, this is one of the popular activities that you can do while you are touring the city. The good news is that there is no shortage of the best fishing spots around Banderas Bay! All that you have to do is to book one of the private charters in Puerto Vallarta and you'll be out in the open waters soon enough.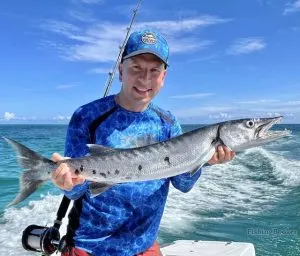 ---
What's in this post:
hide
Puerto Vallarta Fishing
Sportfishing Charters in Puerto Vallarta
---
---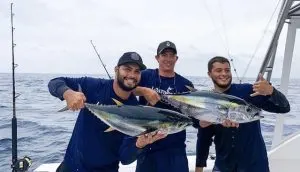 In fact, there are three distinct fishing spots in Puerto Vallarta that you should consider. These are La Cortabena, El Banco, and El Morro. All of these are accessible if you are staying in town. Aside from the usual Mahi Mahi, you can also catch Black Marlin, Sailfish, and Striped Marlin among others.
Although most charters will provide a fishing license for your group, you need to confirm this with your captain. Ask them if you need to get one or they will be the ones to handle this for you. This is one of the important things that you need to check prior to fishing.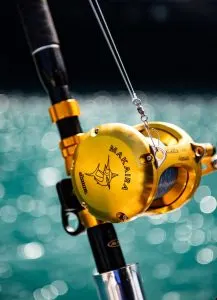 When to Fish in Puerto Vallarta?
Are you heading to Puerto Vallarta Mexico to try your hand at fishing? If this is the case, it would help to know what the fishing season is in the country. For example, if you want to catch some Mahi Mahi or Marlin, you should time your trip from September to February. On the other hand, the best time to catch some Jack Crevalle or a Red Snapper is year-round.
Also, big game fish like giant Yellowfin tuna and Sailfish are available the entire year. That said, fishing in Puerto Vallarta can be done regardless of the month that you visit. After all, different kinds of fish appear at different times of the year. That said the only thing left to do is to check which fishing boats to hire for your fishing trip.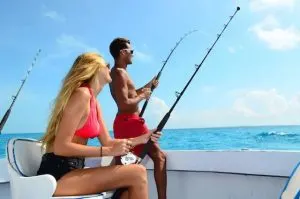 Fishing Charters to Book in Puerto Vallarta
Bahía de Banderas is well-known for being one of the top fishing grounds in the world. In fact, locals and tourists alike consider this a great place to practice their skills in deep sea or sport fishing. The price will vary depending on the type of fishing you want, the type of boat, as well as how long the excursion will be.
Just to give you an idea, a 4-hour fishing charter on the Bay of Banderas will cost you around $400. This is already good for six people. On the other hand, a 12-hour deep-sea fishing expedition will cost you around $1000. If the price is within your budget, then check out these fishing charter companies.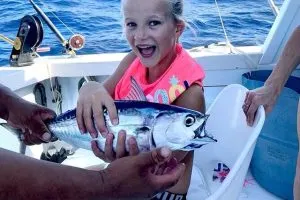 Calypso Charters
There is no better way to explore the waters in and around Puerto Vallarta than having a captain who knows his way around. This is exactly what the captain of Calypso Charters is known for. Since Captain Ariel grew up around here, he knows exactly where the best places for fishing are so you will have a great day out in the waters.
In addition, you can request the type of fish that you want to catch. He will do his best to get you to reel them in. Among the big fish that you can catch with Captain Ariel are Tuna, Cubera Snapper, and Marlin to name a few. They cater to small groups of four anglers on each trip. This makes it easier for them to oversee your fishing and ensure a great experience with them. All fishing equipment is included in their package. If you are looking for a fun day, they come highly recommended.
Captain Pete
Meanwhile, for those who want to go on deep-sea fishing, book one of Captain Pete's boats! In fact, Captain Pete has been operating around Puerto Vallarta's waters for the past 35 years. This goes to show that he knows his way around. Among his favorite fishing grounds are El Banco, the Cortana, as well as Marias Islands.
Go on tuna fishing, marlin fishing, and even bagging Mahi Mahi with them. You can even reel in some Spanish Mackerel too. What you'll love about their private fishing tours is that you get to pick the boat you want. All of their boats are approved by the United States coast guard which means that you are safe on board. Their most requested is their 40ft deep-sea fishing boat.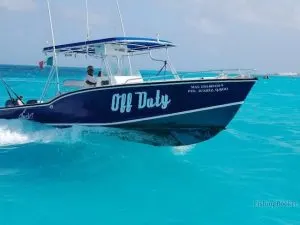 It has modern equipment and amenities that contribute to giving you the best experience while out in the blue water. Meanwhile, their 32 ft medium-size sport fisher can take you to their offshore fishing grounds easily.
If you are with a small group, their 28 ft super panga will suffice. If you are here during the summer, you should book their 8-hour charter. The water temperature is around 80 degrees at this time with the bigger Marlins showing up offshore. Captain Pete guarantees that you'll be in the right place for the big fish game.
High Tides Fishing Charter
High Tides is one of the best charter services that you can book in Puerto Vallarta. Owned by a father-and-son duo, they specialize in fishing using light and heavy tackle. Also, they are experts in jigging, trolling, and popping too. Aside from that, they can easily show you the best spots to get the big fish game.
In fact, you can reel in some Blue Marlin, Striped Marlin, Mahi Mahi, and Spanish Mackerel to name a few. Just like with other fishing charters in Puerto Vallarta, they will provide your equipment. This includes a fish finder gadget, rods, reels, lures, and drinks. Also, they offer fish cleaning services too. This way you can enjoy your catch of the day without doing all the hard work.
Valeria I
Bring the family out in the open waters for some fishing experience with Valeria I. In fact, the captain and his crew guarantee that you will have a great time on board their vessel. What I like about Valeria I is that Captain Jorge is more than happy to accommodate your requests. No matter what kind of adventure you are looking for, they will do their best to make it happen.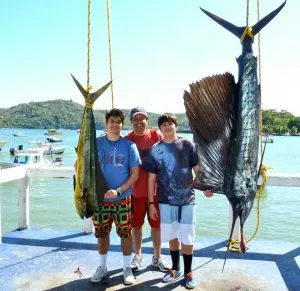 In fact, it doesn't matter if you want to spend more time on your trip to fish or go beach hopping. They'll do it for you. Thanks to their spacious boat, they can accommodate up to 11 anglers. It is possible for 3 anglers to fish at the same time.
Among the fish that you can catch from the deep waters are yellow-fin tuna, sailfish, Jack Crevalle, and others. You can catch your own live bait or purchase from the other boats if you like. Aside from that, while others are fishing, the rest can go snorkeling. Who said that you'll get bored? Don't forget to bring drinks, your swimsuit, sunscreen, and sunglasses. The rest will be handled by Valeria I.
Viking Fishing Charters
Regardless of whether you want to go on a short trip to fish or go on overnight trips, they got you covered. If you are an avid fan of sport fishing, their 10-hour fishing expedition is a great opportunity to go out to deeper waters. During this trip, you will be able to score different species of fish like yellowfin tuna, swordfish, and marlin.
In addition, Viking Fishing Charters can also customize your trip. If you want to go whale watching or snorkeling, they can incorporate them too. The same goes true if you want to explore Yelapa. It is not surprising that Viking Fishing charters are one of the best Nuevo Vallarta fishing charters out there. They can pick you up at Paradise Village marina as an added convenience.
Puerto Vallarta Tours
If you are traveling with larger groups but would like to try your hand at fishing, then book a private tour with this fishing charter. Going on a private charter means that you choose how you are going to spend the day on your own boat.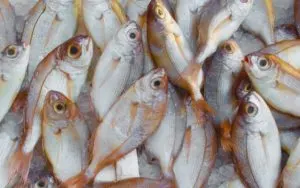 You can spend it going to El Faro or even Marietas Islands where the big fish are, or just laze around on board the boat. Of course, if you are aiming for the biggest catch then you can have your captain take you to El Banco or Corbetena.
Even if you are traveling with multiple guests, why not make fishing more challenging? Rent out several of their boats to see who can catch more fish within a set time. You don't have to worry about cleaning and filleting the fish. The crew will do it for you. Aside from that, they offer the best rates too, so you might want to consider their offer.
Epi Gilligan
Are you up for some incredible fishing? Epi Gilligan has got you covered. For starters, Captain Epifanio has been fishing the waters of Puerto Vallarta his whole life. In fact, he wouldn't change it for anything else. A great way to experience sports and deep-sea fishing is to go with a pro like Captain Epi.
It doesn't matter if you just want to fish for four hours or a full day. You will not get bored trying to catch a big game with the crew. Booking a fishing trip with this charter will give you more value for your money. It is possible to score big fish regardless of whether you opt for reef or offshore fishing. In fact, there is an abundance of fish here from Tuna to Big Marlin and Snappers.
PV Sportfishing
PV Sportfishing has been receiving great reviews for its service. This is not surprising given that they have been featured in ESPN, Florida Sportfishing Magazine, and Marlin Magazine. Aside from that, Captain Steve was able to catch a 517 lb marlin in a competition. This was a record-breaking catch for sure! With this kind of expertise, you should already have confidence in the captain and his crew.
Go on board his boat with a maximum capacity of five anglers for a fishing trip you'll not forget. Not only do they have a live bait tank on board, but they also have tuna tubes too. Aside from that, you can choose whether you want to go reef fishing or bottom fishing. They'll make it happen for you.
For professional anglers, don't miss out on their overnight charters. This will set you back around $2,200 but it is worth the value. After all, you can catch some skipjack tuna, snappers, and marlins, even during the winter months. You can board their boat at the Marina Vallarta.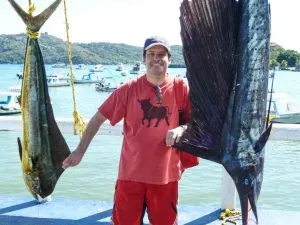 Master Baiters
Meanwhile, Master Baiters have been providing locals and tourists alike with a wonderful experience when fishing with them. From Puerto Vallarta to Bahia de Banderas, they'll show you where the best fishing spots are. Customer satisfaction is their priority and as such, they have many repeat customers already.
You can book their Super Panga when fishing with a small group. Otherwise, go for their 35ft convertible sport fisher or their luxury sport fishing yacht. Who knows, you might spot some sea turtles or humpback whales while out in the open sea.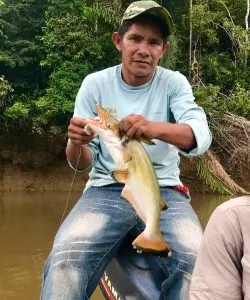 Puerto Vallarta is a great place to do Sports Fishing
In fact, the best months to go fishing here are from June to October. This is the high season for Puerto Vallarta waters as fishing boats head to the open sea to do some deep-sea fishing. With plentiful trophy fish waiting to be caught, you should make it a point to book a fishing charter for your trip here. This is the best way to find yourself in the greatest fishing areas in Puerto Vallarta.
What's great about fishing in these waters is that there is a good chance that you'll be catching huge fish. Aside from that, if you are bringing your family with you, a great option is to try their inshore and nearshore trips. No matter what kind of fishing experience you have, chances are that you will learn to love your fishing excursion here. After all, you are in the hands of the best captains in Puerto Vallarta.