Bacalar Mexico is slowly gaining attention across the globe. And why not? Dubbed the Maldives of Mexico, Bacalar boasts crystal-clear waters that you'll want to explore. The Mayans called it the Lake of Seven Colors because they believe that you will see seven different shades of blue there. Sounds promising, is it not?

This stunning lagoon lies on the Yucatan Peninsula. What's more, it is just a few hours away from tourist hotspots like Tulum, Cancun, Playa del Carmen, and others. You will find Bacalar in the state of Quintana Roo and about half an hour away from the Mexico-Belize border. Most tourists land at the Cancun International Airport. Then either rent a private vehicle or have their hotel pick them up. Either way, visiting Bacalar is a must while you are in Mexico.
Now that people are learning more about this gorgeous lagoon on the Yucatán Peninsula, it is high time that you see it for yourself. Those who are heading to Belize City from Mexico usually stop at Bacalar. This is, in fact, a great spot to end your stay in Mexico before heading to the rest of Central America.
Getting to Bacalar
There are several ways to reach Bacalar. If you want to cut your travel time, the best way to do so is to fly to Chetumal International Airport. This is the closest airport since it is just 45 minutes away from this Pueblo Magico or Magic Town. Since this is a smaller airport, you will need a connecting flight from Cancun, Mexico City, or even Guadalajara airports.
Cancun to Bacalar
Most travelers prefer to fly into Cancun International Airport. From here, you can book Cancun's private shuttle service which will take you directly to Bacalar. Aside from that, there are rental cars available too. If you prefer to go local, there are ADO buses that will take you to Bacalar. Travel time from Cancun to Bacalar is around 4.5 hours.
Tulum to Bacalar
Meanwhile, if you are staying in Tulum and want to see the seven shades of blue of Bacalar, you can either drive or ride an Ado bus. Travel time is around 2.5 to 3 hours give or take.
Merida to Bacalar
Driving your rental car from Merida to Bacalar will take around 4.5 hours. Yes, there will be a couple of highway changes, but as long as you follow Google Maps, you will get to your destination.
Bus to Bacalar
The ADO bus company is the largest bus company in Mexico. In fact, it has daily trips around the entire Quintana Roo, as well as in Yucatan and Bacalar. Prices will vary depending on where you will begin your trip. On average, ticket prices can range from $700 to $1,000 pesos for a round-trip ticket or around $35 to $50 USD.
Take note that there is only one bus station in the town of Bacalar. However, there are plenty of taxis already waiting there. Just make sure that you haggle with the prices before getting inside the taxi. Also, see to it that you have pesos with you to pay for your fare.
Cancun to Bacalar
As mentioned before, if you are flying into Cancun Airport, you'll find a bus station nearby. You can take the Ado bus from the airport all the way to Bacalar.
Playa del Carmen to Bacalar
Tourists who are staying in Playa del Carmen will find the Ado bus station at La Quinta Avenida or 5th Avenue and Avenida Benito Juarez. This is near the Founder's Park and the ferry dock. Here you can take the bus to Bacalar.
Merida to Bacalar
Meanwhile, the main bus terminal in Merida is downtown. They call it Terminal de Autobuses de Merida or TAME or CAME. Aside from that, there are buses that go from Paseo 60 bus terminal on the Paseo de Montejo. However, they are not as frequent.
Tulum to Bacalar
There is only one bus station in Tulum and you'll find it in the city. In fact, it is conveniently located in Tulum Town or downtown Tulum.
Best Things to Do in Bacalar, Mexico
Bacalar is often referred to as Laguna de Siete Colores with good reason. The gorgeous shades of blue from the surrounding waters are one of its main attractions. That said, there are more attractions and activities that you can do here too. In fact, I have rounded up some of the best activities that you can enjoy here. Let's take a look.
Tour the Bacalar Lagoon
If this is your first time visiting Bacalar, then go on a boat tour of the lagoon. The tour will take you to different parts of the lagoon such as the Canal de Los Piratas and Isla de Los Pajaros. Also, there is the Cenote La Bruja which is sometimes called Cenote Negro or Black Cenote. This one is only accessible by boat.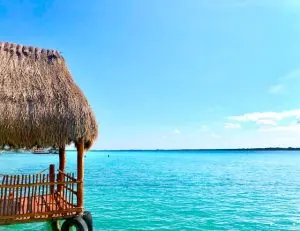 In fact, I suggest that you look for a tour company that uses sailboats instead of traditional boats. This is because the former is much safer to use in the lagoon. One option here is Bacalovesailing. Aside from being an all-female crew, they use sailboats to tour their guests around the lagoon. Most boat tours can last up to 4 hours. Aside from that, there are unlimited drinks on board. Take note that you cannot drink in the water. This is to protect the lagoon from chemicals and such.
Go Swim in the Lake
Who can resist not diving into the crystal-clear waters of the lagoon? I, for one, am more than happy to spend many hours in the waters. Aside from its turquoise waters, you will notice that there are areas that are deeper shades of blue. This is because of the limestone at the bottom of the waters. Don't forget to bring your swimsuit when traveling here. However, you should skip applying sunscreen, even those reef-safe ones. This is to avoid polluting the blue waters of Bacalar.
If you are looking for a beach here, you'll be disappointed. On a good note, there are hotels that have wooden piers. This is where you can go and jump into the lagoon. How cool is that? Aside from that, there are public wooden piers that you can use free of charge or for a small fee.
In fact, there is one between Calle 14 and Calle 12. Take note, however, that they can get pretty crowded. The best time to go here is early in the morning. Expect to see a big crowd in the afternoon.
Learn History at Fort San Felipe
Meanwhile, Fuerte San Felipe is an old fortress in Bacalar that is worth visiting. Nestled in the heart of the town, this fortress is where you can learn all there is to know about pirate life here. In fact, this stone structure sits atop a hill overlooking the sea. It was built to protect the town from the pirates that roamed back in the day. Today, the fortress houses a museum that contains artifacts of the time of the pirates.
Yes, there is an entrance fee of 100 pesos, but it is worth it. Aside from seeing this ancient stone structure, you also get to learn the history of the pirates in this area. This includes pirate attacks that happened ages ago. Also, you will be treated to a 360-degree view of the lagoon. Now that's something you should definitely see.
Enjoy the Cenotes in Bacalar
As mentioned before, the Bacalar lagoon is home to different cenotes. Cenote La Bruja as well as Cenote Esmeralda are within the lagoon. This is why they are only accessible by boat. And then there are Cenote Cocalitos as well as Cenote Azul. These two can be accessed by land but there is a small fee to get inside them.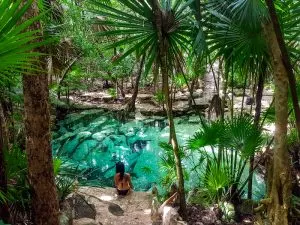 Cenote La Bruja, or Witch cenote, is the perfect place for you to see the changing colors of the lagoon and the cenote. Most of the boat tours that operate here stop here often. Meanwhile, Cenote Azul lies south of Bacalar and will only take you 10 minutes of driving. What you'll love about this cenote is that it is spacious plus the water is warm. Aside from that, there are bathrooms and souvenir shops available here. You can even dine in the restaurant nearby.
Cenote Cocalitos is one of the popular destinations here because of its amazing color. Not only that but the overwater swings and hammocks add to the overall attraction. There is a small fee of 35 pesos required before you can get here. Finally, we have cenote Esmeralda. What makes this an ideal spot for swimming and snorkeling is its shallow waters. You can go swimming or stand-up paddle boarding. Guests will need to wear life jackets when visiting cenotes for their safety.
Try Bacalar Beach Clubs
Technically, these are not beach clubs since Bacalar doesn't have any beaches. They are actually called balnearios or "wooden piers". In fact, these wooden piers come in different styles and designs. Some have that rustic vibe while others give off that ultra-luxury vibe to them. Some have day beds, chairs, or hammocks. In addition, there are food and drinks here, plus lively music too.
Take an example, Los Aluxes Bacalar. Although this is not your proper balnearios, the Los Aluxes hotel ensures that it comes with all the fun water stuff that you are looking for. Think water hammocks as well as swings. Aside from that, there is also Los Rapidos Bacalar. Located at the end of the lake along a narrow channel, this is one of the best spots to hang around. It is also a balnearios but it is far from the others. In fact, you will need to ride a taxi to get here.
Yes, it does have all the trimmings you are expecting in a Balneario but it also boasts fast-moving rapids too. Come here early in the day where you can grab a day bed to hang out the rest of the day. You might even hear or see howler monkeys up in the trees nearby.
Go on a Day Trip to Chaccoben Ruins
One of the best places that you can see while in Bacalar is the Chaccoben Ruins. This is the closest Mayan ruins that you can visit from Bacalar. It is just 25 minutes north of the town and a great place to go on a day trip. You can drive your rental car here or hire a taxi. Chaccoben may be one of the lesser Mayan ruins in the Yucatan Peninsula but worth the trip.
In fact, this archaeological site was only discovered in 1972 by Dr. Peter Harrison. Only a small area of the pyramids has been uncovered with the rest still under dense vegetation. I suggest that you take a closer look at these structures, especially the ones covered in plants. Who knows, you might unearth something during your trip here. If you want to learn more about its history then book a guided tour. There is an entrance fee of 70 pesos here. Aside from that, guests are not allowed to climb up the pyramids as they are still being studied and unearthed.
Explore the Restaurants in Bacalar
With all the activities that you have been doing in Bacalar, you are bound to get hungry. Although this is a small town, do not underestimate it especially when it comes to food. In fact, just like with any part of the Yucatan Peninsula, fresh seafood is popular here. Don't worry if you are a vegan since there are restaurants that offer vegan options. A good example here is Mango Y Chile. This is one of the best restaurants in town that serve vegan dishes. In fact, I recommend that you try their veggie burger. Vegans and non-vegans alike love this one.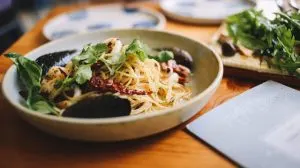 Another popular restaurant to try is La Playita. Think of it as a restaurant/ beach club surrounded by lush jungle and clear waters. This is one of the best places to dine in not to mention a great spot to jump into the waters. Meanwhile, if you want to grab some drinks, head to Cerveceria Bacalar. This is the only brewery in town. Aside from beer, they also serve cocktails, plus the atmosphere here is fun and engaging.
See the Kohunlich Mayan Ruins
The Yucatan Peninsula is home to several Mayan ruins like Chichen Itza. But you'll be glad to know that aside from Chaccoben, there is another one that you can visit. One of the popular places that you can visit near Bacalar is the Kohunlich Mayan Ruins. It is just an hour's drive away from Bacalar town. Not only that but it is one of the most visited sites too.
Aside from that, the main attraction here is the Temple of the Masks. It's not that hard to find it because it is a pyramid with human-like masks on either side of it. You don't have to visit this site if you have seen famous ruins like Chichen Itza, Uxmal, and Tulum. However, if you have time to spare and want to see other ruins feel free to travel here. An entrance fee of $150 Mexican pesos is required for adults. Children can enter the site for free.
Stand Up Paddleboarding and Kayaking in Bacalar
Aside from going on a boat trip to Lake Bacalar, you should also try SUP or Standup Paddleboarding. In fact, the lagoon is one of the best spots to try this water sport because of its calm waters. The good news is that most Airbnbs, hostels, and hotels in the center of town do offer boards to their guests. There are tours and classes offered as well, so you can enjoy this experience.
I tried SUP and it was challenging at first. But once you get the hang of it, you'll want to do it daily. If you prefer something laid-back, then try kayaking. This is another popular water sport here in the lagoon and one that you are sure to enjoy. Depending on where you are staying, you can rent kayaks for free.
If you like, they can arrange kayak tours for you. Aside from that, the hotel staff will give you an overview of how far away you can venture on the lake from where you are staying. After all, the lake is huge and you'll want to include the distance back when calculating the time.
Dive in Mahahual Beach and Xcalak
Mahahual is a hidden gem in the Caribbean. It lies in Costa Maya and was best known as a stop for cruise ships. However, things are changing as this beach is fast becoming a popular diving spot. One reason behind this is its proximity to the Great Mesoamerican Reef which is the second largest in the world. Aside from exploring the natural beauty of the waters, there are other attractions here as well. There is the pristine white sand beach plus the restaurant scene is too good to pass up.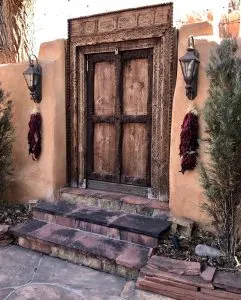 If you are looking for other dive spots, then go a bit further south to Xcalak. This is one of the popular places for locals and tourists alike who want to go diving. You can bring your own gear or rent one, whichever you prefer.
Where to Stay in Bacalar
There are two options to consider if you are thinking of staying in Bacalar for a few days. You can stay on the lake or in downtown Bacalar. They are about 10 to 15 minutes away from each other so traveling won't be a problem. Of course, if you are going to stay on the lake, you will pay a higher price in terms of accommodation. On a good note, you'll save money since you don't need to grab a taxi.
Meanwhile, if you are on a tight budget, don't worry. There are hostels here with room rates at affordable prices. Just to give you an idea, here are some popular spots where you can stay in and around Bacalar.
Mia Bacalar Luxury Resort & Spa
Although this is not your usual all-inclusive resort, you still won't want to leave the property. After all, it sits right on Laguna de Bacalar! It has private rooms, room service, pools, and a spa to name a few.
Casa Shiva Bacalar
Ever thought of going glamping in Mexico? Glamping is basically a combination of glamor and rustic camping. This is a unique thing to do here in Bacalar and one you don't want to miss. In fact, you can book a stay in their shabby chic villas overlooking the lake.
Yak Lake House Hostel Bacalar
Yak Lake House is hands down an excellent place to stay in Bacalar. In fact, I think that this is a great option for those who are looking for budget-friendly accommodations. You can stay in their shared dorms, apartments, and other rooms. What I love about it is that it has water swings, a bar, and tons of activities to keep you busy.
New to Explore in Mexico!
One of the great things about Mexico is that there is always something new to explore. Take for example the small town of Laguna Bacalar. It is one of the most beautiful places that you can visit away from the crowded resort towns of Cancun and Playa del Carmen. In fact, this beautiful lagoon has been likened to the Maldives because of the extraordinary beauty of the waters.
Aside from the beautiful lake, Bacalar is worth visiting because of the tourist attractions here. For example, there is the 18th-century Church of San Joaquin which is just half a block away from the town's main square. Also, among the popular things to do here are to explore the cenotes and see the Mayan ruins nearby. Meanwhile, if you are in downtown Bacalar, you can head to the town square and take a picture of the Bacalar sign there.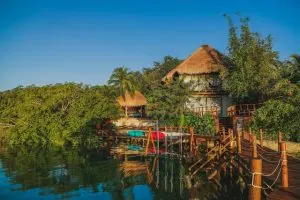 Usually, it takes two full days to explore the lake and the town of Bacalar. But feel free to extend your stay. After all, there is much to see here from a small museum to the cenotes that surround the lake. One of the favorite things that I like to do here is to go diving in the lagoon. The crystal-clear waters make it easier for me to admire life underwater. Yes, the rainy season happens from May to July so you need to plan your trip well. Your best option is to look at a travel guide to determine when is a great time to visit.
Bacalar is near Riviera Maya which makes it accessible. A great way to do this with a small group is to book a rental car. This way you can make your way to this town at your own pace.