Tulum is a destination with a bohemian-chic vibe situated in the Yucatan Peninsula of Mexico. This place has gained a reputation for its clear beaches, turquoise waters, and ancient Mayan ruins. Furthermore, its vibrant day clubs and pool parties are also gaining popularity. You'll have a distinctive and unforgettable experience for party-goers seeking the ultimate fun.
In this guide, we will showcase the top 9 best day clubs and pool parties in Tulum for 2023. We'll highlight what makes each place unique and worth a visit with options ranging from luxury to budget-friendly. From iconic dance parties to serene oases, we've got you covered. Get ready to immerse yourself in Tulum's party scene and have a great time!
Luxury Dayclubs and Pool Parties in Tulum:
1. Casa Malca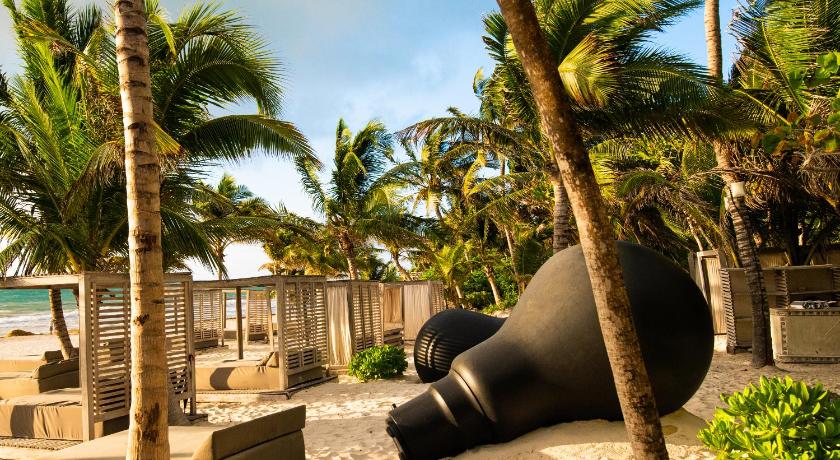 Casa Malca is a luxurious hotel in Tulum that was originally owned by Colombian drug lord Pablo Escobar. After his death, the property was abandoned for many years. Until it was purchased and renovated by a New York art dealer in 2012. Today, Casa Malca features unique decor and artwork throughout the property. It has become a popular destination for luxury travelers.
Casa Malca is a beach club that offers to lounge by the pool or the white-sand beach while enjoying live music. With palm trees surrounding the area, it is one of the best beach clubs in Tulum. The open-air restaurant offers a fantastic menu that serves delicious food and accepts credit cards.
It is highly recommended that you make a reservation to guarantee your spot at Casa Malca, a popular spot. The beach club also offers romantic dinners. One of the best places to spend quality time with your partner.
If you are a hotel guest, you can easily access the beach club, which is located on the beach road. You don't want to miss the opportunity to spend a day here.
2. Papaya Playa Project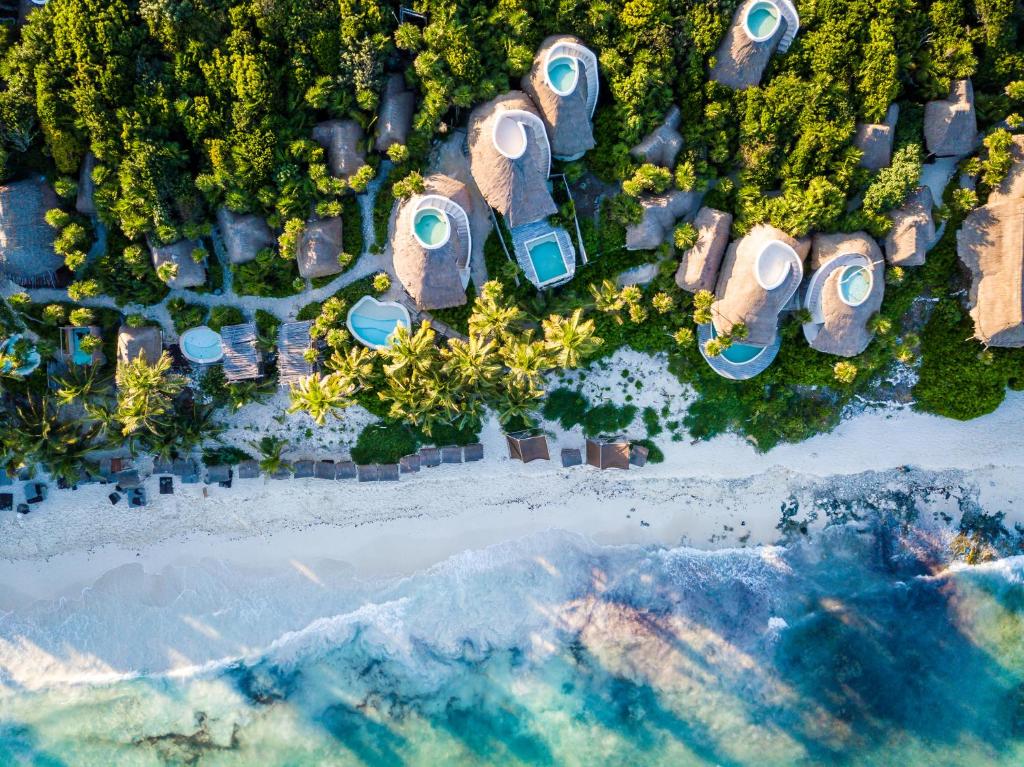 Papaya Playa Project is an excellent place to dance the night away to house music under palm trees and the stars. It's known for its lively atmosphere and iconic full moon parties that attract partygoers from all over the world.
The beach club is located on the Tulum-Boca Paila KM. One of the most beautiful beaches in the area. Hotel guests get special packages that offer access to exclusive areas of the club and special attention from the staff.
Book in advance during high season to secure your spot at Papaya Playa Project. It's a great place to relax on beach beds or lounge chairs, savor cocktails, and enjoy the beach views.
If you're a fan of pool, the club has a pool table where you can enjoy a game while taking a break from dancing. Don't forget to try the club's BBQ beach club day party, which offers excellent food and drinks.
3. Azulik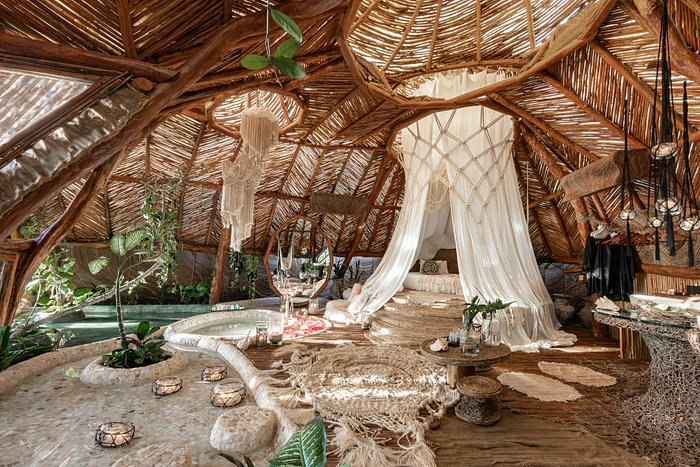 Azulik is one of Tulum's most exclusive beach hotels. It offers a unique and unforgettable experience for those seeking a romantic getaway. Located in the hotel zone, Azulik boasts breathtaking views of Tulum's white-sand beaches and the turquoise sea.
One of the highlights of Azulik is the open-air restaurant that serves delicious food. The peaceful atmosphere and beautiful setting make it a popular spot for couples looking to enjoy a special evening together.
Azulik also has day beds on the beach, perfect for those looking to soak up the sun and enjoy the beautiful views. The hotel is located on the jungle side of the road, adding to the tranquility and seclusion of the property.
The guest rooms at Azulik are designed with sustainability in mind, and the hotel has a unique style that blends traditional Mayan architecture with modern design elements. The property is designed to immerse guests in nature, and it's an excellent option for those looking to disconnect and relax.
Azulik's high price tag is worth it for the stunning views, serene ambiance, and one-of-a-kind experience. Private parking for guests, making access easy and maximizing enjoyment of music and service.
4. Be Tulum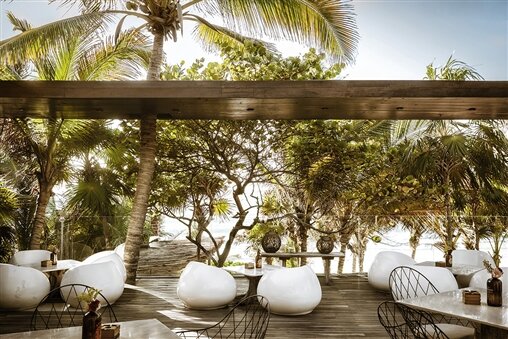 Nestled on the stunning white sands of Tulum Beach, Be Tulum is a bohemian-chic hotel that offers a one-of-a-kind day club and pool party experience. With its breathtaking infinity pool and beach club, you can relax in beach beds or lounge chairs while listening to international DJs play great music. The hotel's stunning design features natural materials, vibrant colors, and a laid-back atmosphere that embodies the Tulum lifestyle.
In addition to its stunning beach club and pool, Be Tulum also boasts a top-rated restaurant that serves delicious cuisine made with locally-sourced ingredients. Its bar offers an extensive selection of cocktails, wines, and spirits, ensuring that your thirst is always quenched.
5. Habitas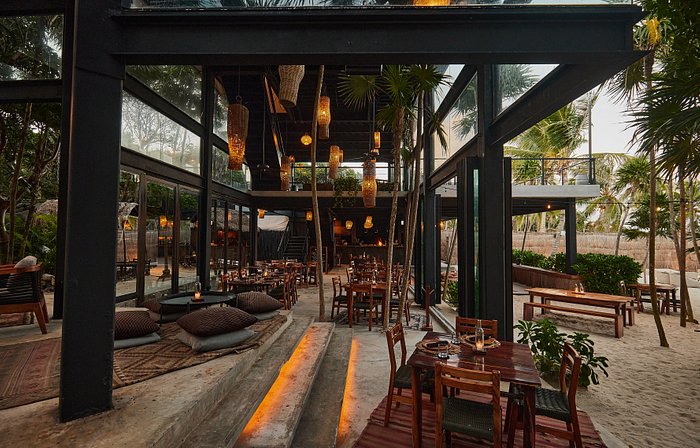 Habitas is a members-only hotel that provides a luxurious and tranquil atmosphere for its guests. The hotel features a beautiful pool, surrounded by lush greenery and sun loungers to relax and soak up the sun. The rooftop bar offers incredible views of Tulum's beaches, and the perfect place to enjoy a cocktail while watching the sunset. The bar features an open-air design and often hosts live music events with international DJs, creating an exciting party scene. Habitas also has a restaurant that serves delicious food, focusing on locally sourced ingredients and traditional Mexican cuisine. This exclusive hotel is the perfect place for those seeking a more upscale and serene dayclub and pool party experience in Tulum.
Budget-Friendly Dayclubs and Pool Parties in Tulum:
6. La Zebra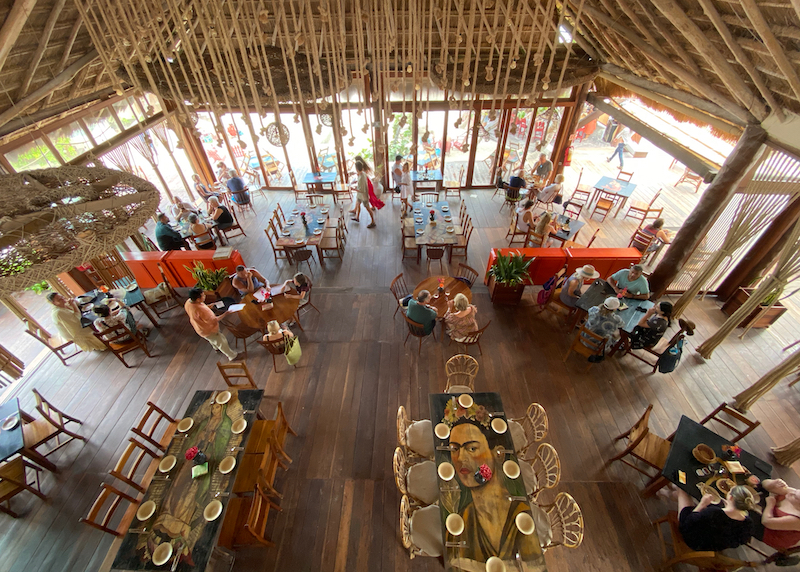 La Zebra is a beloved beach club in Tulum that attracts visitors with its laid-back and inviting vibe. Here, guests can relax on beach beds or lounge chairs, take a dip in the ocean, and enjoy delicious food and drinks.
La Zebra is known for hosting live music events and DJ sets, and guests can also enjoy a game of pool on the beach. The beach club offers an affordable entrance fee that you can pay in Mexican pesos, making it a great option for budget-conscious individuals.
With its prime location on the beach, La Zebra is the perfect spot for a relaxing day in the sun or a fun night out with friends.
7. Ahau Tulum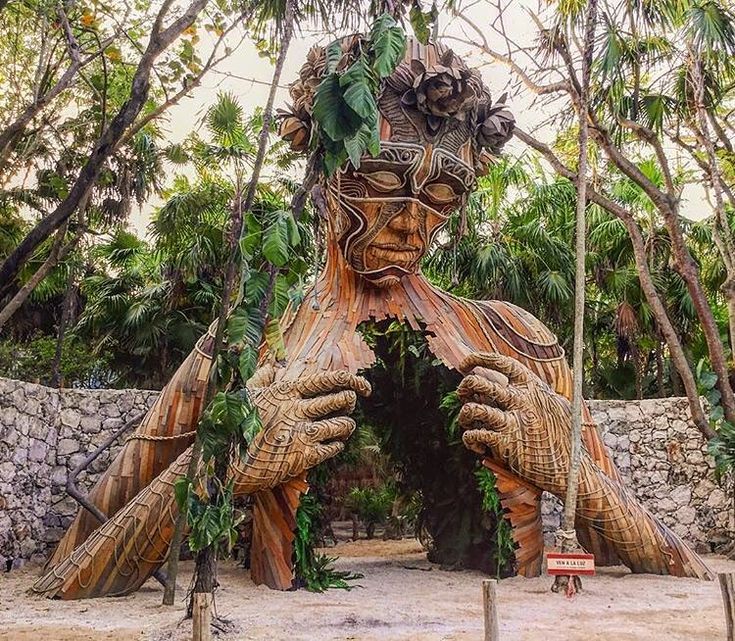 Ahau Tulum is located on the jungle side of the road and offers a peaceful and eco-friendly environment. This day club is an ideal place to unwind and enjoy the natural beauty of Tulum's beach. It features beach beds and lounge chairs, perfect for sunbathing, and offers guests the opportunity to indulge in delicious cocktails while taking in breathtaking views of the turquoise sea.
For those who want to taste the local cuisine, local fishermen sell fresh seafood at the beach. Day passes and minimum spends are available for those who want to spend a little bit of time enjoying this incredible beach club. Ahau Tulum is a great option for those looking for a serene and secluded beach day.
8. Nomade Tulum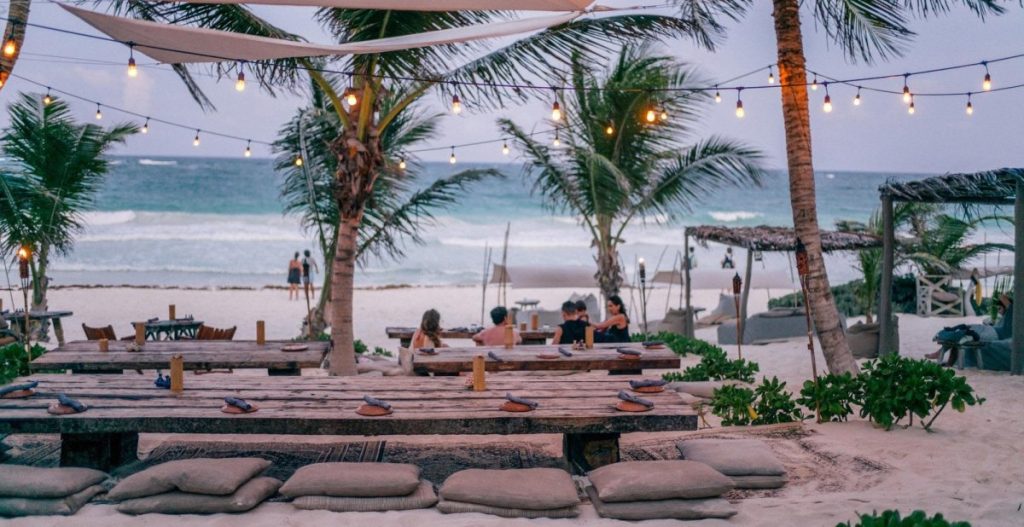 Nomade Tulum offers a more laid-back and intimate vibe, making it a great option for those looking for a more casual party scene. The beach club serves up delicious cocktails and great food, and the atmosphere is relaxed and easy-going.
Visitors can also enjoy yoga classes or participate in a temazcal ceremony, a traditional Mexican sweat lodge ritual, to enhance their Tulum experience.
With its bohemian-chic decor and focus on wellness and mindfulness, Nomade Tulum is a must-visit destination for anyone looking for a unique and unforgettable day club or pool party experience.
9. Rosanegra Beach Club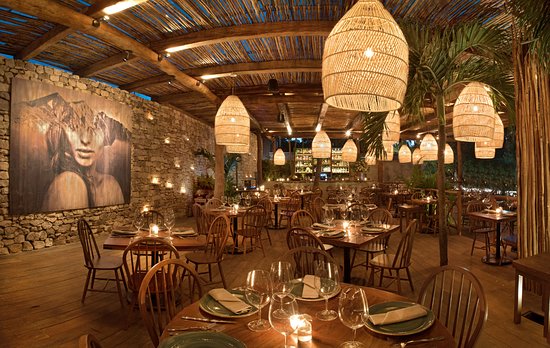 Rosanegra Beach Club is one of the most famous beach clubs in Tulum. Situated on the beautiful and long stretch of the Tulum-Boca Paila km road.
This club is the perfect place to enjoy a beach day with a party vibe, offering a unique BBQ beach club day party with delicious food and refreshing drinks. Guests can relax on comfortable beach beds or lounge chairs and take in the breathtaking views while enjoying live music events.
Rosanegra Beach Club is a great spot to hang out with friends or have a romantic dinner. Note that there is a cover fee to enter the club, which is payable in Mexican pesos.
What to Bring to Tulum's Day clubs and Pool Parties?
When preparing for a day club or pool party in Tulum, it's important to consider what to bring to ensure a comfortable and enjoyable experience. Here are some suggested items:
Sunscreen
Tulum's tropical climate means the sun can be strong, so it's important to protect your skin.
Swimwear
Don't forget your swimsuit or trunks as you'll want to take a dip in the pool or ocean.
Towel
Bring a towel to dry off after your swim and to relax on.
Sunglasses
Tulum's beach clubs and pool parties are outdoors, so sunglasses will come in handy.
Cash
While some establishments accept credit cards, it's always a good idea to bring cash, especially for entrance fees, minimum spending, and tips.
Cover-up or Light Clothing
Bring a cover-up or light clothing to protect your skin from the sun, or to put on when leaving the beach club or pool area.
Water
It's important to stay hydrated, so bring a water bottle or purchase bottled water.
Camera or Phone
Tulum's beach clubs and pool parties offer breathtaking views, so bring a camera or phone to capture your experience.
Conclusion: Unforgettable Experiences Await at Tulum's Dayclubs and Pool Parties
No matter your preference, Tulum's day clubs and pool parties offer the best way to experience the incredible views of the best beaches in Tulum. With excellent options from luxury to budget-friendly, there's a perfect place for everyone to enjoy Tulum's nightlife.
Don't miss the chance to visit the most popular and most famous beach clubs such as Ziggy's Beach Club, Playa Paraiso Beach Club, and Coco Tulum Beach Club. Be sure to check out the events calendar for the best time to party, such as Thursday nights at Taboo Tulum, Friday nights at La Zebra Hotel, and Saturday nights at Papaya Playa Project's beach party.
Get on the guest list to receive special attention and avoid the cover fee. With so many incredible options, Tulum is definitely worth visiting, even if you only have a little bit of time.