---
Everyone knows that when you are in Mexico, you just got to visit Cancun. This tropical paradise boasts stunningly blue waters and pristine white sand beaches. Aside from that, there are plenty of private villas and all-inclusive resorts to stay in. Since you are in Cancun, you are most likely interested in hitting the beaches. In fact, you will want to check out the beach clubs in the area. If you want to have a great time here. But wait, what are beach clubs exactly?
---
What's in this post:
hide
10 Best Beach Clubs and Bars in Cancún
---
A beach club is basically a privately owned bar or restaurant that is on the beach. It is open to the public for a certain fee that will give you access to its bar, amenities, and of course, the beach itself. Just imagine having an ice-cold beer or cocktail on hand while lounging on the beach. What's more, these beach clubs do have DJs handling the music and even offer special events too.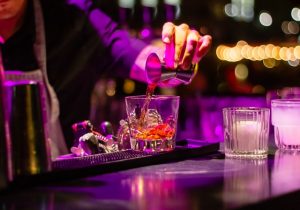 Spending a day in one of the best clubs here is quite different from spending your time in a resort. In fact, depending on which club you head to, they will offer a more relaxed and entertaining environment. That said if you are looking for a good time in Cancun, then a trip to a Cancun beach club is a must.
Best Beach Clubs to Visit In and Around Cancun
The beach club scene in Cancun varies. But one thing you need to keep in mind is that the higher the price, the better the service will be. That's just how they work. Aside from that, most of the beach clubs in Cancun are favorite stops for many Spring Breakers. If you are not a fan of crowds, a good alternative is staying in an all-inclusive resort instead.
If you are still eager to experience what it feels like in a beach club in Cancun, read on.
Mandala Beach Club
Mandala Beach is the official beach club of Mandala and The City. These are the two most popular nightclubs that you will find in Cancun. Aside from that, Mandala Cancun is just one of those clubs that are open to the public in Cancun's Hotel Zone. In fact, this is one of the most popular beach clubs during Spring Break.
Everyone knows that Mandala Beach Cancun is the hub for parties. What's great about this place is that there are plenty of lounge chairs and beach beds to relax on. In addition, there are waiters going around offering drinks and food to customers. The best part is that staying here will give you access to some of the best views of the ocean. During the day, you will find that the atmosphere is more laid-back. Of course, things will become different during Spring Break, but it is nice to just relax here during the day.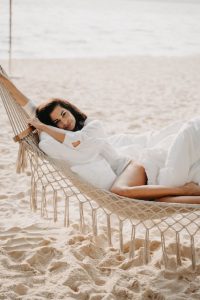 On the other hand, party goers will want to know that on Tuesdays, Mandala hosts a pool party. In fact, if you want to experience epic pool parties then you better be here. Fortunately, getting here is not that difficult because there are taxis and buses that can drop you off here. Meanwhile, if you are driving a rental car, there is ample parking space on the property.
If you are looking for a beach club that has it all, this is probably the best one. It has food, drinks, access to the beach, and plenty of good music too. They even host bikini contests here from time to time. Get VIP tickets here to enjoy their bottle service and first-class treatment.
Kool Beach Club
Meanwhile, Kool Beach Club lies in Playa del Carmen and is one of the must-visit beach clubs in the area. It opened its doors to the public in 1995 under the name Playa Tukan. Guests will have access to their lounge chairs with umbrellas and a swimming pool. Aside from that, they will be served a wide array of local and international dishes too. Be prepared for a feast here because the food served is perfect. Pair it with their cocktails or craft beers and you're good to go.
DJs take care of the music that gives this space its party vibe. Of course, no beach club will be complete without access to the gorgeous waters of the Caribbean Sea. In addition, Kool Beach Club can be booked for events like weddings, anniversaries, or other private events. Getting a day pass means access to their lounge chairs and umbrellas, as well as their food and drinks. What's more, their restrooms are well-maintained which is a plus.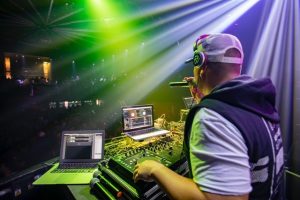 You'll get the most out of your money here. Since the cost of a day pass will go towards your use of their amenities. However, this club can get busy at times. If you are not a fan of crowds, you might look for other options. After all, the vibe here caters to a younger clientele, but this doesn't mean that you won't enjoy spending your day here. They host festivals and special events here from time to time. This is why it has gained a reputation of being the "place to be" while in Playa del Carmen.
Coco's Beach Club
Another great spot to consider for a beach club in Cancun is Coco's Beach Club. You will find Coco's at Hotel Paradisus in the Zona Hotelera. It has that gorgeous white sand beach and turquoise waters for you to swim or snorkel in. Aside from the blue waters, guests can indulge in great food and cocktails, as well as the best beats in the house.
This beach club takes pride in providing excellent service to their guests which is one of the things you should look for while in Cancun. After all, you are paying a decent sum for a day pass here which is worth it once you experience their service. Not only do you get to spend the day hanging out by the pool, but you get to party all night long too. All of that plus being pampered by their waiters is one of the reasons why you should head here.
Coco's Beach Club has seating both indoors and outdoors. Inside, you can indulge in a fine dining environment with great food to fill your belly with. On the other hand, for those who prefer a casual vibe, the outdoor seating is for you. Their comfortable sofas are perfect for some rest and relaxation while waiting for your orders. The best part is that this beach club is just half an hour away from the city center. This means that it is accessible to guests staying in the heart of the city.
Zama Beach Club
If you are planning on going on a trip to Isla Mujeres, then you are in luck. Zama Beach Club is an exclusive beach club that you will find on the island. You can easily reach this beach club by riding a golf cart. The first thing that you will notice here is the relaxed atmosphere. Combine this with their comfortable beach beds and you'll feel ready to spend the entire day here.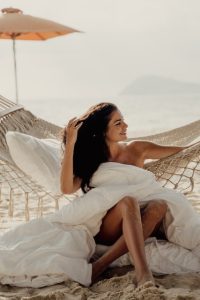 Aside from that, their on-site restaurant offers a bit of everything. Their island cuisine is a combination of AfroAntillean, Mayan, and Mexican. Which is a treat. Another thing that you should know about Zama is that it is a yacht club. They do host private events such as banquets and weddings. If you are planning a destination wedding or a special event, this is a great option to consider.
Zama boasts an infinity pool as well as 3 jacuzzis for you to slip into while you are here. Of course, beach access will not be a problem since this beach club is near the Caribbean Sea. Towel service may be suspended because of Covid-19 restrictions. That said, guests will have a hard time choosing where to spend most of their time here. One thing is for sure though, you will enjoy the feeling of being pampered in Zama.
Mamita's Beach Club
One of the things that you will like about Playa del Carmen is that it is home to several beach clubs. But if you are looking for the best one, it would definitely be Mamitas Beach Club. The beach club was named after the grandmother of the owner and opened for the first time in 2000. Although Hurricane Wilma destroyed the place back in 2005, they were able to bounce back. Since then, it has become a popular beach club for locals and tourists alike.
Among the services that you will find here are a full bar and a restaurant that offers international dishes. There is also a lounge and snack bar, massage parlor, and even valet parking. Meanwhile, those who are looking for some outdoor activities will enjoy playing a round of beach volleyball. And if you are into shopping, there is a boutique on the property too.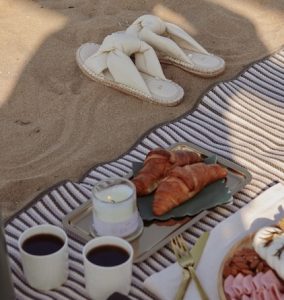 Mamita's has a relaxed ambiance which is a good reason for you to check it out. Take advantage of the lounge chairs and beach beds. Where you can soak up the sun. Good music plays in the background to accompany you as you rest and just enjoy the ocean views.
Aside from that, Mamita's also have live music and they even host music events too. You can check their website for their schedule so you can plan your trip here. Also, make sure that you bring extra money. Because they do charge rent for their lounge chairs and beach beds. Yes, they will still charge you even if you are going to dine in their restaurant.
Green Demon Beach Club
Going back to Isla Mujeres, you have the Green Demon Beach Club. It lies on Playa Norte, or North Beach, which is one of the best beaches in the world. You will find aqua blue waters that are calm and crystal clear. I'm telling you it's hard not to fall in love with the place once you get to visit the island. Fortunately, Green Demon gives you easy access to the beach and the ocean and then some.
Aside from its great location, this beach club is also known for its full bar and restaurant. They even offer healthy food options on their menu here which is great! There are days when they have live bands or DJs handling the music for their guests. However, you will need to make a reservation before you visit. The club accepts reservations until 1 pm only.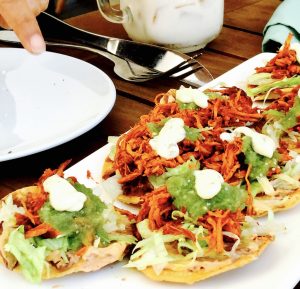 Once you have booked your reservation, you will need to arrive half an hour early. You will be charged 500 pesos if you want to rent a beach bed. Additionally, there is a 500 peso minimum consumption per person. Green Demon is a pet-friendly beach club which is one of the things that I like about it. If you are one of those travelers who bring their pets with them then you know where to go. And did I mention that this is the perfect place to catch the sunset?
Former guests often leave rave reviews about Green Demon. Most of them mention their excellent service as well as their fun atmosphere. Others give their thumbs up to their music selection. If you are looking for a beach club in Isla Mujeres that has the best of everything, this is one of them. Just don't forget to book a reservation, okay?
Coco Bongo Beach Club
Coco Bongo is one of the best nightclubs that you can head to in the Cancun area. That said, if you are looking for an impressive beach party then you've come to the right place. This beach destination is a favorite among spring breakers because of its non-stop partying. DJs play full sets of party music to get everyone in the mood for dancing and drinking. Aside from that, there are incredible performances too which add to the fun vibe in this beach club.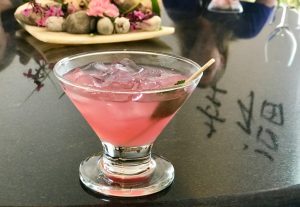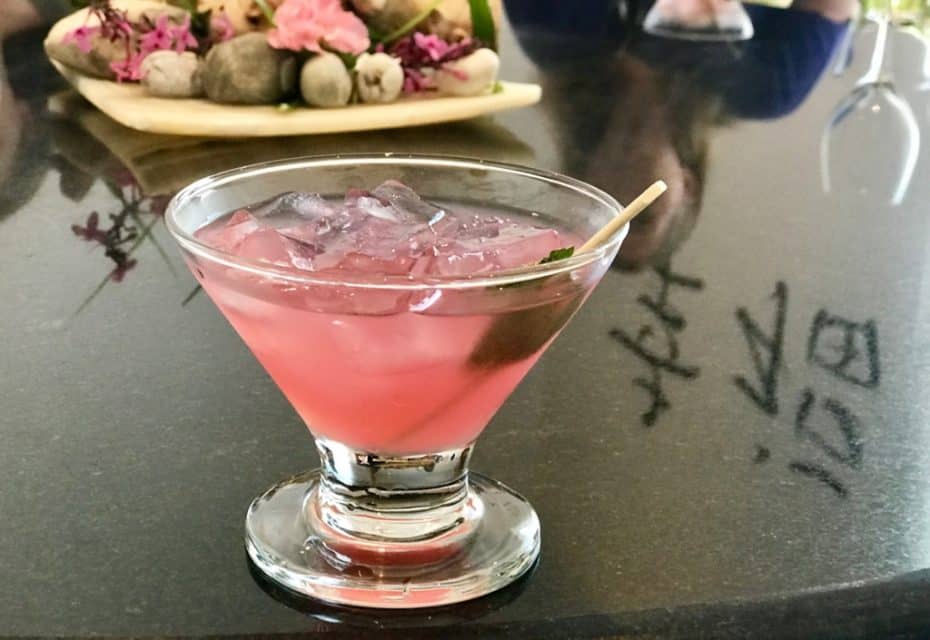 In addition, you'll have plenty of drinks and food to enjoy as you party along with the other guests. The Coco Bongo Beach Party happens in front of the gorgeous Caribbean Sea and its pristine white sands. Expect high-impact entertainment, jaw-dropping stunts, and a huge parade of technology here. If you are looking for the ultimate beach party experience, this is definitely one of the best places to be. This is one of the best beach entertainments that you will get to experience in Latin America.
Oasis Beach Club
Meanwhile, another option to consider for the best beach bars in Cancun is the Oasis Beach Club. It is just three minutes away from Playa Delfines which is a great location for those who want to hit a club after swimming on the public beach. Thanks to its prime location near Playa Delfines, tourists often head here to grab some food and drinks. In addition, there are lounge chairs and umbrellas if you want to enjoy the view.
Aside from that, the Oasis Beach Club is also known for its beach parties that go on until the early hours of the morning. It doesn't matter if you come here during the day or at night, you can expect delicious food, cold drinks, and good music. No wonder it is a local favorite!
My Paradise Beach Club
My Paradise Beach Club lies in Puerto Morelos which sits between Playa del Carmen and Cancun. It has been a favorite beach club thanks to its privileged location on a white sand beach. If you are looking forward to a perfect day on the beach then your best bet is My Paradise.
This beach club offers good food, ice-cold beers, and yummy cocktails. Aside from that, they take pride in their efficient service and friendly staff. The good news is that there is no entrance fee for you to use their lounge chairs and umbrellas. However, there is a minimum consumption for you to enjoy their amenities. I find this acceptable since the food here is worth trying out. There is plenty of delicious seafood to try here.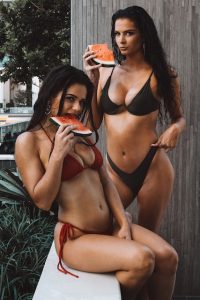 In terms of beach time, its close proximity to the blue waters means that you will be spending most of your time out there. In fact, the water is calm and crystal clear too which is perfect for swimming and snorkeling. Guests can swim up to the Mesoamerican reef, but you will want to have a guide with you. A travel agent can arrange this for you prior to visiting Cancun.
If you want to get good value for your money, then head here during their happy hour. It starts at 3 pm and runs for just an hour. This should be enough to have 2 drinks for the price of 1. If you are traveling with a group then you'll save more here.
Melody Maker Cancun
Cancun is known for its beautiful beaches which is why you should expect to find all-inclusive resorts in the area. One of them is Melody Maker Cancun. This all-inclusive resort has luxurious rooms with comfortable beds and great views of the ocean. Aside from that, it is close to the downtown area where shopping malls, restaurants, and the best nightclubs are.
They also have a beach club which is open to the public too. There are day passes available that will give you access to their bar, lounge chairs, and the beach too. The vibe here is quite relaxing with good music to accompany you during your stay. Guests like the service because it is always on point.
Since this is an all-inclusive resort, you might want to check if they have a dress code for their restaurant area. This way you will know what to pack with you on your trip to Cancun.
Best Nightclubs in Cancun
The city of Cancun is bustling with activities as evidenced by the number of clubs and bars in the area. Tourists who are on their Spring Break often flock here to have a great time. In fact, if you are staying in the Hotel Zone, you will not be able to rest well what with all the partying going on. So, if you are looking for some rest and relaxation, you might want to look for a hotel outside the area.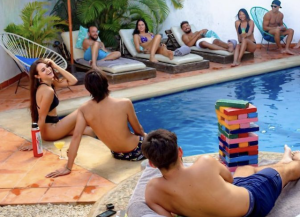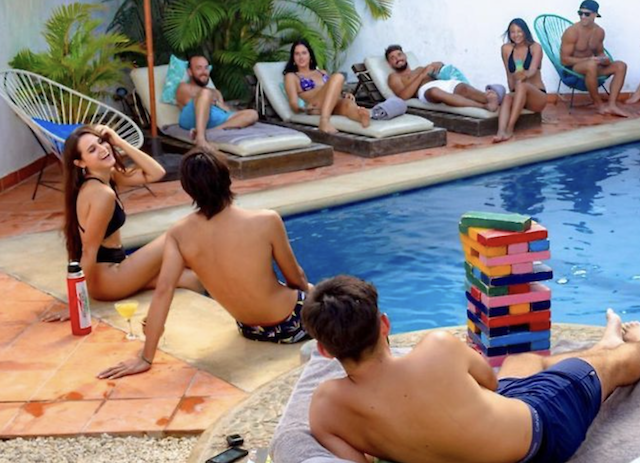 Aside from the beach clubs in Cancun, locals and tourists alike also hit the nightclubs in the area. This is not surprising given that this city has some of the best ones in Mexico. Everywhere you look, there is always a bar or club teeming with life. In fact, you should check out the following.
La Vaquita
One of the best places to go on a night of partying is La Vaquita. Aside from its cow print decoration, La Vaquita offers great music, an extensive drink list, and an open facade for all-night partying. In fact, this bar is popular for its litro-size drinks! Where else will you find one in Cancun?
There are times when you see the staff dressed up in cow outfits. And then there are days when they give free shots and signatures from their crew. All in all, the vibe here is perfect for party-goers. After all, there is always something new happening here that will surely keep you entertained.
Congo Bar
Meanwhile, if you are looking for a bar that has reasonable prices, this is it. You will find this small open-air bar right in the middle of the party zone in Cancun. Thanks to its small size, they offer drinks at affordable prices. No wonder you will see a healthy mix of locals and tourists having a good time at Congo Bar.
You can get a pretty good view of the party scene here because it is open on two sides. Although there is no dance floor here, people dance wherever they are. What can you expect at Congo Bar? Aside from their go-go dancers, they also have shot girls, and bursts of confetti from time to time. Don't forget to grab a balloon before joining the conga line.
This is actually a great spot to start your night of partying since the larger nightclubs don't open until late at night. If you are hitting the town with your friends, then you can start here. You will be ready for more awesome partying as the night deepens.
Senor Frogs
Senor Frogs is one of the best bars and restaurants in Cancun. During the day, it is the perfect hangout for families who are looking for a good time. With sawdust covering the floor, parents don't have to worry too much about their kids making a lot of mess. Great food and ambiance are among the best features of Senor Frogs.
Once night sets in, it transforms into one of the most happening nightclubs in the Hotel Zone. Their staff makes sure that everyone is enjoying themselves. There are balloons, confetti, and conga lines happening here. Senor Frogs sure know how to throw a party! They have foam parties, glow parties, reggae, and Latin nights too. If you are with your family, you can have lunch and dinner here. On the other hand, if you are with your friends looking for a party place, you should come here late at night.
The City
Meanwhile, The City claims to be the biggest nightclub in entire Latin America. This is not surprising given that it can accommodate up to 5,000 people. In fact, this three-story building gets packed with guests, especially during Spring Break. Aside from that, there are plenty of international performers hanging out here. Among these are Snoop Dogg, Flo Rida, and Akon.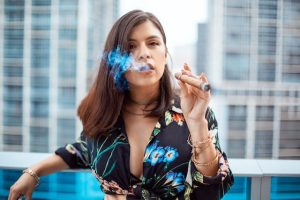 Aside from its impressive roster of performers, The City also has acrobats and other entertainers too. They also play good music here. Once you get inside, you will be blasted by the music and party atmosphere. You will want to explore the three floors here to see what the fuss is all about. Drinks are overflowing here and the food is great too.
Coco Bongo
I've already mentioned Coco Bongo above, but I just have to repeat myself. Coco Bongo is definitely one of the best nightclubs that you will find in Cancun. In fact, it has been featured in several travel programs already. Guests will be treated to various performances all through the night. You can catch Spiderman flying above your head, acrobats doing their stunts, and more.
Service is good here and even the waiters and bartenders join the performers on stage. If you feel like dancing, you are not alone. Although there is no dance floor here, you can pretty much dance in any space available. Party people will enjoy the experience here because it has everything you need. From drinks to food to entertainment, you will not notice the hours passing by. You will need to get tickets beforehand to get inside Coco Bongo. Prices vary depending on which level you will be seating.
Why Travel to Cancun?
Cancun in Riviera Maya is a favorite tourist destination for many. Why? Aside from its gorgeous beaches and swaying palm trees, it is also close to tourist attractions. In fact, you should see Chichen Itza which is one of the highlights in Mexico. Beach clubs are also drawing plenty of tourists to Cancun with good reason. Not only do they offer easy access to white sand beaches, but they also have plenty of entertainment to offer too. Think pool parties, free-flowing drinks, and great music. You can find a beach club with a more laid-back vibe as well as a club with non-stop partying.
Aside from that, the nightlife here is famous in its own right. Just a short distance from all-inclusive resorts are the bars and nightclubs that draw locals and tourists alike. Although most of the clubs are still reeling from the effects of the pandemic, they are already opening up to the public. Staff wears face masks all the time and temperature checks are still ongoing at the entrance. Once you are inside, you will feel ready to party.
Exploring Cancun means finding a hidden gem or two along its boulevards. Go beyond Zona Hotelera and you might just come across bars and clubs that are less crowded. It can get pretty rowdy at the Hotel Zone so you should consider this when looking for a place to stay in Cancun. If you want to have some peace and quiet, you should book a hotel that is away from the Hotel Zone. This is especially true during the summer and Spring Break when crowds of tourists arrive.
Conclusion
Cancun will always be a party destination for many and they are not wrong! The Hotel Zone is where all the action is happening. From all-inclusive resorts to beach clubs, to nightclubs, this is a haven for party-goers. In fact, Spring Breakers from all parts of the United States often make their way here for endless partying. If you are traveling here during the summer, expect a large crowd. Also, prices for hotels and resorts will be higher because of it. It would be better if you book a room and ticket months before to get the best price possible.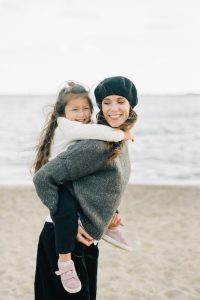 If this is your first time visiting Cancun for its clubs and bars then you are in luck. This article should give you a good idea of what to expect here during your visit. Take note, however, that some nightclubs don't have a parking lot which means you will have to park somewhere else. You can also grab a taxi or ride a bus to get to the party center in Cancun.
Tourists who are looking forward to having a great time in Cancun can start with the beach clubs mentioned above. I, for one, enjoy spending a day in them because of the ambiance and great food. Even if you are not a guest at a hotel, you will still be able to get into these beach clubs through their day pass. Just make sure that you know what's included in your pass so you will not be surprised by their extra charges.