Traveling to Mexico for your vacation is a great idea. After all, it boasts pleasant weather, palm trees, gorgeous blue waters, and pristine white-sand beaches too. Depending on where you will be spending your time, Mexico is best known for its party cities too. In fact, Cancun is one of the most popular destinations because of its lively atmosphere.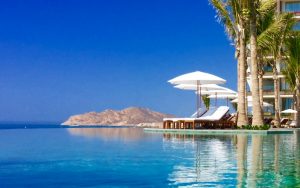 ---
Best Swim-Up Bars in Cancun!
---
---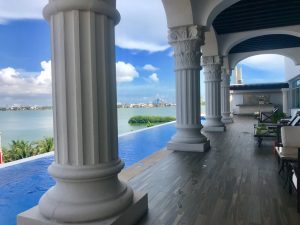 Aside from that, Cancun is also known for its Hotel Zone. This is where you will find a wide range of hotels and resorts for all types of travelers. They range from budget-friendly to all-inclusive hotels with a wide range of amenities to enjoy. Among these are a double whirlpool tub, a beachfront infinity pool, and incredible bars to choose from. Just imagine being able to sit back and relax by the pool area. For sure, you are not going to be too eager to leave the pool at all!
Fortunately, if you book a spot in the heart of the Hotel Zone, you will not have to. After all, they offer swim-up bars so you can grab a drink or two while in the water. Regardless of whether you are staying in an all-inclusive hotel or not, you will have plenty of amenities to enjoy during your trip here.

Best Resorts in Cancun with Swim-Up Bars
Cancun is the perfect spot for tourists who want to get in the heart of the action in the Riviera Maya. in fact, you can take advantage of the all-inclusive beach resorts here on your next vacation. After all, they have stunning ocean views and beautiful pools at your disposal. What's more, they have swim-up bars too! Let's take a look at the resorts you should consider staying in.
Bel Air Collection Resort and Spa
The Bel Air Collection Resort and Spa lies on the southern tip of the Hotel Zone. It overlooks the picture-perfect pristine white beach at the front. Aside from that, this is an adults-only inclusive resort where you can relax and unwind. It has a breathtaking infinity pool complete with a well-stocked swim-up bar.
Aside from that, there are three restaurants on-site as well as a spa to pamper yourself in. They offer several spa treatments that will give your body a much-needed massage. In addition, their spacious rooms give off that luxurious vibe. After all, they have high-tech amenities here as well as balconies that open to ocean views. Guests will be given royal treatment with fluffy robes and slippers to wear.
The best part is that this hotel is near tourist attractions and nightclubs. You can easily explore the surrounding areas too. With taxis nearby, you can set off on an adventure in and around Cancun.
Le Blanc Spa Resort in Cancun
Aside from being an adults-only resort, Le Blanc is the most luxurious all-inclusive resort that you will find in Cancun. Even though it is in the center of the Hotel Zone, the environment here is quite tranquil. From their chic design, immaculate rooms, and pampering service, you have found the perfect vacation destination in Cancun.
In fact, couples who want to rest and relax with a drink in hand will find this suitable for their vacation. This is not the place if you are looking forward to having wild parties at the pool beside the swim-up bar. Basically, if you are on your spring break, this is not where you should stay. On a good note, there are two swim-up bars here if you want to have some drink by the pool. You will find one in their main pool so you can swim up there to order their high-quality drinks.
Aside from that, there is a smaller infinity pool on-site too as well as an activity pool. This is where you can enjoy some water sports. Among these are water polo, aqua spinning, and water aerobics to name a few.
Moon Palace Cancun
Moon Palace is one of the best resorts that you can spend your vacation in. In fact, it is the largest property that Palace has. Which lies on the Mayan Riviera. You will find that the rooms here are spread in three different sections on the property. Aside from that, each of these sections has its own amenities which include a Jack Nicklaus signature golf course.
Aside from that, Moon Palace also has a luxurious spa. Where you can choose from their wide array of treatments. They offer an amazing hydrotherapy treatment for your much-needed pampering time. In addition, there is a swim-up bar too if you want to indulge in tasty refreshments.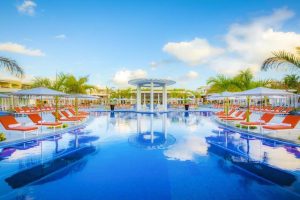 But that's not all! There are water slides and a Flowrider machine here too. What's more, there is no shortage of dining options here. After all, there are more than 20 restaurants and bars here. In fact, the nightlife inside the resort is worth checking too. In addition, they have nightly entertainment too. You can choose from their NOIR nightclub or live shows at the amphitheater.
Hard Rock Hotel Cancun
Booking an inclusive package at the Hard Rock Hotel will leave you feeling like a rock star. In fact, this all-inclusive mega-resort provides its guests with rock-star amenities and services. For starters, it has 5 restaurants on the property plus plenty of live entertainment. In addition, Hard Rock Cancun has a breathtaking infinity pool plus two popular swim-up bars too. Do try their signature mango piña colada while you are here. Even the kids have their own outdoor pool where they can splash and swim around.
All the rooms here are spacious with private terraces that have a lagoon or ocean view. Meanwhile, the bathrooms have double-jetted tubs and contemporary decor. And since you are staying in Hard Rock, the rooms have that rock and roll theme. For sure, you can expect nothing but rock star service here throughout your stay.
Azul Beach Resort Riviera Cancun
Azul Beach Resort is the perfect place to bring your family to if you are going on a vacation in Cancun. In fact, this resort stands on private property and boasts swim-up suites and luxurious accommodations. Aside from that, they have a wide array of amenities from several world-class restaurants, a lazy river, an adults-only section, and of course, toddler-inclusive amenities.
In addition, Azul Beach Resort is well-known for its gourmet inclusive dining. They offer international dishes customized to your tastes and age. Aside from that, you should also check their Zavaz swim-up bar where they serve the best piña coladas. The laid-back atmosphere and delicious cocktails are perfect for some pool relaxation.
On the other hand, you can also visit Zavaz's iconic boat-shaped bar. Zavas Lounge is their signature lounge perfect for having a drink or two. This is where you can sip on tropical cocktails as well as top-shelf spirits. Meanwhile, if you are into authentic Mexican cantina ambiance, then visit Zocalo Cantina. They serve amazing margaritas, as well as a long list of incredible tequilas. If you are a tequila lover, this is a great spot to indulge in this drink.
NIZUC Resort and Spa
NIZUC Resort and Spa lies on an uncrowded white sand beach. The resort itself is facing the Mesoamerican Barrier Reef which means that guests can go snorkeling here. In fact, this private resort has the best views in Cancun. Aside from that, all the suites and villas have their own private terraces and balconies with garden or ocean views. You can even book one with private pools. In addition, there are three bars and a cigar lounge on the resort plus a great swim-up pool bar.
Head to their Havana Lounge where you can have a hand-rolled cigar. Pair this with a glass of rum and just enjoy the ambiance. Feel free to pamper yourself at the ESPA Spa where they will give you a long list of treatments to choose from. You should try their Mayan-inspired spa rituals as well.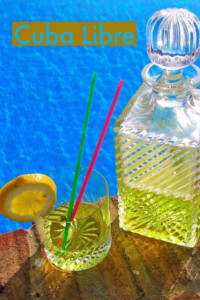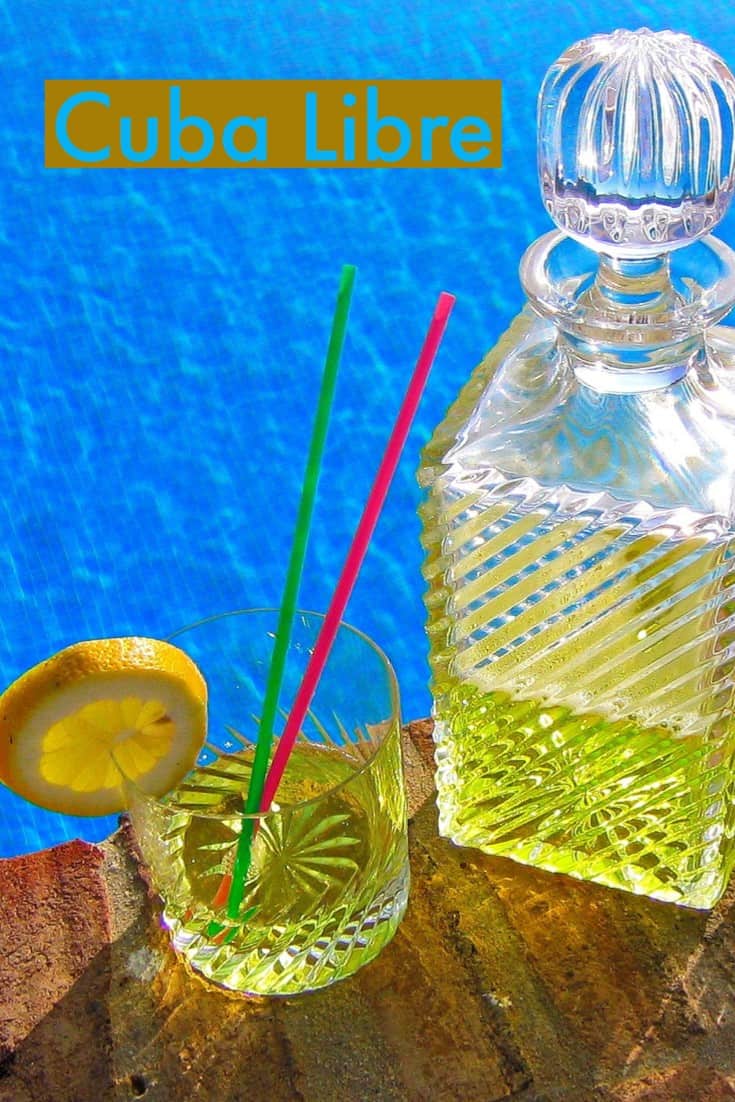 Paradisus Cancun
Meanwhile, this Mayan-inspired resort's tropical design gives off the best island vibes. Aside from that, they have four luxurious pools that you can swim and lounge in. Add to them their swim-up bars and you will never want to leave the pool at all! Guests who book the "Royal Service" will enjoy full service. In fact, not only will you have a personal butler, you can enjoy their upgraded rooms too. Also, you can lounge on their poolside Bali beds, plus, their ECO spa has an extensive list of treatments to choose from.
Aside from that, their dining options are quite extensive too. Not only do they offer Brazilian steak, but they also have a Market grill. At night, the resort comes alive with its nightly entertainment, beach parties, and a nightclub. They even have a nine-hole golf course to try too. You will definitely feel like the kings and queens that you are here.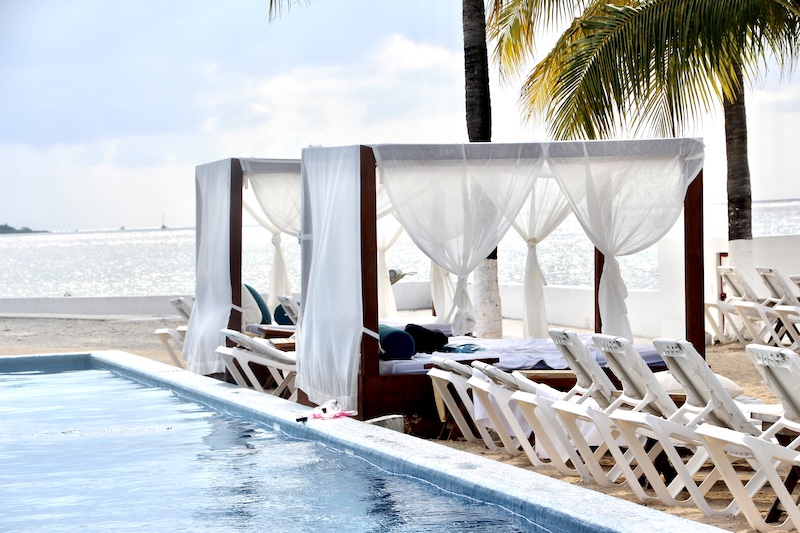 Grand Oasis Cancun
A great way to treat your family in Cancun is to book your accommodations at Grand Oasis. It has a good balance of affordable and expensive rooms to cater to all kinds of travelers. Aside from that, it is but a short distance from all the action in the Hotel Zone in Cancun. This makes it a perfect spot to enjoy the tourist attractions nearby.
Although this is a family-friendly mega-resort, it has a dozen bars and adult shows that are suitable for grown-ups. Aside from that, the pool here is the largest in Cancun. What makes it even better is that they have two swim-up bars too. Aside from that, the bar service ensures that you can indulge in your favorite drinks. There is live music and DJs spinning songs to entertain guests.
In addition, they have a fitness center and a tennis court. If you want to sweat it out. On top of that, Grand Oasis is the only hotel that has a casino on its inclusive property! There are several restaurants here that offer international dishes and even Mexican cuisine.
Crown Paradise Club Cancun
This all-inclusive resort in Cancun promises a memorable stay to its guests all year round. Aside from having direct access to white-sand beaches, they also have modern amenities too. In addition, they have specific areas designed for their younger guests. There are family swimming pools, spa tubs, and even swim-up bars. Also, they have clubs for babies, children, and teens too. Everyone is welcome to stay here. In fact, you will not run out of activities to choose from.
Aside from that, Crown Paradise has several restaurants on-site too. Some have a dress code, especially for fine dining. You should book a table in one of these restaurants if you want to sample the finest cuisine. If you are looking forward to a refreshing drink, hit the bars at the resort. Regardless of whether you are into classic cocktails or signature creations, you will find them all here. With water slides, fun adventures, and more, this is a great place to spend your vacation in Cancun.
Krystal Cancun
Krystal Cancun is a great option for families, couples, and solo travelers who are looking forward to having a good time. You can enjoy great services here from dozens of restaurants to children's clubs and everything in between. In fact, thanks to its proximity to the beach, this is the perfect spot where you can rest and relax in Cancun.
With more than 500 spacious suites that offer great views of the ocean, this is your home away from home. In fact, you can soak in the hot tub in your room or go swim in a refreshing pool outdoors. Aside from that, you can sample both local and international cuisines at the Aquarium Cafe and Hacienda El Mortero. They do give special attention to their menu, especially since they buy fresh ingredients from local sources.
In addition, there are several bars that you can grab a drink from. There is the Lobby Bar if you want to catch up with your friends over a few drinks. If you are in the whirlpool area then Cascada Bar is for you. They serve all types of soft drinks and spirits here. Meanwhile, the Pool Bar is one of the most visited here with good reason. Aside from having a premium cocktail menu, it is also near the main swimming pool.
Additional Resorts with Swim-Up Bars in Cancun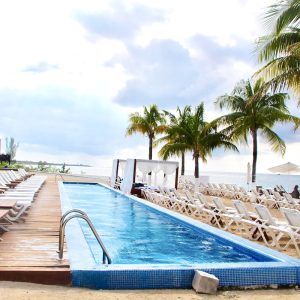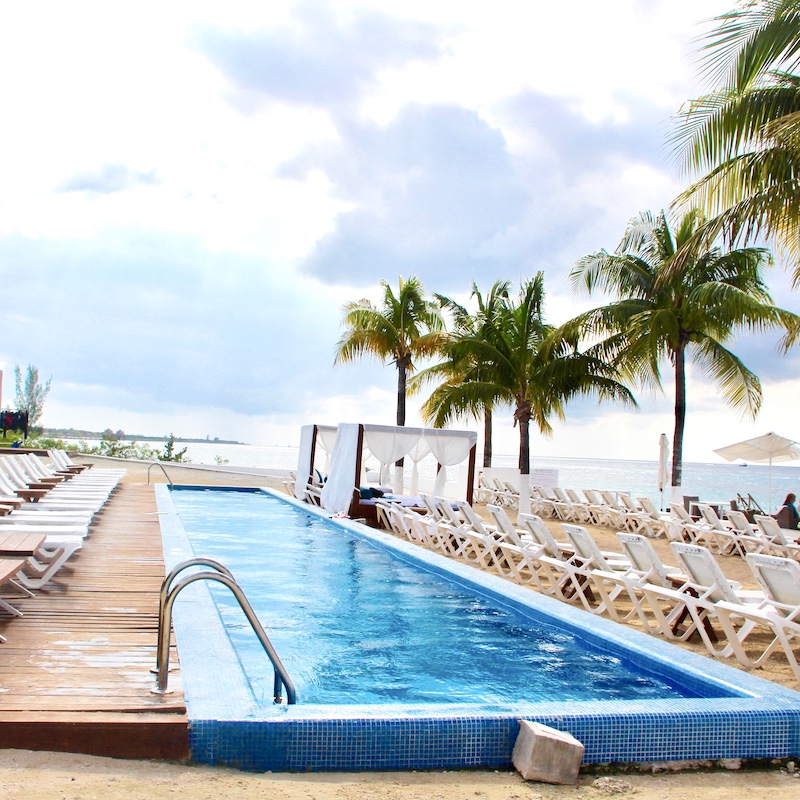 Cancun's Hotel Zone may be where all the inclusive resorts are, but some are outside of it too. Here are a few options to consider.
Hilton Cancun
The all-inclusive hotel of Hilton Cancun lies on a secluded beach on the Mayan coastline. It offers panoramic views of the ocean, infinity edge pools, a world-class cocktail, and more. Aside from that, you can have your own swim-up suite if you like for a truly inclusive experience. The extra cost is going to be worth it once you see the level of service offered here. Think private plunge pools, room service, and modern amenities.
The good news is that the former Dreams La Romana in the Dominican Republic is going to get an upgrade. After all, it is now under the Hilton brand. This means that you can expect the same level of service here if you do decide to stay here next time. For sure, there will be a pool bar here as well.
Excellence Riviera Cancun
This all-inclusive hotel lies between Playa del Carmen and Cancun in Puerto Morelos. It is a popular hotspot for party-goers and beach-goers who want to enjoy the pristine white sand here. There are six infinity pools on the property plus several restaurants that serve local and international dishes. Aside from that, they also have a swim-up spa, a fitness center, and a long list of land and water-based activities. Also, they have swim-up bars where you can enjoy amazing drinks from white rum to top-shelf drinks.
Wrapping Up Swim-Up Bars in Cancun
Cancun is, without a doubt, one of the best hotspots in Mexico. After all, where else can you find a place that lies on white-sand beaches that have direct access to the turquoise waters? Not only that, but it has a lively ambiance thanks to the numerous nightclubs and bars that serve fruit drinks like orange juice, cocktails using lime juice, and an alcoholic drink.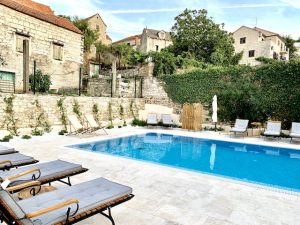 In fact, one of the best spots to have a few drinks is Coco Bongo. This is a lively watering hole where live music and drinks are just perfect. They offer a wide selection of amazing drinks, plus the people here are quite friendly too. In fact, if you check social media sites, you will see that the bars and clubs here operate until the early hours of the morning.
Even if you don't fancy going out of your hotel, there are bars within the resorts too. In fact, they have their own swim-up bars too if you want to lounge and drink at the same time. You are sure to be spoiled in Cancun. All that you have to do is to book a trip here and see what adventure awaits.