Three days in Barcelona might seem like a short time, but it can be enough to explore this beautiful city and experience its rich culture. Barcelona, the capital and largest city of Spain, is one of the most popular destinations in Europe, second only to Paris. There are thousands of things you can do while visiting Barcelona during the three days of your visit!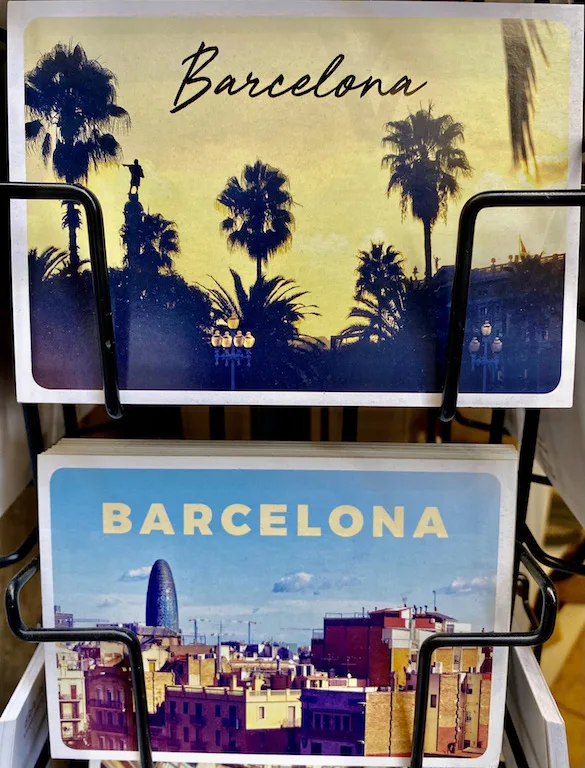 ---
What's in this post:
hide
3 Days in Barcelona:
The Perfect Itinerary for Your First Visit
---
You will have the chance to see all of the most important landmarks in Barcelona. This includes La Sagrada Familia, Casa Batllo, Park Guell and more of Barcelona's top attractions! However, if you want to get away from the hustle and bustle of the city, there are also some fabulous Mediterranean sea beaches nearby where you can relax with a drink or take part in water sports such as surfing.
There's much to see and do, from the incredible architecture of Antoni Gaudí to museums, UNESCO world heritage sites, markets, delectable tapas, and even a Mediterranean sea beach. The nightlife is also fantastic, with plenty of bars serving delicious tapas dishes that go down perfectly with an ice-cold beer or sangria. It's easy to enjoy yourself when you're on holiday – but remember not to overdo it!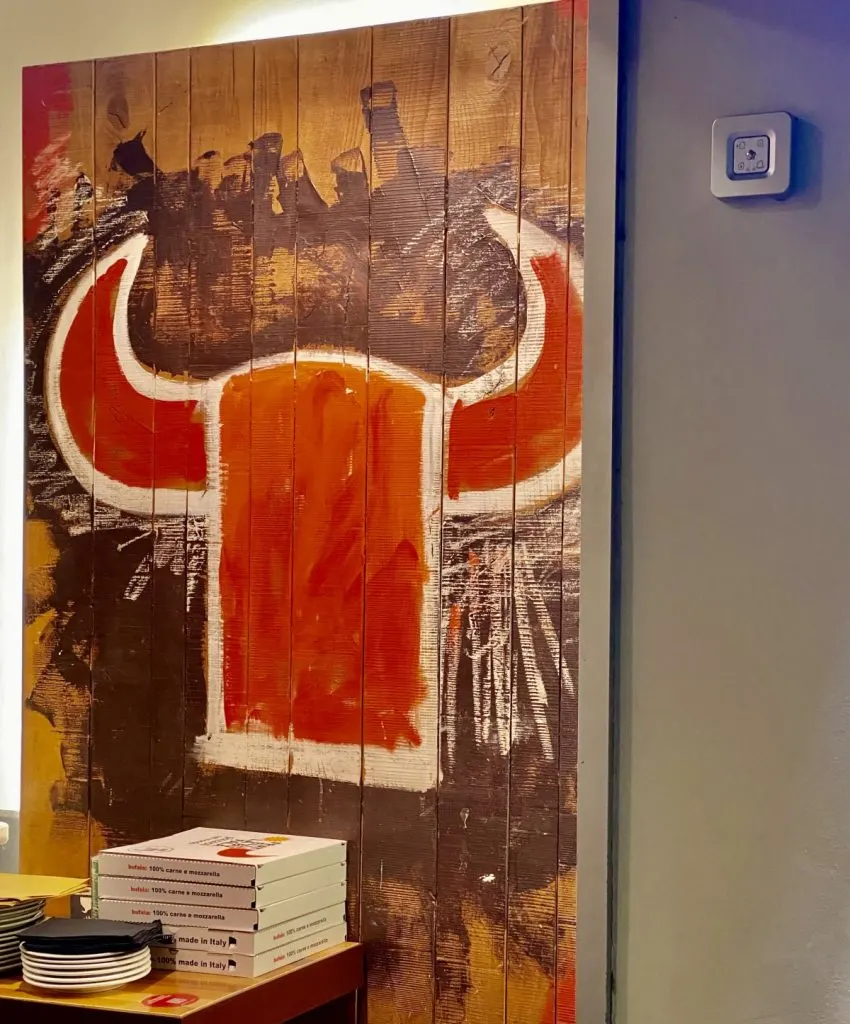 With three whole days to explore Barcelona, it's not challenging to fill your schedule. We've been there numerous times, and each time we discover new city places and activities to do.
As you know, Barcelona is a big city with popular destinations.It has an excellent public transportation network (try hop-on-hop-off bus), but ideally, you spend more time in the tourist places and less time on the road.
With that in mind, I've compiled an essential list of the city's major attractions to help you spend three full days in Barcelona, either as part of a long weekend or a longer European journey.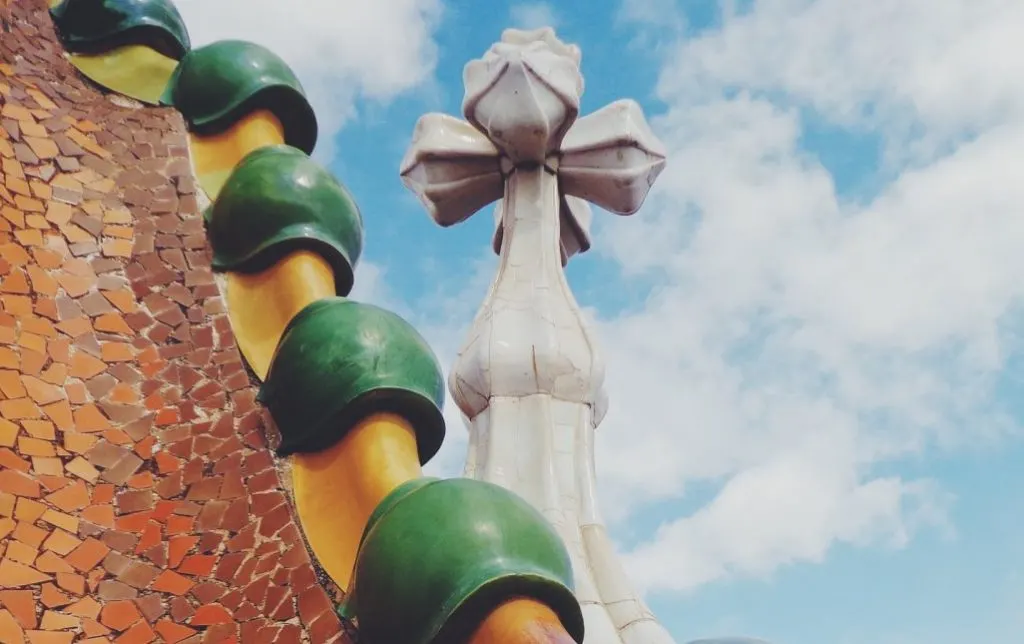 Things You Should Do Before Your Trip
If you're planning three days in Barcelona, there are a few things you should do before leaving.
#1 Book your airport transfer
You may travel from Barcelona airport to the city by bus, subway, or taxi. Keep in mind that your arrival time and where you'll be staying. The metro runs from the airport but may require you to change trains to most hotels in the main tourist areas. If you want to avoid public transportation entirely, consider booking an airport transfer. Or take a taxi, either way… you end up at your hotel.
#2 Buy tickets in advance for Barcelona's top attractions
To visit attractions like Parc Güell or the La Sagrada Familia, you can book a timed entry ahead of time. During peak summer months, particularly, these timed slots grow quickly limited! To make sure that everything on your trip to Barcelona is covered, reserve your timed-entry tickets as far in advance as possible to avoid long lines during your tour.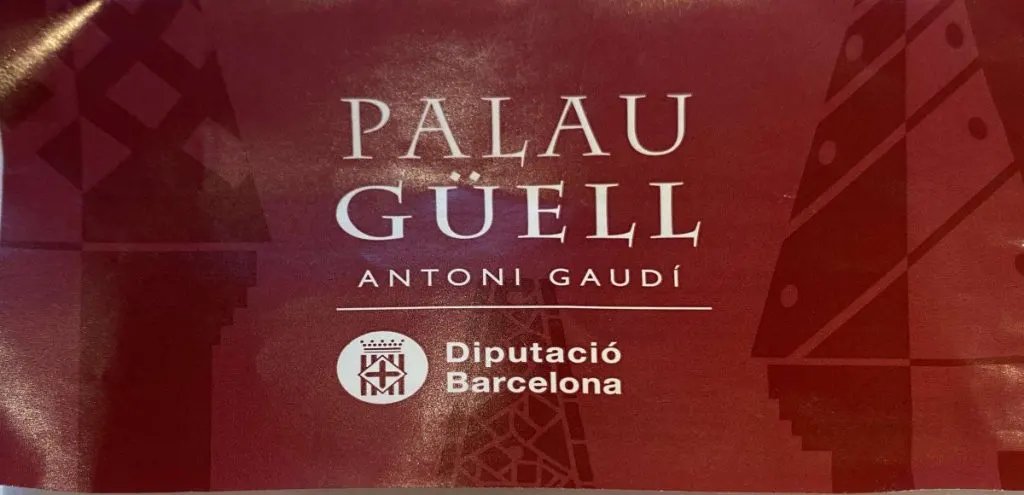 ---
A 3 Day Barcelona Itinerary: Make the Most of 3 Days in Barcelona
---
To make the best out of the three days in Barcelona, we've assembled a 3-day itinerary and everything you must do to maximize your time.
Barcelona Itinerary: Day 1
On the first day of the tour, you'll discover Barcelona's city center, which is easily accessible. It includes two of the city's most notable buildings (famous works of Antoni Gaudí) and its most renowned thorough fares.
#1 Casa Batlló
Casa Batlló, one of Gaudí's most famous structures in Barcelona, is also well-known. So we highly recommend you start your day with this, just a short walk from your hotel.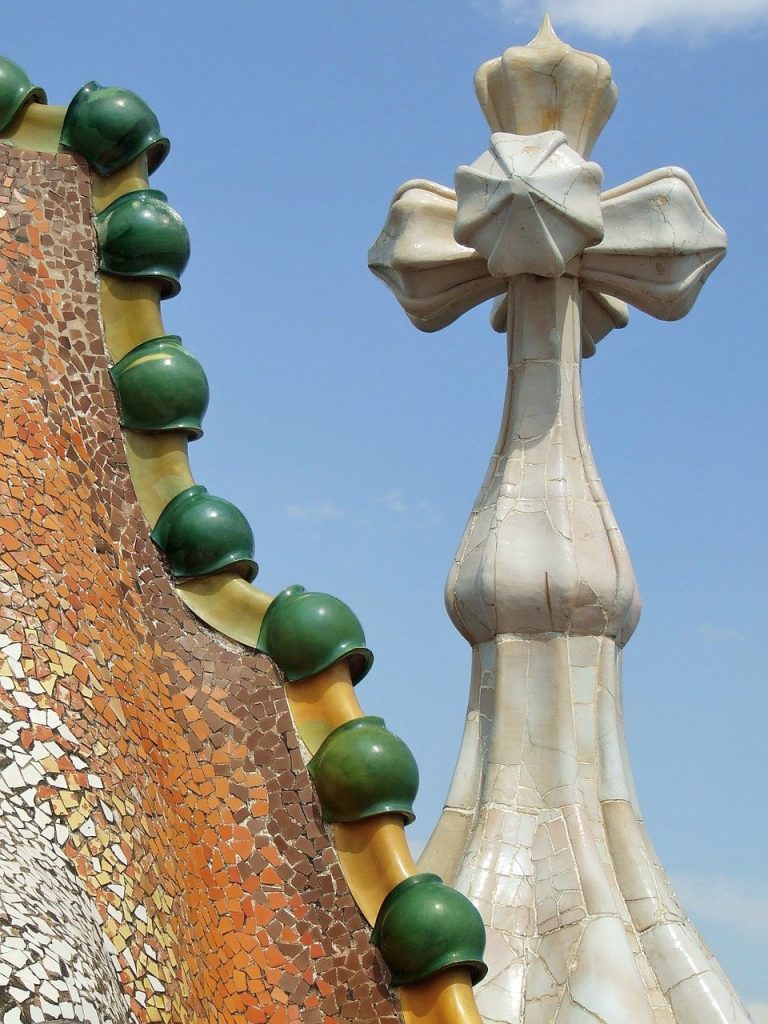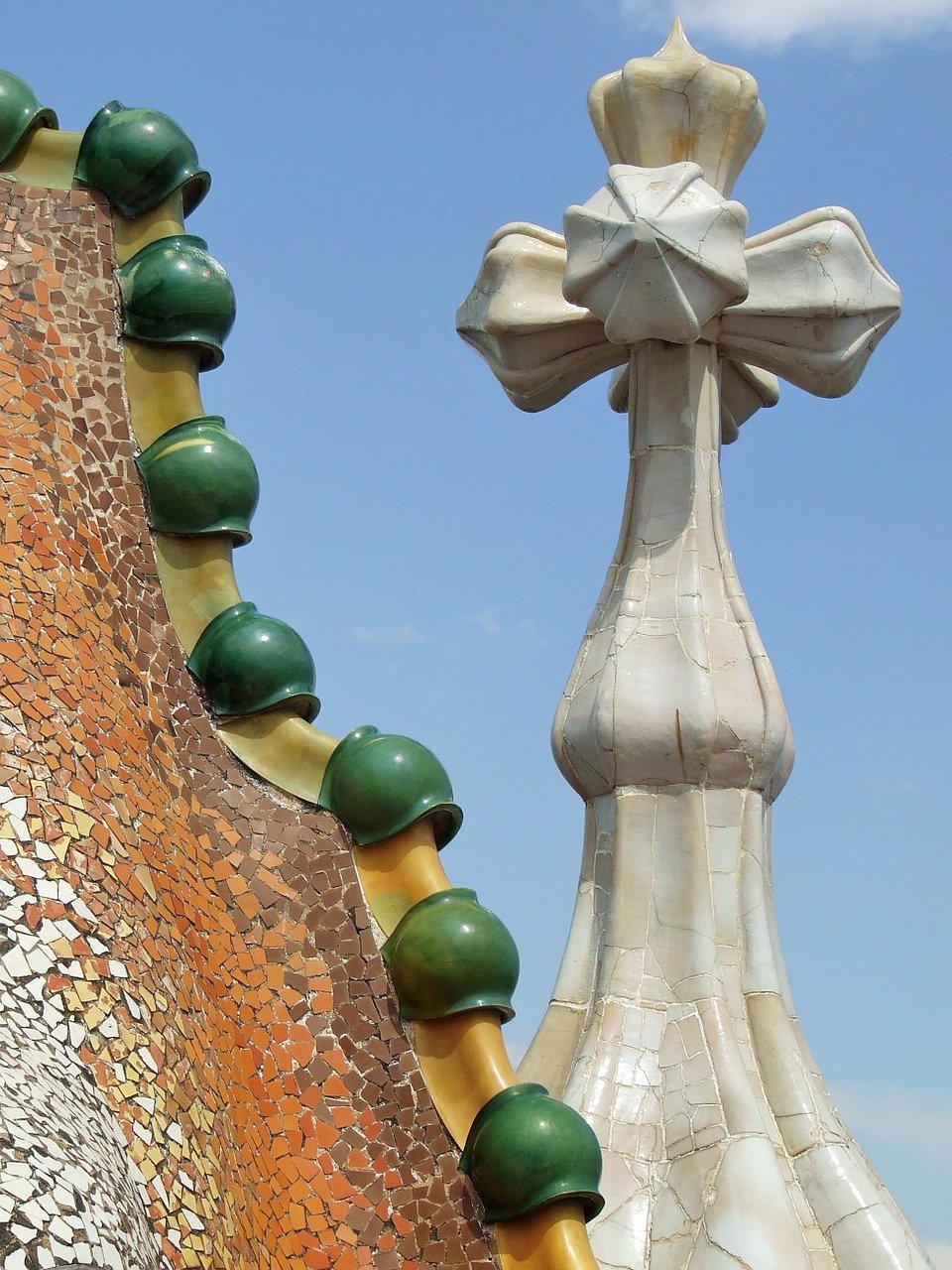 Don't miss out on this unique, majestic home. A magnificent stairway breaks the hilly plot with a spine-like design and organic-feeling rooms to discover before reaching the fabulous roof terrace, shaped to resemble a dragon – one of Gaudí's favorite motifs.
#2 Casa Milá
Also known as La Pedrera (casa milá) is a minute walk from Casa Batlló and another of Gaudí's buildings in Barcelona – the final of his major public projects.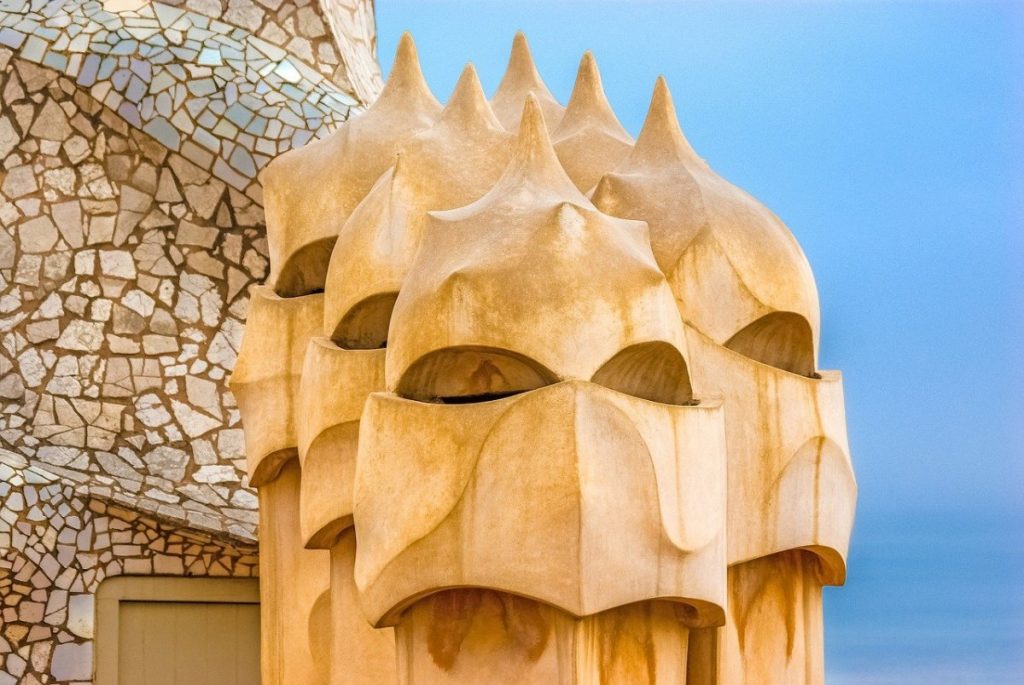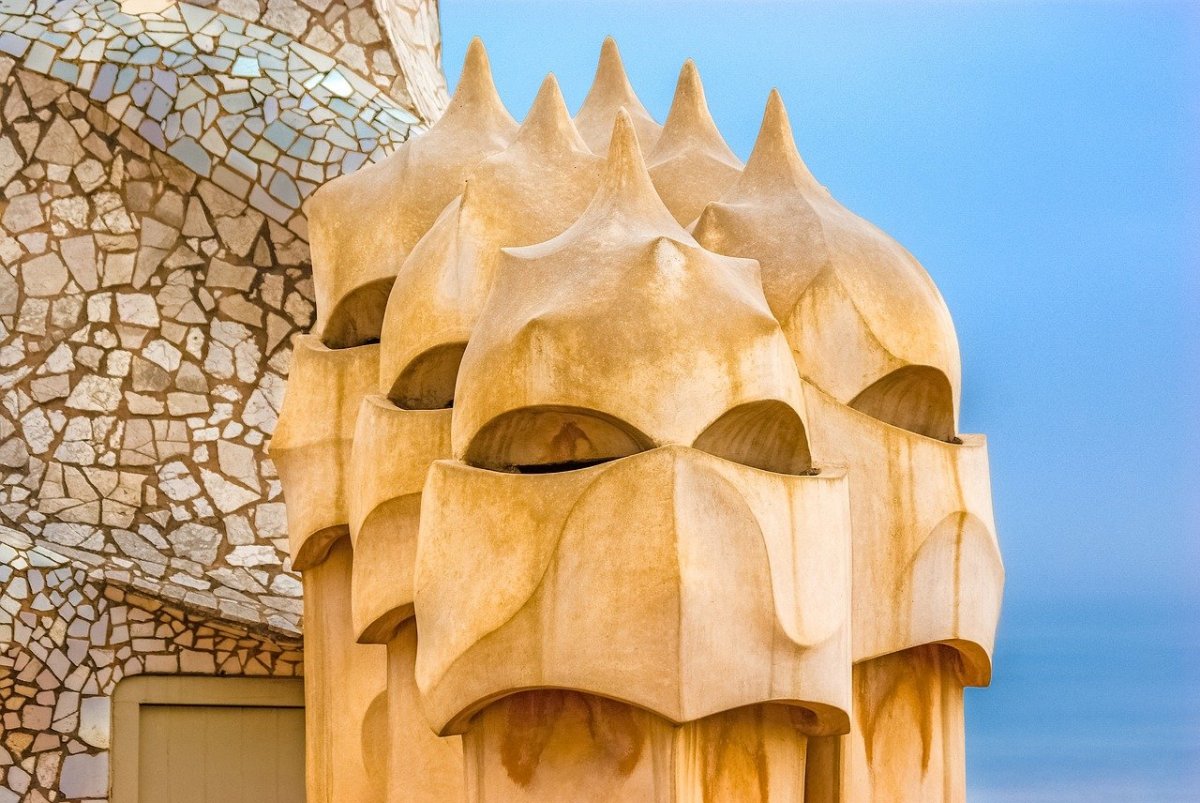 This building, located at the corner of Carrer dels Desamparats and Gran de Gràcia, is also known as "The Quarry." The undulating limestone façade, which earned it the name "La Pedrera," meaning "the Quarry," has a famous appearance.
#3 Las Golondrinas Boat Tour
The Columbus Monument, which leads to the Barcelona marina area, is located at the end of La Rambla. This may be a good time to relax and let the scenery go by while drinking a coffee or something more robust, perhaps accompanied by a stroll along La Rambla.
A variety of boat excursions from Las Golondrinas are available from the port area, giving you a unique perspective of the Barcelona harbor.
#4 La Rambla
After all that sightseeing, it's time for a bit of exercise and maybe some delicious food. So, why not explore one of the city's most famous roads, La Rambla, after you've had your fill of walking?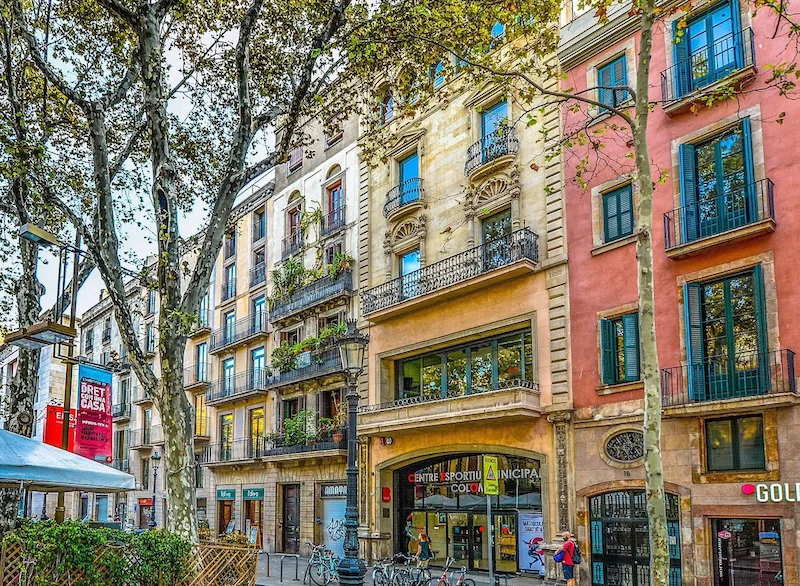 Then, continue down the famous street for some people-watching and a variety of outdoor dining possibilities. Sure, they may not be the most inexpensive or authentic choices, but what's wrong with watching the world go by while sipping Sangria?
#5 Mirador de Colom (Columbus Monument)
From Palau Güell, head south down La Rambla until you conclude, where you'll be greeted by the sight of a towering column topped with a statue of Christopher Columbus, the renowned Italian explorer primarily credited with opening up the Americas to European exploration.
The monument to Christopher Columbus was erected in 1885 for the Barcelona Universal Exposition, and it now serves as both a monument and tourist attraction. With the added benefit of being able to climb inside it for great views of the city's southern side, including along the port and an outstanding aerial view of La Rambla.
#6 La Boqueria
At the top of La Rambla, you'll find La Boqueria, the city's oldest and most renowned marketplace. This was formerly outside the old city wall and has long been recognized as the market where you could discover items that weren't available elsewhere.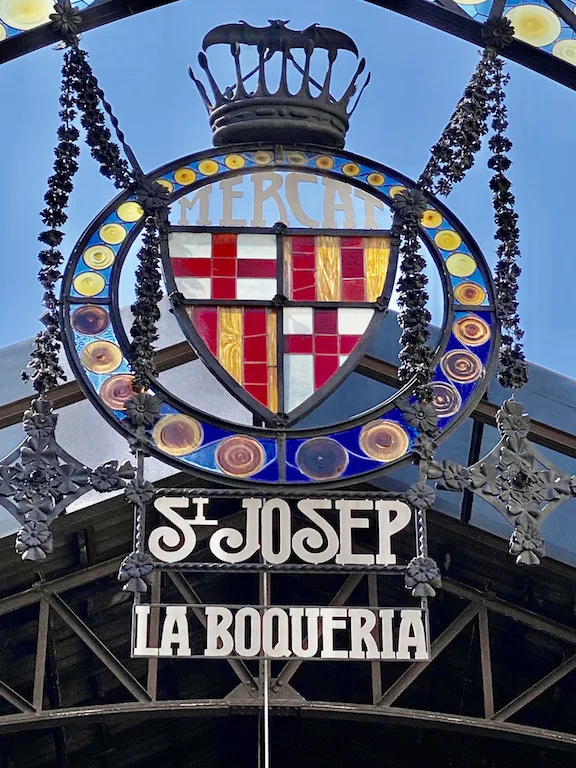 It's a fantastic spot to stop by for a freshly squeezed fruit juice, a snack, or to take in the 19th-century modernistic design, which is a combination of Gothic and Art Nouveau. This is undoubtedly worth the trip on its own.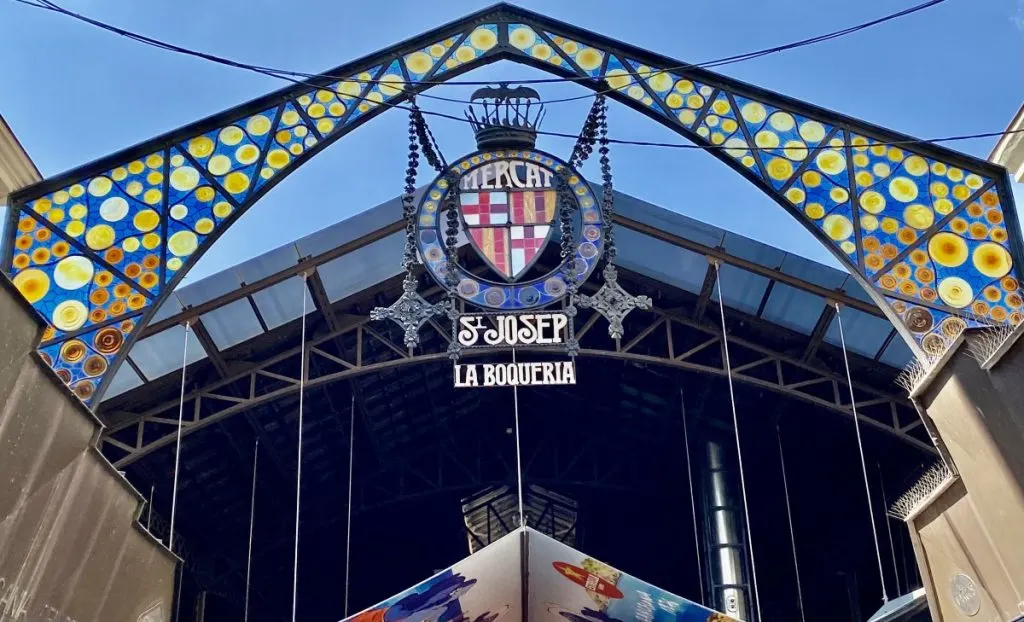 #7 Palau Güell
Don't miss out on the opportunity to visit Palau Güell, a nearby UNESCO World Heritage Site. For the cost of only 5 Euros, you can tour the palace made famous by Gaudi. Antoni Gaudi and Güell met in the late 19th century. Their relationship resulted in a series of architectural works, including the Palau Güell. Which is an urban palace in the center of Barcelona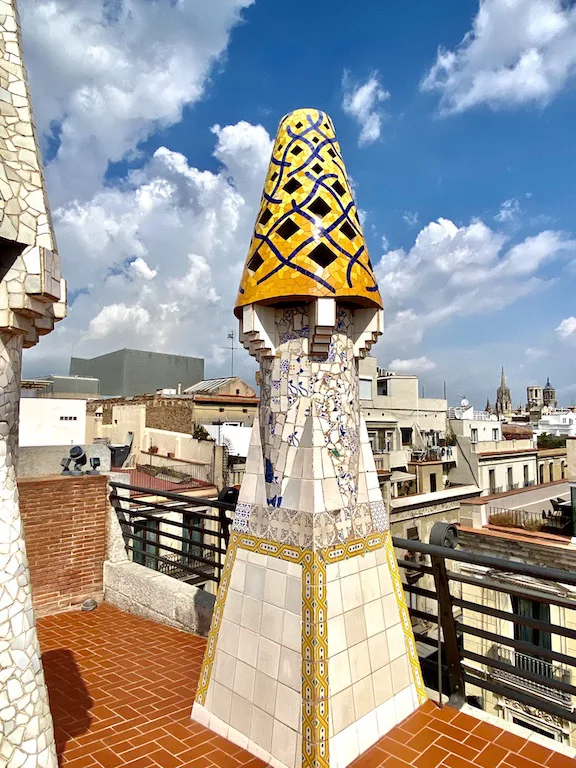 The Palau Güell (Guell Palace), located just west of La Rambla, is one of the first buildings by Gaudí in the city and contains many of his architectural concepts.
The enormous twin doors, in Gaudí's distinctive parabolic arch form, are immediately apparent as soon as you see the structure from the outside.
The first and second floors were built in two separate phases to allow horse-drawn vehicle access from both directions. One door was for entering the structure, while the other allowed for exiting.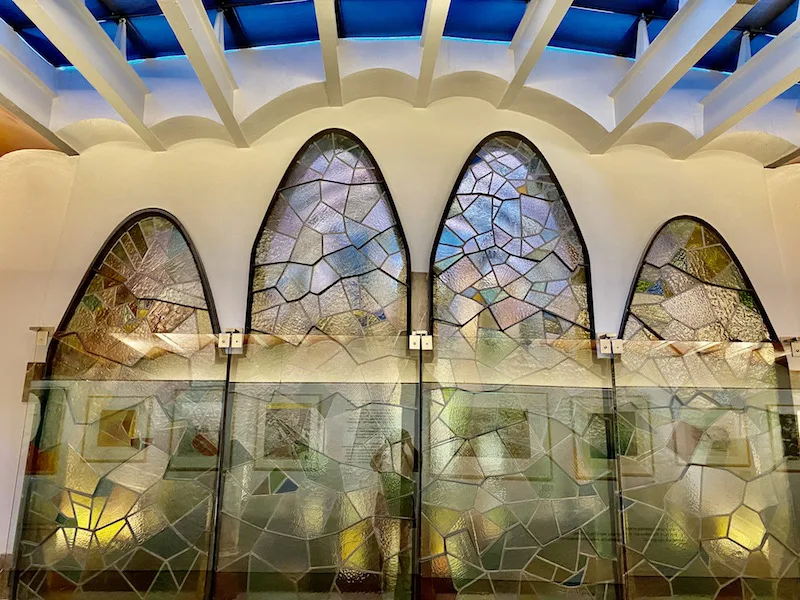 The roof terrace, for example, is an excellent area to observe the sunset depending on when you go. You'll get a look at many of the rooms inside, including the central hall and bedrooms, and naturally, the rooftop terrace. This final location is a popular spot to watch the sunset, depending on when you visit.
#8 Barcelona Aquarium or Catalonia History Museum
There are a few more alternatives if a boat trip isn't your thing, or you'd want to continue exploring once the ride is finished. The Barcelona Aquarium (free with the Go Barcelona Pass) and the Catalonia History Museum are two excellent choices for learning more about Spain's maritime history.
You may also purchase tickets for the Aquarium and the Catalonia Museum of History. Both are located near the Columbus Monument.
#9 Plaça de Catalunya
The next stop is one of Barcelona's most central and famous squares. Located in the heart of the city, this is a perfect place to begin your urban wandering – you're close enough to many attractions that it will be easy for you to roam around walking or by public transportation (which may be included with some passes).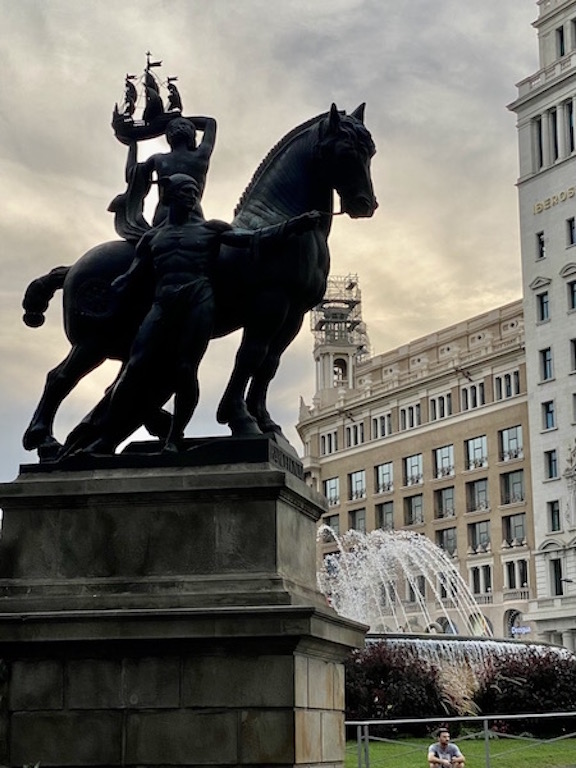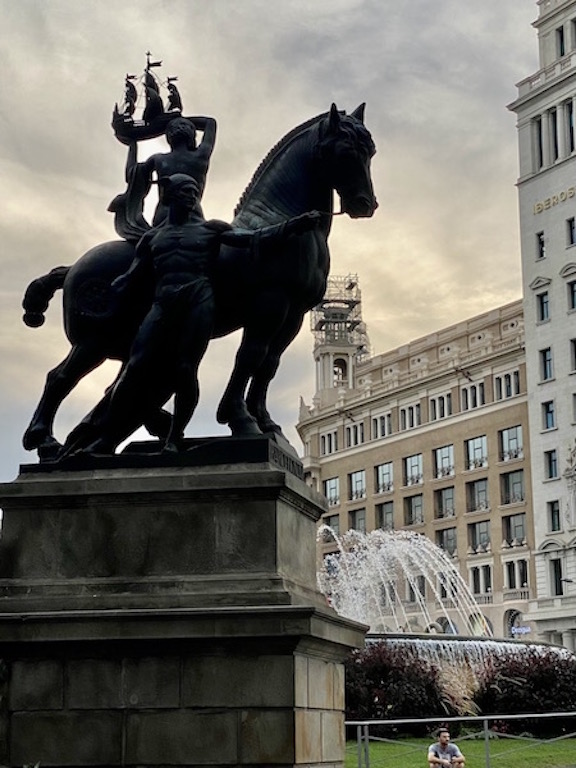 There are many shopping options here. If you want more retail therapy, walk southeast down passeig de gracia until Avenida Diagonal. There are additional department stores, including La Maquinista Centre Comercial Catalonia Plaza 3, which includes several cinemas, and the Barcelona branch of El Corte Inglés.
Now sit back with an evening drink and some food. We ate at Tapas 24 and Crudo Bar – both were great spots for excellent food and drinks!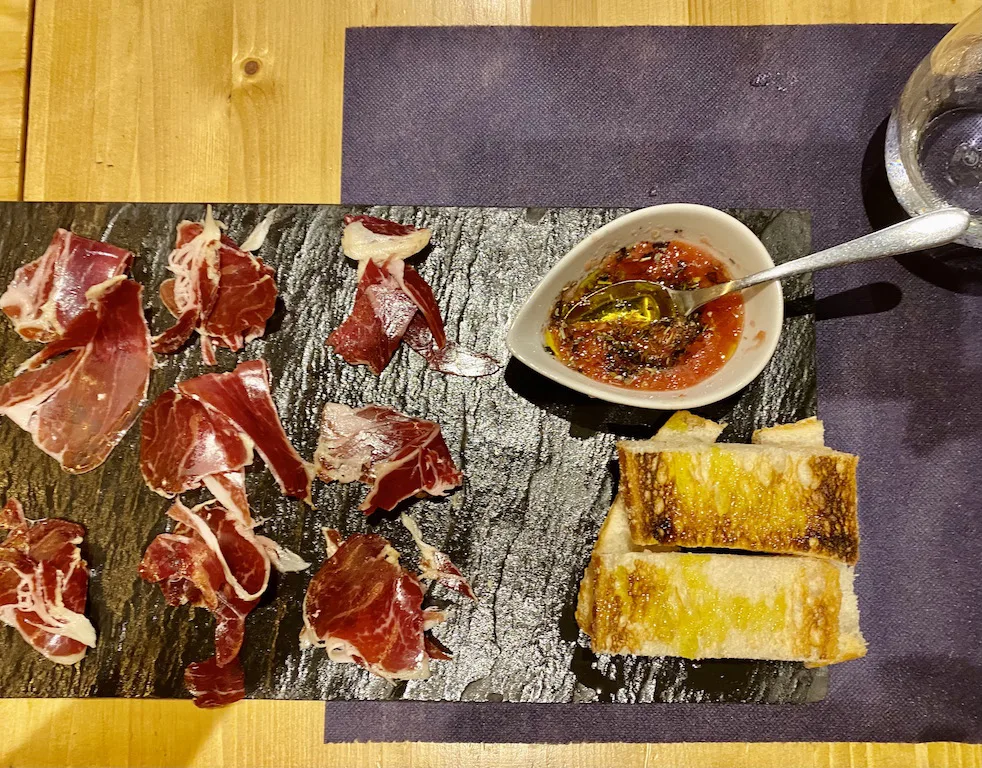 And we stayed at Olivia Hotel, which is right in the square of Plaça de Catalunya since we only had 3 days before our Esmeralda cruise. Next, plan for the second day of the three-day Barcelona itinerary as you end an eventful full first day in Barcelona!
Barcelona Itinerary: Day 2
On the second day of your visit to Barcelona, you'll explore the more northern portion of the city and see some of Barcelona's attractions.
#10 Sagrada Familia
This large basilica and popular destination, which was the magnum opus of Gaudí when he perished tragically, is, without a doubt, Gaudí's masterpiece. The project began in 1882 and was still less than a quarter done when Gaudí died in 1926.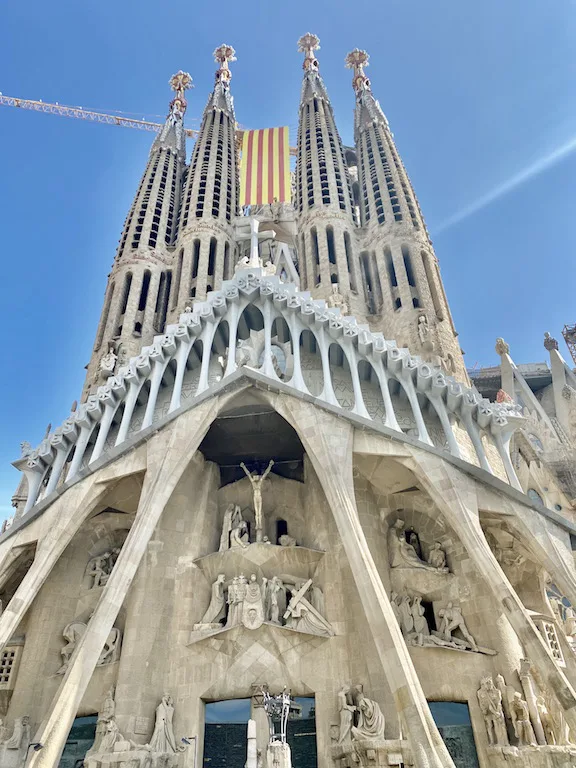 Another popular stop, so once again, we recommend making it the first thing of the day – perhaps seeing the amusement park across the road before entering. Then, you can choose the option to take a guided tour.
Usually, there are no last-minute tickets available. As a result, you should strongly consider purchasing your ticket in advance and selecting a time slot that works for you. You can do so on their official website.
#11 Recinte Modernista Sant Pau
The Recinte Modernista Sant Pau, opened in recent years, is quickly becoming one of the city's most popular attractions.
The Palau de la Música Catalana, along with the Hôtel Arts et Métiers, is one of Europe's finest examples of Art Nouveau architecture and has been designated UNESCO world heritage status.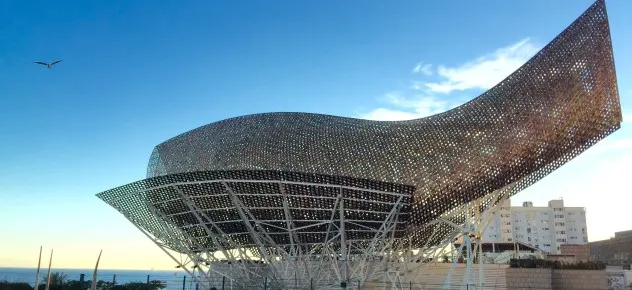 You can explore this fascinating place and enter a number of the structures. It's just a stunningly lovely area to stroll around and see both inside and outside, and it's only 15-20 minutes from the Sagrada Familia. So it's well worth going.
#12 Gaudí Experience
You'll journey to Park Guell next. While on the way, we recommend you stop by the Gaudí experience, an interactive exhibit that will show you the architect's life and works through many of Barcelona's attractions. There is also a 4D cinema with an overview of some of his most notable works of the stone quarry buildings.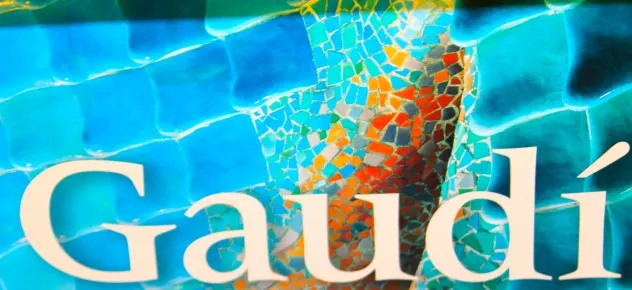 #12 Park Güell
Parc Guell, situated on the slopes of the north of Barcelona, is another work by Gaudí. However, this isn't quite like it since it's a large park with many exhibits to discover and see.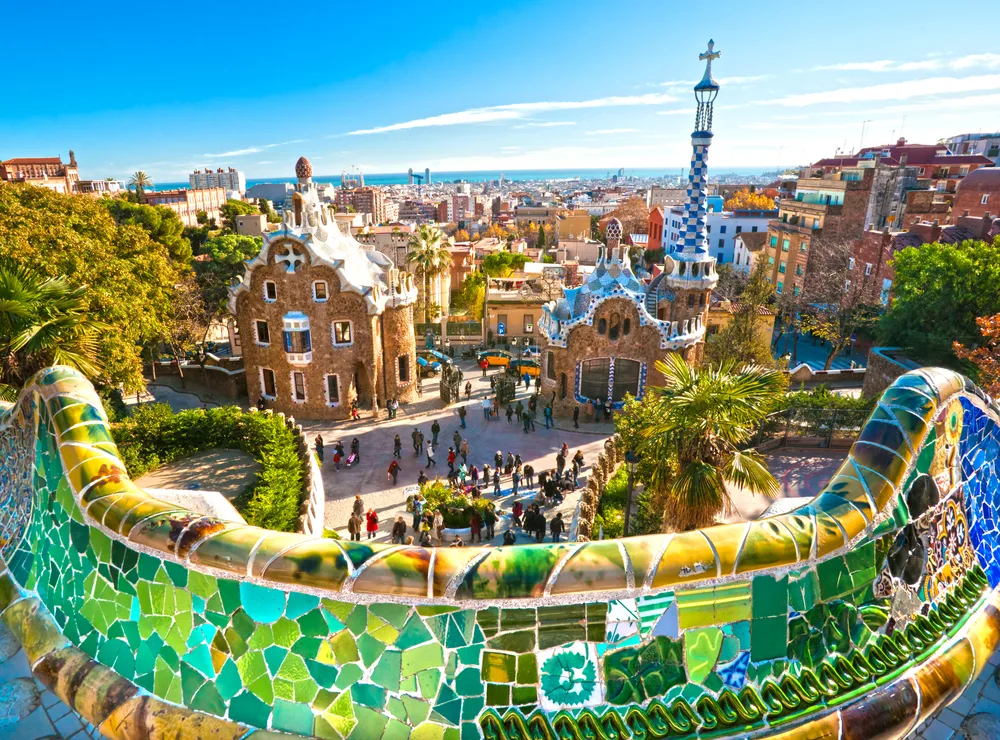 The original idea for the development was to create a luxury housing estate with breathtaking vistas, but only two homes were built. So instead, the entrance houses, main terrace area, mosaic serpentine bench, and colonnaded footpaths were created based on Gaudí's ideas for the public areas.
Also on the premises is a house museum where Gaudí lived his final twenty years. This has a separate entry fee, but it's worth it if you want to get an idea of how he lived.
That concludes our second day in Barcelona! It may appear that there isn't much to see on this day, but the sites will take you a long time to visit, and you'll have to consider travel times between them, so we recommend not trying to add too much more today if you don't have much time.
Barcelona Itinerary: Day 3
The third and last day of the itinerary has us leaving the Gothic District and ascending above the city to visit a castle and several of Barcelona's most popular museums, culminating with a spectacular free light and sound show.
#13 Chocolate Museum
Why not start your day with chocolate? You can't go wrong when you visit the Chocolate Museum in Barcelona because each entrance ticket is a genuine bar of chocolate.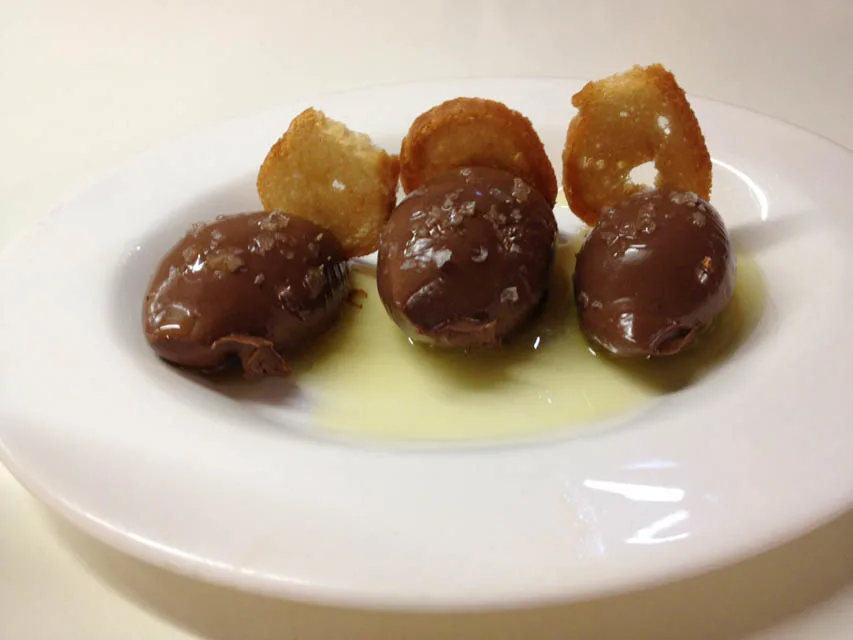 When you learn everything about one of the world's most popular snacks, including how it became so popular in Europe, how it is produced, and some of the cultures around it, Barcelona was one of the major ports through which chocolate entered Europe. It had a significant impact on the city's economy.
The chocolaterie will also delight visitors with the numerous chocolate statues and displays. A great way to begin a full day of touring in Barcelona!
#14 Gothic Quarter
You'll soon depart from the Chocolate Museum and enter a warren of famous streets in the Gothic Quarter.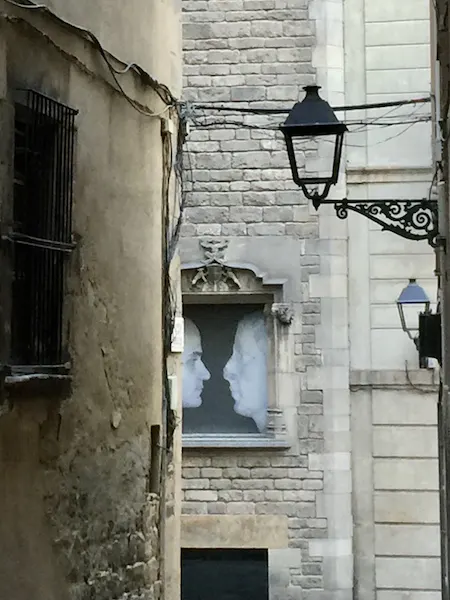 This is where much of Barcelona's history is hidden away. I'd strongly advise having a paper map on hand when you start exploring because the tall buildings and narrow streets can confuse GPS signals.
The Gothic Quarter is a journey in and of itself, but there are several things to see within it. First, the fantastic Picasso Museum commemorates the early years of the artist's life and career and housing some late pieces. For fans, this must-see attraction.
After that, you may visit the UNESCO world heritage listed Palau de la Musica Catalana.
You'll arrive at Barcelona's enormous Gothic cathedral in the Gothic Quarter, which is free to visit. This Barcelona Cathedral is a great place to see whether or not you're into this type of thing. Oh, and don't forget "the kiss"!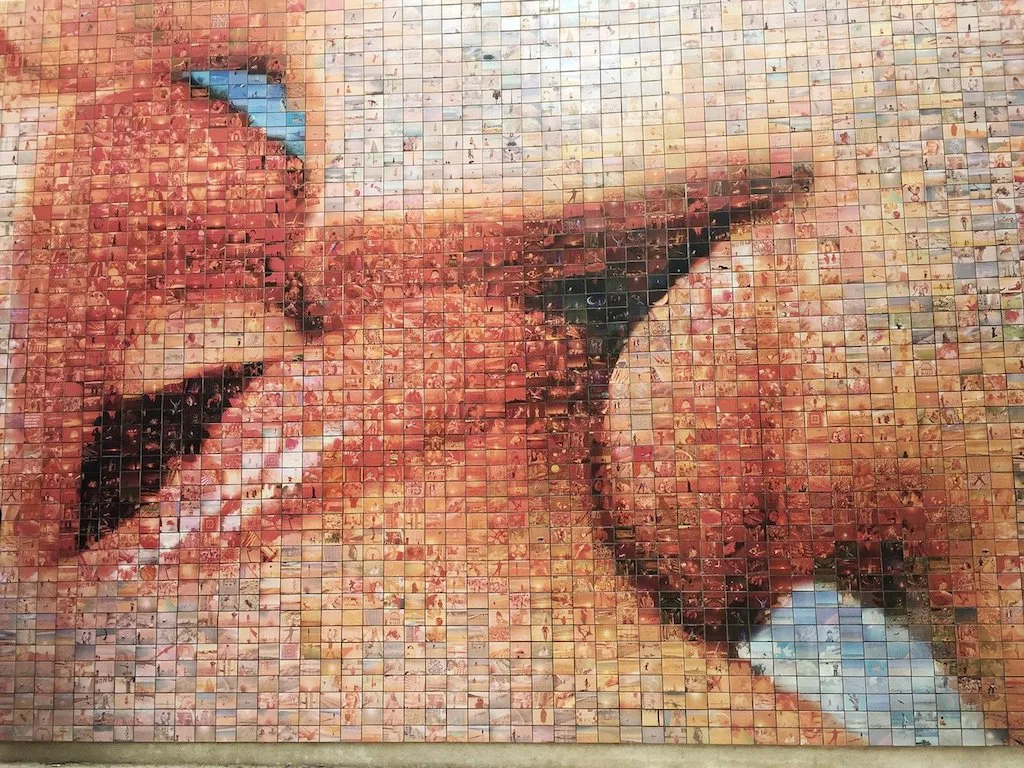 In the Parc del Fòrum, you'll find the Gaudí Exhibition Centre, the first museum entirely dedicated to Antoni Gaudí's work. You may learn all there is to know about the architect and his buildings through images, models, audio-visual presentations, and documents, and it's an intriguing trip through his career.
#15 Montjuïc Castle
The massive castle on the hill, Montjuic Castle, is my first stop. This colossal fortress has played an essential part in the history of Barcelona over the last few centuries. It serves as a Spanish control over the potentially volatile Catalan city as well as a jail and execution center.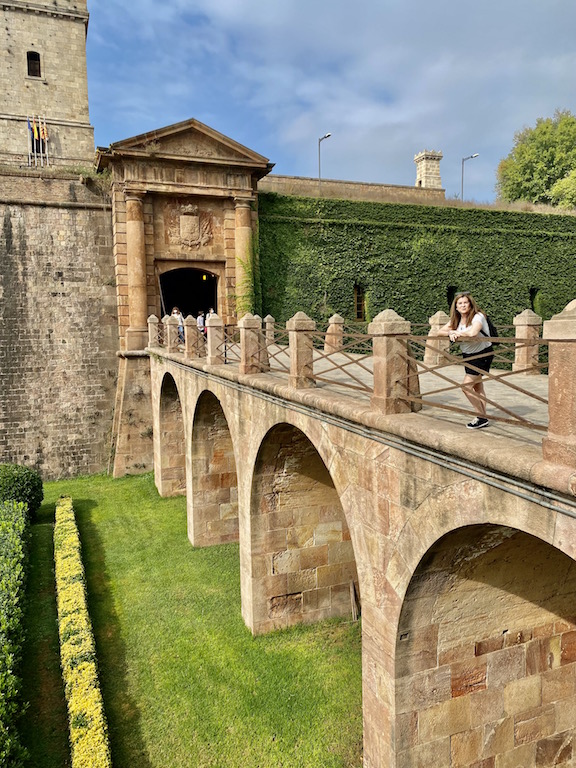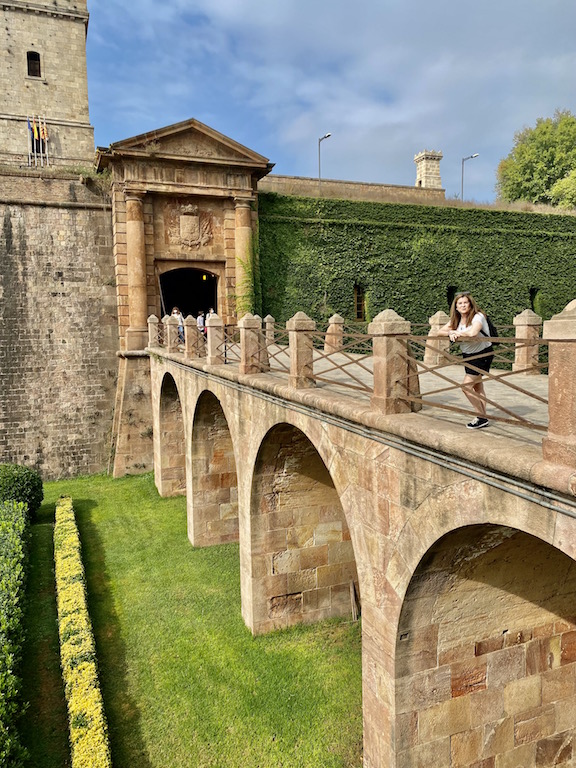 Although the castle is now a museum, it has been reclaimed by nature, and you may still wander the vast walls, enjoy views of the city skyline, and recall darker times. There is no charge to enter the site; however, visitors can visit on Sundays afternoons.
#16 Montjuïc Hill Attractions
You'll now take a trip up Montjuïc Hill, which has several great attractions. Depending on your interests and the perfect amount of time you have, you may wish to visit a few of these rather than attempt to see them all in one go.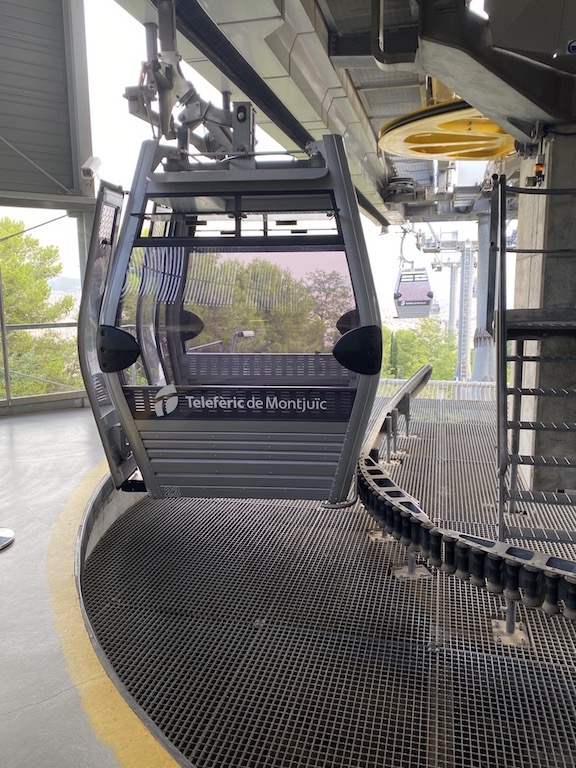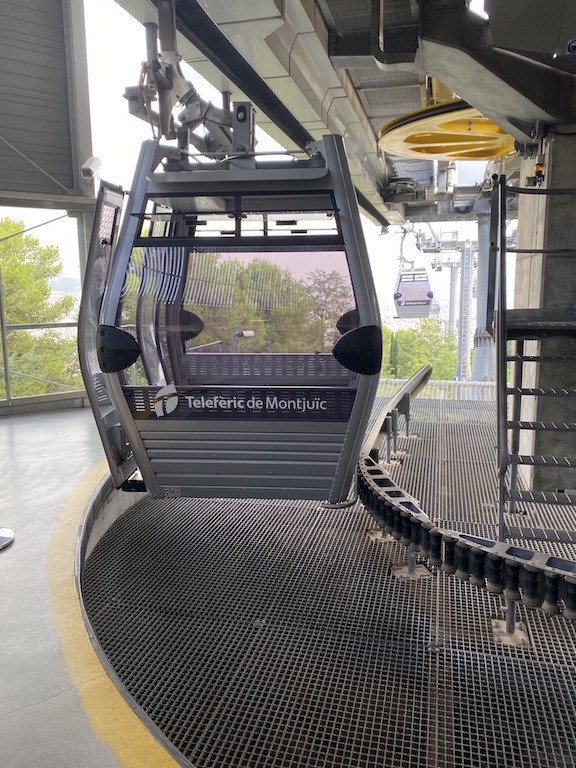 #17 Poble Espanyol
If you want to learn more about Spain's regions and culture, Poble Espanyol is a must-see.
The Palace of Fine Arts is a vast open-air architectural museum built in 1929 that features 117 full-size structures from fifteen different Spanish provinces. Many of which are copies of real structures. It also contains local artists, restaurants, businesses, and exhibits from glass blowing to jewelry production.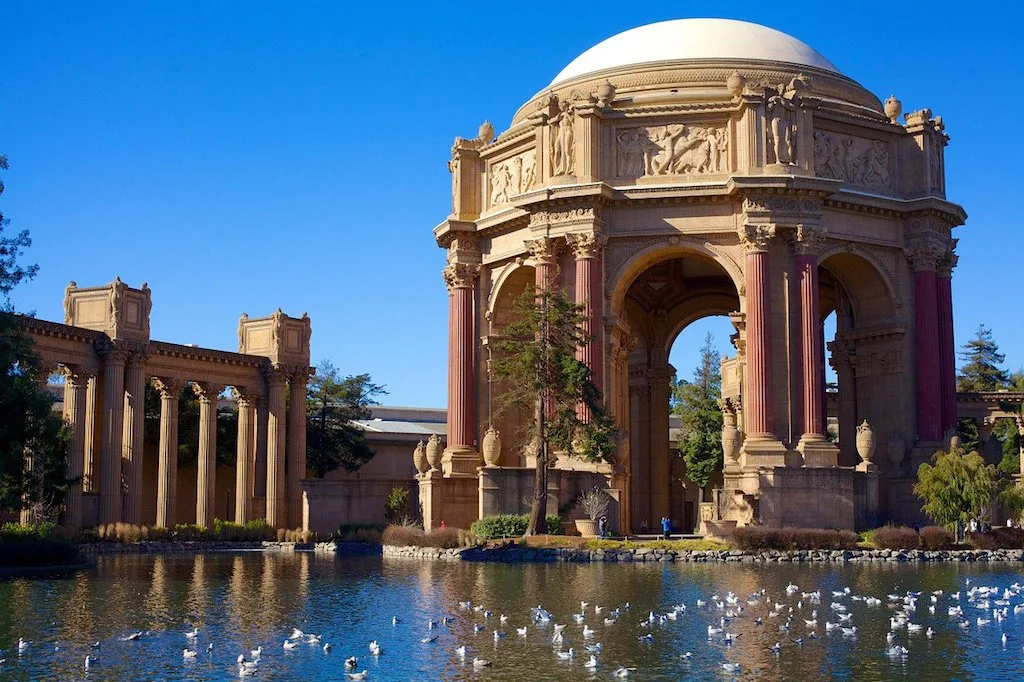 You have the good option of spending a few hours just browsing around, as there is much to see and do. It also frequently holds concerts, culinary festivals, and other activities.
#18 Joan Miro Foundation
It is a must-see for fans of Barcelona-born Joan Miró on Montjuïc Hill. The artist created the museum to promote young experimental artists' work and features numerous works throughout his long career.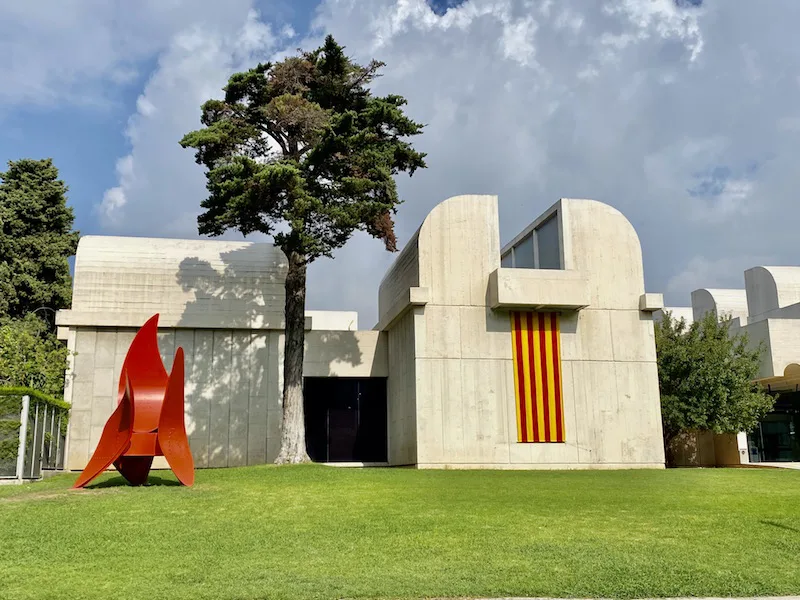 The purpose-built structure is a beautiful and logically structured building that will guide you through the artist's work. There's also a library on-site, which houses Miró's book collection.
#19 National Museum of Catalunya Art (MNAC)
MNAC is one of Barcelona's most distinctive structures, features an impressive view over the city. It's a must-visit for anyone interested in art from the Catalonia area.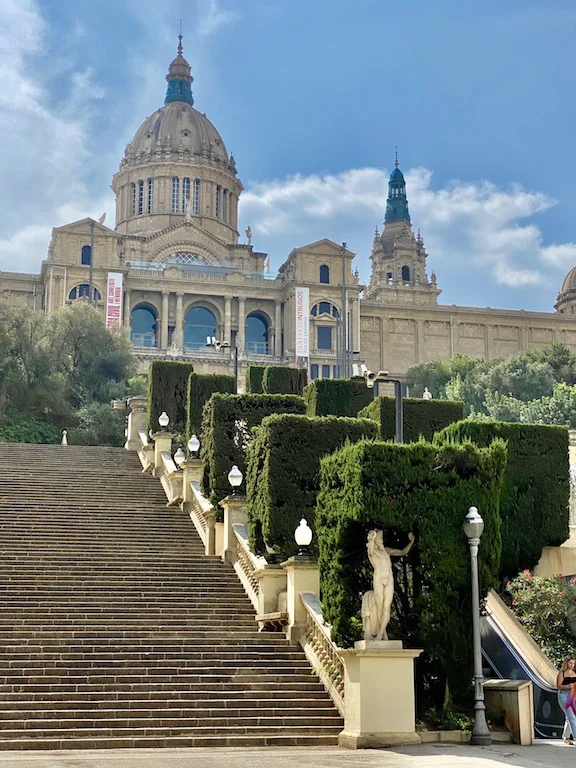 There are several beautiful romanesque church murals on display and an incredible selection of medieval artwork.
The interior of the building is also quite beautiful, with the Oval Hall being one of Europe's biggest. You may also walk on the roof to see the best views from the top floor.
#20 Magic Fountain
The Magic Fountain, which may be viewed from the steps in front of the National Museum of Catalan Art, is the final activity on our three-day Barcelona itinerary.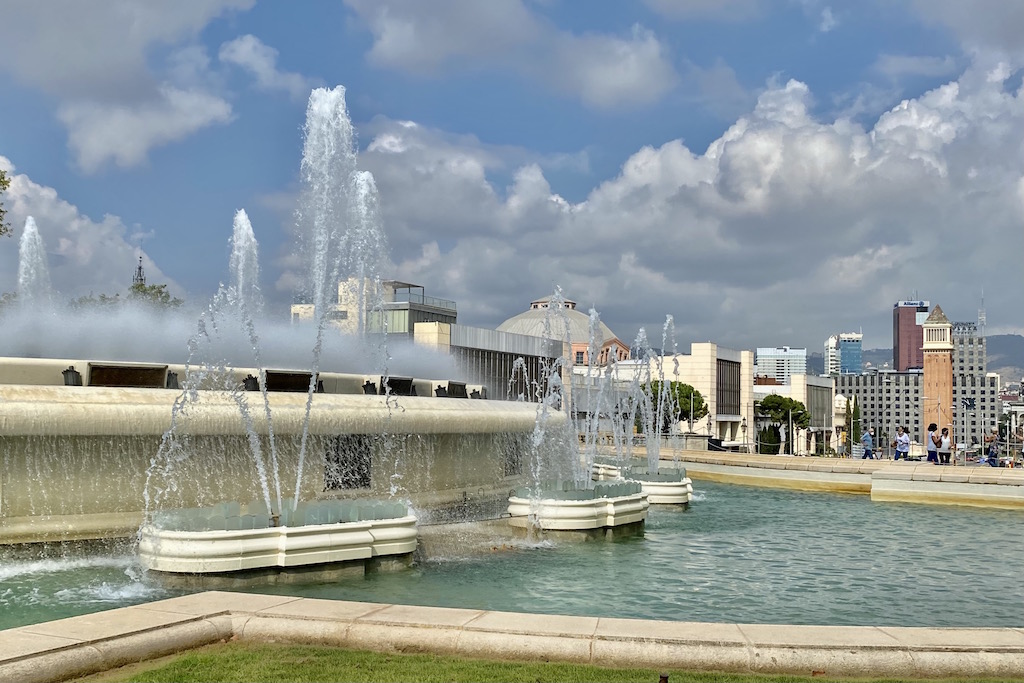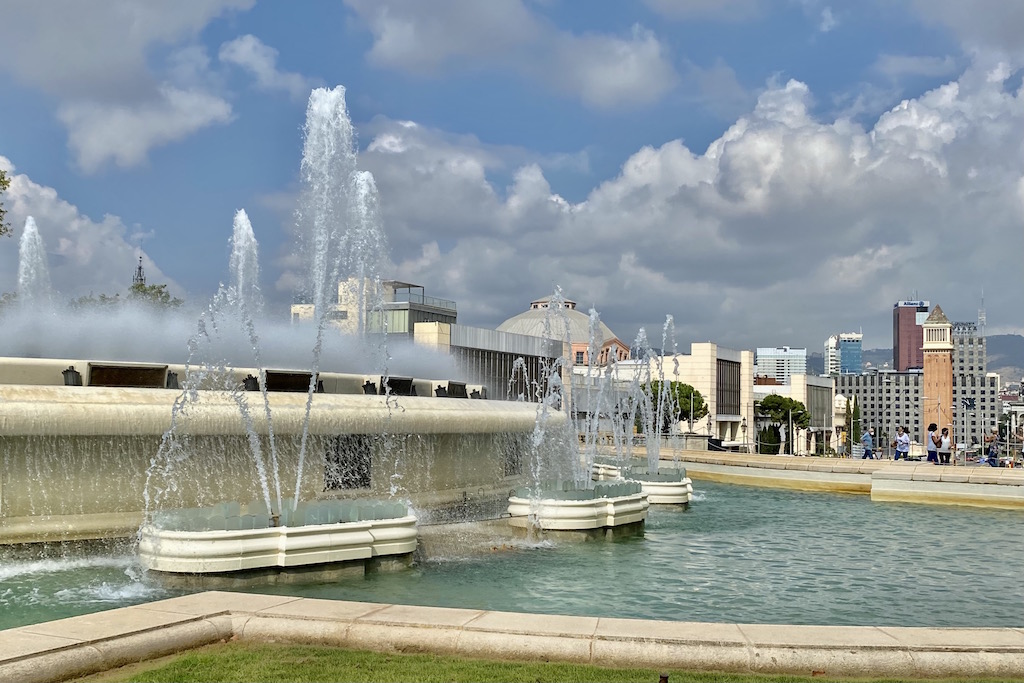 The Palau de la Música Catalana is a music center located on the site of an old monastery. It was constructed in 1929 for the International Exhibition and reconstructed for the 1992 Barcelona Olympic Games, which you will not want to miss out on.
This fountain has a stunning sound and light show in the evenings, which is highly enjoyable to watch as the water follows the music and lights.
Barcelona Itinerary: Extras
There's a lot more to Barcelona than the above, and I wanted to draw your attention to a few of our favorites. If you have a little extra time in Barcelona or simply want to rearrange part of the itinerary, add the items below to your list.
#21 Take a Walking Tour or Bike tour around Barcelona
This is a fantastic technique for learning about the city's history and seeing some of its key attractions while getting oriented to it locally. We recommend scheduling this type of excursion early on in your trip because it will help you get acclimated to the city and ask your guide for suggestions and recommendations for restaurants, bars, and nighttime life.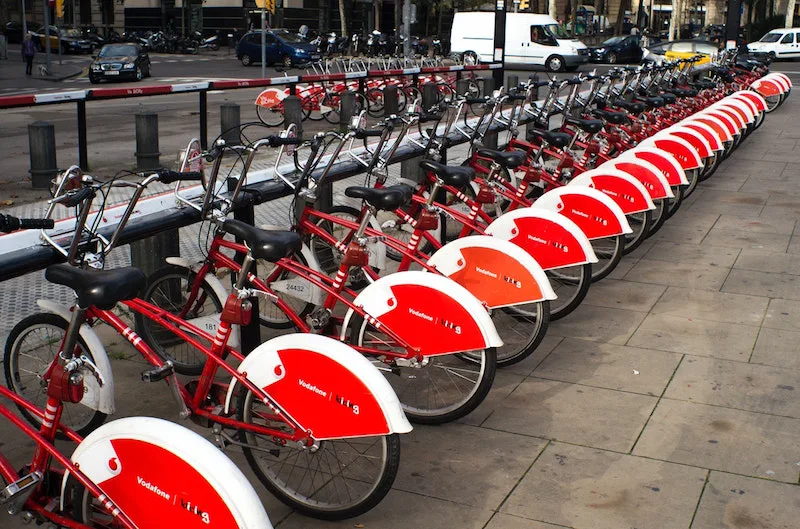 #22 Camp Nou
FC Barcelona fans are likely to include a trip to Camp Nou on their travels. This is the stadium of Barcelona's world-famous soccer club, and you can go on a tour of the facility during the day to get an inside look at everything from luxury boxes to the players' dressing rooms. You may also sit in the popular spots where the coach sits during a game!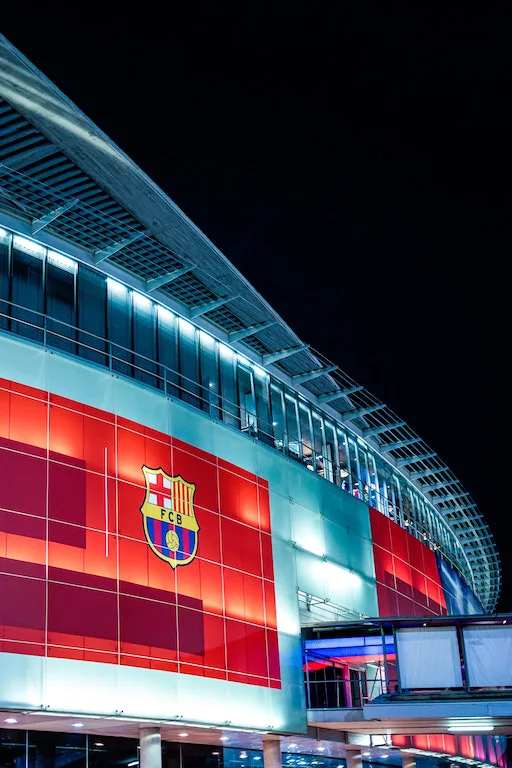 There's also a well-structured museum about the club's history how it changes the city for good. It also features some of its world-famous players and trophies. Even though neither of us was a football enthusiast, we both liked this visit.
If you do decide to go, we strongly suggest going early since it gets pretty crowded. You'll also want to verify the match times because you can't take a tour when the stadium is being utilized. However, fans may wish to watch a game here as well.
#23 Parc de la Ciutadella
A lovely region to visit is the Citadel Park, or Parc de la Ciutadella, which isn't far from the Chocolate Museum and is located in a city center.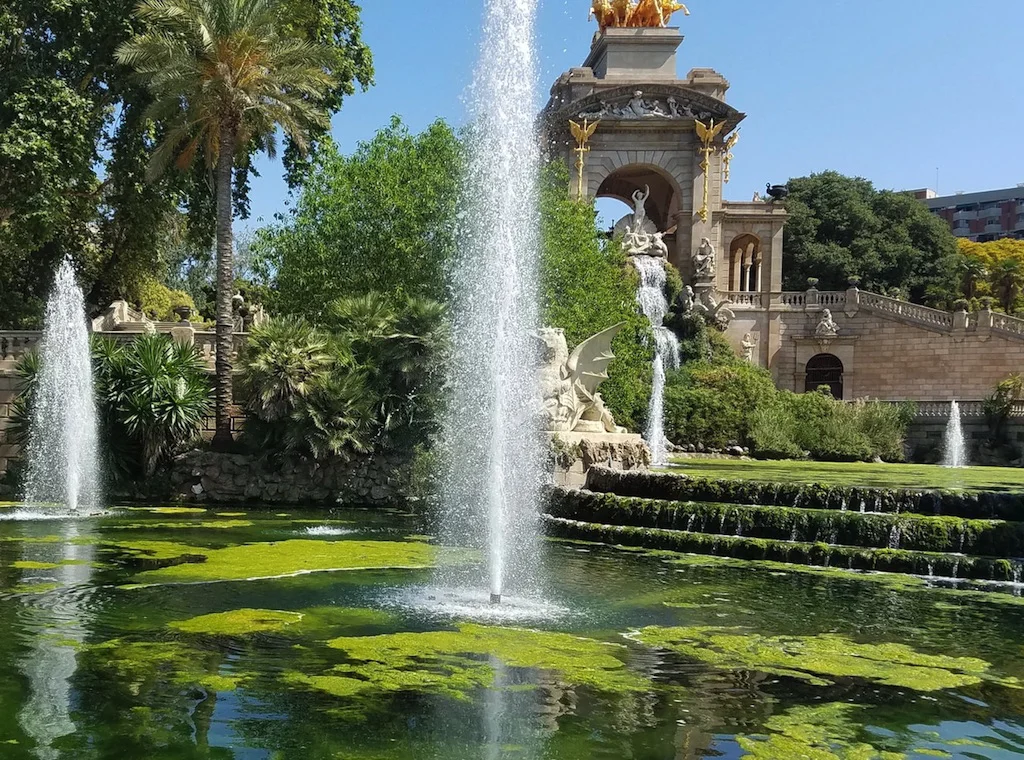 This 70-acre park, which dates from the mid-nineteenth century, has several acres of greenery and is the city's first open space. The park is a lush jungle of palm trees and tropical plants. It's ideal for a picnic or a break from all your sightseeing.
The city's most famous feature is, without a doubt, the large water element, which was one of Gaudí's first projects in the city and was not well-known.
#24 Torre Bellesguard Gaudi
Torre Bellesguard, just a little north of the city center, is a relatively modern addition to Gaudí's designs that you may visit in Barcelona.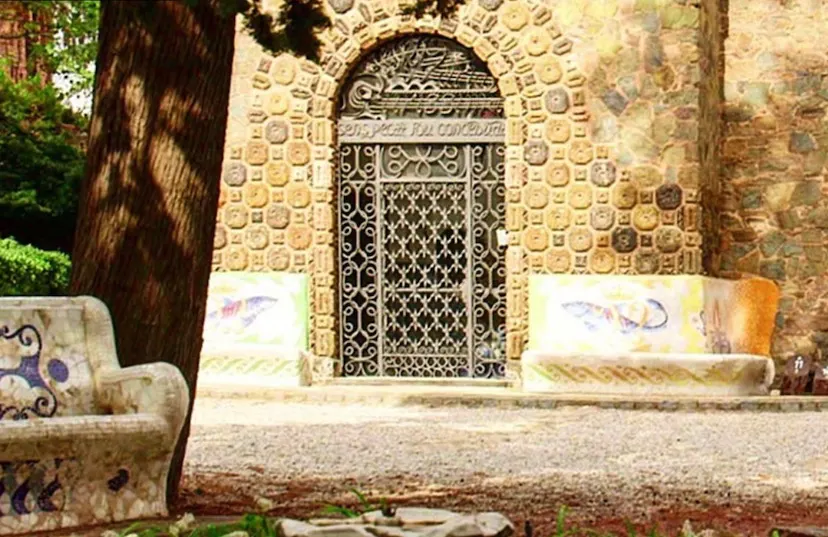 The home was built for a private owner between 1900 and 1909, and it is still occupied by a private individual today. Therefore only certain portions of the property can be seen. However, they include the magnificent attic and roof terraces, which were major draws in my selection.
I'd suggest that you go for it – this is a less-visited attraction than many of the other Gaudí attractions, and you'll have more space to breathe.
The roof terrace offers spectacular views of the city and has been built to resemble a dragon.
Guided tours are presently offered on weekends, and there is also an audio tour option if you need a better way.
#25 El Born Neighborhood
The river, the old town, and the waterfront are all wonderful to explore. This is one of my favorite areas in the city to walk around, shop, and eat! You'll also discover a wealth of nightlife in this area. For example, if you went to the Picasso Museum, you might have inadvertently walked into a part of El Born. The Gothic Quarter blends into El Born.
The city's medieval sector has kept its ancient feel. However, the tiny streets and alleyways complement antique buildings, boutiques, some of the city's best restaurants, and wine bars.
In fact, we went to lunch at the best place in El Born— Llamber, a modern concept on Spanish food. To me, the had creative and artisanal tapas in a unique space and everything they brought out was better than the dish before. A MUST VIST if you are in El Born. Try the Pan con tomate, the beat dish and the fish with watermelon juice!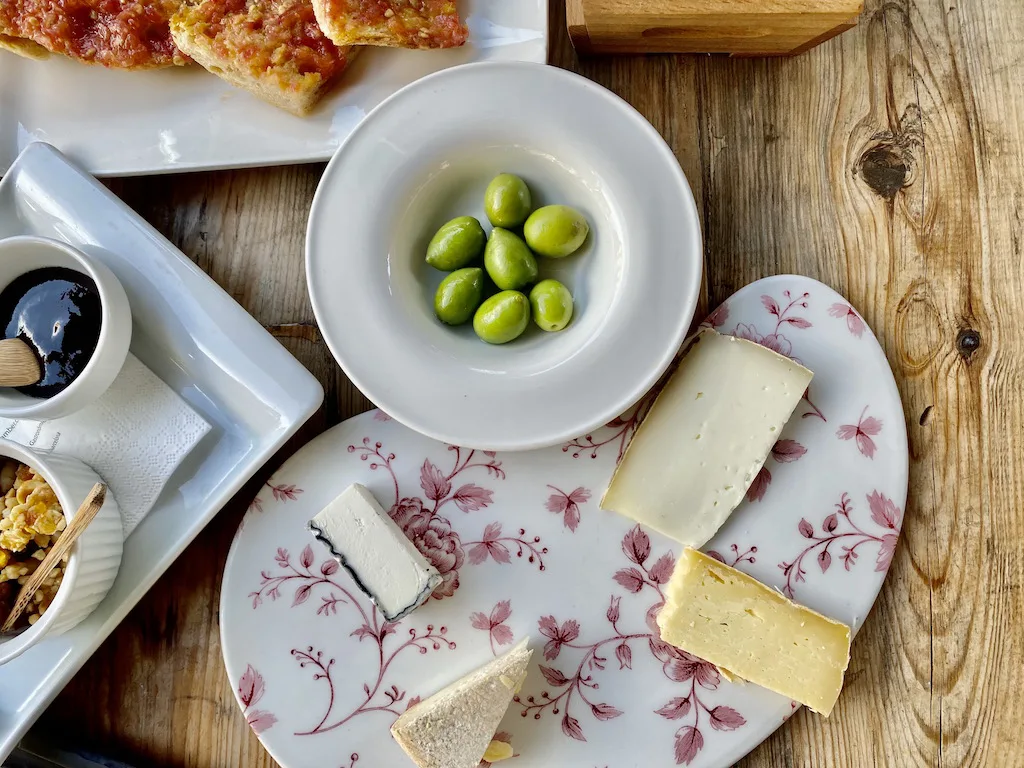 #26 Colonia Güell (Could be done on Day 1 or Day 2)
Colonia Güell is located 14 miles or 23 kilometers from Barcelona's city center, but public transport may also reach it. It's a planned 19th-century industrial village that you can explore using an audio guide.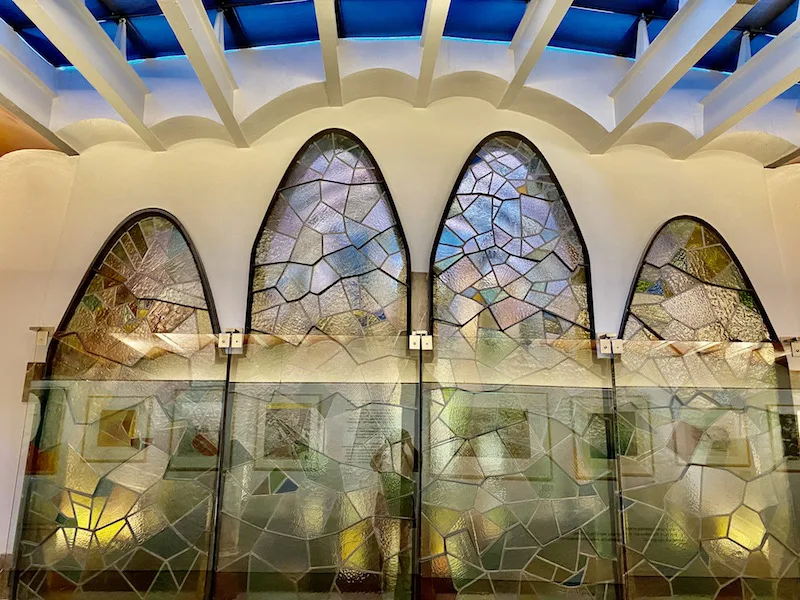 The community of Colonia Güell is well worth seeing, but the church known as Gaudí's Crypt is the standout attraction. This building was where Gaudí first combined all of his architectural ideas, and it served as a template for much of the La Sagrada Familia.
The crypt was the only portion of the church to be finished, and while it does seem more like a church than a crypt with an entire nave, altar, and pews, it too has an impressive interior. It's an indeed one-of-a-kind creation that takes somewhat more work to visit than the Sagrada Familia; we had the entire Crypt to ourselves for lengthy parts of our trip.
#27 Walking Tours of Barcelona
When we go on vacation, we enjoy taking walking tours. It's a beautiful method to learn about a city's history, culture, and people and gain suggestions on what to see and where to eat.
There are several walking tour providers in the city that may take you around on foot. If you buy the passes referred earlier, some include a free walking tour, so make the most of it.
Best Time to Visit Barcelona
The ideal time to visit Barcelona is from May to June, when temperatures are warm but not oppressively. With balmy temperatures in the low to mid-70s and a slew of festivals heralding the start of summer, this is a good idea to visit. Unfortunately, the real summertime is sticky with humidity; locals depart their favorite city in droves, searching for some fresh air.
Consider your accommodation choices
Barcelona has a wide range of 3-star to 5-star luxury hotels… If you're on a 3-day trip, it's best to book the most convenient hotel near all your sightseeing destinations closer to La Rambla.
When it comes to accommodation, booking.com is our first choice. They have a wide range of accommodations, including hotels, apartments, and hostels, and we typically discover that they offer the most incredible selection at the lowest prices.
You may find apartments through websites like VRBO.com and others. One thing to keep in mind is that these must be registered with the city in Barcelona. They will receive a license number once they are registered. Therefore, we recommend selecting an apartment rental in Barcelona that has the license number on it.
Plan to save money on sightseeing
Barcelona has several money-saving options for tourists visiting the city's attractions. The Barcelona City Pass is the most popular option, then comes the other ones; the Barcelona Card, ideally, Or the Go Barcelona Pass. These include free admission and discounted visits, as well as line, skip the line privileges, travel options, and other amenities that may make your trip more pleasant.
Depending on what you want to visit, these money-saving alternatives work in different ways and maybe more effective cash wise than for one person..
If you want to see everything on our itinerary, the Go Barcelona Pass is a must. The Barcelona City Pass is ideal for visiting the highlights and saving money on the other major attractions. On the other hand, if you're only going to a few good places and don't mind planning your transportation, the Barcelona Card may be worthwhile.
Practicalities for Visiting Barcelona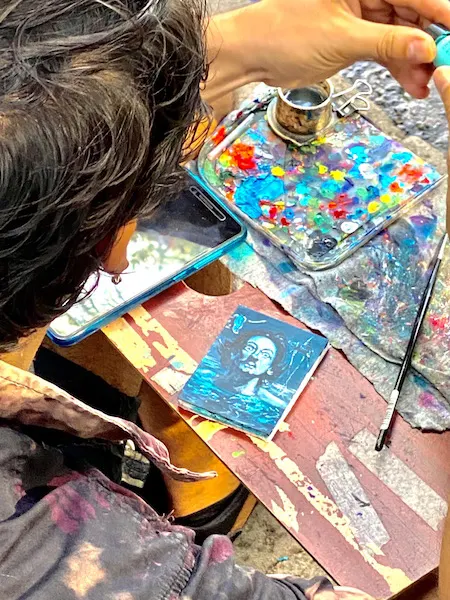 You need to consider the following things if you visit Barcelona, especially your first time.
#1 Safety
Barcelona has a history of petty crime, particularly pick-pockets, especially in the frequent tourist areas. However, most crime is opportunistic, and therefore if you take basic precautions and are familiar with some typical Barcelona scams, you should be okay.
#2 Power
The electricity is distributed at 220 volts, with a two-pin European plug. Travelers from countries that use the 110v system will require an adapter.
#3 Currency
The Euro is the main currency in Barcelona, as it is part of the European Union. Although credit cards are widely accepted, you can get these from ATMs, banks, and currency exchanges.
#4 Internet
With WiFi all around Copenhagen, you shouldn't have any trouble accessing the internet. You may pick up local SIM cards. If you're a frequent visitor from the United Kingdom on the Three networks., Feel At Home data will work for you.
#5 Water
The water in the kitchen is safe to drink, and it has a chlorine taste. Bottled water is easily accessible if you don't like the taste.
Day Trips from Barcelona
If you're in Barcelona for a longer period or would want to spend one of your days touring the Catalan region instead, there are some fantastic full-day excursions for you to consider.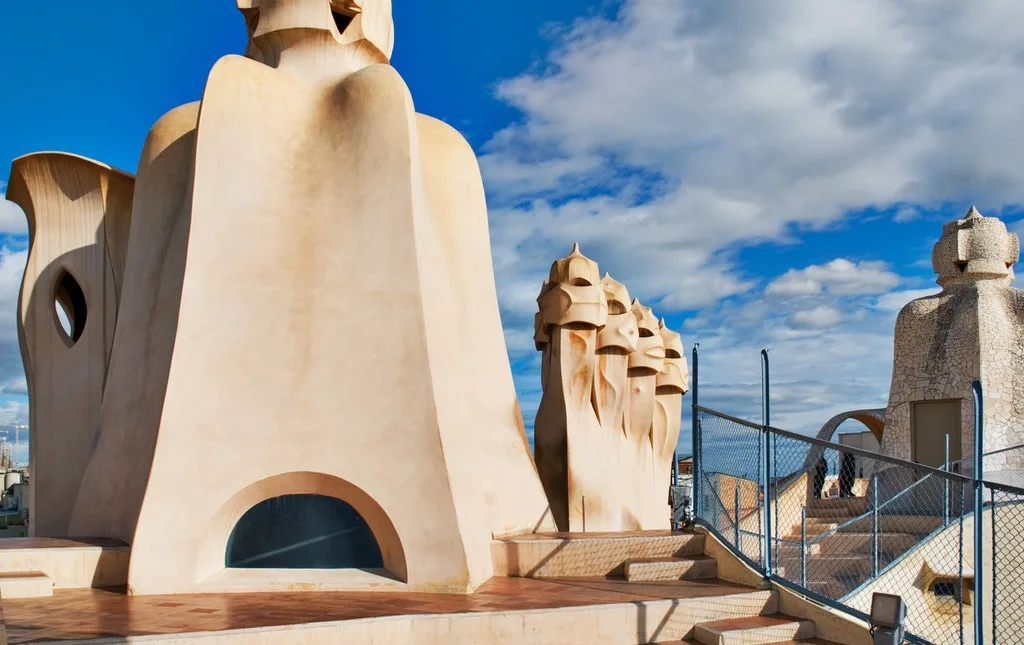 Costa Brava Coastline
The vibrant Costa Brava coast boasts spectacular beaches, vintage Roman cities, and stunning coves. In addition, the coastline is dotted with pretty fishing villages and the vineyards of Penedes.
In Catalonia's Costa Brava region, the beautiful medieval town of Girona makes for a lovely day trip from Barcelona. The city has an ancient Jewish quarter that you can't miss when exploring its winding streets full of cafes and bars.
Final Words for your 3 Day Barcelona Trip
Barcelona, Spain Capital, is a beautiful city with so much to see. We hope you enjoyed 3 Days in Barcelona, and we recommend the three-day tour because it gives us enough time to visit these wonderful places.
We strongly suggest taking uber, taxi's or public transportation as many stations around the city, which will be the best way to plan your three days.
If you have more than three days of holiday, do not miss out on visiting other towns like Girona or Sitges, famous for their stunning views and beaches!
If you prefer to get the most out of your trip, schedule your late afternoon so that you can visit a restaurant and take a cable car ride back up to see the city from another perspective. You may go both ways depending on when you visit!
That's a lot of information to consider while planning your trip to Barcelona, especially if it is your first visit! However, we hope you find it helpful. You should be able to arrange the ideal holiday using this post as well as these resources!