After a 1 1/2-hour bus ride from Penang, Malaysia we had finally arrived at the Banjaran Hotsprings Retreat in Ipoh. Weary and worn, I was overwhelmed with joy as we approached the lush entrance of this breathtaking tropical retreat and meditation center in Ipoh. I had never seen anything like it and I was ecstatic to be there. What a stunning place! The 17-acre hot springs retreat sits alongside a natural geothermal hot spring, hugged by limestone cliffs with natural caves, a pristine jungle, and waterfalls.
---
What's in this post:
hide
Banjaran Hotsprings in Ipoh, Malaysia
---
First Impressions
My first impression upon entry to The Banjaran Hotsprings Retreat is the sound of rushing water and enormous black clay pots in pools of water that shimmered like glass with floating enormous emerald-green waterlily pods floating in the water. A quick check-in had me riding the golf cart and my luggage to a private villa. Making my way through the lush tropical property, we passed the large geothermal lake with its four geothermal "dipping pools"(jacuzzi's) and heard the waterfalls streaming into it.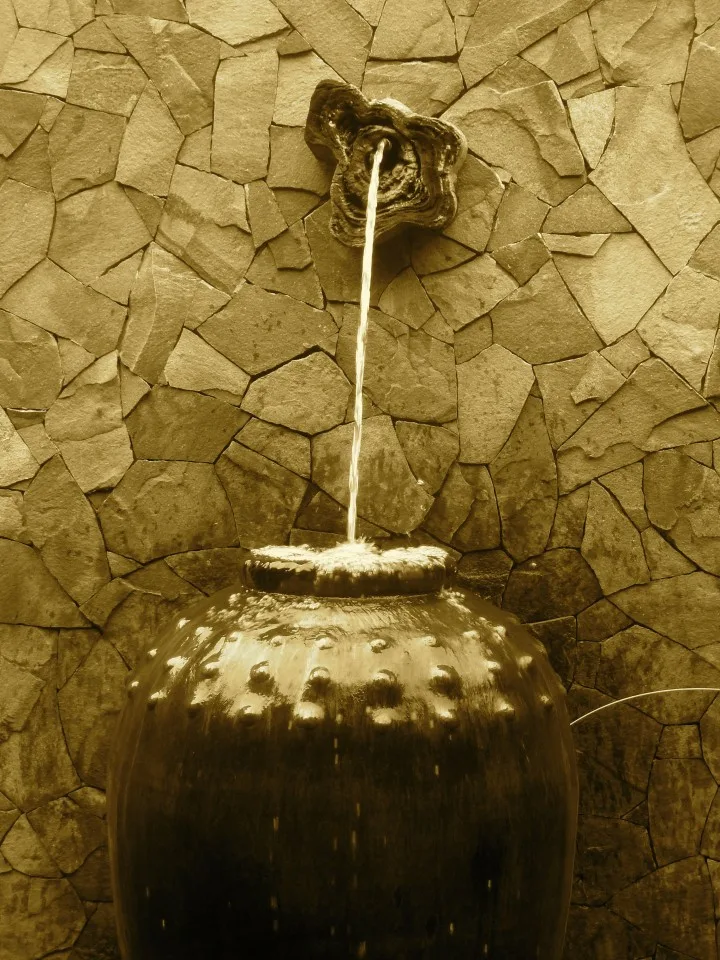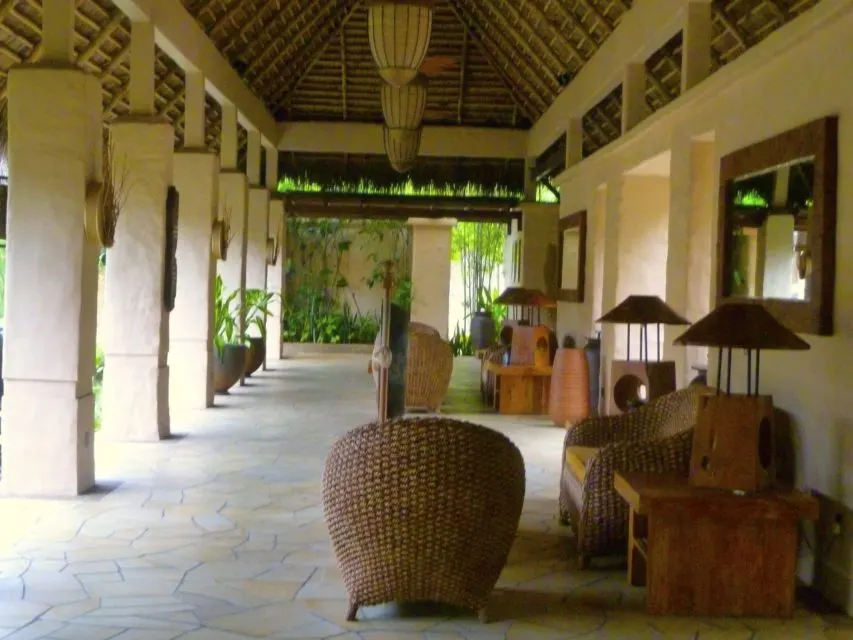 Banjaran Hotsprings Retreat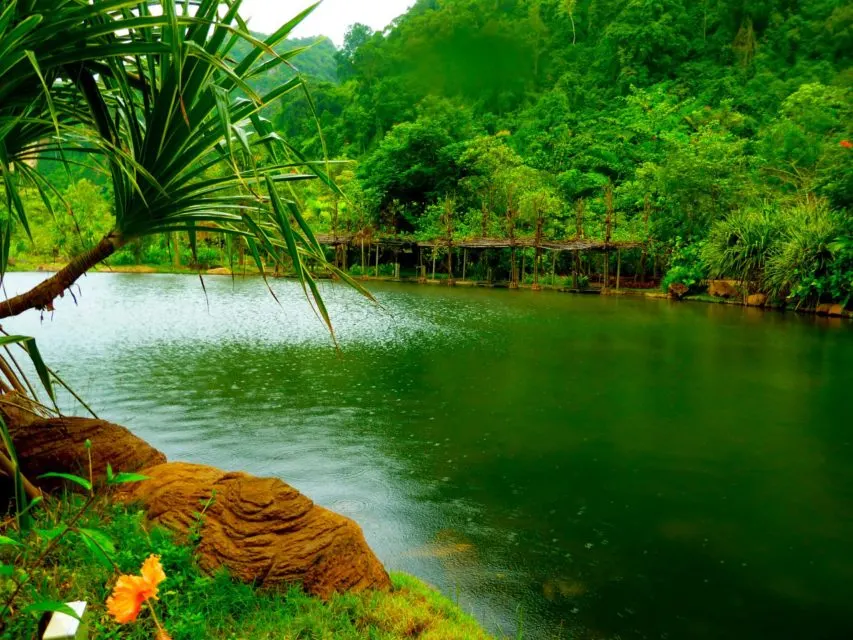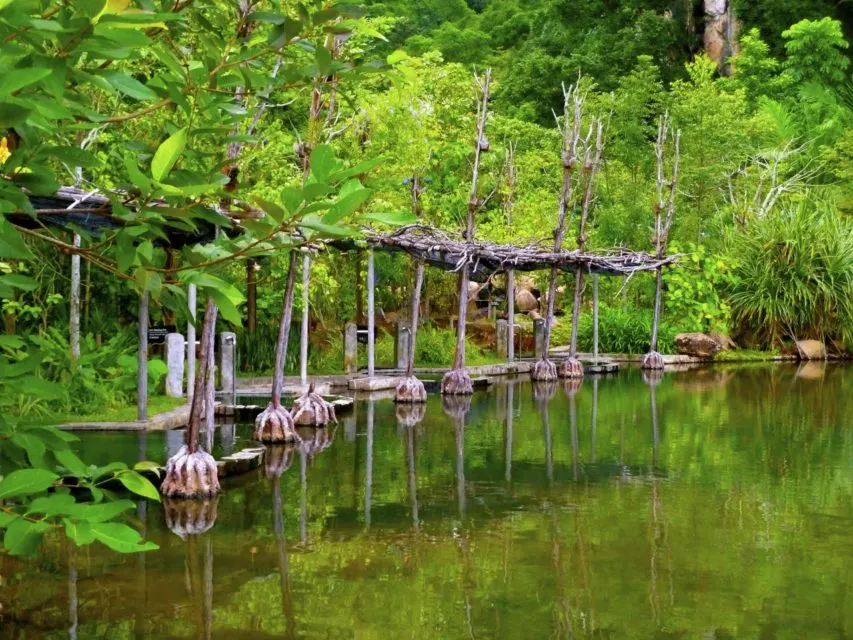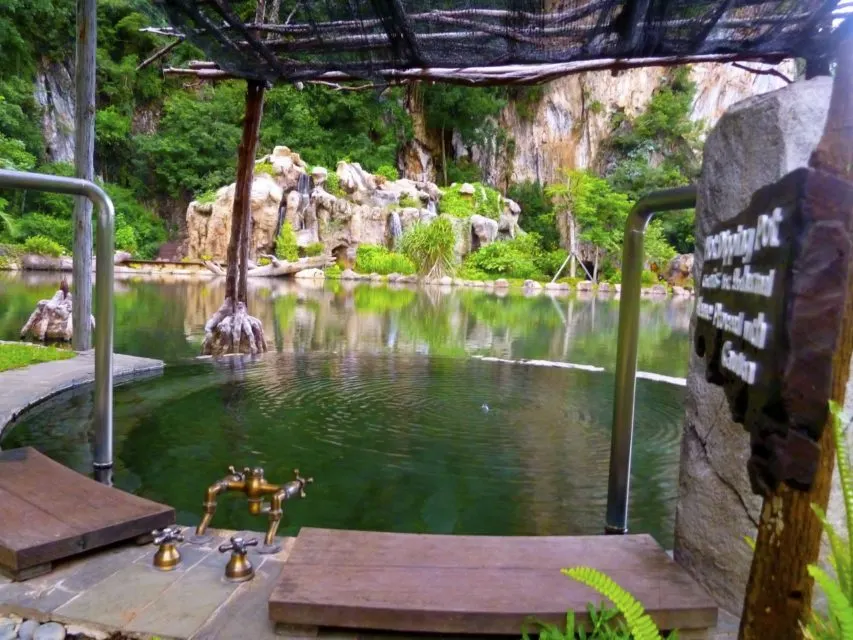 Meditation and Relaxation
I could also see signs for the granite and limestone meditation cave, the juice bar, the crystal cave, and the thermal steam cave.
They even have an ice cave, where you can go to cool off after the hot jacuzzi! And finally, we passed the fishpond for pedicures (Garra Therapy).
Jungle Flowers!
This was a tropical paradise with some of the most colorful and gorgeous flowers seen at every turn.
My Bungalow in Malaysia
Soon enough we rounded the corner and I saw the swimming pool and the thatched wooden hut for dining until finally, we had found villa #13. It would be my home for the next 48 hours!
My jaw dropped, sliding my wrist key near the wooden door, as electronically my door slid open, and now, going from the outside to the inside, I found myself in awe. Here was my private outdoor lounge with its thatched-covered roof and perfectly blue private dip pool.
There was another door that led to my enclosed bedroom, and yet another room that was the bathroom lounge, which was indoor/outdoor and built into the jungle walls, with a private outdoor rain shower and my very own sunken hot springs whirlpool filled with more geothermal waters. It could not be more perfect!
I was expected for dinner and drinks at 7 pm, but honestly, I never wanted to leave my villa suite!
Dinner in a Cave!
Peeling myself away, I made my way down the path of limestone rock and an interesting pebble-rock, foot therapy pathway;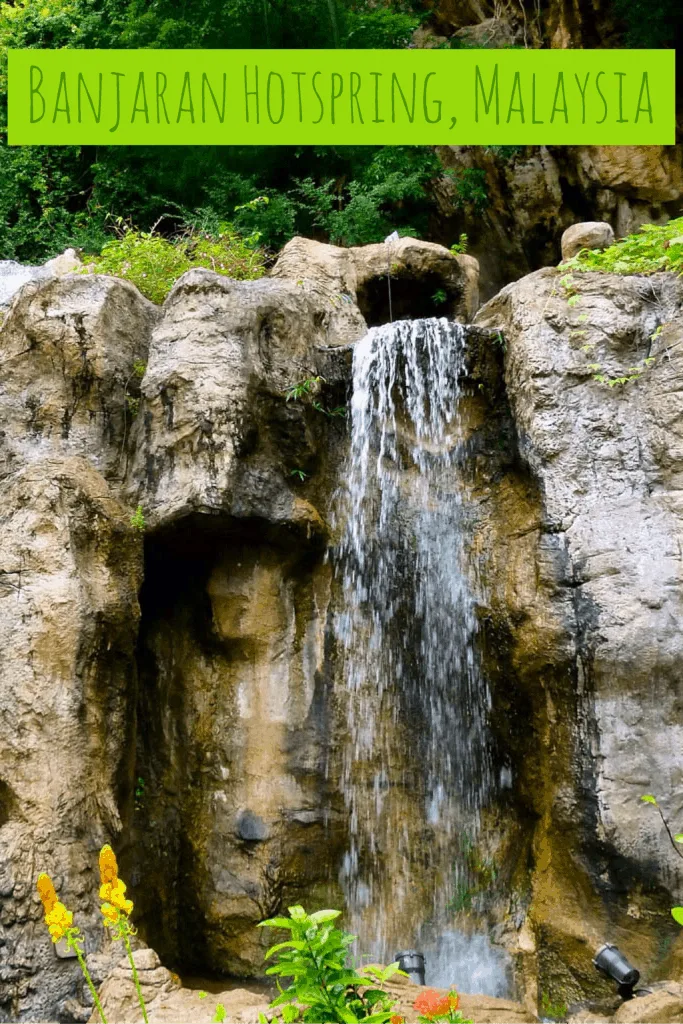 It was then that I felt his eyes on me.
The lush greenery had me enjoying this mystical place. The flowing waterfalls made tiny droplets of mist lightly land on my face; the smells were of the earth and that fresh grass-cut smell.
I continued down the path at half-past dusk alone, at least that is what I thought until I felt his eyes on me again. Then I thought I heard something, there was a noise close by.
Jungle Creatures in the Night
Something was in the brush above…
At the entrance of the grotto, I suddenly saw something that caught my eye, and I quickly grabbed my camera for half a shot, when there he was, staring at me from up in the mountain, and like a flash, he was gone.
Jeff's Cellar at Banjaran Hotsprings Retreat
I then decided to enter into Jeff's Cellar, where inside I would find literally hundreds of bottles of wine, that at one time were the owner's private collection in his private grotto but has now been open to the public as a bar and restaurant.
It is quite a unique experience to be inside this grotto, wherein the entrance, the walls are covered in rare hemispherical calcite, that resembles a field of mushrooms. The main room is filled with stalactites, stalagmites, and columns of limestone drippings.
The owner of Banjaran Hotsprings Retreat is Jeffrey Cheah, a Chinese billionaire that bought this land from the government for his family compound. He was born and grew up in Ipoh. It was here in the lands that are covered in an underground caving system, that as a child, he had visited here. At the time, his family would pay a small fee to enter the caving system for bathing. He came back to his hometown and turned his dream into an upscale destination. I believe he has accomplished his dreams and more, as this place is out of this world! I will let the photographs speak for themselves.
Banjaran Hotsprings Retreat Review
What: Banjaran Hotsprings Retreat. an all-villa property
Where: Ipoh, Malaysia
Tripadvisor Rating: #1
Logo: A place where every second is an experience!
Rooms: 25 Garden and Water Villas, with private personal pools and whirlpools of geothermal waters
Spa: The facility features 12 treatment rooms and is based on the fusion of three cultures that are present in Malaysia today: Mayla, Chinese, and Indian.
Price Range: Starting around $357/night based on double occupancy (they do have specials, so ask!) Although this is on the high end of luxury, with the facilities and numerous amenities included in the rate, it is a great value for a 'value luxury' traveler like myself, especially when it comes to wellness and spa. Children under 12 are not allowed due to the geothermal waters.
This resort and meditation spa is easily a short 2-hour drive from Kuala Lumpur, the major capital city of Malaysia, or 1 1/2 hours from Penang. It is truly a retreat to get away from it all and just relax and take it all in, although wi-fi is available! I recommend it whole-heartedly.
Recommended Reading:
If you enjoyed this article about Malaysia, then you may also enjoy these articles I wrote:
The Fabric of our Lives: Batik Art – Malaysia
Malaysia: The Golden Age of Shangri La
Disclosure: My stay at The Banjaran Hotsprings Spa and Resort was part of a trip sponsored by Malaysia Tourism, Tourism Authority of Thailand, and Thai Airways. Affiliate links are contained in this article.