Tulum Mexico has recently become one of the popular tourist destinations in the country. You can find it in the state of Quintana Roo which is part of the Yucatán Peninsula. This is a good spot for tourists since it is rich in history as well as natural attractions. In fact, travelers flock to Tulum to see the ancient Mayan ruins! Not only that, but the food scene here is amazing. And the beaches? Well, you'll find that they look and feel like paradise.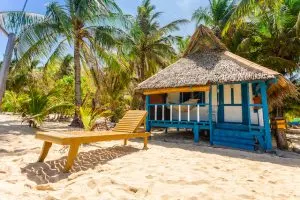 ---
What's in this post:
hide
How Do You Fly to Tulum Mexico?
Best Airport to Tulum
---
---
Are you wondering how to get to Tulum from Cancun Airport? The closest airport to Tulum is Cancun International Airport with a distance of 73 miles. This means that the travel time will take you one and a half hours by car. Aside from that, this airport also services Playa del Carmen and the rest of the Riviera Maya.
Getting to Tulum from Cancun International Airport
The good news is that there are several ways for you to get to Tulum. In fact, they vary in terms of cost and convenience. Regardless of whether you are looking for the cheapest option or not, you will not run out of choices.
That said, let's take a look at your transportation options from Cancun Airport to Tulum.
Private Transfer Service
The best transportation option for convenience is booking a private transfer. In fact, this is the most hassle-free option on this list. After all, you will have a private driver who will take you to your hotel in Tulum. This is the best option in terms of finances if you are traveling with a large group.
There are a few choices available if you opt for an airport transfer. You can grab a taxi at the airport that will take you to your hotel. Another is pre-booking your very own private driver. If you are willing to splurge on your trip, then you can also pre-book a luxury car.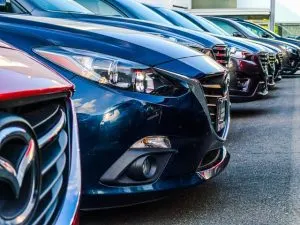 Regular travelers don't recommend getting a taxi at the airport. This is because you will need to haggle to get a good price. Aside from that, there is also the possibility of being scammed. If you want to avoid this scenario, then pre-book a private car service instead.
The regular rate when booking a private transfer is $120 for three people. You can save more if you book round-trip transportation. This will only cost you $225 for three passengers. As mentioned before, it is possible to indulge in luxury cars too. Whatever kind of private transport you are looking for, it is best that you book ahead of time.
Book a Rental Car
Car rentals are also available at the airport if you prefer to drive to Tulum yourself. This is a great option if you are thinking of going on a few day trips. With a rental car, you will be able to explore at your own pace. This is the kind of freedom that you will want to have while in Tulum. Just take note of the speed limit in each municipality to avoid getting a ticket.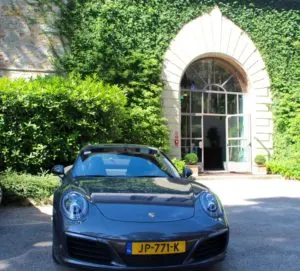 Of course, there is a downside to this and that is finding your own parking. If this is your first time visiting, you'll learn that parking in Tulum Beach is hard. You should check with your hotel first if they are offering free parking to their guests.
Aside from that, if you opt to rent a car, then someone will be the designated driver. This means that you will not be able to drink as much as you'd like. But don't worry, there is a way to get around this. The best way for your designated driver to have fun too is to take a taxi. This way, everyone gets to have fun at night.
Take note, however, that some car rental companies will scam you. They will insist that you purchase insurance. If you have credit card travel insurance or travel insurance before you head out, then there is no need to buy. The insurance coverage that you bought is enough for your trip.
Aside from that, make sure that you double-check the condition of the rental car. If there is any damage that you did not notice, then you might be scammed to pay for the repair. You don't have to stick with just one rental company. After all, there are several options to consider at the airport like Discover cars.
Take the Tulum Shuttle
Meanwhile, budget travelers or those who want to save money can opt for their shuttle service. A shared shuttle is cheaper compared to booking a private transfer or even hiring a taxi. However, it is a bit more expensive than riding ADO buses from the airport. You will have to pay $40 per person. What's great about hiring a shared shuttle is that they have a bilingual staff. This means that you'll find your driver easily.
What's the downside to this ride? The shuttle will have to make multiple stops along the way. This is because they will need to drop off the other passengers. What this means is that it will take some time before you reach Tulum. If you are in no rush, then this is not a bad option to consider. However, if you are staying in Tulum for a few days, you need to spend your time wisely. Consider renting a car or at least a private transfer service instead.
Aside from that, it is also possible to book a private shuttle. This direct service will take you to your hotel without having to stop multiple times. You should consider this option if you are traveling in a large group. This is because you will save more in the end. There are plenty of airport shuttles to choose from. You should check the best one that will suit your needs.
Take the ADO Bus
Another option to consider is taking the ADO bus Cancun. This public bus has direct routes from Cancun Airport to Tulum regularly. If you are really saving up on funds, then this is the cheapest way. The ADO bus company is the main bus company that serves Mexico. It serves the major towns throughout the Yucatan Peninsula.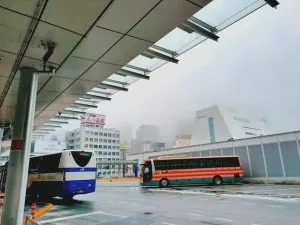 These large buses have air-conditioning which means that you'll have a comfy ride to Tulum. In addition, this is the only public transportation that you can take from the airport. Departure times from Cancun Airport to Tulum vary. The first thing that you should do is to check the schedule for their bus service.
Since buses leave the airport at regular intervals, it is possible to catch one when you arrive at the airport. However, if you arrive at night, you will need to look for other options. The exact time of departure will vary depending on the terminal. Verify the information prior to heading to Cancun Airport. An ADO bus ticket will cost you around $16.
In case you missed your bus to Tulum, there is another option for you. You can take a bus to Playa del Carmen and, from there, you can ride another bus to Tulum. Whichever route you choose, you can buy a ticket from the airport. Take note that the bus will not bring you directly to your hotel. You will need to get a taxi to take you there once you reach Tulum. However, they have the best price for transportation.
You will find the main ADO bus station in Tulum Centro. This is where you should head when going back to Cancun Airport. Check the time of day when the bus will depart so you can plan your trip accordingly.
Use the Colectivo
Aside from the ADO bus, there is another convenient option for budget travelers. This is actually the cheapest mode of travel since it will cost you $3. However, you get what you pay for. For starters, it will take you longer to reach your destination in Tulum. How long you ask? It will take around four hours at least.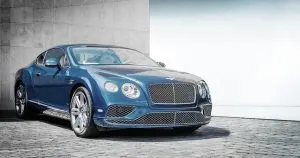 Take note that there is no direct Colectivo that will take you to Tulum when you are in Cancun. You will need to ride one to Playa del Carmen, then to Tulum. Another thing to keep in mind is that there is not enough space in a Colectivo. If you have luggage with you, you will need to hold on to it for dear life. I think you can already imagine how the trip will go if you choose this option.
If you have extra time or just want to experience what riding a Colectivo is all about then go ahead. However, if you want to get to your destination quickly, the best tip is to book private transportation instead.
Take a Taxi
This is probably the worst option if you are traveling from Cancun to Tulum. For starters, you will not find a local taxi at the airport. This is because they are not allowed to pick up passengers here. Cancun Airport cabs can operate if they pay a special tax. However, they will pass this to their passengers.
Not only that but some taxi drivers will charge you a higher fee. They will gauge you depending on how you dress or if they feel that it is your first time in Mexico. You might end up paying around $125. This is higher than booking a private transfer. Keep in mind that they will do their best to make you ride their taxi. If you don't want to be robbed of your money, then know your options before flying out.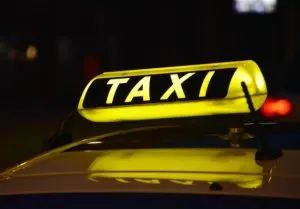 In addition, you need to learn how to haggle with your taxi driver. You will need to do this even before getting in. This is because most taxis don't have any meters. Sadly, there is no Uber or Lyft available in Quintana Roo. This means that you will have to look for other means to get around. It can be riding a bike or a moped or driving a rental car.
Flying to Tulum
There are no direct flights that will take you to Tulum at the moment. This means that the nearest airport is in Cancun. Aside from that, one of the major airports near Tulum is Cozumel Airport. However, the fastest way to get to Tulum is from Cancun Airport.
It is possible to go on a helicopter ride from Cancun to Tulum. However, you will pay the extra cost of $2,250 for a one-way ride to the beach town. This is good for four people already. However, the ride is just a short one at only 50 minutes. Still, you will get some impressive views of the Caribbean Sea.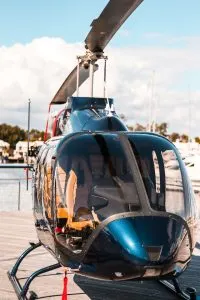 Also, there is a limit to the amount of luggage that you can bring. This is because of the weight restrictions. It is not surprising that this is not the most efficient method to reach Tulum town. However, if you want to splurge on your trip, then why not book a helicopter tour?
Tulum's New International Airport
Good news fellow travelers! A new airport will soon rise in Tulum. According to the President of Mexico, Andrés Manuel López Obrador, aside from the airport, the Maya Train project will be done at the same time too. The up-and-coming Tulum airport will be near Coba. It is set to offer international flights in the hopes to attract more US travelers. Domestic flights will also be available here. This will help connect travelers to the rest of the towns in the country like Mexico City.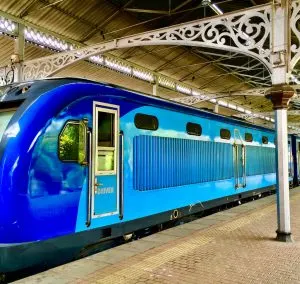 In addition, the Maya Train will also have a station at the airport. However, this project has hit some speed bumps recently. This is because some hoteliers are complaining about the proximity of the train to their hotels. However, if this project pushes through then it will benefit locals and tourists alike. After all, the train tracks will run up to 1000 miles. This makes archaeological sites more accessible to tourists.
Aside from that, the military will also operate in the airport. Military engineers have joined the construction of the train station. They are helping speed up the project. It is exciting to see how this new train system will improve the economy in this area of Mexico.
How Far is Cancun from Tulum?
Since there is no airport yet in Tulum, tourists will have to head to Cancun first. How far will depend on where you are in Cancun. Take a look at the distance below.
From Cancun Airport
As mentioned before, the distance is 73 miles away. It will take an hour and a half drive to get to Tulum.
From Downtown Cancun
If you are in downtown Cancun, then the distance is 81 miles. Travel time is an hour and forty-five minutes.
From Cancun Hotel Zone
Meanwhile, if you are staying in a hotel in Zona Hotelera, the distance is 85 miles. You will have a longer travel time which is 2 hours.
Getting to Tulum from Cancun
The next question is how to get to Tulum from Cancun. Here's a detailed guide that you can follow on your next trip.
From Cancun Hotel Zone
For tourists in the Hotel Zone, you will need to take a taxi to downtown Cancun or directly to the airport. This is because there's no ADO bus terminal in the Cancun beach area. You can ride the bus to Tulum from downtown or from the airport. Another option is to go on a road trip to Tulum. You can do this by booking a rental car and driving yourself to Tulum.
From Downtown Cancun
One of the best things about downtown is that there are three bus terminals here. However, you will want to head to the main bus station if you are going to Tulum. You will find it at the roundabout on Calle Pino. This is the best place to get on a bus to Tulum. They have the cheapest ticket prices here compared to Cancun.
You can also ride a Colectivo if you want to stretch your funds. However, you will need to take one to Playa del Carmen. From there, you will ride another one to reach Tulum. You will find the Colectivos in front of the ADO bus station in Cancun. Although they have different prices, the average is 100 MXN or around $5.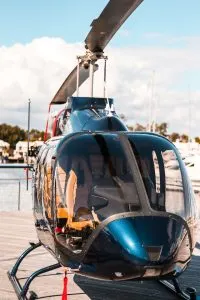 Cancun or Tulum – Which One is Better?
It's really hard to decide which of the two is better. It will all boil down to your preferences, for sure. These two towns have the same beachfront estate. However, the difference between the two is their vibe.
Cancun is perfect for tourists who want to relax, swim and enjoy eating. In fact, this town gets crowded during the high season. You will find several all-inclusive hotels and resorts to stay in here. This town has a solid tourism infrastructure that sets it apart from Tulum.
Meanwhile, Tulum has its own set of inclusive resorts. Aside from that, it is best known for being rich in culture. In fact, there are lots of places to visit here. For starters, this small town is near ancient Mayan ruins and cenotes. Some of these cenotes are near the main road which makes them easy to access. You can go hiking up the pyramids or swim in the natural pools of the cenotes.
Conclusion
Whenever you visit a new place, it is always a good idea to do your research. Of course, you should start considering where you are going to stay. If you want to be near pristine beaches and inclusive hotels, then Cancun is for you. On the other hand, if you want to see more than the beaches, then Tulum is a good option. You will need plenty of time to see the best of these two cities.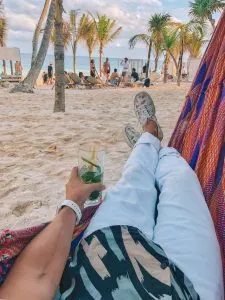 If this is your first time visiting, check local agencies if they offer tours. Most of their websites will have affiliate links that can show more choices. You can book a tour even before you fly out using your credit cards. This way you don't have to worry about finding a tour when you arrive in Cancun.
Tulum is the perfect destination for those who want to relax and explore. As mentioned before, there are plenty of tourist attractions here that you don't want to miss. The best part is that you will not run out of activities to do here. In fact, you should plan your itinerary before heading out. This way you will not miss out on anything.