Guatemala is one of those countries that has a healthy mix of travel options for everyone. In fact, it is known for being one of the cultural hotspots in Central America. Aside from that, Guatemala ranks 67th on the list of most populous countries in the world. The capital of Guatemala, which is also the largest city, is the Nueva Guatemala de la Asuncion or Guatemala City.
---
What is Guatemala Known For?
Ten Things the Country Does Best
---
---
Spanish is the official language of the country and they recognize Quetzal as their currency. There are four countries bordering Guatemala and these are Honduras, Belize, El Salvador, and Mexico.
Guatemala boasts colonial architecture as well as cobbled streets of Antigua Guatemala all the way to the Mayan ruins of Tikal. Although this is a small country, it does pack a punch. When it comes to the activities and tourist attractions that travelers can enjoy. For starters, the small towns located on the highlands and along the coasts offer unique cultural experiences. Aside from that, there are active volcanoes, tropical jungles, mountain lakes, and cloud forests waiting for nature lovers. Guests who head toward the country's coasts will find pristine beaches. And stunning blue waters to relax on and swim in. In addition, there are several markets where local products and produce are available.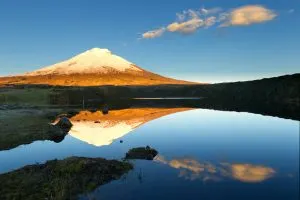 If this is your first time visiting Guatemala, you are in luck. There are several things that this country is known for that you should know.
Top 10 Things that Guatemala is Known For
Guatemala is one of the best places to visit in Latin America. It has a rich culture evidenced in the colonial structures still standing, and towns that seem to remain in the past. It doesn't matter what kind of adventure you are looking for. You will find something enjoyable to do in this country. In fact, one of the best things that you should do before heading here is to make an itinerary. This will help you discover what this country is best known for.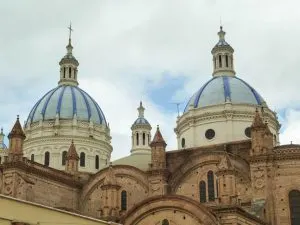 If you are not sure where to start, here is a compilation of what Guatemala is well-known for. You can use this as your guide on your trip to this amazing country.
Sightseeing in Antigua
Antigua is actually a great starting point when exploring the country. Known to be the former capital of the country, Antigua now offers guests a glimpse of its historic past. An earthquake struck the city back in the days that destroyed plenty of colonial buildings. It was then that the government decided to move the capital to what is now known as Guatemala City.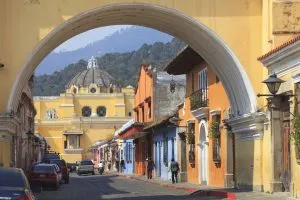 On a good note, the former capital is a great place to go sightseeing. In fact, among the colonial architectures that are still standing here are the Iglesia de la Merced and the Santa Catarina Arch. There is also Cerro de la Cruz. Which is known for being a hilltop viewpoint.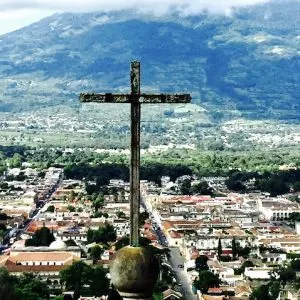 In addition, the Ruins of Santa Rosa, the Ruins of the Church of Candelaria, and the Capuchins Monastery give guests an idea of the former glory of the capital. Their ruins show the devastation of the earthquake that struck it back in 1773.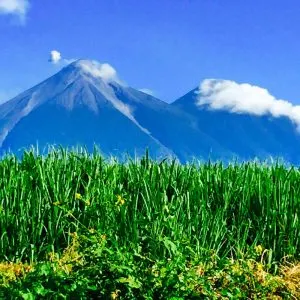 Guests can also head to the local market to get fresh produce for a cheap price. You can also relax at Central Park or make your way to the Chocolate Museum. Explore the ancient city on foot to admire the stunning buildings at your leisure.
Explore the Stunning Lake Atitlán
Another thing that Guatemala is best known for is Lake Atitlan. Not only does it boast of natural beauty, but it is also rich in Mayan culture. Aside from that, it is also the deepest lake in the country. In fact, it is one of the most beautiful lakes that you will find in the world. It is not surprising why visitors tend to spend time here. Lake Atitlan lies in the high country. It is just less than two hours away from the capital and about an hour's drive from Antigua. The lake sits on a volcanic crater surrounded by volcanoes and rolling hills. Aside from that, the villages along the coast of the lake can only be accessed via boat.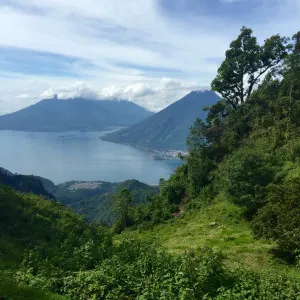 The main entry point in Lake Atitlan is Panajachel. Here you will find plenty of street vendors hawking their wares along the main street. Once you have your fill of the village, ride a water taxi to explore other villages. Among these are Santiago Atitlan, San Pedro, San Lucas Toliman, and Santa Catarina. There is also Santa Cruz and San Marcos to name a few. Each of these villages has something unique to offer its guests.
Aside from that, the lake itself offers plenty of activities. This includes paddle boarding, cliff jumping, swimming, and kayaking to name a few. You can even go zip lining at the Nature Reserve for an adrenaline-rushing experience. Outdoor lovers can hike up one of the three volcanoes on site. If you want to see the sunrise, hike up Indian's Nose early in the morning. This will give you a spectacular of the sun rising. You should spend at least three days here to fully appreciate what Lake Atitlan has to offer you. For sure, you will want to extend your stay here.
Shopping at Chichicastenango Market
One of the top things that Guatemala is best known for is hosting the largest market in Central America. Chichicastenango, or Chichi, is a large town surrounded by majestic mountains and valleys. Its cobblestone streets come alive on Thursdays and Sundays for its market. Also known as the locals' market, this is where you will find a plethora of local handicrafts sold at reasonable prices. Here you will find vendors selling fresh produce, everyday goods, and even a wide array of textiles. Vendors from different towns set up shop here during market days which is why it gets crazy on Thursdays and Sundays.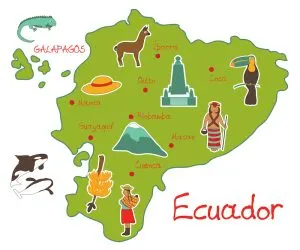 In fact, you should ready your wallets because you will not be going home empty while you are here. Aside from the ready-to-eat meals and produce, the market is where you can buy souvenirs too. Every bit of clothing, wallet, and handbag makes use of delicate threads woven into sturdy items. It's hard not to feel impressed with the way the locals make their products. And since this market is where vendors from nearby towns go to sell their wares, it is the perfect place to do some shopping.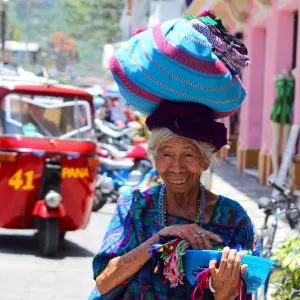 It is best to come here early in the day to explore the area. This way you will not miss out on anything. In addition, since there are food vendors here, you can stave off your hunger by sampling the local cuisine. How cool is that?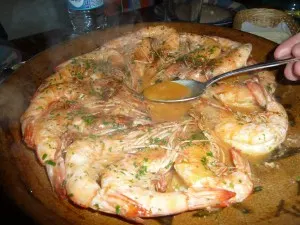 If you are staying in Lake Atitlan, the Chichicastenango Market is the perfect place for a day trip. After all, it is just 1.5 hours away by bus. Meanwhile, the travel time from the capital to here is 3.5 hours while from Antigua, the bus ride will be 2.5 hours.
See the Ancient Mayan Ruins of Tikal
Tikal is one of the most popular places that you will find in Guatemala. In fact, exploring this area is the best way to learn about Mayan culture. After all, it is one of the greatest archaeological sites that you will find in Central America. However, you should keep in mind that this area is a little out of the way from the rest of the tourist attractions. You will need to make an extra effort to reach this spot but it will be worth it.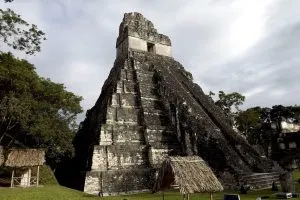 Although it is not as popular as the ancient ruins of Chichen Itza in Mexico, the Maya ruins of Tikal are still a sight to see. The best part is that it will not be as crowded as the others. There are more than 3,000 structures that still stand here. From pyramids to plazas to temples, the ruins showcase the grandeur they once had. In fact, it was one of the most important urban centers during the Mayan civilization.
Today, it is one of the largest ancient Mayan archaeological sites that are still standing. This is why it is a UNESCO World Heritage Site. You can explore Tikal with or without a local guide with you. But if you want to learn more about its history, hiring a guide will be useful. You should bring ample cash with you during your trip here, and bring your own food and water too. In addition, you should also have your passport with you because you will need it when buying a ticket to the Tikal National Park. Take note that there are plenty of monkeys here from spider monkeys to howler monkeys. Afterward, make your way to Lake Peten Itza which is nearby.
Visit Semuc Champey
Colonial towns aside, Guatemala also boasts of the natural wonders of Semuc Champey. It lies in the heart of the jungle where you will find a series of natural pools filled with crystal clear waters. Aside from admiring this stunning view, guests can have fun splashing in the waters too. Getting here is a challenge even when using local transport. After all, it is in the middle of nowhere. Even if you are going to take a shuttle bus from Rio Dulce, Antigua, or even Lake Atitlan, the travel time will take 8 hours at least. What's more, the roads leading here are a bit bumpy and rough too.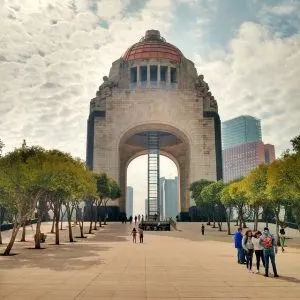 Shuttle buses will take you as far as Lanquin which is the closest town. From here, you can take a public bus to Semuc Champey. Locals will recommend that you stay in the nearby hostels so you can access the pools anytime you want. There is an entrance fee of Q50 to get into the pools. Once you are inside the park, you can hike up to the highest point to see some spectacular views.
Aside from that, you can also go sunbathing or swimming in one of the pools. You can book a guided tour here to get an extra perk which is tubing down the river of Cahabon. For a fee of Q75, you can explore the caves nearby. You can access these caves if you opt for a guided tour. If you don't want to spend your money on overpriced food, then bring your own. Although hostels nearby do have their own food, it is still best to bring your packed food for this trip.
Surfs Up at El Paredon
If you want to take a break from exploring Guatemala's colonial cities, then why not head to the coast? In fact, you can take chicken buses to the small town of El Paredon and stay in one of the cheap hostels by the beach. There is not much to do in this town except immersing yourself in the beauty of the waters. In fact, spending your days lazing around the beach or doing water activities is a great way to unwind. Aside from that, one of the fun things that you can do in El Paredon is to go surfing.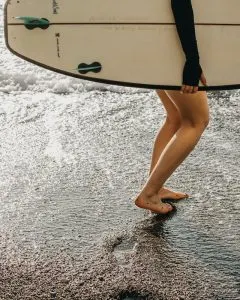 Thanks to its location on the Pacific Coast, there are plenty of decent-sized waves to catch here. Aside from that, beginners can take up surfing lessons here too. There are surfing schools in the town where you can borrow gear and even learn how to surf. Since this coast is facing west, you will be treated to some of the best sunsets in the country. Make sure that you keep your camera at the ready so you can catch the sun setting on the horizon.
What else is there to do here? How about turtle watching? That's right, El Paredon is a favorite birthing place for many turtles. In fact, the best time to visit is from June to November. These are the ideal months to see turtle eggs hatching on the beach. It is such a treat to see these baby turtles making their way into the open ocean. Whether you want to soak up the sun, swim in the ocean, or see baby turtles, El Paredon is a great place to add to your itinerary.
Hike Up Pacaya Volcano
Thinking of going on a volcano hike? The good news is that there is no shortage of volcanoes in Guatemala. In fact, one of the more popular ones is Pacaya Volcano. It is near Antigua making it a great addition to your itinerary. Rising to 2,550 meters above sea level, this volcano is tall in its own right.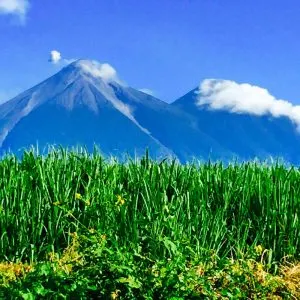 Hiking here will require you to get a local guide. This is because Pacaya is still an active volcano which means that it still spews ash, lava, and rocks. The best time to hike here is in the afternoon. This way, you will reach the highest point at sunset. From this vantage point, you will see the volcano's action up close. You will need to bring a flashlight with you since you will be hiking back down in the dark.
On a good note, the trek up and down the volcano is not strenuous. However, the terrain can be a bit sandy so make sure you wear the right footwear. If you want to reach the top with minimal effort, you can go horseback riding. Also, there is an entrance fee of $7 plus an extra if you want to hire a guide. On the other hand, you can join the main guided tours from Antigua. This will include the entrance fees and transportation here.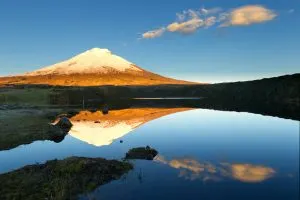 You don't need to bring any camping gear here because it is going to be a short hike, In fact, the entire trek can last between 4 to 6 hours depending on how fast you can walk. Also, bring a light jacket with you since it can get chilly at the top. Aside from that, you will get to experience roasting some marshmallows over some lava! You can also visit the hot springs nearby after.
Birdwatching in San Juan la Laguna
Just like San Pedro la Laguna, San Juan la Laguna is one of the small villages off the shore of Lake Atitlan. In fact, visiting places off the beaten path is a great way to learn more about local culture. The local people are more than happy to show you around, starting with where you can stay. Afterward, they can show you the different activities that you can do in their town.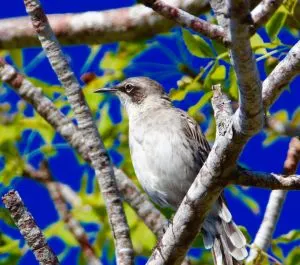 One of the most popular activities here is birdwatching. You will need to wake up early in the day to start your hike to Mirador La Cruz. Your local guide will point to you all the native bird species in the area which you can view using your binoculars. What's great about this trek is that you can stop anytime you want to observe the trees.
Although this is a short hike, you will see dozens of birds along the way. Aside from that, there are some amazing views at the top which is another treat. Listening to your tour guide talk about the different bird species here will make you want to learn more about them. It is always interesting to listen to those who are knowledgeable about their place when in another country.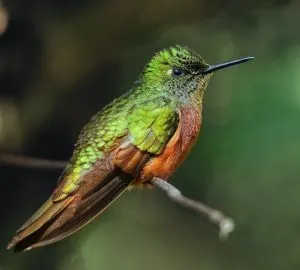 Guatemalan Festivals
The beautiful country of Guatemala is also known for its festivals. This Catholic-rich country is proud of its history and the rituals included in its religion. In fact, if you are thinking of visiting here, you should time your trip to one of their festivals. The first one is Semana Santa or Holy Week. This is a big deal to many Catholics across the globe. After all, this is the season when they recall the hardships of Jesus Christ. Processions happen in and around the city of Antigua during this week. You can join the procession as it snakes around the city to the church, or enjoy it on the sidelines.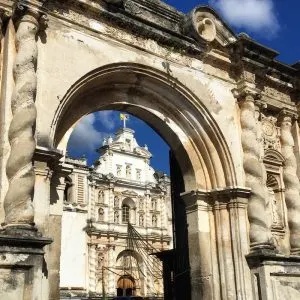 Second is the Dia de los Muertos or the Day of the Dead. This is one of the highlights of Guatemala as the country transforms itself with striking colors, delicious food, and great music. After all, this is the time when they celebrate the lives of their dearly departed. Locals set up colorful altars in their homes, string banners all over the city, and more. In fact, guests are often welcome in their homes to join their celebration. This is also the time when they visit the cemeteries to reminisce about their loved ones. You should experience this event here at least once in your life. It is just too amazing to pass up.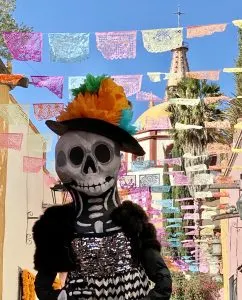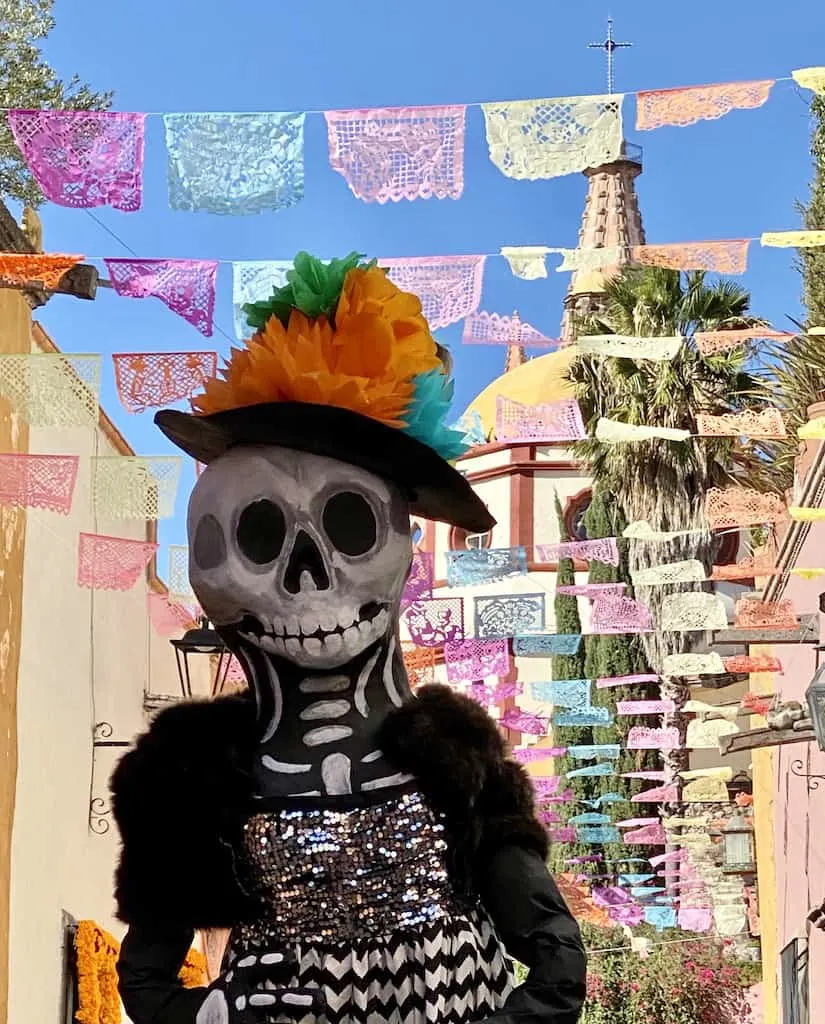 Sample Guatemalan Cuisine
What else is Guatemala good at, you ask? Well, their food is actually amazing! In fact, their cuisine is quite rich as their history that you should make it a point to know more about it. For example, did you know that corn is a staple in their meals? They use it to make flour for their tortillas. You will find that they serve their dishes together with a plate of tortillas whether you ordered something fried or with soup. They even serve tortillas with black beans and rice on the side.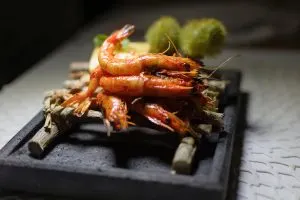 In some cases, they use corn dough to make tamales. There are different variations of this dish depending on the town you visit. However, the base is usually corn dough. Even when you buy street food, you will find those street vendors still use corn flour to make their tortillas. There are plenty of dishes that you should try while you are in Guatemala.
Among these is Pepian which is the country's national dish. Another is Topado. This is a spicy stew that has a good helping of fish, coconut, bananas, and cilantro. Take note that the locals rely heavily on meat. However, it is still possible for you to find vegetarian options. Meanwhile, if you are looking for the best coffee, then you are in luck. Guatemalan coffee beans are one of the best in the world. You can find out more about them by visiting the coffee plantations in the country. This way not only will get you inside information about them, but you can also buy coffee directly from them.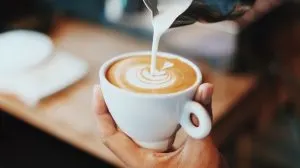 What Else is Guatemala Known For?
Guatemala is a famous place in South America which is not surprising. Aside from being a beautiful place, it also has plenty of attractions to offer. In fact, this country is also known for the following:
Learning Spanish
What better way to immerse yourself in local culture than learning their own language? There are plenty of Spanish schools here where you will be tutored one-on-one. This is one of the best things that you can do here because you will be able to communicate with the locals. Armed with basic knowledge, you can ask for directions and read street signs better.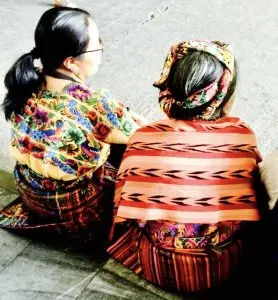 El Mirador
Aside from the ruins at Tikal, another archaeological site near Flores is El Mirador. Although this is not as tall as the pyramids in Giza, it is still a sight to behold. You will need to go on a long trek to reach this place. It may not be as popular as the ruins in Tikal, but scientists have flocked here ever since.
Xela (Quetzaltenango)
As was mentioned before, Guatemala has plenty of volcanoes for you to hike. Among them is Santa Maria which is near Xela. This is one of the many active volcanoes here which is why you need a local guide with you. Most hikes begin at the edge of Xela. The hike here can take up to five hours at least, but worth it once you reach your destination.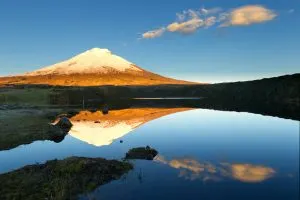 Historic Buildings
Colonial architecture is part and parcel of Guatemala. In fact, one of the colonial buildings that you should see is the National Palace. This was once the seat of power but as the years progressed, the building was transformed into a museum. In fact, this is a good place to visit to learn more about the country's interesting past.
Chicken Buses
Guatemala's public transport is one of the things that they are good at too. What's great about it is that there is no shortage of transportation. In fact, one of the popular rides that you can try here is the chicken bus. The name is a bit funny, but in fact, these are old American school buses that were turned into local buses here. You will need to be quick when catching this bus because the driver will not wait for you to get seated before driving away.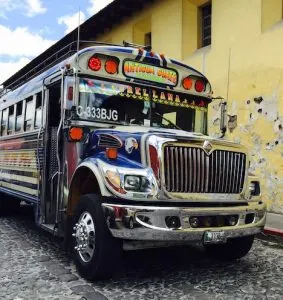 Black Sand Beaches
You will not find any black sand beaches on Guatemala's Caribbean Coast. They are also on the Pacific side. In fact, Monterrico is where you should be heading if you want to see volcanic black sand beaches.
Conclusion
Guatemala has much to offer travelers from all walks of life. With flights available from different countries like Costa Rica, the United States, and others, it is accessible to everyone. The country is rich in culture and tradition and immersing yourself in them is going to give you a unique experience.
From meeting indigenous people thriving off the beaten paths, to exploring ancient Mayan ruins, you will be amazed by its history. Of course, you can go on boat tours around Lake Atitlan to see the different towns along the coast. You will be surprised at what you can pick up from each of the towns here.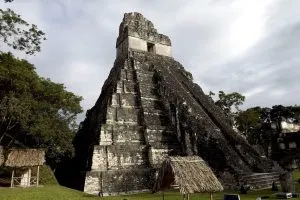 Aside from that, Guatemala also has the biggest vendors' market in Central America. Just imagine seeing vendors from different parts of the country gathered here. From textiles painted with natural dyes, to handcrafted accessories, and fresh produce, you will need to have money with you when exploring this market. Guatemala is not shy when it comes to opening its history to tourists. In fact, you will get the opportunity to walk through it when you visit Antigua. The former capital is home to several colonial structures that withstood an earthquake. Walking on its cobblestone streets will transport you back to the past.
Of course, no trip to this country will be complete without trying their food. Guatemalan cuisine is as colorful as its history. In fact, you should be willing to try their offerings when you can. Regardless of whether it is street food or a dish from a local restaurant, you should give it a try. I, for one, love to sample local dishes. After all, they give me a bit of understanding of how the locals enjoy their food. This is just the tip of the iceberg when it comes to Guatemala.