Antigua Guatemala, the "land of eternal spring" is one of Guatemala's most popular iconic cities. It is culturally rich and filled with Spanish Baroque architecture and decaying colonial cathedrals. It is literally a museum of Spanish Colonial history. The vibe of this city comes to life with its vibrant color palettes and bustling markets and cafes.
---
What's in this post:
hide
Things to do in Antigua Guatemala
---
---
As I walk the patchwork of concrete, stone, and cobblestone streets and see the famous Arch of Santa Catalina, I was mesmerized by the history before my eyes. In this article, I will outline for you the many things to do in Antigua, as well as how to get there, the best time of year to go, recommended shops, markets, and landmarks to visit, and places to stay (and eat) along the way.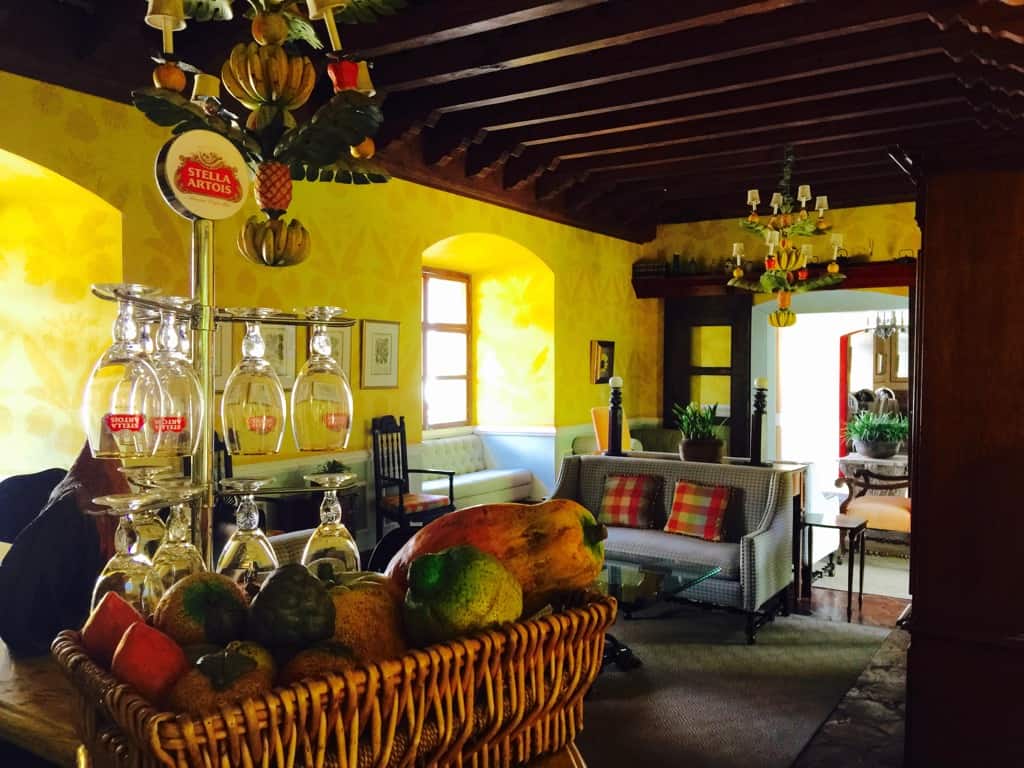 Founded in 1524, earthquakes and an avalanche buried Antigua until 1542. After the city got restored, it quickly became a flourishing place. It was once the capital city of Guatemala, but due to its earthquake destruction again in 1773, the new capital was moved to Guatemala City. Unfortunately, earthquakes, volcanic eruptions, and flooding caused serious damage to Antigua in the late 18th century.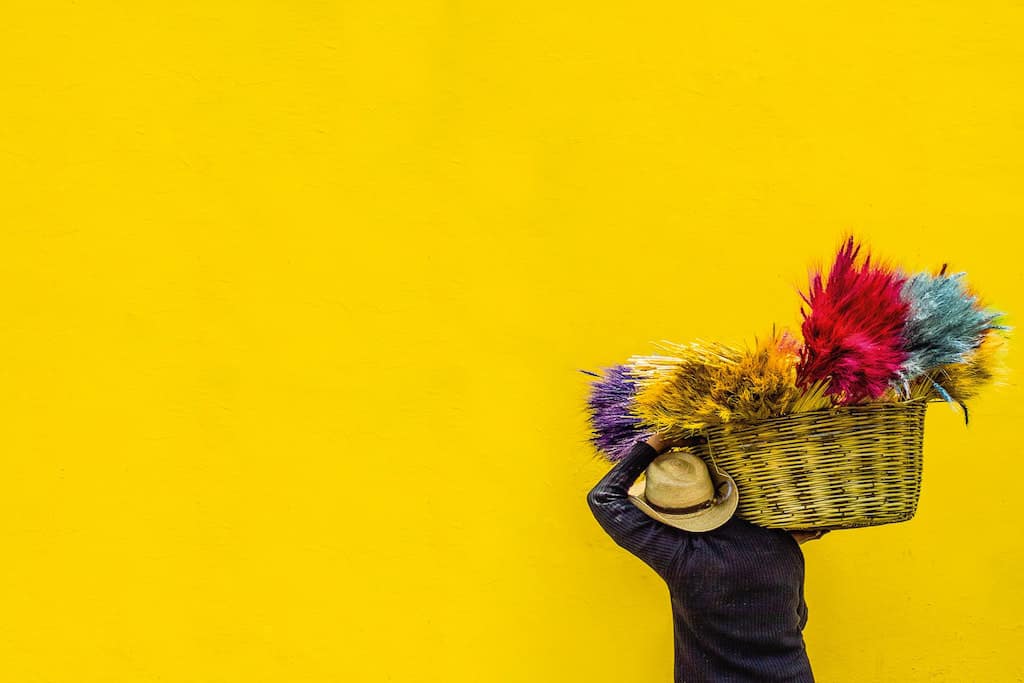 Today, Antigua serves as a cultural, economic, and religious center for most Guatemalans. It has many UNESCO World Heritage sites, markets, cafes, and monuments spread throughout the city. It is also a hub for tourism, and commerce, and has an affluent coffee-growing region in its midst. In fact, around every pastel-colored corner of Antigua, I think you will find another surprising convent, many stunning churches, or even incredible landmarks that each have their own story to tell you.
So perk up your ears and listen to "old Guatemala", as she has a story to tell! For me, this city is infectious as it hums along with life from the past to the present. It is a living relic from Guatemala's bygone eras.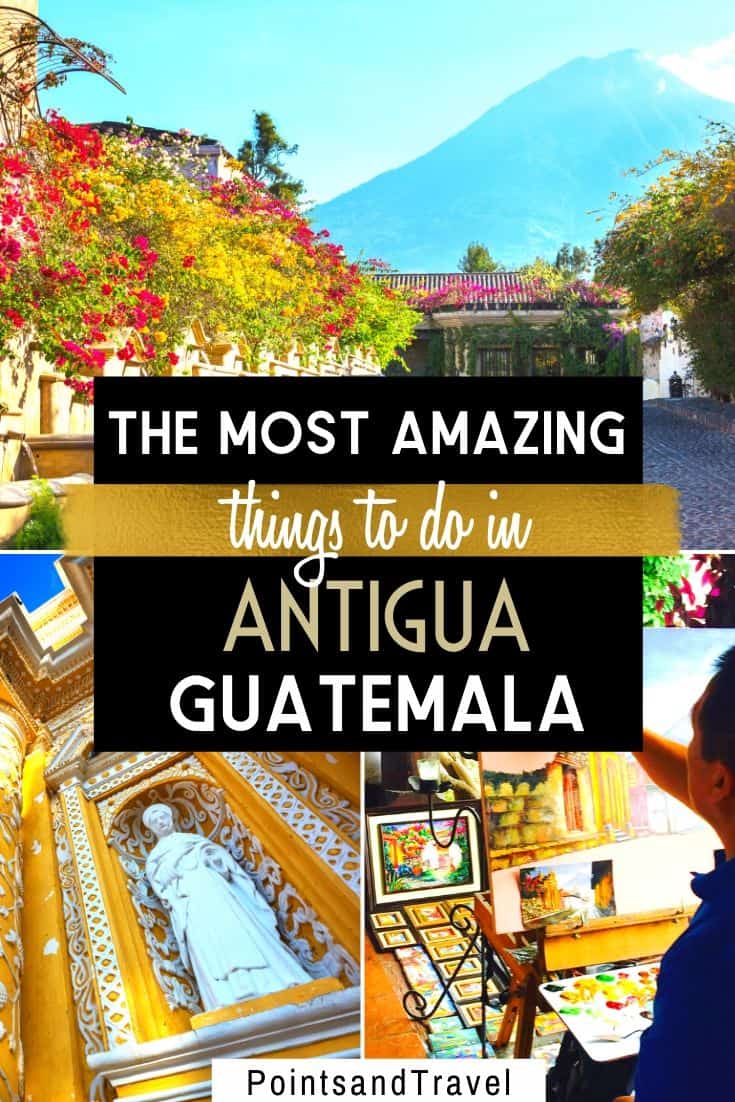 How to get to Antigua
Airport: The La Aurora International Airport is the closest airport to Antiqua. Antigua is a mere 45 minutes from the capital city of Guatemala City and it is easy to get to Antigua from there. This airport is located roughly 4 miles south of Guatemala City and 16 miles away from Antigua. Flying at this airport is the best way to get to Antigua.
Shuttle Bus: There are several modes of transportation to choose to get from this airport once you arrive. Shuttles, rental cars, Uber, taxis, and private buses are all available. They run from all over the country, and I got to Antigua for 140 Q, but you can get it for around 125 Q. Traveling in Guatemala is much easier in the morning because there is less traffic.
Chicken Bus: I assume you would be able to get chicken buses from Guatemala City to Antigua, but I honestly didn't see many. But chicken buses don't have air conditioning. So I think it's worth just getting an organized shuttle bus or uber. Plus they are easier to get around.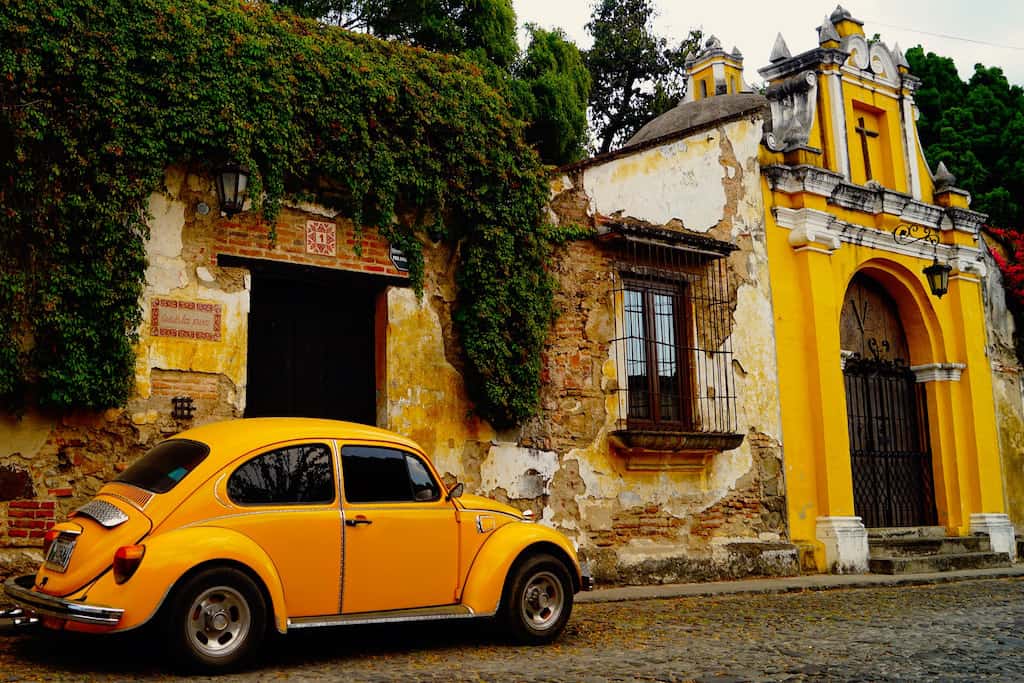 ---
Bonus Tip: If your flight arrives at night, I recommend booking a hotel for the night to avoid traveling during this time. Also, choose private transportation when possible.
---
Best Time of Year to go to Antiqua
Put me on a plane to Antigua between January and May and I'll be one happy traveler. These months are the peak season of Antigua because they offer plenty of warm days, lots of sunshine, and low precipitation. Tourists can plan out their days much easier during these months because most tourist attractions are open for longer periods.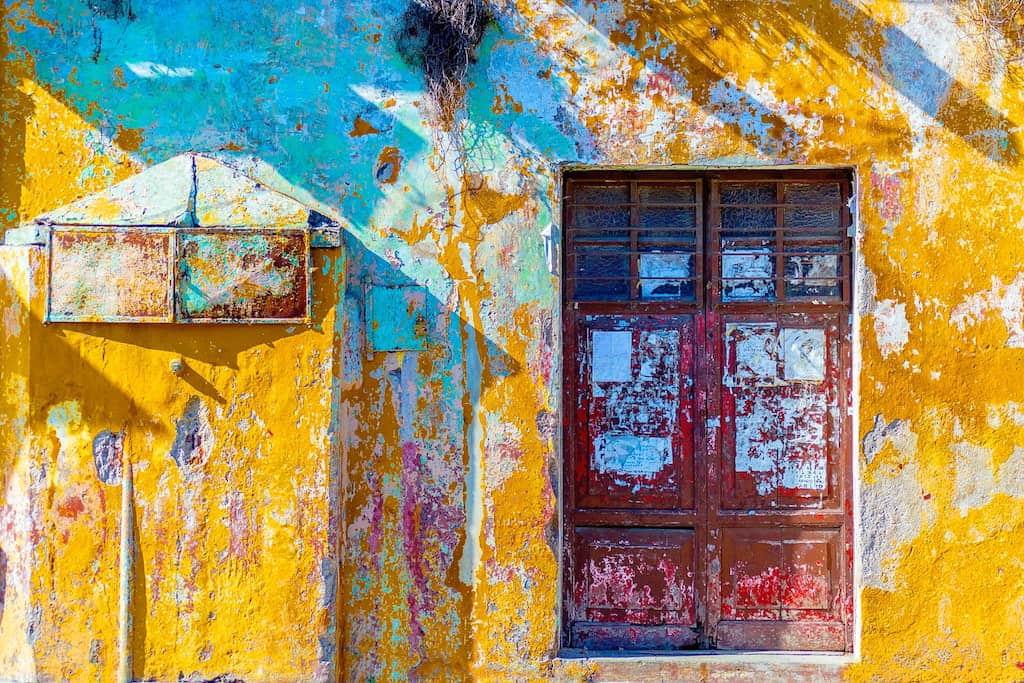 ---
More Reading about Guatemala here:
Antigua Things to do:
There are many things to do in Antigua and lots of awesome things to see in one of Guatemala's most beautiful colonial cities. So let's check out the most spectacular sites in Antigua.
Admire the Colonial Architecture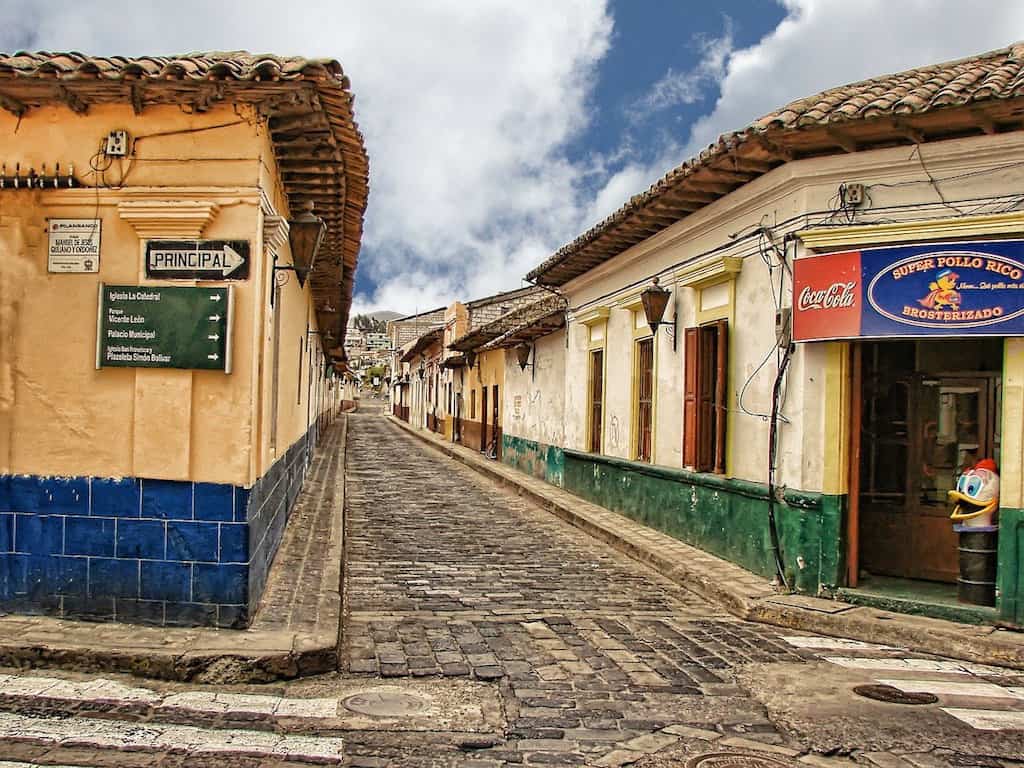 If there is one thing I love about towns like Antiqua, it is the colonial architecture. I simply love a town that looks like it has been imported from some faraway place in Europe. And Antigua is no different. I could walk these cobbled stone streets for hours and appreciate Antigua's most well-preserved buildings.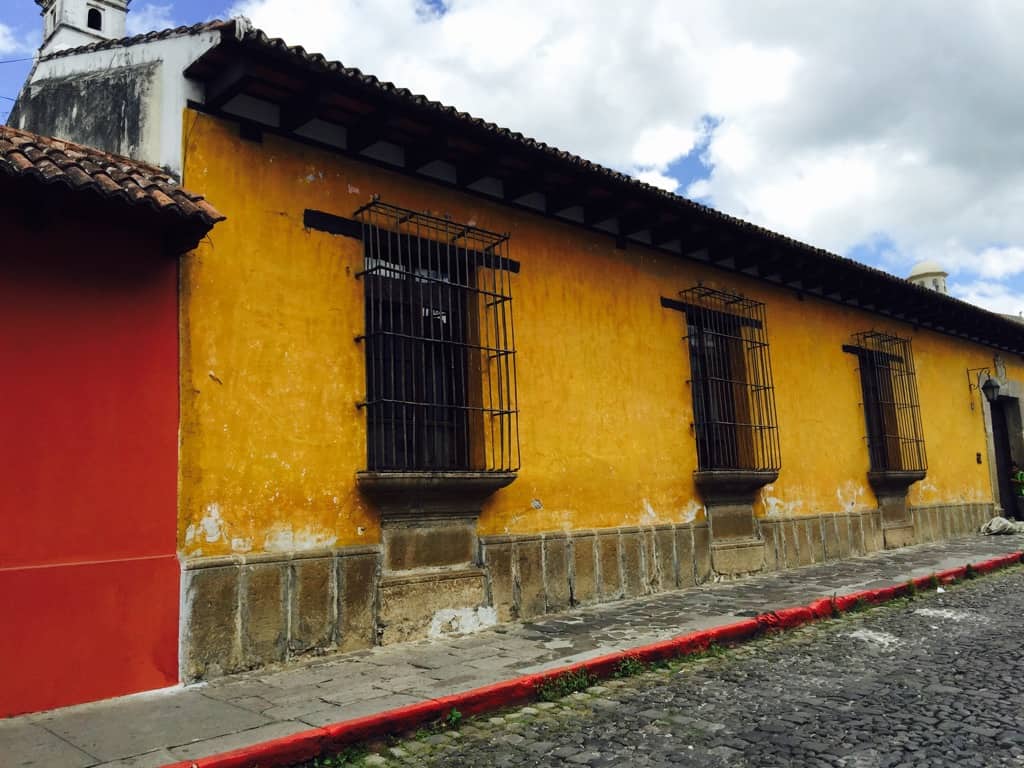 I love waking beneath 17th-century stone arches with some of the most gorgeous pastel colors I have ever seen. I always feel like I am constantly taking a photograph around every corner because I just can not get enough of Antigua's beauty. I love the Baroque-inspired architecture of the grand Plaza Mayor and couldn't wait to get a photo of the Arch of Santa Catalina, Antigua's quintessential structure.
The Arch of Santa Catalina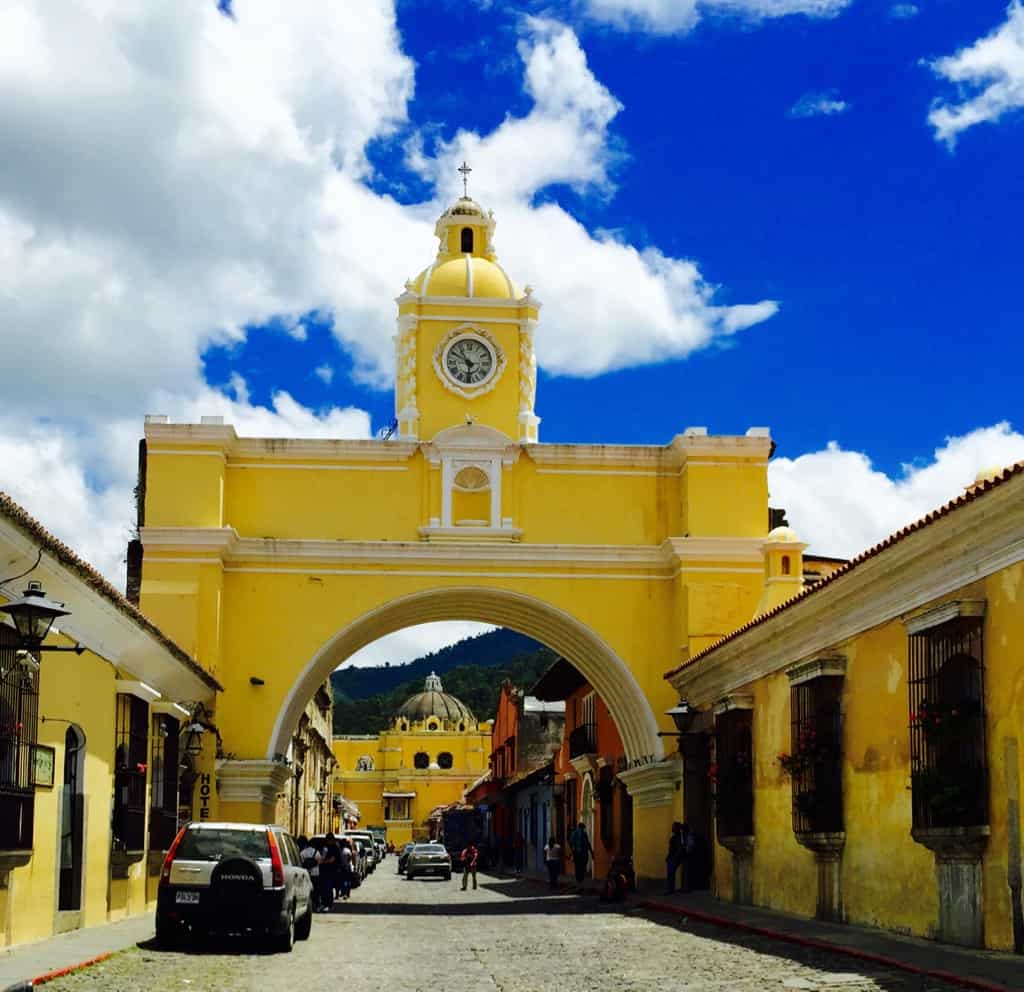 One of Antiqua's most iconic and loved landmarks is the Arch of Santa Catalina. This arch was built in 1695 as a passageway to get from a convent for nuns on one side of the street to pass to the other side without walking on the street. Perched above a cobblestone street, the clock tower was added in the 1930s.
This is the most iconic area of Antigua. When the sky is right, you can get a picture of the arch with Volcano Fuego in the background perfectly. This symbolic piece of Antigua stands in front of the looming Volcano, Volcan de Agua, and two other smaller volcanoes in the distance.
There are "professional" photographers there who can take your picture for you. if you like.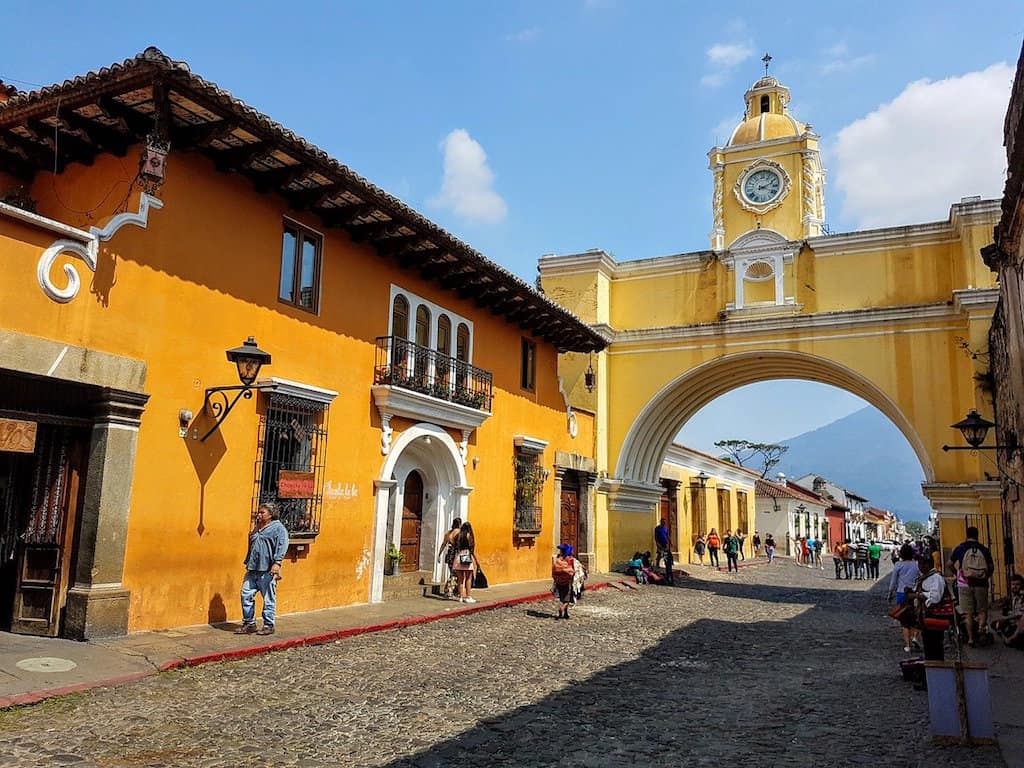 The stunning clock and vibrant yellow stone of the arch help visitors easily spot this famous Antigua landmark. To see this arch without many visitors though, be sure and get up early and take your camera! The street in which the arch is located is closed to parking cars during the weekends.
Cerro de la Cruz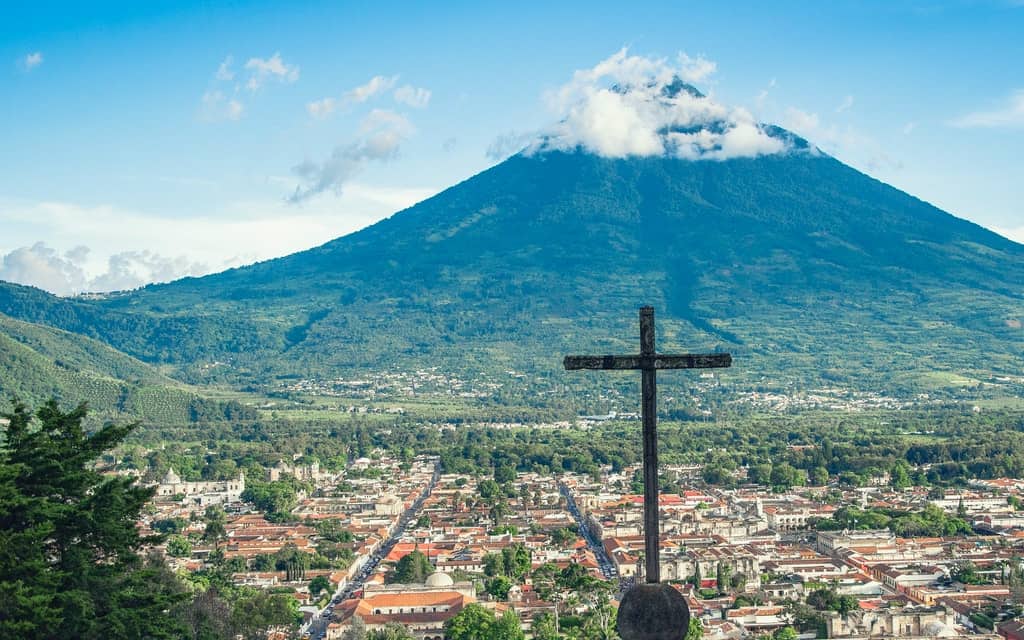 If you want the best view in Antigua, then look no further than the "Hill of the Cross" or Cerro de la Cruz. From this viewpoint, you can take in the stunning city of Antigua including Volcan Agua. The cross at the top of this hill is a symbol that is devoted to Saint James, the city's patron saint. Since the city was founded on the day of Saint James (which is July 25th, 1524) then each year the city celebrates him with a feast. Be prepared when you go, as it is a thirty-minute walk up the hill, and be sure and bring your camera to get that perfect shot.
The Central Plaza Park
The Central Plaza is the oldest park in the city and it is a great place to meet locals and for people watching. This park was designed as a social gathering place because it lies within the city center. This park allows easy access to public transportation, fountains, buildings, and cathedrals. However, it is probably not the best place to be at night. So keep your valuables close!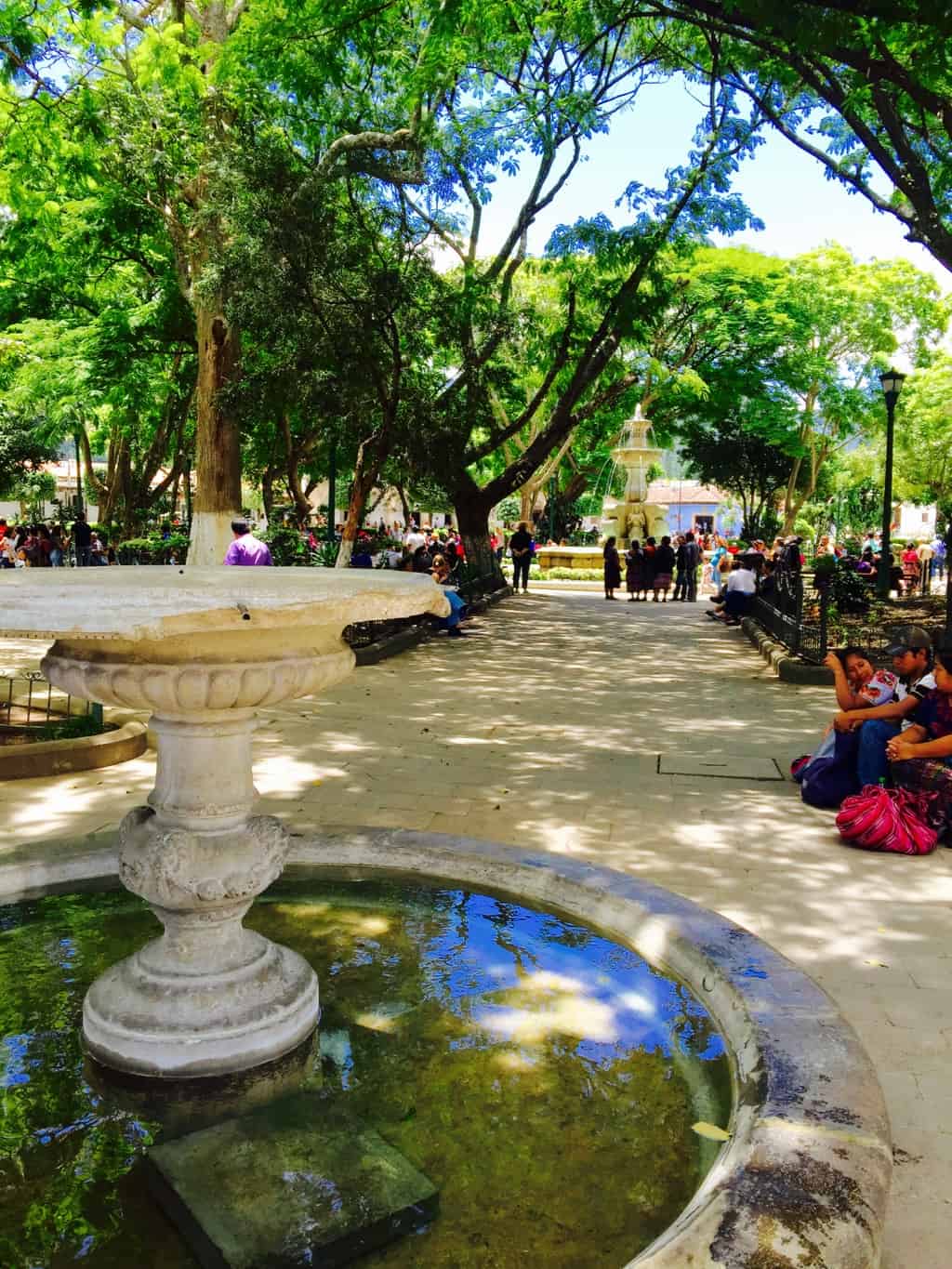 Tangue La Union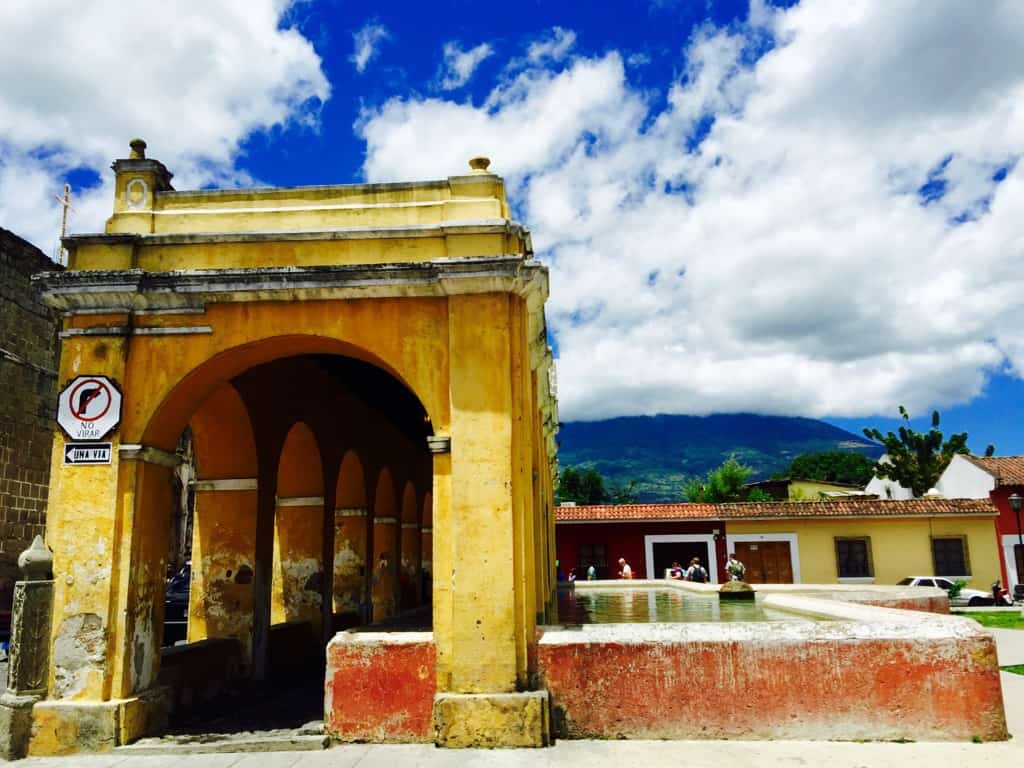 When I came across Tangue La Union, I had no idea what it was! Apparently, it was built in 1853 and is a public place for locals to do their laundry! Back then, it was a place for people to gather, wash their clothing, and catch up on all things going on in Antigua.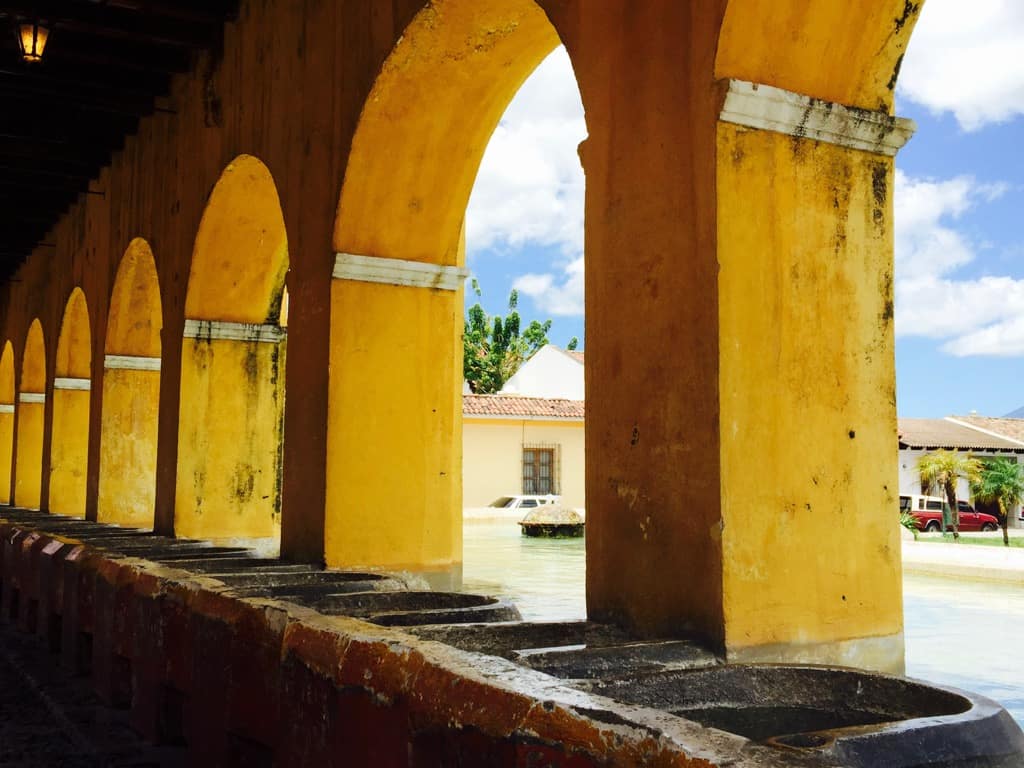 Today, it is more of a tourist attraction where it may be possible to see a few locals washing their clothing. Many locals do not have running water in their homes and so this public washing place is for their use. Right next to it is the Tanque La Union Fountain in a gorgeous park with palm trees for a rest. So find some shade, and relax as you see the volcanos in the distance when you need a rest from your walking!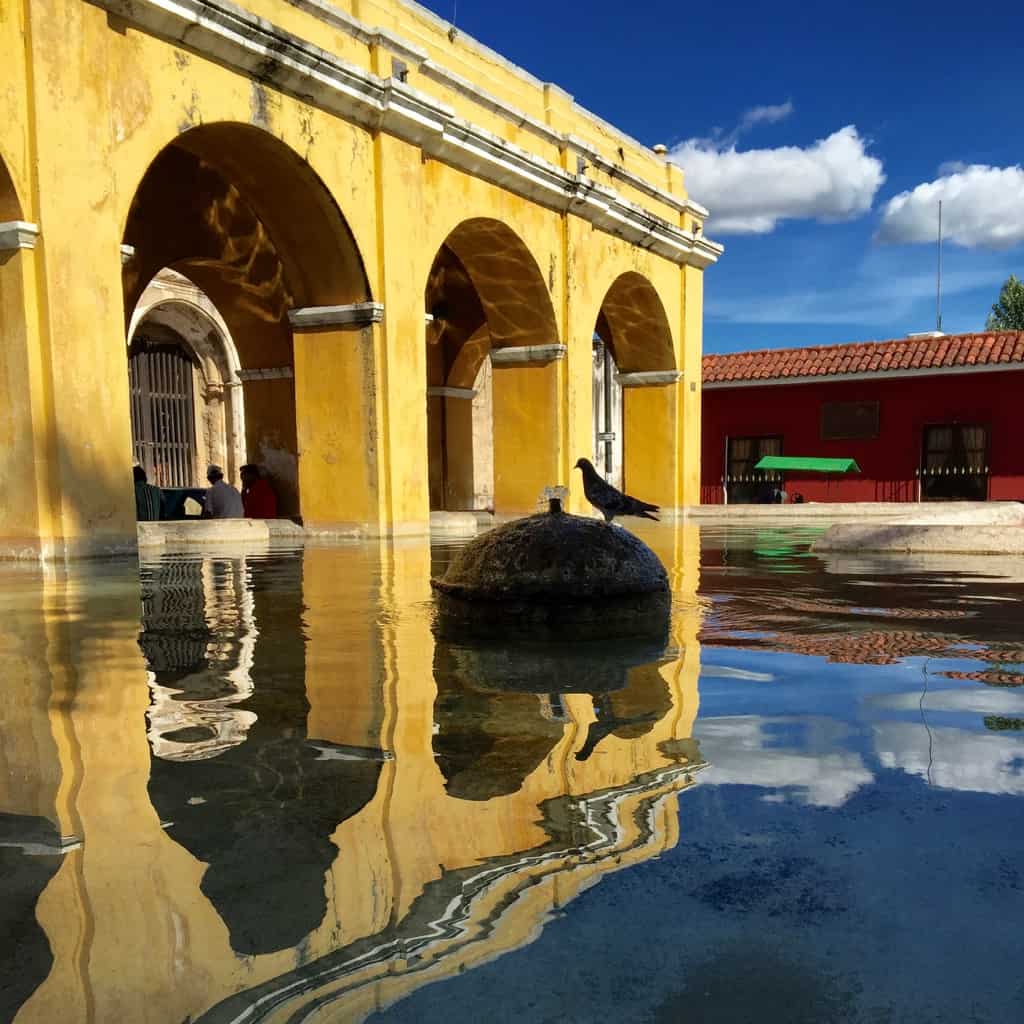 Visit a Stunning Palace
This stunning Palace of the General, Palacio de Los Capitanes Generales, was used as the colonial headquarters for Central America in 1549. It sits in the center square of the city. The original building housed offices, a post office, a royal office, servant's quarters, and stables. Three major earthquakes destroyed much of this original palace in 1890 and it needs to be renovated.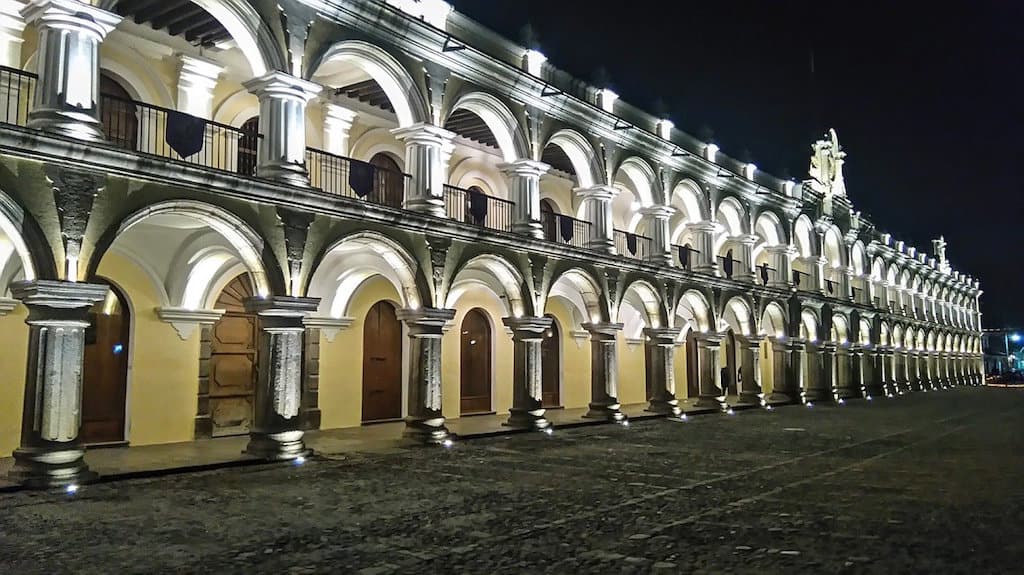 The palace has stunning arches, stone columns, and a two-tier arched facade. Today it serves as government offices and it is here where you can find the Guatemala Tourism Board, the Antigua Tourism Association, and the National Police station. This is good to know to find brochures in the tourism offices or in case you have an issue that you need to speak to the police about.
Go on a Bar Crawl!
Antigua has so many bars that things get a little crazy to drink, so be careful. Alcohol is very cheap, and you can get shots of tequila, vodka, and Cuba Libres all over the place. There are actual bar crawls that are arranged and you can go or even go on a cooking class.
Here is what I recommend for a Fun Night at a Bar Crawl!
The Londoner Pub for an amazing Sunday roast, cheap Cuba libre, and live music
La Sala for salsa and free salsa lessons on Sunday nights
The Lucky Rabbit for fun vibes, music, beer pong, and other fun drinking games
Visit the Artisan Markets Mercado de Artesanias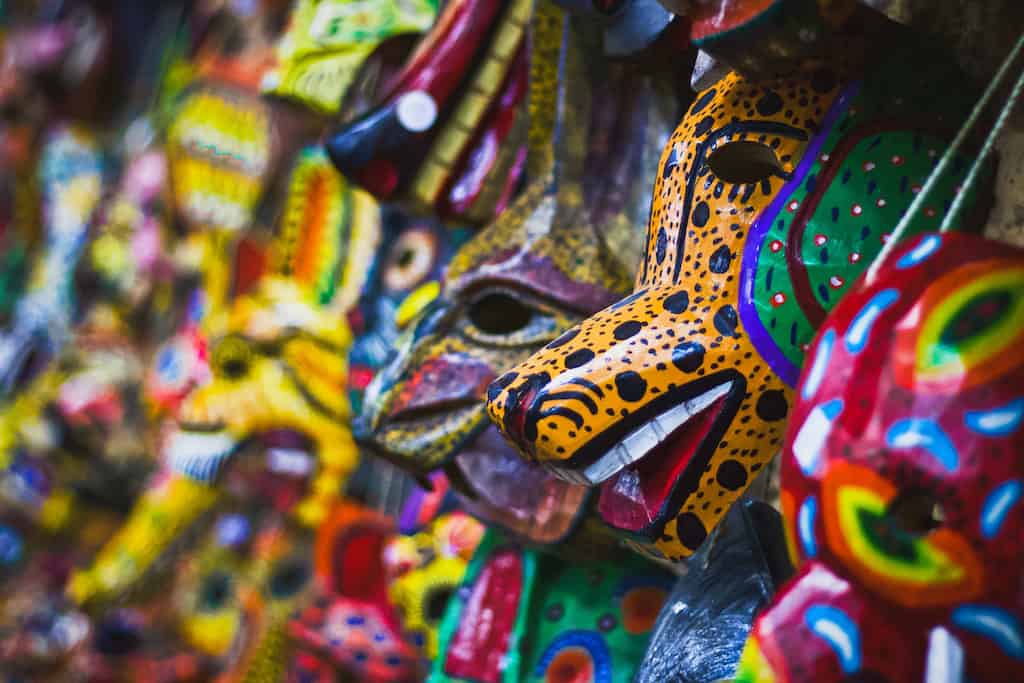 The stunning Mercado de Artesanias is the best place for local artists to showcase their work. You will find items such as fabric, pottery, and souvenirs. My only advice is to bargain when purchasing something and try to never pay full price for anything. They always start high so that you can haggle with them and meet in the middle! The city itself is bursting with all types of colorful handicrafts and woven garments. You will see that Guatemalan women are very innovative and make things like intricate tablecloths, napkins, ponchos, clothes, hats wallets, and even decorative bowls! Be sure and buy something from this gorgeous town to remember it!
I love a GOOD Souvenir!
There are lots of really cool artisan markets in Guatemala. And who doesn't love a great souvenir? So that is why I made the best things to do in Antigua.
There is a market located next to the famous arch. It has everything. You can also buy little bags of Guatemalan coffee and chocolate trays which make great gifts for family and friends back home.
Visit the Local Cemetery
If you have read anything I have written, I am sure you are aware that I love to visit the local cemeteries when vising almost any destination. Although it may seem odd to visit a cemetery, you shouldn't miss out on visiting the main one in Antigua, Cemeterio General. The tombs and mausoleums are ornate and overwhelmingly dramatic. Hundreds of wreaths and flowers are strewn across the cemetery, which makes for a stunning photo, but more than that, I believe we should all pay our respects to those who have come before us.
Visit a local Chocolate Shop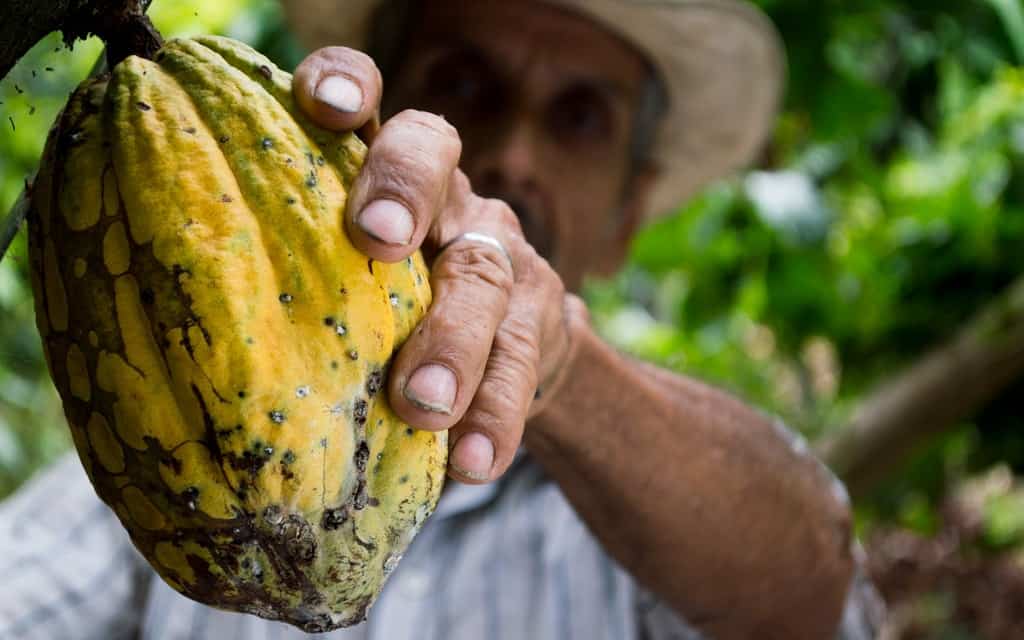 Since Guatemala is the birthplace of chocolate, you should not miss out on tasting delicious gooey chocolate while in Antigua. There are several cacao museums located in the city where you can learn how the Mayans made chocolate. You should expect nothing but the best chocolate in town since Guatemalans produce the chocolate that is considered the "food of the gods". Most of the museums around town have chocolate shops that serve up all types of chocolate, cakes, and sweet treats for your sugar tooth!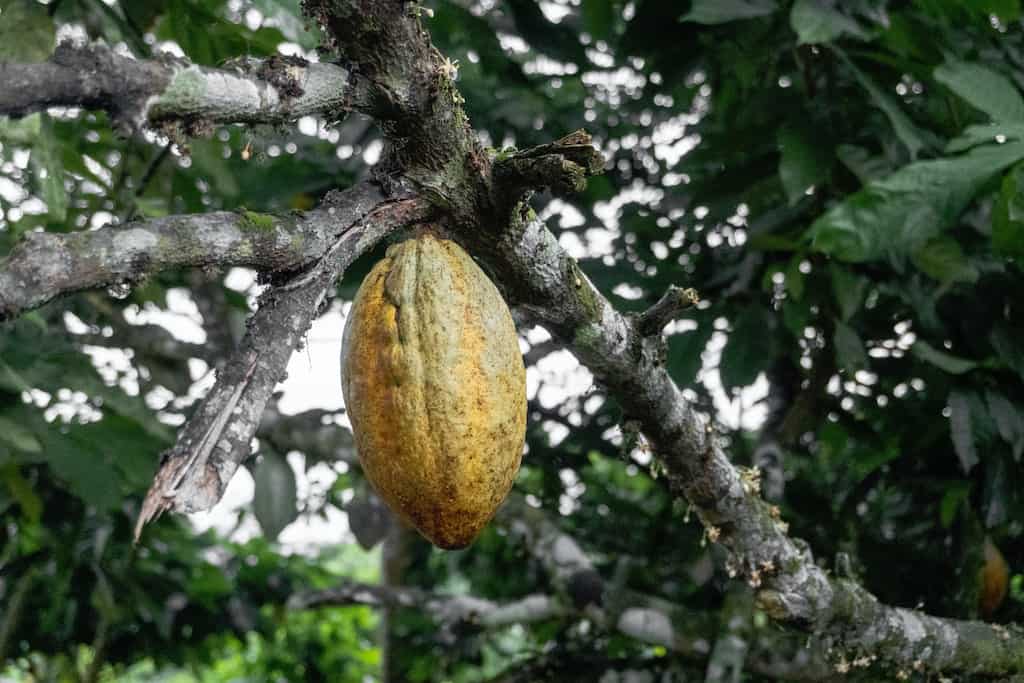 You will certainly be in awe while visiting the Choco Museo which explains the chocolate-making process. It also includes a taste test at the end of the tour, so stay to the end not to miss that. They even have things like cacao-infused moisturizer and chocolate liqueurs for you to sample.
Take a coffee Tour, they are the BEST!
Speaking of coffee, Guatemala is a rich coffee region that is well known throughout the region. So, if you love coffee as much as I do, then take a coffee tour.
Try and get something in English (if you don't speak any Spanish) and something authentic, so you can learn about the process of how coffee is made. Then you will be able to taste some delicious coffee.
Visit the Main Art Gallery in Antigua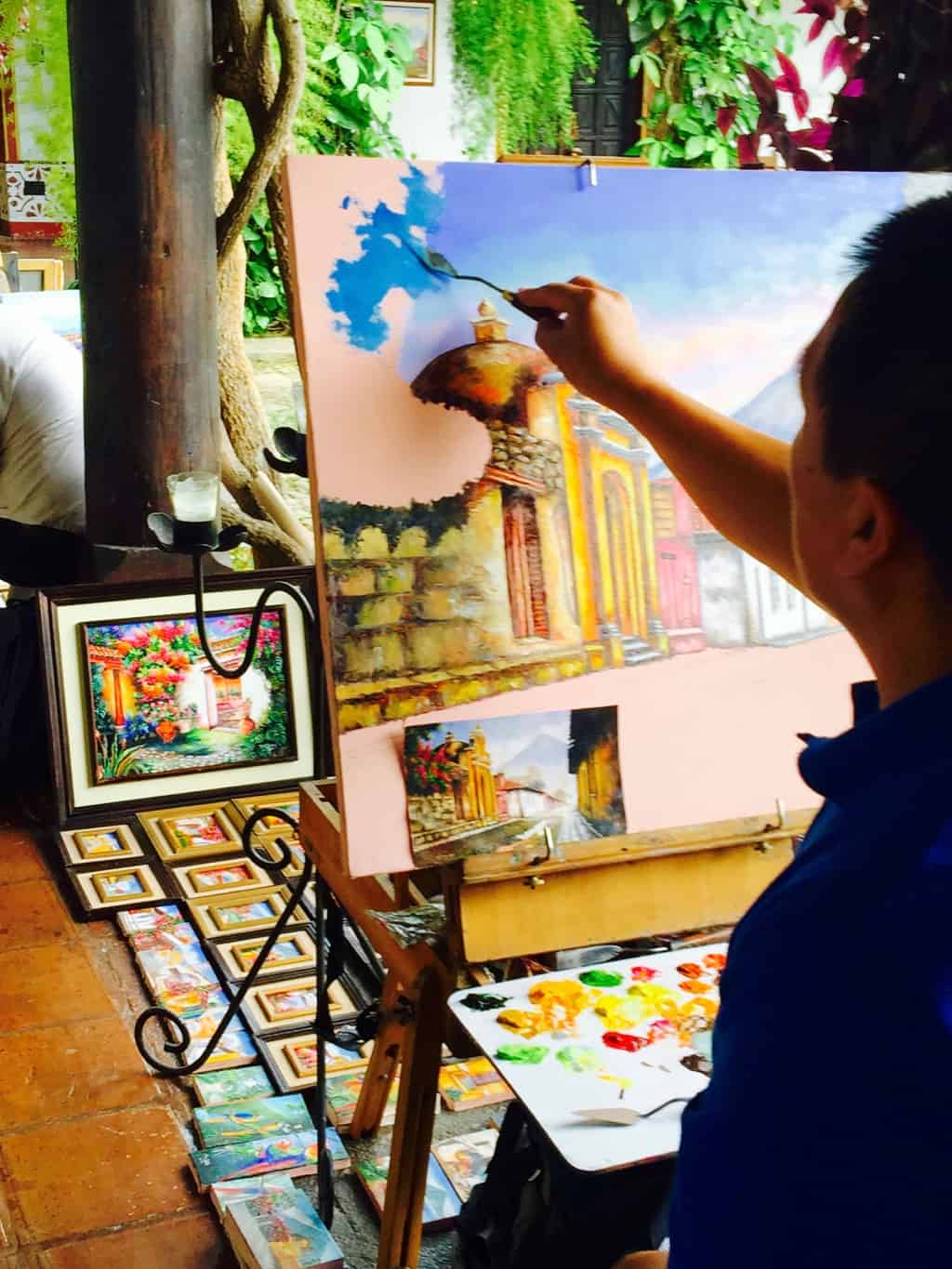 Another great thing to do is to make a stop at La Antigua Galeria de Arte in Antigua. It is the principal art gallery in the city. Enjoying art can be one of the most enriching and rewarding experiences in life. This gallery showcases a range of various artwork from religious, abstract, sculptures, carving, and paintings.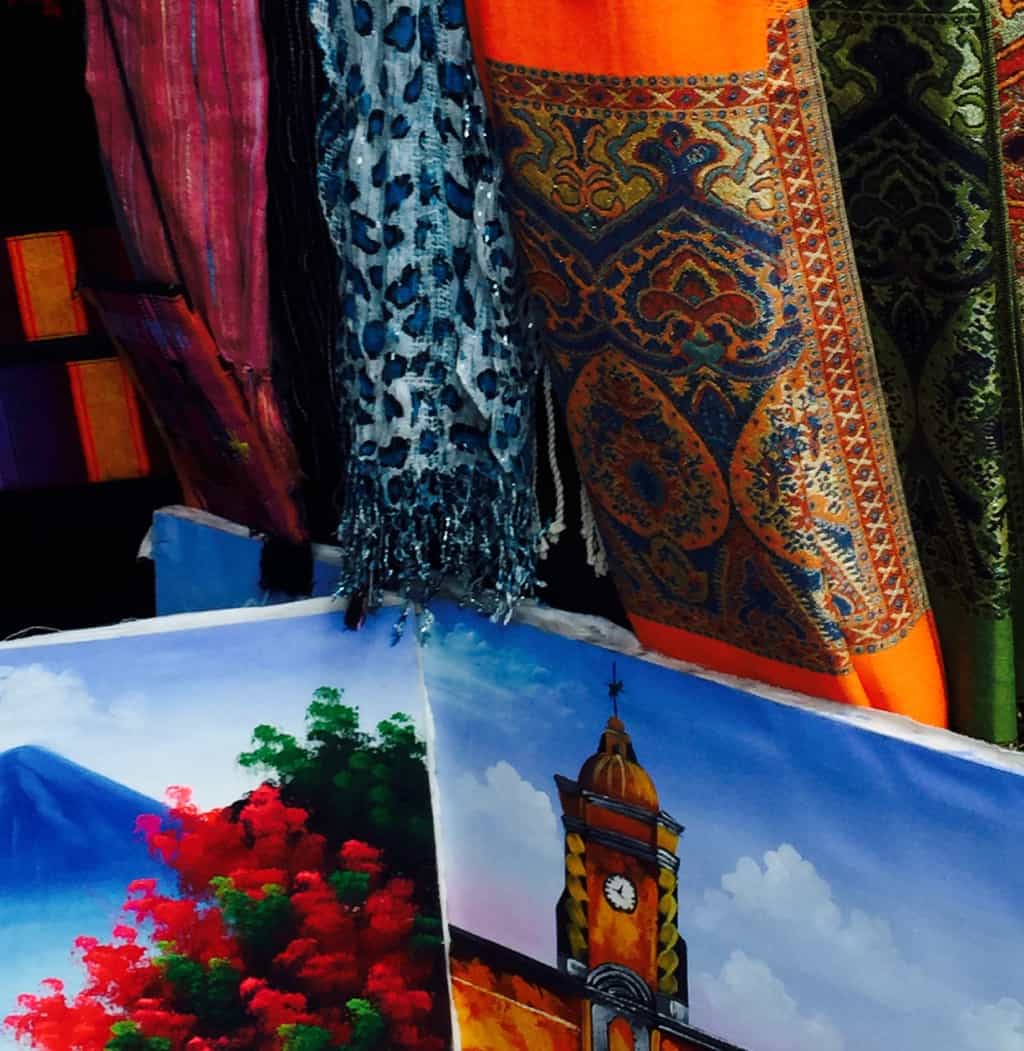 Hike Pacaya Volcano
If you are looking for an adrenaline rush and exercise, then a hike to the top of this active volcano, Pacaya Volcano, is perfect. In fact, this is the most popular volcano to hike of all of the Antiguan volcanos. It is about an hour and a half drive away and takes about half a day to hike. When planning your hike to Pacaya Volcano, it is not super easy because there are multiple entrances.
Plus, sometimes you run into locals who ask you to pay parking fees when none are required. Or they try to sell you their horse tours or walking sticks, etc. So it can be a bit difficult. You can choose to go with a Pacaya Volcano Tour that will pick you up from your hotel and transfer you to and from the volcano if you wish.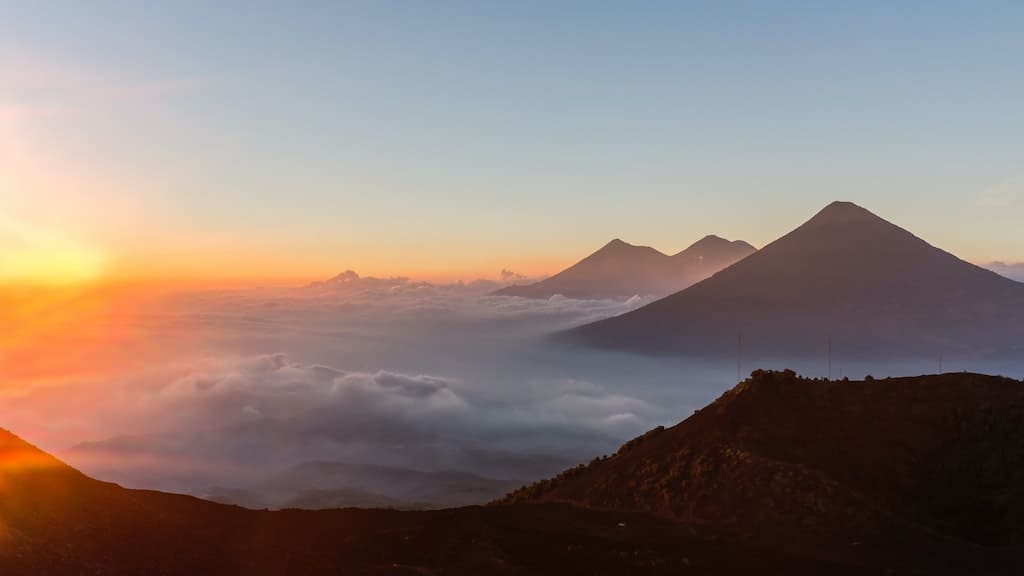 We had a car, so we chose to go on our own. Be sure and get up early to beat the crowds, as there are two entrances. One is "Centro de visitants, Volcan Pacaya" on Google maps. The other is entrance is "entrada: Parque Nacional Volcan de Pacaya" on Google maps.
Once at the entrance, there are guides there who will want to haggle with you, but overall the trail is quite straightforward. We followed the main trail seeing lots of black volcanic rock until we reached the peak. Remember that this volcano is active and sometimes you will see hot lava sliding down the volcano. So keep your distance. Most people we saw had brought along the large marshmallows and sticks so they could "roast marshmallows" on the hot rocks!
---
PRO TIP: Be sure and be careful where you step during your hike because the ground is still hot from the latest volcanic eruption that happened in 2015.
---

Day Trip to a Coffee Farm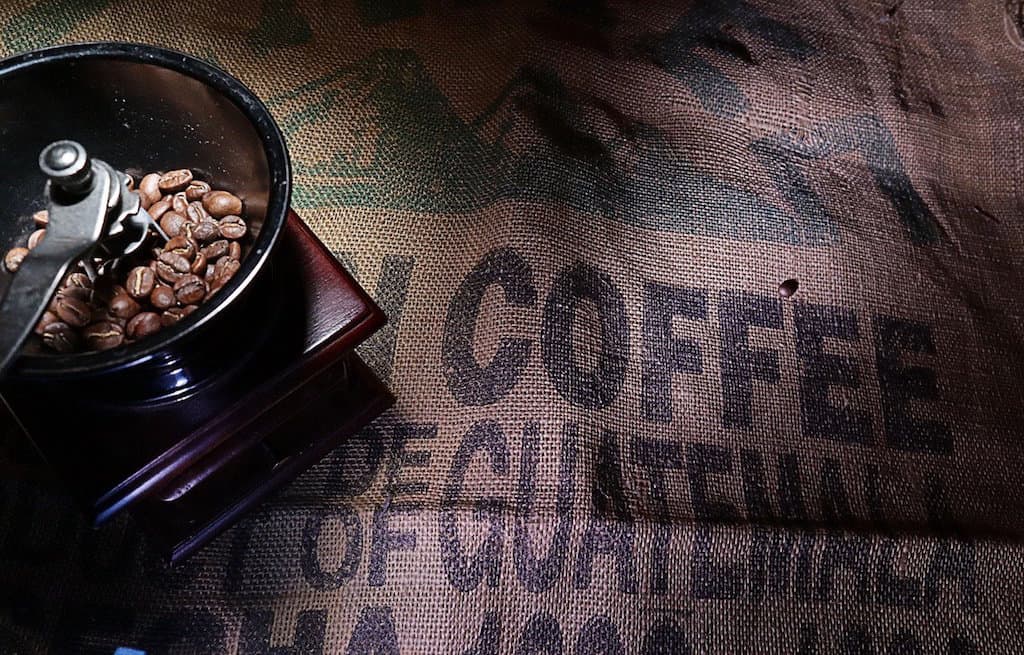 One more interesting thing to do in Antigua is to take a day trip from there to see this coffee farm known as Finca Columbia. Located on a beautiful plantation, you can immerse yourself in the coffee culture as you see the coffee-making process from beginning to end, including taste.
Better Yet, Drink a Cup of Coffee in the Town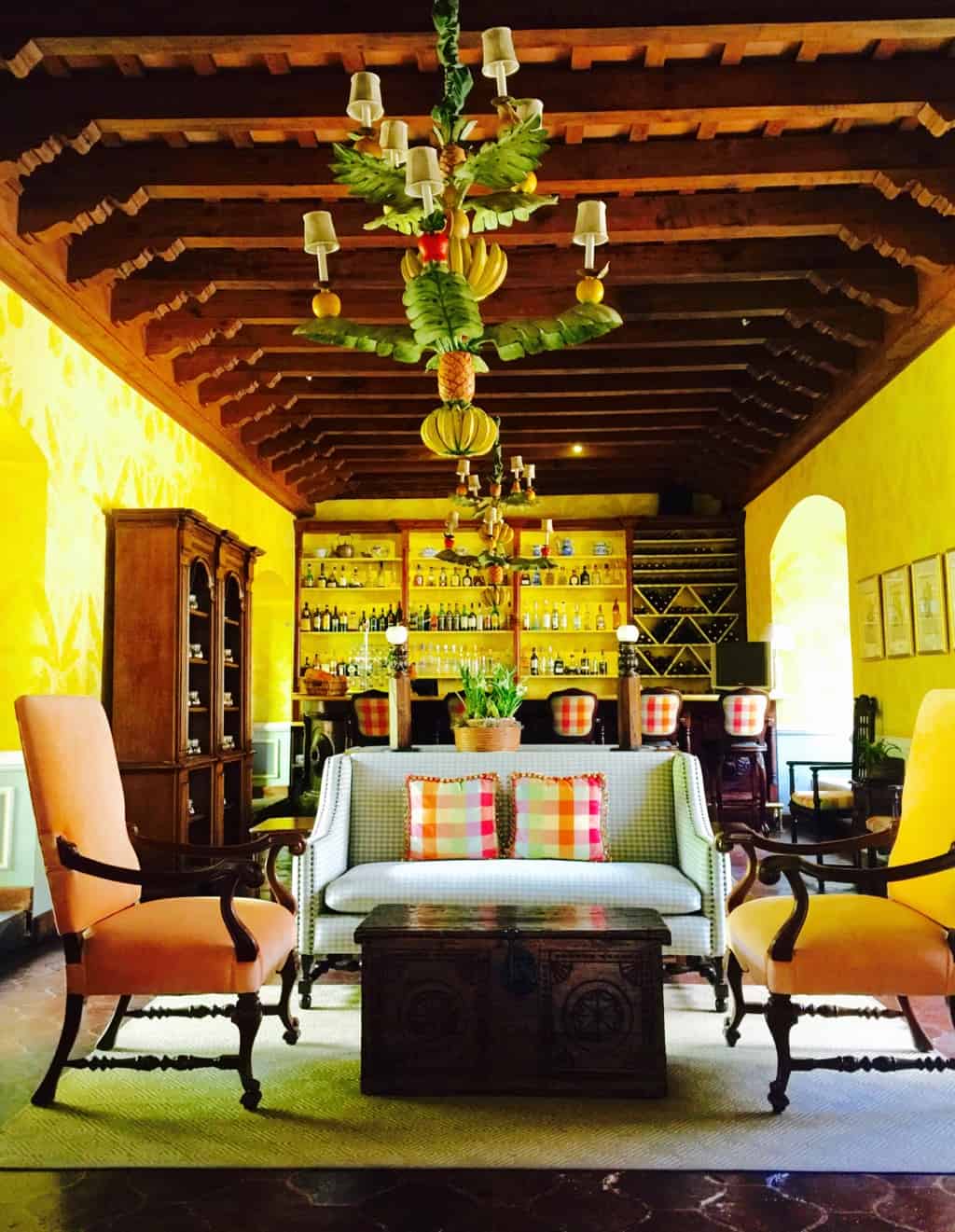 Speaking of drinking a cup of coffee, because of its volcanic landscape, Antigua has the perfect climate for growing coffee. In fact, coffee experts say that the beans that are produced here are some of the best ones in all of Latin America.
You can spend a lazy afternoon vising a few of the local coffee shops scattered throughout the town and sample many different varieties of coffee. I drink mine with milk and sugar, but most of the locals don't put anything in it! They prefer not to mask the flavor of their gourmet Guatemalan coffee. So I gave it a try, and it sure is delicious! So try the black coffee!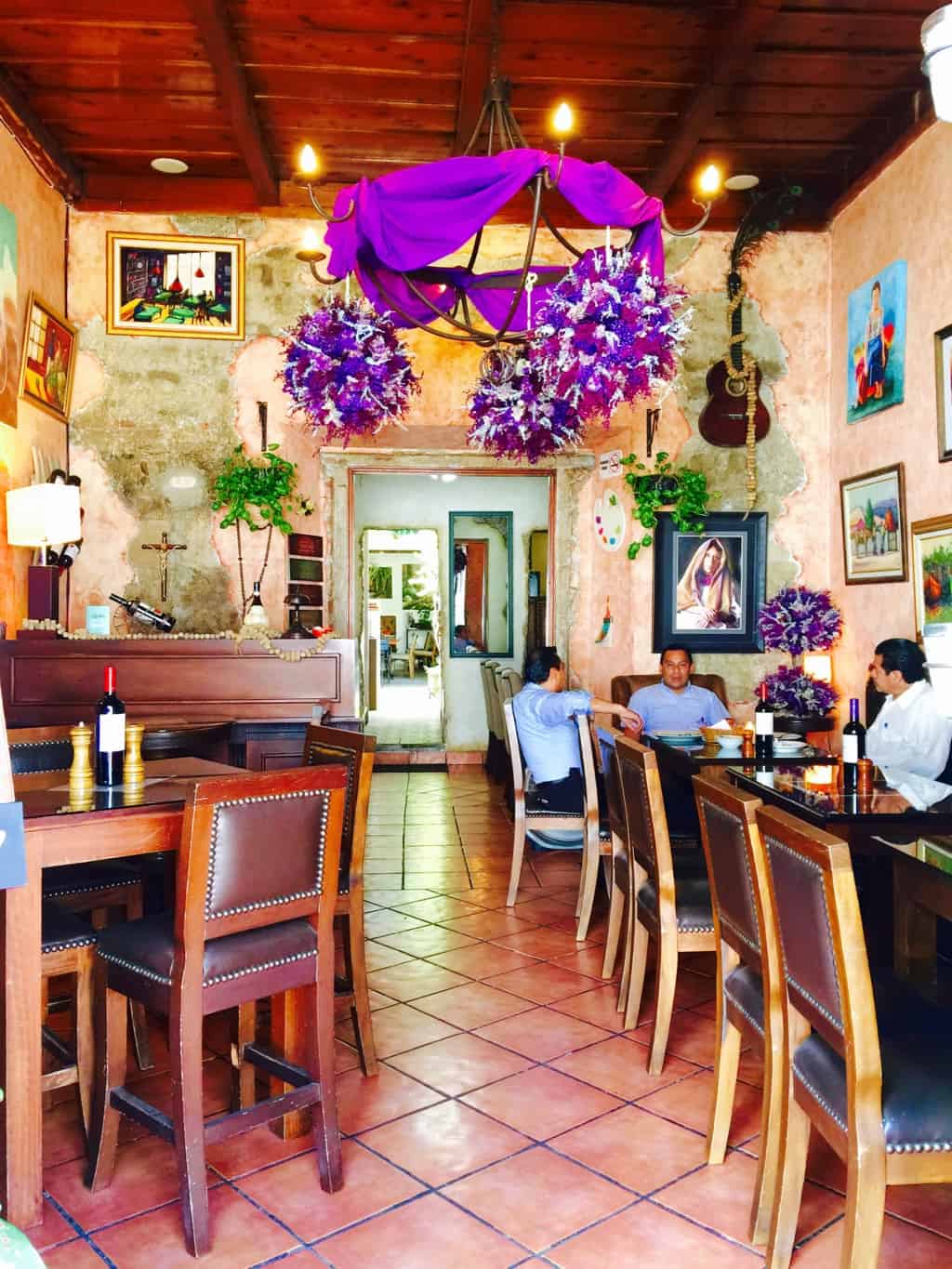 Lake Atitlan is Gorgeous!
Lake Atitlan is known as the "eternal spring" because it's always a constant temperature of 25 degrees Celsius or 77 degrees Fahrenheit. But due to the high level of the place, this is still very warm degrees for the water. If you want, you can meet some of the local people, as many are friendly. Some of the lake towns include San Pedro and Santa Cruz, which are both nice villages.
There are plenty of tour organizations who will offer you a package deal that will include your transport there and back and your lunch and transport on the lake. This one is a boat tour that will take out on the water. Lake Atitlán is a way to glimpse one of the loveliest bodies of water in the world. There are bustling Maya towns and villages you'll get to see by boat on this unique day tour.
Things to do in Antigua Guatemala:
Visit Antigua's Churches
One thing that makes Antigua so appealing to visit is its historical colonial churches. By 1773 AD, in addition to its Cathedral and Government Palace, it had over 30 churches, 18 convents and monasteries, and 10 chapels. Not only that, but the city also had a university, five hospitals, and an orphanage. With flowing fountains, parks, and municipal water and sewer systems this city was a flourishing city!
Today, Antigua has over 1960 registered churches within its city limits. And that was in 2012, so you can imagine that there are plenty of churches for you to visit. Each of these historical churches was built to showcase its own charm and charisma.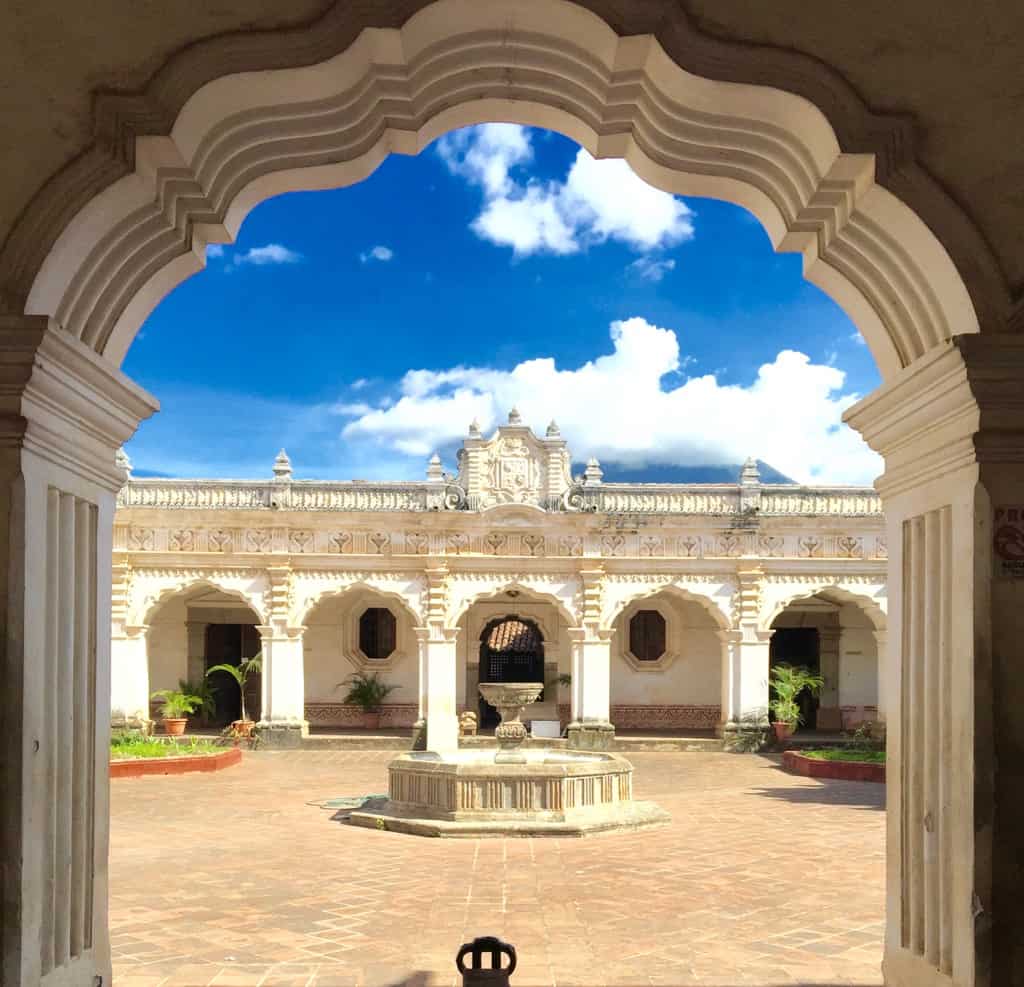 Many of these churches often incorporated different architectural influences, especially from the Baroque style. The Baroque style typically has deep colors and grandeur. And instills a sense of surprise or awe. This style began in the 17th century in Rome and then quickly spread across Europe. It was strongly influenced by the Jesuits and eventually made its way to the colonies in the Americas by the Spaniards. This is one of my favorite things to do in Antigua.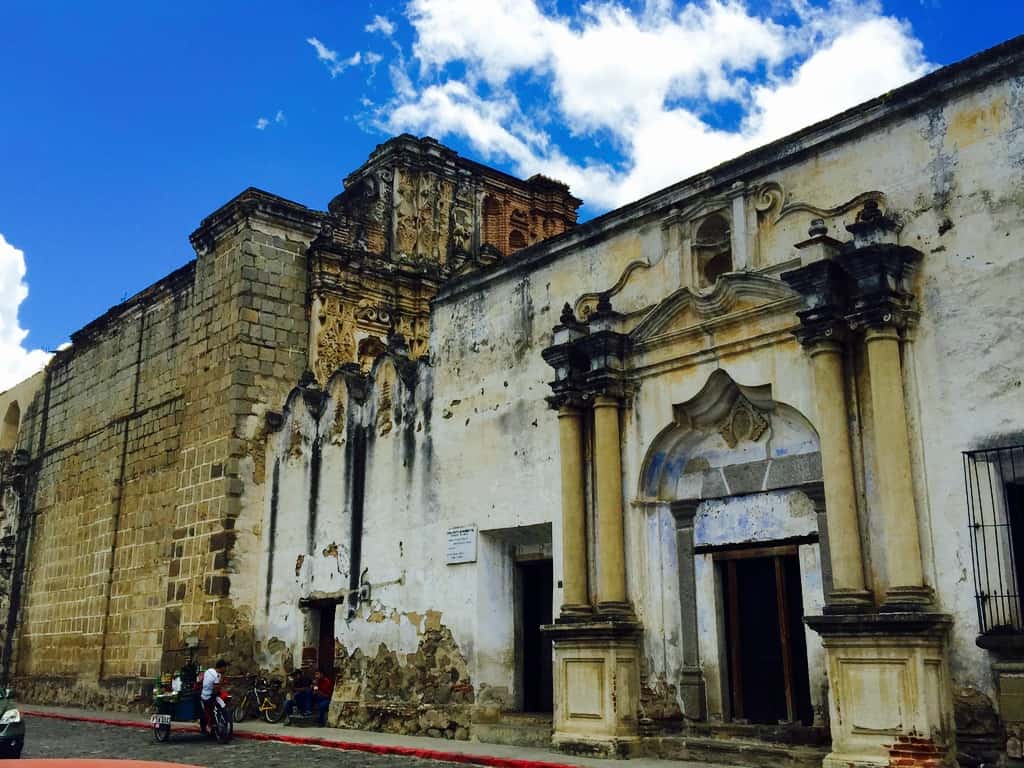 #1 Antigua Guatemala Cathedral
It would be silly not to visit the Antigua Guatemala Cathedral, which is the main church of the city. It is also known as the Cathedral of San Jose or the Cathedral of Saint James. It is conveniently located in the main square. The original cathedral was built in 1541 AD but was destroyed by earthquakes. The building that stands today was completed in 1680 and was officially given the name Cathedral of Saint John in 1743 AD. The facade of this cathedral is illuminated by a statue of San Jose with missing hands at night.
This church has two portions, the "new" and the "old" cathedral. The newer church is accessed from the main square and its older "ruins" are located behind it. In fact, if you didn't know the ruins were there, you may miss them, so be sure and go back there because it is well worth a visit. To me, this was the best part!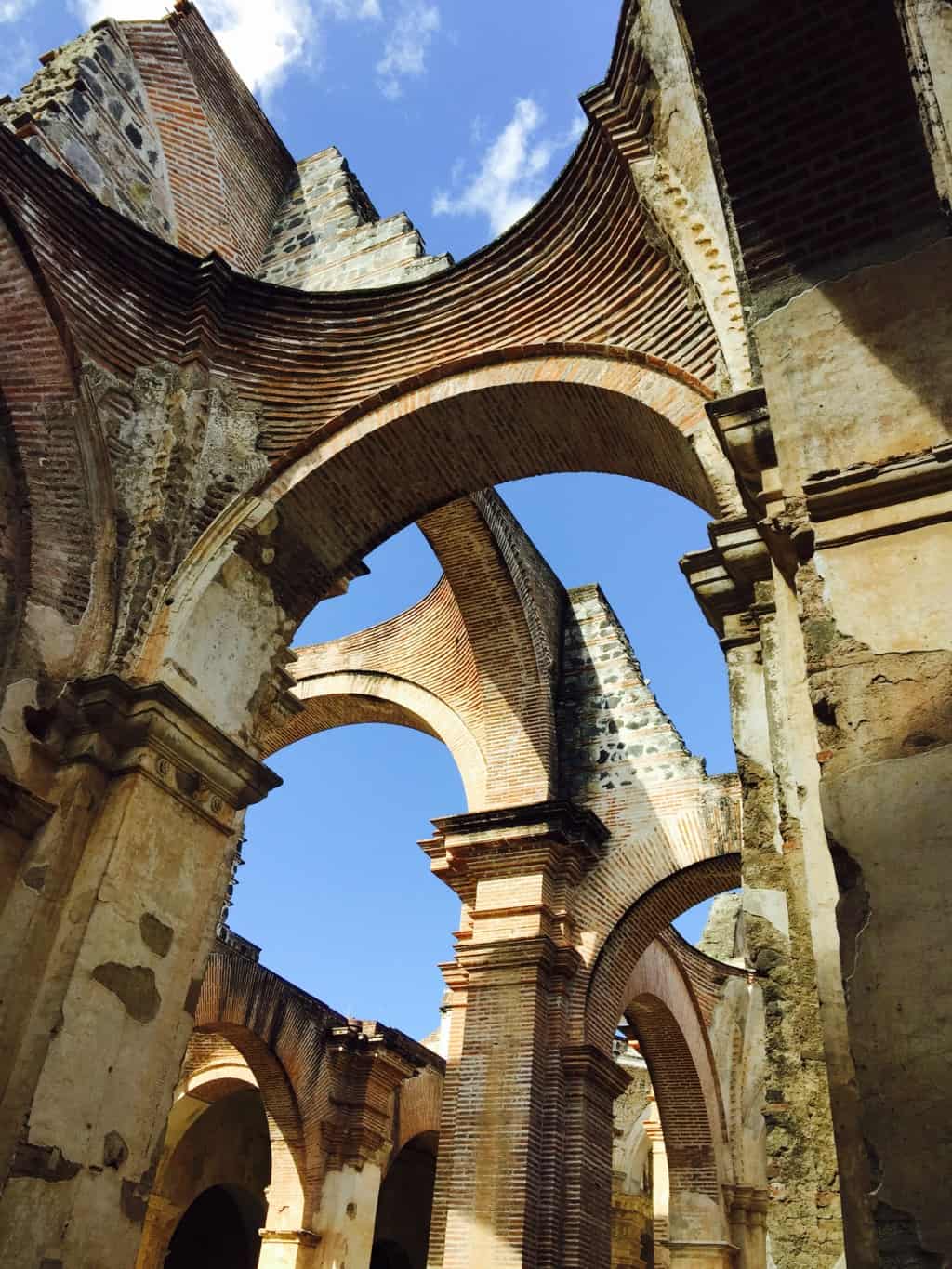 Looking at years of giant stone pillars and arches that have fallen to the ground since earthquakes from long ago. These old ruins were once an old church that got destroyed. You can access the ruins from the main church or from the side street entrance off of Calle Oriente. This is definitely worth a few hours of exploring before lunch!
#2 Iglesia and Convent de las Capuchinas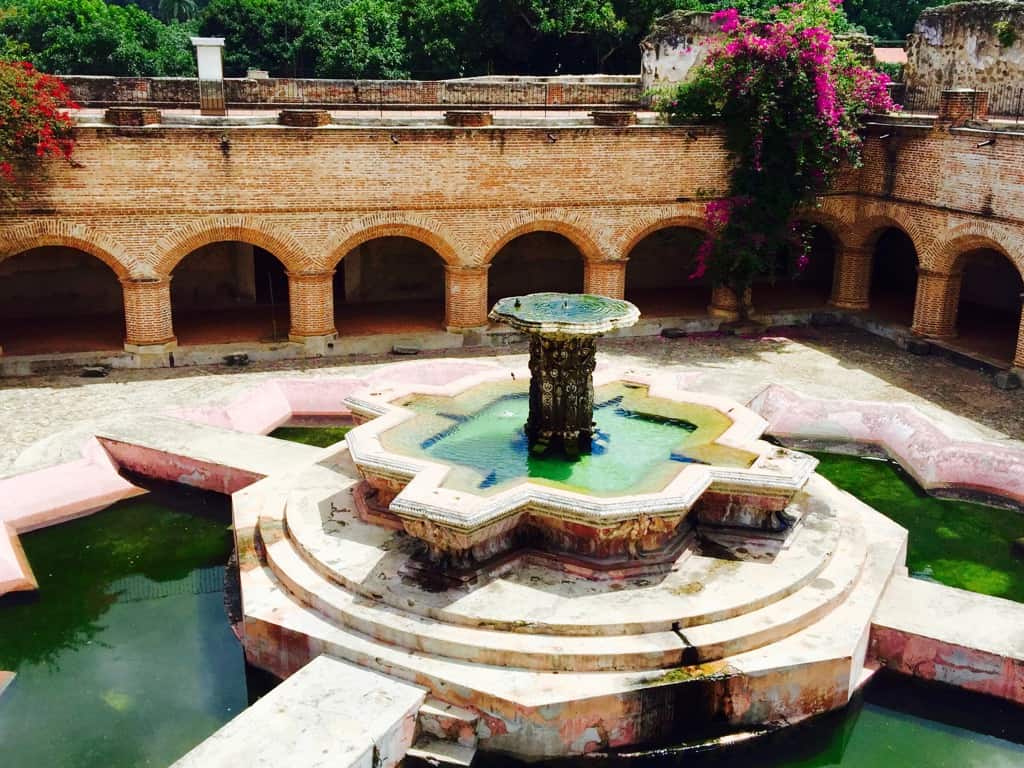 The Iglesia and Convent de las Capuchinas is the perfect example of an 18th-century convent. There is clear evidence of the history of this church and convent as you will notice "burn" marks at the side entrance of the church. The convent was built in a Renaissance style in 1731 and finished 5 years later. Las Capuchinas was the last women's convent that was founded in Antigua. Today, most of the rooms are offices, but there is a small museum on the second floor that is dedicated to the history of this convent.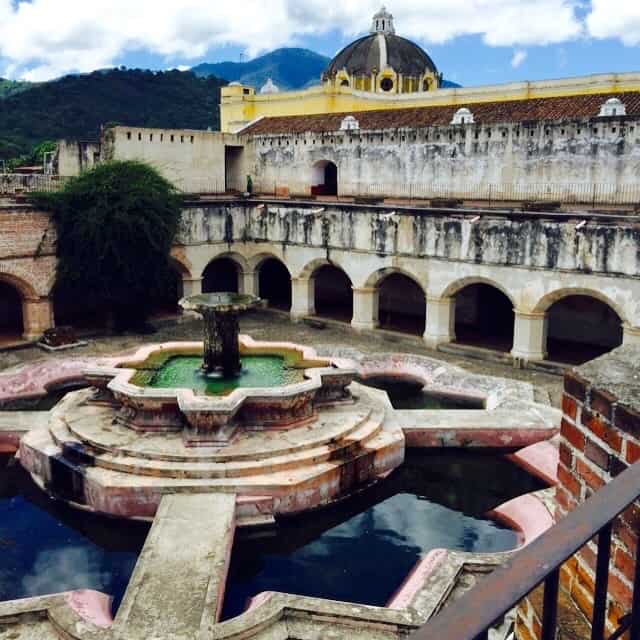 #3 Iglesia de la Merced
Just half a block away from the Arch of Santa Clara is the beautiful Iglesia De La Merced church, another spectacular landmark in Antigua's historic downtown area. While the arch was built for the women's convent in the 17th century, the Iglesia De La Merced was built in the 18th century to be a part of the male monastery.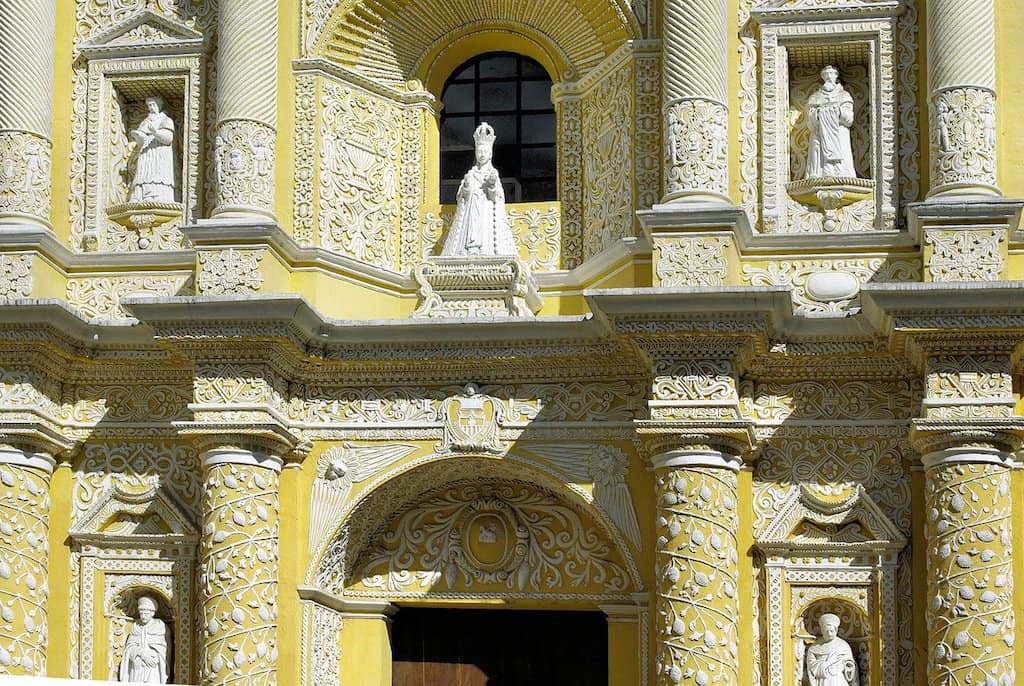 #4 Casa Santa Domingo
This five-star hotel is mentioned here because it lies on the grounds of the Santa Domingo Monastery. So as you can imagine, it is not a typical luxury hotel. The buildings used to be a convent and sanctuary and its origins can be traced back to 1538. It was during this time that the first Dominicans arrived in Guatemala. During this time, it was a monastery with two towers and ten buildings filled with relics from the Dominicans. Unfortunately, the monastery was partially destroyed by an earthquake in 1773, however, the hotel itself showcases the baroque architecture from colonial times quite well.
I completely recommend making a stop at this hotel as it also has a Museum Promenade, which is like a cultural route created so you can visit both the museums in the Santo Tomas de Aquino College and the Church of Santa Domingo. This walkway allows you to take a journey through Antiqua's cultural past.
#5 San Francisco Church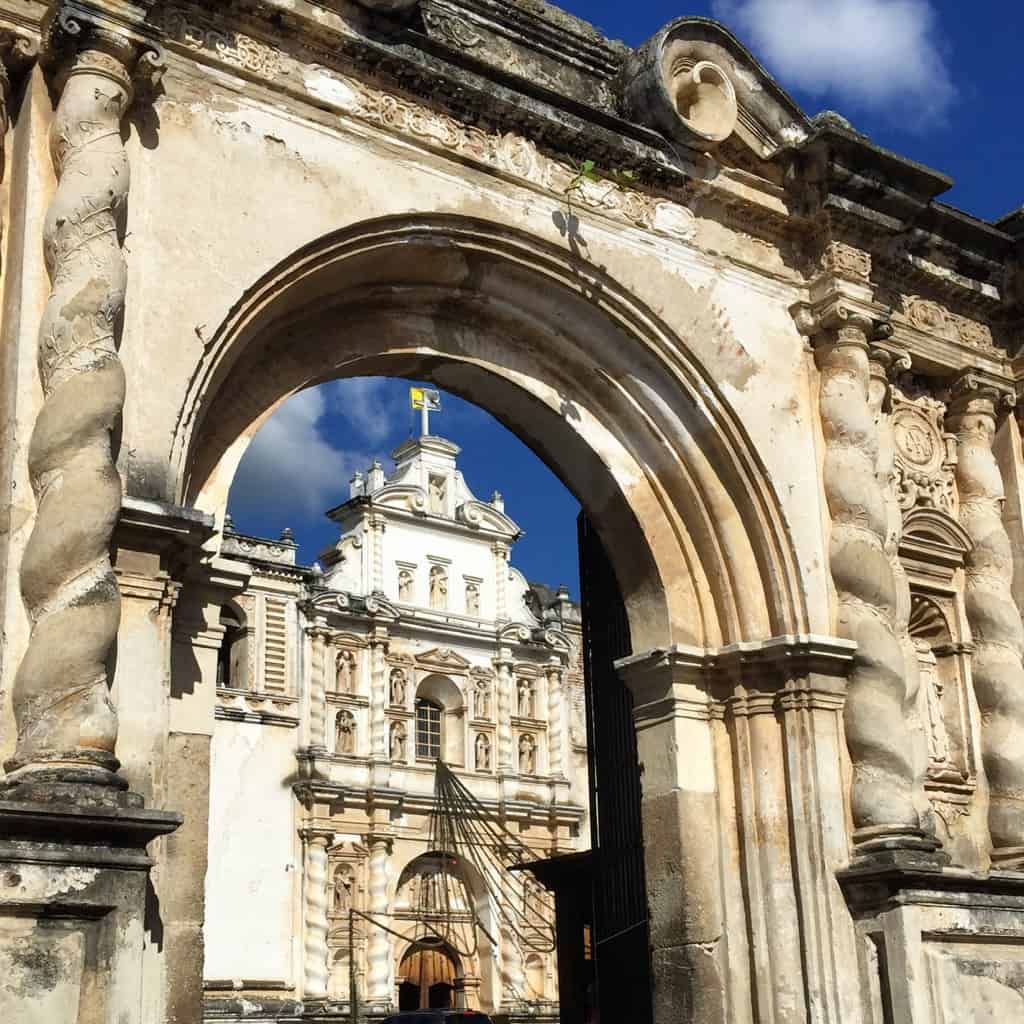 San Francisco Church is one of the most notable churches in Antigua due to it being one of the oldest churches in town. Today, it still holds regular church ceremonies. There is a fascinating museum attached to the church, as well as the tomb of Saint Hermano Pedro. St. Pedro was highly respected by the local Guatemalans for building a hospital for the poor.
#6 Santa Clara Church and Convent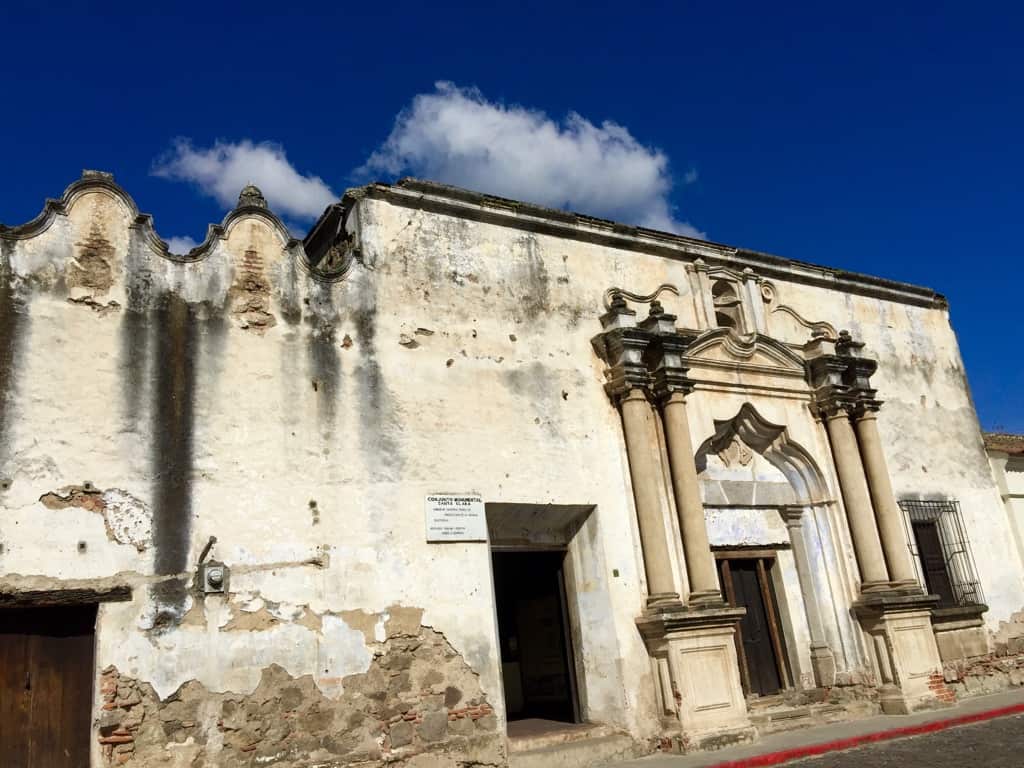 In 1699, Mexican nuns went to Antigua to build Santa Clara Church and Convent, which took over 16 years to build. A series of earthquakes and other disasters during the 18th century partially destroyed these buildings, but today Santa Clara Church and Convent have since been restored. The intricate details and beautiful garden are just a few reasons to visit this wonderful place.
#7 Iglesia del Carmen Church & Market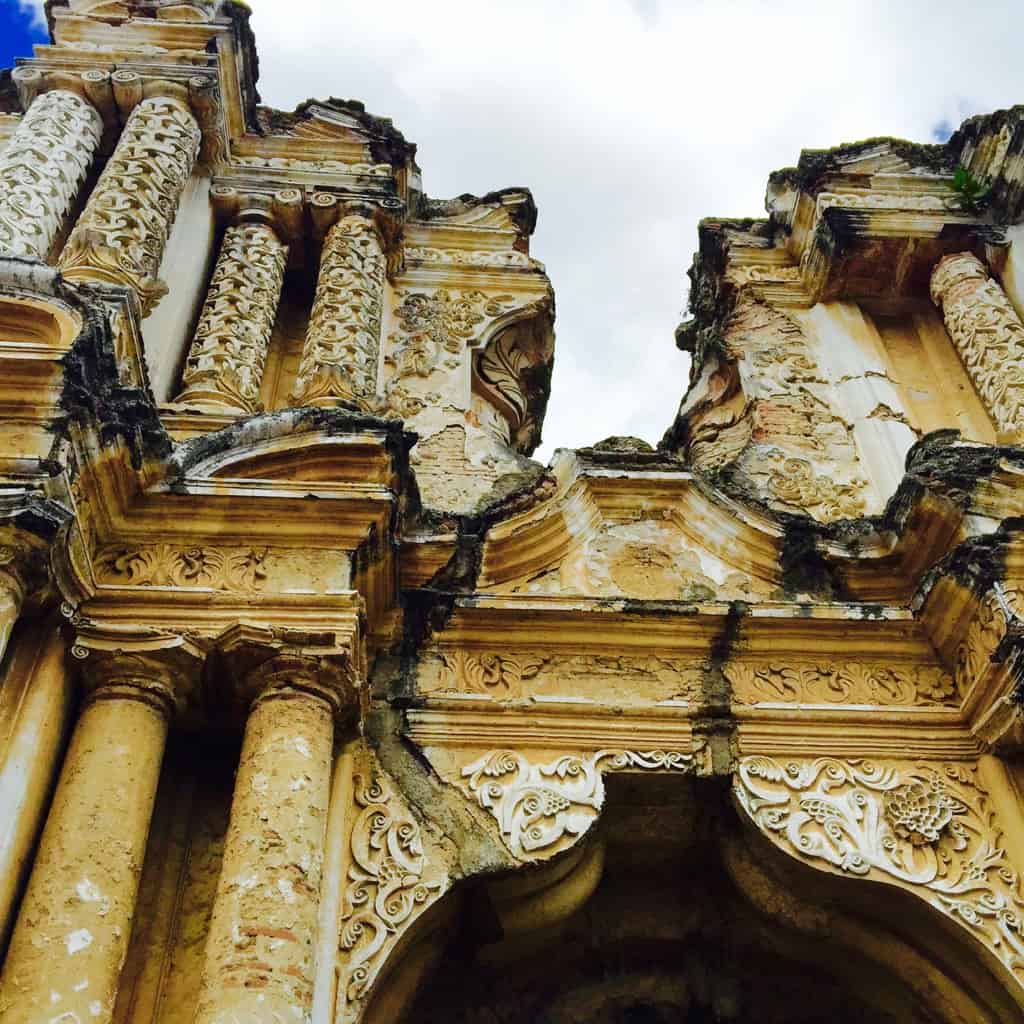 Iglesia del Carmen is yet another of the gorgeous and intricate Roman Catholic churches in Antigua. It is in the downtown area and was abandoned after suffering multiple earthquakes. Today, the church itself is El Carmen Street Market. It is set up and opened on the weekend right in front of the façade.
Extra Time in Antiqua?
Take a Spanish Class
Many people come to Antigua to take and earn Spanish as a way of learning more about Guatemalan history, and culture, and to get around better. In fact, Antigua is known for being one of the best places in Central America to study Spanish. Their accent is clear compared to other accents in Central and Latin America. So do your research and find out about the many well-regarded Spanish language schools in Antigua, as they have many different schedules, classes, and budgets for everyone.
Visit an Organic Farm
A visit to this organic farm, Caoba Farms, comes with a tour of the grounds, including encounters with chickens, sheep, and ducks. This farm is only open to visitors on the weekends and hosts a farmer's market on Saturdays.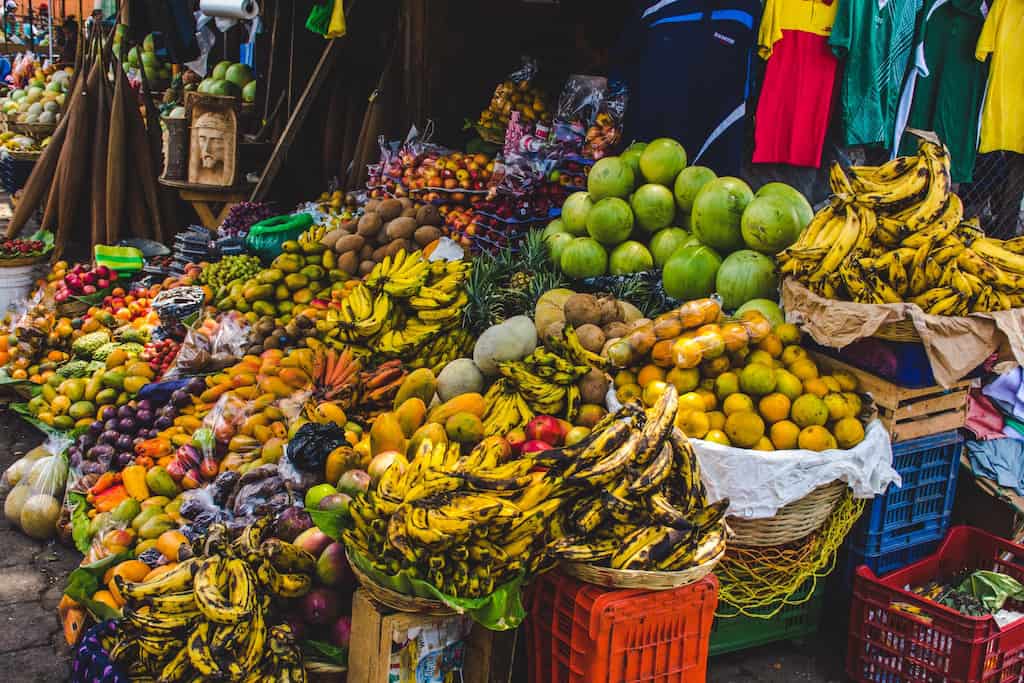 Awaken your sense of adventure and curiosity to visit one of the most charming and beautiful cities in Guatemala. As you have read, there are many places to see and things to do in Antigua. All you have to do is make travel plans and the rest is history! Immerse yourself in the Antiguan culture and enjoy exploring the hidden gems of this spectacular city.
---
Want to read more about things to do in Guatemala?
More Recommended Reading about Guatemala:
---
Can you think of more hidden gems?