Imagine pastel-colored towns on top of cliffs overlooking the deep blue sea. This is what Italy's Amalfi Coast is all about. In fact, it is a must-visit city like Rome and Venice! However, packing everything on your Italy trip will not be easy. This is especially true when you are staying for a short while. Fortunately, there is a way to get around this. All that you have to do is go on an Amalfi Coast day trip!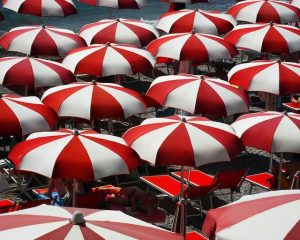 ---
What's in this post:
hide
Amalfi Coast Tours from Rome
---
---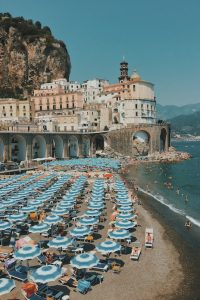 There is nothing more Mediterranean than Amalfi Coast. In fact, this iconic destination is a UNESCO World Heritage Site. It's not surprising why there is no shortage of Amalfi Coast tours to choose from. After all, thousands of tourists from all over the world visit to see this stunning town.
How to Get from Rome to Amalfi Coast?
Don't have enough time for your trip to Italy? Don't worry, because you can still visit the beautiful Amalfi Coast for under €100 and up.
There are three ways to get to this town. These are by a minibus, high-speed train, and rental car. Going on a day trip tour will include hiking and snorkeling. Also, you can explore historical structures and then sample local cuisine after. You can also book private tours. However, make sure that you book ahead of time because they get sold out quickly.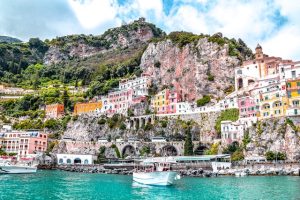 If you plan on taking the high-speed train, then you need to be at Roma Termini Station. From Rome to Naples, the trip will take only an hour. This is faster compared to riding the local train, which can take two hours. Also, if you plan to drive, the trip will take around two and a half hours.
Once you reach Naples, you can ride a bus, car, or boat to reach Amalfi. Going back, you can head to Napoli Centrale station for a train ride back to Rome. Fortunately, these central stations make traveling easier for tourists.
Best Day Trips to Amalfi Coast
Do you want to explore this popular tourist destination? You are in luck because I've listed the day trips and tours that you can take from the Eternal City or more commonly known as Rome.
Pompeii and Amalfi Coast Group Day Trip
Go on board an air-conditioned minibus to the ancient city of Pompeii. From here, an enthusiastic tour guide will show you around. Aside from the usual spots, your guide will take you to see some hidden gems. You will visit the Roman Forum, as well as the Temple of Venus. In addition, your guide will explain to you the impact of the eruption of Mount Vesuvius on this port city.
Then you will go on a scenic drive to Amalfi Coast. Stop at the enchanting town of Positano. After a quick introduction to this colorful coastal town. You will have some free time to explore at your own pace.
Boat-Hopping on the Amalfi Coast
Head to the Roma Termini train station first thing in the morning. Your guide will be waiting for a boat-hopping tour. Your first stop will be at Positano. Get your bearings with the help of your guide. Then you will be free to explore and shop as you please.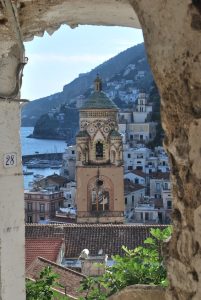 In fact, you should keep your cameras ready. You will see the scenic Amalfi Coast from a great vantage point. Your group will then head to shore to visit a lemon farm. As this is the perfect place to sample their local limoncello drink. Once you are done exploring Amalfi, you will head back for a cruise to Salerno. This is where you will catch a high-speed train back to Rome.
Private Tour Amalfi Coast and Pompeii Day Trip
Meanwhile, go on a tour to two UNESCO World Heritage Sites. In this private tour, you will start with the ancient ruins of Pompeii. Make your way to this ancient site that has been frozen in time. This is where you can grab your lunch with an incredible view of Positano. You will be able to explore the beautiful villages of Amalfi and Positano at your leisure.
This private full-day tour is a great way to explore these places in a day. In addition, your guide will give your tour a more personalized feel to it. This tour includes trip transfers to and from your hotel.
Amalfi Coast Small Group Day Trip
This Amalfi Coast day tour begins in Rome. Just like with other tour departures, yours will begin with a train ride to Naples. From here, you will head to Positano, a seaside village you don't want to miss. This local town has beautiful quaint shops here where you can shop for souvenirs.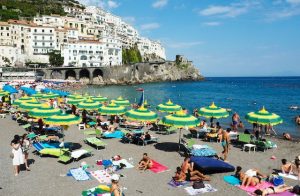 Then you will head to the coastal town of Amalfi for more adventure. Aside from seeing the Mediterranean architecture, the coastal cliffs are worth exploring. Being a part of a small group, make sure that you book ahead of time.
Things to See and Do In and Around Amalfi Coast
Exploring Amalfi Coast and its surroundings is possible within a day. You can go on a scenic cruise, or explore it by train and bus, whichever you prefer. Aside from that, you might be wondering what to see and do in these small towns. Let's take a look.
Amalfi
This historic town is a popular destination in Italy. Explore its labyrinth of narrow lanes to see historic buildings and breathtaking views of the Mediterranean Sea.
Pompeii
First-time travelers to Italy often want to see Pompeii. This ancient city lies in the Campania region during Roman times. Explore the perfectly preserved town in ancient Rome that got buried under ash and lava after the eruption of Mount Vesuvius.
Island of Capri
Along Italy's finest coastlines lies the Island of Capri. This is one of the cliffside towns near Amalfi Coast that gives you an incredible view of the ocean. Celebrities flock here often so you might bump into them occasionally. While you are here, you can check the Blue Grotto. This sea cave is a favorite tourist spot on the island.
Hadrian's Villa
When talking about more of the amazing sites in Italy, this is definitely one of them. Located in Tivoli outside of Rome, this UNESCO World Heritage Site showcases the remains of a large villa complex.
Historic Sights
As you travel along the Amalfi Coast road, you will see various historic structures along the way. For starters, there is Villa Rufolo. This building lies in the historic center of Ravello. Aside from that, it overlooks the local cathedral square. There is also the Amalfi Cathedral in the Piazza del Duomo.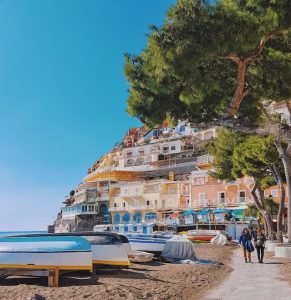 Sample Local Cuisine
If you want to experience la dolce vita in Italy then Amalfi Coast is a great place to be. Here you can wine, dine, and immerse yourself in its natural beauty. From enjoying fresh fish and other seafood to wine tasting in the late afternoon, you'll experience the sweet life here. Having a taste of Southern Italy is something you will not forget anytime soon.
Join a Tour
Are you planning to visit Italy soon? A great way to get the most out of your trip is to join a tour. This is especially true if you don't have much time. In fact, one of the travel tips to consider is to hire a private driver to take you along the coastal roads of Italy. You can sit back and enjoy the scenery and the surrounding hills too.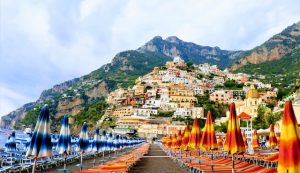 Where to stay:
Our Favorite Hotels on the Amalfi Coast
Once you find good accommodation, you can start exploring. As mentioned before, joining a tour is a great idea. It doesn't matter if you choose a Pompeii, Amalfi Coast, Positano day trip, or a tour of Rome and other cities. This is the best way to visit as many places as possible in a short time. Explore the narrow streets of Amalfi or head to its beaches and swim in their crystal clear waters, you choose.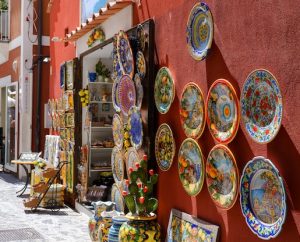 With its soaring cliffs, picture-perfect villages, and dreamy blue seascapes, the Amalfi Coast is one of Italy's most spectacular destinations. It's also one of the busiest, and each summer, day-trippers flock to its main towns which are: Positano, Amalfi, and Ravello.