The Island of Santorini is one of the most popular destinations in Greece, and with good reason. You will have breathtaking views of the Aegean Sea, the volcano, and the caldera too. Aside from that, there are luxurious amenities and services that await you. Which includes your own private pool. In fact, Santorini is known for its hotels with private pools. Just imagine having your own private outdoor pool, a plunge pool, or a hot tub at your disposal while watching the sunset.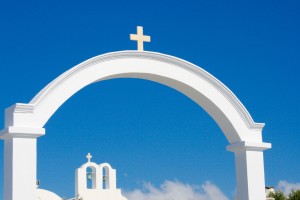 ---
Best Hotels In Santorini
With a Private Pool
---
---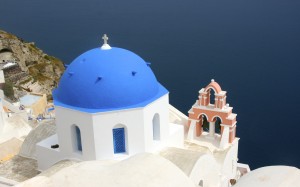 There are several hotels on this Greek Island that have rooms or suites that come with private pools or outdoor jacuzzis that come with jaw-dropping caldera views of the volcano. However, the prices for these hotels are not exactly cheap. In fact, some of them are among the most expensive in Europe.
However, there is a good reason for this and it's because of the stunning views that they have to offer. Aside from that, most of the luxury hotels here are "adults only". No wonder this island is a favorite among couples.
Best Santorini Hotels with Private Pools
Celebrating a special occasion in Santorini is not a bad idea. After all, there are dozens of hotels here that you can spend some time in. The question now is, which of these best hotels should you spend your time in?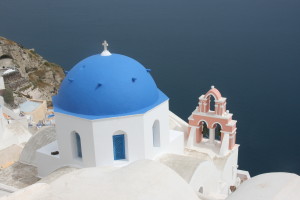 #1 Grace Santorini
One of the best places to stay on this island is Grace Santorini. In fact, if you are going on a honeymoon, booking their honeymoon suite is worth it. Located in Imerovigli, Grace Hotel offers full customization to its guests. This tier-style hotel has a large swimming pool that you can enjoy during the day. As the night sets in, you have your own private plunge pool at your disposal. However, be prepared to spend up to 4-digits per night here. After all, this is one of the more expensive hotels on the island.
Canaves Oia is one of the most famous hotel accommodations in Oia. At first glance, you know you are about to experience the most Santorini lifestyle there is. With its whitewashed cave walls and amazing views, you are definitely in the right spot for your Greek vacation. Aside from that, each of their suites comes with its own private heated plunge pool, flat-screen TVs, and panoramic views of the caldera.
What's more, you will find one of the best restaurants in this hotel too. Their dining area gives off that intimate vibe that you are sure to enjoy with their meal. What better way to celebrate an important event in your life than spending it here? Aside from that, you can also make your way to Cape Columbo Beach if you want to swim in the sea. This is the perfect spot for those who want a bit of privacy during their trip to the beaches of Santorini.
#3 Katikies Hotel and Suites
Katikies Hotel and Suites is pure luxury right from the start. It boasts of its own restaurant that promises an intimate meal for hotel guests. Aside from that, you can enjoy the view from your private terrace with a jacuzzi. In addition, this hotel is close to several shopping areas which you can visit anytime.
Just like the rest of Santorini, Katikies has the same white walls that help highlight the beauty of the Aegean Sea. Not only that, but the manicured lawn of the hotel gives you the best sunset views too. Get your camera ready for stunning views here and upload your photos fast with free WiFi.
#4 Andronis Luxury Suites
This hotel is aptly named since it offers its guests their choice of a private infinity pool, jacuzzi, or cave pool in their suite. In fact, if you take a look at the Andronis Collection, you will be spoiled for choices since they offer luxurious suites for the more discerning guests.
Expect clean and sophisticated modern interiors here. Aside from that, the in-house restaurant only uses fresh ingredients in creating their mouthwatering dishes. And if you want to pamper yourself during your stay here, take advantage of the massage and spa services here. For sure, you will have a hard time leaving this place.
#5 Andronis Concept Wellness Resort
Although this luxury resort hotel has just recently opened, it is already competing with some of the best ones in Santorini. In fact, this wellness resort has some of the best private pools on the island. Not only that, it comes with an amazing view of the volcano too. The rooms here are spacious and modern looking. Since this is a wellness resort, you will have easy access to yoga and spa treatments to improve your overall well-being.
---

---
#6 Cavo Tagoo Santorini
Aside from being the sister hotel of Cavo Tagoo Mykonos, Cavo Tagoo Santorini boasts of a public infinity pool where guests can swim. Aside from that, there are floating sunbeds too if you want to go sunbathing here. In addition, this hotel provides its guests with impeccable-looking suites with private pools for guests to enjoy on their own. It is not surprising that Cavo Tagoo is one of the best spots on the island where you can stay in.
#7 Charisma Suites
Charisma Suites is another great option to consider if you are visiting Santorini. Aside from being nestled on the cliff face of Oia, it also provides its guests with spectacular views of the caldera. This is the perfect place for couples who want to go on a romantic getaway.
After all, it boasts infinity pools where you can swim with other guests. Aside from that, its main pool comes with a pool-side service and your choice of massage treatments. You should book their honeymoon suite if you want to have access to a private jetted tub.
#8 Kapari Natural Resort
This state-of-the-art natural resort has three centuries worth of history to its name mixed with modern amenities that guarantee a timeless experience. Kapari may be a small resort with just 14 rooms to its name, but it is the perfect place to stay in. In fact, if you are looking for some rest and relaxation, this is where you should be. This resort opted for a minimalist design for its rooms.
However, it does make up for it with the stunning views from the rooms. If you are looking for the best Santorini experience, you will find it all here. After all, you will have a large jacuzzi plus an open terrace looking out into the sea.
#9 Anteliz Suites
If you are in Fira, then add Anteliz Suites to your list of hotel options. It is a relatively new hotel with impressive rooms to choose from like the private honeymoon room or their master suite. Each room has its own private jacuzzi as well as a plunge pool that overlooks the sea.
Take advantage of the private terrace of your room where you can sunbathe or lounge by the pool. This is the perfect retreat for guests who want to spend some time with their partners.
#10 Katikies Kirini Santorini
This Oia hotel is just as stunning as the rest of the hotels here and more. Yes, it does have the best views on the island. However, Katikies Kirini also boasts of 7 suites where 3 of which have their own outdoor swimming pool on their private terrace. Aside from that, some suites have indoor private hot tubs for your much-needed relaxation.
The Katikies brand is, without a doubt, one of the best-known names on Santorini. That said, expect a five-star service throughout your stay here. Aside from that, did you know that the name Kirini came from their resident cat? Isn't that adorable?
---

---
#11 West East Suites
Are you looking forward to some peace and quiet in Santorini? Who would have thought that West East suites in the quiet Imerovigli can be quieter? That's right, this hotel removes all the distractions around you by providing a quiet space for your ultimate rest and relaxation. Aside from that, their modern-looking suites come with their own hot tubs as well as outdoor private pools. Couples who want to have more privacy to enjoy their time together should consider this hotel as it takes pride in its seclusion.
This boutique hotel boasts 4 luxury suites each with its own private pool. If you are lucky, you can get the one that has the most unique river plunge pool. This is a treat to the senses as it blends with the amazing views that this hotel has to offer. On top of that, the service here is top-notch too. You can check out the reviews of this hotel to see how it fared with its previous guests. If you want to take the plunge on your Santorini trip, this is definitely one of the best choices out there.
#13 Aria Suites & Villas
Guests who are heading to the island of Fira should book a stay in Aria Suites & Villas. This luxury hotel has 3 luxury suites complete with private pools. Aside from that, each room has its own private balcony where you can enjoy the spectacular sea views. The best part is that the main square is a short walking distance from the hotel. This means that you will be in the heart of all the fun and action on the island. Fortunately, in spite of its location, you will not be bothered by intruders while you are on vacation. After all, their secluded suites guarantee privacy for your ultimate Santorini adventure.
#14 San Antonio
San Antonio is one of the more popular choices in Santorini and with good reason. Book their executive suite and you are sure to have your own hot tub to enjoy. Not only that, but the gorgeous view is the perfect backdrop while you swim around in your private pool. However, the main attraction of this hotel is its shared large swimming pool. In fact, it is one of the most photographed on this island! You will be spoiled here from their breakfast and exceptional service throughout your stay. If you are looking forward to an unforgettable stay in Santorini then book a stay here in advance.
#15 Santo Maris Oia
Travelers who are conscious of their carbon footprint will find the perfect spot to stay in Santo Maris Oia. What sets this hotel apart from the rest is its effort toward sustainability. Upon arrival, you will be greeted by an ancient olive tree that has withstood the test of time. Aside from that, you will go around the herb and vegetable gardens that chefs use to create your daily meals.
In addition, this eco-friendly hotel makes use of resources on the island to build the hotel itself. It has several pools on the property, but its hotel suites do have their own private pools or indoor jacuzzis. This hotel will not disappoint you once you see its beautifully decorated rooms. In fact, you should book a stay in its Royal Suite where you will feel like you are royalty.
---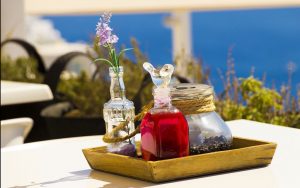 ---
#16 Dana Villas & Infinity Suites
One of the best ways to truly appreciate the beautiful view of Santorini is to book a stay in one of its hotels. In fact, you should book a stay in Dana Villas, one of the best hotels for those who want an intimate and dreamy experience on the island. Book a stay in their cave pool suite with contemporary design and enjoy the breathtaking views too. Their cave pools are among the best on the island.
Aside from that, the white houses here match the rest of the structures which adds to its overall beauty. You should book their superior suite that comes with its own heated pool. The best part is that it is a short drive from all the island happenings in Fira which adds to its overall attraction.
#17 Santorini Secret Suites & Spa
What's not to love about the 17 suites in Santorini Secret Suites & Spa? Their rooms come with either a private pool or jacuzzi, so take your pick. If you are willing to splurge on your trip here, you can choose from Infinity, the Grand, and Honeymoon Suites. These suites come with their own private outdoor heated pools for a more enjoyable swim.
Honeymooners will get good value for their money with the Honeymoon Suite since it comes with extras. Among these are chromotherapy, fitness area, steam bath, and rain shower just to name a few. If you are with the family, their Junior Suite is a great choice too, plus it is near the pedestrian street for easy access to the road.
#18 Katikies Chromata Santorini
Considered to be one of the five best hotels in Santorini, Katikies Chromata has a lot to offer its guests. For starters, its white curves, hot tubs, and aqua private pools are luxuries you don't want to miss. Its white walls complement the dark blue waters of the Aegean Sea. Chromata is home to 26 sea view rooms, villas with private verandas, and suites.
Most of these have their own private heated outdoor plunge pools or jacuzzis even. Aside from that, its large infinity pool is one of the best in the world which is why this is not a bad option to stay in Santorini.
#19 On the Rocks
On the Rocks is in the famous Imerovigli and is just a few miles away from Fira. This hotel is built on the volcanic rock of the caldera which gives its guests a great view from their rooms. In addition, the rooms are tastefully decorated with traditional and modern vibes emanating from them.
In fact, the design of the rooms makes the most out of the amazing views that guests can enjoy from their shared verandas. Of course, they have their own private outdoor hot tubs where you can lounge and swim. The best part is that you will fall in love with the majestic views of the sun and the sea from your spot.
#20 Mystique
Mystique is a luxury collection hotel that exudes Santorini's traditional style and elegance. In fact, the combination of gentle curves and sculpted finish creates an open and airy space for guests to enjoy. Aside from that, all suites open up to the stunning blue Aegean Sea. The villas here come with a private jacuzzi, a private pool, or both.
In addition, the suites have an outdoor space where you can sit back, relax, and enjoy the view. Their shared pool comes with a pool-side service so you can sip your favorite drink while relaxing in the pool.
---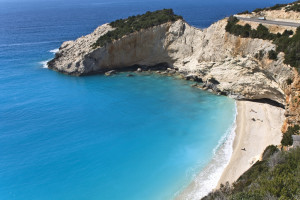 ---
#21 Andronis Boutique Hotel
Staying in one of the hotels that belong to the top 25 hotels in the world is a must. In fact, Andronis Boutique Hotel is one of the most Instagrammed spots across the globe. This is not surprising since it offers pool suites, private cave pools, and more. Book a stay in their private infinity pool suite to enjoy this luxury. Families will enjoy their stay here where they can order room service as needed.
#22 Filotera Suites
This ultra-stylish luxury hotel is a newcomer in Santorini but it easily became a favorite of honeymooners across the globe. It boasts of five cave suites that have their own private outdoor heated jacuzzis. If you want to experience luxury in Santorini, you should stay in Filotera's Grand Cave Suite.
Aside from its jacuzzi, it also has its own private swimming pool. Honeymooners will fall in love with this place as the hotel offers yoga classes and other romantic services for a more relaxed and intimate experience.
#23 Astra Suites
Astra Suites is another example of the best hotel in the world. In fact, you will feel like the hotel is just hovering above Skaros Rock because of its location. Aside from that, it has a wide range of options from villas to luxury suites. Each one has a private pool or jacuzzi so pick wisely.
#24 Mythical Blue Luxury Suites
Who would have thought that there is a luxury suite hotel that is close to the hustle and bustle of Fira's town? At Mythical Blue Luxury Suites, not only will you have your private pool, but you will also get a great view of the volcano too. There are five types of suites here each with its own heated plunge pool or private outdoor heated tubs. Check out the hotel's wine cellar to see its impressive collection of spirits.
#25 King's Suites
The private pool suites in King Suite are ideal for couples who want a more intimate hotel room to stay in. Expect modern furniture with pops of colors to brighten the space. Take advantage of the King's Pool if you want to enjoy swimming. The lounge chairs are perfect for getting the most out of the sun.
---

---
Wrap Up the 25 Best Hotels In Santorini With Private Pool
If you are looking for a unique experience on your next vacation, then book a trip to Santorini. Tourists flock here during the high season to immerse themselves in the beauty of the island. No matter what hotel room you choose in the hotels above, you will have your own pool area for sure.
In addition, you will have free wi-fi access so you can post your photos on your social media easily. Take advantage of the front desk in these hotels to help you with your needs. This way, you will have a customized experience while you are in Santorini.
---