Are you heading to Cuba anytime soon? Then you definitely need to consider where to find the best foods on the island. Since Cuba is a popular tourist destination, think tropical plants and gorgeous beaches, there is no shortage of options. In fact, you'll see bars and restaurants to try everywhere you look. The downside to this, however, is being overwhelmed with your choices, but don't worry. You'll find the best ones to try in this post!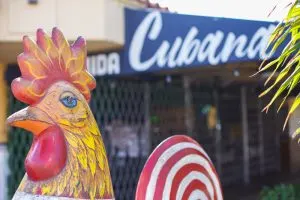 ---
What's in this post:
hide
20 Best Restaurants in Cuba
for Delicious Dinners!
---
---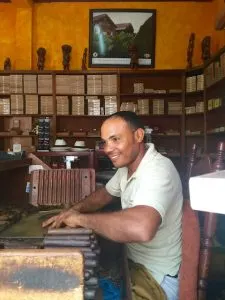 Cuba enjoys having both Spanish and African roots. You can see them in their Cuban cuisine. Aside from that, they also have French and Mediterranean influences. No wonder the food here is an experience you will not soon forget.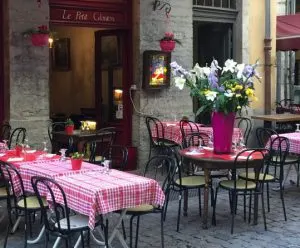 Local cuisine is often dependent on which ingredients are more plentiful. This is why when you are in Cuba, you will see more black beans, rice, and plantain served in restaurants. Aside from that, fresh seafood is commonly served as well. That is why you will find Gambas, Pescado, and Camarones being the top dishes on the island.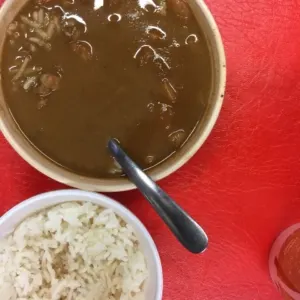 Here's a bit of trivia. Did you know that there are government restaurants in Cuba? Yes, that's right, they run and own these shops. Aside from that, there are the regular private restaurants too called Paladares.
Let's take a look at the best places in no particular order where you can enjoy great food here.
La Guarida
Hailed as the most famous Paladares by the New York Times in 2002, stepping into this restaurant is like going back to the past. You will find this shop in a 20th-century building. This restaurant offers both traditional Cuban food and international cuisine. They even have vegetarian options too.
La Guarida accepts bookings for weddings, corporate events, and more. In addition, the restaurant has its own bar and smoking lounge too. This is the perfect place to smoke authentic Cuban cigars and enjoy their signature cocktails. However, you will need to book a table ahead of time. This is to ensure that you'll have a table when you get there.
Here's a fun trivia about this store. La Guarida is where they shot scenes for the Cuban movie Fresa y Chocolate. This store is open Tuesday from 2 pm onwards.
Riomar Bar & Grill
Riomar received the Travelers Choice award back in 2020 which is not surprising. After all, it offers a healthy mix of Mediterranean and international cuisine. Not only that, the waterfront views are amazing and are one of the highlights of this restaurant. If you are going to try this restaurant out, make sure that you order their seafood platters. This is a great place for couples and families because of its amazing views.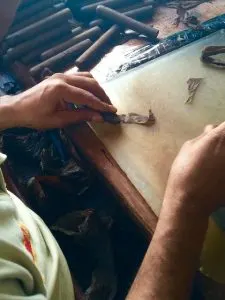 Most of the buildings in Cuba are old, including this one. However, it still has that modern vibe to it both in look and feel. What's even better is that they cater to all kinds of customers. Aside from their usual fare, they also have vegan and gluten-free options.
Lo de Monik
Lo de Monik is one of Cuba's best restaurants to have your breakfast and lunch. They also serve dinner here too, plus they have a full bar for guests who want to have a drink or two. Travelers are fond of this shop which is why it was not surprising when it won a Traveler's Choice award.
If this is your first time visiting, their fish tacos are the bomb! You should also try their octopus which is also one of its famous dishes. Most of their customers recommend their Cuban sandwiches as one of the best local meals here.
Mojito-Mojito
One of the favorite spots in Cuba is Mojito-Mojito. Based on the name of the restaurant, their specialty is mojito! In fact, having "one mojito is never enough" is this store's motto. If you are looking for a restaurant where you can immerse in local culture, this is it. Not only do you get to sample local cuisine, but you also get to enjoy live music too.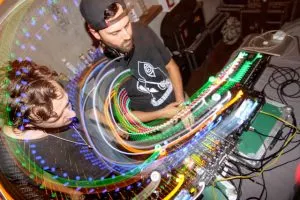 The vibe in this Old Havana restaurant is upbeat. So, if you are looking for a quiet, romantic spot to dine in, better look somewhere else. Since this is a small restaurant, there is no need to book a table. However, if you are coming here with a large group then you should call ahead. Among the must-tries here are their tuna mojito, shrimp cocktail, and their Cuban pork.
Los Naranjos
If you are looking for Havana restaurants then give Los Naranjos a try. This is a stunning gourmet restaurant and lounge bar that you need to visit. Why? For starters, it has an extensive cocktail and wine list to choose from. In addition, it has terrace seating for those warm nights, plus its interior decorations are amazing with its high ceilings.
Guests recommend this restaurant for its great service as well as its ambiance. However, make sure that you have enough cash with you because this store doesn't accept credit cards. This store is perfect for couples who are planning to have a romantic dinner in Cuba.
San Cristobal
Paladar San Cristobal is known to be one of the best restaurants in Centro Habana. One of the highlights of this store is that this was where former President Barack Obama and his family ate when they visited the country. Since then, San Cristobal became popular not just with travelers but also with the Cuban people.
The dining room in the restaurant will give you the Havana vibe of the '50s. In fact, the environment of this restaurant strongly points to the culture and heritage of the country. The same goes for the food. Each dish is meticulously prepared. For sure, you will feel like you have been transported back in time with every spoonful.
El Cocinero
Meanwhile, El Cocinero is one of the five paladares that sits outside of Centro Havana or Old Havana. This restaurant lies in the upscale area of El Vedado which is on the west side of Havana. El Cocinero is set on the rooftop of a restored old cooking oil factory. They serve good food here which is Cuban to the core. However, they also have some innovative dishes up for grabs too.
It is good to have your dinner at El Cocinero before heading to the Fabrica de Arte Cubano which is in the same building. You will see a wide range of artworks, exhibits, old clothes, and such here.
Restaurante Cafe del Oriente
If you are looking for a fine dining restaurant in Cuba, this is one of them. This former old mansion was converted into a gourmet restaurant. The interior was preserved by the owners which add to its luxurious setting. Aside from that, they have linen tablecloths, fine china, and the works. You will feel like lords and ladies here for sure.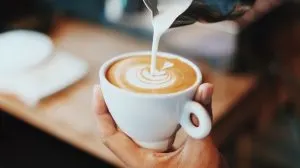 Of course, this means that you will be paying good money here. They have a full bar with a wide range of drinks. Former guests recommend that you try their garlic shrimp as an appetizer. Meanwhile, the main course should either be the pasta primavera or the lobster. Although it is a bit expensive here, you are in for a great dining experience.
Sensacioones Restaurant
Another example of the best Cuban restaurants that you need to visit is Sensacioones. Travelers highly recommend this restaurant as an ideal place for business meetings or a romantic dinner. This is because the restaurant has a private area for large groups. Unlike other Cuban eateries, this one has a more modern vibe to it.
This restaurant is well-known for empanadas, pies, as well as laing. Wash your food down with a glass of mojito for a refreshing finish. Locals, as well as international guests, consider Sensacioones to be one of the good restaurants in the country.
Delicias Cubanas
One of the great spots to go if you prefer a quiet evening is Delicias Cubanas. Although you will be treated to a fine dining experience, the food here comes at reasonable prices. Not only that, but they are not stingy with their servings. In fact, many said that a single dish is already good for two to three people.
This is a state-owned restaurant that is on the top floor of a building. Thanks to its rooftop terrace, you can enjoy great views of the surroundings while dining here. Take note that you will need to reserve a table since it gets pretty crowded.
Mas Habana
Mas Havana, or "More Havana", is a cool place known for its great music. The musicians here play either during the week or on weekends. It is always a good idea to check with the restaurant to know when they will have live music.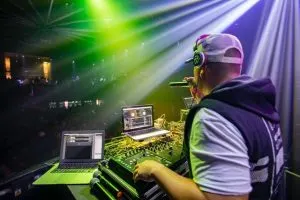 The food scene here is mostly traditional dishes. But the reason why you are going here is for its world-class music. You will find this restaurant between San Juan de Dios and O'Reilly Streets.
El Biky
Another option to consider while in Havana Cuba is El Biky. This is one of the more popular places near the University of Havana. One of the best things about this shop is that it is a combination restaurant, bakery, bar, and cafeteria. In fact, it takes up the entire street and has two floors too. They do have the best food here and the menu items have been priced reasonably.
El Biky does serve great American-style breakfasts along with fresh fruit juice. You can also order sandwiches here to bring with you during your excursion. For sure, their sandwiches are far better than what you will have at your destination.
5 Sentidos
If you are looking for a restaurant that serves the best Cuban food, you've come to the right place. This is a formal restaurant that offers high-quality food and even better service. Aside from the venue and the delicious food, the prices here are within reason. In fact, the main course is worth less than $20 for each guest. Aside from that, their extensive wine list is also affordable which is a plus.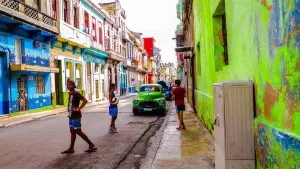 The restaurant scene here is everything you want and more. If only the politics of the Cuban government did not interfere with businesses here. Perhaps more high-end restaurants in Cuba would have cropped up.
O'Reilly 304 and El Del Frente
Meanwhile, O'Reilly 304 is where you should head if you are looking for good drinks. Aside from that, the food here is more on traditional dishes. If you want to immerse yourself in local culture, visiting this restaurant is a must. In fact, you should try the ceviche here which was voted by Havana Insider to be one of the best in the city.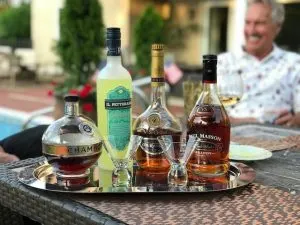 Their first store was O'Reilly and because it was quite successful, they had a new restaurant called El Del Frente. It literally means "the one across the street". Their new establishment has an upstairs dining area where you can have some snacks and drinks. Regardless of which of these two you head to, expect to be served delicious food.
Dona Eutemia
Newsweek voted Dona Eutemia to be one of the top 101 restaurants in the world. This is not surprising since this restaurant is a little treasure trove of culinary delights. It lies in the heart of Old Havana on a side street just off Plaza de la Catedral.
Travel restrictions have kept international customers away. However, they might be accepting reservations today. The food here is not only amazing but is reasonably priced as well. If you want to avoid the crowd, you can come here around 2 in the afternoon. While you are here, make sure that you order their ropa vieja which is one of their best dishes.
El Chanchullero
El Chanchullero is a good place to hang out if you want to dine on amazing food. It lies just off El Cristo Plaza and occupies two floors. You will find a long line snaking out of this restaurant on a daily basis which is not surprising. Locals flock here because they know good food when they taste one. In fact, they serve traditional Cuban dishes but with a modern twist.
Make sure that you visit during non-peak hours so you can get a table easily. Otherwise, you will have to wait in line for an hour at least.
Paladar Los Mercaderes
This restaurant got its name from the busy thoroughfare that it is on. Los Mercaderes street connects two of the most famous plazas in Cuba. These are Plaza Vieja and Plaza de Catedral. In fact, these two are among the best destinations you'll see when you go on a long walk exploring the area of Old Havana.
The street itself is full of interesting shops, parks, bars, as well as stunning architecture. You will find this restaurant on the second floor just in front of the park. After enjoying your meal here, you can check out what the vendors are selling below. From ice cream to various street foods, you can have some snacks after.
La Fontana
La Fontana is one of those hidden gems in Havana that you don't want to miss. It has been a massive hit since it opened its doors in 1995. What makes it a popular eating spot is that it has kept up with the times. In fact, the entire space that they have currently taken years to put together. Now they have several areas in which you can drink and dine.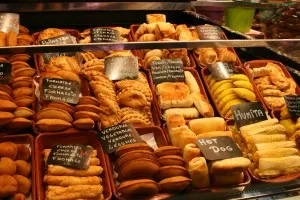 This restaurant is famous for its barbecue. But to be specific, it is their charcoal grill that is making their patrons drop by.
El Floridita
Ask any of the tour guides which bar to add to your itinerary and they'll probably mention this one. One reason behind this is that this was Hemingway's (yes, THAT Hemingway) favorite drinking hole. Although this area can be quite touristy, this is one of the spots that you should check.
In fact, you should order their daiquiri which was the writer's favorite drink. Some believe that the food here is of poor quality. Still, you can add this to your list as one of the tourist areas to visit in Cuba.
Antojos
Antojos is one of the right places to be if you are eager to sample traditional Cuban cuisine. The restaurant itself is spot on in terms of giving off that Cuban vibe. It lies in Old Havana and boasts an outdoor patio/space where you can go people-watching while eating. You should try their ropa vieja which is made from shredded beef.
A Taste of Cuba in Little Havana
If you are craving Cuban dishes back home, then make your way to Little Havana, Calle Ocho in Miami. This neighborhood is where Cuban immigrants and exiles made their home in the U.S. It's hard to miss this spot because the Cubans brought their culture here seeing it as a great opportunity for them to do business. Well, they were right! In fact, you should check these Cuban restaurants out! The best part is that this street is near beautiful beaches so it is a win-win.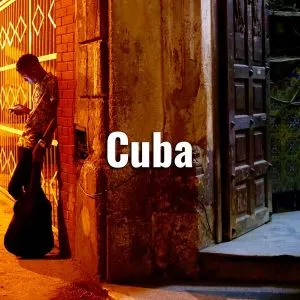 La Camaronera Seafood Joint and Fish Market
This simple fish market transformed itself into the best spot to grab a fish sandwich. In fact, you should make it a point to order their pan con minuto while you are here.
El Rey De Las Fritas
No trip to Little Havana will be complete without ordering fritas from El Rey. Start with their original serving and add more quality ingredients each time you visit. For sure, you'll be coming back for more.
Conclusion
Last year may not be the year for traveling because of the pandemic. However, things are looking up recently for many countries. If you have set your sights on Cuba then you are in luck. This post has a list of restaurants, including a government-own restaurant, that you can check.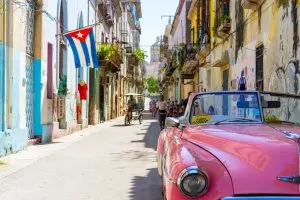 These restaurants were among the top favorites among travelers, and my personal choice too.
As mentioned before, Cuban cuisine is an amalgamation of different influences. It should not come as a surprise that you will see ingredients like roast pork, olive oil, coconut milk, and tomato sauce among their dishes. Expect excellent quality when dining in any of these fine restaurants. And if you are looking to grab a drink or two of piña coladas or other alcoholic drinks, just check which bars have a happy hour.