This was the third stop on a road trip from Savannah GA down thru St. Simon Island and then on to St. Augustine, FL. I loved this road trip and it is easy to do. As you know, I fell in love with Savannah, enjoyed the beaches of St Simon Island, and told you about the "kitschy" side of St. Augustine. But believe me, that is not ALL there is to St. Augustine. There is a charm here that will capture your heart and make you long for more, especially if you only stay for a little while as I did. I had a chance to speak with quite a few locals and they tell me they love living here! There is more here than initially meets the eye.
I was lucky enough to stay at the well-located, colonial B&B called the BayFront Marin House right in front of Matanzas Bay. My room was exquisite with fancy decor and had so many extras, including my very own electric fireplace and a body/rain shower that was out of this world!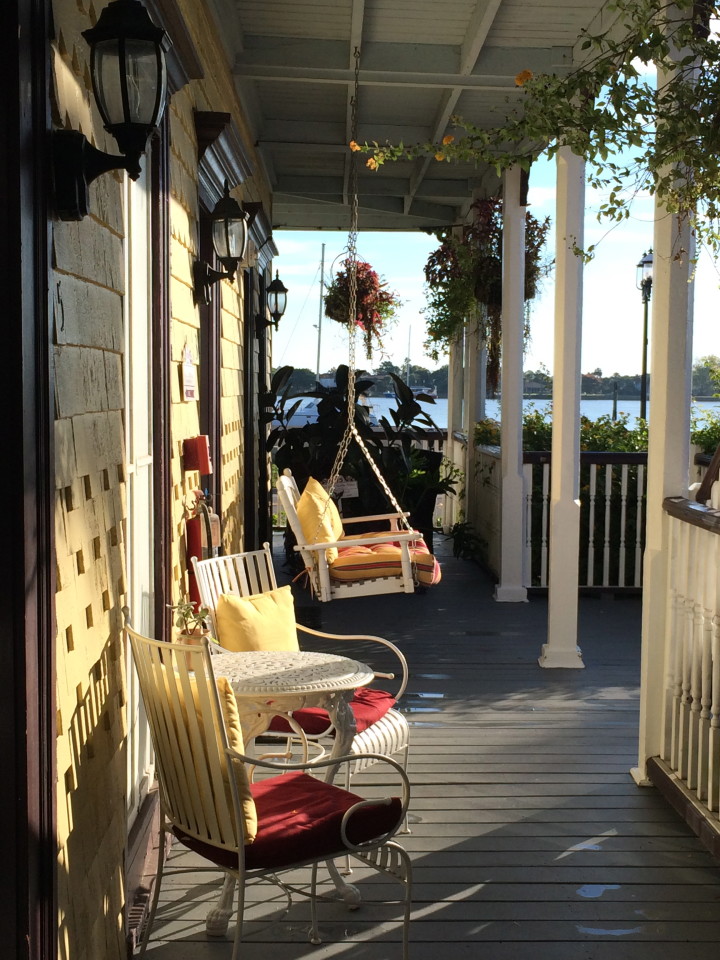 I cannot say enough about how comfortable I was here and how well treated I was by the staff. I had heard so many wonderful things about the owners, but in the end, the gentleman owner ended up not being on-site, and sadly I did not get a chance to meet him. I think it says a lot about the owners by how wonderfully trained their staff was and how smooth things went when they are not around. The staff took care of everything I needed and they were very pleasant, reminding me of that southern charm that I love and came to the South to experience.
Here are a few photos from the neighborhood:
Within walking distance from the Bayfront Marin House, I was able to make my way to the historic district, where my first stop was Flagler College. How on earth can a college be a tourist stop you might ask? Well, this place is particularly beautiful and you will notice it right away.
At one time, it was once the most luxurious hotel in all the land! Founded by Henry Flagler, you will hear a lot about one of the founders of Standard Oil here and at the Lightner Museum across the street as well.
The funny thing about Flagler College is that it is a fully-fledged liberal arts school today and opened since 1968. An actual student of the college gave the tour I went on and she was terrific, by the way! Flagler College architecture is spectacular and a must-stop on your first trip to St. Augustine. The college's dining hall itself still has originally installed Tiffany glass-stained windows and a few of the rooms still contain era furniture. It is quite a unique experience.
I suggest after Flagler College and the Lighter Museum that you purchase tickets for one of the trolley car companies, so you can do a quick sweep of the neighboring attractions without having to walk too much. I enjoyed the ease of a trolley to get me around town and to show me all of the sites.
There are two trolleys that do the loop around the city's historic and "kitschy" sites the green Old Town Trolley Tours and the red Ripley's St Augustine Sightseeing one. I took the first trolley that picked me up close to the museum. The trolley tour guides narrate the city's history as they drive you from stop to stop. One of the first stops I wanted to get off on was at the old fort, better known as Castillo de San Marcos National Monument. It is the oldest masonry fort in the continental United States and was constructed by the Spanish in 1672. It is worth a look around.
When you add in the above itinerary with the one mentioned in my "kitschy" article about St. Augustine, you have a complete guide to a day's activities in St. Augustine.
Since I was only there to tour a few days, I only scratched the surface of what there is to see and do in St. Augustine, so be sure to stay around a bit longer to truly experience America's oldest city.
So there you have it, a few spots along the way in this charming, yet quirky town of St. Augustine, FL. Many more photos of St. Augustine's Hotel Ponce de Leon (aka Flagler College) on PointsandTravel's photo album page.
Disclosure: This road trip to St. Augustine was sponsored by Florida Historic Coast, the official tourism board to St. Augustine.