Cozumel island is a gorgeous tropical destination that lies on the east coast of the Yucatan Peninsula. In fact, it is accessible from yet another popular tourist destination which is Playa del Carmen in the Riviera Maya. Tourists love to visit the island as it is known for its gorgeous beaches. Also, it is one of the top scuba diving spots in the area.
---
What's in this post:
hide
Cozumel Beach Bar Guide
---
---
Aside from that, the island of Cozumel is the perfect place to relax and unwind. Just imagine lounging by the beach with a glass of cold drink in hand while looking at the blue waters. If this sounds like your kind of vacation, then what are you waiting for? Book that trip now!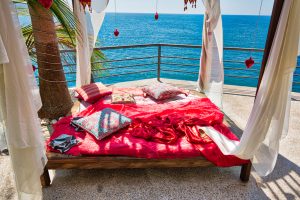 Of course, no trip to Cozumel will be complete without hitting the bars. In fact, the island has got you covered. It doesn't matter if you want to sip a mimosa early in the morning or a glass of mojito at night, you'll find them here.
Best Beach Bars to Hit Up in Cozumel
First-timers may think that this island is just a glammed-up tourist spot at first glance. But for the locals and repeat tourists, the bar scene in Quintana Roo, specifically in Cozumel, is worth checking out. In fact, here is a list of the best places to grab some booze while enjoying Cozumel's golden sands.
Casa del Habano Cozumel
This is probably the first bar that cruise passengers will come across after disembarking their ship. Rum is the main attraction in this Cuba-themed bar and restaurant. Not only that, but the dishes here are scrumptious.
Aside from that, you can also turn up the heat with their flaming shooters. No doubt you will be hitting the dance floor afterward. Meanwhile, for those who want to just sit back and relax, you are in luck. Their in-house expert can offer you the best cigars.
Tiki Tok Restaurant Bar
One of the best places to grab a refreshing drink is the Tiki Tok Restaurant Bar. You'll find it on the northern waterfront of Malecon which is beside the cruise port. Passengers of cruise ships will not miss this tiki-themed bar.
In fact, I suggest that you head here to grab some food and drinks. Check out the amazing views of the ocean from the upper floor. Aside from that, they serve authentic Mexican food which is amazing. Check out the best tacos here if you are craving a quick snack. You should drop by before dusk so you can get a great view of the sunset. Not only that but there are DJs and live bands playing here. Pair this with your favorite cocktail and you will soon be in the mood for dancing.
No Name Bar
Meanwhile, the No Name Bar is the perfect place to hang out and make friends on the island. Attached to the Barracuda Hotel, guests and non-guests can enjoy the laid-back atmosphere here. The main attraction here is their swim-up pool bar. This means that you should pack your swimwear with you when heading here.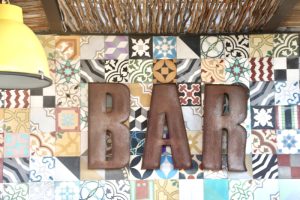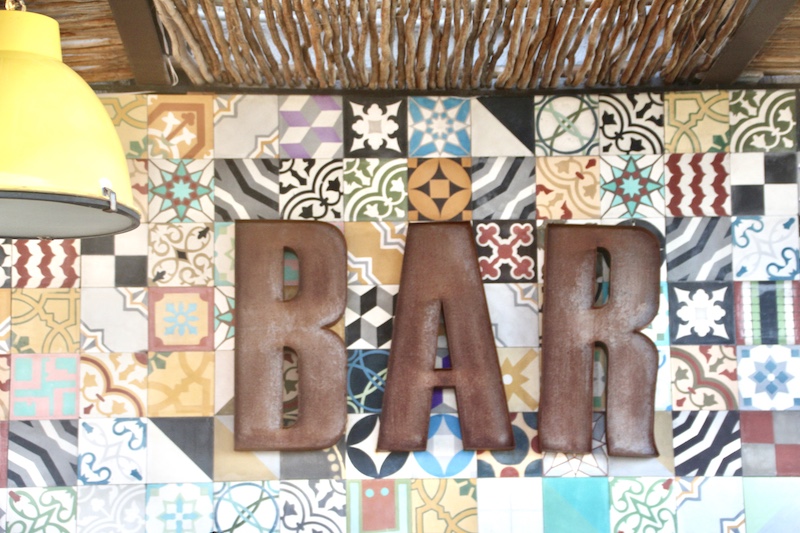 What's more, since No Name Bar is a waterfront bar, you will have easy access to the waters. In fact, you go can go swimming and snorkeling from here. They do have a long drinks menu that contains a wide selection of drinks. From milkshakes to more serious alcoholic drinks, you'll find the right beverage here to pair with great food.
Mezcalito's Last Frontier
One of the first places that you should get a drink in Cozumel is Mezcalito's. After all, this is practically an institution on the island. It's because it has been operating since 1979o. You'll find the bar on a barely inhabited part on the east side of the island. And because of this, the entire vibe is more relaxed and friendly too.
I suggest that you indulge in their favorite "super shrimp". Afterward, find a hammock that you can lie down and swing from. Just sit back, relax, and enjoy the pleasant view of the ocean. On the other hand, this could be your last stop for the day. Relax and unwind in this bar before heading back home.
Cerveceria Punta Sur
Meanwhile, for those who are looking to slake their thirst with real ale, this is a great place to be. In fact, this is the first-ever and only microbrewery on the island. They have an impressive list of home-brewed beers. In fact, you can choose from American-style IPAs all the way to their creamy stouts.
You will find this bar under a thatched roof in the heart of San Miguel de Cozumel. Aside from their extensive list of drinks, they also have an impressive menu. Think wood-fired pizzas with freshly caught seafood as toppings.
La Monina
This hidden gem sits outside of town but it is one of the best places to head to. After all, La Monina has a serene beachfront location. Not only that, but they boast some of the best sunsets on the island. Although the shop is open in the morning, locals and tourists come here at night. The laid-back atmosphere is perfect for a night of casual drinking.
In fact, they offer more than the usual cocktails. They also have a wide selection of tequilas, mezcals, and craft beers. And when it comes to food, well, they have great food to pair with your drinks. They have pizzas, burgers, and pasta. Also, they serve Mexican dishes too.
Rastas Freedom in Paradise Bar
Rastas Freedom in Paradise Bar – One of the best things about this bar is that they are open from 10 am onwards. In fact, they don't have a specific closing time. They just close whenever they feel like it. As the name suggests, this bar gives off that reggae vibe.
Aside from their thatched roofs, there are hammocks where you can lounge. Not only that, but they do offer great views of the ocean. You'll find this bar at the southern end of the island. This means that you will need to drive there or ride a taxi. Rastas Freedom is just half an hour away from the center of the town.
Sky Reef
Do you want to take a break from drinking just a little bit? Then you found one of the great bars to hang out. at. Sky Reef is an open-air structure that gives you a good balance of sun and shade. Aside from that, it has a dock where you can get in and out of the sparkling waters when you snorkel. Also, there are outdoor showers here so you can wash off the sea from your skin.
With all the water activities you've been doing, you are bound to get thirsty. Fortunately, you can order your favorite drink and have it ready in a jiffy. If you want to visit this open bar, then make your way to the west side of the island. Here you will get nice views of the ocean. Also, it is just 15 minutes south of the town center as well as the ferry terminal.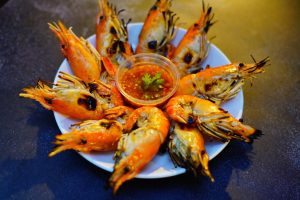 Hemmingway
Meanwhile, if you prefer to relax and unwind in a classy bar, then Hemmingway it is. Located north of the town, this beach bar gives off a Bali vibe. Aside from their bamboo and wood cabanas, they also have areas with lounge chairs and sofas. There are swinging benches too if you want to stir a breeze.
Although the food here is very good, they do make up for it with their drinks. Not only that, but the atmosphere is more than you'll expect. Head here just before sunset to catch the gorgeous display on the horizon. They also have live music to entertain their guests with.
Alberto's Beach Bar Cozumel
Alberto's Beach Bar is the best place to enjoy island life. After all, it is one of the honorable beach club mentions. It is rustic, it has pristine white-sand beaches, what more do you want? The biggest draw here is the fresh seafood that they serve their guests daily. This is because fishermen sell their daily catch to them in the morning.
You can go sunbathing or find some shade under the palm trees here. This is one of the best bars on the island if you want to avoid the crowd. I think this should be your first stop if you want some peace and quiet. After all, this is a popular restaurant on the island.
Best Beach Clubs to Visit for a Drink
Cozumel Mexico is home to some of the best beaches. In fact, you can't visit this island without enjoying its pristine white sand beaches. That said, let's take a look at the best ones to visit.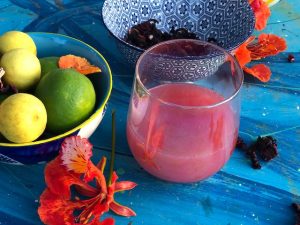 Playa San Juan
Located on the west coast of the island, Playa San Juan is one of the family-friendly beaches here. Aside from that, it is also close to shops and resorts making it a popular spot. Take note that this beach can get crowded once cruise ship passengers arrive. Snorkeling is one of the more popular water sports here. You'll be able to rent your gear from one of the shops here. The calm waters make it an ideal spot for swimming, windsurfing, and other.
If you are looking for a place to lounge and have a drink, head to Buccanos Beach Club. After all, it has plenty of space to lounge in, and it has its own swimming pool. You can also try their fine dining option to cap your day.
Playa Dzul Ha
If you are looking for a cool place to go snorkeling, this is it. Although the beach is a bit rocky, the main attraction here is the reef nearby. You don't need to rent a boat to access it. In fact, you can just rent your snorkel equipment here and swim out from the shore.
Head to Money Bar Beach Club if you want to rent gear and a locker. Once you have your fill of the marine life in the reef, you can grab some snacks and drinks here. They also offer a free parking space to their guests.
Playa Mia Grand Beach Park
Meanwhile, this beachfront water park is one of the biggest on the island. In fact, it is a popular stop for day trippers and cruisers. Even locals love to spend their days here. This is not surprising since there are plenty of activities to do here. For starters, there is a floating park here where your kids will have so much fun.
In addition, snorkelers can explore the depths of the sea to find the underwater "Mayan City". This is a replica of an ancient civilization.
Playa Uvas
Playa Uva Norte and Playa Uva Sur make up Playa Uvas. The latter is more developed and has its own beach club too. It has sun loungers, hammocks, and a restaurant among others.
Uva Norte, on the other hand, is more of a self-service kind of beach. Take note that there aren't many facilities here. However, it is a good spot for a DIY (do it yourself) picnic.
Playa Corona
Although this beach is small in size, it still offers the best way to access Chankanaab. This reef is part of the Chankanaab National Park. Here you will find plenty of tropical fish living in the reef. There is a beach club here where you can rent your gear. You can also play beach volleyball or just take advantage of the beach chairs.
Playa Palancar
Playa Palancar is one of the most gorgeous beaches on the island. Its pristine white sand is complemented by the azure waters. Aside from that, there is a rustic-style palapa restaurant here where you can order tacos. Go snorkeling here to see plenty of fish and sea creatures.
Mr. Sanchos Beach
Meanwhile, Mr. Sancho's Beach Club attracts families to its beach. The beach may be free of charge, but you will need an inclusive day pass to enjoy the facilities of the club. When you do, you will be able to sign up for horseback riding, and Wave Runner rides.
Nachi Cocom Cozumel Beach Break
Nachi Cocom promises its guests a wonderful time. The beach is pristine plus you might find sea turtles making their way to the ocean. Aside from that, there is an open bar and delicious Mexican cuisine, They limit the number of guests to 100 only to ensure that everyone will have a great time. With their great service and excellent food and drinks, you're sure to have an unforgettable time here. After all, they offer free WiFi as well as wheelchair access. Everyone is welcome here!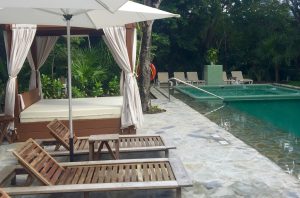 Be sure to check out Family-run Establishments
In fact, you should go and explore Cozumel's wild side which is on the eastern coast of the island. Aside from its untouched beaches, there are family-run establishments here that serve local food. If you don't want to miss the best bars on the island, I suggest that you take the Cozumel Bar Hop. Not only will you be taken to see the best beaches, but also the various bars on this Caribbean island.
The best part of exploring Cozumel is that its main road is easy to navigate. Even if you are driving a rental, you will find that it is easy to explore the island on your own. If you are heading here any time soon, make sure that you consider these beach bars. You're sure to have a great time here.